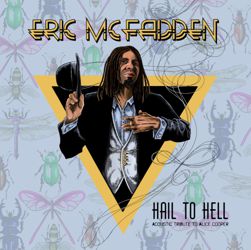 product: Eric McFadden - Hail To Hell (Acoustic Tribute To Alice Cooper)
release date: 06.12.2021
label: Bad Reputation
PR territoy: Germany, Austria, Switzerland only
PR contact: Diese E-Mail-Adresse ist vor Spambots geschützt! Zur Anzeige muss JavaScript eingeschaltet sein!
Tracklist: 1.Welcome To My Nightmare 2.Is It My Body 3 Last Man On Earth 4. Laughing At Me 5.Crazy Little Child 6.Millie and Billie 7. Man With The Golden Gun 8. Billion Dollar Babies 9. I'm the Coolest 10. Former Lee Warmer 11. It's Me 12. Blue Turk 12. 13.Desperado 14. Ballad of Dwight Fry
Alice Cooper has been deemed "The Godfather of Shock Rock". He is notorious for his theatrics and compelling, and often shocking, stage antics. It seems that these things may have, to a fair degree, overshadowed his prowess as a songwriter. Many have simply dismissed Alice Cooper as a shock rocker more along the lines of KISS than Dylan or Bowie. To me, he is more akin to the latter two. Cooper's songwriting brilliance wasn't lost on Bob Dylan either, who regarded him as an overlooked and under-appreciated songwriter. Or John Lennon who said his favorite song was Cooper's "Elected". Or Frank Zappa, who signed Alice Cooper to his label.
As a kid with a love for rock n roll and horror movies, Alice Cooper and KISS both captivated me, but it was the music of Cooper that stood the test of time as I grew older. I'm still taken by the way he mixed rock n roll with vaudeville and various other genres, his elaborate arrangements, and unique production. I love the way he infused both humor and humanity into his dark subject matter. And then there's the musicianship. Alice Cooper's music proved something to grow more into rather than to grow out of.
It was a real pleasure revisiting this music and reinterpreting it. To break it down and present it in a more stripped down and intimate way. I hope that fans of Alice Cooper appreciate my take on his timeless music, and that those not as familiar enjoy making the discovery. No matter how it's dressed up, great songwriting always transcends genre.
Eric McFadden
Another Tribute will you think? Does Eric McFadden have any more ideas to record a new album of the Eric McFadden Trio, a 2 BIG Mc's studio album or a solo album? It would be too quick to judge this genius.
This tribute album is the culmination of the common passion of a producer and an artist for Alice Cooper. The title of this work is a nod to Welcome to My Nightmare. Through 14 tracks, Eric McFadden and his penchant for the imaginary (Lewis Caroll, Dr Seuss..) joins the demons of Vincent Furnier.
Most of Alice Cooper's career is traced here. From Easy Action to Welcome to My Nightmare 2 through Dada, Eric McFadden's devil mieschieves marry those of the Shock-Rock's Master.
This unique, unclassifiable and brilliant guitarist-vocalist that is Eric McFadden proves once again his qualities to adopt and appropriate the works of great composers.
We find as guest-star on the title "Millie and Billie", Kate Vargas for a magical duo and on percussion Wally Ingram