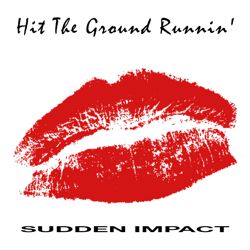 product: Hit The Ground Runnin' - Sudden Impact
release date: 14.01.2022
label: AOR Heaven
PR territory: world
PR contact: Diese E-Mail-Adresse ist vor Spambots geschützt! Zur Anzeige muss JavaScript eingeschaltet sein!
While Philadelphia based Hit The Ground Runnin' may not have had the same kind of international recognition their better known local compatriots Cinderella, Britny Fox, Tangier and Heaven's Edge acquired back in the day, they can surely feel a sense of pride in the fact that the album they released back in 1989 ('Sudden Impact') became one of the most sought after hard rock records. Collectors of the genre have, especially over the last twenty five years, fought and outbid each other on eBay for the privilege of owning a copy.
First formed as the curiously named Free Delivery in early 1985, the initial line-up consisted of vocalist Blair Rumsey, bassist Paul Piccari, guitarist Alan Augunas, drummer Bert Marks and the keyboard playing pairing of Steve Cocchi and Rob Knauss (aka Rob Kay).However, Marks was quickly replaced by Jimmy Katone (formerly a member of fellow local bands Sanctuary and Escape) and Cocchi would also depart the band within a year.
The band found themselves opening up for a number of other groups on the local scene as things progressed, including Britny Fox on many an appearance at the legendary Galaxy Club in Somerdale, New Jersey and also The Who's John Entwistle and Blue Oyster Cult at the even more legendary Stone Pony venue in Asbury Park. The quintet would also go on to later perform (as Hit The Ground Runnin') at the 1989 Monterey Pop Festival with Jeff Healey, Billy Preston and War.
So having built up a reputation locally under the Free Delivery handle the band renamed into Hit The Ground Runnin' in 1986 when Hilary Schacter at Powerhouse Studios at Nise Productions suggested this name. The association with Nise eventually led to the newly named Hit The Ground Runnin' gaining a deal with the recently established Autograph Records imprint; a boutique label linked to BMG
'Sudden Impact' was originally available on LP, CD and cassette. Although examples of the CD version have sold for the most money in collector circles, it's actually the cassette version that is the rarest of the three formats. At the time of writing a CD is listed for sale on a popular internet site for music purchases for the princely sum of just over $3000.
The second album, originally slated for release in 1991, got shelved and released in 2000 by the band's own label Smash Records. A third, entitled "HGR", followed as a self-release in 2007.
AOR Heaven now will re-release the sought after "Sudden Impact" album on January 14th, 2022 as strictly ltd., re-mastered double CD including 2 bonus tracks on the original disc and additional 8 bonus tracks on disc 2 which will be available via AOR Heaven mailorder exclusively.