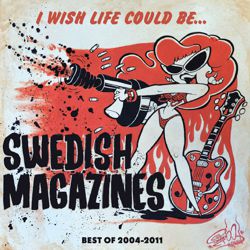 product: Swedish Magazines - I Wish Life Could Be...
release date: 17.01.2022
label: Bad Reputation
PR territory: GAS
PR contact: Diese E-Mail-Adresse ist vor Spambots geschützt! Zur Anzeige muss JavaScript eingeschaltet sein!
"I wish life could be Swedish magazines" – Iggy Pop, "Five Foot One", 1979
Fronted by the irrepressible Van Walker, Swedish Magazines are a delightfully raucous Melbourne punk outfit. Originally hailing from Tasmania, Van and his brother Cal's band bridged the divide between the Cosmic Psychos, Powder Monkeys, and Amyl and the Sniffers and Civic.
If you're unfamiliar with their work, Bottles & Barstools is the perfect way to get acquainted and probably fall in love. Bottles & Barstools features the band's second line-up, with Johnny Gibson on drums and Lachlan Rimes on bass. The original Swedes line-up, which also features on the new collection, with Anton Ruddick (lead guitar) and Tim Durkin (drums), is now back together.
They're in the midst of recording a new album and are set to play live shows. They're in the process of recording new material for a new album, their first since 2010's Wino Havoc.
The band just released a best-of collection titled I Wish Life Could Be, it's also their first vinyl release. The CD will include a handful of tracks drawn from two live-in-the-studio sessions recorded in 2005 by Melbourne's PBS-FM. The tunes are very catchy, high-tempo and highly emotive blend of guitar riffs and Van's phenomenal vocals.It's reminiscent of the best of Buckcherry's work.
Fans of Rancid and the Dropkick Murphys will love "She's Evil", "Girl From The Tote" "You Never Wanted It" or "Think Tanks A Million". These are great songs with great melodies and wry, literate lyrics – plenty for fans of Van's solo work to love too.