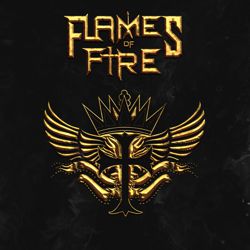 product: Flames Of Fire - Flames Of Fire
release date: 18.03.2022
label: Melodic Passion Records
PR territory: Europe & North America
PR contact: Diese E-Mail-Adresse ist vor Spambots geschützt! Zur Anzeige muss JavaScript eingeschaltet sein!
Flames Of Fire was formed in spring of 2021, but the story goes back to 1987.
In their hometown, Jönköping, Christian Liljegren and Mats-Åke Andersson met for the first time outside a burger chain called O'Briens. Christian was then 16 years old and fronted the band Venture and Mats-Åke was 21, guitarist and composer in legendary local group called Zaragon.
Zaragon was active between 1984-1988 style-wise strongly influenced by Rainbow, MSG, Iron Maiden early Europe. They were close to a record deal but bad decisions and a bad management made nothing happen. Zaragon did some fine recordings with Ragne & Styrbjörn Wahlqvist from Heavy Load.
That meeting in 1987 had a great impact on both. It was the passion, fire and energy for the music, that really connected these hard rock & heavy metal lovers. Both watched the concerts in 1986-1987 with Europe and Madison – two bands they both loved, as well as Yngwie Malmsteen's Rising Force, Michael Schenker, Ritchie Blackmore's Rainbow, Iron Maiden & Alcatrazz.
The meeting developed into a friendship that lasts until this day, even though the years went by and a lot happened along the way.Then 10 years later, in 1997, Mats-Åke composed an intro that Christian's new band Narnia used for their first tour, promoting their debut album Awakening. Narnia's guitarist CJ Grimmark also helped Mats-Åke with some demos.
Every time Christian & Mats-Åke met, it was all about the musical fire, the passion and also the will to bring something more than the music. Long phone calls ended with a desire to do something together. Both still loved hard rock and heavy metal, with soaring vocals and lots of twin guitars like Iron Maiden and Thin Lizzy. Mats-Åke had tons of ideas, as did Christian.
Amazed by the sound and production by Jani Stefanovic from Solution .45, The Waymaker, ex. Divinefire, they asked Jani if he was willing to produce and co-wrote songs together with them, as he is a very talented songwriter, guitarist and drummer and also gifted arranging keyboards and string arrangements. To really get the twin guitar sound, Christian suggested the guitarist Stephen Carlson, who worked close with Christian on his solo album Melodic Passion, as Stephen also is a good co-writer.
When searching for the right bass player, in the style Phil Lynnot and Steve Harris, Flames Of Fire recruited Per Schelander from House of Shakira, Astrakhan, ex. Royal Hunt, and Pain of Salvation, and the line-up was complete.
Per has worked with Christian on the Melodic Passion album as well, so now they had a killer team.
Christian then came up with the band name Flames of Fire showing the passion they have, as well as the spiritual dimension to it. Songs just came so naturally, and within 6-7 months they had material for several albums. Guitarist Stephen, who lives in Oppdal, Norway, recorded his parts in his studio, Per Schelander, who lives in Stockholm, tracked the bass parts there, and Christian recorded the vocals in Örebro, with Narnia's sound engineer, Viktor Stenqvist.
Mats-Åke was also involved and along with Christian, he worked out the arrangements. Then Jani put everything together in his studio in Lahtis, Finland, where he lives. So it is all about explosive Scandinavian heavy metal.
To finalize the album production, CJ Grimmark from Narnia, handled the mastering of the songs, Jonatan Samuelsson from JONOmedia and the bass player of Narnia helped Flames of Fire with website, web shop, etc., and Danymax Gatica from Chile created video teasers and promo videos for social media.
The distribution will be handled by Sound Pollution, a close partner to Melodic Passion Records, the record label behind Flames of Fire, and partners in Japan, North and South America.
All members in Flames Of Fire are very well experienced in touring around the world and have visited North and South America, India, Japan and of course Europe.