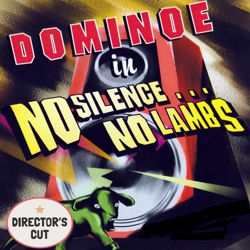 product: Dominoe - No Silence, No Lambs (Director's Cut)
release date: 21.01.2022
label: Comand Records
PR territory: world-wide
PR contact: Diese E-Mail-Adresse ist vor Spambots geschützt! Zur Anzeige muss JavaScript eingeschaltet sein!
It all started when Dominoe caught the attention of a lot of new listeners all over the world after the release of the digital single "Coming Home" in 2021, featuring Jimi Jamison, who sadly had passed away far too soon.
The band then received a lot of e-mails with questions about what else they have released before. This was the moment where Dominoe began to think about ideas and go through their CD's and to have a listen. Some of their material even doesn't exist yet in the digital world - until now. One of these albums is "No Silence... No Lambs" from 2002.
Robert Papst (guitars, production) noticed that some things, like the sound, were completely out of time. Some of it sounded too fast, some of it much too slow and some of it was only suitable for replacement.
So, Robert searched through the old hard drives and found the originals. With the experience of the release "The Lost Radioshow", he started to change tempo, exchange guitars, keyboards and drums, rearrange backing vocals and to mix the whole thing with a bigger punch.
Some of the tracks that came out were real gems. The fantastic lead vocals of Heidi Anzinger on "Keep My Secret" somehow got lost in the original recording. Now, this song has been turned in to a duet with singer Jörg Sieber.
After the first two finalized tracks, the group tested the songs on fans and on people who didn't know the band at all. Robert and Jörg were amazed. The feedback was nothing but incredible. For many listeners this was a new experience since they didn't know or even recognize these songs before.
With the help of some friends, 10 titles have now been completely reworked in the end! Of course, the whole thing has also been a travel back in time for the two musicians…
Meanwhile it's 2022... While Dominoe are producing some new songs, they also are currently reworking the album "The Story Is Far From Told" and wrapping it into a more contemporary sound. Together with "No Silence... No Lambs - Director's Cut", "The Story Is Far From Told" will also be released on a CD somewhat later this year…at Dominoe's 35th anniversary…time flies!
Musicians on "No Silence, No Lambs (Director's Cut):
Jörg Sieber: Lead & Backing Vocals
Robert Papst: Guitar, Backing Vocals, Keyboards, Bass
Christian Birawsky: Drums, Backing Vocals
Henner Malecha: Bass
Matt Beck: Lapsteel
Heidi Anzinger: Lead & Backing Vocals
Jane Bogaert, Janina Dietz, Gracia Satler, Timo Kresslein: Backing Vocals
Track listing "No Silence, No Lambs (Director's Cut)": 01 No More Money / 02 Loocie / 03 All Our Senses / 04 On The Safe Side / 05 No Way Out /06 Don't Cry For Love / 07 Keep My Secret / 08 Let It Rain / 09 Dark Dogs / 10 Turn Off These Sad Songs / 11 No Silence…No Lambs