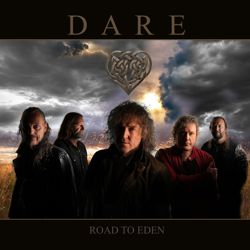 product: Dare - Road To Eden
release date: 01.04.2022
label: Legend Records
PR territory: Europe
PR contact: Diese E-Mail-Adresse ist vor Spambots geschützt! Zur Anzeige muss JavaScript eingeschaltet sein!
UK Rock band Dare are probably best known for their lead singer songwriter Darren Wharton, who first rose to fame in the early eighties playing keyboards with legendary Irish rock band Thin Lizzy. DARE are one of the most respected and innovative melodic rock bands working today, and have gained cult status among AOR fans throughout Europe, the UK and the world. The band's debut 1989 album 'Out Of The Silence' recorded at Joni Mitchell's Bel Air Studio Los Angeles, and produced by Nickelback producer Mike Shipley is still widely regarded today as one of the all time great AOR albums.
ROAD TO EDEN follows Dare's critically acclaimed albums SACRED GROUND released in 2016 and Out Of The Silence 2, 2018. Both albums reaching Number #1 in the Amazon Classic Rock Charts in four Countries, UK, Germany, Italy and Spain. Dare entered the top #5 in the official UK Rock charts, number #6 in the U.S Amazon Classic Rock Charts and number #1 in Japan Rock Imports.Road To Eden is destined to be another modern DARE classic.
Produced and written by Darren Wharton at his studio in the majestic mountains of North Wales, the new album has a harder rock edge than previous albums, whilst still retaining the atmospheric sound, and anthem like melodies that has become the bands trademark. Road To Eden features ten brand new beautifully crafted songs that captures the very heart of DARE.
With a full headline UK tour set for the UK in 2022, plus dates in Spain, Scandinavia and Germany, it's going to be an exciting year, explains Darren. "We wanted to write an album that translated well to live performance and Road To Eden has some great anthems, energy and power. We can't wait to play these songs live"
With previous DARE albums now having well over 4 million streams on Spotify, it's clear that for the growing army of DARE fans, the wait is nearly over, as they get ready to join DARE on The Road To Eden.