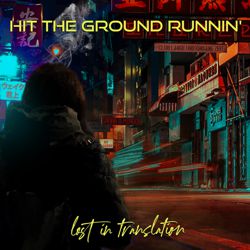 product: Hit The Ground Runnin' - Lost In Translation
release date: 18.06.2022
label: Pride & Joy Music
territory: world
PR contact: Diese E-Mail-Adresse ist vor Spambots geschützt! Zur Anzeige muss JavaScript eingeschaltet sein!
Hit The Ground Runnin' is an AOR/Rock group founded in 1985 in Delaware County Pennsylvania. Originally under the name Free Delivery; the original classic lineup consisted of Paul Piccari (Bass), Blair Rumsey (Vocals), Alan Augunas (Guitar) , Jimmy Katone (Drums) and Rob Knauss (Kay) (Keyboards). In 1986 the band was signed to a production deal with Power Up records / Nice Productions and from 1986-1991 appeared over 15 times on the acclaimed TV show "Dance Party USA". This band had more appearances on this show more than any other group including the likes of Madonna, Duran Duran, Bon Jovi, Will Smith, Nine Inch Nails, 2Pac and New Kids on The Block. In 1989 the band was invited as the only Eastern American group at the 2nd Monterey Music Pop Festival with Jeff Healey, Billy Preston and War. The band in 1990 also did a national radio and promotional tour of Canada, playing select dates in Ontario and Quebec. The band also wrote two songs for TV and film including the track "Back Again" for Rocky V in 1990 and "Surrounded By Fire" for Backdraft in 1990 that unfortunately were not selected in the final production. This band has played alongside with Blue Oyster Cult, Tangier, Britny Fox, Cinderella, Blue Murder, Aldo Nova, Gorky Park, John Entwistle and Donny Osmond.
With a catalogue spanning over 3 decades with 3 celebrated albums; Sudden Impact (1989), Control Yourself (2001), HGR (2007), the bands newest and fourth release entitled "Lost In Translation" written over a span of almost 30 years; a majority of these are songs were originally written and recorded in demo format for an original Free Delivery Release that never happened. As the band was rebranded into "Hit The Ground Runnin'" these songs were essentially "Lost in translation" as the band was working on their 1989 album Sudden Impact. They manifest a wide variety of eclectic sounds and stylings within the Hard Rock, AOR and Pop-Rock genre and represent a unique time in the bands early history as they were emerging within the Philadelphia rock scene back in the mid 1980's. With Drum tracks recorded in Michigan, Keyboard tracks recorded in New Jersey and Maryland, and Vocals, Guitar, and Bass in Paul's studio in Pennsylvania, This album embodies the past and present of Hit The Ground Runnin' from a wide variety of locations.
The bands first single released on November 26 2021 entitled "Simply Because" has been a huge momentous success for the band with over 140,000 views on YouTube in the first 3 months of release.