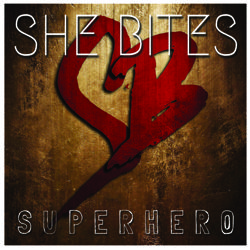 product: She Bites - Super Hero
release date: 22.07.2022
label: Pride & Joy Music
PR territory: world
PR contact: Diese E-Mail-Adresse ist vor Spambots geschützt! Zur Anzeige muss JavaScript eingeschaltet sein!
SHE BITES, the German Rock sensation, who released its debut "Joyride" in the year 2020, now returns with the sophomore melodious and rocking release "Super Hero"!
Lars König (g, LIONCAGE, ex SKYLINE) wrote 12 new songs and arranged them together with Carsten Kohl (dr. THREE WISHES). For "Super Hero", SHE BITES was joined by Hamburg based new singer Marion Welch who shines with her soulful but nevertheless rocky voice. Welch in the past has worked with rock heavy-weights such as Bobby Kimball (ex TOTO) and Bill Champlin (CHICAGO) amongst others and is the perfect fit for SHE BITES' sound of today!
The album "Super Hero" features Carsten Kohl on drums and Arvid Lucas (LIONCAGE) on bass guitar. The band filmed a video for the opening track "Eye Of The Storm" which impressively showcases the group's live presence. Dan Reed of DAN REED NETWORK supplied some stellar vocals for the duet on the ballad "True Love".
SHE BITES with "Super Hero" offers the right Summer soundtrack album for any fan of Journey, Survivor and FM – 12 songs with big choirs, lots of guitars and pounding drums!
To be released on Pride & Joy Music on July 22nd, 2022!