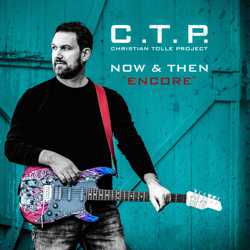 product: C.T.P. - Now & Then "Encores"
release date: 29.07.2022
label: ChrisTones Music
PR territory: Europe
PR contact: Diese E-Mail-Adresse ist vor Spambots geschützt! Zur Anzeige muss JavaScript eingeschaltet sein!
Born 1970 in Leverkusen, Germany, Christian Tolle was raised in a family where music had, and still has, its place. With a father who is an enthusiastic singer and a grandmother who played great piano, he discovered music quite early. At the age of 12, he got a guitar and took classical lessons. Soon after that, he got a Stratocaster copy and rocked the neighborhood with power chords and Heavy Rock. His first definitive statement was in 1987, when he released a song on a compilation of the German musician magazine "Musiker" at the age of 17. Many wonderful band efforts followed. He played with the Cologne-based bands Underdog and Black Rose. Also Christian started freelancing for WDR radio and the largest German musician magazine FACHBLATT. Inspired by Los Angeles big players, with whom he became acquainted during his time as a music-journalist, he decided to start his own project with the friends and musicians he had met and played with over the years.
In the years 2000 and 2005, the first two longplayers, Better Than Dreams and The Real Thing, were released and an illustrious crowd of international guests, such as Steve Lukather of Toto or Doug Aldrich make their appearance on the studio recordings. The Christian Tolle Project received excellent reactions from the audience and the press.
On the second release The Real Thing, the Dutch frontman and vocalist John "Jaycee" Cuijpers was significantly responsible for the lead vocals. As a result, Christian and John established a very creative chemistry. Christian and John merged their talents into the Dutch band of John Cuijpers, COOPER INC. Christian toured and played through Germany, the Netherlands and Belgium as well as COOPER INC. being the support act for the California super group TOTO for three years in a row on their German summer dates. COOPER INC. released their debut-longplayer Pulling The Trigger by COOPER INC. produced by Michael Voss in 2009.
2012 was the year of C.T.P. again: The third release The Higher They Climb got released on Fastball Music in March 2012. Christian and Michael Voss co-produced 12 tracks between summer and winter 2011. The result is nothing short of stunning meldodic rock. Performed with an incredible amount of energy the album contains a powerful mixture of hard hitting Heavy Rock tracks and catchy hooklines, great guitar work and some of the best voices in the genre: David Reece (Ex-Accept, Bangalore Choir), Leon Goewie (Vengeance), Paul Shortino (King Kobra, Ex-Quiet Riot, Rough Cutt) and Michael Voss (Michael Schenker, Casanova, Mad Max). Christian also invited a few of his friends to join as guests: L.A. guitar wizard Michael Landau, Ben Granfelt (BGB, Ex-Wishbone Ash), Andy Susemihl and Morris Adriaens perform a guitar solo on one track each and give the record a special flavour.
The fourth C.T.P. Release Now & Then from 2016 is a special one: Christian revisited some of his best tunes from the past and re-recorded them, added a bunch of great new tracks and wrapped everything in a very organic production. A wide variety of classic rock tunes, from hard pushing uptempo tracks to catchy AOR anthems. Christian is joined by John Parr, Philip Bardowell, Rick Riso, David Reece, Michael Voss, John Cuijpers, who deliver the vocal goods. Drummer Raymond Herveille sets the beat, Chuck Wright, Lauren Scheff and Christian himself rock on bass. Add Steve Lukather, Michael Landau, Tim Pierce and Doug Aldrich guesting as guitar players and the menu is set.
The 5th record came out in 2018. Over a period of 10 month 10 rockers had been recorded, reaching from the uplifting opener and title track Point Blank to the driving grooves on Too Late or the hook-ladden bangers Black Friday or Borderland as well as two covers: the legendary Since You've Been Gone and Classic Rock treasure Lonely Is The Night by Billy Squier. The production pounds with punch and transparency, so that Point Blank has become a real listening pleasure. The cast contains of David Reece (Ex Accept, Ex-Bonfire, Sainted Sinners, Bangalore Choir) and John Cuijpers (Cooper Inc., Praying Mantis, Ayreon) on vocals and Morris Adriaens on keyboards and backing vocals. Mathias Dieth (ex-UDO, Gravestone) and Doug Aldrich (Dio, ex-Whitesnake, The Dead Daisies) refine the album as guests with extraordinary lead guitars.
Fast forward to 2022: After the pandemic had slowed things down in an unfortunate matter for almost every artist, it is now time to release album number 6. Again, Christian decided to revisit some of the earlier tracks and combine a fresh and new sound with some brandew tunes for another very special release: Now & Then "Encore". Some of Christian's strongest tunes can be found here, such as the epic Ain't Gonna Let It slide, the cracker Fire Away or the great energetic power play in Never Had It So Good. The cast of musicians contains again the long year partners John Cuijpers (Cooper Inc., Praying Mantis, Ayreon), David Reece and for the first time David Frazee (Burning Water, Michael Landau Liquid Quartet) on vocals. Guitar wizard Mathias Dieth (ex-U.D.O., Gravestone) guests on two tracks, long time companion Morris Adriaens is on keyboards, Hammond organ and backings. Also Randy van der Elsen (Vandenberg) added backing vocals as well as Mendy Sneijers and Theo Talboom. Christian is responsible for guitars, bass, drums, production and mixing. It is fair to say that Now & Then "Encore" delivers a wide range of handmade Rock: pure variety, excellent songs and a modern, rich sound - Classic Rock with a modern edge.
Now & Then "Encore" will be released on the 29th of July on CTM ChrisTones Music on all relevant digital plattforms as well as a limited CD edition through selected shops and Christian's website.