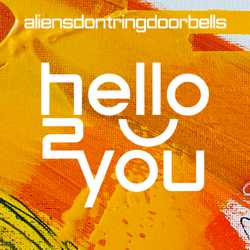 product: aliensdontringdoorbells - Hello 2 You (digital single)
release date: 29.07.2022
label: No Rules Music Group
PR territory: Europe, without UK; without radion in GAS
PR contact: Diese E-Mail-Adresse ist vor Spambots geschützt! Zur Anzeige muss JavaScript eingeschaltet sein!
When do you know that it's time to go full speed ahead?
When does it stop being something you do on a small scale and start playing for keeps? When do you know that it's good enough to let everyone else experience it too? after their critically acclaimed debut album ARRIVAL, they know that time is right now.
Aliens Don't Ring Doorbells, that name – because everyone asks – took root many years ago when singer-guitarist-saxophonist Dorian Foyil was on a New York City subway platform with his then-young son and an old man turned to the boy and said, "it's because aliens don't ring doorbells," a phrase that stuck with Foyil from that day forward. When it came to finding a name for the group he formed with fellow songwriters Adam King (lead and backing vocals) and Mark Boden (Keyboards & vocals), what was once just a memory of an old man chattering to himself – if indeed it was just that - just felt right as a band name. Filling out the rhythm section are band members are Kevin Dean on drums and Earl Forbes on bass.
Aliens Don't Ring Doorbells (ADRD) is an international pop rock band with Dorian hailing from the USA, Adam and Mark from the UK and Kevin and Earl from The Bahamas. The guys eventually connected via gigs played along the Costa Blanca of Spain, where a shared love for like-minded music turned out to be serendipity, and a band of brothers was born. In the Summer of 2019, the guys convened to the Bahamas where Dorian previously spent many years and began recording demos at Sanctuary Studios. The famed studio has an amazing live room, where the band put down the keys (used by none other than Alicia Keys in the previous session), drums, bass most vocals. In order to attract attention from bigger producers, the band wanted their demos to be as good as possible. That risky, but calculated decision worked. The first album 'Arrival' was recorded at The Keep Studio in Denver, Colorado. ADRD recorded 12 songs for the first album with producers such as Grammy winner Jeff Kanan (Madonna, Kelly Clarkson, No Doubt, Sting), Matthew Tryba (One Republic, Maroon 5, Taylor Swift) and Dan Konopka, an LA based producer who is also the drummer for the Grammy award winning band OKGO.
The Aliens band is releasing new singles in the summer of 2022 and a second iconic album is scheduled for release in March 2023. When it comes to songwriting, Dorian, Adam and Mark are emblematic of the saying "One for all, all for one." There are no set roles; at times, Mark will come up with the melody and Adam and Dorian will add the lyrics. At other times, Adam comes to the studio with a melody and lyrics already hummed or sung into his iPhone.
The band's first new single of 2022, "Hello 2 You" is an uplifting song that captures the 'joie de vivre' behind these Aliens and their accessible lyrics. Adam King's unbridled and earnest singing sets the tone for this song of renewal in believing what is possible. "I wrote the song for Aliens, it has an upbeat rhythm but the song is really about believing in yourself and taking positive steps no matter what age you are".
The wonderfully shot video, directed by Martin Bakker, was shot in the middle of one of Spain's largest orange groves and utilized panoramic views to bring impact to the song. "We spent two weeks in an eclectic recording studio located amazingly on the grounds of a massive orange grove; the views are forever" said Adam King.
The new single "Hello 2 You" is being met with much anticipation. "In the Spring of 2022 we toured Germany, Austria and Switzerland with the band Roachford and developed a solid fan base and we can't wait for this new single to hit" stated Boden.