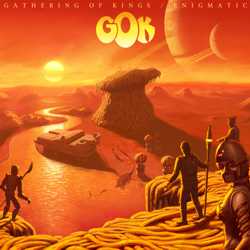 product: Gathering Of Kings - Enigmatic
release date: 29.07.2022
label: RN Records
PR territory: Europe
PR contact: Diese E-Mail-Adresse ist vor Spambots geschützt! Zur Anzeige muss JavaScript eingeschaltet sein!
Swedish melodic hard rockers Gathering Of Kings third studio album "Enigmatic" will be released on July 29th via RN Records.

The album was mixed and mastered by award-winning producer Thomas "Plec" Johansson in Skövde, Sweden with Ron Dahlgren, Nina Dahlgren and Victor Olsson as executive producers. The songs was written and produced by Victor Olsson. Drums were recorded at Nordic Sound Lab in Skara by Mikko Viitala and Victor Olsson. The cover artwork was created by Markus Vesper, who also handled the art on the previous two albums.
The album features a guest appearance from the Swedish pop group One More Time. Its members are the singers Nanne Grönvall, one of the most beloved and popular artists in Sweden, Maria Rådsten and Peter Grönvall, the son of ABBA's Benny Andersson, on keyboards.
Their first single Highland, 1992, hit the charts all around in Europe. In 1995 they composed a song for the Swedish Melodifestivalen, "Det Vackraste" that won a grammy for best song of the year, and in 1996 they won the Swedish Melodifestivalen and represented Sweden in the Eurovision Song Contest with their song "Den Vilda", which ended in 3rd place.

Gathering Of Kings are the successful project built by Ron & Nina Dahlgren, bringing together top musicians from the current hard rock scene in Sweden. The idea was to create an AOR/Melodic Hard Rock project/band like Tom Galley's Phenomena or even Tobias Sammet's Avantasia, with multiple vocalists and instrumentalists. Victor Olsson quickly became the main songwriter.
The superlatives have hailed over Gathering Of Kings, which takes you straight back to the golden age of 80's melodic hard rock and it is without a doubt one of the hottest acts in Sweden, now with two critically acclaimed records in the bag and the third album, "Enigmatic", will be released in July.

After the debut album "First Mission", Ron & Nina remodelled Gathering Of Kings from being a project to becoming a band with permanent members.