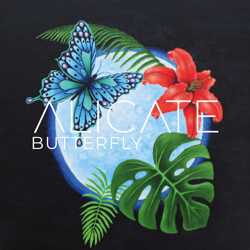 product: Alicate - Butterfly
release date: 07.10.2022
label: Pride & Joy Music
PR territory: world
PR contact: Diese E-Mail-Adresse ist vor Spambots geschützt! Zur Anzeige muss JavaScript eingeschaltet sein!
Alicate was formed in the late eighties by Lead vocalist Jonas Erixon and bass player Fredrik Ekberg. In the early years they played mostly local venues but were able to release a 7" single called "The End/Too Shy To Take It" which is a collectors piece today.
Fast forward to 2006 where the band reformed and started to work on new material that resulted in their first full length album called "World Of Anger" that was released in 2009. The success of this album and the popularity of their concerts, led to the release of their second album, "Free Falling" in 2013. Their third full length album, "Unforgiven To Be Forgiven", followed in 2018 together with a Live EP called "Live At Forum".
The creativity was reaching soaring levels when Covid sadly hit the world and put the progress on hold for the band. However, Jonas Erixon still wrote songs and collaborated with some high profile artists and wrote/co-wrote songs for Giant, Skills (with Billy Sheehan and Brad Gillis) and Sweet Oblivion (Geoff Tate)
During the Pandemic, work also started on new material for Alicate. The band looked for a natural progression from their last album that would result in a more "distilled" version of the band, adding even more hooks to the songs.
Four years after the release of their last album, ALICATE returns to form with a brand new album called "Butterfly"!! This new record consists of 10 hi-octane tracks that can be categorized as Hard Rock with a large dose of melodies in them.