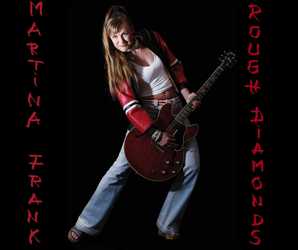 product: Martina Frank - Rough Diamonds
release date: 01.10.2022
label: Frankengestein
PR territory: Germany, Austria, Switzerland
PR contact: Diese E-Mail-Adresse ist vor Spambots geschützt! Zur Anzeige muss JavaScript eingeschaltet sein!
For years Martina Frank is considered one of the most expressive singers in Hannover. She has performed with various blues, rock, pop & country bands throughout Lower Saxony and is represented on various studio productions. And she has always written songs herself in her bands.
2019 in the end, she came back to what got her started in music in the first place – songwriting - and was reminded that a little bit of courage can go a long way!
She realized she had worked out a solo program with new original songs.
Someone once said: You can tell a good song by the fact that it only works with vocals and guitar. And the songs of her album pass the test - 11 new and own compositions - performed only with her voice and her guitar
The titles now on the self-recorded and sung, co-produced and highly acclaimed debut album "ROUGH DIAMONDS" Martina Frank brings LIVE on stage on her fall tour 2022. There, in a "one woman show", she turns the German-English genre mix into a cheeky and modern arranged, refreshing listening pleasure.