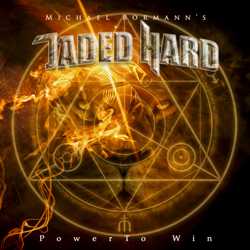 product: Michael Bormann's Jaded Hard - Power To Win
release date: 28.10.2022
label: RMB Records
PR territory: world
PR contact: Diese E-Mail-Adresse ist vor Spambots geschützt! Zur Anzeige muss JavaScript eingeschaltet sein!
And on we go...Corona thoroughly slowed down the music industry, and the momentum of MICHAEL BORMANN'S JADED HARD along with it, but new music is finally available from Bormann and company. Following up their 2019 debut album "FEELS LIKE YESTERDAY," their second CD – "POWER TO WIN" (because these 5 musicians wouldn't let themselves be defeated!) will be released on all platforms on October 28, 2022.
POWER TO WIN once again showcases the power and expressiveness of MICHAEL BORMANN's legendary voice and the full range of his song writing skills. In the usual manner, this is AOR / MELODIC ROCK at its finest - From up-tempo songs that will delight the headbanger's heart, to powerful ballads that will melt the hearts of women and men alike. But there is also something new. To bring in a breath of fresh air and new nuances to POWER TO WIN, Michael worked with other songwriters: Bruno Kraler on When I Look In Your Eyes, Pete Alpenborg on Little White Lies, Fredrik Joakimsson on A Step Away From Heaven, and Michael Maikel Müller on Hysteria - Wrong And Right, and When She's Good.
The song We Must Make A Stand was a project about the current political situation with singers and other musicians from Duisburg (Michael´s hometown) and not originally intended for this album, but due to the positive response, Michael decided to include it on the record.
The second European tour unfortunately had to be postponed twice, but now the planning is once again in full swing, and, if all goes well this time, the boys will be back on the road rocking the stages in early 2023!