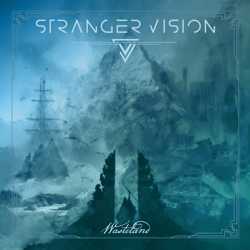 product: Stranger Vision - Wasteland
release date: 04.11.2022
label: Pride & Joy Music
PR territory: world (excl. Italy)
PR contact: Diese E-Mail-Adresse ist vor Spambots geschützt! Zur Anzeige muss JavaScript eingeschaltet sein!
Do progressive & power metal still have a chance to sound fresh and original, without losing their authentic and charming spirit? If you believe that the answer is "no", you have probably never listened to STRANGER VISION.
STRANGER VISION were born in 2019, aiming to create and realize an extremely personal vision and sound. Catchy music, but not cheesy. Magniloquent, but not tawdry. Technical, but not complex. Modern, but not pimp. And powerful, above all.
The captivating energy of STRANGER VISION comes from the toughness of an exquisitely metal impact and the penetrating power of the melodies. Their style is proficient at generating violent and pleasant sensations, both on artistic and emotional level.
Despite the rich songwriting and accurate arrangements, the creative process of STRANGER VISION is very free and spontaneous. Some sources of inspiration can be found in the limitless storytelling skills of Savatage, the percussive intensity of Symphony X and the fluent harmonic layers of Blind Guardian, but any influence is deeply reworked by the unique personality of the band.
Shortly after the successful debut album Poetica, the sophomore opus Wasteland hits the bullseye once again. A 58-minutes-long musical journey showing STRANGER VISION's talent for crating memorable riffs, epic vocal melodies, compelling rhythms, uplifting orchestrations, while working out a quite unique conceptual approach for their genre.
The interest of STRANGER VISION in human sciences – with special regard to literature, poetry and philosophy - is deepened in thoughtful lyrics, yet open to free interpretation. Wasteland is a concept album celebrating, exactly 100 years after its first publication, Thomas Stearns Eliot's eponymous poem, published in 1922 and considered one of the great masterpieces of modern poetry.
Wasteland also features some stunning collaborations with prestigious international guests, such as Tom S. Englund (Evergrey, Redemption, Silent Skies) on the song The Deep and the almighty Hansi Kürsch (Blind Guardian, Demons & Wizards) on the title-track. A pretty consequence of STRANGER VISION's victory at the Imagination Song Contest hosted by the Bards of Krefeld themselves.
Magnificently mixed and mastered by Simone Mularoni (DGM) at the renowned Domination Studio in San Marino, the new album Wasteland will undoubtedly pursue the never-ending path of a steadily growing career, which can finally take flight along with the complete restoration of concert-related activities. The artwork was designed by Gustavo Sazes (Angra, Firewind, Cyrah etc.)
Far from being a studio project, STRANGER VISION are more determined than ever to establish their artistic consistency and unleash all the power of Wasteland, definitely a game-changing record in the Italian and international metal scene.
Do progressive & power metal still have a chance to sound fresh and original, without losing their authentic and charming spirit? The answer is "yes". Its name is STRANGER VISION.