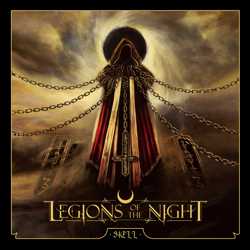 product: Legions Of The Night - Hell
release date: 04.11.2022
label: Pride & Joy Music
territory: world
PR contact: Diese E-Mail-Adresse ist vor Spambots geschützt! Zur Anzeige muss JavaScript eingeschaltet sein!
After the huge success of LEGIONS OF THE NIGHT's debut album in the year 2020 during the pandemic, "Sorrow Is The Cure", the Germany based Power Metal group now returns with the sophomore release "Hell"!
The group still exists of Jens Faber (Dawn of Destiny, MalefistuM, ExoS), drummer Philipp Bock (Dawn Of Destiny" and sexceptional singer Henning Basse (Metalium, ex- Firewind, Mayan).
"Hell" continues exactly where the previous album has stopped – on this new release the typical Power Metal trademarks like huge melodies, powerful riffs and catchy choruses are present all over the released which is topped by an incredible performance of singer Henning Basse!
"Hell" once again was mixed by mastermind Dennis Köhne (u.a. Orden Ogan, Sodom, Lacuna Coil)!