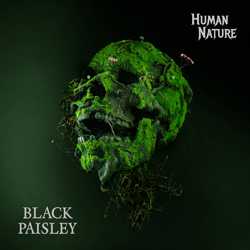 product: Black Paisley - Human Nature
release date: 25.11.2022
label: Black Paisley AB/ Sound Pollution
PR Territory: Europe (excl. UK)
PR contact: Diese E-Mail-Adresse ist vor Spambots geschützt! Zur Anzeige muss JavaScript eingeschaltet sein!
Black Paisley hailing from Stockholm – Sweden is one of the upcomers in the NWOCR (New Wave of Classic Rock) bringing on the heritage from classic acts like Whitesnake, Scorpions and Thunder combined with modern production and praised new songwriting.

Human Nature is the 4th album by Black Paisley, and part of the album is a once-in-a-lifetime co-op with some of Classic Rock's best in class on production, mixing and mastering.
With the aim to re-invent the magic from our idols and the albums/songs that inspired our youth - the band managed to sign and meet up with icon Mike Fraser at Armoury Studios in Vancouver (mixing - 5 AC/DC albums, The Cult, Aerosmith, Metallica) and Ryan Smith at Sterling Sound in Nashville handled the mastering (AC/DC, Adele, Ozzy & Greta Van Fleet), to help them out with Set Me On Fire and Human Nature.
This was of course a great experience for the band, but also a humbling realization of already having a great team in place back in Stockholm.
The band name BLACK PAISLEY comes from Bon Jovi's Ritchie Sambora's classic Fender signature guitar from 1996. With the name you get an embedded connection to the Melodic Rock with catchy melodies which is the best way to describe Black Paisley's music.