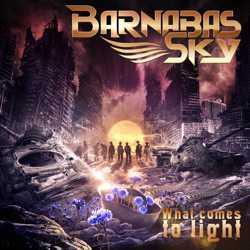 product: Barnabas Sky - What Comes To Light
label: Pride & Joy Music
release date: 20.10.2023
PR territory: world
PR contact: Diese E-Mail-Adresse ist vor Spambots geschützt! Zur Anzeige muss JavaScript eingeschaltet sein!
The melodic hard rock all-star project BARNABAS SKY, led by German guitarist and songwriter Markus Pfeffer (LAZARUS DREAM/WINTERLAND), launches its sophomore album "What Comes To Light"!
Stylistically, the project of the multi-instrumentalist from Kaiserslautern combines groovy guitar riffs, catchy choruses, distinctive voices of several singers with international reputation, spherical synth sounds and filigree solos to a timeless rock melange way beyond short-lived trends.
Once again on board are TYKETTO's Danny Vaughn as well as SILENT RAGE's Jesse Damon, whereby the former impresses with energetic vocals on the title track and the latter is supported with choirs by AOR legend PAUL SABU on the elegiac earworm "Grant Me A Wish From Heaven". For the first time, Doogie White (RAINBOW, ALCATRAZZ, RISING FORCE etc.) is on board for the classic rock steam hammer "Circus Of Delight" as well as Dan Reed (DAN REED NETWORK) with the synth-hooked "Take A Ride".
Also featured are Roy Cathey (COLD SWEAT, THE FIFTH), Dirk Kennedy (HITTMAN), Carsten "Lizard" Schulz (DOMAIN, EVIDENCE ONE), Lee Small (SWEET, LIONHEART, PHENOMENA) and metal legend Alan Tecchio (WATCHTOWER). In addition to these already established singers, the exceptional vocal talent Deibys Artigas Venegas (PREINCARNATION) from Venezuela, who is just 30 years old, is on board as an insider tip.
The impressive cover design was done by Stan W. Decker (POWERWOLF, MEGADETH etc.) and the mastering by Rolf Munkes at Empire Studios (MICHAEL SCHENKER, MAD MAX, VOODOO CIRCLE etc.).
Line-up:
Guitars, Bass, Keyboards, Guitarsynth: Markus Pfeffer
Vocals: Danny Vaughn, Dan Reed, Doogie White, Jesse Damon, Roy Cathey, Dirk Kennedy, Lee Small, Carsten Lizard Schulz, Alan Tecchio, Deibys Artigas Venegas
Drums, Percussions: Thomas Rieder
Backing Vocals: Paul Sabu, Stephan Hugo