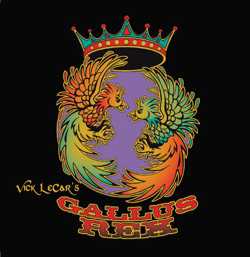 product: Vick LeCar's Gallux Rex - s/t
release date: 17.02.2023
label: Righteous Path Records
PR territory: Europe
PR contact: Diese E-Mail-Adresse ist vor Spambots geschützt! Zur Anzeige muss JavaScript eingeschaltet sein!
Vick LeCar's GALLUS REX is a Blues Rock explosion with a heavy influence of Deep Purple and Black Sabbath. LeCar's guitar and songwriting shines aggressively through the powerful rhythm section while Williams's vocals reminisce the rock n roll singers of the 70s. Righteous Path Records has started releasing singles from the band's self-titled CD Vick LeCar's Gallus Rex. The first single and video If Heaven Takes You First will be released on September 4th and the full EP will be released on February 17th,2023 on Righteous Path Records in Europe.

Gallus Rex, Vick LeCar's Gallus Rex is from New Orleans, Louisiana with a sound rooted in the hard rock music from the 70's. Deep Purple, Rainbow, and Bad Company are obvious influences because - there is a backstory. Vick LeCar was bornand raised in Santiago, Chile. Vick and his family escaped dictatorship and ended up in North Bergen, New Jersey. A city close enough to New York City where Vick immersed himself in the East Coast Rock scene. Vick quickly began to carve out his place and soon after his name became synonymous with the best guitarist in the area. In 1998 Vick LeCar caught the attention of platinum selling singer Joe Lynn Turner (Rainbow / Deep Purple / Yngwie Malmsteen). Turner was just coming off of 5 successful years as the singer for Richie Blackmore's Rainbow when he locked in on Vick LeCar's guitar skills and offered Vick the lead guitar position / songwriter in his new solo band. Vick immediately began to add Turner's Rainbow hits to his repertoire. He was now going to be playing the guitar parts of one of his guitar idols Ritchie Blackmore to audiences from around the world.
In 2016 Vick moved to New Orleans where he continued to write and perform his own material. This is where he met bassist Cujo and the two began to play venues around the city with local drummers.
In 2019 vocalist Williams, joined forces with Vick LeCar to write a hooray of melodic guitar driven songs, to soon form Vick LeCar'S Gallus Rex, recruiting Jonathan Limjuco
/ Cujo on bass and drummer Eric Bolivar to record the self-titled five song EP Gallus Rex.
Gallus Rex
Vick LeCar - electric and acoustic guitar / backing vocals Ru Williams / Rooster-vocals / harmonica