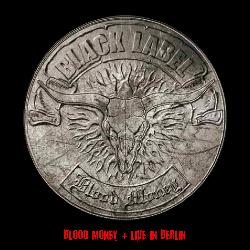 product: Black Label - Blood Money
label: Bad Reputation
release date: 07.03.2014
format: CD
PR territory: Germany & Austria
PR contact: CD
Black Label are the best live band in Australia – fact. Over a ten year career- they have played hundreds of shows, including countless shows with both Rose Tattoo and The Angels – and if heavy, blues based rock in the tradition of those bands is your bag – then you will dig Black Label. Make no mistake though. This is not a band playing carbon copied Brewster Brother or Wells/Cocks riffs, and whilst they certainly tip their hats to those aforementioned bands, 'Blood Money' confirms in no uncertain terms that Black Label are at the height of their powers and playing truly amazing, original and memorable heavy rock of the first order, and with 'Blood Money', they have delivered a defiant collection of ballsy heavy rock anthems.
'Blood Money' is the fourth studio album from this Sydney based band, and it shows a significant maturity in both the song writing and musical stakes. That is not an implication that any of their previous efforts were underdone – far from it in fact. It's just that the band's sound has come a long way from the days when they were playing a twin guitar style of southern fried, hard rock boogie that channelled Skynyrd, Molly Hatchet and Blackfoot. The différence is that the tunes on 'Blood Money' are world class. This is as good as ANY heavy rock album you'll hear, and ranks as the bands heaviest album, with a sound that to me is aimed clearly, at the European heavy rock / metal market.
Whilst bands like Airborne have had some international success pillaging a dog eared, AC/DC style of rock, large scale success has eluded Black Label, who are far more authentic. Black Label have a pedigree that included former members of both Heaven and Boss in their ranks. They have been endorsed by Rose Tattoo's Angry Anderson and the late Peter Wells, and after several years and hundreds of gigs, have more than paid their dues. Credentials aside though, 'Blood Money' affirms that they are the 100% bona fide article with this ten track album loaded with firebrand hard core riffs and a heavy duty groove. Recorded and produced by Greg Clarke, the guitars are underlined by thunderous rhythms – Australian rock at its best. Vocalist Steve Mulry has a strong, solid and powerful voice, and belts it out in no uncertain terms. From top to bottom, every song on this album is killer. This entire album smokes.
After several years, the lack of success must be a frustration, but Black Label decide to go still on. Now, this CD comes with Live in Berlin, a second CD smokin hot & live, before a new effort scheduled late 2014.  'Live In Berlin' attests, they are on par with any of the planet's best heavy rock bands, whoever you care to name.The guitars are up front, and it's in your face. No overdubs here, this is no bullshit rock 'n' roll of the highest order.  There are 12 tunes on the disc. If you ain't hip to Black Label – I strongly suggest you climb on board. You won't be disappointed.