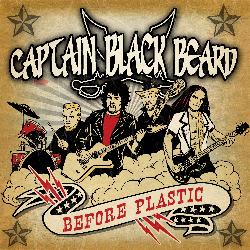 product: Captain Black Beard - Before Plastic
out: May 23rd, 2014
label: Dead End Exit Records
PR territory: world
PR contact: Diese E-Mail-Adresse ist vor Spambots geschützt! Zur Anzeige muss JavaScript eingeschaltet sein!
Captain Black Beard made it's live debut on the 31st of October 2009 and has since been playing most of the clubs in Stockholm. At the end of 2010 the band decided to pick it up a notch and record a full length album. Having been in talks with the biggest rock producers in Sweden - Chips Kiesbye (Sator, The Hellacopters), Tobias Lindell (Europe, Mustasch), Patrik Frisk (Takida, Corroded) - the band chose to work with David Castillo (Opeth, Katatonia) who had already shown himself capable when working on the bands single "Rock Is My Life".
The completion of the CD was celebrated together with hundreds of friends and fans at Göta Källare in Stockholm on the 28th of May, 2011. In the fall the band made their first concerts abroad as they did a short tour of the U.S.
Captain Black Beard's debut CD has been hailed in the press with tons of great reviews all over the world, from Australia to Brazil, in magazines such as Classic Rock, Classic Rock AOR, Sweden Rock, Fireworks, Power Play, Black Velvet and Red Hot Rock. It was also named one of the "Albums Of The Year So Far" by legendary journalist Geoff Barton of Classic Rock.
2012 saw the band playing in the U.K. for the first time, headlining Summer Nights Rock Fest and gearing up for the next album, among other things.

Most of 2013 has been dedicated to the making of the bands second album, and they signed a deal with Dead End Exit Records in the beginning of 2014. "Before Plastic" will be released in May 2014 with lots of live performances to follow.