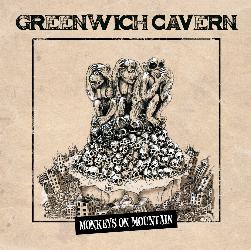 product: GREENWICH CAVERN - Monkeys On Mountain
label: Bad Reputation
out: 15.11.2014
format: CD
PR territory: Germany & Austria
PR contact: Diese E-Mail-Adresse ist vor Spambots geschützt! Zur Anzeige muss JavaScript eingeschaltet sein!
There is a bar called The Cavern, situated in Greenwich Village in New York. Two French musicians met there by chance, changed the world and decided to form a band. What could be more natural than to take the patronymic of Greenwich Cavern!
Walter Gallay and Eric Revel (bass) share the same passion for 70s' rock tinged with Blues (Deep Purple, Led Zeppelin, Free). After their return to France, the duet started to search for musicians and opts for a full band.
After some rehearsals, Greenwich Cavern recorded its first album with a glam-funky trend, Other Side, and made more than 40 concerts in 2009 among which were parts of the Scorpions, Ten Years After and Louis Bertignac. However, the group mutated into a power-trio, and only Eric Revel stayed in the boat as a captain. François Del Frate (first of the class of MAI), the perfect striker of trunks, joined him as well as Olivier Sosin (guitar, voice, piano, Bachelor's degree in musicology) at the beginning of year 2011. During the next two years, Greenwich Cavern took a new term with many dates. In September, 2012, the trio released out a double CD / DVD named Dolly and resumed its series of concerts. Paul Personne, Skinny Molly, American Dog, Triggerfinger, Aaron invited them for the opening part. Live At The Galaxie in 2013 showed the unstoppable musical testimony of the Dantesque scenic performances of the trio. The rest of Europe is not insensible to the music of Greenwich Cavern. So the band was touring in Switzerland, Germany, Belgium, Luxembourg and in the Netherlands.
Bad Reputation who followed them since the beginning suggested to set a little more time into the composition of a more bluesy and more worked album. The trio spent some time in the writing of Monkeys on Mountain. From the first demos, there's no doubt anymore now: Greenwich Cavern knows how to compose great firebrands. From So Much Love to RockBox including Devil Wrinkle, the tracks are unstoppable. Greenwich knows also how to be aimed on No Reason and See You.
Do not thus be deaf, blind and dumb persons in Greenwich Cavern. The band from Lorraine ( Let the Party on will say Uriah Heep) is already a part of the best Rock acts of France!