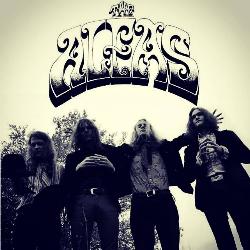 product: The Alfas - I'm Leaving You
label: Wild Kingdom
release date: out now
format: digital single & video
PR territory: Europe
PR contact: Diese E-Mail-Adresse ist vor Spambots geschützt! Zur Anzeige muss JavaScript eingeschaltet sein!
The Alfas hails from Stockholm, Sweden and plays rock´n´roll music that´ll shake you up well and good. Their 70´s styled blend of rock is best enjoyed live and they´ve had fans weep of joy and draw parallels to legendary bands such as the MC5, Blue Cheer and Cream.
Philip Lagerblad, Oscar Ulfheden, Timothy Parker and Andreas Wennerberg formed the band September 2013 and have since then spent most of their time in their rehearsal room.
The band did a very successful tour in Scandinavia and after that they decided to record some of their songs.
Together with well known producer/engineer Fred Estby the band entered Gutterview Studios in Stockholm. A few songs was recorded and "I'm Leaving You" is the track that will be the Alfas debut on Wild Kingdom Records!
Nothing will stop you from being drawn into the groove in their music.