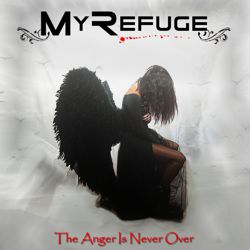 product: My Refuge - The Anger Is Never Over
release date: 23.04.2021
label: Pride & Joy Music
PR territory: world
PR contact: Diese E-Mail-Adresse ist vor Spambots geschützt! Zur Anzeige muss JavaScript eingeschaltet sein!
MY REFUGE is an Italian power heavy metal band formed in 2010 in Milan by guitarist Mauro Paietta. In October of the same year saw, the group released their first and self-produced EP "3407-Picture of an August Night". In 2012, with a deeply revamped line-up, MY REFUGE started to create new stuff and to record new material. A few months later, the band released their second self-produced EP, "Living in Anger".
In 2015, the Italian group signed a deal with Scarlet/Bakerteam Records for the release of the official full length debut album "A Matter of Supremacy" and then began with intense live activities, i.e. to perform at festivals and to share the stage with artists such as Freedom Call, Elvenking, Furor Gallico, Domine, Drakkar & Primal Fear.
After some line-up changes, MY REFUGE in 2020 decided to turn into a new dimension by becoming an international project, involving musicians from 14 countries and 4 continents.
With this new revolutionary line-up MY REFUGE recorded the material for the new album "The Anger Is Never Over" which was mixed by Christian Ice at Temple of The Noise Studio in Rome and mastered by Andrea De Bernardi at Eleven Mastering Studio in Milan (Italy).
My Refuge – complete Line Up
Mauro Paietta (Italy) - Guitars and Keyboards
Javier Perez (Spain) - Bass
Mark Vetter (Germany) - Drums
Simone Dettore (Italy) - Guitar on Winterland, What If Tomorrow Never Came, The River and The Rain
Salvatore Chimenti (Italy) - Bass on Mistress of the Dark, Winterland, What If Tomorrow Never Came
Gabriela Kaufmanova (Czech Rep.) - piano on What If Tomorrow Never Came
Katarina Gubanova (Ukraine) - Piano and Keyboards on Memories
Berzan Onen (Turkey)- Vocals on Immortal Fire
Iggy Rod (Argentina) - Vocals on War In Heaven
Ronny Castillo (Venezuela) - Vocals on The River and The Rain
Davide Vella (Italy) - Vocals on MIstress of The Dark
R.A. Voltaire (Canada) - Vocals on Winterland
Ilias Michailicos (Greece) - Vocals on What If Tomorrow Never Came
Andra Ariadna Chitu (Romania) - Vocals on Memories
Rafael Dinnamarque (Brazil) - Vocals on After Ten Years
Arthur Pessoa (Brazil) - Vocals on The Anger Is Never Over
Fernando Neri (Brazil) - Vocals on The Last To Die
Kike Valderrama (Colombia) - Vocals on Until The End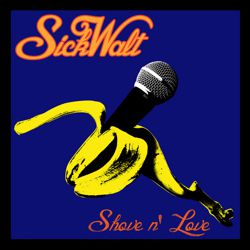 product: SickWalt - Shove N' Love
release date: out now (February 12th, 2021)
label: X-Ray Records/ Golden Robot
PR in Europe: Diese E-Mail-Adresse ist vor Spambots geschützt! Zur Anzeige muss JavaScript eingeschaltet sein!
In 2014, two New York City natives got together to capture the same explosive spirit of Rock 'n' Roll that can only be compared to the likes of the early works of the all-time greats like AC\DC, The Stooges, and MC5, to name a few. SICKWALT is an unapologetic, positive, high-energy, in your face, rock 'n' roll band from Astoria, Queens, NY.
With Walt 'Sick Walt' Novak as the mastermind frontman since day one, he has been backed by various NYC veteran musicians, such as legendary NYHC drummer Eric Arce (The Misfits, Murphy's Law, Skarhead, Maximum Penalty), Rob Buckley (Cro-Mags, Urban Sun, M-16) and his band co-founder,
Max Capshaw (Sick of it All, Murphy's Law, H2O.)
Walt Novak joined Max Capshaw for the first time on stage at the Bowery Ballroom in New York City. They performed four songs together that sent the crowd into a tailspin. It was decided that this project must continue, and right then, SICKWALT began.
SICKWALT returns in 2021 with their first full-length album SHOVE N' LOVE, releasing on Golden Robot Entertainment. This marks the band's most developed sound to date, with blazing crisp guitar riffs, thumping & pumping drums and a bottom end that lays the foundation for SICKWALT's unique vocal style.
Between landing in the mental ward, teaching inmates at the infamous Rikers Island prison for MC5 legend Wayne Kramer and his Jail Guitar Doors program, or partying til sunrise in the back alleys of NYC, SICKWALT wrote SHOVE N' LOVE through pure experienced passion.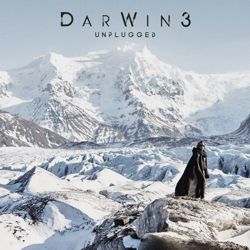 product: DarWin3 - Unplugged
release date: 12.04.2021
label: Origin Of Species LLC
PR in GAS: Diese E-Mail-Adresse ist vor Spambots geschützt! Zur Anzeige muss JavaScript eingeschaltet sein!
DarWin first grabbed attention with the epic 17 track double album "Origin of Species" in 2019. It won over fans and critics alike with its mix of virtuoso playing, heavy guitars, and symphonic rock, co-produced by Simon Phillips. The punchy follow up album "DarWin 2 : A Frozen War" took the concept a stage further, adding musicians Billy Sheehan, Guthrie Govan, Greg Howe and Derek Sherinian to the mix.

Now comes "DarWin 3 : Unplugged," a collection of orchestral and stripped back versions of tracks from the first two albums.

Highlights range from the sweeping instrumental takes of "Escape The Maze" and "The Last Chance" recorded at Abbey Road Studios, "Nightmare of My Dreams" recorded in Iceland, to a poignant acapella version of "Another Year."

The album, once again produced by Simon Phillips (Toto, The Who, Santana), features DarWin (guitars), Matt Bissonette (Elton John, Jeff Beck) on bass and vocals, The Chamber Orchestra of London, and The Reykjavik Quartet across its eight tracks. Phillips also adds his signature percussion and effects to the album.

The songs first appeared as a bonus addition to the limited edition "DarWin 2 : A Frozen War" double vinyl LP, and are now being given a stand-alone release in "DarWin 3" on April 16th 2021.

DarWin says, "Upon completing our first and second albums, we quickly realized that completely different interpretations of the songs were possible by isolating the strings or acoustic instruments as much as possible. Indeed, they sounded like completely different songs, although the fundamental concepts and spirit of the songs remained intact. Simon went to work on doing new mixes with the exact same instruments and tracks from the recordings in the earlier albums to create these 'unplugged' versions of the songs. Matt Bissonette also recorded two new solo versions of 'Slowly Melting' and 'One Horizon,' with just his voice and bass. Simple and pure. 'Slowly Melting' was recorded on a live take with the voice and bass parts simultaneously. Many of these songs were deeply emotional journeys, and that character tends to shine through in these unplugged versions."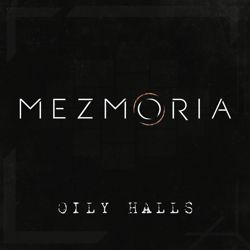 product: Mezmoria - Oily Halls (digital single)
release date: 12.03.2021
label: self-released
PR: Diese E-Mail-Adresse ist vor Spambots geschützt! Zur Anzeige muss JavaScript eingeschaltet sein!
After the successful debut single "Scars" from December 2021 with 100K+ plays on Spotify, "Oily Halls" is the second single from Swedish metal project MEZMORIA!

MEZMORIA was first founded in 2006 by Robin Jidhed (Ex. Creye) together with Eric Wikström (Hagwater) and Martin Floberg (Enbound). But after years of writing and recording life intervened and the project was put on ice. Until now.

After Robin's departure from Creye he went on and felt it was time for another chapter of MEZMORIA. The circle was then completed when Eric and Martin said yes to take part once again, Eric as a lyricist and Martin on lead guitar. He then recruited the very talented Eric Skjuttorp (Chugger) on drums and David Åkesson (Qantice) on backing vocals.
"Oily Halls" is available from today on all digital platforms!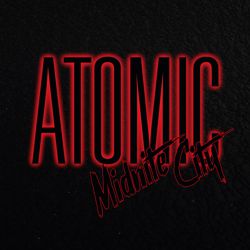 product: Midnite City Atomic (digital single)
release date: 05.03.2021
label: Roulette Media
PR in Europe -UK: Diese E-Mail-Adresse ist vor Spambots geschützt! Zur Anzeige muss JavaScript eingeschaltet sein!
Since bursting out onto the scene with a vengeance in 2017, MIDNITE CITY have taken on the world and hustled themselves to the top of the pile to be crowned the true kings of Hair Metal.
Following on from the release of their sophomore album 'There Goes The Neighbourhood' in late 2018 (which was voted 5th best Melodic Rock album of the year in Classic Rock magazine and also made the list of the best albums of the past 35 year history of Japan's Burrn! magazine) the band have gone from strength to strength and proven to be one hell of a force to be reckoned with in the live arena.
MIDNITE CITY have headlined two consecutive UK tours, played shows all over Europe, Australia and also played two sold out shows in Japan and continue to dazzle a legion of growing and devoted fans around the world with their high energy, feel good, party rock.
Hot on the heels of two highly acclaimed albums, MIDNITE CITY return in 2021 with their highly anticipated third album "Itch You Can't Scratch" on May 28th. With new label Roulette Media in tow, as well as new management and booking agent, the band are back looking and sounding better than ever with a new array of songs that will melt your face, so strap yourselves in for the ride of your life. It's all about the good times!
MIDNITE CITY will release three singles from the album in advance. The first advance track, "Crawlin' In The Dirt", was unleashed on January 22nd and accompanied by a video.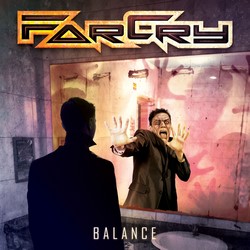 product: FarCry - Balance
release date: 30.04.2021
label: AOR Heaven
PR territory: world
PR contact: Diese E-Mail-Adresse ist vor Spambots geschützt! Zur Anzeige muss JavaScript eingeschaltet sein!
FarCry is a melodic rock band from the Northeastern US formed in 2006, with two successful albums under their belt, High Gear (2009), and Optimism (2011). Playing across the US and as far away as the Nottingham, England for Firefest in 2012, FarCry has shared the stage with numerous acts including Vince Neil, Bret Michaels, Dokken, Firehouse, Danger Danger, and many more with a killer live set.
Shortly after they completed their 2011 release "Optimism", vocalist Mark Giovi left the band for personal reasons, and later in 2011 the band began working on new material with a new vocalist, as well as playing several live shows throughout 2012-2013.
In 2013 with a number of other business endeavors to deal with, Guitarist Pete Fry dissolved the band indefinitely, with no plans to reform under that name. After a couple of years however, Pete teamed up with new vocalist Bob Malone and started writing material with a vengeance for a new melodic rock project. With the new material coming fast and furious, and overwhelmingly positive feedback regarding bringing back the name FarCry, Pete agreed that maybe the band's story wasn't finished being written just yet…
Bringing everyone back into the fold wasn't as easy as they had hoped, so a new rhythm section was brought in with Leo Sabatino on bass and Rich Yaniro on drums. Rounding it out and adding the power, Jon Giesler (guitar) joined the band and completed the picture.
With roots firmly planted in the late 80's/early 90's heyday of commercial hard rock, FarCry puts their own unique spin on the sounds of that era without sounding dated. 

Well suited to smaller club stages opening for national acts, or the biggest festivals among multiple bands, FarCry brings their all and gives everything they've got to every show!
FarCry's latest release "Balance" was recorded throughout 2019-2020, produced by the band, and mixed by Paul Crook (Meatloaf, Anthrax). Mastered by Maor Appelbaum. All songs written by the band with the exception of "I Am Your Man" written by Steve Newman.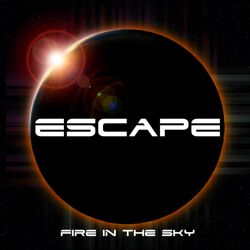 product: Escape - Fire In The Sky
release date: 30.04.2021
label: AOR Heaven
PR territory: world
PR contact: Diese E-Mail-Adresse ist vor Spambots geschützt! Zur Anzeige muss JavaScript eingeschaltet sein!
After decades of silence, renowned Black Country/West Yorkshire AOR/Melodic Rock band ESCAPE are reborn and returning to the fray with a new line up, their third studio album entitled 'Fire in The Sky' and new on-location video for track 'Heroes in the Night'.
This comeback album is very much in the vein of breathing new life into old classics, combining a wealth of experience and new recording technology. Some of the tracks are over 30 years old and were in desperate need of a resurgence. They have been re-recorded, reimagined and brought to the forefront of a new era and audience in Melodic Rock.
All of the tracks on the album are taken from previous Vince O'Regan (Bob Catley, Legion, Arabia) releases but that's where it ends. The production, sound and energy are all new. With new drums, bass and vocals and any original parts being remixed and remastered - the result is a bigger, fresher sound which, whilst still giving a nod to original, has elevated some already great tracks to a new level.
Two tracks on this album are lifted (with permission) from Bob Catley's solo album "Spirit of Man" album released back in 2006. They are "Blinded by a Lie" and "Walk on Water". Vince wrote these two tracks many moons ago and felt they needed a resurgence and deserved a new lease of life. Other revisited tracks come from a previous Escape album 'Borderline' and an O'Regan solo release 'Temptation'.
'Fire In The Sky' is very much a showcase for the new line-up and a springboard for a brand new album that is already in the writing stages.
This album was recorded at each member's respective homes during lock down, then sent for mixing and mastering at Pro2 Studios in Castleford by Paul Twohig and will be released on German Label AOR Heaven in April 2021.