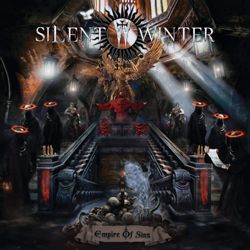 product: Silent Winter - Empire Of Sins
release date: 23.06.2021
label: Pride & Joy Music
PR territory: world
PR contact: Diese E-Mail-Adresse ist vor Spambots geschützt! Zur Anzeige muss JavaScript eingeschaltet sein!
SILENT WINTER was initially formed in the middle of 90's in the city of Volos in central Greece. Back then, the band recorded and released two demo tapes entitled "Silent Winter" and "War of an Angel" and also played some gigs and appeared on local festivals.
In 2018 the group was reformed with new members and released an EP with 5 songs. One of the featured tracks is a new version of the old demo song "Far Away" which also was released as their first video clip under the production of Progressive Vision Group (Bob Katsionis). This EP received positive feedback and reviews throughout the world. Kiriakos Balanos (guitars) and Giorgos Loukakis (bass) are the original members from 1995's line-up. For the EP, they were joined by Giannis Antonopoulos (drums), the well-known Mike Livas on vocals (Maidenance, Keepers Of Jericho, Timo Tolkki tour singer), Vaggelis Papadimitriou on guitar and Yiannis Manopoulos (Thelemite) on keyboards.
In May 2019 SILENT WINTER released their first album 'The Circles of Hell' via Greek label Sonic Age Records. The reviews coming in from all over the world again were excellent and "The Circles of Hell" appeared in many 'best of listings' of that year. Several 3d lyric videos were released in collaboration with Harry Kountouris who is also now responsible for all the live visuals of Sabaton, as well as for some 3D lyric videos for Rotting Christ. SILENT WINTER played lived with Skyclad in Larissa, and with Acid Death and Nightrage at the Golden R festival in Volos, and a release show together with Floating Worlds in Athens' Remedy club.
"Empire Of Sins", the group's second full-length release, now will be released via Pride & Joy Music on March 26th, 2021. The album was recorded at Kalovidouris Sound Studios, in Volos, Greece between July and October 2020, and mixed and mastered by Dionysis Christodoulatos at CFN recording studio Athens, Greece. Kiriakos Balanos designed the front cover. One of the highlights featured here is the Metal cover of Belinda Carlisle's smash hit "Leave A Light On".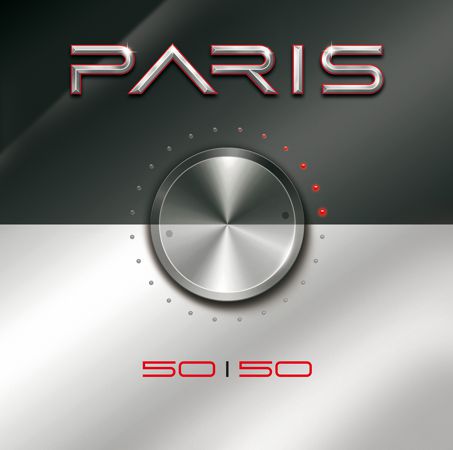 product: Paris - 50/50
release date: 26.03.2021
label: AOR Heaven
PR territory: world
PR contact: Diese E-Mail-Adresse ist vor Spambots geschützt! Zur Anzeige muss JavaScript eingeschaltet sein!
Dechavanne and Montet first met as kids at school in their hometown Bouffémont which is located around 15 km north of the French capital Paris. They have stayed best friends since. Both started to play guitar at the age of 15 - influenced by the leading hard rock bands from the mid 80's like Scorpions, Iron Maiden or Def Leppard. A few years later, Dechavanne switched to keyboard, and the two musicians spent most of their high school years writing songs and rehearsing with other friends.
Studies and various job locations drew them apart but the friendship always remained, and so did the song-writing collaboration.
PARIS recorded their first full-length release with Italian producer Alessandro Del Vecchio. "Only One Life" came out in 2013 on a Germany based AOR label.
The follow-up record, "The World Outside", was produced by Steve Newman (NEWMAN), whose backing vocals could already be heard on the first album at the time. "The World Outside" was released in the summer of 2016 on Melodic Rock Records and received good reviews worldwide.
The brand new release "50/50" was recorded with the same team as "The World Outside" including Steve Newman (production, mastering, backing vocals), Dave Bartlett (bass, backing vocals) and Rob McEwen (drums)… and once more with Sébastien's good friend Robert Säll (Work of Art, W.E.T.) who plays one mighty solo on each and every album PARIS released so far.
PARIS is very proud to team up with Georg Siegl and AOR Heaven for the release of "50/50".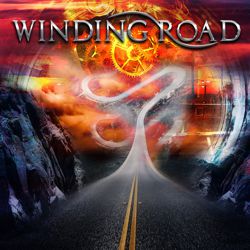 product: Winding Road - s/t
release date: 26.03.2021
label: AOR Heaven
PR territory: world
PR contact: Diese E-Mail-Adresse ist vor Spambots geschützt! Zur Anzeige muss JavaScript eingeschaltet sein!
In 2018 Magnus Åkerlund (Blender) and Jan Hedlund (Coastline, Eagle Down) met up at Magnus' studio to see if they could write music together. Both had played in numerous bands and played loads of different musical genres touring all over Sweden. Their true love however was melodic rock and AOR so there was no guesswork in what kind of music they were aiming for. After an hour they had their first song ready. They scheduled a weekly writing session and each week a new song was written.
Soon they came to realize that these songs had to be released and so Winding Road was born.
In search for a singer they didn't have to look far. Jan's old friend Jonas Tyskhagen (Incardine, Soxity, Yo Motherfucker, Bitches Brew) provided his soulful bluesy voice on one of the demos and the search for a singer was over. Guitar driven melodic rock with plenty of synths and a strong focus on the melodies was the concept when the album started to take shape.
Great consideration was taken in choosing what songs should be included on the album aiming for a diverse song list with no fillers.
They also asked Jonas childhood friend (and friend of the band) Fredrik Folkare to do some guest guitar work and he provided a couple of killer solos on two of the songs.
Winding Road have released three singles on Spotify which have been well received and have had airplay on Swedish radio, both national and regional.
They also entered a competition on Swedish national radio and got to one of the finals.
The album was produced, mixed and mastered by Magnus Åkerlund at Fieldgroove Studios.
In December 2020 the band signed a deal with AOR Heaven for the release of their self-titled debut album.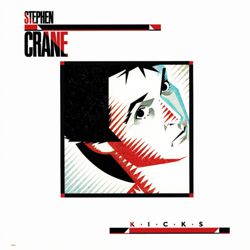 product: Stephen Crane - Kicks
release date: 26.03.2021
label: AOR Heaven
PR territory: world
PR contact: Diese E-Mail-Adresse ist vor Spambots geschützt! Zur Anzeige muss JavaScript eingeschaltet sein!
STEPHEN CRANE used to play in a band called Baby at the end of the 70's but his opportunity as solo artist arrived in 1984 by the hand of the major MCA label. CRANE'S debut "Kicks" was produced by Jai Winding (Le Roux) who also played keys, and no-other than the great Steve Lukather. In fact, all TOTO guys were involved in the recording including groove master Jeff Porcaro on drums.
We also find Richard Page (Mr. Mister, Pages) and AOR guru Tom Kelly (I-Ten, Van Stephenson, Survivor) doing backing vocals, together with brilliant session guitar players such as Duane Sciacqua, Joey Brasler and Ray Pannell.

The multitude of guitarists has an explanation; "Kicks" for the most part is a guitar driven AOR / Melodic Rock album with a 1984's radio friendly sound. And on most tracks, we found three different six-string axemen playing together in the same song. CRANE's pumping bass lines add even more muscle to the tunes, and his sometimes raspy but melodic vocals reminds you a cross of a young Brock Walsh, Van Stephenson on the calmer moments and Paul Sabu on the edgy. The album features the best session players in L.A. like Steve Lukather + Jeff, Mike & Steve Porcaro (Toto), Richard Page (Mr. Mister, Pages), Duane Sciacqua (Paul McCartney, Joe Walsh, Glenn Frey), Jai Winding (Stevie Nicks, Molly Hatchett, Cheap Trick, America, Blue Öyster Cult), Tom Kelly (Madonna, Whitney Houston, Survivor, Van Stephenson), James Newton Howard (Elton John, Toto) & many more... In 1986, Stephen Crane joined the Glenn Frey band (from The Eagles) and toured in Japan & the USA. He also worked with Joe Schermie from Three Dog Night & Brian Ray from Paul McCartney's band and still remains very active in the U.S music scene.
There's not a single weak track here, going from hooky and catchy numbers like "Headed For A Heartbreak", "Joanne" or the urgent "Victims Of Love", to more AORish cuts such as the Toto-esque "Back On My Feet Again" (featuring a killer Lukather solo) and the Van Stephenson sounding "I'll Take Care Of You".
Criminally ignored not only by MR / AOR fans in general - but also by the industry as it never was released on CD - "Kicks" is one of the best records in the genre from that era.
This re-issue is available as remastered limited edition of 500 CD copies via AOR Heaven's mailorder store only. Liner notes by Dave Reynolds.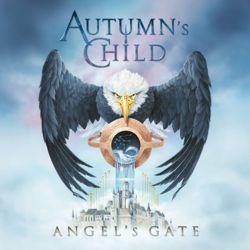 product: Autumn's Child - Angel's Gate
release date: 19.02.2021
label: AOR Heaven
PR territory: Europe
PR contact: Diese E-Mail-Adresse ist vor Spambots geschützt! Zur Anzeige muss JavaScript eingeschaltet sein!
Mikael Erlandsson needs no further introduction when it comes to melodic rock.
He has released six successful solo albums and a lot of titles with groups like Phenomena, Salute among others. Between 2006-2018 Erlandsson fronted the Swedish super group Secret Service which he toured with live all over the world.
Together with the fantastic guitar player Andy Malecek from the successful German hard rock band Fair Warning he founded the band LAST AUTUMNS DREAM in 2003 which also featured Ian Haugland, Mic Michaeli and John Leven of Europe fame at the time. The self-titled debut album was produced by Claes Andreasson and became a great success.
Last Autumn's Dream went on releasing another 14 albums with different line ups including great musicians like Jamie Borger (Treat) and Marcel Jacob (Talisman). They toured Japan, England and Germany but decided to take a break in 2018.
Shortly after, Erlandsson founded the group AUTUMN'S CHILD. Their self-titled debut album was released in January 2019 through AOR Heaven feat. Jona Tee on keyboards (H.E.A.T), Robban Bäck, former drummer of Eclipse and currently in the line-up with Swedish rockband Mustasch, Claes Andreasson of Swedish Westcoast/AOR band Heartbreak Radio who also produced the first Autumns Child album together with Mikael Erlandsson. Guitars come courtesy of Pontus Åkesson (Moon Safari).
"Angel's Gate" now marks AUTMUN'S CHILD's return. This time they have defined their craft even more and the album is again filled with great songs and classy musicianship. The album starts off with the song "Where Angels Cry" which offers all of the Autumn's Child's typical elements: hard Melodic Rock with a Nordic touch.
There are hommages throughout the album to Whitesnake, AOR, Supertramp, Gary Moore,10cc, Manfred Mann and ELO but most of all it sounds like nothing else in today's music scene.
The album was produced by Claes Andreasson and Mikael Erlandsson. Mixed and mastered by Mikael Andersson at Soundport Studio.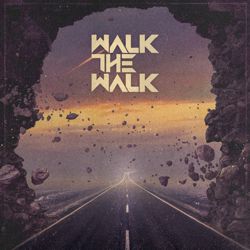 product: Walk The Walk - s/t
release date: 19.02.2021
label: AOR Heaven
PR territory: world
PR contact: Diese E-Mail-Adresse ist vor Spambots geschützt! Zur Anzeige muss JavaScript eingeschaltet sein!
In early 2020, former DIO guitarist Tracy G introduced J. Adler and Paul Alfery, knowing they both love melodic hard rock with big choruses and strong hooks. They got busy writing and recording an album that they are both extremely proud of. Both J. and Paul look forward to sharing this music with melodic hard rock fans all over the world.
J. Adler has recorded vocals with the following artists amongst others: David Ellefson (Megadeth), Ray Luzier (David Lee Roth), Tracy G. (Dio), Matt Bachand (Shadows Fall), Tim Gaines (Stryper), Larry "Bones" Dennison (Lita Ford, Dio), Ryan Hoyle (Paul Rodgers), Paul Bostaph (Slayer, Testament), Steve Conley (Flotsam & Jetsam), Rex Carroll (Whitecross), & Billy Smiley (Whiteheart) and has fronted 2 "supergroups" over the years. DEAD OF NIGHT featured Grammy-nominated artists Matt Bachand (Shadows Fall, Act Of Defiance) on guitar and Jon Donais (Anthrax, Shadows Fall) on lead guitar, as well as Derek Kerswill (ex-Unearth, Kingdom Of Sorrow) on drums, Jeff Fultz (ex-Seemless) on bass.
The other was GOADED with Ray Luzier (Korn), Tracy G. (Dio, WWIII) and Larry Dennison (Dio, Lita Ford).
Multi-Instrumentalist Paul Alfery regularly played Hollywood's Sunset Strip in the eighties and early nineties. He has shared the stage with Zakk Wylde, Steve Vai, Tony Iommi and other notable musicians. Paul has worked with hit songwriters Marti Frederiksen (Aerosmith, Buckcherry, Ozzy Osbourne, Mötley Crüe) and Stephan Williams (Great White).
Paul Alfery wrote, produced, and engineered Guilty Pleasure's "Busted". Guilty Pleasure was carried by NEH Records in the US and distributed in Europe by Target Records. Paul appeared on Tracy G's "Tarantula Ditch" along with Mark Kendall (Great White), Rowan Robertson (DIO), Toshi Hiketa (David Lee Roth),Jimi Bell (House of Lords) and others. He also appeared as a member of Collusion on the 2019 Perris Records release "Hollywood Hairspray 8".
Paul Adler recorded all vocals for WALK THE WALK at his studio in Sedona, AZ while Alfery took care of all instrumental tracks at his studio in Southern California. Produced by Paul Alfery and J. Adler. Mixed by Paul Alfery and mastered by Ty Sims at the Recovery Room in Conway, AR.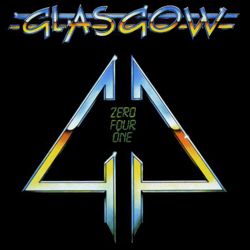 product: Glasgow - Zero Four One
release date: 26.02.2021
label: AOR Heaven
PR territory: Europe
PR contact: Diese E-Mail-Adresse ist vor Spambots geschützt! Zur Anzeige muss JavaScript eingeschaltet sein!
Emerging from the Scottish city of Glasgow, the band by the same name calling their debut from 1987 "Zero Four One", 041 being the telephone dialing code of the city back in the day.
Archie Dickson (g), who started playing locally before ending up with Wildcat in the late seventies and later on Heaven, tried to bring back Glasgow several times but it never happened.
The first demos as Glasgow with a slightly heavier approach than Heaven came on in 1983. Shortly after fellow Glaswegian band Heavy Pettin', they put out a first vinyl single the same year on Neat Records. Unfortunately, they turned down an offer for a full album from Neat, presumably waiting for a bigger label and publishing a three track EP on Clyde Records in 1984 as a promotional tool instead. They got great press and secured a production deal with Sonet Records. Minor line-up changes took place before Kenny Denton (The Who, Status Quo) produced "Zero One Four" comprised with a solid mixture of hard rock and AOR. Don Airey (Deep Purple) guested on keyboards. Subsequently they toured where they could but unfortunately the band split after Sonet lost interest by the end of the decade. A new line-up, prolific songwriting for another couple of years followed but Dickson finally called it a day…until recently. There might be something in the making…
Comes with a bonus track from 1988, liner notes by Dave Reynolds and mastering by Chris Lyne. Limited to 500 copies and available via AOR Heaven Mailorder only.