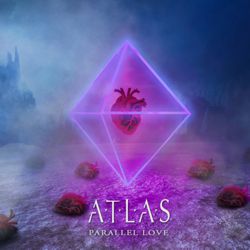 product: Atlas - Parallel Love
release date: 25.09.2020
label: AOR Heaven
PR territory: world
PR contact: Diese E-Mail-Adresse ist vor Spambots geschützt! Zur Anzeige muss JavaScript eingeschaltet sein!
"Parallel Love" is the second album by British Melodic Rock band ATLAS. Writing sessions for "Parallel Love" started shortly after the band's 2019 tour with Midnite City and Age of Reflection, with the band spending much longer on the demo process than for their previous album, polishing their ideas through the autumn and winter of 2019. This resulted in 11 tracks that the band felt were more concise and stronger than previous efforts. The band chose to pursue a heavier edge for the album production, while staying true to their Melodic Rock and AOR roots. The album line-up consists of Craig Wells (Vocals), Howie Little (Guitar), James Thorley (Keyboards), Chris Redfearn (Bass) and Ryan Briggs (Drums). James Thorley took on the role of producer and recording engineer, with Christoffer Borg (Art Nation, Taste) once again taking over the role of mixing and mastering. The five-piece chose to work with AOR Heaven again for the world-wide release of "Parallel Love" due to the successful working relationship for their previous release "In Pursuit Of Memory".
"Parallel Love" explores complicated and difficult themes in relationships that aren't often touched on in traditional AOR, while still exploring the highs and lows of what love brings to life. "Human Touch" showcases the physical side of love with no strings attached, while "Here With You" is a declaration of love lyrically and musically with the band showcasing a string ensemble for the album's finale. These parallel themes are intended to tie the album together lyrically. "Weathered Heart" celebrates a new love after the turmoils of previous relationships, while "Falling Out Of Love" deals with pursuing love for the wrong reasons.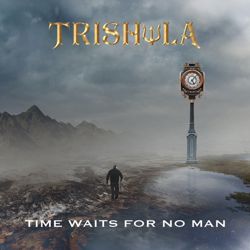 product: Trishula - Time Waits For No Man
release date: 25.09.2020
label: AOR Heaven
PR territory: world
PR contact: Europe
British melodic rock band TRISHULA is the brainchild of UK Guitarist Neil Fraser, accompanied by vocalist Jason Morgan. Prior to forming TRISHULA, Neil and Jason spent many years recording and performing with local bands, Jason performing in the South Wales area of the UK with his band ORANGEFALL and Neil similarly performing in the Midlands area of the UK with a variety of bands. Neil has played and/or recorded with bands/artists such as RAGE OF ANGELS, TEN, Tony Mills (SHY, TNT), Jason has recently recorded backing vocals for MAGNUM on their latest album 'The Serpent Rings'.
TRISHULA released their debut record 'Scared to Breathe' in March 2019 on the AOR Heaven record label. Neil was keen to write and record a follow up release as soon as possible, so started writing and recording the sophomore album 'Time Waits For No Man' not long after the release of 'Scared to Breathe'. The initial recordings of 'Time Waits For No Man' took place again at Neil's home studio (Farmyard Studios) and demo vocals were again recorded in various locations in Wales. Rick Benton (Magnum) is a long time friend of Neil and takes up keyboard duties on 'Time Waits For No Man' as he did on the debut album. Two new names join TRISHULA for the second album: Neil Ogden (Demon) on drums and Dan Clark (Rebecca Downes) on bass with additional backing vocals provided by Georgia Morgan.
Drums and final vocal recordings on 'Time Waits For No Man' took place in the Midlands (UK) at M2 Madhat Studios (Magnum). Mark Stuart handled the recording of drums with Neil Ogden and Sheena Sear took care of all vocal recordings. As per the debut album, production, mixing and mastering on 'Time Waits For No Man' was undertaken by Sheena Sear at M2 Madhat Studios.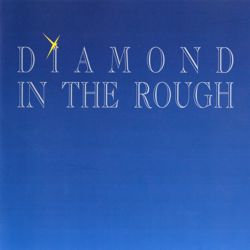 product: Diamond In The Rough - s/t
release date: 25.09.2020
label: AOR Heaven
PR territory: world
PR contact: Diese E-Mail-Adresse ist vor Spambots geschützt! Zur Anzeige muss JavaScript eingeschaltet sein!
Canadian keyboard player Lewis Nitikman whose major influence is the early Elton John began his professional music career in 1981 when he joined Stonebolt at the age of 21 gigging worldwide including a two-month-run in Japan. 1982 saw the release of Stonebolt's 'Juvenile American Princess', his first recording experience.
While still being a member of the band, Nitikman found out about being a writer first and a player second. He went to Berklee College of Music in Boston and quit the band soon after. After two and a half years he got his diploma and wanted to do his own album but was short of a singer. He eventually met Dave Buckthorpe, a guy that could sing the phonebook and make it sound of great if needed. A friendship that still lasts today began.
Putting a lot of effort and money into the record, the two of them started looking for the right musicians from the Vancouver area to join them. Scotty Hall (g, Agent, Idle Eyes, Rez), Phil Robertson (d, Idle Eyes/Rez) and Tom Christiansen (b, Boulevard) with Ray Roper (v, Stonebolt) also making an appearance on the sessions came on board. After being turned down by almost every big label in Toronto they got signed the very last day with a sizeable recording budget for the album by Virgin.
When it came to the recording, the album sessions would partly take place at Triumph's Metalworks studio in Toronto. They would not only feature Sharon Lee Williams (who sang on Bob Seger's 'Night Moves') singing backing vocals on 'Where Is Love', but Lewis also managed to persuade Triumph guitarist Rik Emmett to make a guest appearance on the opening track 'Walk On The Wire'. The result was an album with a hugely enjoyable collection of songs that feature a mixture of sublime pop rock arousing comparisons to Spandau Ballet, Level 42, Boulevard or Toto, all very successful back then.
Originally released in 1988, the success of the singles ('Where Is The Love' was followed by 'I Wish There Was A Way' and 'Ain't Good Lovin'') ensured the self-titled album's sales were pretty decent as well, nevertheless no real touring took place and due to various reasons things broke apart. Dave went on to co-write a number of songs on Boulevard's second album, 'Into The Street' (1990).
Since 'Diamond In The Rough' was originally released, Lewis eventually relocated to Sheffield, England, where he has long enjoyed a successful musical partnership with Liverpool born singer/songwriter John Reilly. In addition, he recorded an album's worth of material with former Agent vocalist Troy Reid and his erstwhile Stonebolt band mate Ray Roper that became Stranded's 'New Dawn' CD (released by Escape Music in 2019).
This re-release is identical to the 1996 Long Island Records newly remastered version including the two bonus cuts "I Believe In This Love" and "Tell Me". Limited to 500 copies, including liner notes by Dave Reynolds and exclusively sold via AOR Heaven mailorder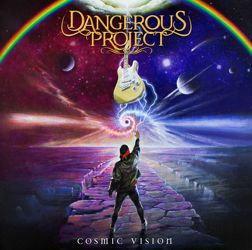 product: Dangerous Project - Cosmic Vision
release date: 01.09.2020
label: Shaded Moon Entertainment
PR territory: Europe
PR contact: Diese E-Mail-Adresse ist vor Spambots geschützt! Zur Anzeige muss JavaScript eingeschaltet sein!
Year 2005, Lima - Peru. Oscar J. Martin and Eddy Geott first met when they joined YAWARHIEM, a Power Folk & Symphonic Metal band. Both shared a taste for Melodic Hard Rock and Neoclassical Heavy Metal and spent long hours listening to Europe, Scorpions, Rainbow, Journey, Alcatrazz, Yngwie Malmsteen, Dokken, Ratt.
In those years Oscar J. Martin met Jose Gaona, possessor of a great talent and a wide vocal range. Together with Eddy Geott they recorded a Demo entitled "Love me tonight" under the name of "Dangerous". However, their personal projects separated them for a long time.
Oscar J. Martin lived outside Peru for a few years and achieved great recognition as a guitarist and composer for his work with bands such as ICARUS and ASTRAL FIRE. Today he is recognized as one of the most virtuous guitarists in Peru. Eddy Geott participated in various local bands, adding his characterized melodic and aggressive touch on the 4 Strings. Jose Gaona undertook a successful musical career as a soloist, participating in many musical productions: second in the television program "The Voice PERU" and winner of the singing competition "Los cuatro finalistas". Jose Gaona is considered today one of the best voices of Peruvian Rock.
In mid-2015, Eddy Geott met Adnagun Franco, a very talented young drummer, with whom he understood very well at the rhythmic base. Geott decided to invite Oscar J. Martin to a rehearsal as at that time Oscar had just returned to Lima full of energy and eager to rock. After a pleasant talk, they started playing some covers of Yngwie Malmsteen, Deep Purple, Rainbow, Alcatrazz and Rata Blanca. It was an unforgettable rehearsal, that's why they decided to summon Jose Gaona for a next rehearsal.
After more than 10 years Oscar J. Martin, Jose Gaona and Eddy Geott met again, this time together with Adnagun Franco on drums, they were determined to release all their energy and musical talent. This turned out to be an explosive combination, and Dangerous Project was born.
At the beginning of 2018, the band began working on their first album. Oscar J. Martin was in charge of the composition and pre-production, while Eddy Geott took over the production. However, in the middle of the road, for personal reasons, Renzo Huánuco left the band, so the renowned keyboardist Luber Elend, a musician with extensive experience, incredible performance and mastery of various musical genres, joined the band and sealed the circle, so that the long-awaited Dangerous Project album came to light.
In January 2020, David van Hartingsveldt, head of Shaded Moon Entertainment heard some tracks on Youtube and he aproached the band. He offered them a CD release deal for their debut album. Although the album can already be heard on various platforms in digital form 'Cosmic Vision' is released on CD on his label. Unfortunately the COVID-19 epidemic ruined the intended release date and the official release date is now the 1st of September 2020.
product: Tina Schüssler - Verwirrte Welt
release date: 11.09.2020
label: Pride & Joy Music
PR territory: world
contact: Diese E-Mail-Adresse ist vor Spambots geschützt! Zur Anzeige muss JavaScript eingeschaltet sein!
Tina Schüssler is a perfect bundle of power and energy. She performs this with great skill and perceptible passion on every stage, captivating her audience in seconds. The mixture between rock, hard rock and sometimes a bit of pop has been cleverly packaged in her songs and lyrics, emotive to everybody.
The three-time world champion with real titanium in her heart, was drawn to music from an early age. So she started taking piano lessons as a young child, played drums and double bass in an orchestra. She started her sports career at the age of 18, became a professional boxer in 1997, won her first kickboxing title at the age of 24 and was also the owner of three sports schools.
In 2009, Tina suffered a serious illness. Due to a congenital heart defect, she had a stroke, was paralyzed on the left side, could no longer speak and got a titanium shield into her heart. After three years of rehabilitation and hospital stays, the power package came back to life and became another two-time kickboxing world champion in 2016 in K-1 in the USA. Then she officially ended her boxing career, switched to the music business and began composing her first songs in 2018.
Since 2019 Tina has been musically successful and blows up the stages with her band, but also as a solo singer. Well-known bands call her the most punchy singer in the world. But she is also booked as a highlight or a special guest, sings with notable personalities from the music scene and fires her sound into the crowds with a rocking voice. Her ripping and incomparable stage presence is infectious and motivating. Tina is repeatedly referred to as a phenomenon and unique in the media.
Her canceled European tour with Bonfire was postponed to September (due to the Covid-19-virus).
For over 27 years, Tina Schüssler, who was born in Augsburg in 1974, has been in the focus of the media, skillfully moving in front of the cameras through her sporting and TV presenter career. She guides through every program with wit and knowledge, is also the ring announcer for World Cup matches in the ring, or is a welcome guest on radio and television.
In 2019 she reached the live final at the German Rock & Pop Prize as a singer/songwriter and claimed second place as the best singer.
Tina Schüssler is – besides Toten Hosen - the only musician in Germany to be an official artist for Sea Shepard.
In general, the all-rounder performs as a solo singer, but also as the band leader of her own rock band, which consists of five people including herself on vocals and Aaron Hoffmann (guitars), Harald Zeidler (guitars), Mustafa Güler (bass), Andrea Eppli (drums)
Tina is the messenger and ambassador for the largest organizations and is always actively involved in a socially committed way. In 2020, she and two partners opened a professional film/TV and sound studio called "PM7 Studios" on around 550 square meters.
Her album "Verwirrte Welt" will be released on September 11, 2020.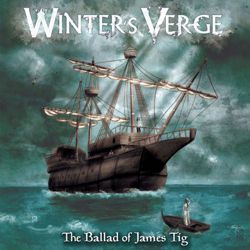 product: Winter's Verge - The Ballad Of James Tig
release date: 11.09.2020
label: Pride & Joy Music
territory: world
PR contact: Diese E-Mail-Adresse ist vor Spambots geschützt! Zur Anzeige muss JavaScript eingeschaltet sein!
Winter's Verge is one of Cyprus' most successful metal bands. Since its formation in 2005, the band has released four studio albums and three EPs, and built a strong reputation as one of the most exciting live acts in Cyprus, with a powerful blend of epic, melodic and symphonic metal. The band is made up of the most experienced and respected musicians in the Cypriot rock and metal scene – George Charalambous (v), Deniel Pavlovsky and Savvas Parperi (g), Stavry Michael (keys), Miguel Trapezaris (b) and Danny Georgiou (d).
Winter's Verge's music is highly conceptual and takes place within a mythological realm called Tiberon – all songs and lyrics allowing fans to explore the themes, characters and locations for their own interpretation.
Their discography covers the albums "Eternal Damnation" (LMP Records, 2008) which was produced by RD Liapakis (MYSTIC PROPHECY). The band then released 2010's "Tales of Tragedy", this time on Massacre Records. The album was highly regarded by the metal press and developed the band's sound further, with fan favorites like 'The Captain's Log' or 'Reflections of the Past'. The release of the album coincided with a European tour with power metal legends Stratovarius, which won the band thousands of new fans. 2012 brought "Beyond Vengeance". This album was also critically acclaimed and was followed by extensive live performances, where tracks like 'Unto the Darkness' or 'Dying' becoming staples of the live setlist. After a brief hiatus and line-up changes, Winter's Verge got back to business, recording the band's 4th album, 'IV', as independent release in 2015. It was supported by Winter's Verge's second European tour in 2016 winning new fans in e.g. countries like Greece, Romania and Bulgaria with an appearance at the Metalhead Meeting festival in Romania.
After a short break Winter's Verge got back to the business of writing and recording. An EP entitled "Wolves of Tiberon" released in 2016. Its concept further explored the world of Tiberon that exists as a setting for Winter's Verge mythology, giving more details, characters and stories for the deep mythology.
Now in 2020, after three years in the making, Winter's Verge are ready to release one of their most ambitious projects to date, "The Ballad of James Tig". With a concept and lyrics by renowned local author and playwright Frixos Masouras, the new album is another concept storyline with a huge sounding scope and symphonic sound. It's the story of James Tig, a man who lost his family at sea when he was a young boy, and had set his life-long dream to find the legendary Killagorak a sea monster, who he believes was what killed his family when he was very young, seeking revenge. Teodora Stoyanova Freya (MAGIC OF THE NORTH) provided vocals - playing the part of Nina in the story.
The drums were recorded at Panasound Studio, with the rest of the album recorded and mixed at Winter's Verge Studios between mid 2018 and the end of 2019. George Charalambous (v) mixed & produced the album; the mastering was handled by George Eracleous (Oneirism Studios). The artwork was designed by George Vasiliou.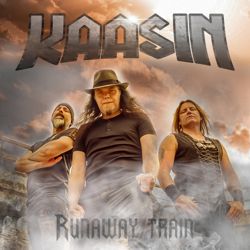 product: Kaasin - Runaway Train (digital single)
release date: 14.08.2020
label: Stream Peak Music
PR territory: Europe
PR contact: Diese E-Mail-Adresse ist vor Spambots geschützt! Zur Anzeige muss JavaScript eingeschaltet sein!
Brand new hardrock band founded by guitarist, JO HENNING KAASIN, collaborator with JOE LYNN TURNER (Deep Purple/Rainbow), GLENN HUGHES (Deep Purple/Black Sabbath), DOOGIE WHITE (Rainbow/Michael Schenker), BERNIE MARSDEN (Whitesnake), founding member, guitarist and songwriter with COME TASTE THE BAND.
After 23 years and great success with the album «REIGNITION», feat. JOE LYNN TURNER & DOOGIE WHITE, COME TASTE THE BAND was put on ice in January 2020. Guitarist and main songwriter, JO HENNING KAASIN, then went on to form his own band, simply called KAASIN. He recruited his cousin, STAALE KAASIN from SPIDER and 2020VISION, to handle bass. The band also features the Norwegian singer, JAN THORE GREFSTAD, known for his incredible vocal duties with SAINT DEAMON, HIGHLAND GLORY and TNT.
KAASIN also includes additional musicans, BENJAMIN DEHLI on hammond organ/analog synth and RICK HAGEN from HEX AD on drums.
KAASIN will release their debut single & video «RUNAWAY TRAIN» via Stream Peak Music on Friday AUGUST 14th - 2020.
Written by Jo Henning Kaasin, co-written by Vidar Heldal
Recorded and engineered in JUKE JOINT STUDIO, Notodden - Norway.
Produced by Halvor Halvorsen & Jo Henning Kaasin.
Mixed and mastered by Leif Johansen (Phenomena, 21 Guns, A-ha)
Video by Jon Sandersen. The single will be accompanied by a official music video to be released on August 14th, 2020.
KAASIN - Melodic hardrock in the tradition of the great bands from the seventies and early eighties.