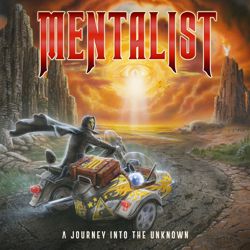 product: Mentalist - A Journey Into The Unknown
release date: 20.08.2021
label: Pride & Joy Music
PR territory: world
PR contact: Diese E-Mail-Adresse ist vor Spambots geschützt! Zur Anzeige muss JavaScript eingeschaltet sein!
MENTALIST is a Melodic Metal band from Saarbrücken, Germany that was founded in 2018. The group consists of Peter Moog (guitars), Thomen Stauch (drums, ex BLIND GUARDIAN), Kai Stringer (guitars, ex STARCHILD) and Swedish singer extraordinaire Rob Lundgren on vocals.
After the highly successful debut release "Freedom Of Speech" in 2020, the group now returns with its sophomore release "A Journey Into The Unknown". Just like the predecessor, this new opus puts a strong focus onto huge guitar melodies and vocals lines amongst others. MENTALIST's influences from the genre's greats such as Iron Maiden, Helloween and Blind Guardian still shine through – but they formed their own identity.
Oliver Palotai (Kamelot; keyboards on all tracks) and Mike LePond (Symphony X, bass on all tracks) together with singer Henning Basse (Metalium, Firewind; backing vocals on most tracks, plus a duet on "Live Forever") all appear as guests on this record.
"A Journey Into The Unknown" again also showcases an incredible artwork designed by Andreas Marschall (Blind Guardian, Running Wild) – starring the band's mascot, the Mentalist. The Mentalist continues his journey as recurring element in the group's artwork and during their live shows with visual effects.
Mix & mastering this time was handled by Jacob Hansen (Volbeat, Amaranthe, Pretty Maids etc.).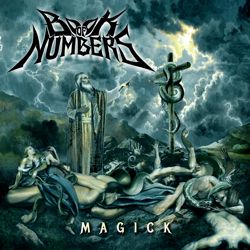 product: Book Of Numbers - Magick
release date: 20.08.2021
label: Pride & Joy Music
PR territory: world
PR contact: Diese E-Mail-Adresse ist vor Spambots geschützt! Zur Anzeige muss JavaScript eingeschaltet sein!
From the heat of the desert southwestern United States comes BOOK OF NUMBERS. The group is a Power Doom Metal band in the vein of Ozzy, Dio, Sabbath, and Rainbow based in Phoenix, Arizona U.S.A.
BOOK OF NUMBERS was founded in June of 2019 by Brent Barker (guitars) and Kevin Schuhmacher (vocals) while rehearsing material for a Black Sabbath tribute band. They decided to join forces to write material with classic doom metal riffs, soaring powerful vocals, and virtuoso guitar solos. They then recruited bassist Dennis Hayes (Iced Earth, Tim "Ripper" Owens). Originally, Dennis was recruited to join the U.S. based Ozzy Osbourne tribute band "I Don't Know" which Kevin has led for the past 13 years and also features Brent on guitar. However, greater things were meant to be as Kevin and Brent wrote an entire album of original material which became the basis for the band BOOK OF NUMBERS. Phoenix, AZ session drummer Gary Bruzzese recorded the drums but is not an official member of the band.
The vision of BOOK OF NUMBERS is to take the listener on a journey that has elements of classic heavy metal, opera, and movie soundtracks, all tied together with great songwriting and musical performances. Recording sessions for their debut album, "Magick", took place at several studios in their hometown of Phoenix, Arizona, U.S.A. Initial recording sessions were engineered by local legend and Grammy award winning Clarke Rigsby. Final mixing for the album was completed in Nashville, TN U.S.A by the legendary David Thoener (Rainbow, AC/DC, Aerosmith). Upon reviewing final mixes David commented: "The quality of this band reminds me very much of my work on the album Rainbow Rising" which of course featured the legendary Ritchie Blackmore and Ronnie James Dio. Mastering was completed by Marc Frigo in Nashville, TN U.S.A. "Magick" includes a cover of BLACK SABBATH's classic "Children Of The Sea".
product: Legions Of The Night - Sorrow Is The Cure
release date: 20.08.2021
label: Pride & Joy Music
PR territory: world
contact: Diese E-Mail-Adresse ist vor Spambots geschützt! Zur Anzeige muss JavaScript eingeschaltet sein!
LEGIONS OF THE NIGHT were founded by Jens Faber (Dawn of Destiny, MalefistuM, ExoS) in the year 2020 during the Covid19 pandemic. Soon, DOD drummer Philipp Bock and exceptional singer Henning Basse (Metalium, ex- Firewind, Mayan) completed the group.
The band's main influence comes from the early works of US Power Metal veterans SAVATAGE as well as from their early 2000's releases. As a natural result, the album "Sorrow Is The Cure" with the cover of the classic tune "Sirens" includes an homage to SAVATAGE.
Nevertheless LEGIONS OF THE NIGHT managed to create their own identity with massive grooves, lots of soul and remarkable melodies. LEGIONS OF THE NIGHTS convince with Jens Faber's song-writing and the incredible, versatile voice of Henning Basse.
"Sorrow Is The Cure" was mixed by Dennis Köhne (Orden Ogan, Sodom, Lacuna Coil) who enriched the music with an impressive sound production.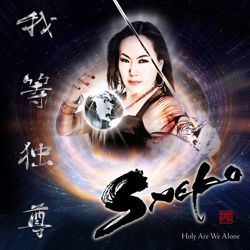 product: Saeko - Holy Are We Alone
release date: 20.08.2021
label: Pride & Joy Music
PR territory: world - Asia
PR contact: Diese E-Mail-Adresse ist vor Spambots geschützt! Zur Anzeige muss JavaScript eingeschaltet sein!
SAEKO was originally formed in 2003 in Germany by a Japanese singer, Saeko Kitamae, who flew to Germany to find a heavy metal band to join, with the help of well-known German musicians, such as Lars Ratz and Michael Ehré (both Metalium), Sven Lüdke (Mob Rules) etc.
After the debut album (2004), which was well affirmed by the international media, SAEKO went on tour with DORO (2004), and performed at festivals such as Wacken Open Air (2005) as the first Asian female singer, leaving the capacity audience to insist strongly on encores. It was the only power metal act by a Japanese singer whose interviews and articles were positively covered by many magazines around the world (to name a few, 
Break Out Germany, Metal Hammer Italy, La Heavy Spain and Rock Hard Brazil).

However, it was a time when no Japanese heavy metal bands had succeeded in the international music scene for years, since Loudness and Bow Wow in the 80's. Saeko Kitamae's reckless attempt, too ahead of the times, faced many troubles between two different cultures, which eventually forced her to fly back to Japan. That's how SAEKO's activity was suspended only after two albums, to the disappointment of many: "Above Heaven Below Heaven" (2004) and "Life" (2006).
The Japanese singer has never compromised at all in bringing her vision alive. Again relocating from Japan to Germany only for her music, she chose the finest members from Italy and Germany this time. The very first step, the crowdfunding campaign launched in 2020, was already a great success, quickly surpassing ¥2,000,000 (about €15,400).
SAEKO's music, affirmed by the international media as having its "own musical identity with an exotic touch" in 2004, is the unique result created by fusion of Japanese and European elements. This individual identity is even more developed and expanded on the new album: An epic with a concept story of a spirit reincarnating through different areas of the world to find his/her answer--a sequel to the 1st and 2nd albums. The blend of classic/folkloristic elements of each area and the metal approach resulted in music no one has heard of.
All lyrics were written by Saeko Kitamae, while all music composed by Saeko Kitamae and Guido Benedetti. The perfect combination of her vocals and his guitars is supported by outstanding plays of Alessandro Sala (Bass) and Michael Ehré (Drums).
Guest musicians include Derek Sherinian (Sons of Apollo, Planet X, ex. Dream Theater) and Lars Ratz (ex. Metalium, † 2021).
Produced by Saeko Kitamae, Guido Benedetti and V. Santura, the engineer well-known for his elaborate work for the artists such as Triptykon, Obscura, Secrets of the Moon, also known as the guitarist of Triptykon, Dark Fortress etc. Co-produced by Eddy Cavazza. Mixed and mastered also by V. Santura at his Woodshed Studio in Landshut, Germany.
It is an unforgettable experience made by Saeko Kitamae's non-compromising attitude combined with the top-class Italian/German collaboration. Sometimes quiet and reflective, sometimes powerful, intense and resonating, with lyrics in English, Japanese, German, even Hawaiian and Sanskrit, concluding with a citation from Plato. It will surely inspire both intellectual and emotional minds of yours.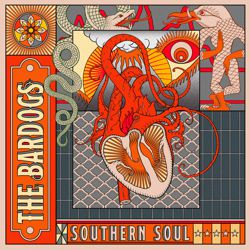 product: The Bardogs - Southern Soul
release date: July 4th, 2021
label: Bad Reputation
PR territory: GAS
PR contact: Diese E-Mail-Adresse ist vor Spambots geschützt! Zur Anzeige muss JavaScript eingeschaltet sein!
The Bardogs journey began in 2014 in Bukittinggi (West Sumatra) as a trio of childhood pals with Paul (vocals and guitar), Deni (bass) and Romi (drums). They first played for fun in the local bars, covering the Allman Brothers, Led Zeppelin and Tedeschi Tucks Band's classic tunes. As they started to write original songs (including some indonesian spoken lyrics) music quickly became a priority and the ambition to play outside of their island kept growing. A couple of years later, they made the move to the touristic island of Bali. They got exposed to an international audience and made connections with people from all over the world who were willing to help
them achieving their dream after witnessing their undeniable talent. Second guitarist Weldi, from Bogor (Java island) joined the adventure in 2016. Not long after, the Bardogs became resident performers at the legendary Pretty Poison club, where they frequented the fast growing skateboarding scene of Canggu. Those crowded performances led them to headline gigs several times at popular venues like Deus Ex Machina, Old Man's and Single Fin in front of more than 600 people. The band has also been performing for targeted rock and blues audience at Hard Rock Cafe, New Lazer, The Orchard and many more. As they just recorded their debut album in 2018 to be released in March 2019, The Bardogs decided that it was time to finally go next level and take their soulful addictive melodies and catchy riffs to Europe, starting by a tour in France where they already have solid connections and expressions of interest
Southern Soul is a fantastic Southern Rock album with soul and gospel. Sail Away clearly defines the ambitious spirit of the band, and their will to defy borders and cultural limitations that they are facing on their way to the top. Corona on the other side is a soulful southern ballad that reflects the melancholic dimension of the Bardogs music. Colorado, anthem of the band that never fails to set the audience onfire, is a mix of those feelings of love and optimism no matter the obstacles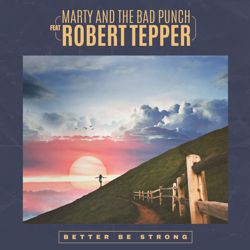 product: Marty And The Bad Punch feat. Robert Tepper - Better Be Strong
release date: 19.06.2021
label: Enghardt Media
PR territory: Europe
PR contact: Diese E-Mail-Adresse ist vor Spambots geschützt! Zur Anzeige muss JavaScript eingeschaltet sein!
"Better Be Strong" has been Marty's message since the first single was released. The track originally comes from his debut album "Moon Over Baskerville" from 2014, with which Marty has won four awards at the German Rock & Pop Prize in December 2015.
Since then there have been many requests from Marty's musician buddies to record and perform this song themselves. The interest is workldwide already so great that "Better Be Strong" developed into a global appeal to give people strength and persevere in these difficult times. With the idea of ​​getting the project off the ground, some first versions were created, that have not yet been published yet. In the meantime, the artist has also received requests for the use of rights in films and in charitable projects. The potential of the Allstar project is still in its infancy and is currently in production by the well-known Swedish producer Tommy Denander (Hollywood Vampires, Alice Cooper, Radioactive and many more).
The first version of the re-recorded "Better Be Strong" goes now into race with Marty And The Bad Punch feat. Robert Tepper.
For Robert Tepper ("No Easy Way Out" / "Rocky Soundtrack") it was clear, due to his long-standing friendship with Marty, to record and release a complete version. Since people currently need a strong song due to the current situation, the decision was made to publish the title in September 2021 despite requests for a movie. Many more versions are in production. Several other well-known musicians from Marty Punch will also present their own version on their upcoming albums.
In addition to Marty, the Robert Tepper version features Tommy Denander on guitars, keys and bass, and drummer Carsten Enghardt (Marty And The Bad Punch & Endfield) on drums.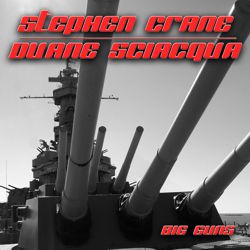 product: Stephen Crane & Duane Sciacqua - Big Guns
label: AOR Heaven
release date: 30.07.2021
PR territory: world
PR contact: Diese E-Mail-Adresse ist vor Spambots geschützt! Zur Anzeige muss JavaScript eingeschaltet sein!
Big Guns was formed in 1985 as a direct follow up to the record "KICKS" by Stephen Crane (MCA 1984). Due to Irving Azoff's departure and the ensuing shake up at MCA that year, KICKS was left without any marketing or promotional funds and was basically 'Dead on Arrival' and did not chart. Although, interestingly enough, the record has subsequently been re-released two times in Europe and has received rave reviews!
As a result of MCA's inability to promote the album and band, Stephen Crane and Duane Sciacqua continued their quest to write and record new songs that were, and still are relevant in the world of Rock! Joined by then band member, Johnny Burnett (RIP), Crane and Sciacqua soon enlisted fellow band mates Paul Daniel (drums), and Matt MacKelvie (guitars, keys, vocals) and created "BIG GUNS". They began a series of recordings with engineer Brett Gurewitz at his Hollywood studio. Crane and Sciacqua wrote, or co-wrote, and produced the songs that would become their self-titled album "BIG GUNS". The band became a staple playing around Hollywood at the ROXY, FM Station, and other well-known rock venues. They received label interest but could never reach an amicable agreement and their search waned … players moved on, lives changed and BIG GUNS faded into the Rock n Roll sunset…
Many years later as good fortune would have it, the once forgotten Stephen Crane album (KICKS) received its popular acclaim, and the search for the long forgotten tapes was on. Georg Siegl at AOR Heaven, sought out guitarist Sciacqua for material, and the re-emergence of BIG GUNS was underway. After searching through the archives of years past, Sciacqua found the missing BIG GUNS tapes and through careful remastering and some re-recording was able to render the 10 tracks that make up the album.
This project stands as a monument to the songwriters, the singers and the players who dedicated their time and talents to comprise their self-titled album "BIG GUNS".