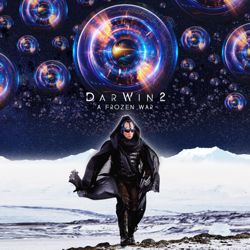 product: DarWin - DarWin 2: A Frozen War
release date: 06.11.2020
label: Origin Of Species LLC
PR territory: Germany, Austria, Switzerland only
PR contact: Diese E-Mail-Adresse ist vor Spambots geschützt! Zur Anzeige muss JavaScript eingeschaltet sein!
Als Nachfolger des Erstwerks "Origin Of Species" aus dem Frühjahr 2019 veröffentlichen DarWin ihre neue Single, "Nightmare Of My Dreams", am 14. August 2020.
Dies siebenminütige, epische Stück baut auf den Themen auf, die DarWin auf "Origin Of Species" abhandelte.
Nochmals hat DarWin ein beeindruckendes Line-Up zusammengestellt. "DarWin II: A Frozen War" setzt die enge Zusammenarbeit mit Simon Phillips (Schlagzeug, Toto/The Who/Jeff Beck) und Matt Bissonette (Elton John, David Lee Roth, Ringo Starr) fort. Mit im Boot sind ebenso die Powerhouse-Musiker Billy Sheehan (Bass, Mr Big/ Steve Vai/Winery Dogs), Guthrie Govan (Gitarre, Aristocrats/Asia/Hans Zimmer/Steven Wilson), Greg Howe (Gitarre, Michael Jackson/Justin Timberlake), Derek Sherinian (Keyboards, Dream Theater/Alice Cooper/Black Country Communion) u.v.m.
"Darwin 2: A Frozen War" wurde von DarWin und Simon Phillips produziert und hauptsächlich in Island und den USA eingespielt.
DarWin kommentiert: "Wir begannen schon mit der Arbeit an DarWin 2: A Frozen War, während wir noch an Origin of Species arbeiteten. Das neue Album ist dadurch irgendwie auch das finale Kapitel von OoS. Das Titelstück "A Frozen War" repräsentiert den finalen Kampf um die Zukunft der Erde. Es ist etwas härter als das erste Album und zeigt uns von unserer besten Seite."
"Wir verlagerten die Live-Aufnahmen nach Island. Billy Sheehan übernahm den Bass im Studio, da Matt häufig mit Elton John auf Tour unterwegs war. Guthrie Govan, Greg Howe und Derek Sherinian haben einige aufregende Killer Leads beigesteuert."
DarWins von Kritikern hochgelobtes Debüt "Origin Of Species" war der Start einer der epischen Saga über die Herausforderungen an die Menschheit in der Zukunft. Es schildert die Rolle eines sich verändernden Planeten und das Potenzial als auch die Einschränkungen neuer Technologien als Hilfsmittel um die größten Herausforderungen der Menschheit zu meistern. Ein komplexes Projekt, das bedeutungslose Kurzlebigkeit zeitgenössischer Kunst scheut. Eine Story, die Aufmerksamkeit und Vorstellungskraft verlangt. Mit dramatischer, teils ausschweifender Musik samt Hard Rock-lastigem, virtuosen Shredding neben großen, orchestrierten Kompositionen, wahren Harmonien und betörenden Chorussen. Ein Projekt, das in der aktuellen, verrückten Zeit umso mehr relevant erscheint.
"Nightmare Of My Dreams", die zweite Single, erscheint am 14.08.2020. Das narrative Video dazu entstand wiederum unter der Regie von Nigel Dick ((Guns N Roses/Band Aid/Def Leppard/Britney Spears).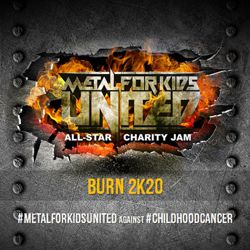 product: Metal For Kids United! - Burn 2K20
release date: 05.10.2020
label: Cultural Assocoiation For Metal Kids United!
PR territory: Europe (without Italy)
PR contact: Diese E-Mail-Adresse ist vor Spambots geschützt! Zur Anzeige muss JavaScript eingeschaltet sein!
METAL FOR KIDS UNITED! All-Star Charity Jam performs DEEP PURPLE's BURN and goes global!
Monday 5 October 2020, METAL FOR KIDS UNITED! All-Star Charity Jam will celebrate its 5th Anniversary with the worldwide release of an all-star video jam tribute to the fathers of Heavy Metal. The final result is an extended version of Deep Purple's classic Burn featuring 25 metal artists from around the world.
Check out the video here: https://youtu.be/lIfWn1C4jbw
Italian benefit format Metal For Kids United! will support once again Peter Pan Association, a voluntary association helping children with cancer and their families since 1994 through free hospitality in Rome during care treatments at Child Jesus Hospital.
"Due to sudden spread of the Coronavirus pandemic, we were forced to cancel the 2020 edition of the annual benefit show booked in Rome for April. During the spring lockdown period we have asked old and new friends of Metal For Kids United to jam together from their own place to celebrate our V Anniversary and keep the promise made to the association" says Fabrizio Troiano, president of the Cultural Association "Metal For Kids United" and organizer of the event.
The line-up of 25 performers includes thrash metal legends such as bassist David Ellefson (Megadeth, Ellefson, Metal Allegiance), guitarist Scott Ian (Anthrax, SOD), along with classic-power metal artists from around the world like German screamer Ralf Scheepers (Primal Fear, ex Gamma Ray), Bay Area singer Brian O'Connor (ex Vicious Rumors), Brazilian guitarist/singer Rafael Bittencourt (Angra), Japanese guitar virtuoso Syu (Galneryus), drummer Thomen Stauch (ex Blind Guardian, Mentalist) and guitarist Jens Ludwig (Edguy) from Germany as well as Italian keyboards player Mistheria (Vivaldi Metal Project, Bruce Dickinson).
But the list includes also other well-known and internationally established Italian Heavy Metal/Rock musicians from bands like Doro, Extrema, Vision Divine, Labyrinth to name a few, reunited with the aim of raising awareness of children cancer and raising funds for voluntary associations which are striving to carry out their daily mission in such hard times.
By releasing the all-star video, the Cultural Association "Metal For Kids United" will make an initial donation of EUR 2.000 (approx. USD 2,300) in favor of Peter Pan Association to kick off and boost the fund raising campaign available on GoFundMe platform: gofundme.com/metal-for-kids-united-against-kids-cancer.
Rock and Metal lovers will have the chance to enjoy this Deep Purple's classic in a new and contemporary rendition for free and will be invited to support the initiative with donations for the cause or by purchasing the merchandise.
Over EUR 12,000 have been donated to non-profit organizations working in Italy to help children in the 4 past editions.
Fabrizio Troiano further says: "We are very proud of the achievements over the years and we hope, despite the impossibility of making a physical event as in our tradition, we can once again share fun together, raise funds for the kids in need and give the chance to the people from all over the world to experience the Metal For Kids United! spirit of solidarity. Don't forget to play it loud, make metal horns, headbang and share the video!"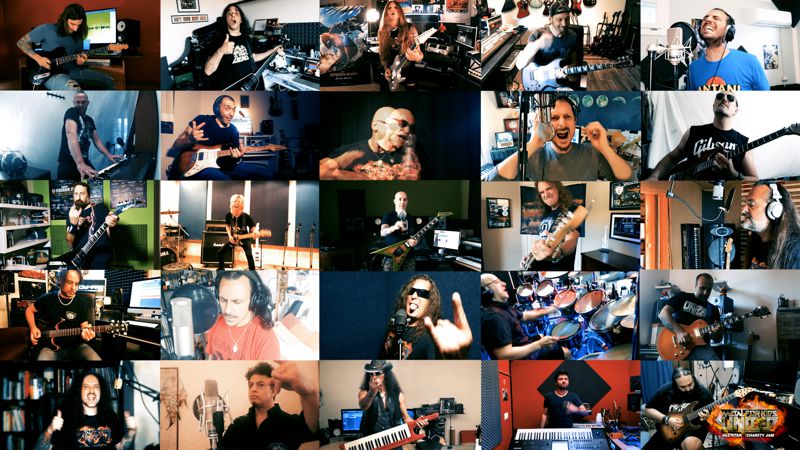 BURN extended version | LINE-UP
VOCALS
Brian O'Connor | ex Vicious Rumors, Deadlands, Consfearacy
Roberto Tiranti | Labyrinth, Wonderworld, Ken Hensley Live Fire
Rafael Bittencourt | Angra
Ralf Scheepers | Primal Fear, ex Gamma Ray
Morby | Domine
Tiziano Spigno | Extrema, Kings Of Broadway
Fabio Dessi | Arthemis, Hollow Haze
Gianluca Mastrangelo | De La Muerte
GUITARS
Scott Ian | Anthrax, SOD
Luigi Schiavone | ex Enrico Ruggeri band, solo artist
Rafael Bittencourt | Angra
Syu | Galneryus
Jens Ludwig | Edguy
Tommy Massara | Extrema
Andy Martongelli | Ellefson, Altitudes & Attitude, Arthemis
Luca Princiotta | DORO
Olaf Thorsen | Labyrinth, Vision Divine
Aldo Lonobile | Secret Sphere, Arkon Angel, Kings Of Broadway
Luca Venturelli | Trick Or Treat
Leonardo Porcheddu | Vivaldi Metal Project
Fabrizio "Faber Troy" Troiano | Timestorm
BASS
David Ellefson | Megadeth, Ellefson, Altitudes & Attitude, Metal Allegiance
KEYBOARDS
Alessio Lucatti | Vision Divine, Deathless Legacy
Mistheria | Vivaldi Metal Project, Bruce Dickinson, Rob Rock
Paolo Campitelli | Kaledon, ex Timestorm, ScreaMachine
DRUMS
Thomas "Thomen" Stauch | ex Blind Guardian, Mentalist, Dawn Of Amber, ex Serious Black
"BURN extended version" – Production credits
Produced by: Fabrizio Troiano with the help of Simone Mauti and Luca Muzzioli for Fabertroy Entertainment / Associazione Culturale "Metal For Kids United"
Mixed by: Frank Altare @StudioCompresso, Rome, ITA - Studiocompresso.com
Mastered by: Riccardo Parenti @Elephant-Mastering Studio, Rome, ITA - elephant-mastering.com
Video editor and motion graphic by: Marco Faiazza - Diese E-Mail-Adresse ist vor Spambots geschützt! Zur Anzeige muss JavaScript eingeschaltet sein!
ABOUT "METAL FOR KIDS. UNITED! ALL-STAR CHARITY JAM"
Metal For Kids. United! All-Star Charity Jam is a musical format created in 2016 by Fabrizio Troiano with the aim of supporting and helping children in any state of need, through solidarity initiatives in which artists of the national and international Heavy Metal scene are called to arms.
Initially conceived as a production of charity events according to the format of the All-Star Jam Session, Metal For Kids. United! Has later developed as a real "independent" brand that carries out the commitment towards needy children also through various activities of awareness raising, communication and promotion, always using Heavy Metal as a healthy bearer of positive messages and solidarity.
Many famous artists have participated in Metal For Kids United! through the years such as: Russell Allen (Symphony X, Trans-Siberian Orchestra), Mark Boals (ex Malmsteen, ex Royal Hunt), Edu Falaschi (ex Angra, Almah), Fabio Lione (Angra, Turilli Lione Rhapsody, ex Vision Divine), Kobi Farhi (Orphaned Land), Roy Z (Bruce Dickinson, Halford), Gus G. (ex Ozzy Osbourne, Firewind), Roland Grapow (ex Helloween, Masterplan), John Macaluso (ex Malmsteen, ex Ark), Alessandro Conti (Trick Or Treat, Turilli's Rhapsody, Twilight Force), Andrea Cantarelli (Labyrinth, A Perfect Day), Titta Tani (ex DGM, ex Goblin), Terence Holler (Eldritch), as well as over 100 musicians from the local and international metal scene.
ABOUT "ASSOCIAZIONE PETER PAN"
"The Great House of Peter Pan" is a free hospitality center that provides children with cancer, under treatment at the Child Jesus pediatric hospital, with 32 housing units with facilities, as well as large common areas that encourage socialization among families. About 200 volunteers ensure that the structures operate 24 hours a day, 365 days a year. The most important project for the Association is to continue to support the maintaining costs of the Houses.
To know more: https://www.peterpanonlus.it
ABOUT "GOFUNDME" CAMPAIGN
Next to the Metal For Kids United! All-Star Charity Jam, a digital benefit campaign through the global GoFundMe platform has been set up to collect additional donations. This is another way to give the community of music lovers and philanthropists an opportunity to be an active part in this great solidarity event, especially those who cannot attend the show.
The campaign aims to reach EUR 15,000 within June 2021.
Donations can be done at gofundme.com/metal-for-kids-united-against-kids-cancer.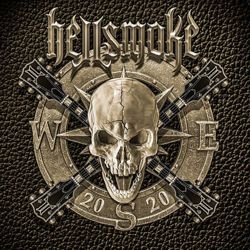 product: Hellsmoke - 2020
label: Pride & Joy Music
release date: 16.10.2020
PR territory: world
PR contact: Diese E-Mail-Adresse ist vor Spambots geschützt! Zur Anzeige muss JavaScript eingeschaltet sein!
HELLSMOKE releases its debut album, "2020", with the Rev-counter well in to the red!
Hellsmoke's gasoline infused Hardrock/ Metal combination was born when guitar player Christofer Dahlman (ex Alyson Avenue, Bai Bang) and songwriter Torbjörn Månsson got together with their long-time friend and drummer Roger Landin (ex Cloudscape). This explosive mix started to iron out what HELLSMOKE should be all about. Heavy guitars, pounding drums and rough, but refined, melodies form the backbone of the music.
The group tested the waters live by doing a few gigs, the most mentionable as support for Pretty Maids in Denmark.
When it was time to record the album Rimbert Vahlström (ex Syron Vanes), joined the crew as the group's new singer and with his unmistakable voice that was perfect for the band - he took the songs to the next level! Anders Hahne was used as a co-producer on the album.
The band's latest additions, Jörgen Löfberg on bass (Darkane) and Michael Åkesson (Alicate) on guitars, provide that extra edge that separates HELLSMOKE from other bands!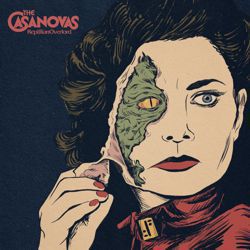 product: The Casanovas - Reptilian Overload
release date: 18.09.2020
label: Bad Reputation
PR territory: GAS only
PR contact: Diese E-Mail-Adresse ist vor Spambots geschützt! Zur Anzeige muss JavaScript eingeschaltet sein!
Last year, with a set of great new material, the re-tooled Casanovas hit the studio with iconic Oz rock producer Mark Opitz (AC/DC, The Angels, Cold Chisel, The Divinyls) to record their fifth album. The Casanovas provided the first taste from the upcoming album late last year when they released their first new music in over four years with popular single 'Hollywood Riot'.
'Reptilian Overlord' revels in everything that fans have come to know and love about The Casanovas, and it shows the impact of Opitz, who was involved in many of the band's favourite albums like Powerage and Face To Face. As Casanovas bassist Damo Campbell says, "Mark is the master at miking for great guitar tones. He definitely brought some of those techniques into our sessions… It was also pretty inspiring to be in the studio hearing some of Mark's stories of some of the great rock bands he has worked with over his career."
Swagger is something that these guys have in spades. Although they got caught up in the early 21st-century rock mania, The Casanovas always had deeper roots and a natural ease. Hailing from the Live Rock'n'Roll Capital of the Universe – Melbourne – The Casanovas were a merging of two great local traditions –punk rock'n'roll and Oz Rock – and they had a twinkle in their eye and brought a youthful freshness to both when they appeared at the start of the century.
"It's like they've captured all my favourite rock acts – Cheap Trick, Stones, Kiss, ZZ Top & AC/DC, and crammed them all into their own jar of Vegemite. . James "The Hound Dog" Young, owner of the iconic Cherry Bar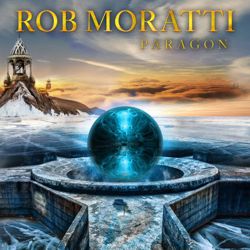 product: Rob Moratti - Paragon
release date: 30.10.2020
label: AOR Heaven
PR territory: Europe
PR contact: Diese E-Mail-Adresse ist vor Spambots geschützt! Zur Anzeige muss JavaScript eingeschaltet sein!
Rob Moratti is a solo artist, the voice of Final Frontier and has been fronting Saga.
The Canadian is a genuine and true original. With an astonishing range, he has carved such an unique style blending the finest elements of melodic and progressive rock.
He started his career professionally in the early 90's as lead vocalist and songwriter of the band Moratti; entering the new millennium with Final Frontier. They immediately were well-received making an impact on the airwaves of Japan and Europe. Rob's future went forward with Final Frontier, soaring out four incredible melodic pieces.
Over the years, in spite of all the changes in the music scene, Rob's perseverance and passion stood strong. His fate is so undeniable, it captured the attention of multi-platinum selling and legendary progressive rock band Saga. In 2008, the official announcement was made that Rob Moratti would become the new voice of Saga and at the age of 42, Rob's destiny would evolve.
Today in 2020, Rob is about to deliver another impeccable solo record titled "Paragon" which is now his second release with AOR Heaven. When it comes to songs, melodies, harmonies and range - as many know - Rob Moratti is in a league of his own.
The songs on "Paragon" are astonishing as ever and filled with his trademark harmonies and memorable choruses that will capture the listener and engrave your soul. He was working alongside some the best songwriters and performers in the genre such as Ulrick Lönnqvist, Pete Alpenborg, Felix Borg, Ken Sandin and Torben Enevoldsen on lead, rhythm guitars and keyboards, Stu Reid on drums and Tony Franklin on the monster bass. Joining him now in 2020, special guests on lead guitars are Joel Hoekstra and Ian Crichton.
Rob has also worked with many power house musicians that have been part of his solo career like Joel Hoekstra (g, Whitesnake / TSO / Night Ranger / Cher), Reb Beach (g, Whitesnake / Winger / Dokken), Tony Franklin (b, Blue Murder / The Firm), Brian Doerner (d, Saga) and Ian Crichton (g, Saga).
"Paragon" was produced by Rob Moratti, mixed by Moratti and Torben Enevoldsen and mastered by Moratti, too.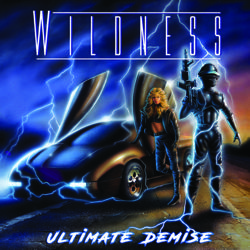 product: Wildness - Ultimate Demise
release date: 30.10.2020
label: AOR Heaven
PR territory: world
PR contact: Diese E-Mail-Adresse ist vor Spambots geschützt! Zur Anzeige muss JavaScript eingeschaltet sein!
Wildness was originally intended to be a studio project by drummer and songwriter Erik Modin, but together with guitarists Adam Holmström and Pontus Sköld, and singer Gabriel Lindmark, the project developed into a real band in 2014. The first year, Wildness performed live with various session musicians playing bass before bass player Marcus Sjösund joined in 2016 and the Wildness lineup was complete.
The Swedish band started rehearsing and performing live diligently, and in September 2015 and January 2016 the digital and self-produced singles "Collide" and "Turning The Pages" were released. After the second single, the band got in contact with record company AOR Heaven and was offered a record deal by CEO Georg Siegl.
The band recorded their debut album in 2016 and 2017 with the help of mastermind and producer Erik Wigelius, who handled the production, mixing and mastering of the album. The eponymous debut album was released on November 24th, 2017 and immediately became a great international success among fans of melodic hard rock.
In 2018, the band performed at numerous festivals internationally and shared stages with well-known acts such as Dokken, H.E.A.T, Dee Snider, Crashdïet, Dragonforce, Arch Enemy, Warrant, Vixen and others and also had the honor to open for Pretty Maids, among others.
In 2019 the band joined forces with Scream & Shout Music Agency for management and booking, and began working on the sequel to their acclaimed debut album. However, the process came to a halt when singer Gabriel Lindmark left Wildness in the autumn of 2019 due to musical disagreements.
After continuing to work on the second album during the rest of 2019, Wildness was finally able to announce Erik Forsberg (ex-Blazon Stone) as their new frontman in the spring of 2020.
The second album, produced entirely by drummer Erik Modin, is named "Ultimate Demise" and is thanks to strong song material, Erik Forsberg's powerful vocals and Erik Wigelius' magnificent mix and master an album to be reckoned within the melodic hard rock universe in 2020!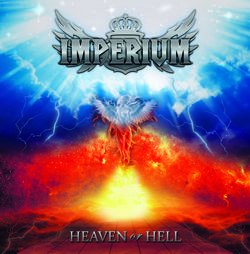 product: Imperium - Heaven Or Hell
release date: 30.10.2020
label: AOR Heaven
promo territory: Europe
PR contact: Diese E-Mail-Adresse ist vor Spambots geschützt! Zur Anzeige muss JavaScript eingeschaltet sein!
Imperium is the solo project of Finnish drummer Mika Brushane.
Mika has been playing drums and percussion in various bands since 1981 and doing it in all genres from jazz to metal. Furthermore, he has composed songs for different genres and this legacy can be heard in the IMPERIUM songs right away. The music is Melodic Rock / AOR and it has a big dose of 80's feel and sounds in it.
The project started in 2012 when Mika composed a new song for the new STRIKE album "We're Back" and realized that there were more songs in him that needed to be released. 2016 the debut album "Dreamhunter" was released by AOR Heaven and the follow-up "Beyond The Stars" came out in 2018.
In this project Mika writes all the songs and lyrics, and plays all the drums, bass, keyboards and sings backing vocals, too.
All the lead vocals are sung and guitars are played by various extremely talented musicians from the rock/metal scene all over the world which this time include Robban Ernlund (Treat), Markku Kuikka (Agonizer, Kenziner, The Ragged Saints), Stefano Lionetti (Lionville), Mikey K Nilsson (Sapphire Eyes), Erkka Korhonen (Dark Sarah, Urban Tale)and Robbie LaBlanc (Blanc Faces)
Also the album's post-production is made by top pros. The album is mixed by Erkka Korhonen (Dark Sarah, Urban Tale, Northern Kings, Ari Koivunen, Raskasta Joulua) and mastered by the legendary Mika Jussila (Nightwish, Children of bodom, Stratovarius, HIM etc.). The album was produced and mostly recorded during 2019-2020 by Mika himself at his Groovehouse Studio in Vantaa, Finland.