product: Season Of Dreams - Heroes
release date: 18.06.2021
label: Pride & Joy Music
PR territory: world
PR contact: Diese E-Mail-Adresse ist vor Spambots geschützt! Zur Anzeige muss JavaScript eingeschaltet sein!
After the release of the album 'My Shelter' in the year 2020, French/ Swedish Heavy Metal band SEASON OF DREAMS now returns with its sophomore album entitled 'Heroes'. The main part of the group still consists of Jean-Michael Volz on most instruments and singer/ keyboard player Johannes Nyberg. John Nyberg (guitars) decided to leave SEASONS OF DREAMS for personal reasons.
'Heroes' offers a strong collection of ten original songs - a perfect mix of Power Metal hymns and Heavy Metal riffs. The group's main inspirations and influences come from bands such as Helloween, Edguy, Accept, Stratovarius, Manowar, Heavenly, Dreamtale, Vhaldemar and many more.
Seven guests joined SEASON OF DREAMS to add their talent to this release. These guests are Jimmy Hedlund (Falconer), Nils Courbaron (Sirenia/T.A.N.K.), Olivier Lapauze (Heavenly), Mikael Dahl (Crystal Eyes), Emil Norberg (Persuader/Savage Circus), and Martin Floberg from Enbound on lead guitars and Kristoffer Göbel from Six Foot Six/Falconer on vocals!
Jean-Michel Volz comments: The song 'Heroes' is a tribute to the medical staff who amazingly helped the world in the war against the virus. The fantastic artwork from Stan W Decker shows a warrior doctor in a fantasy world who fights against a virus monster.' The mastering of the album was handled by HK at Vamacara studios in France.
product: Devils In Heaven - Rise
release date: 25.06.2021
label: AOR Heaven
PR territory: world
PR contact: Diese E-Mail-Adresse ist vor Spambots geschützt! Zur Anzeige muss JavaScript eingeschaltet sein!
Devils in Heaven started out as a school covers band in Launceston, Tasmania during the mid-1980's. After a couple of years of gigging around Tasmania, the boys left their comfy confines in March 1989 and joined the thriving Northern Queensland circuit of touring bands. It was a baptism by fire, but the boys learned to adapt to different type of audiences and built up their stamina and resilience through the constant playing.
It was on this circuit that they were discovered by a band manager, who introduced them to the flourishing Sydney music scene. Here in Sydney is where the industry heavyweights became aware of the band, who by now were playing their own original music for about half of their shows. The band began recording demo recordings, but their demos didn't seem to land on the right music executives' desks.
In 1991, the band accepted an offer to appear on the nationally televised talent show, Star Search. The band went on to appear a total of eight times, eventually winning the band section of the Grand Final. But the band didn't strike while the iron was hot. Instead, their debut single, Say a Prayer, was released six months later. By then, the hype surrounding their Star Search win had somewhat subsided. At this time in April 1992, the music landscape was starting to change with the likes of Nirvana and the grunge scene taking over the airwaves.
After the lack of support for their debut single, the Devils decided on having a last-ditch effort into cracking the big time by recording an E.P. entitled "Liberation" in Hollywood, Los Angeles during March of 1993. Unfortunately, Liberation didn't even make an indentation on the charts, and the boys decided to part ways in October 1993 as the musical landscape was changing in Australia and it was becoming increasingly difficult to make a living as a live/ touring band.
Now that almost thirty years have passed, their music helps keep the band living on.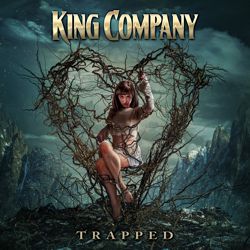 product: King Company - Trapped
release date: 25.05.2021
label: AOR Heaven
PR territory: world
PR contact: Diese E-Mail-Adresse ist vor Spambots geschützt! Zur Anzeige muss JavaScript eingeschaltet sein!
Finnish 'Hard Rock Supergroup' KING COMPANY releases 3rd album "Trapped" with a new singer.
King Company was formed in 2014 by drummer Mirka "Leka" Rantanenb (Raskasta joulua, Warmen, ex-Thunderstone, ex-Kotipelto, etc.) to fulfill his longtime dream of melodic hard rock/metal band with good friends and musicians. His former Thunderstone colleague Pasi Rantanen took the vocal duty, Antti Wirman (Warmen, Children Of Bodom) joined in for the guitars and after Jari Pailamo (Kiuas) with Time Schleifer (Enfarce) answered the calls for keyboards and bass, the band was ready to start working.
Soon King Company signed a record deal with Frontiers Records and released "One for the Road" 2016 and "Queen of Hearts" 2018 - the latter with Italian singer Leonard F. Guillan as Pasi Rantanen had to leave the band due temporarily losing his voice. The albums were supported by touring in Finland, Spain and Italy, and gave King Company a notice as 'Newcomer of the Year - Brightest Hope' in Japanese Burrn magazine and 7th position in Finnish album charts, respectively.
The misfortune with vocalists continued. Ilkka Keskitalo became the new singer in 2019, with whom King Company began to produce its third album. In 2020 the first demos sent to AOR Heaven resulted in signing a deal. The recordings took over one year in several sessions and it was mixed and mastered by Jesse Vainio (Sarah Brightman, Apocalyptica, Sunrise Avenue, Gregorian, etc.) The band describes the new production as well balanced and more rocking than the previous releases - A world class sound created by elite sound engineer Mr. Vainio makes it a pleasant, stunning and energetic trip to the world of hard rock. Plans for 3rd tour in Spain are already in place.
With the latest repertoire "Trapped" KING COMPANY proves to be one of the most spectacular and eminent acts of the scene since the legends Whitesnake and alike!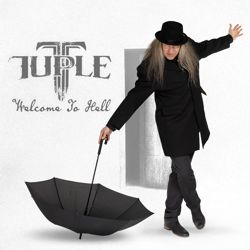 product: Tuple - Welcome To Hell
release date: 28.05.2021
label: AOR Heaven
PR territory: world
PR contact: Diese E-Mail-Adresse ist vor Spambots geschützt! Zur Anzeige muss JavaScript eingeschaltet sein!
"Welcome To Hell" is the follow-up to the highly-acclaimed "Wooden Box" album by TUPLE which was released in 2020 via AOR Heaven and resulted in a charty entry in the native country of this Finnish artist.
Finland is well-known for its Heavy Metal roots. Far and wide comes the list of Metal bands that are known all around the world. But there's also a strong Melodic Rock/AOR community. Bands that rely, not only on heavy riffing, but also strong melodies and larger-than-life keyboards. TUPLE is a good example of it. Catchy songs, great melodies, fine artistry.
The songs once again - like on the previous album - were written by Riitis, Tommi's good friend and trusted composer. But unlike the Wooden Box release, which was lyrically based on Tommi's life, this time the band takes a look at the dark corners in the corridors of power, struggles with the relationships, and takes the listener on a trip to the late 19th century Colorado, to Aspen – the playground of the rich and the powerful – which was once upon a time a savage place where miners, gunslingers, UTE Indians, card sharks and prostitutes were an unsettling mix of people during the Silver Rush. The album was produced by TripleVision (Tommi, Riitis, Janne).
Tommi "Tuple" Salmela, born June 3rd, 1969 in Kuopio, Finland, is a Finnish Heavy Metal singer. He sang in such bands as Tarot, Lazy Bonez and Raskasta Joulua (Ragnarok Juletide) and also performed on stage with many famous singers like Elize Ryd, Floor Jansen, Tommy Karevik, Bernie Shaw, Joe Lynn Turner and Dee Snider, to name a few.
Raskasta Joulua is a Finnish band recording and performing traditional Christmas carols and hits in the Heavy Metal style. Tommi is one of the founding members. Lazy Bonez was established in 2012 and they have released 3 albums. On their second album, Alive, Tommi sang a duet with Bernie Shaw of Uriah Heep on the tune 'Devils Dice'.
Tuple's personal influences include bands like Journey, Kansas, FM, Uriah Heep, Boston, Chicago, Strangeways, Black Sabbath, Dio and lots of other AOR bands - the list goes on and on. His motto is: What doesn't kill you, makes you stronger.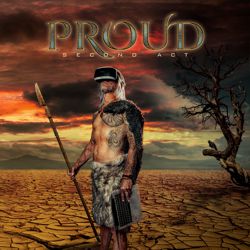 product: Proud - Second Act
release date: 28.05.2021
label: AOR Heaven
PR territory: world
PR contact: Diese E-Mail-Adresse ist vor Spambots geschützt! Zur Anzeige muss JavaScript eingeschaltet sein!
Finally, PROUD is back after 36 years, stronger than ever, with ten new powerful songs!
PROUD were founded in Landskrona, Sweden in 1982. They started as BURN and were one of many, countless Hard Rock bands that came in the mid-80s. The group changed their name over to PROUD and made an album for EMI which was produced by Caj Högberg ("Fire Breaks the Dawn"). This album is a rare and often elusive title making it an essential purchase when stumbling upon by fans of classic rock/metal of the 1980s. "Fire Breaks the Dawn" achieved success in Japan and parts of South America both.
In 2019, two of the original band members decided to make a new start! Songwriting and recording took place and soon a new record deal was signed with AOR Heaven.
"Second Act" was recorded and engineered by Richard Larsson at Handsome Hard Studio 1 and 2, produced by PROUD, mixed and mastered by Erik Mårtensson at Mass Destruction Production and additionally mixed by Thomas "Plec" Johansson at The Panic Room.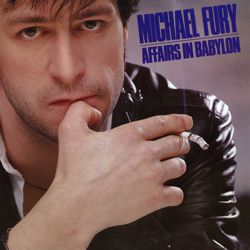 product: Michael Fury - Affairs In Babylon (CD re-issue)
release date: 28.05.2021
label: AOR Heaven
PR territory: world
contact: Diese E-Mail-Adresse ist vor Spambots geschützt! Zur Anzeige muss JavaScript eingeschaltet sein!
Myles Hunter, known from the band AVALON (Canada), bassist Martyn Jones and guitarist Rob Kennedy founded the group MICHAEL FURY in the year 1979 based on a character from James Joyce's short story "The Dead". They played a reasonable amount of gigs in their native country until they called it a day in 1983.
MICHAEL FURY returned one year later when Hunter met keyboard player Howard Helm (ex ZON). Former members Martyn Jones (bass) and Rob Kennedy (guitars) re-joined the group and drummer Dave Mihal was added to the line-up. The band signed to a small local label soon after, and the debut "Affairs In Babylon" finally came out in 1984.
The group toured Canada extensively but due to some identity confusion between the band name MICHAEL FURY and the name Myles Hunter the situation soon became difficult. First of all, the label tried to market the group as a solo act which did not work well for anyone involved. When MICHAEL FURY then received an offer from an US based major label, they decided to buy back the rights for their album, to re-mix and re-record most of the parts and also to add five new songs. Brian Doerner (Helix) joined the group on drums. "Affairs In Babylon" at the time was re-issued under the band name REFUGEE.
MICHAEL FURY's "Affairs In Babylon" is now, for the first time ever, available on CD as a limited mail order edition of 1000 copies incl. liner notes by Dave Reynolds. Carefully restored from vinyl and digitally remastered by Anthony Panacci.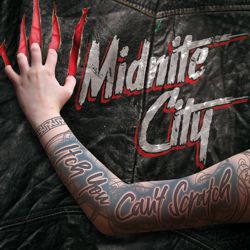 product: Midnite City - Itch You Can't Scratch

release date: 11.06.2021
label: Roulette Media
PR territory: world -UK
PR contact: Diese E-Mail-Adresse ist vor Spambots geschützt! Zur Anzeige muss JavaScript eingeschaltet sein!
Since bursting out onto the scene with a vengeance in 2017, MIDNITE CITY have taken on the world and hustled themselves to the top of the pile to be crowned the true kings of Hair Metal.
Following on from the release of their sophomore album 'There Goes The Neighbourhood' in late 2018 (which was voted 5th best Melodic Rock album of the year in Classic Rock magazine and also made the list of the best albums of the past 35 year history of Japan's Burrn! magazine) the band have gone from strength to strength and proven to be one hell of a force to be reckoned with in the live arena.
MIDNITE CITY have headlined two consecutive UK tours, played shows all over Europe, Australia and also played two sold out shows in Japan and continue to dazzle a legion of growing and devoted fans around the world with their high energy, feel good, party rock.
Hot on the heels of two highly acclaimed albums, MIDNITE CITY return in 2021 with their highly anticipated third album "Itch You Can't Scratch" on June 11th. With new label Roulette Media in tow, as well as new management and booking agent, the band are back looking and sounding better than ever with a new array of songs that will melt your face, so strap yourselves in for the ride of your life. It's all about the good times!
Produced, mixed & engineered by Pete Newdeck; mastered by Harry Hess. All songs written by Rob Wylde except 'Fire Inside' and 'Chance Of A Lifetime' written by Rob Wylde/ Pete Newdeck. Front cover design by Daz Mondo.