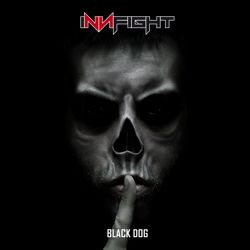 product: Innfight - Black Dog
release date: 13.04.2018
label: Pride & Joy Music
PR: iDiese E-Mail-Adresse ist vor Spambots geschützt! Zur Anzeige muss JavaScript eingeschaltet sein!
The story of INNFIGHT started at the end of the year 2013 in Mannheim, Germany with a line-up consisting of Sascha Wagner (guitar),
Michael Heck (keys) und Frank Widderson (vocals). About a year later and after writing songs together they began to record their debut CD "Boulevard Of Pain" in Rolf Munkes' Empire Studios in Bensheim (Hessia), Germany.
INNFIGHT later on were joined by the new members Udo Boppré (drums), Eugen Leonhardt (lead guitar) and Thomas Klesius (bass). After they were complete, they began to play live to bring INNFIGHT and the album into the focus of their fans.
In October 2017, INNFIGHT started to record their second album "Black Dog" which is now set for a release on Pride & Joy Music on April 13th, 2018. During the recordings, bass player Thomas Klesius died due to serious illness. Tommy Schmitt, bass player of RED CIRCUIT, stepped in to help in these hard times and completed the bass recordings.
Impulsive rhythms, loaded with energetic guitar riffs, combined with spherical keyboard melodies and the distinctive voice of
Frank Widderson are the major trademarks of the band's Alternative Rock/Metal sound – always with their own kind of interpretation. The songs themselves deal with emotions, experiences, impressions and topics such as human interaction and the daily struggle with the world both around and within us. "Black Dog" was once again produced by Rolf Munkes at Empire Studios.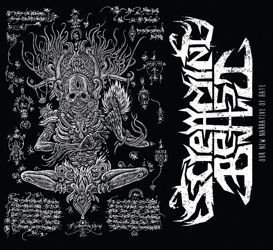 product: Screaming Beast - Our New Narrative Of Hate
release date: 23.03.2018
label: CDBaby
PR in Europe: Diese E-Mail-Adresse ist vor Spambots geschützt! Zur Anzeige muss JavaScript eingeschaltet sein!
Formed from the depths of the much revered Manchester (UK) metal scene, Screaming Beast fuse heavy metal and the swagger of the deep south to bring you groovy and bluesy melodic metal. Influences of the band include: Black Label Society, Pantera, Lamb of God, Strapping Young Lad, Machine Head, In Flames, Dream Theater, At the Gates, The Haunted, Alter Bridge…. To name just a few.
The band began as the project of vocalist Anton War and drummer Daniel Mucs in the summer of 2013. Once songs took shape, the band released the first EP "Blistering Lies" in February of 2014, followed by a second EP "To Assail and Conquer" in September 2015.
Soon after these releases, sights for the stage were set, and the bands line-up was solidified. Daniel and Anton are joined by Arun Kamath (guitar, backing vocals), Rory Vallely (guitar) and Jason Hartley-Smith (bass, backing vocals).
Having each individually forged their own creative paths over the years, and with a lifetimes worth of combined musical experience, all five of these rather talented and handsome chaps are connected by their love for creating and playing the best music possible, and having jolly good fun in the process!
Lyrically, the band draws on a healthy mix of personal experience and outward commentary. While not wishing to preach or force a particular message upon anyone, the listener is taken on a journey through the mind-set of the songs protagonists.
After a successful live outing with the full line up in November 2017, Screaming Beast brings you their debut album "Our New Narrative of Hate" in 2018. The band promises ten tracks of groovers, shakers, bruisers and head banging neck-breakers.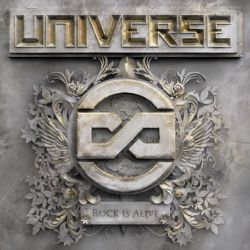 product: Universe Infinity - Rock Is Alive
release date: 13.04.2018
label: Pride & Joy Music
PR: Diese E-Mail-Adresse ist vor Spambots geschützt! Zur Anzeige muss JavaScript eingeschaltet sein!
UNIVERSE started in 1982 in Upplands Väsby, Sweden, where hard rock ruled the streets. The members hailed from several different local bands. After leaving the band Moon, lead guitarist Michael Kling, who founded the band WC in the late 70's with John Norum, became one of UNIVERSE's founding members. Bassist Hasse Hagman, who played in Joey Tempest's first band, along with drummer Anders Wetterström and guitarist Per Nilsson, all came from the band Twilight. Once UNIVERSE got their hands on keyboard player Fredrik Kriström and singer Kjell Wallen, the band was complete. They played diligently for a couple of years all over Sweden, opening for Nazareth, among many other gigs. In 1985, the band released its self-titled debut album with songs like "Rollin' On", "Stories from the Old Days", and "Strong Vibrations". In 1986, Kjell Wallen left the band on good terms following creative differences and was subsequently replaced by Janne Åström. With Janne as the new frontman, the band focused fully on a follow-up to their debut album. Several demos were recorded but never ended up in the right hands. The band dissolved in early 1988 and then had a short reunion for a final show in the ice hall in Upplands Väsby later that year.
The band members went their separate ways, each showing up here and there in different contexts with connections to music. Everyone maintained occasional contact and eventually Per Nilsson reached out to the others to see if they were interested in playing together again. In 2002, all the members met up together for the first time in 14 years. They immediately knew they wanted to play again, and became convinced that the old material still had potential. Everyone agreed that a new album had to be released, but also that they were being pulled in different directions. For several years they kept continuous contact, waiting for the time when recording an album became inevitable. At first, UNIVERSE lacked a singer, but suddenly one day he was just there. Andreas Eklund (ex-House Of Shakira) became the new front man, his narrative lyrics and tasteful melodies opening the door to another dimension, so the band could take a bigger step into the galaxy. Now, finally, UNIVERSE is back as UNIVERSE INFINITY with "Rock Is Alive", a powerful album that is a tribute to the music of the 70's and 80's, and to their youth in Upplands Väsby. "Rock Is Alive" was produced by Michael Kling and Per Nilsson at Kling Studios, and mixed and mastered by Stefan Helleblad; drums were recorded in Standstraight Studio One Scandinavia. The artwork was created by Sylvain Lucchina at Razor Images.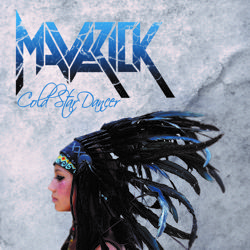 product: Maverick - Cold Star Dancer
release date: 06.04.2018
label: Metalapolis
PR: Diese E-Mail-Adresse ist vor Spambots geschützt! Zur Anzeige muss JavaScript eingeschaltet sein!
Founded back in 2012 from the Balfour brothers Ryan and David, Maverick soon could establish themselves in the scene. With their first album "Quid Pro Quo" they already could tour in Europe together with the Swedish Hard Rock stars THE POODLES. The from press and fans very well reviewed second album "Big Red" saw the 5-piece from Belfast/Northern Ireland again on the road with Swedish superstars TREAT. They also played festivals like H.E.A.T FESTIVAL (Germany), ICEROCK and ROCKNACHT TENNWIL (Switzerland) and ROCKINGHAM in the UK, which helped them to grow their solid fan base to a massive one!
The new album "Cold Star Dancer" marks a consequent follow-up to "Big Red". Groovy and modern played Heavy Rock with killer hooklines and well produced by Neal Calderwood in the Manor Park Studios in Belfast. Singer David Balfour proves that he is one of the new heroes of the current Hard Rock generation and guitarist Ryan Balfour, who played almost all the guitars himself (second guitarist Terry McHugh left the band during the production), is without a doubt one of the upcoming shredders! Some songs saw guest performances from TREAT guitarist Anders Wikström ("Ex Machina" and "Cold Star Dancer") and STORMZONE guitarist Steve Moore (Myrmidon", "Viper" and "Devil's Night"). Until they'll find a permanent new guitar player, Steve Moore will help the band out on live shows.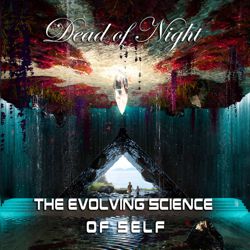 product: Dead Of Night - The Evolving Science Of Self
release date: 23.03.2018
label: Pride & Joy Music
PR: Diese E-Mail-Adresse ist vor Spambots geschützt! Zur Anzeige muss JavaScript eingeschaltet sein!
Dead Of Night are a five piece Symphonic Rock/Metal band with members from various parts of the UK. Formed in 2013 by composer Carl Eden as a vehicle for an album that he had in mind at the time, and with the release of 'The Dead Shall Rise' in 2014 they began receiving much critical acclaim.
Following on from the success of this self-released debut album the band went on to re-record their first album under the title 'The Dead Shall Rise Again'. This was accompanied by their first live performance at The Railway - Bolton, UK, which spurred them on to continue gigging across the UK.
Their second release titled 'In Search of Ancient Magic' saw progression and them reaching new heights in terms of what Dead Of Night are capable of. "The musicianship is absolutely outstanding and this band is knocking on the door of the Premier League indeed they may already be there.", says Dave Smith of Ravenheart Music.
The band have gigged throughout the UK enjoying festival slots at 'A Splendid Day Out' (Morecambe's Victorian and Steampunk Festival 2016/2017), 'The Quinphonic Festival 4' (Birmingham's Female Fronted Metal Festival 2017), as well as gigs in Lancaster, Morecambe and Burnley for the '2017 Metal 2 The Masses - Battle of the bands' competition. The band won the online 'Life You Choose Battle of the Bands' competition in 2016, proving that their dedicated fans are behind them all the way!
"The Evolving Science Of Self" is the name of their new album which was produced, mixed and mastered by Carl Eden at The Creative Room in Manchester, UK. Carl comments: "This is our fourth studio album and, I think, our strongest so far. The title comes from that fact that we are really interested in consciousness and perception and the way that science and spirituality are starting to overlap. Plus, if you read the lyrics, it all sounds like a session on the psychiatrist's couch!" The artwork design was handled by Graphyx.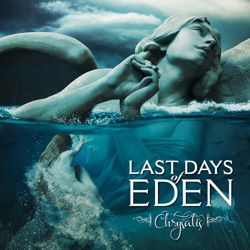 product: Last Days Of Eden - Chrysalis
release date: 23.03.2018
label: Pride & Joy Music
PR: Diese E-Mail-Adresse ist vor Spambots geschützt! Zur Anzeige muss JavaScript eingeschaltet sein!
LAST DAYS OF EDEN is a stunning band from Spain performing symphonic folk metal. The band released their first album, "Ride The World", in 2015, getting amazing reviews from all around the globe. In 2016 they played their first European tour, with more than 25 shows in Germany, Switzerland, Belgium, and Spain.
Led by female singer Lady Ani, she puts the sweetest tones to the tunes. Their melodies not only include bagpipes, violins, and whistles, but also a full symphonic orchestra, all wrapped in a solid metal package in every song. The new album "Chrysalis" has been recorded and includes 11 amazing and encompassing tracks that will take your mind on an unforgettable journey. The record was produced by Dani G. and mastered by Mika Jussila (Nightwish, Stratovarius, Amorphis, etc.).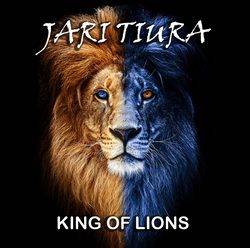 product: Jari Tiura - King Of Lions
release date: 23.03.2018
label: AOR Heaven
PR: Diese E-Mail-Adresse ist vor Spambots geschützt! Zur Anzeige muss JavaScript eingeschaltet sein!
Jari Tiura, former Michael Schenker Group and current Stargazery and Century Lost singer, will release his debut solo album on 23rd March 2018. 'King Of Lions' is a bit different than his previous outputs. The solo debut album has a mark of AOR to it, but also offers genuine hard rock feeling at times.
Jari Tiura was born 1968 in Tampere, Finland. He began to sing around the age of 17 when he also formed his first real band Crommer. Two years later the band changed their name to Bourbon and started to play gigs in their hometown.
A big change in Jari Tiura's musical career happened in the end of the 90´s, when he joined Snakegod, a Finnish power metal band. With Snakegod he released an album called "Invitation" in 2001.
In 2004 Michael Schenker contacted Jari Tiura and asked him if he would like to fly over to London for an audition gig. Everything went well and Jari even recorded most of his lead vocals for the upcoming MSG release "Tales Of Rock N Roll" during his stay in London. The first MSG concert featuring Jari Tiura on vocals took place in 2006. The show was broadcasted live from Underground, Cologne and aired on the show "Rockpalast" on German TV.
Between 2006 and 2007 Jari toured with MSG in Europe, Asia, the USA and Japan, and played big festivals like Wacken Open Air and Sweden Rock to name a few.
After leaving MSG, the singer joined Finnish band Stargazery. With Stargazery, he so far has released two albums, "Eye On The Sky" (2011) and "Stars Aligned" (2015). He is also a member of a new group called Century Lost which is currently working on a debut album to be released in 2018.


A few years ago Jari Tiura and his good friend and producer Sami Ala-lahti hooked up and started to write music together for his first solo album. "King Of Lions" is a release that, from the beginning, was meant to sound different from anything he had done in the past. Sami Ala-lahti handled the production and also played rhythm guitars, sang backing vocals and did some programming.
This release also features Yrjö Ella on lead guitars, Jaan Wessman on bass and drums. On keyboards you will find Jussi Kulomaa, Jani Kemppinen and Mikko Kangasjärvi. Jari Tiura is the executive producer. "King Of Lions" was mixed by Antto Tuomainen and mastered by Esa Orjatsalo.