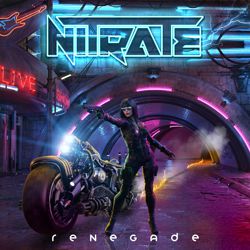 product: Nitrate - Renegade
release date: 30.07.2021
label: AOR Heaven
PR territory: world
PR contact: Diese E-Mail-Adresse ist vor Spambots geschützt! Zur Anzeige muss JavaScript eingeschaltet sein!
Nitrate is back with their third album; 'Renegade', a follow on to their previous highly rated albums 'Realworld' in 2018 and 'Openwide' in 2019, which achieved great success. Inspired by the late 80's rock scene with bands such as Def Leppard, Europe, Motley Crue, and Bon Jovi, Nitrate is the brainchild of song writer Nick Hogg (bass guitar) from Nottingham England. Nick has this time changed the line-up and enlisted Alexander Strandell (Art Nation) to take over on Lead Vocals & has teamed up with Tom & James Martin (Vega) & Mikey Wilson (Kimber) to produce an album that has been heavily influenced by Def Leppard's 'Hysteria'. With Tom Martin playing all the rhythm guitars and James Martin taking over on Keyboards the album delivers a more melodic/AOR feel than ever before. Renegade delivers 11 Hook filled tracks with great melodies, walls of keyboards and backing vocals supplied by Alessandro Del Vecchio. Tracks were inspired from bands such as Def Leppard, Starship, Journey, Skid Row, and Roxette making for a true 80s sound. Taking over on Lead Guitar is Dario Nikzad (Hell to Play).
Nitrate is: Nick Hogg – Bass Guitar, Alexander Strandell - Lead vocals, Tom Martin - Rhythm Guitars, James Martin - Keyboards, Dario Nikzad – Lead guitars, Mikey Wilson – Drums & additional guitar and keyboards, Alessandro Del Vecchio - Backing vocals;
Produced by Tom & James Martin & Mikey Wilson; Mastered by Alessandro Del Vecchio; Engineered by Tom & James Martin, Mikey Wilson, Alexander Strandell, Dario Nikzad, Alessandro Del Vecchio & Paul J King
Music recorded at Strandell Studios - Sweden, Osborne Studios - UK, Ivorytears Music Works - Italy, Soundwave Studios - UK
Mixed by Mikey Wilson ; Mastered at Ivorytears Music Works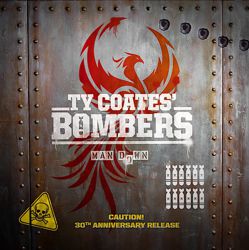 product: Ty Coates' Bombers - Man Down
release date: 15.06.2021
label: Bad Reputation
PR territory: GAS
PR contact: Diese E-Mail-Adresse ist vor Spambots geschützt! Zur Anzeige muss JavaScript eingeschaltet sein!
After leaving the Party Boys, Ty Coates (Flash Harry, Party Boys), Alan Lancaster (Status Quo) & John Brewster (The Angels) formed powerhouse rock band The Bombers. They went on to record an album, 'Aim High' and released several singles which received critical acclaim worldwide. The band toured with Alice Cooper, Skid Row, Ian Moss, Dragon and Cheap Trick, appeared on Countdown and performed extensively throughout Australia.
Lead singer Ty Coates, has re-formed the band with a brand new line-up. Featuring Christina Crofts (widow of the late Steve Crofts, the original Bombers lead guitarist) on guitars and slide guitar, Mick Carter on bass (ex-Swannee, One World) and much sought after young gun Ryan Mathison on drums. The band has recorded a brand new album which has been extremely well received by the bands long-time fans as well as a whole new stable of supporters…all also eager to see the band perform live once again!
Ty Coates' BOMBERS have been working hard in the studio in preparation for the live shows and are excited about playing those timeless classics as well as new songs off the current album!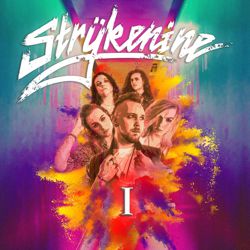 product: Strÿkenine - Strÿkenine I
release date: 16.07.2021
label: Pride & Joy Music
PR territory: world-JP
PR contact: Diese E-Mail-Adresse ist vor Spambots geschützt! Zur Anzeige muss JavaScript eingeschaltet sein!
The new sensation of Swedish Melodic Rock!
With influences from classic Melodic Rock, Modern Pop and Metal STRYKENINE entered the Stockholm rock scene in 2015. The band was formed in the southern suburbs of Stockholm by guitarist Andi Sarandopoulos, drummer Henrik Remesaho and singer Jacob Petäjämaa. At this point they were still in their teens dreaming big while exploring the musical influences from bands such as Europe, Whitesnake, Def Leppard and Mötley Crüe to name a few.
In 2016 the line up changed to what it is today when Sarandopoulos finally found a suitable second guitar player in Alex Zackrisson. The same year, Tony Bakirciouglu joined as the bass player.
The A-team was assembled. STRYKENINE started to elaborate their sound, in search for something that they felt was missing in the modern Melodic Rock scene: attitude and adrenaline. This set a standard for the young Swedish group to write Melodic Rock songs that still have that aggressive rock n roll spirit and to deliver the same energy live.
With this new lineup STRYKENINE perfected their craft, got to play clubs and festivals all around Sweden. Despite not having an album out at that point, they got to play festivals and open up for bigger bands like Hardcore Superstar, Santa Cruz, Shiraz Lane and Art Nation. In 2018 they released the EP "Nowhere To Run" and went on tour Europe for the first time.
Now STRYKENINE is ready to unleash the beast that is their debut album "Strykenine 1" and take on the Melodic Rock scene for real! This release was recorded at the Strykenine HQ during Summer 2020. In charge of the recording process were Calle Svennerstedt and bass player Tony Bakircioglu. Rich Gray mastered the album.
Keyboards were provided by Patrik Törnblom and Passi Oksman. Patrik Törnblom was in fact a member of the band between 2017-2020 and a big influence in developing the sound that STRYKENINE stands for today. He played keyboards on half of the album but was definitely an important partner for the songwriting for the whole album. Törnblom felt the need to step back from the band in the spring of 2020 to explore other things in life. That' s when we asked Passi Oksman to work his magic on the rest of this amazing album!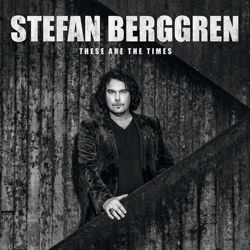 product: Stefan Berggren - These Are The Times
release date: 04.06.2021
label: Grandjam Production
PR territory: Europe
PR contact: Diese E-Mail-Adresse ist vor Spambots geschützt! Zur Anzeige muss JavaScript eingeschaltet sein!
STEFAN BERGGREN, one of Swedens finest Rock voices , will release his new solo album "These Are The Times" LP ,CD & digital, via his own label GRANDJAM PRODUCTION on June 4th, 2021!
Stefan Berggren has worked as a Singer/Frontman with well-known bands and artists such as Uriah Heep, Snakes in Paradise, M3 - Classic Whitesnake, The Company of Snakes, Along with the recently deceased Lee Kerslake (Uriah heep,Ozzy), he also had the Berggren Kerslake Band "The Sun Has Gone Hazy", as well as the Don Airey Band amongst others.Now he is ready to go out on the roads with his own, hand-picked band, hopefully starting in the Summer of 2021. "These Are The Times" is the sophomore solo release to "Strangers In A Strangeland" which came out in 2016.
Next to Berggren who handled vocals, guitars and keyboards, the band is completed with Tomas Pomma Thorberg (SNAKES IN PARADISE) on bass and Johannes Nordell(Flykten) on drums.The aforementioned Don Airey, the keyboard legend from Deep Purple, guest stars here on the song "Wild Flowers" provide Organ & Moog which has been released as a single and video a couple months of ago.
WATCH the video for "Wild Flowers" here: https://youtu.be/OsH0J-pAhJA
"The song is about feeling outside society," says Stefan. "You try to find your place in life. Right now, in Corona times, you go as a musician in the times of waiting for something to happen, whatever. Frustrating. You are not allowed to work. The only thing you can do is write new music. It will be doomsday rock with prophecy. It feels like the world is ruled by a select few and has planted this virus to access our freedom. Which is Rock "n" Roll. Maybe it's time to give up the dream or!?"
Further guests are Stephen Bentley-Klien (string arrangements) on the tracks "Lost At Sea" & "New York" and Joakim Svalberg (OPETH) on organ and piano on four songs (tracks 4-7). "These Are The Times" was recorded, mixed and produced at Grandjam Studio, Stockholm by Stefan Berggren. Pete Lyman (Infrasonic Sound Nashville, track 1), Ryan Smith (Sterling Sound Mastering, Nashville, tracks 2-6) and Claes Persson (CRP Mastering Stockholm, tracks 7-10) took care of the mastering.
Stefan adds: "There is always a sense of achievement when it's finished. I decided already in 2019 that I was going to work on new original material the whole year 2020. So, the pandemic has been good for that. But there's absolutely nothing to do - no gigs. I believe I had the last gig on earth. My band played the last gig November 23, 2020."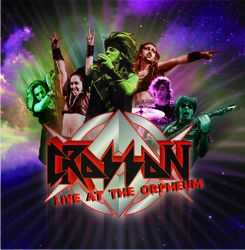 product: Crosson - Live At The Orpheum (Blu-ray/ CD)
release date: 25.06.2021
label: Galaxy Records
PR territory: Europe
PR contact: Diese E-Mail-Adresse ist vor Spambots geschützt! Zur Anzeige muss JavaScript eingeschaltet sein!
Since they exploded onto the melodic rock scene with their 2016 release 'Spreading The Rock 'N Roll Disease', followed by 2018's 'Invincible' and 2020's 'Rock N Roll Love Affair', Aussie theatrical glam rockers, CROSSON have established themselves as a force to be reckoned with delivering their hard driving, catchy, uplifting, stadium rock anthems.
CROSSON's engineering team of rock royalty consisting of Duane Baron (Motley Crue, Poison, Ozzy Osbourne) and Dave Donnelly (Aerosmith, Whitesnake, Cher) have not only given the band credibility but have added a unique sonic boom to their 80's influenced sound. However, it's been CROSSON's over-the-top, high energy, saucy, theatrical stage shows which has been winning the hearts of punters in the land Down Under.
"We constantly receive requests from fans in the USA, Europe, UK and Russia who have seen our videos and want us to come and play for them" says Jason Crosson (singer / writer / producer).
However, during these crazy times where international touring is not possible, following the motto "If the mountain won't come to Muhammad, then Muhammad must go to the mountain." the band will be releasing their first live album and concert video titled ' CROSSON - Live At The Orpheum'.
" The audience always goes nuts when the girls come out in their Japanese kimonos and skimpy army uniforms during 'I Wanna Be Japanese' and 'We All Need An Enemy'" says Crosson
Filmed in high definition with multi cameras in front of an excited home crowd at The Orpheum Theatre in Sydney Australia, the concert video shows CROSSON in their element; delivering their bombastic, cheeky, entertaining, choreographed, multimedia stage show. The concert video was edited and mixed by Australia's metal maestro Lord Tim (LORD).
The album and concert video will be available in digital formats as well a limited-edition Blu Ray / CD box set.
'CROSSON - Live At The Orpheum' will be released globally on 25 June 2021 through Galaxy Records.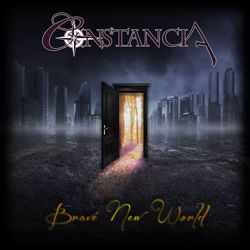 product: Constancia - Brave New World
release date: 18.06.2021
label: Pride & Joy Music
PR territory: world -JP
PR contact: Diese E-Mail-Adresse ist vor Spambots geschützt! Zur Anzeige muss JavaScript eingeschaltet sein!
The album title "Brave New World" is both meant to be seen as inspirational for 2021, and it is also a nod to the fact that the band has a new singer. The album was written and recorded with former singer David Fremberg in mind, but when he couldn't find the time for the band, UK singer Pete Godfrey (IN FAITH, BLOOD RED SAINTS) was drafted. Being an incredibly creative guy, he took on the songs with a new view, wrote new lyrics and came up with his own vocal arrangements, which lifted the album to a whole new level.
CONSTANCIA started in 2007, as the brainchild of former Scudiero/Token keyboard player Mikael Rosengren. He had written a bunch of songs that he wanted to record. He got in touch with guitarist Janne Stark (Overdrive, Grand Design, Locomotive Breath etc) and asked him to lay down some guitars. Janne contacted drummer Peter "TrumPeter" Svensson (ex-Mercy, Faith), with whom he had worked in Overheat, Locomotive Breath and Mountain of Power. Mikael drafted Jaded Heart bassist Michael Müller, and they tried out various vocalists before finding David Fremberg (Andromeda). CONSTANCIA's debut album "Lost And Gone" was released in 2009.
In 2013, bassist Linus Abrahamson (Andromeda) replaced Michael Müller on bass, "Final Curtain" saw the light of day in 2015.
In 2019 CONSTANCIA started working on new material. Since all the members were quite busy with other bands and projects, their writing process took its time, but in early 2020 the band had enough strong material to start recording. Unfortunately, original singer David Fremberg was too heavily involved in his new Reggae Kiss project, working in his studio and other projects, so he politely made his departure. Janne had been writing and working with British singer Pete Godfrey on other stuff and felt his voice would be perfect for the band. Pete tried out a few songs, where he also wrote new vocal melodies and lyrics, and it was just the perfect match. Even magical! When it finally came to mixing the album, Janne made some pre-production mixes which sounded fine, but to get the real icing on the cake they engaged Fredrik Folkare (Token, Eclipse), who also mixed the first album.
Musically the band is still creating the nice blend of melodies, progressive touches and aggressive guitars, now topped with the stellar vocal arrangements and voice of Pete Godfrey.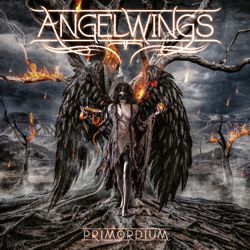 product: Angelwings - Primordium
release date: 18.06.2021
label: Pride & Joy Music
PR territory: world
PR contact: Diese E-Mail-Adresse ist vor Spambots geschützt! Zur Anzeige muss JavaScript eingeschaltet sein!
Angelwings were born in April 2013 out of a group of experienced musicians that had been in the local music scene for some time, and who had played in different bands a wide variety of musical genres.
Initially, to gel together as a band it was decided to perform a number of covers from Finnish symphonic metal sensation Nightwish. Soon it became clear to all that original music would have a very considerable element of orchestration. Thus, Angelwings became the first symphonic metal band from Gibraltar.
It is in October 2014 when the band starts to write their original material. On the 27th June 2015 Angelwings supported Heavy metal legends Saxon at the "Hard n Heavy" festival in Gibraltar. In September 2015 Angelwings performed at the Gibraltar Music Festival where Kings of Leon and Duran Duran were headliners. After numerous offers from record labels from around the world, Angelwings signed with Pride and Joy Music label (Germany). Angelwings released its debut LP "The Edge Of Innocence" in 23/6/2017.
Due to circumstances the band had a change in lineup. In October 2018 Angelwings welcomes Ismael (drums), Dani Duran (bass) and Carlos Álvarez-Nava (guitar) as part of the team and on April 2019 David Duran (Dani's brother) joins as our second guitarist. After a few gigs in Spain and Germany Angelwings continue their work on their next album, "Primordium".
The group decided for the album to be more focused on a heavier guitar sound but without losing its orchestral and synth sounds. It's a concept album, following their first album all the way back to the beginning, back to where it all began. This story tells us of a lost soul, one of divine blood who fights for freedom with the help of the Gods themselves. It features professional wind instrument musician Jeroen Goosens and Carlos Alvarez's vocals (guitarist at POWER THEORY and Shadowdance) on the opening track "Genesis". Although the covid pandemic caused some disruption to the band, they continued and focused their work on the album. In August 2020 they recorded guitars and vocals at Tower Studio with Brett Caldas Lima in France. The bass and keyboards were recorded at Angelwings Studio and drums by Léo Margarit from Pain of Salvation in his studio in Sweden. The amazing artwork was created by Thomas Ewerhard. Album set for release on June 18th, 2021 by Pride & Joy Music.