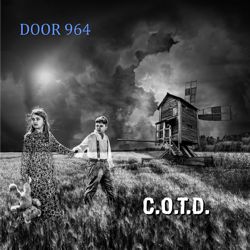 product: DOOR 964 - C.O.T.D
release date: 19.02.2021
label: Soundmix Oy
PR territory: Europe
PR contact: Diese E-Mail-Adresse ist vor Spambots geschützt! Zur Anzeige muss JavaScript eingeschaltet sein!
Door 964 is a brand new band from Oulu, Finland. Even though the group is new, all the musicians are well established in the Finnish rock scene since years. Musically, Door 964 is not trying to innovate the wheel again. "It's all based sincerely traditional melodic rock goodies", says lead vocalist and main song writer Sami Huotari. The debut album "C.O.T.D" contains 8 great songs which offer memorable riffs, a rock solid rhythm section and beautiful, atmospheric keyboards. And all is covered with world class vocals with its catchy melodies and chorus lines.
A good example which shows the variety of the release is the furious opening track "Fire At Will" that starts the game like the hammer hitting straight between the eyes. The album then continues with the epic title track "C.O.T.D", and an ethereal atmosphere found in the video track "Wings" without forgetting clever melodies in the closing track, "Worlds Collide".
The video for the track "Wings" in advance was released in early January 2021 and is found on Youtube via this link:https://youtu.be/_ExJqj-x160
"C.O.T.D" is also an excellent example of almost lost art of recording and mixing quality, and it takes the listener to great sonic journey through the album. "C.O.T.D" was recorded, mixed and mastered at the legendary Soundmix Studios in Oulu Finland by Mika Pohjola.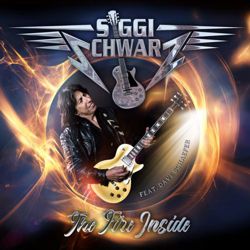 product: Siggi Schwarz - The Fire Inside
release date: 19.02.2021
label: Siggi Schwarz Music/ Pride & Joy
territory: world
PR contact: Diese E-Mail-Adresse ist vor Spambots geschützt! Zur Anzeige muss JavaScript eingeschaltet sein!
The German guitar legend Siggi Schwarz proudly presents 15 original and powerful Rock Songs on his new 11th Album. These songs are straightforward, melodic, raw and basically badass American! With nothing but Vocals, Guitar, Bass and Dums he takes us back to the roots of ROCK! For the true and strong feeling of live-rock with a fantastic groove the basic tracks were recorded together live in the studio. The new Songs from Schwarz are fresh and a new awakening of the legendary late 70s and 80s Rock era.
All songs on "The Fire Inside" were co-written and co-produced by native New Yorker and U.S. Army Veteran, Dave Schaefer who was stationed in Grafenwoehr, Germany where ELVIS also just so happened to be stationed. His native american (Cherokee) blood and temperament can be felt and heard through his strong and expressive Vocals as well as with his clever lyrics and catchy, sing-along Hooklines.
With his Guitar, Siggi Schwarz delivers an enormous spectrum of his undeniable talent. During his exceptional Music career he has teamed up in the studio and on stage with notorious Guitar Heroes such as Michael Schenker (ex Scorpions, UFO), Steve Lukather (TOTO), Bernie Marsden (Whitesnake) , Geoff Whitehorn (Roger Chapman, Procol Harum), Leslie West (Mountain) and Billy Gibbons (ZZ TOP).
In 2011 Schwarz released a phenomenal Tribute Album for legendary guitarist Gary Moore, who had passed away the same year, with the participation of ex Gary Moore and Whitesnake bassist Neil Murray, as well as Toto's Steve Lukather.
In addition to this Siggi Schwarz also produced the "Michael Schenker Group" albums "In the Midst of Beauty" in 2008 and "Tales of Rock n'Roll" in 2005, which reached global charts. For several years, Siggi Schwarz was a congenial guitar partner of Michael Schenker where they joined forces for several concerts and three additional albums.
Thoughout his long and notable Rock n'Roll journey Siggi Schwarz has regularly been the opening act for rock legends such as Bryan Adams, Santana, The Who, Foreigner, The Scorpions or ZZ TOP.
"THE FIRE INSIDE" rocks from the first to the last track - Siggi Schwarz and his band let the inner fire of passion burn and flare up in every note and every chord.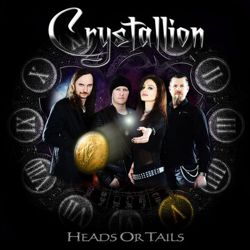 product: Crystallion - Heads Or Tails
release date: 19.02.2021
label: Pride & Joy Music
PR territory: world
PR contact: Diese E-Mail-Adresse ist vor Spambots geschützt! Zur Anzeige muss JavaScript eingeschaltet sein!
Germany based Heavy Metal band CRYSTALLION was founded in 2003 by bassist Steve Hall and drummer Martin Herzinger. On their first two album releases, "A Dark Enchanted Crystal Night" and "Hattin", they offered a bombastic Metal sound with obvious influences from which came from groups like Rhapsody, Helloween or Dragonforce. Powerful riffs and hooks here met with elaborated songwriting and stirring melodies. Both releases were very well received by their permanently growing fanbase. Numerous live gigs and festival appearances in Germany, Austria, Switzerland and the Czech Republic with bands such as Bonfire and Running Wild amongst others followed.
With the release of the album "Hundred Days" (2009), CRYSTALLION moved away from their double-bass orientated songwriting over to rather Heavy & Hard Rock colored songs – without losing their own roots. In 2012, the Bavarians played the Metal-Fest at the prestigious Lorely venue together with other artists like Megadeth, Powerwolf & Edguy. The group's fourth studio album "Killer" saw the light of day in the beginning of 2013 and continued to follow the Heavy & Hard Rock paths.
A demo with four brand new tracks was sent to Pride & Joy Music in July 2018 and resulted in a new record deal for the band with this German Metal label. Unfortunately, singer Thomas Strübler soon afterwards, in May 2019, decided to leave the band after being a member for 15 years. His successor was found in female singer Kristina Berchtold. In Summer 2019, some festival appearances with Berchtold as frontwoman followed and included the Free & Easy Festival in Munich (with Queensryche and Rose Tattoo) and the "Trveheim" Festival in Munich with Riot V & Stormwitch. After a long break due to the Covid-19 pandemic, CRYSTALLION returned onto stage in October 2020 at the Rockokfest in Landshut, Germany.
With Munich powerhouse singer Bertchold on the micro, the quartet now has managed to leave all Power Metal clichés behind and to start the work on their new album "Heads Or Tails" with fresh breath. This release will lead the way for CRYSTALLION and be finally available in stores from February 19th, 2020. Since July 2019, the experienced and versatile guitar player Werner Hießl from Linz, Austria is part of the line-up.
The album "Heads Or Tails" was produced by CRYSTALLION, engineered & mixed by Mario Lochert @ SeriousBlack Studios and mastered by Jan Vacik @ Dreamsound Studios. The artwork comes from Martin Herzinger @ Venusworksmedia.
CRYSTALLION is: Steve
product: Natural Born Machine - Human
release date: 19.02.2021
label: Pride & Joy Music
PR territory: world
PR contact: Diese E-Mail-Adresse ist vor Spambots geschützt! Zur Anzeige muss JavaScript eingeschaltet sein!
NATURAL BORN MACHINE is a new international Melodic Heavy Rock band founded in 2019 by bassist & composer Alberto Rigoni (solo, BAD As, Vivaldi Metal Project etc.) which features Pink Cream 69 singer David Readman, guitarist Alessio "Lex" Tricarico (BAD AS) and drummer Denis "Denzy" Novello (Ardityon) in the line-up.
The album was recorded and mixed at AR Studio in Treviso, Italy and mixed and mastered by Alberto Rigoni. A lyric video for the track "New Future" and a full video for "Moonchild" will be released upfront to the album; both tracks will be available as singles and instant grats as well. The artwork was designed by Andreas Ballnus (Disorderly Design).
"Human" will be released by Pride & Joy Music on February 19th 2021.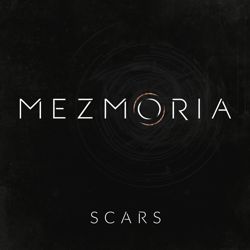 product: Mezmoria - Scars (digital single)
release date: 16.12.2020
label: self-released
PR territory: world
PR contact: Diese E-Mail-Adresse ist vor Spambots geschützt! Zur Anzeige muss JavaScript eingeschaltet sein!
This is the first track and debut release from Swedish metal project MEZMORIA.
MEZMORIA was first founded in 2006 by Robin Jidhed (Ex. Creye) together with Eric Wikström (Hagwater) and Martin Floberg (Enbound). But after years of writing and recording life intervened and the project was put on ice. Until now.

After Robin's departure from Creye he went on and felt it was time for another chapter of MEZMORIA. The circle was then completed when Eric and Martin said yes to take part once again, Eric as a lyricist and Martin on lead guitar. He then recruited the very talented Eric Skjuttorp (Chugger) on drums and David Åkesson (Qantice) on backing vocals.

The first release and debut single «SCARS» by MEZMORIA will be out Wednesday on December 16th on Spotify, Youtube, Itunes and other download/streaming services.

«SCARS» is written by Robin Jidhed and Eric Wikström.

Recorded in CREHATE STUDIOS, Gothenburg-Sweden, FYHR MUSIC PRODUCTIONS, Gothenburg-Sweden.
Produced by Robin Jidhed and Erik Wiss.
Mixed by Erik Wiss at Tone Tension Productions.
Mastered by Thomas "Plec" Johansson at The Panic Room.
The single will be accompanied by an official music video.

MEZMORIA – Melodic and energetic metal.

MEZMORIA:
Robin Jidhed – Vocals, guitar, bass, keyboard

Additional musicians:
Martin Floberg – Lead guitar
Eric Skjuttorp – Drums
David Åkesson – Backing vocals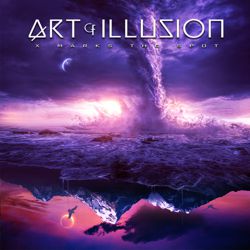 product: Art Of Illusion - X Marks The Spot
release date: 29.01.2021
label: AOR Heaven
PR territory: Europe
PR contact: Diese E-Mail-Adresse ist vor Spambots geschützt! Zur Anzeige muss JavaScript eingeschaltet sein!
Art Of Illusion is a fusion of songwriter/producer Anders Rydholm, from the band Grand Illusion, and singer extraordinaire Lars Säfsund, from the band Work Of Art. "X Marks the Spot" is the first album from these Swedish musicians.
Melody is the key in their music and there is a homage to melodic rock and bands like Queen, Giant and Big Money. Catchy melodies, great hooks and tons of glorious vocals are the formula for success. Anders plays keyboards, bass and rhythm guitars, while Lars sings lead and background vocals and also contributes some keyboards. The album is produced by Anders and Lars.
Guests on the album are guitarists Jay Graydon, Muris Varajic, Kristian Larsen, Pelle Holmberg and Daniel Rydholm. Drummer Frank "Frallan" Nilsson, background vocalist Per Svensson and steel guitar player Tony Paoletta also appear. Music is written by Anders Rydholm. Lyrics by Anders Rydholm, Arlene Matza-Jackson and Patrik Ahlm.
Lars Säfsund broke with his band Work Of Art and the album "Artwork" in 2008. He has since then been an appreciated voice within the melodic rock genre. He's also the voice for the bands Lionville and Enbound and one of the most hired background vocal singers in Sweden. Four appearances singing background vocals, for several countries, in the Eurovision Song Contest so far. Voice acting for Disney and other production companies, is another of Lars many skills.
Anders Rydholm has beside his own bands Grand Illusion and Code, worked with Overland, Seikima II and the legendary Japanese artist Demon Kakka. In combination with his songwriting and producing, Anders holds a position as senior lecturer in Music Production at the Linnaeus University, Vaxjo, Sweden.
The new album "X Marks The Spot" from Art Of Illusion will be released through AOR Heaven in Europe in January.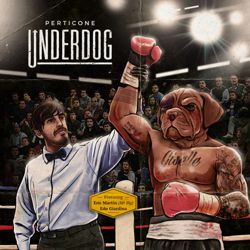 product: Perticone - Underdog
release date: 29.01.2021
label: AOR Heaven
PR territory: Europe
PR contact: Diese E-Mail-Adresse ist vor Spambots geschützt! Zur Anzeige muss JavaScript eingeschaltet sein!
Martin Perticone AKA "Underdog" is an artist from Buenos Aires, Argentina who's been in the music industry since the age of 13, when he joined the band Fondo Blues as a lead singer and guitar player. Martin played in the Argentinean under circuits for more than 25 years but during the way also got to know many important people in the music industry that led him to become tour manager for artists like Eric Martin from Mr Big in 2007 or even being invited as a guest for Richie Kotzen's Latin American Tour in 2008.
Martin has also toured around Latin America, USA, Europe and Hong Kong as a hired gun for many different artists until he finally decided to put more efforts on his solo career. That's how his long-time friend Edu Giardina, a well-known artist in Latin America, would become his producer and mentor for his debut album "Underdog". The mixture of AOR, Southern Rock and Country makes this album unique and different with amazing and powerful melodies all over the place. The album features guests such as Eric Martin (Mr Big) on both versions of "All You Can Trust" and Edu Giardina on "Man On The Moon", and brings reminiscences from the late 80's and 90's but offers the best of current sounds and trends, too.
"Underdog" was recorded from March to December 2019 at RED Studios in Buenos Aires, Argentina and mixed and mastered by Guillermo Porro except for the drums which we recorded at Abismo Studios by Gonzalo Iglesias. The artwork was designed by Lucas Puch.
Perticone's solo career has just begun and in only 2 months from his launch he's got many followers and listeners from countries like Japan, Sweden, Brazil, USA to name some.