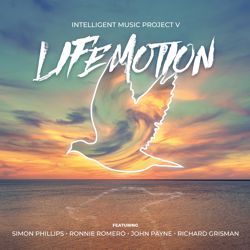 product: Intelligent Music Project - Life Motion
release date: out now
label: Intelligent Music
PR territory: Germany only
PR contact: Diese E-Mail-Adresse ist vor Spambots geschützt! Zur Anzeige muss JavaScript eingeschaltet sein!
INTELLIGENT MUSIC PROJECT ist ein 2012 gegründeter Zusammenschluss hochkarätiger Musiker unter der Federführung des Bulgaren Milen Vrabevski, MD, dem Produzenten und Komponisten des Projektes.
"Life Motion" nennt sich das bereits fünfte und aktuelle Werk der Formation, das wiederum durch eine virtuose Komplexität der Lieder und ausufernde symphonische Elemente zu überzeugen weiß.
INTELLIGENT MUSIC PROJECT bietet einen Mix aus meldodischem Hard Rock, majestätischen Synths und mächtigen Gitarrenriffs.
Simon Philipps (ex Toto), die globale Rock-Inspiration schlechthin, ist auf diesem Album erneut als Schlagzeuger, Percussionist und Co-Produzent mit im Boot. Das von Milen Vrabevski, MD zusammengestellte All Star-Line-Up besteht dieses Mal aus Ronnie Romero (Ritchie Blackmore's Rainbow), John Payne (ex Asia) und Richard Grisman (River Hounds).
product: Mentalist - Freedom Of Speech
release date: 28.08.2020
label: Mentalist Records/ Pride & Joy Music
PR: Diese E-Mail-Adresse ist vor Spambots geschützt! Zur Anzeige muss JavaScript eingeschaltet sein!
MENTALIST is a Melodic Metal band from Saarbrücken, Germany that was founded in 2018. The group consists of Peter Moog (guitars), Thomen Stauch (drums, ex BLIND GUARDIAN), Kai Stringer (guitars, STARCHILD), Florian Hertel (bass) and Youtube star Rob Lundgren on vocals.
Mentalist's music is comprised of Melodic Metal/ Power Metal with a slightly progressive touch. The music is defined through a multitude of guitar melodies and vocal hooklines.
Its major influences come from renowned bands like Iron Maiden, Helloween and Blind Guardian (through Thomen Stauch's drums). Daniel Heiman (ex LOST HORIZON) performs a duet with Lundgren on the song "Belief"; Oliver Palotai (KAMELOT) appears as guest on all tracks on keyboards except on "Whispering Winds".
The band's name has a kind of mystical background. It is supported through the band's mascot "Mentalist", which was designed by Thomas Ewerhard (known as the artist of the cover artwork of the band Avantasia).
The Mentalist mascot is a recurring element in the cover artwork and fits in with both, the good and the bad aspects. During the live concerts some magical tricks are planned on stage, while the Mentalist in unique clad attire (robe, gloves, etc.) is supported by fog and a crystal ball. The front cover was designed by Andreas Marschall (Blind Guardian, Running Wild); the mix & mastering was handled by Christian "Moschus" Moos at www.spacelab-mixing.com in Viersen, Germany.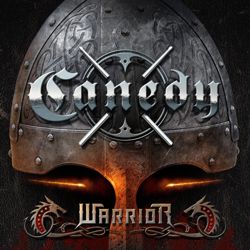 product: Canedy - Warrior
release date: 07.08.2020
label: Sleaszy Rider
PR territory: Europe
PR contact: Diese E-Mail-Adresse ist vor Spambots geschützt! Zur Anzeige muss JavaScript eingeschaltet sein!
Carl Canedy is an American drummer, producer and songwriter who first came to fame as the drummer of US Metal bands such as THE RODS and early MANOWAR amongst others during the late 1970's and early 1980's. He also has worked as producer for other artists including ANTHRAX, HELSTAR, EXCITER & POSSESSED. THE RODS are still active at present and released their latest full-length work "Brotherhood of Metal" last year.
His new band CANEDY's album debut "Warrior" will be released on August 7th world-wide via Greece based label Sleaszy Rider Record. Carl Canedy (drums) is joined by Tony Garuba (bass, cello, vocals), Charlie Russello (guitars, synths) and Mike Santarsiero (vocals; ex-TLC). The record was produced by Canedy and Russello; the mix was handled by Chris Collier at CMC21 Productions.
With a top-notch production at the helm, "Warrior" is a good fodder for any fan of classy US Metal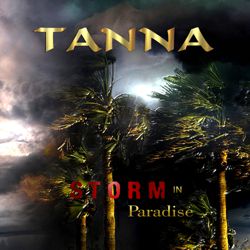 product: Tanna - Storm In Paradise
release date: 28.08.2020
label: AOR Heaven
PR: Diese E-Mail-Adresse ist vor Spambots geschützt! Zur Anzeige muss JavaScript eingeschaltet sein!
Have you ever heard of Pudasjärvi? I wouldn't blame you if you haven't! Anyways, that's the name of the small town with population of 10000 people, where it all started from years ago...
Tapani Tikkanen was born there and it was hardly a place where bands came from in Finland at that time. But when Tapani was about ten years old, he got into music - Elvis, Rolling Stones won his heart. One thing lead to another and after a while they had a high-school band playing at the local parties and so on.
In 1982, the first own album "Anyway You Want It" with the band IC-Rock became reality. They also released the album "Hard Beat" and the single "Young Girl's Eyes" in 1984.
After IC had broken-up, Tapani launched the group TANNA. The idea behind the name is simple: this has been Tapani's nickname since he was a kid. Their first album "Unelmien Viidakossa" (1985) was an instant success. Many people said that the album sold clearly gold, but under very shady circumstances the record company went bankrupt and no-one ever really got to know the real sales. The big "Coca-cola Tour" followed and lasted months. TANNA played in every town with a big show, bombs, great lights, dancing girls and everything. They even had their own fan club and magazine called "Tanna-Life." The second album "Tanna Live" was recorded in Helsinki from the last show of the tour. The third album "Onnensoturi" (1987) was also a success and many tours followed. TANNA in total have done more than 700 gigs.
After breaking up 1989, Tapani formed Rainbow-discoteam. This was a big disco show where he was the DJ. At the same time he wrote new music for different projects, for example a single called "Everyone's A Winner", which is still played at many sport events for the winning team. He also wrote four albums of football music for F.C. Rainbow just for fun! At that time Tapani moved to Oulu.
1993 brought TANNA back with their new album "Eedenistä Itään" with a different line-up and was more or less a project and which lasted only about two years.
In 2004 the time was right for...PRAYER. PRAYER made three albums ("Wrong Address" (2005) , "Danger In The Dark" 2012) and the single "Silent Soldiers" a couple of years ago.
And now, Tapani is back with the new band, new sound, new album, new line-up, new TANNA, from Oulu, Finland! The recordings began 2019 at Soundmix Studio, Oulu by Mika Pohjola, who also plays the keyboards on the album. The producing and mixing took place there as well by Tapani and Mika. The album was mastered at Chartmakers, Helsinki by Svante Forsbacka. The cover art was designed by Tamara Picardo.
"Hispaniola" was the name of the ship. Another detail, "Nights On The Road" is dedicated to Markku "Make" Kiminki, who was the roadie and the lightning engineer of the band. He passed away a few years ago and was one of Tapani`s best friends all these years.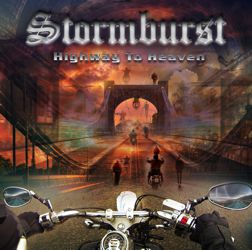 product: Stormburst - Highway To Heaven
release date: 28.08.2020
label: AOR Heaven
PR: Diese E-Mail-Adresse ist vor Spambots geschützt! Zur Anzeige muss JavaScript eingeschaltet sein!
STORMBURST from Dalarna, Sweden, were formed in July 2014 and the original intention was just to make high quality music, have fun and do what you believe in without any musical compromises. No more covers, just self-composed songs. Bass player Kent Jansson (Six Feet Under, Keen Hue, Steam) and guitarist Thomas Hansson (Steam, Coastline) started with singer Lars-Åke "Plåtis" Nilsson (Keen Hue). To get the special sound they were looking for, keyboardist Peter Östling (Six Feet Under) was sent a demo and he really believed in the idea and joined immediately. In late 2019 original drummer Peter Ytterberg quit and was soon replaced by Pelle Hindén (Eternal Of Sweden).
Stormburst is all about uncompromisingly doing what you believe in even if you have a headwind. When the wind blows hard in life sometimes, the love of music is in all conditions strong and sustainable. Stormburst has the ability to reflect it with music and lyrics and the style can best be described as a combination of traditional Melodic Hard Rock & AOR.
In late May 2017 the debut album "Raised On Rock" was released by AOR Heaven and now it's time for the follow up "Highway To Heaven", which was recorded, mixed and mastered at Studio Bakery, Äppelbo by Jonas Tornemalm and at Lars-Åke's home studio in Vansbro in early 2020.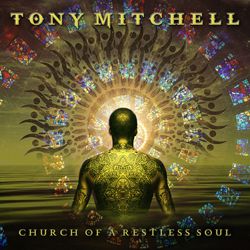 product: Tony Mitchell - Church Of A Restless Soul
release date: 28.08.2020
label: AOR Heaven
PR: Diese E-Mail-Adresse ist vor Spambots geschützt! Zur Anzeige muss JavaScript eingeschaltet sein!
TONY MITCHELL is best known as being the singer & songwriter of 90s classic rock band KISS OF THE GYPSY which was signed to Atlantic Records USA/Warner Chappell.
They toured the UK and the States to showcase their debut album delivering high energy live shows to great acclaim. Songs such as "Whatever It Takes" or "Take This Old Heart" are still melodic rock classics to this day.
Mitchell has sung for RICK WAKEMAN on the album "Return To The Centre Of The Earth" and sung and played guitar for ALICE COOPER, JON ANDERSON, ALAN PARSONS PROJECT, TONY HADLEY & IT BITES on the British Rock Symphony South American tour 2000.
The artist also has spent years writing and recording for various bands, artists, TV & media, also releasing albums with KINGDOM OF DEADMEN & early solo albums.
TONY MITCHELL was also the mainman for Melodic/AOR band DIRTY WHITE BOYZ with their 2016 album release "Down & Dirty".
In 2018, he released his solo album "Beggars Gold" to rave reviews with dynamic tracks such as "Playing With Fire" or "What You Make It"(featuring DANTE FOX' vocalist Sue Willetts).
2020, two years in the making, Mitchell is now about to put out "Church Of A Restless Soul" which started off as a collection of 28 songs but condensed down to 13 hard hitting tracks including "The Mighty Fall" (featuring TYKETTO's Danny Vaughn), the epic "I Believe In Angels" or the dark romantic "Killing Me To Love You".
Musicians on this album include Danny Vaughn (TYKETTO), Tim Manford (DANTE FOX), Neil Ogden, Paul Hume (DEMON & LAWLESS /DIRTY WHITE BOYZ)), Nigel Bailey (BAILEY/3 LIONS/DIRTY WHITE BOYZ), THE ROGUES GALLERY ROCK CHOIR, Shawn Charvette & Josh Tabbie Williams (MIDNITE CITY).
Mitchell comments: "I wanted to throw the kitchen sink at this one - big hooks, huge riffs, anthemic vibes, something to get the blood flowing yet reel it in when needed. From the massive stomping rock gospel power of "Church of a Restless Soul" to the raw intro of "I Believe in Angels" using the phone recording intro how it was originally written, I just wanted it to build from nothing to this monster that it would end up to be. I think these tracks will hopefully stand the test of time and go out to all the fans that have kept the faith throughout the years, buckle up and feel the force."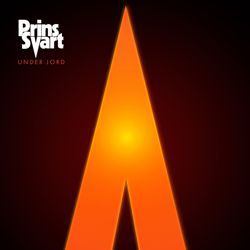 product: Prins Svart - Under Jord
release date: 21.08.2020
label: Musica ex Machina
PR contact: Diese E-Mail-Adresse ist vor Spambots geschützt! Zur Anzeige muss JavaScript eingeschaltet sein!
For their third album, Prins Svart has teamed up with some of Sweden's most prolific voices to portray the bands unique musical style: Mats Levén (Skyblood, ex Candlemass), Håkan Hemlin (Nordman), Janne Åström (Medborgarna, Så ska det låta), and Matti Alfonzetti (Skintrade) perform one song each! You have never heard them like this before!
Prins Svart combines the old with the new and have carved out a niche for themselves by combining Classic rock sounds with Swedish lyrics! The band's unique profile has been shaped by musical experiences from playing with greats such as Michael Schenker, Bernie Marsden, Grand Magus, Tiamat and The Poodles.
The music is rooted in the 1970s and bands like Led Zeppelin, Deep Purple, and Black Sabbath, but with influences from the early 1980s and bands such as Dio, Whitesnake, Rainbow and Ozzy Osbourne. The lyrics deal with existential topics such as death, transformation, and love and the production is signed Dino Medanhodzic ("Hardcore Superstar", "Kill the Kong", "The Poodles", "Smash Into Pieces") och Rickard Nilsson ("Avatarium") plays the Hammond organ.