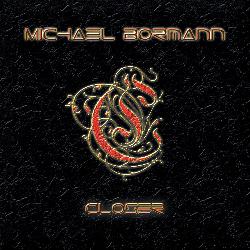 product: Michael Bormann - Closer
label (GAS): RMB/ Pride & Joy Music
label (rest of Europe): RMB
format: CD
release date: 22.05.2015
PR contact (Europe): Diese E-Mail-Adresse ist vor Spambots geschützt! Zur Anzeige muss JavaScript eingeschaltet sein!
On the 22nd of May 2015, after more than four years, the long awaited fifth solo album "Closer" by Michael Bormann will see the light of the world. 2014 has been an eventful and exciting year. With his impressive performance at one of today's biggest TV-Shows "The Voice of Germany" Michael reached millions of people.
All songs were written, recorded and produced within a three-month studio session by the end of 2014.
Due to the huge demand of the Demi-Lovato song "Warrior", that got him into "The Voice" - show, Michael had no chance but taking it on the forthcoming CD. Downright refreshing, versatile and rocking Bormann presents "Closer". Ballads, mid-tempo songs and pure Rock´n´Roll: you got it all! Defining a favorite is pretty hard as every single song has its own magic.
"Because we are the world" goes straight to the heart. The children's choir makes this tune very special. Not only radio stations will love this song.
It should be mentioned, that a valuable contribution to this album has been given by Eric Ragno and Bobby Stoecker. Knowing what and how he wants it, Bormann played most of the instruments by himself. It's impressively showed on "Closer".
His strong "Voice" - performances got Michael the long deserved attention.
Now it´s time for the next level. Closer will be drawing in the crowds under its magic spell.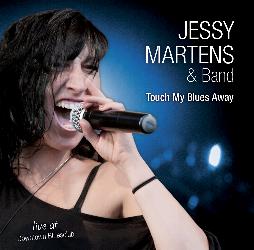 product: Jessy Martens & Band - Touch My Blues Away
release date: 24.04.2015
label: Jayfish Records
format: CD
PR territory: Germany
PR contact: Diese E-Mail-Adresse ist vor Spambots geschützt! Zur Anzeige muss JavaScript eingeschaltet sein!
Sie explodiert auf der Bühne wie eine Naturgewalt und haucht schon im nächsten Moment eine ergreifende Ballade ins Mikrophon: Jessy Martens' unverwechselbare Stimme braucht Vergleiche mit Amy Winehouse, Janis Joplin oder Tina Turner nicht zu scheuen, denn sie hat längst ihren eigenen Stil gefunden. Mit Preisen überhäuft und von der Presse gefeiert, stellt die Senkrechtstarterin innerhalb von vier Jahren bereits ihr viertes-Album vor!
Erst Ende 2010 formiert, haben sich Energiebündel Jessy Martens und ihre Band in kürzester Zeit an die Spitze der Rock- und Bluesszene gespielt! Der Gewinn des DEUTSCHEN ROCKPREISES 2012 als beste Rockband/beste Rocksängerin und der GERMAN BLUES AWARDS 2012/2014 als beste Bluesband/beste Bluessängerin sowie die Auszeichnung für ihre Songwriter-Premiere "Brand New Ride" als bestes Bluesalbum des Jahres zeugen von der einstimmigen Begeisterung bei Publikum und Presse. Die Band hat es sogar bis ins Mainstream Radio geschafft: dort, wo sonst Bon Jovi, Herbert Grönemeyer oder Lionell Richie zu hören sind, waren auch Jessy Martens & Band: beim NDR 2 Radiokonzert zur besten Sendezeit (Februar 2015).
Kein Wunder! Die Möglichkeiten ihrer "Stimme zum Niederknien" (rocktimes) scheinen unbegrenzt: Mal röhrt sie wie nach einer durchzechten Nacht, mal singt sie mit klarer Stimme einfach "geradeaus". Kurz darauf swingt sie sexy durch den Song, um dann mit emotionaler Hingabe mitten ins Herz zu treffen. 100 % authentisch und getragen von ihrer "herausragenden Band" (Deutschlandfunk). Jessy Martens ist mit ihrer Band ein Erlebnis. Denn genau das: "live on stage" ist ihr Ding! Wer einmal dabei war, weiß: Diese Lady haut einen um und rührt zu Tränen! Ein echtes Highlight made in Germany!
TOUCH MY BLUES AWAY heißt ihr neues Album: ein live Mitschnitt aus dem legendären Downtown Bluesclub in Hamburg. Die Aufnahme bildet mit einer geballten Ladung aus Blues, Rock und Soul das ab, was man ein "grandioses Konzert" (Peter Urban, NDR) von internationalem Format nennt. Man bekommt einen appetitanregenden Vorgeschmack auf die energiegeladenen Live-Auftritte von Jessy Martens und ihrer durch weit über 300 Konzerte geschliffene Band! "Beeindruckend! Ein gewaltiges Bluesalbum!" (bluesnews)
JESSY MARTENS & BAND
Neben Jessy Martens glänzet die Band mit ungeheurer Spielfreude, Virtuosität und Feeling und besticht durch musikalische Klasse: Keile (Gitarre), Dirk Czuya (Gitarre), Markus "Mosch" Schröder (Keyboards), Christian Hon Adameit (Bass) und Christian Kolf (Schlagzeug).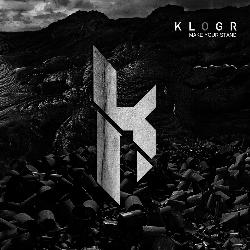 product: KLOGR - Make Your Stand
release date: 13.05.2015
label: Zeta Factory
format: EP+DVD
PR territory: Germany, Austria, Switzerland
PR contact: Diese E-Mail-Adresse ist vor Spambots geschützt! Zur Anzeige muss JavaScript eingeschaltet sein!
Klogr (ausgesprochen: Key-Log-Are) ist eine Alternative Metal-Band mit progressiven Einflüssen. Der Bandname ist ein Tribut an ein psychologisch-physikalisches Gesetz (S=KlogR), das im 19. Jahrhundert von dem deutschen, experimentellen Psychologen Ernst Heinrich Weber und dem Philosophen Gustav Fechner entwickelt wurde.
Bio:
Gegründet 2011, erschien das erste Klogr-Album "Till You Decay" noch im gleichen Jahr und mit folgendem Line-Up:Rusty (vocals), Todd Allen und Nicola Briganti. Zwei Videoclips, "Bleeding" and "Silk and Thorns ", erschienen zeitnah. Im Jahr 2013 wechselte das Line-Up und alle drei Mitglieder der Alternative Rock-Band Timecut wurden integriert. Damals setzten sich Klogr aus Rusty, Joba, Giampi and Ste zusammen, die unter Mitwirkung von Maki (Lacuna Coil) und Produzent Logan Mader (Machine Head) sowie Sänger Alteria die EP "Till You Turn" veröffentlichten. Für die Songs "King Of Unknown" und "Guinea Pigs", einem Charity-Clip für 'Sea Shepherd', sind Videos entstanden. Die Band ging in den USA und Europa auf Tour und trat im Juni 2013 beim Sweden Rock Festival auf.
Über Zeta Factory/ The End Records erschien im Jahr 2014 der zweite Longplayer der Band, "Black Snow", ein Konzeptalbum mit Texten zu ökologischen Themen. Destrage-Bassist Ralph Salati wirkte hier als Gast mit. Die US-amerikanische digitale Version enthielt die EP "Till You Turn" und das Livealbum "Ground Zero 11-11-11". Das Video zu "Draw Closer" erschien im Februar 2014, bevor Klogr von März bis April 2014 in Europa mit Prong auf Tour gingen. Im Mai 2014 nahm Klogrs Frontmann Rusty zusammen mit Prong-Schlagzeuger Art Cruz an Loudwires viraler Initiative zum Memorial an Slayer-Gitarrist Jeff Hanneman in Form einen kurzen Videos an der offiziellen #ScreamForJeff Präsentation teil. Mit "Zero Tolerance" erschien eine weitere Single als Support für Sea Shepherd – zur Rettung der Delfine in Taiji. Alle Einnahmen aus dem digitalen Verkauf dieser Single wurden gespendet. In der Folgezeit entstand ein Lyric Video für den Song "Hell Of Income". Während die Band an der nun erscheinenden DVD arbeitete, erschien im September 2014 ein Livevideo für "Failing Crowns", welches einen Zusammenschnitt aus 23 Songs innerhalb von nur vier Minuten beinhaltet. Der 17. September 2014 markiert für Klogr einen wichtigen Wendepunkt in der Bandgeschichte: mit dem neuen Line-Up, nun bestehend aus Rusty (guitars/vocals), Pietro (guitars), Joba (bass) und Rob (Schlagzeug), wurde die Formation aus einem Projekt zu einer Band mit permanenter Besetzung.
Im Oktober 2014 gingen Klogr mit den Amerikanern Living Dead Lights in Russland auf Tour und spielten im November 2014 gemeinsam mit Guano Apes im Live Music Club in Trezzo sull'Adda, Italien. Sea Shepherd Italien veröffentlichte mit "Black Snow/Ambergris" eine weitere Single. Jetzt melden sich Klogr am 13.05.2015 mit der neuen EP+DVD-Veröffentlichung "Make Your Stand" zurück, die neben Studioaufnahmen auch Livematerial und Dokumentationen enthält.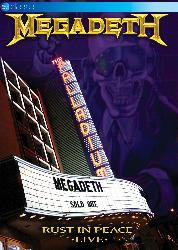 product: Megadeth - Rust In Peace Live
label: Eagle Vision
release date: 17.04.2015
format: DVD
PR territory: Germany & Austria (print & online only)
PR contact: Diese E-Mail-Adresse ist vor Spambots geschützt! Zur Anzeige muss JavaScript eingeschaltet sein!
Synopsis: Megadeth are one of the "Big Four" of thrash metal and one of the most successful metal bands of all time with global sales in excess of 50 million albums. In March of 2010 the band took to the road to perform their classic album "Rust In Peace" live in its entirety in celebration of the 20th anniversary of its release. The line-up featured the return of bass player and founder member David Ellefson after a break of eight years. This show was filmed on the tour at the Hollywood Palladium on March 31st.
Bonus Features: Bonus performances of: 1) Skin O' My Teeth 2) In My Darkest Hour 3) She-Wolf 4) Trust 5) Symphony Of Destruction 6) Peace Sells, Behind the scenes & rehearsal footage
Line-Up: Dave Mustaine (vocals, guitar); David Ellefson (bass); Chris Broderick (guitar); Shawn Drover (drums)
TRACKLISTING: 1) Holy Wars…The Punishment Due 2) Hangar 18 3) Take No Prisoners 4) Five Magics 5) Poison Was The Cure 6) Lucretia 7) Tornado Of Souls 8) Dawn Patrol 9) Rust In Peace…Polaris 10) Holy Wars – Reprise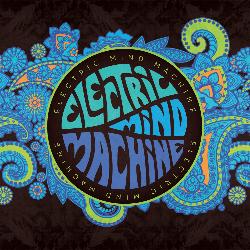 product: Electric Mind Machine - s/t
out: 10.05.2015
label: Bad Reputation
format: CD
PR territory: Germany & Austria
PR contact: Diese E-Mail-Adresse ist vor Spambots geschützt! Zur Anzeige muss JavaScript eingeschaltet sein!
Electric Mind Machine is one of the most exciting things to come out of the L.A. garage rock scene in a long time. The collaboration between founding members Kenneth Wessel and Sara Loera has resulted in pure sonic alchemy that is sure to induce a state of rock n' roll euphoria in all who listen. Sharing an appreciation of the music from the 60s garage, psychedelic, mod and freak beat scenes, they developed their sound; keeping a vintage feel but infusing the energy and excitement of the local Southern California club scene. Vocalist Sara Loera conjures the sultry charisma and power of a modern day Mariska Veres of
the legendary Dutch band the Shocking Blue. Supported by the raw, fuzzed out guitars of Kenneth Wessel they create a unique sound that captures the warm feelings of the past, but still has bite.
Electric Mind Machine has recently hit the studio to complete a 10 song full-length album. The first song released, "Electric Mind Machine," was featured on the Garage Punk Hideout's compilation "Countdown to a Breakdown." This song was first played on the Infamous Frankystein Deejay Show on Radiolux in Spain and the UK. A local L.A. radio station KXLU 88.9 fm was the first to preview the upcoming single "Pretty Face."
The full-length LP will also feature a unique version of Status Quo's hit "Pictures of Matchstick Men"
Past projects include the Beat Killers, The Odd Squad, The Sweet Nothings, Crank Williams and 2012 Coachella Festival performers Kiss Kiss Bang Bang.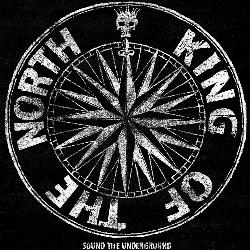 product: King Of The North - Sound Of The Underground
label: Bad Reputation
release date: 10.04.2015
PR territory: Germany & Austria
PR contact: Diese E-Mail-Adresse ist vor Spambots geschützt! Zur Anzeige muss JavaScript eingeschaltet sein!
Noted as one of Australia's most exciting up and comers, Melbourne based King Of The North are a two-piece rock powerhouse like no other. The duo delivers a jaw-dropping live show with a sound many regard as a new frontier for the guitar/ drums rock format.
What creates the massive sound KOTN are known for? The "3 from 1 guitar technique" is the cause of this Wall Of Riff! The idea was pioneered by KOTN singer/guitarist Andrew Higgs, (it makes one guitar sound like 2 guitars and a bass) it sets KOTN's sound apart from any other two-piece and has since earned Higgsy a listing in the 100th issue of Australian Guitar magazine's "25 future legends of the guitar". The hard-hitting Danny Leo, regarded by many as one of the top rock drummers in Oz was a Paiste feature artist at 2013's Ultimate Drummers Weekend.
The single 'Wanted' was the feature soundtrack for the BMW 2 series ad aired on TV, Cinema . The ad has since been Banned by the A.A.S.B (Australian Advertising Standrads Board) for potenially inciting unsafe/ hoon driving.
Getting to their audience is what KOTN do, they set out on a mammoth 31 date headline tour from March – June in 2014. "The Sound The Underground Australian Tour" was a great success with sold out shows and rave reviews. Four support shows for USA's Monster Magnet were added in April, taking the run to 35 dates. Monster Magnet's front man Dave Wyndorf said about KOTN "You guys fucking ROCK!"
KOTN have played on numerous festivals and bills in Australia with an eclectic range of genres. Their hard-hitting, in your face performance and catchy, melodic songs seem to win over fans from across the board and ages. Alternative, Mainstream, Metal, Rock, Blues, Stoner Rock and even Folk Festivals have hosted King Of The North.
This hard working duo have won the hearts and minds of many and in the process got to play with some of their hero's.
"An incredibly hard act to follow" – John Garcia (Kyuss, Unida)
"Fuckin' Great! Massive sound!" – Jimmy Barnes (Cold Chisel)
"They are seriously good!" – Bob Spencer (Skyhooks / The Angels)
The second single and film clip for 'It's Been Too Long' from Sound The Underground was exclusively premiered at a shows on a 12 date national tour in Sept 2014. The Official It's Been Too Long video filmed live at The Espy (Melbourne, Australia) has now been released. KOTN were touring Australia Oct- Dec 2014 featuring 6 shows supporting Aussie legends The Mark Of Cain and will tour Europe in the Fall 2015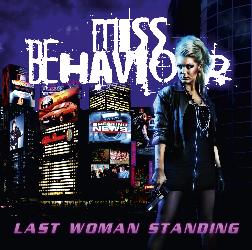 product: Miss Behaviour - Last Woman Standing
release date: 24.04.2015
label: AOR Heaven
format: CD (re-release)
PR territory: Europe
PR contact: Diese E-Mail-Adresse ist vor Spambots geschützt! Zur Anzeige muss JavaScript eingeschaltet sein!
Miss Behaviour - The Biography
The story of Miss Behaviour goes back to 2004. Keyboard player Henrik Sproge and guitarist Erik Heikne were both studying Music Management at the Baltic Business School in Kalmar, Sweden, when the idea of Miss Behaviour first came up. With a great passion for 80's melodic hard rock and AOR, they decided to start the band to express their vision of how a modern rock band, inspired by the great bands of the eighties should sound.
The first Miss Behaviour songs where written in a student apartment in Kalmar in late 2004 and ended up at the 3-song EP Give us the world. Miss Behavior worked –and still do with producer/technician Daniel Gese who had a career as drummer/producer with his 80's metal/sleaze band Pole Position in the late 80s/early 90s.
After the debut album Heart of Midwinter was released in 2006, Henrik and Erik decided to recruit the new lead singer Sebastian Roos, a quite well known singer in Sweden, with a lot of touring, TV and radio performances and Eurovision song contest on his CV. The breakthrough came with the Album Last Woman Standing, released in 2011.
In spring 2011 Miss Behaviour competed in Swedish national radio with the song Till we meet again, making the première live performance with the current lineup in front of 400000 radio listeners. Joining forces with former Backyard Babies manager Michael Sundén in 2011 the band hit the roads in the UK.
Late 2011, after touring the UK with CrashDiet, the album Last Woman Standing won the Melodic.net "Best AoR album of 2011" readers poll with 23% of the votes, leaving bands like Journey, Robin Beck, Work of Art and more behind. The reviews were fantastic and the album got top scores in important magazines, such as Classic Rock (UK), Sweden Rock Magazine (Sweden) and more.
UK Magazine Classic Rock picked Cynthia as one of the best tracks in 2011, and featured the song on the compilation Classic Rock Buzz. Miss Behaviour returned to the UK on the Smokehead Rocks Tour, playing another 10 dates and finished the tour with a sold out show at O2 Islington Academy in London, Oktober 12th, 2011. In the middle of the song writing and recordings of the new album Michael Sundén tragically passed, in a horrible accident at venue Rock City, Nottingham. This loss took a while to recover from but finally the brand new album Double Agent was finished and received great feedback in the press last year.
Last Woman Standing – Re-Issue
Last Woman Standing (2011) was the band's breakthrough album. "Cynthia" was selected one of the best songs of 2011 by Classic Rock (Melodic BUZZ CD). The single "Till we meet again" premiered live in Swedish national radio with 200k+ listeners. The video had over 60000 views.
The Bonus material (* tracks 12 & 13): These songs were written in 2011 and recorded in a new session whit the new members Niclas Lindblom (Bass) and Magnus Jacobson (drums). The same line-up that consists today and played two UK-tours back in 2011 and 2012.