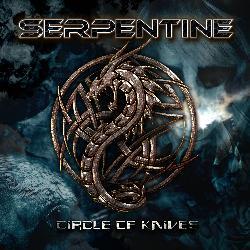 product: Serpentine - Circle Of Knives
label: AOR Heaven
release date: 24.04.2015
format: CD
PR territory: Europe (without UK)
PR contact: Diese E-Mail-Adresse ist vor Spambots geschützt! Zur Anzeige muss JavaScript eingeschaltet sein!
The bands origins can be traced to Cardiff, Wales, where in 2007 keyboard player Gareth David Noon, original bassist Gareth Vanstone and guitarist Chris Gould were put into contact with Birmingham based singer Tony Mills, whose reputation with other melodic rock acts such as Shy and TNT made him an obvious choice for the band.
With a vast catalogue of demos, the four set about creating a collection of songs for what would become their 2010 debut album "A Touch Of Heaven". The album was produced by Sheena Sear and Mark Stuart, British Producers whose work with Magnum as well as rock icons such as Robert Plant and Phil Lynott is well known. Serpentine subsequently inked deals with German based label AOR Heaven and the Japanese label Marquee/Avalon and the album was released in March of 2010 to much critical acclaim, especially in Japan where the band hit the TOP 30 on the National ROCK chart as well as scoring a 92% review in the rock magazine Burrn!.
In the summer of 2010 work began on the follow-up album, unfortunately in the December of that year, with the band geared up to return to the studio, Mills announced his departure following a heart-attack at a Norway airport but committed to finish the 'Living & Dying in High Definition' album with the band. Not resting upon their laurels and with live work in the offing Serpentine quickly moved to recruit Matt Black, a singer working in the rock covers band 'Six Of The Best' and who they felt had the stage presence and vocal range to pull off the Mills material live.
Serpentine hit the road with Black in March 2011 first appearing at a showcase in London with Houston, and later as part of a tour with Crashdiet. 'Living & Dying in High Definition' was released in September 2011 with sections of the press gushing that the band could well have "delivered the album of their lives". Festivals dates at Firefest, Hard Rock Hell, Rockfest Madrid, HRH AOR and HEAT Festival in Germany followed as well as tours with Ten, Romeo's Daughter and FM while Noon and Gould worked up musical ideas for their third album.
After having toured with Gary Hughes of Ten during the summer of 2012, the band met with him several months later in the north-west of England with their management to assess the demos they had amassed over the previous year and to iron out details of a collaboration/producer role for their next record. A year later, and with the material all but finalized, Matt Black left the band citing his will to move in a different direction musically. A few weeks later and after a period of ill health, Gareth Vanstone also bowed out. SERPENTINE quickly moved to recruit Adam Payne - a singer whose talent had come to their attention after hearing his voice on a track with his former band 'Tidal' - and prodigiously talented bassist Owen Crawford from 'Triaxis'. The new look Serpentine entered Gary Hughes' Doghouse Studio in Blackpool to record their new opus - 'Circle of Knives'. The band had also lined up Neil Kernon to mix the record, but after a short time working together the sound emerging from the mixes were not what the band had envisaged, and so Sheena Sear who had produced and mixed the bands previous two records stepped in to finalise the mix.
Payne and Crawford made their live debuts with SERPENTINE at Planet Rockstock and a warm up date at EVI in Ebbw Vale in late 2014 and the band are now approaching a release date for their new album 'Circle of Knives' on AOR Heaven with live dates in 2015 kicking off with an appearance at this year's HardRockHell AOR3 Festival in March.
product: PHALLAX - Relics Of Harmony
label: Metalapolis
release date: 17.04.2015
format: CD
PR territory: Germany, Austria & Switzerland
PR contact: Diese E-Mail-Adresse ist vor Spambots geschützt! Zur Anzeige muss JavaScript eingeschaltet sein!
PhallaX ist kein Paketzustelldienst, keine Kriegsformation und schon gar keine Abwandlung des männlichen Geschlechtsteils. Es ein komplett neues Wort, welches für melodischen Powermetal, Freude an der Musik und Power auf der Bühne steht.
Gegründet 2004 in Schwäbisch Gmünd (bei Stuttgart), erspielte man sich erste Lorbeeren als Coverband um dann aber schnell zu merken, dass man lieber eigene Stücke schreiben und spielen will. Im Januar 2008 startete das lang ersehnte Unternehmen Debütalbum. In den Darkside-Studios in Heidenheim wurde mit Produzent Ingo Kolb das Album "The Chandlers Passion" eingespielt, welches in Eigenregie veröffentlicht und vertrieben wurde.
Im Jahre 2010 startete die Band mit der EP "Lower The Flags". Bei dieser engagierte man ex-STORMWITCH Gitarrist Martin Winkler als Produzent, der das Ganze auf ein weitaus professionelleres Level gebracht hat. Das neue Werk heimste in der Fachpreise fast überall Bestnoten ein und wurde im Dezember 2011 den Fans vorgestellt.
Nach einigen Gigs mit Bands wie z.B. MOB RULES, TANKARD und GUN BARRELL konnte man 2013 endlich die erste Tour in Angriff nehmen. Mit der US Metal Legende VICIOUS RUMORS reiste man quer durch Europa und erspielte sich so viele neue Fans und vergrößerte massiv seine treue Fangemeinde. 2014 wurden, ebenfalls wieder unter den Augen und Ohren von Produzent Martin Winkler, die Aufnahmen zum neuen Album "Relics Of Harmony" in Angriff genommen. Mit "Fading In Darkness" hat sogar eine Komposition ihres Produzenten den Weg auf das Album gefunden.
Um in Sachen Vertrieb, Marketing und Promotion entlastet zu werden, unterschrieb man bei METALAPOLIS RECORDS. Somit kann sich die Band jetzt ganz auf die Musik konzentrieren. Im Februar folgt die Release-Tour mit den Norwegern von CHROME DIVISION. Außerdem ist man bereits für das Out & Loud Festival 2015 in Geiselwind bestätigt.
Schon zu Jahresbeginn ist eins klar – 2015 wird ein PhallaX Jahr!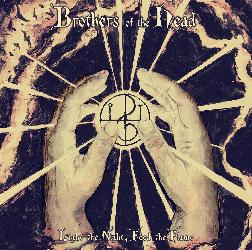 product: Brothers Of The Head - Light The Night, Feed The Flame
label: Metalapolis
release date: 17.04.2015
format: CD
PR territory: Germany, Austria, Switzerland
PR contact: Diese E-Mail-Adresse ist vor Spambots geschützt! Zur Anzeige muss JavaScript eingeschaltet sein!
Eine raue Welt schafft neue Kreaturen! Dieses Biest wurde geboren um die Türen einzutreten, die den Neubeginn der guten alten Zeit blockieren. Das Stuttgarter Quartett hat sich auf die Fahne geschrieben dies mit Musik für Kopf und Hüfte zu machen. Intelligente Musik, die auch zum Tanzen animiert!
Das Debütalbum "Light The Night, Feed The Flame" von BROTHERS OF THE HEAD wurde in Eigen-regie produziert und von niemand geringerem als Hans Olsson (u.a. GRAVEYARD) gemischt und gemastert. Es demonstriert vom ersten Ton an, dass die Jungs nicht bereit sind Gefangene zu machen. Stoner Rock alleine ist der Band nicht genug, denn verblassende Farben sind einfach langweilig. Angereichert mit Rock'n Roll ergibt sich aber eine ganze eigene Klangfärbung. Es ist ein Bastard aus Rock'n Roll mit dem trockenen Charme und der beängstigenden Kraft des Stoner Rocks gepaart mit Doom Rock und Distortion Blues. Es ist Musik die einem das Gefühl vermittelt, dass man gut gelaunt mit einem Haufen leerer Bierdosen auf dem Beifahrersitz die langen Highways durch die Wüsten der USA dem Weltuntergang entgegenfährt.
"Light The Night, Feed The Flame" ist Rock'n Roll in all seinen dunklen Erscheinungen – des Teufels Samen gewürzt mit maximaler Lautstärke und Groove – der nicht nur den Arsch zum Wackeln bringt!
Als Anheizer für Bands wie Red Fang, Black Tusk, Kadavar, ASG, New Model Army, Marky Ramone, The Accüsed, Holy Mountain, Guitar Wolf oder auch bei ihrer einwöchigen UK Tour im Dezember 2014 konnten die Jungs klarstellen, dass sie auf der Bühne zuhause sind. Egal ob in größeren Hallen oder in der Kneipe um die Ecke, da wo BROTHERS OF THE HEAD auf der Bühne stehen, bleibt kein Stein auf dem anderen.
Bestehend aus dem ex - BOMB DISNEYLAND Gitarristen Karl Francis, Sänger und Bassist Cody Barcelona, Gitarrist Pappy Van Linkle und Drummer Amin Axestoneville ist die Truppe bereit immer und überall zu spielen. Nur laut, staubig und mit viel Bier muss es sein!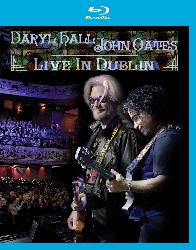 product: Hall & Oates - Live In Dublin
label: Eagle Vision
release date: 27.03.2015
formats: DVD, Blu-ray & DVD+2-CD
PR territory: Germany & Austria (print & online)
PR contact: Diese E-Mail-Adresse ist vor Spambots geschützt! Zur Anzeige muss JavaScript eingeschaltet sein!
Daryl Hall und John Oates sind eines der erfolgreichsten Pop-Duos aller Zeiten und blicken stolz auf eine Vielzahl an Hitsingles sowie Gold- und Platin-Alben zurück, darunter allein sechs Nr.1-Hits in den amerikanischen Billboard Hot 100 Charts, allesamt zu hören in dieser großartigen Live-Show. Gefilmt am 15. Juli 2014 im Olympia Theatre von Dublin war dies die allererste Live-Show von Hall und Oates in der irischen Metropole. Die beiden lieferten eine fantastische Performance ab, randvoll mit Hits wie "Maneater", "Out Of Touch", "I Can't Go For That (No Can Do)", "Say It Isn't So", "Kiss On My List", "Family Man", "Private Eyes", "She's Gone", "Rich Girl" oder "You Make My Dreams", vor einem Publikum, das eine Party entfachte, wie man sie wohl nur in Dublin erleben kann. Das Bonusmaterial umfasst Interviews mit Daryl Hall und John Oates. "Live In Dublin" erscheint parallel auch auf DVD (EREDV1118) und als DVD+CD-Set (EAGDV041)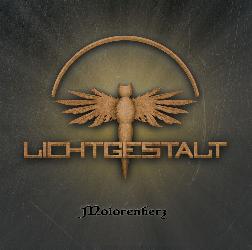 product: Lichtgestalt - Motorenherz
label: Danse Macabre Records
release date: 03.04.2015
PR territory: Europe
PR contact: Diese E-Mail-Adresse ist vor Spambots geschützt! Zur Anzeige muss JavaScript eingeschaltet sein!
At midwinter 2013, the Heizzer formed – only with the relief of pure energy – the band Lichtgestalt. Inspired by the same frequency, the fantastic Mr. Hertz found his way into the light. With Brukke, the perfect rhythm generator with his powerful high voltage drum performance joined the party. The perfect bass engineer was found soon in person of Lippmann.
The Lichtgestalt was born. She is the melting pot for old & new, for light & dark and the power of the sounds & lyrics. The founding of this alloy consists of the only, the true steam which means everything to us. We stand in for the richness of the universe in all it's colours and shapes - except of brown - because we do not have shit for brains.
After the release of the successful EP "Entfessele den Sturm" in 2014 which took the German Club Charts by storm, stayed there for 10 massive weeks, and received many great reviews from the press, the band from North Rhine-Westphalia now returns with it's debut album "Motorenherz" which will be available from April 3rd, 2015 on Danse Macabre Records. In the studio, the quartet once again was joined by producers and sound engineers Martin Buchwalter and former Rage guitar player Victor Smolski.
Right after the release of "Motorenherz", Lichtgestalt will tour Germany. The dates will be announced soon!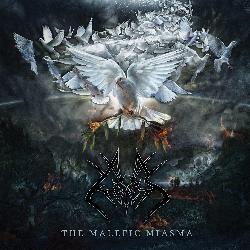 product: Ages - The Malefic Miasma
label: Black Lodge/ Sound Pollution
release date: 24.04.2015
PR territoriy: Europe (excl. Sweden)
PR contact: Diese E-Mail-Adresse ist vor Spambots geschützt! Zur Anzeige muss JavaScript eingeschaltet sein!
AGES was formed during the harsh Swedish winter of 2011. Into existence came "From the Ashes of Time", the first in line of AGES songs. A distillate of dormant black metal urges, the spawn of years of abstinence.
After intense times of composing, producing and recording, eight songs merged into one compendium - "THE MALEFIC MIASMA".
The discerning eye of BLACK LODGE RECORDS caught a glimpse of the faint glow that was AGES. Strengthened by this union, the flickering light will intensify, soon to burn like a beacon in the midst of the ongoing regression into the dark ages. The pyres will be lit on April 24th, 2015 upon releasing "THE MALEFIC MIASMA" to the world. And so it was foretold.
To enforce the rigorous quality set out by Andreas Olander (Volturyon, ex-Evangeli) and Daniel Beckman (ex-Evangeli, ex-slumber), AGES recruited Brice Leclercq (ex-Dissection, ex-Nightrage). A veteran bassist, renowned in the Swedish metal scene.
Reactions upon releasing the first songs where overwhelming and soon a steadfast fan base was established. With the releasing of "THE MALEFIC MIASMA", AGES seeks to spread the enlightening words of reason, not only to the mere horizon, but beyond.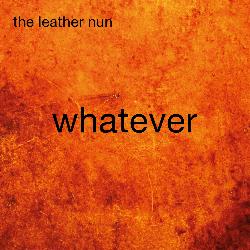 product: The Leather Nun - Whatever
label: Wild Kingdom/ Sound Pollution
release date: 17.04.2015
PR territory: Europe (without Sweden)
PR contact: Diese E-Mail-Adresse ist vor Spambots geschützt! Zur Anzeige muss JavaScript eingeschaltet sein!
Gegründet 1979 in Göteborg wurden Leather Nun zu Kultfiguren der internationalen Rockszene. Ihr Musikstil kann als ein Mix von Garage Rock, Gothic Rock und Industrial bezeichnet werden.
John Peel spielte ihre erste Single "Slow Death" zwei Wochen lang jeden Abend in seiner Sendung bei BBC Radio.
Im Jahr 1983 war die Band in der internationalen Rockszene in aller Munde; mit ihren beiden UK-Veröffentlichungen: Der 12" Wiederveröffentlichung der 'Slow Death EP' und dem Release der 12"-Single 'Primemover' – einer Single, die bahnbrechende Erfolge in der britischen und US-amerikanischen Postpunk-Szene erzielen sollten.
Als Leather Nun nach London für die erste UK-Tour im Frühjahr zurückkehrten, wurden sie dort als Rockstars gefeiert. Ramones treffen auf The Clash, Birthday Party, The Cult, Fields of Nephilism und viele mehr.
Im Jahr 1991 stehen Leather Nun auch kurz vor dem kommerziellen Durchbruch. David Bowie-Weggefährte Mick Ronson produzierte das Album 'Nun Permanent'. Ein Album, das die Verkaufszahlen aller vorherigen Leather Nun-Veröffentlichungen zusammen übertreffen konnte. Danach ging ihre Plattenfirma in die Insolvenz, was schleichend im Jahr 1995 zur Auflösung der Band führte.
Nach 23 Jahren betreten Leather Nun im Jahr 2014 erstmals wieder ein Studio. Im November 2014 unterschreiben Leather Nun einen exklusiven Lizenzdeal beim schwedischen Label Wild Kingdom/ Sound Pollution für die internationale Veröffentlichung des neuen Albums 'Whatever'.
Anders als viele andere Punk-/ Postpunk-Bands der 1970er/80er Ära haben sie nicht wieder zusammengefunden, um ihre Vergangenheit auszuschlachten und die Reputation von einst zu verhökern. Leather Nun kehrt nicht zurück, um das internationale Publikum mit Songs und Sounds der Vergangenheit zu unterhalten. Leather Nun ist auch nicht zurück, um bei dem nostalisch angehauchten Zirkus anderer wiedervereinigter Punk und Postpunk-Bands mitzumachen.
Lether Nun ist zurück, um die Zukunft des Rock N' Roll aufzuzeichnen!