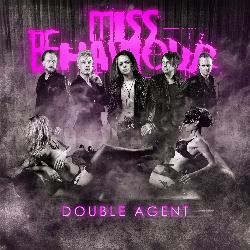 product: Miss Behaviour - Double Agent
label: AOR Heaven
out: 29.08.2014
format: CD
PR territory: Europe (excluding UK)
PR contact: Diese E-Mail-Adresse ist vor Spambots geschützt! Zur Anzeige muss JavaScript eingeschaltet sein!
Miss Behaviour - The Biography
The story of Miss Behaviour goes back to 2004. Keyboard player Henrik Sproge and guitarist Erik Heikne were both studying Music Management at the Baltic Business School in Kalmar, Sweden, when the idea of Miss Behaviour first came up. With a great passion for 80's melodic hard rock and AOR, they decided to start the band to express their vision of how a modern rock band, inspired by the great bands of the eighties should sound.
The first Miss Behaviour songs where written in a student apartment in Kalmar in late 2004 and ended up at the 3-song EP Give us the world. Miss Behavior worked –and still do with producer/technician Daniel Gese who had a career as drummer/producer with his 80's metal/sleaze band Pole Position in the late 80s/early 90s.
After the debut album Heart of Midwinter was released in 2006, Henrik and Erik decided to recruit the new lead singer Sebastian Roos, a quite well known singer in Sweden, with a lot of touring, TV and radio performances and Eurovision song contest on his CV. The breakthrough came with the Album Last Woman Standing, released in 2011.
In spring 2011 Miss Behaviour competed in Swedish national radio with the song Till we meet again, making the première live performance with the current lineup in front of 400000 radio listeners. Joining forces with former Backyard Babies manager Michael Sundén in 2011 the band hit the roads in the UK.
Late 2011, after touring the UK with CrashDiet, the album Last Woman Standing won the Melodic.net "Best AoR album of 2011" readers poll with 23% of the votes, leaving bands like Journey, Robin Beck, Work of Art and more behind. The reviews were fantastic and the album got top scores in important magazines, such as Classic Rock (UK), Sweden Rock Magazine (Sweden) and more.
UK Magazine Classic Rock picked Cynthia as one of the best tracks in 2011, and featured the song on the compilation Classic Rock Buzz. Miss Behaviour returned to the UK on the Smokehead Rocks Tour, playing another 10 dates and finished the tour with a sold out show at O2 Islington Academy in London, Oktober 12th, 2011. In the middle of the song writing and recordings of the new album Michael Sundén tragically passed, in a horrible accident at venue Rock City, Nottingham. This loss took a while to recover from but finally the brand new album Double Agent is finished and the band are more eager than ever to write the next chapter in their career.
Double Agent
Double Agent is produced by Daniel Gese and co-produced by Erik Heikne, Henrik Sproge and Sebastian Roos. The album was recorded, mixed and mastered in Studio Lärkbacken and Realtime Recording Studios, Norrköping, Sweden. String sessions are recorded and arranged by Ronnie Roos.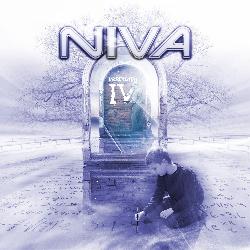 product: Niva - Incremental IV
label: AOR Heaven
out: 29.08.2014
format: CD
PR territory: Europe (excluding UK)
PR contact: Diese E-Mail-Adresse ist vor Spambots geschützt! Zur Anzeige muss JavaScript eingeschaltet sein!
The history of NIVA began in Skövde in the mid 80's and the place was the TBV Music House – this was an inspiring environment for many youths to discover their creativity in a lot of ways, especially regarding the chance to discover their musical abilities.
It was also here where a young Tony Niva set his path to be able to sing and write music, and also for the first time to sing through a microphone! It didn't take long before an offer occurred. The band Zanity got Tony as their singer and their first demo "Time Out Of Mind" got a lot of attention.
After appearing in a lot of bands around in Sweden – for example Vanessa, Swedish Erotica, Malibu Band and Tracy Goes Crazy, Tony got the opportunity to sing for Axia – a band situated and rehearsing in Skövde.
It was an ideal situation both musically and socially for the band and it didn't take long before a Swedish tour started – both with Axia and later on with a cover band called "Under Cover". After some touring, the band drifted apart, and up from the ashes of Axia, NIVA was formed. The band recorded their debut album "No Capitulation" and got a record deal with Zero Records in Japan in 1994. After recording an up to this date not released follow up album, NIVA was disbanded (1995). For a brief period in 2001, Tony was a member of the metal-act Lion's Share and who released the album "Entrance" in the same year.
Moving forward to 2011 and a song called "Janitor Of Love" written for the Swedish Eurovision song contest. This time collaboration partners are Roger Ljunggren and Marcus Persson and even if the song did not make it through, the musical work goes so smoothly, they decide to make another three songs for a demo, just to see if there is any interest for a band in the vein of AOR/Melodic Rock. And it sure is – Marquee Avalon signs with NIVA and after 16 years the band lives up and releasing the album "Gold From The Future" in Japan, September 2011.
Tony did not settle down because of this, so after some negotiations a British based label released the album in Europe – now under the moniker Oxygen – Final Warning. The album gets a lot of attention in both Europe and in the United States.
In 2013 NIVA released the CD Magnitude through AOR Heaven for the European market and now 2014 the sophomore album entitled "Incremental IV" is ready.
"Incremental IV" was produced and mixed by Marcus Persson at CM Music Skara, Sweden with executive producer Tony Niva and mastered by Börjesson, Ear Hear Studio Stockholm. Artwork design by Matthias Norén.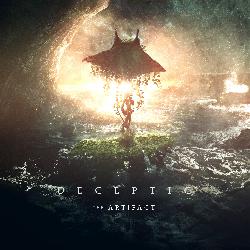 product: Deceptic - The Artifact
label: Dead End Exit Records
out: 29.09.2014
format: CD
PR territory: world
PR: Diese E-Mail-Adresse ist vor Spambots geschützt! Zur Anzeige muss JavaScript eingeschaltet sein!
With a ferocious but tight thrust, Deceptic will pierce through your soul and bones to make sure that you are awake, and summon those overloaded goosebumps that has been inactive for far too long. It's heavy, melodic, groovy with a lot of air at the same time. With their debut album The Artifact, they will bring you to unseen rivers and foreign lands, to grant you a memory to keep with you always! Deceptic's unique sound can be compared with In Flames, Soilwork, Meshuggah, Periphery, Tesseract and many others!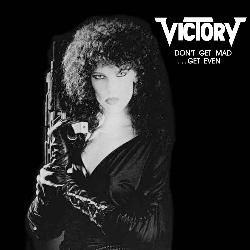 product: Victory - Don't Get Mad...Get Even
label: Yesterrock/ Universal
out: 01.08.2014
format: CD (re-issue)
PR: Diese E-Mail-Adresse ist vor Spambots geschützt! Zur Anzeige muss JavaScript eingeschaltet sein!
Victory was formed in 1984 from the remnants of the band Fargo. Bassist Peter Knorn, the two guitarists Tommy Newton and John Lockton and drummer Bernie Van der Graaf had all previously worked together in that band. After originally working with singer Pedro Schemm, and later Thunderhead frontman Ted Pullit, former Gary Moore- and Ted Nugent-singer Charlie Huhn became the band's singer.
After the release of the self-titled debut album in 1985, the line-up changed again when drummer Fritz Randow replaced Van der Graaf and Herman Frank replaced John Lockton. The band's second release 'Don't Get Mad…Get Even' was released in 1986 and repeated the great success of their debut release. The single 'Check's In The Mail' became a big radio hit in the USA. Today, 'Don't Get Mad…Get Even" is a rare, long-time out of print collector's item which now was re-mastered for a re-issue CD release on Yesterrock by the kind courtesy of Universal Music Germany.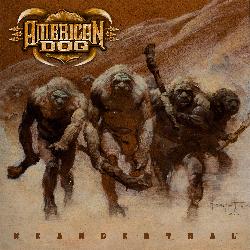 product: American Dog - Neanderthal
label: Bad Reputation
out: 19.07.2014
format: CD
PR territory: Germany & Austria
PR contact: Diese E-Mail-Adresse ist vor Spambots geschützt! Zur Anzeige muss JavaScript eingeschaltet sein!
A BLOW WITH A STAGGERING BLOW !
After 6 albums, Last Of Dying Breed, Red, White, Black and Blue, Scars' N' Bars, Hard, Mean, Poison Smile and three live albums (If You Want Bud, Foamin ' at the mouth, Hard On The Road CD + DVD) plus Six Pack, an EP of 6 titles celebrating the benefactions of the alcohol and the casualness, American Dog returns to us in a primitive way. Just check the cover artwork painted by the late, great fantasy and science fiction artist, Frank Frazetta!!! You rock dogs know Frazetta's work from classic album covers for Molly Hatchet, Nazareth, Yngwie Malmsteen, and Wolfmother! Their rock 'n' roll is raw, furious and primitive. Néanderthalien is there! Steve Theado, his guitarist (the man knocked down by a little charitable motorist who left for dead himon the side of the road with two broken legs, a broken pond and an exploded kidney, it is necessary to remind) it) and Michael Hannon are two specimens which no war of the fire knew how to switch off. And surprise, their clan grew rich of the fourth big dog: the guitarist John Salvatore. What leaves to Steve Theado the care of going to go hunting on unexplored lands. Michael Harris, one of these wandering hyénidés, came to complete the line-up after Keith Pickens escapes from the savanna of Ohio. 4 of the Apocalypse push the bludgeon of the rock with the from now on legendary ' Certified ass-kicking 100 % Rock 'n' roll ' for our biggest happiness. Neanderthal is the powerful work of four dogs fighting for their survival while going to conquer other. Then yes they are ugly, unpolished and held even maybe, but let us not forget that they possess a big cultural wealth (from Alice Cooper to Ted Nugent via(including) Motörhead and Blue Oyster Cult) and a staunch robustness. It has been 14 years since American Dog adapted himself in the middle hostile of the rock and they are still far from the extinction. Especially when it is Doug Goldstein, the ex-manager of Guns'N' Roses (between 1991 and 2008), who put them under his protection.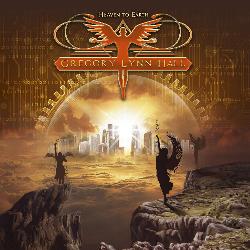 product: Gregory Lynn Hall - Heaven To Earth
label: AOR Heaven
release date: 25.07.2014
format: CD
PR territory: Europe (without UK)
PR contact: Diese E-Mail-Adresse ist vor Spambots geschützt! Zur Anzeige muss JavaScript eingeschaltet sein!
Gregory Lynn Hall, Southern California solo artist and singer for 101 South has had a long history in the music industry, in all areas from studio work to live shows. Gregory started off his music career singing gospel songs on his grandmas piano bench with his 2 other cousins, doing harmonies when he was 3 years old. As an instrumentalist Gregory started playing drums and soon moved on to guitar, then bass and keyboards, producer, etc... --finding his nitch in the late 70s.
Gregory helped polish the band RAT SALLY in the early 80s and pounded the Hollywood scene playing at all the rock venues, from Gazzaris to the Troubadour, The Country Club-playing many gigs with Bands like Poison, Warrant, all the 80s rockers, hanging out with the typical Hollywood Rocker crowd. After the Seattle grunge sound came and changed the whole music scene, Gregory moved to the mid-west where he found many new opportunities in Nashville (the whole mid-west region). He became a well sought after session vocalist, singing on many well known Christian artist's albums including CARMAN and one of the most sought after jingle, commercial vocalists in the mid-west, with many local and national Jingles under his belt.
In the late 90s the artists returned to California and found himself reuniting with RAT SALLY and going in the studio to record a new EP. Following that, a reunion gig at the world famous Pelicans retreated in 1995. Gregory kept busy doing session work for the next few years.
In 1999 while doing a session in Malibu, he met Roger Scott Craig and was asked to do some demos and 101 SOUTH was born. Shortly after the first 101 SOUTH album(2000) was finished Gregory was asked to join the band HEAVEN AND EARTH (Stuart Smith, Richie Onori, Kelly Keeling), as their bass player and toured with them to support the "Windows to the World" album, culminating with an All Star filled show for the orphans of 911 in Hollywood. Gregory has had the honor of performing on stage, and working with;
Keith Emerson(ELP), Gary Richrath (REO), Howard Leese (Heart), Carmine Appice (Vanilla Fudge), Spencer Davis, Steve Priest(Sweet), Craig Goldy (Guiffria, Dio, Budgie), Stuart Smith (Heaven and Earth, Sweet), Richie Onori (Rick Derringer, ELP, Heaven and Earth), Kelly Keeling (Blue Murder, Lynch Mob), Don Cromwell (Eddie Money, Air Supply) and many other world class musicians. Gregory has also had the pleasure of working in some of the best studios in the world, INDIGO RANCH, Malibu ca.-THE CHURCH STUDIO, Tulsa Ok. Gregory has also worked with Eddie Money in the studio and teamed up with Roger Scott Craig to make another 101 SOUTH album in 2002 called ROLL OF THE DICE that made many top 10 lists in Europe. In Oct. 2008 they finished recording their 3rd 101 SOUTH album with a couple world class guest musicians incl. Ian Bairnson (PILOT, Allan Parsons Project) and Chris Thompson (Manfred Mann, Blinded by the light).
Gregory has just finished recording a solo album entitled "Heaven To Earth" which comes along with a little harder edge than 101 South. The album was recorded in Las Vegas at "The Hall Closet Studio" and mastered by Mike Turner at "The Chicken Shack" in Chattsworth, California.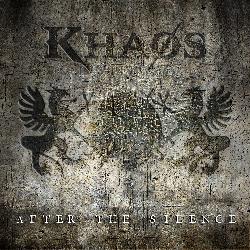 product: KHAØS - After The Silence (single & video)
label: MRRecords
release date: 14.07.2014
format: download
PR territory: world (except UK)
PR contact: Diese E-Mail-Adresse ist vor Spambots geschützt! Zur Anzeige muss JavaScript eingeschaltet sein!
KHAØS is back!
After their critically acclaimed debut EP 'Rising' appeared in late 2012, KHAØS are now ready to release a brand new single entitled 'After The Silence'.
'After The Silence' will be released on July 14th 2014 and is the first single from the forthcoming full-length album 'Risen'. The single will be digitally available worldwide on iTunes, Amazon, Spotify and on all other digital platforms.
Recorded by Rolf Munkes at his Empire Studios in Germany and mastered by music legend and award winner for Adele's '21' Tom Coyne at Sterling Sound in New York; 'After The Silence' is the perfect song to introduce the very first KHAØS full-length album.
"'After The Silence' is the anthemic track that kicks off the album. It's about finding one's self in a war-torn world and bonding together with like-minded people in order to start a peaceful revolution. We face a lot of difficulties throughout our daily lives and in a world where that seems to be the norm, sometimes the only thing we seem to have is ourselves and what we know."
Alongside the single the band is going to release an official videoclip. Directed by the talented Swiss director Can Isik (Beauty of Gemina). The video was shot in a burnt down factory area in Arbon Switzerland and will premiere on Youtube on July 14th.
'Risen' Line-up: Chandler Mogel – vocals, Mark Rossi – guitars, N I c Angileri – bass, Trevor Franklin - drums