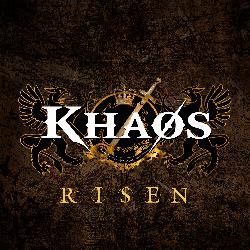 product: KHAØS -Risen
label: MRRecords
out: 20.10.2014
format: CD
PR territory: Europe (without the UK)
PR contact: Diese E-Mail-Adresse ist vor Spambots geschützt! Zur Anzeige muss JavaScript eingeschaltet sein!
Khaøs are back after their critically acclaimed debut EP 'RISING' released in late 2012. 'RISEN' is its logical continuation and is the band's first full-length album containing twelve new songs. The new album was recorded under the direction of Rolf Munkes at his Empire Studios in Germany (Empire, Majesty, Razorback, Tony Martin) and mastered by music legend and award winner for Adele's '21' Tom Coyne at Sterling Sound in NYC.
KHAØS, is a Swiss/American band featuring Chandler Mogel on vocals, Mark Rossi on guitar, N I c Angileri on bass and Trevor Franklin on drums.
KHAØS was formed in June 2012 around the idea of making music without any kind of compromises. The band name itself reveals the main musical target: to let creativity, musicality and energy flow, destroying barriers and breaking through obstacles. Music itself is the centerpiece of this work.

KHAØS is a project on a global scale, involving two continents, America and Europe, and going possibly beyond. This came together thanks to the internet. It was an idea they wanted to put to the test.


product: Deadline - Fire Inside
label: Bad Reputation
release date: 25.10.2014
format: CD
PR territory: Germany & Austria
PR contact: Diese E-Mail-Adresse ist vor Spambots geschützt! Zur Anzeige muss JavaScript eingeschaltet sein!
Deadline hit the scene in 2009, after two years of seeking out a steady line-up, ready and hard willing to knock down the listener with their blend of modern and classic hard rock anthems. Their sound was shaped by the influences of each band member - guitarist and founder Joris Beraud, guitarist Gabriel Lect, lead vocalist Arnaud Restoueix, bass player Sebastien Debbane and drummer Nicolas Ballu - ranging from the 70's to current decade's rock 'n' roll. The guitar work was inspired by the likes of Slash, Doug Aldrich and Steve Vai while the vocals have been mainly influenced by bluesy hard rock singers such as Robert Plant and David Coverdale, as well as heavier rock singers like Ronnie James Dio. In late 2010, US multi-platinum producer Beau Hill got in touch with Deadline through their MySpace page and the band jumped the chance to collaborate with the legendary producer who has worked with world-famous bands such as Ratt, Winger, Alice Cooper, Warrant, and Europe. After releasing their first hit single «Dance With Style», followed by a second single «Heading West» (both engineered by Beau Hill), the band took over like a storm on several FM and internet radio shows in both Europe and the USA.
Their first EP, engineered by Beau Hill, was released in February 2012 on Sliptrick Records who had signed the band. In a few months time, the EP hit almost 15 000 plays on streaming websites.
In the summer of 2012, Fabrice Trovato (ex-Trente, Still Square, Eric McFadden…) became DEADLINE's new drummer following the exit of Nicolas who departed to focus on his family.
By the end of 2013, the DEADLINER's decided to record their first full-length album with sound engineer Thierry Velly (Totem Studio), ready and willing to turn the hard rock world upside down with their powerful and sexy vibes!
Packed with hard rock anthems, « FIRE INSIDE » is ready to be unveiled…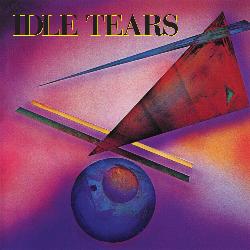 product: Idle Tears - Idle Tears
label: Yesterrock
release date: 12.09.2014
format: CD
PR territory: world
PR contact: Diese E-Mail-Adresse ist vor Spambots geschützt! Zur Anzeige muss JavaScript eingeschaltet sein!
Originally located in Chicago, USA Idle Tears relocated to Los Angeles when they signed a record deal with MCA Records in 1986. Centered around guitarist Dan Pritzker and female vocalist Liz Constantine, the band played typical mid 80's AOR. They released their self-titled album in the same year which through the years became a sought after, rare classic of the genre. 'Idle Tears' unfortunately remained to be the only released by this band before their musicians moved on. Their members later could be found on recordings of bands such as Signal, Sonia Dada and Ministry.
In cooperation with Eric Scott, Munich bases label Yesterrock now is releasing this gem in re-mastered format.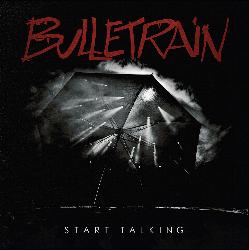 product: Bulletrain - Start Talking
label: AOR Heaven
release date: 24.10.2014
format: CD
PR territory: Europe (without UK)
PR contact: Diese E-Mail-Adresse ist vor Spambots geschützt! Zur Anzeige muss JavaScript eingeschaltet sein!
Press material: www.metalheaven.net/press
Bulletrain was founded back in 2006 by guitarist Mattias Persson and drummer Jonas Tillheden in the suburbs of Helsingborg, Sweden. Led by their dreams they found like-minded people with singer Robert Lindell, bassist Tim Svalö and guitarist Adam Börvall who later was replaced by the guitarist Robin Bengtsson. Bulletrain released their first EP "Johnny Gonebad" on their own in 2007. The record was produced by Klas Ideberg, the guitarist of the Swedish thrash metal band Darkane. "Johnny Gonebad" was well received and the band expanded its fan base by playing along with bands such as Crashdïet, Bullet and Crazy Lixx.
Dedicated to achieve their dreams Bulletrain entered the studio again to record their second EP; this time again with Klas Ideberg behind the mixing board. "Turn It Up!" was the result and the album was released in the early autumn of 2009. "Turn It Up!" gave the group plenty of speed and gigs followed one another. Influential webzine SleazeRoxx.com gave the album a big thumb up. In 2010, having made it through their first real setback due to Tim Svalö's departure with the replacement by Emil Lundberg Bulletrain, the year began with playing at the Rest In Sleaze festival in Stockholm. A one-day festival in memory of the late singer of CrashDïet, Dave Lepard. This was a great honor for the group since Dave Lepard was a great inspiration to everyone in the band.
That show gave many ripples including a tour in Italy in the autumn of the same year and a very encouraging email by the "godfather" of Swedish sleaze, Chris Laney. Chris had heard of the group and as he is a Helsingborg native, he wanted to take the band under his wings and offered to produce their debut single. Of course the band accepted his offer and they recorded the single "Even with my eyes closed" with the b-side "Take me to the sun" in "Polar Studios" in Stockholm, July 2010.
Bass player on the recordings was Nalle Påhlsson from the Swedish band Therion since Emil Lundberg sadly chose to leave the group the day before departure to Stockholm. The single "Even with my eyes closed" caught the interest of Georg Siegl at the record company AOR Heaven who offered to sign the group and release its debut album which also was supposed to be produced by Chris Laney. Several years out of hard work finally started to pay off. Just when the band was about to sign the record contract and have had a dream to come true, singer Robet Lindell chose to leave the band. There and then they tumbled at the finish line. The record deal was lost and the album recording never happened. A few tough years came for the group and for a short time, they had the talented Mike Palace from Stockholm as frontman. Unfortunately, the distance that they had, had them to end the collaboration.
Bulletrain began to work with their debut album which they decided to produce themselves. Meanwhile they recorded they were looking for a singer and finally found him in the Växjö native Sebastian Sundberg. In June 2013, the band played their first gig in over a year which also was the debut gig with Sebastian. The venue was The Tivoli in Helsingborg which the group sees like home. That night Niklas Månsson did his first show as the new bass player in Bulletrain.
In December 2013 the band went to Stockholm to record the voclas for their debut with the producer duo RamPac, who have produced CrashDïets "Generation Wild" and worked with Mötley Crüe's Mick Mars among others. The result was better than what they hoped for and was also a start for a collaboration. The album was ready to be mixed by Buster Odeholm from the extreme metal band "Humanity's Last Breath". In the summer of 2014 Georg Siegl at AOR Heaven decided to give the group a second chance and offered to release their debut album, "Start Talking".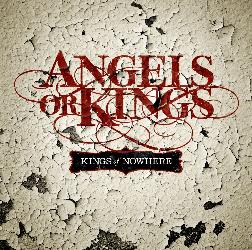 product: Angels Or Kings - Kings Of Nowhere
label: AOR Heaven
release date: 24.10.2014
format: CD
PR Territory: Europe (without UK)
PR contact: Diese E-Mail-Adresse ist vor Spambots geschützt! Zur Anzeige muss JavaScript eingeschaltet sein!
If ever there was an eighties group of totally obscure proportions, then A.O.K fitted that bill perfectly. Founded in Manchester, England in 1988, they were made up of ex members of Sam Thunder, Circus and Strutz, to name a few, and tore it up on Oxford Road - Manchester's answer to Sunset Strip – playing the Banshee and Rockworld and as opener in larger venues for Dare and Danger Danger. Their history is well documented in Tony Bell's excellent book "Life In The Bus Lane".
In the late eighties, early nineties they stood shoulder to shoulder with a plethora of unsigned acts, ultimately doomed to a life of obscurity.
A slew of promising demos quickly followed. Setting up camp in Shabby Road studios, the journey towards their debut album began in earnest. With the basics intact, and with original Drummer, Andy Chemmey, along for the ride, they moved to Mad Hat studios (Magnum) and under the guidance of Sheena Sear and Mark Stuart, they put the finishing touches to "The Kings Of Nowhere".
They are the people's band – winning a fan voted appearance at this year's final Firefest proved that – and they deserve your utmost attention. They were stripped down to a final 10 who were then played on the Steve Price radio show. A final three made it through to a final. A.O.K. won, achieving over 3,500 votes. They have also just been added to Hard Rock Hell festival in March 2015 which is being headlined by NightRanger.
It's a little over twenty years since they called it a day, but these kings of nowhere are here to stay this time. They've loved and lost along the way but that's just put some grit under their fingernails, enabling them to provide an album that is both honest and real. This is British songwriting at its absolute best!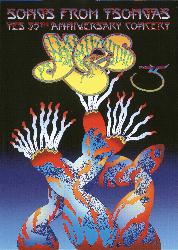 product: Yes - Songs From Tsongas/ 35th Anniversary Concert
label: Eagle Vision
release date: 19.08.2014
formats: CD, DVD, BD
PR territory: Germany & Austria (print & online)
PR contact: Diese E-Mail-Adresse ist vor Spambots geschützt! Zur Anzeige muss JavaScript eingeschaltet sein!
Diese Special-Edition von "Songs From Tsongas" präsentiert zwei unterschiedliche Konzerte von Yes' 35jähriger Jubiläumstour 2004, der letzten Konzertreise der Band in der klassischen Besetzung mit Jon Anderson, Steve Howe, Chris Squire, Rick Wakeman und Alan White. Teil 1 umfasst das gesamte Konzert aus der Tsongas Arena in Lowell, Massachusetts. Diese grandiose Show zeigt ein brandneues Bühnenbild des legendären Designers und Yes-Partners Roger Dean sowie eine Setliste mit Stücken aus der gesamten Karriere dieser fabelhaften Band wie "Going For The One", "Roundabout", "Owner Of A Lonely Heart", "And You And I", "Starship Trooper", "Wonderous Stories", "I've Seen All Good People", "Yours Is No Disgrace", "Ritual" oder "Turn Of The Century", inklusive einer Akustik-Session (Songs 11 – 18) und einigen nur selten auf der Bühne gespielten Stücken. Teil 2 umfasst 70 Minuten voller Höhepunkte einer völlig anderen Show der gleichen Tour, aufgenommen beim Estival in Lugano, Schweiz. Dieses Open-Air-Konzert zeigt eine abgespeckte Bühne und komplette Rockversionen der Akustiktracks von Tsongas, während sich das Publikum mit zahllosen Regenschirmen vor dem strömenden Regen schützen musste, was der großartigen Stimmung jedoch keinen Abbruch tat. Das Bonusmaterial umfasst ein Interview mit Roger Dean sowie den Song "Ritual" aus der Tsongas Arena. "Songs From Tsongas – The 35th Anniversary Concert – Special Edition" wird parallel auch auf DVD (EREDV1026) veröffentlicht.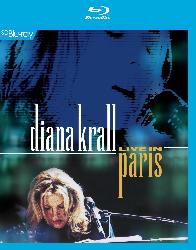 product: Diana Krall - Live In Paris
label: Eagle Vision
release date: 12.09.2014
format: SD-Blu-ray
PR territory: Germany & Austria (print & online)
PR contact: Diese E-Mail-Adresse ist vor Spambots geschützt! Zur Anzeige muss JavaScript eingeschaltet sein!
"Live In Paris," filmed at the Olympia in Paris in late 2001, was Diana Krall's first concert film and was released on DVD in 2002. The concert features tracks from her first four albums including many that have remained firm concert favourites to this day. It was an instant hit and went on to be certified gold, platinum and multi-platinum in many countries around the world. Now for the first time the original standard definition footage is being reissued on Blu-ray disc to benefit from the best available picture and sound quality.