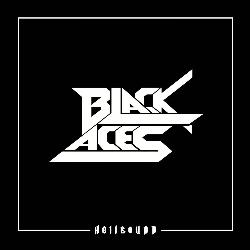 product: Black Aces - Hellbound EP
label: Bad Reputation
out: 29.07.2014
format: CD
PR territory: Germany & Austria
PR contact: Diese E-Mail-Adresse ist vor Spambots geschützt! Zur Anzeige muss JavaScript eingeschaltet sein!
Hailing from country Victoria, Black Aces had a longing to hear the kind of music that had once forged this great country's musical back bone. They set about crafting such a band; a true blue, fire breathing, chest beating, riff n roll band! Drawing much of their inspiration from the Aussie greats in AC/DC, Rose Tattoo, Billy Thorpe and The Aztecs, The Angels and Cold Chisel, they cut their teeth on their local scene. Developing their sound, and earning a reputation, they built a line-up capable of delivering a powerhouse rock'n'roll show.
Eventually settling with the four misfits you can see today. Never afraid of a beer, and a biff, is Tyler Kinder on lead vocals and lead guitar, then there's resident locksmith Rhys Collier on rhythm guitar, and the ironically unrelated rhythm section of Alex McMillan on bass, and Pete McMillan on drums.
Touring across the width and breadth of Australia soon followed, all the while winning new fans in city and country alike. Not stopping there though, the lads hopped a plane to the mother land. A non-stop, beer fueled, 2 week tour of the UK ensued, exciting many a punter with vicious Aussie rock'n'roll the likes they hadn't seen since AC/DC's first foray in the mid 70's. Along the way they have had the pleasure of appearing alongside Aussie greats such as Cosmic Psychos, Dallas Crane, Bodyjar, Stand Alone, Kings Of The Sun, Something For Kate and Black Label, as well as with Australia's next generation of rock royalty such as Dead City Ruins, The Deep End, The Lazys, Massive, and The Delta Riggs.
2014 has seen Black Aces continue the momentum they have built, releasing their brand new 'Hellbound' EP, chock full of ripper tracks. They subsequently released the manic film clip for lead single 'On The Rocks. But the fun doesn't stop there. Work has already begun on their debut album, which is set to be completed before the year is out! So keep your ear to the ground.
Pounding out blistering rock'n'roll that you can't help but bang your head and punch the air to, you will find it hard to leave a Black Aces show without a smile from ear to ear.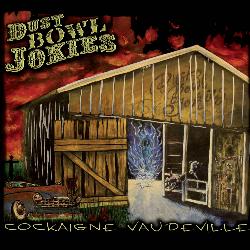 product: Dust Bowl Jokies - Cockaigne Vaudeville
label: Bad Reputation
out: 25.09.2014
format: CD
PR territory: Germany & Austria
PR contact: Diese E-Mail-Adresse ist vor Spambots geschützt! Zur Anzeige muss JavaScript eingeschaltet sein! ';document.getElementById('cloak4115d8a180adfc85ea3bd517f1491ae5').innerHTML += ''+addy_text4115d8a180adfc85ea3bd517f1491ae5+'<\/a>'; >
As you know, Bad Reputation has a great taste to sign some great Swedish Rock'n' roll acts. Since 13 years, the French label handled Hardcore Superstar, Crucified Barbara, Zan Clan, Fatal Smile, Dollhouse, The Soulshake Express to name a few.
Dust Bowl Jokies is the new trashy glam stallion. The band was formed in 2011 and released their debut album in early 2012 "Cockaigne Vaudeville" produced by Nicko DiMarino and co-produced by Beau Hill (Alice Cooper, Twisted Sister, Europe, Gary Moore etc.). The debut album's main track Boots On Rocks Off has been played on radio stations all around the world (USA, UK, France, Italy, Germany etc.) and the album was just released in Sweden. Since 2012 the band has played as many festivals and nightclubs possible and they recently released a two tracked EP including the songs "The Wicked" and "Blood, Sweat & Perfume" which got some great reviews from all over Europe.
Now Dust Bowl Jolies signed on Bad Reputation and Cockaigne Vaudeville will be issued with these 2 new tracks. It's time to rock 'n' roll again at the Swedish Hour!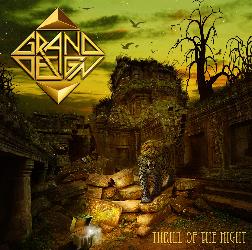 product: Grand Design - Thrill Of The Night
label: AOR Heaven
out: 26.09.2014
format: CD
PR Territory: Europe (excluding UK)
PR contact: Diese E-Mail-Adresse ist vor Spambots geschützt! Zur Anzeige muss JavaScript eingeschaltet sein!
PR link: metalheaven.net/press
Grand Design was formed in 2006 by singer/producer Pelle Saether, and the band's first 1st album "Time Elevation" was released by AOR Heaven in October 2009. The album featured guest spots from guitarists Janne Stark and Tommy Denander. The release gained massive success and was awarded 'best album' and 'best song' by BeRockRadio and received numerous top 10 positions for "best album 2009". Several concerts, including the prestigious FireFest in Nottingham, UK proved that Grand Design also deliver live. Pelle Saether comments: "Since we all love Def Leppard, it will always be an influence we use to spice things up."

Two years later, it was time for Grand Design's second album – "Idolizer".
Pelle says: "We knew we had found a formula to make an 80's rock record work in the 21st century – so why change it?" With new anthems like "Get On With Action", "OughtoGraph" and "Your Love's A Runaway", "Idolizer" followed up the fans expectations. Grand Design again proved that the songs and sound of 80's rock belong in your players and on the big stages.

In 2012 the line-up saw singer Pelle Saether and guitarist Dennis Vestman, now flanked by guitarist Janne Stark (Constancia, Overdrive etc), bassist Mats Vassfjord (Chris Laney Band, Scaar) and drummer Peter Hermansson (Talisman, John Norum, 220 Volt). The band continued playing shows and festivals, building a solid following.

Early 2013 the band recorded two new songs, featuring guest singer Susie Päivärinta (of Lili & Susie), of which the song "Baby It's You" (Promises cover) was released as a digital only single and video in June 2013. The band also welcomed new drummer Magnus Ulfstedt (Eclipse, Jimi Jamison, Talisman, Lion's Share etc), who made his debut in the video. The band also performed at festivals such as Skogsröjet and Rock Out Wild.
Early 2014 Grand Design started working on the third album, and we are now proud to present the band's third outing: Thrill Of The Night. This album has definitely taken the band to a whole new level, musically, song wise and regarding production. The band is packed with potential hits and choruses that you will wake up in the middle of the night singing! Sorry about that, but that's how it is. From the opening chords of U Got Me Good, followed by the anthem rocker "Rawk 'N' Roll Heart Attack", to up-tempo rocker "10 Outta 10" and the big epic balladry of "When The Greatest Love Of All Kicks In". This time the band has also had some outside help in the song writing, where melodic rock icon Erik Mårtensson (Eclipse, W.E.T) has co-written the hit style "Who's Gonna Rawk U Right" and "You're The Only One". The production, again by singer Pelle Saether, is big, ballsy yet ambient enough to probably make even John "Mutt" Lange proud.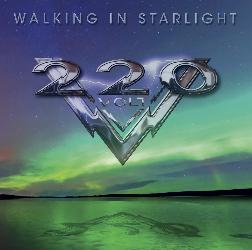 product: 220V - Walking In Starlight
label: AOR Heaven
out: 26.09.2014
PR Territory: Europe (without UK)
PR contact: Diese E-Mail-Adresse ist vor Spambots geschützt! Zur Anzeige muss JavaScript eingeschaltet sein!
PR link: metalheaven.net/press
Swedish hard rock act 220 Voltreturns to the scene with a new album called "Walking In Starlight". Anders Engberg (ex-Therion ex-Lions Share), who joined this group on late 2012, is the new voice of the band. This is his first full album with 220 Volt. Founding members Thomas Drevin and Mats Karlsson handle the guitars, and drummer Peter Hermansson completes the line-up.
220 Volt (founded 1979) was among the top hard rock acts in Scandinavia during the 80's and released their first, self titled album on CBS in June 1983. The band then went on to release five albums between 1983-1988. The last one recorded in the 80's was the album Eye to Eye which is their best selling album internationally, and it was also on heavy rotation on MTV and many radio stations around the world. It was produced by legendary producer Max Norman (Ozzy/Megadeth/Y&T etc..) and who also has mixed 5 tracks for "Walking In Starlight".
The band's reputation was built on frequent album releases and energetic live shows. Besides performing their own headline shows, the Swedes have also toured as support for AC/DC and Nazareth among others. In 1985, 220 Volt performed in front of 80.000 people in Warsaw, Poland. The show was broadcasted live on Polish TV, among the first ever TV-shows in the eastern block to feature a hard rock band.
220 Volt split up in 1992, but released the studio album Lethal Illusion in 1997.
The quartet was active for a while between 2002-2008 with members from an earlier line-up and produced two albums, "Volume 1" and the live album "Made in Jamtland".
Songslike "Firefall", "Love Is All You Need", "Beat Of A Heart", "The Harder They Come", "Heavy X-mas" and "Power Games" to name a few, still get airplay around the world... Songs you'll be likely to hear live again soon!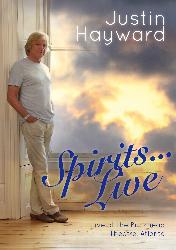 product: Justin Hayward - Spirits Live: Live At The Buckhead Theatre, Atlanta
label: Eagle Vision
release date: 22.08.2014
format: CD, DVD, Blu-ray
PR Territory: Germany & Austria, print & online
Contact: Diese E-Mail-Adresse ist vor Spambots geschützt! Zur Anzeige muss JavaScript eingeschaltet sein!
Im Anschluss an die Veröffentlichung seines Albums "Spirits Of The Western Sky" ging Justin Hayward, legendärer Leadsänger, Gitarrist und Songwriter der Moody Blues, im Herbst 2013 auf eine Tournee entlang der amerikanischen Ostküste. Es war erst die zweite Solotour in seiner langen und einzigartigen Karriere. Die Shows verbanden Songs von "Spirits" mit einer Mischung aus Klassikern wie "Nights In White Satin", "In Your Blue Eyes", "Tuesday Afternoon", "Captivated By You", "Question", "In The Beginning" oder "Your Wildest Dreams" und selten gehörten Moody Blues-Songs sowie seinem weltweiten Solohit "Forever Autumn". Die letzte Nacht dieser umjubelten Tournee, die im Buckhead Theatre von Atlanta stattfand, wurde für diese Veröffentlichung gefilmt. "Spirits… Live: Live At The Buckhead Theatre, Atlanta" wird parallel auch auf DVD (EREDV1038) und CD (EAGCD534) veröffentlicht.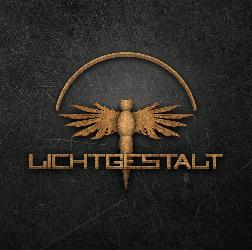 product: Lichtgestalt - Lichtgestalt EP
label: Lichtgestalt Music
out: 29.08.2014
format: EP
Club PR/ Germany: Die4Ma
PR everywhere else: Diese E-Mail-Adresse ist vor Spambots geschützt! Zur Anzeige muss JavaScript eingeschaltet sein!
At midwinter 2013, the Heizzer formed – only with the relief of pure energy – the band Lichtgestalt. Inspired by the same frequency, the fantastic Mr. Hertz found his way into the light. With Brukke, the perfect rhythm generator with his powerful high voltage drum performance joined the party. The perfect bass engineer was found soon in person of Lippmann.
The Lichtgestalt was born. She is the melting pot for old & new, for light & dark and the power of the sounds & lyrics. The founding of this alloy consists of the only, the true steam which means everything to us.
We stand in for the richness of the universe in all it's colours and shapes - except of brown - because we do not have shit for brains.
Brought together already in their previous lives, the companions now are united again – be curious about it!
The first release of this quartet based in North Rhine-Westphalia/ Germany will the the self-titled EP due in stores on August 29th, 2014. It includes the three tracks "Entfessele den Sturm", "Motorenherz" and "Zölibat" which were recorded with the collaboration of Rage guitar player Victor Smolski and sound engineer Martin Buchwalter at Gernhardt Sudio in Troisdorf, Germany in May 2014. This is EP is a pretaste of the the debut album from Lichtgestalt which is expected to be finished at the end of the year 2014.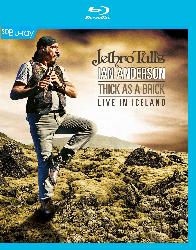 product: Jethro Tull's Ian Anderson - Thick As A Brick - Live in Iceland
label: Eagle Vision
out: 29.08.2014
formats: 2-CD, DVD & SD-Blu-ray
PR territory: Germany & Austria, print & online only
PR contact: Diese E-Mail-Adresse ist vor Spambots geschützt! Zur Anzeige muss JavaScript eingeschaltet sein!
Jethro Tulls legendäres Konzeptalbum "Thick As A Brick" wurde 1972 veröffentlicht und besteht aus einem durchgehenden Song, der sich auf beiden Seiten der damaligen Vinylscheibe ausdehnt und die Geschichte des jungen Wunderknaben Gerald Bostock erzählt. 40 später kreierte Jethro Tull-Gründer und -Frontmann Ian Anderson das 2012er Werk "Thick As A Brick 2: Whatever Happened To Gerald Bostock?". Im Anschluss an die Veröffentlichung nahm Ian Anderson beide Alben mit auf Tournee, spielte die komplette Geschichte um Gerald Bostock und ließ in Island das hier vorliegende Konzert aufzeichnen. Die Show verbindet Musik, Videoleinwände und Schauspiel, um Bostocks Geschichte auf eine Weise zum Leben zu erwecken, wie es sie noch nie zuvor gegeben hat und die sie zur ultimativen Präsentation von "Thick As A Brick" werden lässt. Das Bonusmaterial umfasst ein Interview mit Ian Anderson, eine Workshop-Performance von "Someday The Sun Won't Shine For You" mit Montreux-Jazz-Festival-Gründer Claude Nobs sowie den Song "Banker Bets, Banker Wins" live in Montreux 2012. "Thick As A Brick – Live In Iceland" wird parallel auch auf DVD (EREDV1023) und Doppel-CD (EDGCD533) veröffentlicht.