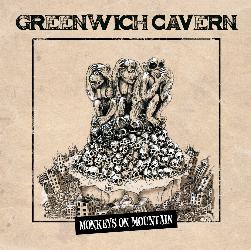 product: GREENWICH CAVERN - Monkeys On Mountain
label: Bad Reputation
out: 15.11.2014
format: CD
PR territory: Germany & Austria
PR contact: Diese E-Mail-Adresse ist vor Spambots geschützt! Zur Anzeige muss JavaScript eingeschaltet sein!
There is a bar called The Cavern, situated in Greenwich Village in New York. Two French musicians met there by chance, changed the world and decided to form a band. What could be more natural than to take the patronymic of Greenwich Cavern!
Walter Gallay and Eric Revel (bass) share the same passion for 70s' rock tinged with Blues (Deep Purple, Led Zeppelin, Free). After their return to France, the duet started to search for musicians and opts for a full band.
After some rehearsals, Greenwich Cavern recorded its first album with a glam-funky trend, Other Side, and made more than 40 concerts in 2009 among which were parts of the Scorpions, Ten Years After and Louis Bertignac. However, the group mutated into a power-trio, and only Eric Revel stayed in the boat as a captain. François Del Frate (first of the class of MAI), the perfect striker of trunks, joined him as well as Olivier Sosin (guitar, voice, piano, Bachelor's degree in musicology) at the beginning of year 2011. During the next two years, Greenwich Cavern took a new term with many dates. In September, 2012, the trio released out a double CD / DVD named Dolly and resumed its series of concerts. Paul Personne, Skinny Molly, American Dog, Triggerfinger, Aaron invited them for the opening part. Live At The Galaxie in 2013 showed the unstoppable musical testimony of the Dantesque scenic performances of the trio. The rest of Europe is not insensible to the music of Greenwich Cavern. So the band was touring in Switzerland, Germany, Belgium, Luxembourg and in the Netherlands.
Bad Reputation who followed them since the beginning suggested to set a little more time into the composition of a more bluesy and more worked album. The trio spent some time in the writing of Monkeys on Mountain. From the first demos, there's no doubt anymore now: Greenwich Cavern knows how to compose great firebrands. From So Much Love to RockBox including Devil Wrinkle, the tracks are unstoppable. Greenwich knows also how to be aimed on No Reason and See You.
Do not thus be deaf, blind and dumb persons in Greenwich Cavern. The band from Lorraine ( Let the Party on will say Uriah Heep) is already a part of the best Rock acts of France!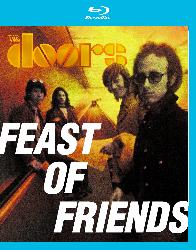 product: The Doors - Feast Of Friends
label: Eagle Vision
release date: 07.11.2014
formats: DVD & Blu-ray
PR territory: Germany & Austria (print & online)
PR contact: Diese E-Mail-Adresse ist vor Spambots geschützt! Zur Anzeige muss JavaScript eingeschaltet sein!
"Feast Of Friends" wurde 1968 gefilmt und war der erste und einzige Film, den die Doors über sich selbst produziert haben. Der Streifen bietet einen cineastischen Einblick in die Reisen der Band während ihrer Sommertournee 1968. Obwohl nie wirklich komplettiert vermittelt der Film einen authentischen Eindruck des wahren Cinéma-Vérité-Stils der Sechziger. Konzertaufnahmen werden durch intime Einblicke in die privaten Gefilde der Gruppe unterbrochen, mitunter spielerisch, sensibel, chaotisch und berührend. Außer einigen Aufführungen bei Filmfestivals im Jahre 1968 gab es bis heute keine offizielle Veröffentlichung. Der Film wurde auf Grundlage der Negative, die Jim Morrison damals überwacht hat, komplett restauriert, die Farben wurden korrigiert und gesäubert, den Soundtrack hat der langjährige Doors-Begleiter Bruce Botnick remixt und remastert. "Feast Of Friends" wird parallel auch auf DVD (EREDV1043) veröffentlicht.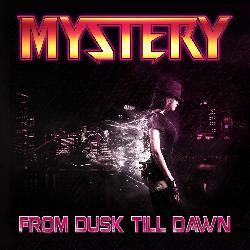 product: Mystery - From Dusk Till Dawn
label: Metalapolis Records
release date: 28.11.2014
format: CD
PR territory: Germany, Austria, Switzerland
PR contact: Diese E-Mail-Adresse ist vor Spambots geschützt! Zur Anzeige muss JavaScript eingeschaltet sein!
Für alle, welche die jüngste Rock Band, die je eine Welt Tournee bestritt, bisher weder gehört noch live erlebt haben, ist jetzt die Zeit gekommen dies zu ändern:
MYSTERY formiert sich um den jungen und rebellischenGitarristen und Sänger Rocky Ravic. Ergänzt wird er durch den gebürtigen Amerikaner Kei Bland welcher von vielen renommierten Schlagzeugern als die junge Drumsensation angesehen wird. Izzy Angel an der Gitarre und Bassist Ozzy Koshi mit ihrer jugendlichen Power vervollständigen dieses starke Line-Up.
Das neue Album "From Dusk Till Dawn" wurde erneut durch die australische Szene-Ikone Stu Marshall (Death Dealer, Empires Of Eden) produziert, welcher auch schon beim Debütalbum "2013" seine Finger an den Reglern hatte und dieses Mal von Rocky Ravic als Co-Produzent unterstützt wurde. Rockys Qualitäten als Songwriter haben sich hörbar weiter entwickelt und dies spiegelt sich in den 13 Songs wieder. Sie sind melodischer aber auch härter geworden. Das Album stellt eine hervorragende Balance zwischen melodischem Hard Rock und klassischem Heavy Metal dar. Oder wie es Rocky formuliert: "Stell dir Alice Cooper, Skid Row, Mötley Crüe, Poison, Def Leppard, AC/DC, Dio, Twisted Sister, Guns n' Roses und Bon Jovi zusammen in einer Band vor. Wir sind die Nachkommen all dieser Bands".
Abgerundet wird das Album mit zwei absoluten Lieblingssongs von Rocky, nämlich "I'm A Rocker" von Judas Priest und "Run To Paradise" der australischen Hard Rock Gruppe The Choirboys
Seit dem Release des Album "2013" tourten MYSTERY durch die Welt und teilten die Bühne mit Legenden wie Iron Maiden, Motörhead, Europe, Megadeth, Manowar, The Sweet, Mötley Crüe, Trivium und vielen anderen.
MYSTERY steht schon in den Startlöchern für ihre "From Dusk Till Dawn" Welt Tournee 2015, welche Shows in den Vereinigten Staaten, Japan und Europa beinhalten wird.
MYSTERY kann man schwer mit anderen Bands vergleichen, ihr Sound ist einzigartig und attraktiv für ein breites Publikum. Ein Name, mit dem gerechnet werden muss!!!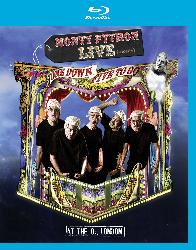 product: Monty Python - Live (Mostly) One Down Five To Go
label: Eagle Vision
release date: 07.11.2014
formats: DVD & Blu-ray
PR territory: Germany & Austria (print & online)
PR contact: Diese E-Mail-Adresse ist vor Spambots geschützt! Zur Anzeige muss JavaScript eingeschaltet sein!
Die Wiedervereinigung des Monty Python-Teams auf der Bühne, zum ersten Mal seit mehr als 30 Jahren und gleichfalls zum allerletzten Mal, war 2014 die sehnlichst erhoffte Produktion. Gefilmt am 20. Juli im Londoner "The O2", am letzten Abend einer zehn Nächte hintereinander ausverkauften Veranstaltung, zeigt "Monty Python Live (mostly) – One Down Five to Go" die fünf noch verbliebenen Mitglieder John Cleese, Terry Gilliam, Eric Idle, Terry Jones und Michael Palin plus Carol Cleveland mit vielen ihrer klassischen Sketche sowie ihren beliebtesten Songs. Die Show beinhaltete auch Filmausschnitte aus Monty Python's Flying Circus, dazu Terry Gilliams legendäre Animationen, unfassbare Tanznummern eines zwanzigköpfigen Ensembles und ein fantastisches Orchester. Die Show untermauerte einmal mehr den Ruf der Pythons als einflussreichste und – noch wichtiger – immer noch lustigste Comedy-Gruppe aller Zeiten. Das Bonusmaterial präsentiert unter anderem Höhepunkte der zehn Shows im Juli 2014 sowie Einblicke hinter den Kulissen der Reunion im November 2013. "Monty Python Live (mostly) – One Down Five to Go" ist die ultimative Monty Python-Show und wird parallel auch auf DVD (EREDV1044) sowie als Deluxe-Edition (DVD+Blu-Ray+2CD: EREDV1055) veröffentlicht.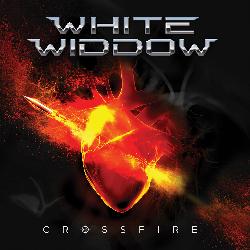 product: White Widdow - Crossfire
release date: 28.11.2014
label: AOR Heaven
format: CD
PR territory: Europe (without UK)
PR contact: Diese E-Mail-Adresse ist vor Spambots geschützt! Zur Anzeige muss JavaScript eingeschaltet sein!
Formed in Melbourne, Australia in 2008 and centered around the Millis brothers Jules (Vocals) & Xavier (Keyboards) with Guitar virtuoso Enzo Almanzi. Raised on a healthy diet of 80's Arena Rock and influenced by artists such as Survivor, Dokken, Night Ranger, White Sister & Giuffria.

In 2010 White Widdow stormed onto the Melodic Rock scene across the globe with the release of their self titled debut album, filled with swirling keyboards, blistering guitar playing and big choruses. The release of the debut was met by the press with rave reviews making it into Classic Rock Magazine's top 10 AOR albums for 2010. Hot on the heels of their debut, White Widdow quickly returned with their follow up release "Serenade" in September 2011. "Serenade" was heaped with praise by the press as one of the best albums in the genre of 2011, gaining 9/10 in both Classic Rock and Powerplay magazines and receiving a 94% on the coveted website melodicrock.com.

In support of "Serenade", White Widdow hit the road playing festivals and headlining club shows throughout Europe which saw them tour through Switzerland, Germany, Sweden, Italy, Greece and England. Along the way performing at HEAT Festival (Germany) and Firefest (UK). This was followed in 2012 with a full tour of the UK as support band to English melodic rock band TEN.

White Widdow had initially hoped to release their third album at the end of 2013, however 2013 proved to be a difficult year for the band with original bass player Trent Wilson retiring from the music industry and the unfortunate death of drummer George Kristy. Despite these set backs, in early 2014 the Millis brothers and Almanzi regrouped with a rejuvenated new line up, featuring Ben Webster on Bass and Noel Tenny on Drums. The band set about making their third album "Crossfire", which shows the band retaining their trademark keyboard driven Melodic Hard Rock. Showing at times a slightly more hard rock edge than on the previous albums, yet still drenched in melody and hooks. Produced & engineered by Xavier Millis and mixed once again by Pelle Saether (Grand Design), White Widdow are back with quite possibly their best album yet.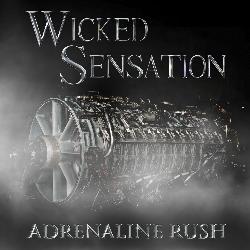 product: Wicked Sensation - Adrenaline Rush
release date: 28.11.2014
label: AOR Heaven
format: CD
PR territory: Europe (without UK)
PR contact: Diese E-Mail-Adresse ist vor Spambots geschützt! Zur Anzeige muss JavaScript eingeschaltet sein!
WICKED SENSATION from Karlsruhe introduce their 4th studio album "Adrenaline Rush".
On "Adrenaline Rush" a catchy tune follows another and it clearly shows that Michael Klein, the band's lead guitarist and songwriter, has enormously improved his songwriting from album to album.
None other than singer David Reece (ex Accept, Bangalore Choir) supported the band and substituted for Robert Soeterboek, who unfortunately was forced to step back because of personal health reasons.
David Reece immediately turned out to be the right choice for the band and perfectly blends into the songs of Wicked Sensation. Already the opener "King of the World" delivers superb hooks and melodies which reach their highlight in the chorus while Harry Hess (Harem Scarem) can be heard together with David Reece.
Without a break the band continues with "Same Old Situation" hich comes as a perfect blend of Van Halen and Extreme and is full of groove. Again, Harry Hess gives his honor and can be heard in the chorus, accompanied by Eric Ragno (Graham Bonnet) on the keyboard.
With "Misery" the album goes straight the way it started - delivering catchy tunes without a break, and Michael Klein and Sang Vong prove to be the perfect guitar duo.
Again on "Adrenaline Rush" all the typical song styles of Wicked Sensation can be found without the band moving away from their typical sound.
The title track "Adrenaline Rush" delivers a real "Metal Firecracker", for which the band was able to sign on Mathias Dieth (ex U.D.O. guitarist) for an outstanding guitar solo.
In addition to their fourth "long player" the band fully relied on their producer Dennis Ward (Unisonic, Pink Cream69) to give "Adrenaline Rush" the necessary pressure and punch. The last song "This Time", an acoustic ballad, closes the curtains.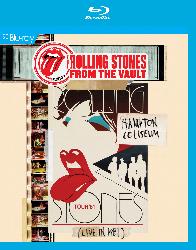 product: The Rolling Stones - From The Vault - Hampton Coliseum 1981
label: Eagle Vision
release date: 31.10.2014
format: DVD, SD Blu-ray & Box Sets
PR territory: Germany & Austra (print & online)
PR contact: Diese E-Mail-Adresse ist vor Spambots geschützt! Zur Anzeige muss JavaScript eingeschaltet sein!
"From The Vault" heißt eine neue Serie mit Live-Konzerten aus den Archiven der Rolling Stones, die jetzt zum ersten Mal offiziell veröffentlicht werden. "Hampton Coliseum – Live In 1981" ist der erste Titel dieser Serie. Die 1981er Amerikatournee der Rolling Stones war mit ihrem damaligen Rekorderlös von 50 Millionen US-Dollar aus reinen Ticketverkäufen die erfolgreichste Tour des Jahres. Die Konzerte fanden im Anschluss an die Veröffentlichung des hochgelobten und kommerziell erfolgreichen Studioalbums "Tattoo You" statt. Die Tour umfasste 50 Shows, beginnend Ende September in Philadelphia bis zu Hampton, Virginia am 18. und 19. Dezember. Die Show am 18. Dezember, also am Geburtstag von Keith Richards, war das allererste als Pay-Per-View-Event ausgestrahlte Musikkonzert der Fernsehgeschichte und umfassteeine Vielzahl an Klassikern wie "Under My Thumb", "Let's Spend The Night Together", "Shattered", "Beast Of Burden", "Tumbling Dice", "Miss You", "Brown Sugar", "Jumping Jack Flash" oder "(I Can't Get No) Satisfaction". Für die erste offizielle Veröffentlichung der Show wurde das Material nun sorgfältig restauriert und der Sound von Bob Clearmountain neu gemischt. "Hampton Coliseum – Live In 1981" wird parallel auch als DVD (EREDV1052), DVD+2CD-Set (EAGDV037) und DVD+3LP-Set (ERDVLP083) veröffentlicht.