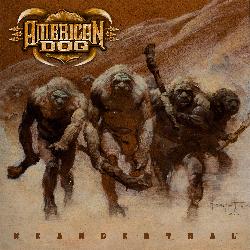 product: American Dog - Neanderthal
label: Bad Reputation
out: 19.07.2014
format: CD
PR territory: Germany & Austria
PR contact: Diese E-Mail-Adresse ist vor Spambots geschützt! Zur Anzeige muss JavaScript eingeschaltet sein!
A BLOW WITH A STAGGERING BLOW !
After 6 albums, Last Of Dying Breed, Red, White, Black and Blue, Scars' N' Bars, Hard, Mean, Poison Smile and three live albums (If You Want Bud, Foamin ' at the mouth, Hard On The Road CD + DVD) plus Six Pack, an EP of 6 titles celebrating the benefactions of the alcohol and the casualness, American Dog returns to us in a primitive way. Just check the cover artwork painted by the late, great fantasy and science fiction artist, Frank Frazetta!!! You rock dogs know Frazetta's work from classic album covers for Molly Hatchet, Nazareth, Yngwie Malmsteen, and Wolfmother! Their rock 'n' roll is raw, furious and primitive. Néanderthalien is there! Steve Theado, his guitarist (the man knocked down by a little charitable motorist who left for dead himon the side of the road with two broken legs, a broken pond and an exploded kidney, it is necessary to remind) it) and Michael Hannon are two specimens which no war of the fire knew how to switch off. And surprise, their clan grew rich of the fourth big dog: the guitarist John Salvatore. What leaves to Steve Theado the care of going to go hunting on unexplored lands. Michael Harris, one of these wandering hyénidés, came to complete the line-up after Keith Pickens escapes from the savanna of Ohio. 4 of the Apocalypse push the bludgeon of the rock with the from now on legendary ' Certified ass-kicking 100 % Rock 'n' roll ' for our biggest happiness. Neanderthal is the powerful work of four dogs fighting for their survival while going to conquer other. Then yes they are ugly, unpolished and held even maybe, but let us not forget that they possess a big cultural wealth (from Alice Cooper to Ted Nugent via(including) Motörhead and Blue Oyster Cult) and a staunch robustness. It has been 14 years since American Dog adapted himself in the middle hostile of the rock and they are still far from the extinction. Especially when it is Doug Goldstein, the ex-manager of Guns'N' Roses (between 1991 and 2008), who put them under his protection.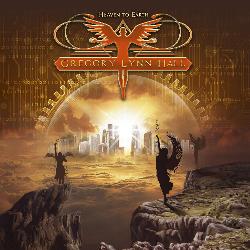 product: Gregory Lynn Hall - Heaven To Earth
label: AOR Heaven
release date: 25.07.2014
format: CD
PR territory: Europe (without UK)
PR contact: Diese E-Mail-Adresse ist vor Spambots geschützt! Zur Anzeige muss JavaScript eingeschaltet sein!
Gregory Lynn Hall, Southern California solo artist and singer for 101 South has had a long history in the music industry, in all areas from studio work to live shows. Gregory started off his music career singing gospel songs on his grandmas piano bench with his 2 other cousins, doing harmonies when he was 3 years old. As an instrumentalist Gregory started playing drums and soon moved on to guitar, then bass and keyboards, producer, etc... --finding his nitch in the late 70s.
Gregory helped polish the band RAT SALLY in the early 80s and pounded the Hollywood scene playing at all the rock venues, from Gazzaris to the Troubadour, The Country Club-playing many gigs with Bands like Poison, Warrant, all the 80s rockers, hanging out with the typical Hollywood Rocker crowd. After the Seattle grunge sound came and changed the whole music scene, Gregory moved to the mid-west where he found many new opportunities in Nashville (the whole mid-west region). He became a well sought after session vocalist, singing on many well known Christian artist's albums including CARMAN and one of the most sought after jingle, commercial vocalists in the mid-west, with many local and national Jingles under his belt.
In the late 90s the artists returned to California and found himself reuniting with RAT SALLY and going in the studio to record a new EP. Following that, a reunion gig at the world famous Pelicans retreated in 1995. Gregory kept busy doing session work for the next few years.
In 1999 while doing a session in Malibu, he met Roger Scott Craig and was asked to do some demos and 101 SOUTH was born. Shortly after the first 101 SOUTH album(2000) was finished Gregory was asked to join the band HEAVEN AND EARTH (Stuart Smith, Richie Onori, Kelly Keeling), as their bass player and toured with them to support the "Windows to the World" album, culminating with an All Star filled show for the orphans of 911 in Hollywood. Gregory has had the honor of performing on stage, and working with;
Keith Emerson(ELP), Gary Richrath (REO), Howard Leese (Heart), Carmine Appice (Vanilla Fudge), Spencer Davis, Steve Priest(Sweet), Craig Goldy (Guiffria, Dio, Budgie), Stuart Smith (Heaven and Earth, Sweet), Richie Onori (Rick Derringer, ELP, Heaven and Earth), Kelly Keeling (Blue Murder, Lynch Mob), Don Cromwell (Eddie Money, Air Supply) and many other world class musicians. Gregory has also had the pleasure of working in some of the best studios in the world, INDIGO RANCH, Malibu ca.-THE CHURCH STUDIO, Tulsa Ok. Gregory has also worked with Eddie Money in the studio and teamed up with Roger Scott Craig to make another 101 SOUTH album in 2002 called ROLL OF THE DICE that made many top 10 lists in Europe. In Oct. 2008 they finished recording their 3rd 101 SOUTH album with a couple world class guest musicians incl. Ian Bairnson (PILOT, Allan Parsons Project) and Chris Thompson (Manfred Mann, Blinded by the light).
Gregory has just finished recording a solo album entitled "Heaven To Earth" which comes along with a little harder edge than 101 South. The album was recorded in Las Vegas at "The Hall Closet Studio" and mastered by Mike Turner at "The Chicken Shack" in Chattsworth, California.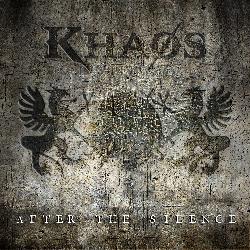 product: KHAØS - After The Silence (single & video)
label: MRRecords
release date: 14.07.2014
format: download
PR territory: world (except UK)
PR contact: Diese E-Mail-Adresse ist vor Spambots geschützt! Zur Anzeige muss JavaScript eingeschaltet sein!
KHAØS is back!
After their critically acclaimed debut EP 'Rising' appeared in late 2012, KHAØS are now ready to release a brand new single entitled 'After The Silence'.
'After The Silence' will be released on July 14th 2014 and is the first single from the forthcoming full-length album 'Risen'. The single will be digitally available worldwide on iTunes, Amazon, Spotify and on all other digital platforms.
Recorded by Rolf Munkes at his Empire Studios in Germany and mastered by music legend and award winner for Adele's '21' Tom Coyne at Sterling Sound in New York; 'After The Silence' is the perfect song to introduce the very first KHAØS full-length album.
"'After The Silence' is the anthemic track that kicks off the album. It's about finding one's self in a war-torn world and bonding together with like-minded people in order to start a peaceful revolution. We face a lot of difficulties throughout our daily lives and in a world where that seems to be the norm, sometimes the only thing we seem to have is ourselves and what we know."
Alongside the single the band is going to release an official videoclip. Directed by the talented Swiss director Can Isik (Beauty of Gemina). The video was shot in a burnt down factory area in Arbon Switzerland and will premiere on Youtube on July 14th.
'Risen' Line-up: Chandler Mogel – vocals, Mark Rossi – guitars, N I c Angileri – bass, Trevor Franklin - drums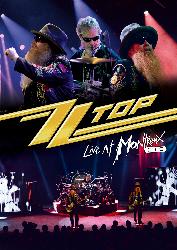 product: ZZ Top - Live At Montreux 2013
label: Eagle Vision/ Edel
out: 18.07.2014
format: DVD & Blu-ray
PR territory: Germany & Austria (printed press only)
PR contact: Diese E-Mail-Adresse ist vor Spambots geschützt! Zur Anzeige muss JavaScript eingeschaltet sein!
In einer seit 1969 unveränderten Originalbesetzung und mit weltweiten Verkäufen von mehr als 50 Millionen Tonträgern beglücken ZZ Top ihre Fans rund um den Globus weiterhin mit brillanten Konzerten und großartiger Musik. Im Laufe ihrer langen Karriere war die Band gleich mehrfach in Montreux zu Gast, allerdings gehört diese Show aus dem Jahr 2013 mit Stücken wie "La Grange", "Gimme All Your Lovin'", "Pincushion", "Sharp Dressed Man", "Waitin' For The Bus", "Legs", "Tube Snake Boogie", "Tush" und vielen weiteren Klassikern zu ihren besten Auftritten beim legendären Festival. Die Setliste mischt Songs aus den frühen Siebzigern von Alben wie "Tres Hombres" und "Fandango" über die Blockbuster der Achtziger mit Werken wie "Eliminator" und "Afterburner" bis hin zu Nummern ihrer aktuellen Scheibe "La Futura" und der damit verbundenen Rückkehr zu ihren Blues-Wurzeln. Im Mittelteil des Konzerts kommt es zu einer Hommage an Claude Nobs, den Gründer des Montreux Festivals, mit Mike Flanigin an der Hammond Orgel und Van Wilks an der Gitarre. ZZ Top, die "lil' ol' band from Texas", rocken den Blues so kraftvoll wie seit eh und je. Das Bonusmaterial umfasst Interviews mit Gitarrist Billy Gibbons und Bassist Dusty Hill. "Live At Montreux 2013" wird parallel auch auf DVD (EREDV1040) veröffentlicht.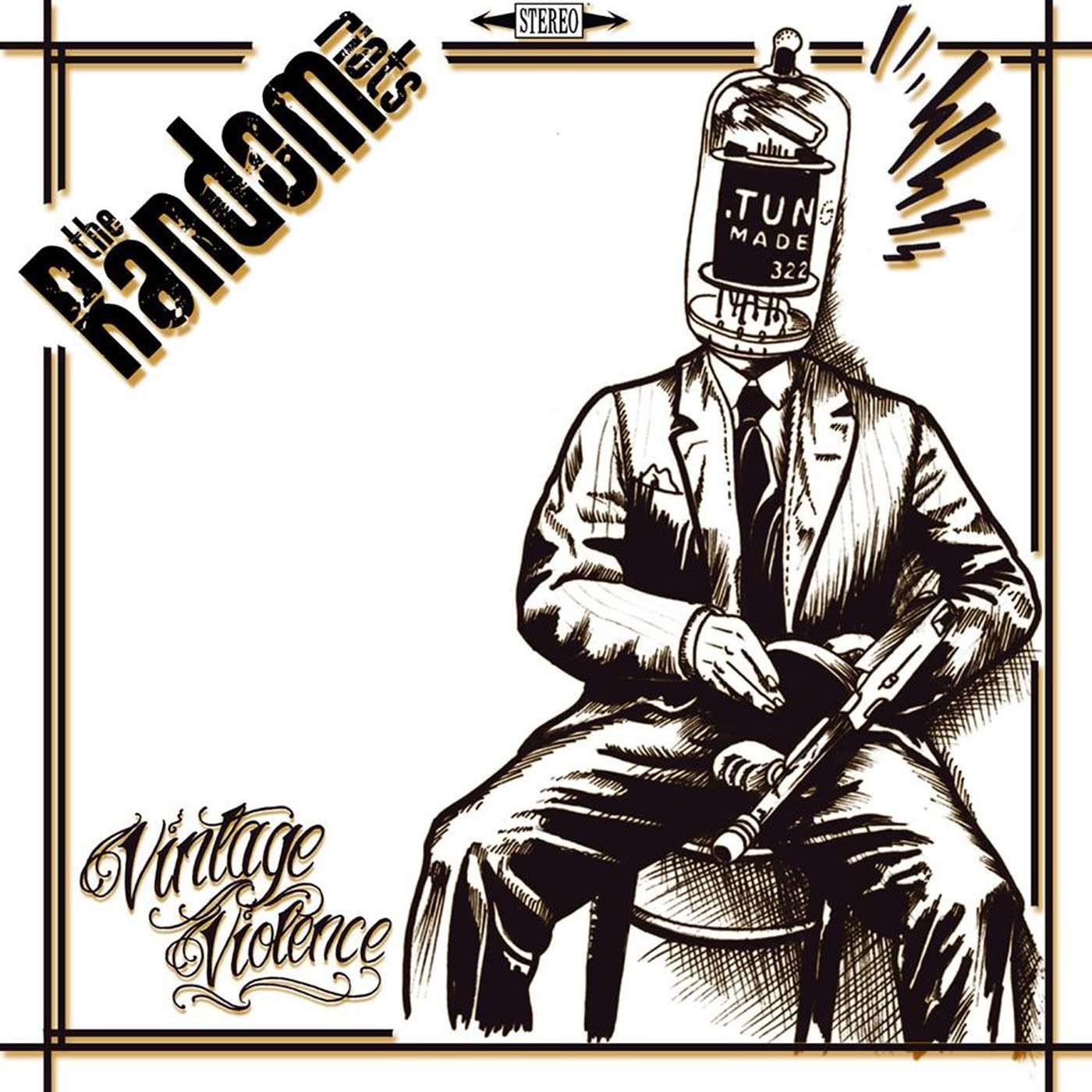 product: The Random Riots - Vintage Violence
label: Bad Reputation
out: 02.06.2014
format: CD
PR territory: Germany & Austria
PR contact: Diese E-Mail-Adresse ist vor Spambots geschützt! Zur Anzeige muss JavaScript eingeschaltet sein!
The band formed in 2004 by Rev. Nick and Mr. G during a somewhat alcohol-inflicted night in Kristanstad, Sweden. Originally the band's name was supposed to be The Homer Explosion, but was quickly changed to The Random Riots when sobriety struck the day after. Their vision is to play old fashioned rock n roll with rhythm in focus, and does a hell of a job doing it.
Its members have great experience in the live scene as they are or have been active in other bands such as On The Job (US and European tour), Portrait (European tour) and Care of Night.
T.R.R. have taken the audience by storm both as a stand-alone act and on joint venues with other bands such as The Scams, Bullet, '77 and Overdrive.
In 2013 they entered the studio in order to record a full length album, which you all can enjoy now thanks to the collaboration with Bad Reputation Records!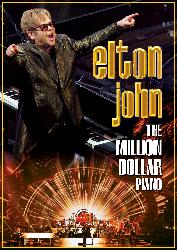 product: Elton John - The Million Dollar Piano
label: Eagle Vision
out: 27.06.2014
format: DVD, Blu-ray
PR territory: Germany & Austria (printed press)
PR contact: Diese E-Mail-Adresse ist vor Spambots geschützt! Zur Anzeige muss JavaScript eingeschaltet sein!
Elton Johns "The Million Dollar Piano" ist eine feste Institution im Colosseum des Caesars Palace in Las Vegas. Die Show läuft bereits seit September 2011 und umfasste in diesem Frühjahr allein 16 Shows zwischen dem 29. März und 26. April 2014. Die Konzerte sind der Höhepunkt einer jahrzehntelangen Zusammenarbeit von Elton John und Yamaha-Pianos. Dieser Film zeigt Klassiker aus Elton Johns gesamter Karriere wie etwa "I'm Still Standing", "Rocket Man", "Philadelphia Freedom", "Your Song", "Goodbye Yellow Brick Road", "Circle Of Life", "Blue Eyes", "Bennie And The Jets", "Don't Let The Sun Go Down On Me", "Crocodile Rock" oder "I Guess That's Why They Call It The Blues", vorgetragen entweder mit seiner Band, mit seinem Percussionisten Ray Cooper oder Solo. Aufsehenerregend ist auch die Multimedia-Bühne mit riesigen Bildschirmen, auf denen die Songs illustriert werden, sowie dem Klavier, das ebenfalls als Projektionsfläche für Graphiken und Animationen dient. Elton John ist der ultimative Showman und dies ist die perfekte Konzerterfahrung. "The Million Dollar Piano" erscheint parallel auch auf DVD (EREDV1037). Das Bonusmaterial umfasst "The Making Of The Million Dollar Piano" – die wunderbare Geschichte hinter den Konzerten sowie als Extra die Songs "Candle In The Wind", "Sacrifice", "Sad Songs (Say So Much)" und "Don't Let The Sun Go Down On Me" aus Kiew im Jahr 2012.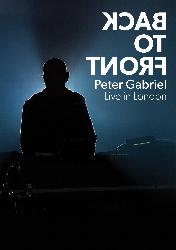 product: PETER GABRIEL - Back To Front
label: Eagle Vision
out: 20.06.2014
format: DVD, Blu-ray, DVD+2-CD, Blu-ray+2-CD
PR territory: Germany & Austria (printed press only)
PR contact: Diese E-Mail-Adresse ist vor Spambots geschützt! Zur Anzeige muss JavaScript eingeschaltet sein!
Dieses spektakuläre Konzert wurde im Londoner O2 mit der neuesten Ultra-High Definition-4K-Technologie aufgezeichnet und zeigt Peter Gabriel bei den Feierlichkeiten zum 25jährigen Jubiläum seinen Meilensteinalbums "So". Um das Ereignis angemessen zu zelebrieren holte Gabriel die originale "So"-Tourband aus dem Jahr 1986/87 wieder zusammen und spielte das mit Multi-Platin ausgezeichnete Werk zum ersten Mal in voller Länge. Der Schwerpunkt der Show lag auf den Songs von "So", hinzu kamen eine Reihe unvollendeter, bislang unveröffentlichter und neu arrangierter Stücke im Stile der klassischen Hits wie "Sledgehammer", "Solsbury Hill", "Don't Give Up", "Shock The Monkey", "Big Time", "Digging In The Dirt", "Mercy Street", "No Self Control", "In Your Eyes" oder "Biko", die unterstreichen, welch vielschichtiger Künstler Peter Gabriel ist. Mit der innovativen Lichtshow und der atemberaubenden Bühnenperformance wird "Back To Front" zu einem visuellen und musikalischen Spektakel, das den Zuschauer in ein in dieser Form noch nie zuvor erlebtes Konzert eintauchen lässt. Das Bonusmaterial gewährt sehenswerte Einblicke in die Entstehung der Show. "Back To Front - Live In London" wird parallel auch als DVD (EREDV1024) sowie als Blu-Ray-Deluxe- (ERBCD5227) beziehungsweise DVD-Deluxe-Package (EREDV1039) inklusive erweitertem Bonusmaterial, einem 60seitigen Hardback-Fotobuch und beigefügter Doppel-CD veröffentlicht.