Dear press & radio,
below you find the key information  about AOR Heaven's upcoming April 25th releases from SUNSTRIKE and ALIEN.
As always, these releases will be promoted digitally via Haulix and we'll be in charge for Europe (except for the UK). Haulix links will be send out early next week.
***
Band: Alien
Album: Eternity
Release date: 25.04.2014
Label: AOR Heaven
PR territory: Europe (except for the UK)
Contact: Diese E-Mail-Adresse ist vor Spambots geschützt! Zur Anzeige muss JavaScript eingeschaltet sein!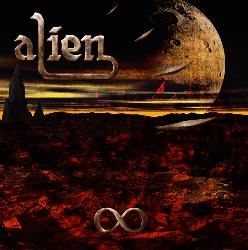 ALIEN, one of Sweden's finest Melodic Rock band have released genre classics such as "Alien" (1988/89) and "Shiftin' Gear" (1990) including chart and platinum hits like "Only One Woman", "Tears Don't Put Out The Fire" and "Brave New Love".
The original line-up was split up in 1989 and when reunited in 2010 a handful of festivals were booked to coincide with the return including performances at Sweden Rock Festival, Getaway Rock and Firefest a.o. The release of the brand new single "Ready To Fly" (Manora Rec) went down great with the fans and especially the response from the crowd at the Firefest. 2011 made the band really consider making this new album.
In 2013, the No Remorse/EMI CD re-issue (ltd 1000 copies) of the debut album "Alien" (s/t Scandinavian) reached no.1 in the Import Album Chart in Japan and was quickly sold out.
To celebrate the 25th anniversary of the debut EMI Music Sweden re-mastered and released the back catalogue digitally including some previously unreleased demos as bonus. To top it off the "Alien - 25th Anniversary" 2CD deluxe limited edition was put out and soon sold out as well.
The re-release of the "Shiftin' Gear" CD (AOR Heaven) including four bonus tracks shed some light on the fact that the original line-up wrote and pre-produced a sophomore album, before disbanding in late 1989.
Recordings of the new album started Aug 1st at Bohus Sound and continued throughout 2013, taking a break only to perform at the Firefest 10th Anniversary show.
ALIEN decided to add a song, "I'm a fighter", written back in the 80's by their L.A. co-writers Pam Barlow and Janet Morrison Minto, as an homage to their co-work on the debut album. The regained contact with Pam and Janet led to them writing lyrics for this album as well.
alientheband.com
facebook.com/alientheband
Line-up: Jim Jidhed – vocals, Tony Borg – guitars, Jimmy Wandroph – keyboards, Ken Sandin – bass, Toby Tarrach - drums
Track list: In Love We Trust; Unbroken; Love Will Lead Me Home; I Believe; Summer Of Love; What Goes Up; I'm A Fighter; Wildheart; Liar, Liar; Look At Us Know; Burning Heart; In Truth
Sound clips in advance:
ALIEN - In Love We Trust (Edit)
---
Band: SunStrike
Album: Rock Your World
Release date: 25.04.2014
Label: AOR Heaven
PR territory: Europe (except for the UK)
Contact: Diese E-Mail-Adresse ist vor Spambots geschützt! Zur Anzeige muss JavaScript eingeschaltet sein!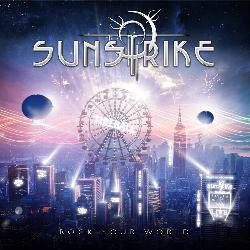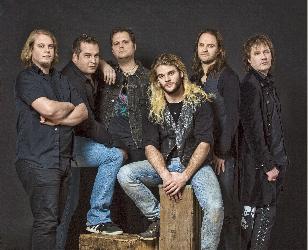 SunStrike: A glare in the road that can temporarily blind drivers. But SunStrike will blind you with catchy melodies and big choruses!
The band was formed by guitarist Joachim Nordlund and the drummer Johan Lindstedt together with singer Christian Hedgren (Twilight Force, The Theander Expression) by the fall of 2012. You also find Joachim and Johan in the Swedish metal act Astral Doors. Right from the start the three guys had a very clear image in how the music should sound like: pure melodic hard rock was on the agenda!
When only a handful of songs were written they felt that the songs needed the touch of a real keyboard player. Up until then Joachim had done the keyboard parts on one or two songs. Christian knew a guy that would be perfect for the job, and after a cup of coffee and a handshake Fredrik Plahn (Prey) joined the force. They all felt that this is far too good to be just a project and after a couple of weeks a second guitar player, Mats Gesar (Thalamus) and bass player Björn Lundqvist (Twilight Force) joined the band that now got the name SunStrike.
Two demo songs were posted on the band's facebook page in the summer of 2013, and immediately the word was out about this new  melodic rock outfit from Sweden. Radio stations started to play those songs and a couple of record companies showed their interest in the band.
The song-writing/recording continued through 2013 in Joachim's Big Turn Studio until they had 12 songs that were strong enough for the album "Rock your World". For the mixing and mastering process SunStrike chose Erik Mårtensson (Eclipse, W.E.T). Cover art and the booklet design was done by no one else but Carl-André Beckston (Monowasp).
Track list: 1. Power of the Dreams, 2. Rock Your World, 3. Fireball, 4. Right Track, 5. Roll The Dice, 6. Rock It Out, 7. Never Let You Go, 8. Higher, 9. Scream And Shout, 10. Into The Light, 11. Edge Of Life, 12. Heat Of The Night
www.facebook.com/sunstrikeband
Sound clips in advance:
SUNSTRIKE - Power Of The Dreams (Edit)
SUNSTRIKE - Rock Your World (Edit)
Liebe Medienpartner,
QUEEN-Gitarrist BRIAN MAY gehört zweifelsohne zu den einflussreichsten Gitarristen seiner Generation. Gemeinsam mit Sängerin KERRY ELLIS veröffentlicht er nun über Eagle Vision/Edel am 28.03.2014 die DVD+CD bzw. Blu-ray+CD "The Candlelight Concerts – Live At Montreux 2013".
Wir sind für die PR (Print) in Deutschland und Österreich zuständig und nehmen Vorbestellungen für Muster gerne entgegen. Bemusterungsstart ist leider voraussichtlich erst Mitte/Ende nächster Woche.
BRIAN MAY & KERRY ELLIS
THE CANDLELIGHT CONCERTS – LIVE AT MONTREUX 2013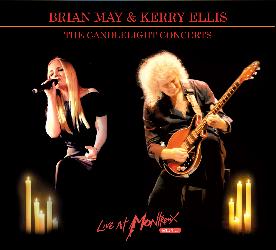 Queen-Legende Brian May und West Ends First Lady Kerry Ellis gemeinsam für "The Candlelight Concerts" auf der Bühne: Gefilmt im renommierten Stravinski Auditorium während des Montreux Jazz Festivals im Juli 2013, verbindet diese wunderbar intime Show Kerry Ellis` tolle Stimme mit dem einzigartigen Gitarrenspiel von Brian May. Das Repertoire umfasst überwiegend Unplugged-Nummern mit Klassikern, Balladen, Queen-Songs und Coverversionen. Zum Lieferumfang gehört auch die CD "Acoustic By Candlelight", die im Herbst 2012 auf dem englischen Abschnitt der Tournee aufgezeichnet wurde. Das Bonusmaterial umfasst eine Performance von "Nothing Really Has Changed" mit Virginia McKenna. "The Candlelight Concerts – Live At Montreux 2013" wird parallel auch als DVD+CD-Set (EAGDV030) veröffentlicht.
TRACKS:
DVD: 1) I Who Have Nothing   2) Dust In The Wind   3) Born Free   4) Somebody To Love   5) Nothing Really Has Changed   6) Life Is Real   7) The Way We Were   8) '39   9) Something   10) Last Horizon   11) Love Of My Life   12) The Kissing Me Song   13) Tie Your Mother Down   14) We Will Rock You   15) No One But You   16) Crazy Little Thing Called Love
CD: 1) Born Free   2) I Loved A Butterfly   3) I Who Have Nothing   4) Dust In The Wind   5) The Kissing Me Song   6) Nothing Really Has Changed   7) Life Is Real   8) The Way We Were   9) Something   10) Love Of My Life   11) I'm Not That Girl   12) I Can't Be Your Friend   13) In The Bleak Midwinter   14) Crazy Little Thing Called Love   15) No One But You (Only The Good Die Young)
VÖ: 28. März 2014
Künstler: Brian May & Kerry Ellis
Label/Vertrieb: Eagle Vision/Edel
Titel: The Candlelight Concerts – Live At Montreux 2013
Format: Musik Blu-Ray+CD-Set
Katalognummer: ERBCD5217 (DVD+CD-Set: EAGDV030)
Bildformat: 16:9
Sound-Formate: DTS-HD Master Audio, LPCM Stereo
Spielzeit: ca. 92 Minuten
Untertitel: keine
Today is the release date of our management band EZ LIVIN's new album "Firestorm" via LZ Records/Sony.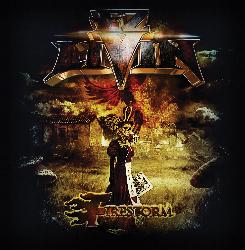 Guitarist Hans Ziller (Bonfire) is still available for interviews – please send us your requests!
Here come some excerpts of what the press says about "Firestorm":
"Bandchef Hans Ziller knüpft problemlos an die gute, alte Zeit an! (Rock Hard, Germany)
"'Firestorm' remains an album full of killer hooks, great melodies, catchy guitars and outstanding vocal performances." (Fireworks Mag, UK)
"Classic Rock par excellence with a bit of a modern touch that will suit every Classic Rock fan!" (ffm-rock.de/Germany)
"This is a mega packed musician frenzy, veteran guys showing their worth with tremendous skills… Highly recommended." (metal-temple.com/ Israel)
"EZ Livin' prove that classic hard rock will never." (eternal-terror.com/ Norway)
"This album has so much soul and passion it set me on fire…. man, this album is sex!" (Battle Helm, Sweden)
"EZ LIVIN'  are ready to rock the European stages again in April 2014! They'd certainly be a band I'd be looking to put into the diary…" (The Rockpit, Australia)
https://www.facebook.com/EZ.Livin.Official
Ready for take-off!
Our management band MOTHER ROAD's debut album "Drive" will hit the stores in the last week of May!

The track list for "Drive" looks as follows: 1. The Sun Will Shine Again 2. Feather In Your Hat, 3. Drive Me Crazy, 4. Out Of My Mind, 5. These Shoes, 6. Dangerous Highway, 7. Poor Boy (Long Way Out)
8. Dirty Little Secret, 9. Blue Eyes, 10. Still Rainin, 11.On My Way

Stay tuned for more news at this space as soon as available!

Line-up: Keith Slack (vocals), Chris Lyne (guitars), Athanasios Zacky Tsoukas (drums), Frank Binke (bass) and Alessandro Del Vecchio (hammond & piano)

www.motherroad-band.com
Dear media partners,
below you find a Youtube link to Swedish rocker's SKINTRADE's latest video clip for the track "Monster" which was taken from their new album "Refueled" (out now via AOR Heaven).
Please share and spread the link around: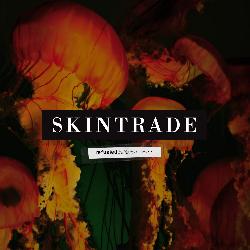 We still have got Haulix PR downloads for radio & press available (Europe, except the UK) of this record which was released on Friday last week!