Italian Rock band PAVIC are supporting their new album "Is War The Answer!?" (Out: January 24th, 2014 on Anteo Records/NVM) with a second video for the title track of this coming album. The clip can be found on Youtube under this URL:
http://www.youtube.com/watch?v=oNk7tHPnsDk
We are still taking requests from press & radio for this release!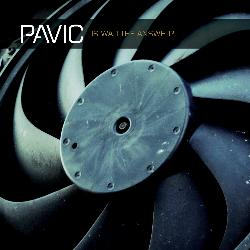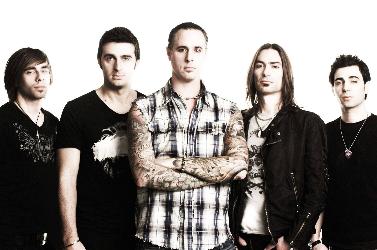 Here comes a short information from the band about this video:
"Every good change starts from a question and for what we think, war is never the right answer. There's no winner when someone dies. Nothing of good comes from destruction and suffering. This song is trying to be something like a wake-up call, a food for thought about the fact that violence is never a valid answer to our problems. Maybe we all should find a new way of thinking. Don't you all think that it would be great to change, to grow, to evolve in something better, something new? A brave new world where we could live unscared or even better, unscarred?
We found a perfect location to shoot this video in a wonderful park near Rome, in Anguillara Sabazia (a few steps away from Bracciano's lake).
The idea was to have two opposite factions ready to fight each other but we had some problems with the organization of the shooting. Just the day before, we still were without any army to use and that was a BIG problem. Thanks god at the last moment we found the contact of the Chimera Softair Team and let me tell ya, if you see them you will never realize that they aren't a real army. They are stunning and amazingly realistic. So with all the trouble solved, we were finally ready to start.
The shooting took a couple of days and we all really had good moments together. We spent a long time with Chimera's Army and we had a lot of funny moments with them especially because they were doing a music video for the first time. Was funny to see them staring at us during our playback, like if we were strange creatures coming from another world :) But we suppose it's normal when you haven't seen something like that before. They were really great people and fundamental to helping us doing a good job. Now we really can't wait to share this video to the world and we really hope you'll like it."
www.pavictheband.com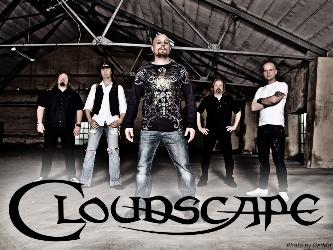 Following on from the fantastic reception of their latest album "New Era", released on Dead End Exit Records (A division of RoastingHouse), CLOUDSCAPE hits the road to promote themselves and their forthcoming fifth studio album.
Since the formation, CLOUDSCAPE have gone on to play at renowned festivals such as ProgPower Europe, Sweden Rock Festival , ProgPower UK, and Bloodstock Open Air.
The release of CLOUDSCAPE´S forthcoming album is planned to May/June 2014, and during the tour, the fans will also be able to lay their hands on a limited tour album!
Tourdates:
22.02. Sweden, Helsingborg, The Tivoli
23.02. Denmark, Copenhagen, Amager Bio
25.02. Belgium, Verviers, Spirit of 66
27.02. Spain, Barcelona, Sala Bikini
28.02. Spain, Madrid, Sala Lemon
01.03. Spain, San Sebastian, C.C. Intxaurrondo
02.03. Spain, Zaragoza, Sala Lopez
04.03. Germany, Bremen, Meisenfrei Blues Club
05.03. UK, London, The Underworld
06.03. UK, Sheffield, Corporation
07.03. Netherlands, Uden, De Pule
08.03. Germany, Burgrieden, Riffelhof
09.03. Switzerland, Uster, Star Club
11.03. Italy, Brescia, Circolo Colony
12.03. Slovakia, Bratislava, Club Randal
13.03. Hungary, Budapest, A38
Cloudscape Line-Up: Mike Andersson : Lead vocals, Patrik Svard : Guitars, Stefan Rosqvist : Guitars,  Hakan Nyander : Bass, Fredrik Joakimsson : Drums
Cloudscape Discography: Cloudscape (2004), Crimson Skies (2006), Global Drama (2008), New Era (2012)
Cloudscape links:
www.cloudscape.se
www.facebook.com/cloudscapesweden
Label:
www.deadendexit.com
www.facebook.com/deadendexit
www.youtube.com/DeadEndExitRecords
Dear press & radio,
please find below the official trailer for the new EZ LIVIN' album "Firestorm" which will be released on LZ Records/ Sony on February 28th, 2014:
Please share & spread the link!
Founded in 1991, EZ LIVIN' in the same year have sold 20.000 copies of their debut album "After The Fire" in Europe alone. After the release of the record, the band successfully went on the road as part of the Metal Hammer Roadshow together with Axel Rudi Pell, Casanova, Coracko and Domain.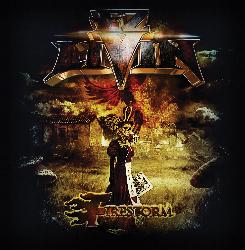 Now, in the year 2013, Hans Ziller has called some new colleagues to get the group going again. The guitarist added some familiar names to the line-up: Harry Reischmann, who's known as  drummer of Ziller's other band BONFIRE, Ronnie Parkes (Tango Down and Seven Witches) on bass guitar, Paul Morris (Rainbow) on keyboards, piano & organ and none other than the aforementioned former ACCEPT front man David Reece (Bangalore Choir) are completing this band which is playing melodic Hard Rock with a bluesy touch. Chris Lyne (Mother Road and ex Soul Doctor) appears as guest on guitars.
Dear press & radio,
below you find the key information about ROCKVILLE MUSIC's upcoming March 14th release from PAVLOV'S DOG: "Has Anyone Here Seen Sigfried") (digi pack re-issue, re-mastered from the original master tapes plus 9 previously unreleased bonus tracks).
The mailout of the CD's will start tomorrow. We have limited quantities of promo copies available of this release. Please contact us if interested!
Release: Pavlov's Dog – Has Anyone Here Seen Sigfried +9
Release Date: March 14th, 2013
Label: Rockville Music
Distributor: Soulfood Music
Style: Rock
PR in Europe: Diese E-Mail-Adresse ist vor Spambots geschützt! Zur Anzeige muss JavaScript eingeschaltet sein!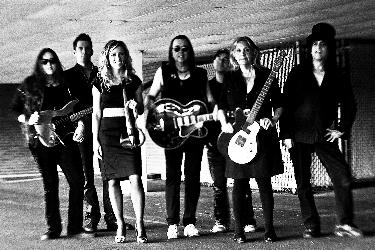 It's been only three years since 1974, when Pavlov's Dog were celebrated the highest signed newcomerband ever since, ready and being expected to climb the peak of rockmusic. Classics such as Julia and Song Dance, plus David Surkamp's incredible vocal performance branded their iconic release Pampered Menial in 1975. But the band started to fall apart already when they recorded their 2nd album At The Sound Of The Bell. Violin player Sigfried Carver had already left (that's where the title "Has Anyone Here Seen Sigfried?" comes from). 1977, during the recording sessions of Has Anyone Here Seen Sigfried, the band finally split.
Frustrated and burned out David Surkamp and Douglas Rayburn took the unready tapes to New York and finished the work with contributions of Elliot Randall and Jeff Baxter of Steely Dan. Columbia Records anyway refused the release. The musicians received a cassette copy in 3rd class sound quality. Since then the original mastertapes were believed to be lost.
In the 80ies one of the musicians manufactured a short run of vinyl copies - made of his cassette copy - and "released" it under the banner of "St. Louis Hounds" (he was scared to use the name "Pavlov's Dog"). From this vinyl some dubious "labels" manufactured CD bootlegs (titled "St. Louis Hounds", "Third" or "Great Lost Third", a.o.). So enforcedly the 2004 reformed Pavlov's Dog authorized the first legal release to Rockville Music in 2007, titled "Has Anyone Here Seen Sigfried?". Unfortunately still in poor sound quality, but with 10 bonus tracks added. This could have been the end of the story, if …
… in 2013 the original mastertapes weren't rediscovered! After restauration the sound quality turned out excellent. The difference to what's been out before is just phenomenal (once again: Anything out before was made from copies of copies of anyway bad sounding cassette tapes). So finally, after 36 years, fans can listen to the album as its been recorded & produced in 1977!
Together with the mastertapes, the artwork supposed to be the artwork of the original release, was as well rediscovered. Additionally, this release comes with 9 new & previously unreleased bonus tracks: Stop Short was originally recorded but not included on the "St Louis Hounds" vinyl. Plus 6 live tracks recorded 2011/2012 (incl. the never before released Paris), plus an acoustic version of Julia (2007), plus an alternative mix of Falling In Love as well found on the mastertapes.
Last not least: The booklet tells the true story of this album, written by David Surkamp.
Track list: 01 Good Bye Trafalgar, 02 Falling In Love, 03 Only You, 04 Painted Ladies, 05 I Love You Still, 06 Jenny, 07 Today, 08 Stop Short * (original outtake), 09 It's All For You, 10 Suicide, 11 While You Were Out, 12 Falling In Love * (alternative mix), 13 Julia * (David Surkamp acoustic version 2007), 14 She Came Shining * (live 2012), 15 Fast Gun * (live 2011), 16 She Breaks Like A Morning Sky * (live 2011), 17 Paris * (live 2011), 18 Good Bye Trafalgar * (live 2012), 19 Only You * (live 2012)
Dear press & radio,
Swedish Hard Rock band SKINTRADE are back with their brand new studio album "Refueled" which will be released on February 28th, 2014 via AOR Heaven.
The PR for this release will start early next week and be handled digitally via Haulix. Mike Exley @ ME PR will be in charge for the PR in the UK and we will take care of the rest of Europe.
Please send us your requests!
---
Product: Skintrade – Refueled
Label: AOR Heaven
Release Date: February 28th, 2014
PR (Europe, without UK): Diese E-Mail-Adresse ist vor Spambots geschützt! Zur Anzeige muss JavaScript eingeschaltet sein!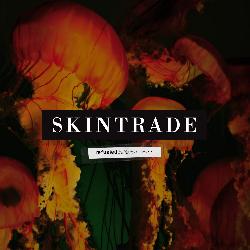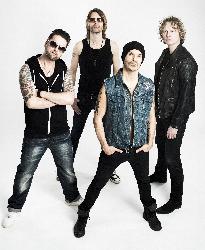 During the 1990's Skintrade enjoyed huge sucess in Sweden and abroad, particularly in Scandinavia, Holland, Germany and Belgium. During this period the band toured extensively in Europe and played some of Europe's biggest festivals such as Dynamo Open Air (Holland) and MTV's Rock Am Ring (Germany) to name a few. Skintrade also toured around Europe supporting bands as Motorhead, Danish rockers DAD and the Irish band Therapy?.
The debut album "Skintrade" released in 1993, recieved an overwhelmingly positive response by the press and the public. The singles "Sick As A Dog" and "One by One" got frequent airplay, and the videos aired on heavy rotation on MTV's Headbangers Ball. The band also received the Zeppelin-Award for best Rock act and a nomination for best video at the Swedish Grammy awards. The follow-up "Roachpowder", produced by Thomas Skogsberg (Entombed, Hellacopters etc), was released in 1995. This collaboration allowed the band to explore a darker, heavier side. Again, the videos for the songs "Snap goes your mind" as well as "Flies", were repeatedly aired on MTV.
Now, the Swedish hard rockers Skintrade are back with their third studio album "Refueled" set to be released on February 28th, 2014. The first single "Monster" will be released in January in advance. This is the band's first full-length studio album since "Roach Powder" released in 1995 and the best of album "Past and Present" in 2012 which included three new songs.
"We have been working very hard writing songs and recording for over a year and half. We're really proud of the new album and we definitely feel that this is our best effort so far. We can't wait to get out on the road again and meet our old friends and to make new ones", says lead singer Matti Alfonzetti.
Swedish Producer/Engineer Oscar Ammer (Social Pretender, The Moving, Human Desolation) was chosen to co-produce and mix the album. The album was recorded in Skintrade's studio and mixed in Oscar Ammer's studio Echobox Audio Production.
"Refueled" packs 12 stunningly powerful songs that will place Skintrade in an undisputed position as a Hard Rock/Metal band to be reckoned with.
Line-up: Matti Alfonzetti - vocals, guitars; Stefan Bergström - guitars, backing vocal;  Håkan Calmroth – bass, Håkan Måsen Persson - drums, backing vocal
Tracklist: 1. Monster, 2. Liar, 3. Pay In Blood, 4. Hardcore MF Heartattack, 5. Close My Eyes, 6. Getting Away With Murder, 7. Mountain, 8. Been To The Bottom, 9. Worse Than Wasted, 10. Dying In Your Arms, 11. Wild One, 12. Look Me In The Eye
Sound clips in advance:
SKINTRADE - Dying In Your Arms (Edit)