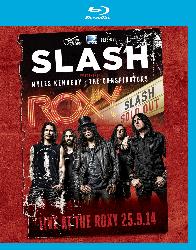 product: Slash feat. Myles Kennedy & The Conspirators - Live At The Roxy
label: Eagle Vision
release date: 12.06.2015
formats: 2-CD, DVD, BD & Vinyl
PR territory: Germany & Austria (print & online)
PR contact: Diese E-Mail-Adresse ist vor Spambots geschützt! Zur Anzeige muss JavaScript eingeschaltet sein!
Am 25. September 2014, unmittelbar nach der Veröffentlichung seines Albums "World On Fire", enterte Slash zusammen mit Myles Kennedy & The Conspirators die Bühne des legendären Roxy Theatre am Sunset Strip in West Hollywood. Das sagenumwobene Theater, ein wahres Monument der Rockgeschichte, bot den Fans eine großartige Gelegenheit, die Band aus nächster Nähe dabei zu beobachten, wie sie ein Set mit packenden Solotracks – darunter einige der neuen Scheibe – mit Klassikern aus Slashs früherer Karriere mit Guns N`Roses und Velvet Revolver kombinierte, unter anderem "Ghost", "Back From Cali", "World On Fire", "Sweet Child O' Mine", "Anastasia", "Paradise City", "Slither" oder "Nightrain". Die intime Atmosphäre des Roxy Theatre inspirierte die Band zu einer atemberaubenden und dynamischen Performance, die auf dieser Blu-Ray in brillanter Weise festgehalten wurde. Das Bonusmaterial umfasst zusätzlich vier Tracks: "Stone Blind", "You're Crazy", "Wicked Stone" und "30 Years To Life". "Live At The Roxy 25.9.14" erscheint parallel auch auf DVD (EREDV1145), Doppel-CD (ADMCD576) und als 3-LP-Set (ARMLP577).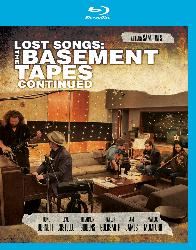 product: VA - Lost Songs - The Basement Tapes Continued
release date: 22.05.2015
label: Eagle Vision
format: DVD & Blu-ray
PR territory: Germany & Austria (print & online)
PR contact: Diese E-Mail-Adresse ist vor Spambots geschützt! Zur Anzeige muss JavaScript eingeschaltet sein!
"Lost Songs – The Basement Tapes Continued" ist ein Film von Regisseur Sam Jones, der sich auf die Veröffentlichung des Albums "Lost On The River" vom November 2014 bezieht. Das Projekt konzentriert sich auf 16 Texte von Bob Dylan, die er während der legendären Sessions zu "The Basement Tapes" geschrieben hatte und die erst kürzlich wiederentdeckt wurden. Unter der Schirmherrschaft des Produzenten T Bone Burnett und mit Bob Dylans Zustimmung wurde ein außergewöhnliches Kollektiv von Musikern zusammengestellt, um diese Texte in Musik umzuwandeln: Elvis Costello, Rhiannon Giddens, Taylor Goldsmith, Jim James und Marcus Mumford. Der Film gewährt einen exklusiven, sehr persönlichen Blick hinter die Kulissen der Produktion von "Lost On The River" und dokumentiert die Bedeutung der originalen "The Basement Tapes" sowie den geschichtlich-kulturellen Hintergrund von Bob Dylan und The Band. Das Bonusmaterial umfasst sechs weitere Stücke: "Diamond Ring", "Down On The Bottom", "Hidee Hidee Ho #16", "Kansas City", "Six Months In Kansas City (Liberty Street)" und "The Whistle Is Blowing". "Lost Songs – The Basement Tapes Continued" wird parallel auch auf DVD (EREDV1181) veröffentlicht.
product: Myon - Vitalworks
release date: 15.06.2015
label: Soundmix
format: CD
PR territory: Europe
PR contact: Diese E-Mail-Adresse ist vor Spambots geschützt! Zur Anzeige muss JavaScript eingeschaltet sein!
Since the first album Heavens Garden came out in 1998 Myon has continued musical evolution on every album by combining different music styles. They have also grown a loyal fan base among the rock spirited audience around the world. Myon has been continuing to challenge their audience with most intriguing musical journey. In the beginning the band was presenting progressive flavoured melodic rock, but nowadays the music has developed into unique mix of styles without losing the basic elements of contemporary rock. It works great, and to prove that Myon has performed for all kinds of audiences from small clubs to big stadions where 30 000 people witnessed the power of music.
In spite of the constant problems from labels and lack of promoting effort the band has managed to keep their loyal fan base growing through the years by making more interesting music and staying loyal to what they present.
Now Myon is back once again after seven long years working in the studio with an excellent album.
For example bands unique ability to recreate themselves and to combine new musical influences in their music is something unheard in the world of rock. The opening track "Otra Vez" is based on original tango from river plate combined with contemporary rock. As song's innovative use of Spanish chorus shows, Myon is taking rock in totally new direction with "Otra Vez".
Vitalworks contains 14 totally new songs and variety of styles makes the listening experience extremely interesting from the first seconds till the end, still managing to sound like Myon all the time. Good examples showing the variety of the album are furious "Call Of The Senses" that punches like the hammer from the power metal hell continuing with the odd time signatures displayed in "When It Could Begin" and ethereal atmosphere found in the ballad "In The Arms Of Eternity", without forgetting clever melodies everywhere. The closing track of the album "Silent Goodbye" echoes some resemblance to Pink Floyd's Dark side of the moon era.
Vitalworks is also an excellent example of almost lost art of recording and mixing quality, and it takes the listener to never before experienced sonic journey.
Vitalworks has been recorded, mixed and mastered at legendary Soundmix Studios in Oulu Finland by keyboardist Mika Pohjola. He also produced Myon's 2007's critically acclaimed album "Frameworks".
Vitalworks will be released digitally worldwide 15.06.2015, get your copy from your digital music store.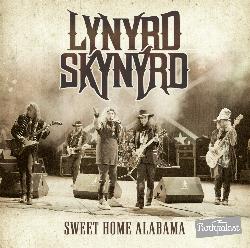 product: Lynyrd Skynyrd - Sweet Home Alabama
label: Eagle Vision
release date: 29.05.2015
format: DVD + CD
PR territory: Germany & Austria (print & online)
PR contact: Diese E-Mail-Adresse ist vor Spambots geschützt! Zur Anzeige muss JavaScript eingeschaltet sein!
Lynyrd Skynyrd are the ultimate Southern Rock band. Their signature three guitar attack coupled to superb songwriting and massive on stage charisma has rightfully earned them a reputation as one of the greatest live bands of all time. The original band infamously had their career cut short by a disastrous plane crash in 1977 which took the lives of three members plus two of their road crew and seriously injured several others. In 1987 the surviving members reformed the band with Johnny Van Zant taking the place of his brother Ronnie. This concert from 1996 captures the band on top form at Rockpalast's Loreley Festival on 23 June 1996.
product: Jeff Beck - Performing This Week...
label: Eagle Records
release date: 29.05.2015
format: CD & LP
PR territory: Germany & Austria (print & online)
Jeff Beck is true rock legend. From his time with the Yardbirds in the sixties, through the Jeff Beck Group and throughout his solo career his unique guitar style and constant desire to explore new musical areas and sounds has won him the admiration of his peers and the adoration of legions of fans. In 2007 Jeff Beck performed a series of concerts at the renowned Ronnie Scott's club in London. They became the must have ticket of the year with a packed audience every night of the famous and the fans. The CD and DVD releases of these shows have become the definitive Jeff Beck live recordings. Now for the first time on CD all the live tracks are available including those with special guests plus the Big Town Playboys set which has previously only been on the Blu-ray release.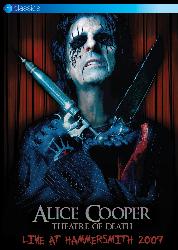 product: Alice Cooper - Theatre Of Death
label: Eagle Vision
release date: 15.05.2015
format: DVD
PR territory: Germany & Austria
PR contact: Diese E-Mail-Adresse ist vor Spambots geschützt! Zur Anzeige muss JavaScript eingeschaltet sein!
Alice Cooper is a true rock legend. His unique brand of "shock rock" broke entirely new ground in the early seventies with its overtly theatrical approach to rock music powered by great songs and Alice's personal charisma. Alice Cooper has remained at the forefront of music ever since, prepared to try new ideas but always instantly recognizable. His live shows are renowned for their staging with guillotines, strait jackets, dolls, swords, pyrotechnics and many other props and effects making frequent appearances. This show was filmed at London's Hammersmith Apollo in December 2009 on the acclaimed "Theatre Of Death" tour. It features all of Alice Cooper's hits and classic albums tracks performed as only he can.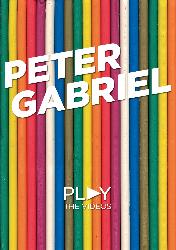 product: Peter Gabriel - Play
label: Eagle Vision
release date: 15.05.2015
format: DVD
PR territory: Germany & Austria (print & online)
PR contact: Diese E-Mail-Adresse ist vor Spambots geschützt! Zur Anzeige muss JavaScript eingeschaltet sein!
Peter Gabriel ist allseits bekannt für seine innovativen, sehr unterhaltsamen und kreativen Musikvideos. Über die Jahre hinweg war er immer ganz weit vorne mit dabei, wenn es darum ging, seine Musik mit den neuesten technischen Möglichkeiten umzusetzen um so viele atemberaubende Videos zu kreieren. "Play" ist eine Zusammenstellung dieser Musikvideos und wurde im Jahr 2004 erstmals veröffentlicht und erscheint nun mit neuem Preis neu. Alle Videos sind im 5.1 Mix. Die DVD kann als Best-Of-Clip-Compilation gesehen werden mit Songs wie "Sledgehammer", "Games Without Frontiers", "Biko", "Shock The Monkey", "Don't Give Up", "Solsbury Hill", "In Your Eyes", "Mercy Street" u.v.m.
Bonus Features:
Optional video introductions / Live performance of "Games Without Frontiers" from 2004 / Original promo videos for: (1) "Modern Love" (1977) (2) "The Nest That Sailed The Sky" (2000) / Trailers for "A Family Portrait", "Growing Up Live" and "Secret World Live".