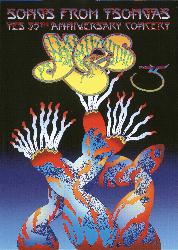 product: Yes - Songs From Tsongas/ 35th Anniversary Concert
label: Eagle Vision
release date: 19.08.2014
formats: CD, DVD, BD
PR territory: Germany & Austria (print & online)
PR contact: Diese E-Mail-Adresse ist vor Spambots geschützt! Zur Anzeige muss JavaScript eingeschaltet sein!
Diese Special-Edition von "Songs From Tsongas" präsentiert zwei unterschiedliche Konzerte von Yes' 35jähriger Jubiläumstour 2004, der letzten Konzertreise der Band in der klassischen Besetzung mit Jon Anderson, Steve Howe, Chris Squire, Rick Wakeman und Alan White. Teil 1 umfasst das gesamte Konzert aus der Tsongas Arena in Lowell, Massachusetts. Diese grandiose Show zeigt ein brandneues Bühnenbild des legendären Designers und Yes-Partners Roger Dean sowie eine Setliste mit Stücken aus der gesamten Karriere dieser fabelhaften Band wie "Going For The One", "Roundabout", "Owner Of A Lonely Heart", "And You And I", "Starship Trooper", "Wonderous Stories", "I've Seen All Good People", "Yours Is No Disgrace", "Ritual" oder "Turn Of The Century", inklusive einer Akustik-Session (Songs 11 – 18) und einigen nur selten auf der Bühne gespielten Stücken. Teil 2 umfasst 70 Minuten voller Höhepunkte einer völlig anderen Show der gleichen Tour, aufgenommen beim Estival in Lugano, Schweiz. Dieses Open-Air-Konzert zeigt eine abgespeckte Bühne und komplette Rockversionen der Akustiktracks von Tsongas, während sich das Publikum mit zahllosen Regenschirmen vor dem strömenden Regen schützen musste, was der großartigen Stimmung jedoch keinen Abbruch tat. Das Bonusmaterial umfasst ein Interview mit Roger Dean sowie den Song "Ritual" aus der Tsongas Arena. "Songs From Tsongas – The 35th Anniversary Concert – Special Edition" wird parallel auch auf DVD (EREDV1026) veröffentlicht.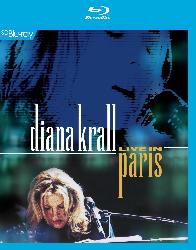 product: Diana Krall - Live In Paris
label: Eagle Vision
release date: 12.09.2014
format: SD-Blu-ray
PR territory: Germany & Austria (print & online)
PR contact: Diese E-Mail-Adresse ist vor Spambots geschützt! Zur Anzeige muss JavaScript eingeschaltet sein!
"Live In Paris," filmed at the Olympia in Paris in late 2001, was Diana Krall's first concert film and was released on DVD in 2002. The concert features tracks from her first four albums including many that have remained firm concert favourites to this day. It was an instant hit and went on to be certified gold, platinum and multi-platinum in many countries around the world. Now for the first time the original standard definition footage is being reissued on Blu-ray disc to benefit from the best available picture and sound quality.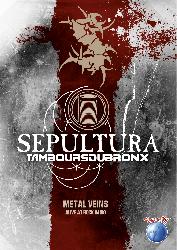 product: Sepultura - Metal Veins - Rock In Rio
label: Eagle Vision
release date: 12.09.2014
formats: CD, DVD & Blu-ray
PR territory: Germany & Austria (print & online)
PR contact: Diese E-Mail-Adresse ist vor Spambots geschützt! Zur Anzeige muss JavaScript eingeschaltet sein!
Sepultura sind eine der weltweit erfolg- und einflussreichsten brasilianischen Bands aller Zeiten mit Verkäufen von über 30 Millionen Tonträgern. Diese Show wurde am 19. September 2013 beim legendären Rock In Rio Festival in ihrer Heimat Brasilien aufgezeichnet. Ein spektakulärer Auftritt, den Sepultura gemeinsam mit der französischen Industrial-Percussion-Gruppe Les Tambours Du Bronx absolvierte. Die schier unglaubliche Lautstärke ihres Sounds und die kraftstrotzende Performance der Songs macht dieses Konzert zu einem einzigartigen und in dieser Form nie zuvor gehörten Sepultura-Ereignis. "Metal Veins – Alive At Rock In Rio" wird parallel auch auf DVD (EREDV1045) und CD (ARMCD563) veröffentlicht.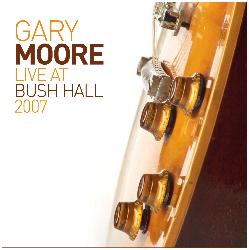 product: Gary Moore - Live At Bush Hall 2007
label: Eagle Rock
release date: 19.09.2014
format: CD
PR territory: Germany & Austria (print & online)

PR contact: Diese E-Mail-Adresse ist vor Spambots geschützt! Zur Anzeige muss JavaScript eingeschaltet sein!
Der verstorbene Gary Moore war einer der besten und meistrespektierten Gitarristen seiner Generation. Diese Show wurde am 17. Mai 2007 in Londons Bush Hall aufgenommen und ursprünglich über Planet Rock Radio ausgestrahlt. Jetzt sind diese Aufnahmen erstmals außerhalb des Radioformats erhältlich. Das Konzert umfasst neben Klassikern seiner langen Karriere wie "Don't Believe A Word", "Walking By Myself" oder "Still Got The Blues" auch eine Reihe von Songs seines damals gerade veröffentlichten Albums "Close As You Get", viele davon hat Gary Moore anschließend nur noch sehr selten gespielt. Gary Moore war ein exzellenter Musiker, diese CD ist eine willkommene Bereicherung jeder Fankollektion.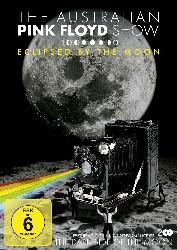 product: The Australian Pink Floyd Show - Eclipsed By The Moon
label: Black Hill Pictures
release: 22.08.2014
formats: CD, LP, 2-DVD & 2-BD
PR territory: Germany & Austria, print & online
PR contact: Diese E-Mail-Adresse ist vor Spambots geschützt! Zur Anzeige muss JavaScript eingeschaltet sein!
Am 12. + 13. April 2013 wurde die sensationelle Live-Show "THE AUSTRALIAN PINK FLOYD – Eclipsed by the Moon" teilweise in der Trier Arena aufgenommen – vor ausverkauftem Publikum. Die Band, die sich 1988 in Adelaide, Süd-Australien gründete, entwickelte sich in den letzten Jahren zu DER Pink Floyd-Coverband schlechthin. Die Formation, die durch einen Aushang von Lee Smith ihren Anfang nahm, setze es sich zum Ziel die geliebten Songtexte von PINK FLOYD so originalgetreu wie möglich nachzuspielen. Der weltweite Durchbruch gelang ihnen 1993 bei einer Pink-Floyd-Fan-Convention in Wembley. Auch wenn die Australier mit häufigem Mitgliederwechsel zu kämpfen hatten, feierten sie im Jahr 2008 ihr 20. Jubiläum. Die Show ging weiter, und die Gruppe tut das, was sie liebt. Es geht ihnen immer noch um die Musik – Pink Floyd - und darum, die absolut beste Performance, immer, in jeder Nacht, zu liefern. Bislang über 3 Millionen verkaufte Tickets für Konzerte in 35 Ländern sprechen für sich. THE AUSTRALIAN PINK FLOYD SHOW ist eine der meistgefragtesten Bands, was eine Tournee angeht.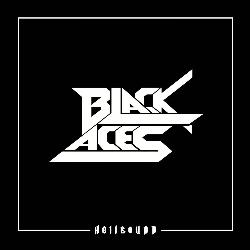 product: Black Aces - Hellbound EP
label: Bad Reputation
out: 29.07.2014
format: CD
PR territory: Germany & Austria
PR contact: Diese E-Mail-Adresse ist vor Spambots geschützt! Zur Anzeige muss JavaScript eingeschaltet sein!
Hailing from country Victoria, Black Aces had a longing to hear the kind of music that had once forged this great country's musical back bone. They set about crafting such a band; a true blue, fire breathing, chest beating, riff n roll band! Drawing much of their inspiration from the Aussie greats in AC/DC, Rose Tattoo, Billy Thorpe and The Aztecs, The Angels and Cold Chisel, they cut their teeth on their local scene. Developing their sound, and earning a reputation, they built a line-up capable of delivering a powerhouse rock'n'roll show.
Eventually settling with the four misfits you can see today. Never afraid of a beer, and a biff, is Tyler Kinder on lead vocals and lead guitar, then there's resident locksmith Rhys Collier on rhythm guitar, and the ironically unrelated rhythm section of Alex McMillan on bass, and Pete McMillan on drums.
Touring across the width and breadth of Australia soon followed, all the while winning new fans in city and country alike. Not stopping there though, the lads hopped a plane to the mother land. A non-stop, beer fueled, 2 week tour of the UK ensued, exciting many a punter with vicious Aussie rock'n'roll the likes they hadn't seen since AC/DC's first foray in the mid 70's. Along the way they have had the pleasure of appearing alongside Aussie greats such as Cosmic Psychos, Dallas Crane, Bodyjar, Stand Alone, Kings Of The Sun, Something For Kate and Black Label, as well as with Australia's next generation of rock royalty such as Dead City Ruins, The Deep End, The Lazys, Massive, and The Delta Riggs.
2014 has seen Black Aces continue the momentum they have built, releasing their brand new 'Hellbound' EP, chock full of ripper tracks. They subsequently released the manic film clip for lead single 'On The Rocks. But the fun doesn't stop there. Work has already begun on their debut album, which is set to be completed before the year is out! So keep your ear to the ground.
Pounding out blistering rock'n'roll that you can't help but bang your head and punch the air to, you will find it hard to leave a Black Aces show without a smile from ear to ear.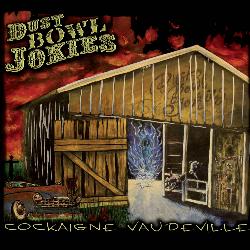 product: Dust Bowl Jokies - Cockaigne Vaudeville
label: Bad Reputation
out: 25.09.2014
format: CD
PR territory: Germany & Austria
PR contact: Diese E-Mail-Adresse ist vor Spambots geschützt! Zur Anzeige muss JavaScript eingeschaltet sein! ';document.getElementById('cloak7a5f0d777c171ead7739e4667d3bb8d5').innerHTML += ''+addy_text7a5f0d777c171ead7739e4667d3bb8d5+'<\/a>'; >
As you know, Bad Reputation has a great taste to sign some great Swedish Rock'n' roll acts. Since 13 years, the French label handled Hardcore Superstar, Crucified Barbara, Zan Clan, Fatal Smile, Dollhouse, The Soulshake Express to name a few.
Dust Bowl Jokies is the new trashy glam stallion. The band was formed in 2011 and released their debut album in early 2012 "Cockaigne Vaudeville" produced by Nicko DiMarino and co-produced by Beau Hill (Alice Cooper, Twisted Sister, Europe, Gary Moore etc.). The debut album's main track Boots On Rocks Off has been played on radio stations all around the world (USA, UK, France, Italy, Germany etc.) and the album was just released in Sweden. Since 2012 the band has played as many festivals and nightclubs possible and they recently released a two tracked EP including the songs "The Wicked" and "Blood, Sweat & Perfume" which got some great reviews from all over Europe.
Now Dust Bowl Jolies signed on Bad Reputation and Cockaigne Vaudeville will be issued with these 2 new tracks. It's time to rock 'n' roll again at the Swedish Hour!