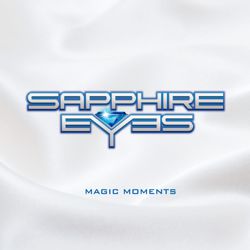 product: Sapphire Eyes - Magic Moments
release date: 15.05.2020
label: Pride & Joy Music
PR contact: Diese E-Mail-Adresse ist vor Spambots geschützt! Zur Anzeige muss JavaScript eingeschaltet sein!
SAPPHIRE EYES started in 2011 when Niclas Olsson (ALYSON AVENUE, SECOND HEAT) decided to put together a record ("Sapphire Eyes") alongside friends he had made in the music business. The first album was handled more as a project than as a band with various performers/singers.
After the debut was released, thoughts started to brew about making SAPPHIRE EYES a band with regular members and in time for album number two, the critically acclaimed "Breath Of Ages" was put together. The group is all Swedish but when Niclas searched for a vocalist, he approached to Finnish vocalist Kimmo Blom (URBAN TALE, LEVERAGE) and immediately, it felt like a perfect match!
"Breath Of Ages" was released in 2018 and grounded the Scandinavians as performers of classic Melodic Rock/AOR. Airy keyboards and great hooks & melodies oozed from the record and a few concerts really got the group together even tighter towards becoming an act on the music scene to really take note of.
Now, SAPPHIRE EYES will release their third album called "Magic Moments". The band tries to reconnect to the simpler times full of passion and possibilities when growing up. Still, the melodies are foremost important and the emotions delivered are meant to make you feel like anything is possible in life!
Line-up: Kimmo Blom - vocals (LEVERAGE, URBAN TALE); Niclas Olsson - keyboards (ALYSON AVENUE, SECOND HEAT); Emil Knabe - guitars (ACACIA); Patrik Svärd - guitars (CLOUDSCAPE); Christer Engholm - bass (ALYSON AVENUE, ACACIA); Fredrik Eriksson - drums (DAWN OF OBLIVION, ALYSON AVENUE)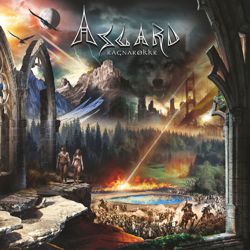 product: Asgard - Ragnarøkkr
release date: 15.05.2020
label: Pride & Joy Music
PR contact: Diese E-Mail-Adresse ist vor Spambots geschützt! Zur Anzeige muss JavaScript eingeschaltet sein!
ASGARD, the Trient based Italian Prog Metal band, was founded in 1986 and since then has released the five studio albums "Götterdämmerung" (1991), "Esoteric Poem" (1992), "Arkana" (1992), "Imago Mundi" (1993) and "Drachenblut" (2000).
In their early years, the Prog group with folk influences was mainly active live and also took part in some contests (of which they have won three!). The Italians also recorded two demos and took part in various compilation albums which even included recordings in Ibiza with Nick Griffiths, a former sound engineer of Pink Floyd!
Maybe because ASGARD come from the very North East of Italy, a region with historical and deep cultural connections to both Austria and Germany, the German label "Music Is Intelligence" signed the group in 1990 and put out their first four albums.
In 1995, two of the band members moved to Germany and released the record "Drachenblut" with a new line-up in the year 2000.
"Ragnarøkkr" now is ASGARD's 6th full-length release in total and was produced by Roland Grapow (ex Helloween, Masterplan). Join ASGARD's world full of myths, shamans, rituals & atmosphere combined with progressive heavy metal & some medieval parts. Don't expect the ordinary – this band's sound is just breathtaking & unique!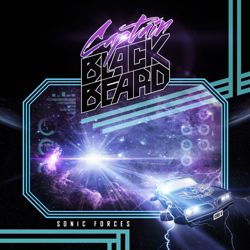 product: Captain Black Beard - Sonic Forces
release date: 15.05.2020
label: AOR Heaven
PR contact: Diese E-Mail-Adresse ist vor Spambots geschützt! Zur Anzeige muss JavaScript eingeschaltet sein!
Captain Black Beard made their live debut in Stockholm, Sweden on the 31st October 2009 and released their self-titled album in May 2011.
Hailed by the press all over the world, so much it was called one of the "albums of the year" by legendary journalist Geoff Barton of Classic Rock Magazine.
After shows in America and the UK, most of 2013 was spent working on the second album "Before Plastic" which was released in May 2014. The band also made a return to the UK playing the Hard Rock Hell Festival and opening for Graham Bonnet (Rainbow, MSG). This album also got great reviews and featured a guest appearance by Bruce Kulick (KISS, Grand Funk Railroad).
In February 2015, Captain Black Beard entered the studio with producer Chips Kiesbye (Hellacopters, Bonafide). They also toured Scandinavia as support act to Joe Lynn Turner (Rainbow, Yngwie Malmsteen), Robin Beck and House Of Lords. "It's A Mouthful" was released in March 2016 and the tour started with a comeback to the Hard Rock Hell Festival as well as - again - supporting Joe Lynn Turner. By the end of the year the group amicably parted ways with singer Sakaria Björklund.
In 2017 a "new" Captain Black Beard entered the studio to record with producer Jona Tee (keyboardist in H.e.a.t) and in April 2018, "Struck By Lightning" was released to rave reviews. This line-up would however be short-lived and tour dates following the release featured the amazing Linnea Vikström (Therion) as temporary lead vocalist.
In early 2019 the band brought in singer Martin Holsner for a co-headlining tour with Osukaru throughout Germany and started to work on a new album with producer Dave Dalone (guitarist in H.e.a.t) which led to the band completely reinventing themselves in time for their 10th anniversary.
Following a bombastic start of 2020 supporting Geoff Tate on tour, Captain Black Beard are proud to bring out their "Sonic Forces" this coming April.
The album was recorded at Yardstreet Studios in Stockholm, Sweden.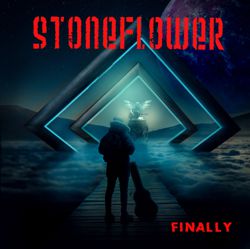 product: Stoneflower - Finally
release date: 15.05.2020
label: AOR Heaven
territory: world
PR contact: Diese E-Mail-Adresse ist vor Spambots geschützt! Zur Anzeige muss JavaScript eingeschaltet sein!
Having released one album with Diesel Dahl (d, TNT), Tom Sennerud (g), Frode Henriksen (v) and Jon Johannessen (g) decided to form a band on their own in 1996: STONEFLOWER. The Norwegians were soon joined by Svenn Huneide (b). They decided to hire experienced drummer Steinar Krokstad (STAGE DOLLS) and Dag Bårdstu (keys) to create the best result. The debut "Crack A Little Smile" was finally released on the small label Storyteller Records in 2003 and sold world-wide via AOR Heaven's mailorder. A video for the track "If You Say" was released feat. Geir Johnny Huneide (d). Then, Johannessen left group in 2005.
When singer Frode Henriksen moved to a different part of the country after 2010, the band split up. Tom felt that the album already in progress was too good to let go, so he started finishing the album on his own. "Destination Anywhere" was released on his own label, Late Night Music. It received highly critical acclaim, like "best AOR album 2014" (Sweden Rock Magazine).
After the positive feedback, members Tom and Svenn decided to reignite the band with a new singer. By sheer luck they found the amazingly talented John Masaki ("Norwegian Idol"). The first track recorded included one of the most famous and gifted Norwegian drummers, Per Hillestad (LAVA, A-HA,) but the band soon decided to go for a full-time member and the talented and AOR-loving Geir Johnny Huneide (brother to Svenn) got the job. Geir then recorded the rest of the album with Steinar Krokstad (STAGE DOLLS) guesting on one track. STONEFLOWER this time signed a record deal with AOR Heaven. "Finally" was mainly recorded in Tom's own studio "Late Night Music". Some drums were recorded at Leif Johansen's (21 GUNS, PHENOMENA, A-HA) "Stable Studio". Guests on "Finally" are Per Hillestad (d), premium Swedish AOR guitarist, Tommy Denander (PAUL STANLEY, ALICE COOPER), Bjørn Ole Rasch (keys, SECRET GARDEN) and Gunnar Westlie (g, DA VINCI). Mixed by Trond Engebretsen and Tom Sennerud, mastered by JK Northrup (KING KOBRA).
product: DeVicious - Phase Three
release date: 08.05.2020
label: Metalapolis
territory: world
contact: Diese E-Mail-Adresse ist vor Spambots geschützt! Zur Anzeige muss JavaScript eingeschaltet sein!
DeVicious is an international Hard & Melodic Rock band from Karlsruhe/Germany. With their two albums "Never Say Never" (2018) and "Reflections" (2019) they managed to built up a big fan base in the Melodic Rock scene. They toured with acts like HARDLINE, AMMUNITION or MAVERICK and played festivals such as H.E.A.T FESTIVAL, INDOOR SUMMER FESTIVAL, ROCK 'N LOC or ROCKNACHT TENNWILL. On these festivals their new singer Antonio Calanna from Italy debuted and got the fans immediately by the balls with his energetic and professional performance
"Phase Three" was produced by band mastermind Alex Frey, mixed by Patrick Damiani at Tidalwave Studios and mastered by Robin Schmidt at 24-96 Mastering.
The album again offers all band trademarks like big arena melodies, bombastic choir arrangements and a very powerful production. Since they focused more on guitars this time, the record seems to be a bit heavier than the previous ones.
After "Reflections" was very successful on the international market with listings in more than 50 "Album Of The Year" rankings, the band now hopes to take the next step with album number three!!!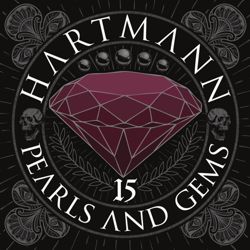 product: Hartmann - 15 Pearls And Gems
release date: 17.04.2020
label: Pride & Joy Music
territory: World -JP
contact: Diese E-Mail-Adresse ist vor Spambots geschützt! Zur Anzeige muss JavaScript eingeschaltet sein!
Oliver Hartmann, known as singer/ guitarist/ sideman of metal mega seller Avantasia, projects as Rock Meets Classic, ex-At Vance singer and as front man of the successful German Pink Floyd tribute Echoes, is considered with his band HARTMANN since their debut 'Out in the cold' (2005) as one of the best modern German Rock-/ Hard Rock acts. Since then the band has released eight successful albums, has toured with well known acts as Toto, Uriah Heep, The Hooters, House of Lords and will celebrate their 15th anniversary this year!
Due to their anniversary, HARTMANN will release a brand new album named '15 Pearls And Gems' in April 2020, again co-produced by Sascha Paeth (Avantasia, Beyond The Black, Kamelot).This special release includes five new songs, five well chosen cover tracks and five live versions of HARTMANN songs that have been recorded on their concerts during the last years. '15 Pearls & Gems' contains the singles 'Walking on a thin line' and the duet 'When the rain begins to fall', a special cover version of the 80's pop classic featuring Ina Morgan, member of Avantasia and one of Germany's greatest female rock vocalists. The live recordings also include the outstanding duet 'Brothers' feat. Avantasia's mastermind Tobias Sammet on vocals - originally recorded as studio version for the album 'III' (2009).
After touring in Europe with the latest release 'Hands on the wheel' in 2018/2019 and Oliver's just finished world tour with AVANTASIA his band HARTMANN will be on the road again this autumn to celebrate their 15th anniversary with this new special digi-pak release '15 Pearls And Gems'!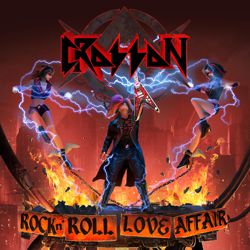 product: Crosson - Rock N' Roll Love Affair
label: Galaxy Records/ MelodicRock Records
release date: 27.03.2020
PR territory: Europe
PR contact: Diese E-Mail-Adresse ist vor Spambots geschützt! Zur Anzeige muss JavaScript eingeschaltet sein!
"Theatrical Glam Rockers entangled in a Rock 'N Roll Love Affair"
"There's a new rock n roll thunder coming from the land down under, and it goes by the name CROSSON " (Josh Smith - Hair Band Heaven )
Following the success of their acclaimed 2018 album 'Invincible', which spent an incredible ten consecutive weeks in the Top 30 Official German Rock and Metal Charts and was voted Sleaze's Nation's # 2 album of 2018, Australian based Theatrical Glam Rock Warriors, CROSSON, return in 2020 with their new album Rock 'N Roll Love Affair.
The album was once mixed by legendary U.S producer Duane Baron (Ozzy Osbourne, Motley Crue, Alice Cooper, Poison), mastered by U.S mastering legend Dave Donnelly (Aerosmith, KISS, Whitesnake) , and engineered by Aussie veteran Russell Pilling (The Vines, Hoodoo Gurus, Noiseworks).
Rock 'N Roll Love Affair punches you in the face from the opening chords and erupts with ten infectiously catchy, highly addictive rock tunes. The only cure to get these songs out of your head will need to be medically prescribed.
The album also includes electrifying performances by some of Australia's leading rock / metal musicians, including Stu Marshall (Death Dealer) and Dario Bortolin (Baby Animals).
****
"Rock 'N Roll Love Affair is a matter for the heart of any lover of rock 'n roll.….CROSSON have once again outdone themselves." Peter Grahn – Sleaze Nation
The first video from the album 'Everyone's A Star' depicts CROSSON doing what they do best…..unleashing their electrifying, energetic, choreographed and bombastic stage show whilst the second video 'Weak At The Knees (For A Brunette!!)' (a crowd favourite) shows the groups tongue-in-cheek side.
When asked about 'Weak At The Knees (For A Brunette!!) vocalist , writer and producer Jason Crosson commented "… Talk about art imitating life! I have two weaknesses, chocolate ice cream and brunettes… of which I have to refrain from both!!"
"Rock will never die whilst there are bands like Crosson" Adam Cox – Decibel Geek