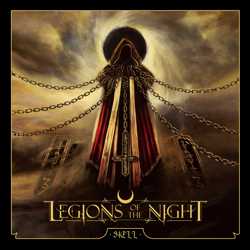 product: Legions Of The Night - Hell
release date: 04.11.2022
label: Pride & Joy Music
territory: world
PR contact: Diese E-Mail-Adresse ist vor Spambots geschützt! Zur Anzeige muss JavaScript eingeschaltet sein!
After the huge success of LEGIONS OF THE NIGHT's debut album in the year 2020 during the pandemic, "Sorrow Is The Cure", the Germany based Power Metal group now returns with the sophomore release "Hell"!
The group still exists of Jens Faber (Dawn of Destiny, MalefistuM, ExoS), drummer Philipp Bock (Dawn Of Destiny" and sexceptional singer Henning Basse (Metalium, ex- Firewind, Mayan).
"Hell" continues exactly where the previous album has stopped – on this new release the typical Power Metal trademarks like huge melodies, powerful riffs and catchy choruses are present all over the released which is topped by an incredible performance of singer Henning Basse!
"Hell" once again was mixed by mastermind Dennis Köhne (u.a. Orden Ogan, Sodom, Lacuna Coil)!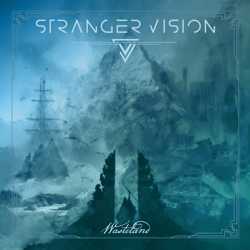 product: Stranger Vision - Wasteland
release date: 04.11.2022
label: Pride & Joy Music
PR territory: world (excl. Italy)
PR contact: Diese E-Mail-Adresse ist vor Spambots geschützt! Zur Anzeige muss JavaScript eingeschaltet sein!
Do progressive & power metal still have a chance to sound fresh and original, without losing their authentic and charming spirit? If you believe that the answer is "no", you have probably never listened to STRANGER VISION.
STRANGER VISION were born in 2019, aiming to create and realize an extremely personal vision and sound. Catchy music, but not cheesy. Magniloquent, but not tawdry. Technical, but not complex. Modern, but not pimp. And powerful, above all.
The captivating energy of STRANGER VISION comes from the toughness of an exquisitely metal impact and the penetrating power of the melodies. Their style is proficient at generating violent and pleasant sensations, both on artistic and emotional level.
Despite the rich songwriting and accurate arrangements, the creative process of STRANGER VISION is very free and spontaneous. Some sources of inspiration can be found in the limitless storytelling skills of Savatage, the percussive intensity of Symphony X and the fluent harmonic layers of Blind Guardian, but any influence is deeply reworked by the unique personality of the band.
Shortly after the successful debut album Poetica, the sophomore opus Wasteland hits the bullseye once again. A 58-minutes-long musical journey showing STRANGER VISION's talent for crating memorable riffs, epic vocal melodies, compelling rhythms, uplifting orchestrations, while working out a quite unique conceptual approach for their genre.
The interest of STRANGER VISION in human sciences – with special regard to literature, poetry and philosophy - is deepened in thoughtful lyrics, yet open to free interpretation. Wasteland is a concept album celebrating, exactly 100 years after its first publication, Thomas Stearns Eliot's eponymous poem, published in 1922 and considered one of the great masterpieces of modern poetry.
Wasteland also features some stunning collaborations with prestigious international guests, such as Tom S. Englund (Evergrey, Redemption, Silent Skies) on the song The Deep and the almighty Hansi Kürsch (Blind Guardian, Demons & Wizards) on the title-track. A pretty consequence of STRANGER VISION's victory at the Imagination Song Contest hosted by the Bards of Krefeld themselves.
Magnificently mixed and mastered by Simone Mularoni (DGM) at the renowned Domination Studio in San Marino, the new album Wasteland will undoubtedly pursue the never-ending path of a steadily growing career, which can finally take flight along with the complete restoration of concert-related activities. The artwork was designed by Gustavo Sazes (Angra, Firewind, Cyrah etc.)
Far from being a studio project, STRANGER VISION are more determined than ever to establish their artistic consistency and unleash all the power of Wasteland, definitely a game-changing record in the Italian and international metal scene.
Do progressive & power metal still have a chance to sound fresh and original, without losing their authentic and charming spirit? The answer is "yes". Its name is STRANGER VISION.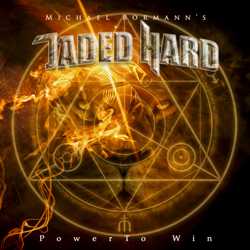 product: Michael Bormann's Jaded Hard - Power To Win
release date: 28.10.2022
label: RMB Records
PR territory: world
PR contact: Diese E-Mail-Adresse ist vor Spambots geschützt! Zur Anzeige muss JavaScript eingeschaltet sein!
And on we go...Corona thoroughly slowed down the music industry, and the momentum of MICHAEL BORMANN'S JADED HARD along with it, but new music is finally available from Bormann and company. Following up their 2019 debut album "FEELS LIKE YESTERDAY," their second CD – "POWER TO WIN" (because these 5 musicians wouldn't let themselves be defeated!) will be released on all platforms on October 28, 2022.
POWER TO WIN once again showcases the power and expressiveness of MICHAEL BORMANN's legendary voice and the full range of his song writing skills. In the usual manner, this is AOR / MELODIC ROCK at its finest - From up-tempo songs that will delight the headbanger's heart, to powerful ballads that will melt the hearts of women and men alike. But there is also something new. To bring in a breath of fresh air and new nuances to POWER TO WIN, Michael worked with other songwriters: Bruno Kraler on When I Look In Your Eyes, Pete Alpenborg on Little White Lies, Fredrik Joakimsson on A Step Away From Heaven, and Michael Maikel Müller on Hysteria - Wrong And Right, and When She's Good.
The song We Must Make A Stand was a project about the current political situation with singers and other musicians from Duisburg (Michael´s hometown) and not originally intended for this album, but due to the positive response, Michael decided to include it on the record.
The second European tour unfortunately had to be postponed twice, but now the planning is once again in full swing, and, if all goes well this time, the boys will be back on the road rocking the stages in early 2023!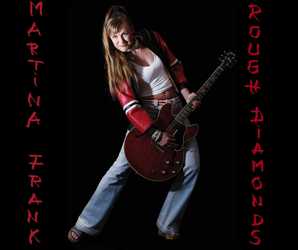 product: Martina Frank - Rough Diamonds
release date: 01.10.2022
label: Frankengestein
PR territory: Germany, Austria, Switzerland
PR contact: Diese E-Mail-Adresse ist vor Spambots geschützt! Zur Anzeige muss JavaScript eingeschaltet sein!
For years Martina Frank is considered one of the most expressive singers in Hannover. She has performed with various blues, rock, pop & country bands throughout Lower Saxony and is represented on various studio productions. And she has always written songs herself in her bands.
2019 in the end, she came back to what got her started in music in the first place – songwriting - and was reminded that a little bit of courage can go a long way!
She realized she had worked out a solo program with new original songs.
Someone once said: You can tell a good song by the fact that it only works with vocals and guitar. And the songs of her album pass the test - 11 new and own compositions - performed only with her voice and her guitar
The titles now on the self-recorded and sung, co-produced and highly acclaimed debut album "ROUGH DIAMONDS" Martina Frank brings LIVE on stage on her fall tour 2022. There, in a "one woman show", she turns the German-English genre mix into a cheeky and modern arranged, refreshing listening pleasure.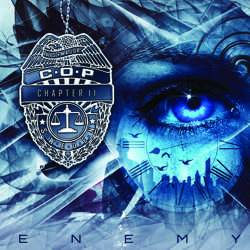 product: C.O.P. II - Enemy
release date: 07.10.2022
label: Pride & Joy Music
PR territory: world excl. Asia
PR contact: Diese E-Mail-Adresse ist vor Spambots geschützt! Zur Anzeige muss JavaScript eingeschaltet sein!
C.O.P. (Sweden) is a Swedish Melodic Rock band of the highest order formed in 2014 who with "State Of Rock" has released one of the finest AOR albums in 2015 via the AOR Heaven label.
Fronted by extraordinaire singer Peter Sundell (ex-Grand Illusion, Decoy), the three piece which is completed by Christian Sundell on drums & keyboards and Swedish guitar wizard Ola af Trampe (ex-Grand Illusion) now returns with a classy sophomore release via Pride & Joy Music! The first letters of the three musicians' forenames together result into C, O & P.
And "Enemy" continues exactly where "State Of Rock" stopped – Peter Sundell's with his high pitched and powerful voice once again sets new standards for the genre. Backed up by his younger brother Christian on drums & keyboards who also wrote all songs for this release and the extremely talented guitarist Ola af Trampe who also mixed the album and mastered it together with Jakob Lindahl, C.O.P. II come along as a pretty unique dream team! On "Enemy", powerful hooks combine with pomp and brilliant hooks and each and every song.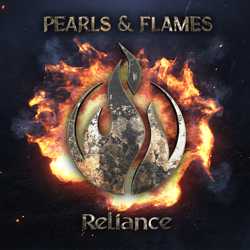 product: Pearls & Flames - Reliance
release date: 07.10.2022
label: Pride & Joy Music
PR territory: world
PR contact: Diese E-Mail-Adresse ist vor Spambots geschützt! Zur Anzeige muss JavaScript eingeschaltet sein!
Pearls & Flames consists of a couple of friends from Sundsvall and Söderhamn who have been active in the Melodic Rock scene since decades. Markus Nordenberg is the main-man and driving force behind this AOR and Westcoast project. He has been the lead singer in an early version of Swedish hard rock masters Lion´s Share and continued as the lead singer and one of the songwriters in Big Price before moving on as one of the members of Coastland Ride that have released three much appreciated albums in the vein of AOR and Westcoast.
Nordenberg is joined by guitarist Sven Larsson (Street Talk, Coastland Ride, Groundbreaker, Fergie Frederiksen and many more) who also has two solo albums under his belt where he was the main songwriter delivering songs in an exciting blend of AOR, Westcoast and Fusion. Tomas Coox, who is a much-appreciated session keyboardist playing live with among others Coastland Ride Live band and Roulette SWE, completes the line-up.
In 2019 when Coastland Ride made the decision to stop making music together it was a natural step for Markus to ask Tomas and Sven Larsson to join in as they both were in the Coastland Ride live band. It also felt natural to pick up the band name Pearls & Flames again. The guys started up recording some songs but due to different circumstances it nearly stopped there. During the Covid Pandemic Markus got in touch with well-known Swedish guitarist, songwriter and producer Tommy Denander (Prisoner, Radioactive, Alice Cooper, Paul Stanley, Tina Arena, House of Lords and many more). The two songwriters connected, and the recording process really got a boost. Since then, a very creative collaboration started which now has resulted in "Reliance".
"Reliance" is the debut album of Pearls & Flames, and the album title is a reminder of that all the things in the world are linked together. It´s all about different kind of relations and that we all need each other in different ways. The songs were recorded at various studios in Sweden and produced by Pearls & Flames, Tommy Denander and Anders Rybank (Can We Find The Love, Temple Of Lust, It Never Took Away Your Smile and (I Don't Know Who I Am) Anymore); Wires And Frames was produced by Sven Larsson and all other songs by Pearls & Flames and Tommy Denander. Artwork by Tomas Coox, mixed by Tommy Denander at Holliewood studios and mastered by Mike Lind at Masterplant.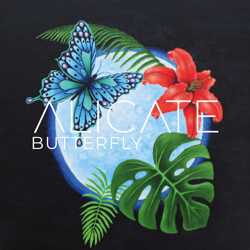 product: Alicate - Butterfly
release date: 07.10.2022
label: Pride & Joy Music
PR territory: world
PR contact: Diese E-Mail-Adresse ist vor Spambots geschützt! Zur Anzeige muss JavaScript eingeschaltet sein!
Alicate was formed in the late eighties by Lead vocalist Jonas Erixon and bass player Fredrik Ekberg. In the early years they played mostly local venues but were able to release a 7" single called "The End/Too Shy To Take It" which is a collectors piece today.
Fast forward to 2006 where the band reformed and started to work on new material that resulted in their first full length album called "World Of Anger" that was released in 2009. The success of this album and the popularity of their concerts, led to the release of their second album, "Free Falling" in 2013. Their third full length album, "Unforgiven To Be Forgiven", followed in 2018 together with a Live EP called "Live At Forum".
The creativity was reaching soaring levels when Covid sadly hit the world and put the progress on hold for the band. However, Jonas Erixon still wrote songs and collaborated with some high profile artists and wrote/co-wrote songs for Giant, Skills (with Billy Sheehan and Brad Gillis) and Sweet Oblivion (Geoff Tate)
During the Pandemic, work also started on new material for Alicate. The band looked for a natural progression from their last album that would result in a more "distilled" version of the band, adding even more hooks to the songs.
Four years after the release of their last album, ALICATE returns to form with a brand new album called "Butterfly"!! This new record consists of 10 hi-octane tracks that can be categorized as Hard Rock with a large dose of melodies in them.