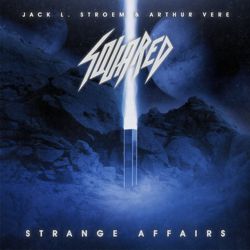 product: Squared - Strange Affairs
release date: 13.05.2022
label: self-released
PR territory: Europe
PR contact: Diese E-Mail-Adresse ist vor Spambots geschützt! Zur Anzeige muss JavaScript eingeschaltet sein!
Founded in 2019 by French guitarist Arthur Vere & Swedish singer Jack L. Stroem, SQUARED instantly became something very dear & special for the duo, taking inspiration from the late 80's AOR scene mixed with their own musical backgrounds.
After the first songwriting session for "Strange Affairs" the plan was made & everything was going as scheduled... Then 2020 came and we all know what happened. The plan was reworked, more songs were written and "Strange Affairs" was recorded remotely from Sweden & France respectively by Jack & Arthur sending files across the world wide web to each other.
It was also during this time that SQUARED decided to hire the renowned session musicians and longtime friends of Jack; Robin Risander on Drums & Kammo Olayvar on Bass
"Strange Affairs" has an authentic sound because it was recorded with vintage instruments together with live drums & completely without any autotune on the vocals. For 1989 this would be the way every album had to be recorded, but it is almost unheard of in today's music scene.
Without plans of stopping SQUARED intends to surf on the 80's nostalgia wave while writing music that could have been released back then.. But wasn't.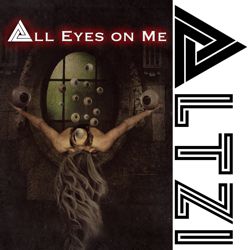 product: ALTZI - All Eyes On Me
release date: 25.03.2022
label: RA Music
PR Territory: world
PR contact: Diese E-Mail-Adresse ist vor Spambots geschützt! Zur Anzeige muss JavaScript eingeschaltet sein!
RICK ALTZI is an artist from Helsingborg, Sweden who started to play bass at the age of 14. He was a member in various tribute and original bands until 2004 and switched over to the microphone in 2005. His first album as vocalist saw the light of day in the year 2007 with the band AT VANCE. Since then, he has worked with a lot of outstanding musicians from bands such as Helloween, Accept, King Diamond, Pain Of Salvation, etc..In 2020, Rick Altzi started to work on his first solo album under the moniker of ALTZI. Rick Altzi also is writing and recording with the bands Masterplan, Gathering Of Kings and Herman Frank.
In 2021, ALTZI has released a couple of successful singles and videos from the bran new album "All Eyes On Me" in advance. The full album, which will be available on CD and digitally from March 25th, 2022, now contains 10 more new songs.
Rick Altzi recorded all vocals in Outhouse Studios on the west coast of Sweden, Drums were recorded at Parental Studios in Cologne. The album is mixed by Victor Ohlsson in his studio located in Gothenburg and produced by Rick Altzi and Ulrick Lönnqvist. Thomas "Plec" Johansson took care of the mastering at The Panic Room.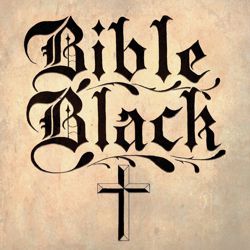 product: Bible Black - Bible Black
release date: 14.04.2022
label: Louder Than Loud
PR territory: Europe
PR contact: Diese E-Mail-Adresse ist vor Spambots geschützt! Zur Anzeige muss JavaScript eingeschaltet sein!
Bible Black was an East Coast American band formed by former Elf/Rainbow musicians Gary Driscoll and Craig Gruber, along with Andrew "Duck" McDonald.

The bands longest tenured singer was Jeff Fenholt, well known for his very brief stint with Tony Iommi/Black Sabbath and his work with the band Joshua.

The band also featured in its ranks 2 well known vocalists: Lou Marullo who later became known as the one and only Eric Adams...and Joey Belladonna who of course went on to join Anthrax.

All three vocalists recorded demos with Bible Black between the periods of 1981-1983. This cd for the first time compiles all recorded works of the band in one place.

Sadly Gary Driscoll, Craig Gruber and Jeff Fenholt have all since passed away, making this release a fitting epitaph to their time together as Bible Black.

Restored and remastered by Patrick Engel and licensed directly from the last surviving member Andrew "Duck" McDonald" we can now hear one of the great "lost bands" and a piece of Heavy Metal history.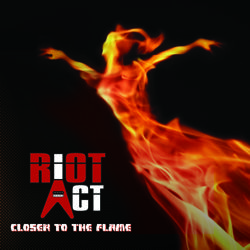 product: Riot Act - Closer To The Flame
release date: 01.04.2022
label: Global Rock Records
PR territory: Europe & parts of the UK
PR contact: Diese E-Mail-Adresse ist vor Spambots geschützt! Zur Anzeige muss JavaScript eingeschaltet sein!
The highly anticipated debut album from Riot Act, the band initially formed by former 'classic era' Riot members Rick Ventura and Lou Kouvaris is titled "Closer To The Flame" which is sure to please fans of the late 70s, early 80's era of Riot as well as fans of Montrose, Rival Sons, The Black Crowes, Tesla and fans of classic hard rock everywhere.

The album will also come with a 12 track bonus CD of classic 1979-1981 Riot tracks recut, these recordings feature the final ever recordings of Lou Kouvaris, who tragically passed away of Covid19 in early 2020.

Riot Act features former Riot guitarist Rick Ventura, Don Chaffin vocals, Paul Ranieri bass and Claudio Galinski drums, Rick Ventura was a member of the original Riot from 1979-1984
"Riot Act's new album is a culmination of emotions over the past two years. From the excitement of our early rehearsals, to the loss of our band mate, struggling through a pandemic and not knowing if we were going to continue, the four of us knew that the band had much to offer. The result of that renewed energy is "Closer To The Flame" and with joining forces with Global Rock Records we are ready for the world to hear this new music we have been working on for so long. Our very good friends and brothers in in Riot V of course continue their evolution of Riot onward, While as Riot Act we aim to recapture the early Riot sound of the 1977-1983 band and bringing that into a new era with our new music.

Further illustrating that "Riot members of all eras are family" Riot V guitarist Mike Flyntz is a special guest on the record, laying down a killer solo on the track "49er" a re-recording of the Riot - Narita era classic.

Riot Act will be touring the UK as support to Lillian Axe in the UK throughout August 2022

Riot Act performed at the Heavy Metal Hall Of Fame in 2020
Rick and Lou were inducted as Riot members in 2018

Full details of the debut album "Closer To The Flame" below:
1 Closer To The Flame
2 Wanted
3 Straight For Your Heart
4 Smoking Gun
5 Almost There
6 Stand Or Fall
7 Love Come Round
8 Angelina
9 Right Between The Eyes
10 Rock Love And Roll

BONUS CD:
1 Rock City
2 49er
3 Sword And Tequilla
4 Overdrive
5 No Lies
6 Tokyo Rose
7 Warrior
8 Don't Hold Back
9 White Rock
10 Outlaw
11 Road Racing
12 Altar Of The King
product: DeVicious - Black Earth
release date: 14.04.2022
label: Pride & Joy Music
territory: world
PR contact: Diese E-Mail-Adresse ist vor Spambots geschützt! Zur Anzeige muss JavaScript eingeschaltet sein!
After the surprising success of their previous long player "Phase Three" DeVicious is back with their highly anticipated 4th Studio album "Black Heart"!eartHeart Having previously produced three albums in only three years, the international outfit based in Germany decided to use the pandemic enforced break wisely to take their time for the song writing and production and eventually ended up 137 days producing their most melodic, heaviest, most angry yet freshest and most unique album to date.

Being in Lockdown for 1,5 years and being forced to see the events going down around the world had a big impact on the lyrics and the music. DeVicious went back to the studio with one cardinal rule: don't copy yourself and no stylistic influence is off the table as long as it is fun to play and the melody is big enough.

Band leader & producer Alex Frey wanted to create a different atmosphere as on the previous albums. DeVicious have always defined themselves through big arena type melodies, which often comes with limitations of style and a particular lack of freedom. Black Heart" contains influences from traditional Hard Rock, Metal, Melodic Metal, Progressive Rock and even EDM sounds found their way into the production.

DeVicious will also release their own comic book series "Dollhouse DV" in 2022. The main characters of the comics are the models on the covers for the "Black Heart" album and its singles. The comics and artwork were created in entirety by the band. Three of the 12 songs are part of the official Soundtrack for the comic books…
"Black Heart" was produced by Alex Frey at Tower 13 Studios, Karlsruhe, mixed by Patrick Damiani at Tidalwave Studios Karlsdorf and mastered by Robin Schmidt at 24-96 Mastering Karlsruhe. Additional backing vocals by Michael Bormann (Michael Bormann's Jaded Hard) and Baol Bardot Bulsara (TNT).
DeVicious will head on a double headliner tour with Night Laser in April 2022.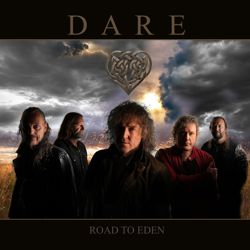 product: Dare - Road To Eden
release date: 01.04.2022
label: Legend Records
PR territory: Europe
PR contact: Diese E-Mail-Adresse ist vor Spambots geschützt! Zur Anzeige muss JavaScript eingeschaltet sein!
UK Rock band Dare are probably best known for their lead singer songwriter Darren Wharton, who first rose to fame in the early eighties playing keyboards with legendary Irish rock band Thin Lizzy. DARE are one of the most respected and innovative melodic rock bands working today, and have gained cult status among AOR fans throughout Europe, the UK and the world. The band's debut 1989 album 'Out Of The Silence' recorded at Joni Mitchell's Bel Air Studio Los Angeles, and produced by Nickelback producer Mike Shipley is still widely regarded today as one of the all time great AOR albums.
ROAD TO EDEN follows Dare's critically acclaimed albums SACRED GROUND released in 2016 and Out Of The Silence 2, 2018. Both albums reaching Number #1 in the Amazon Classic Rock Charts in four Countries, UK, Germany, Italy and Spain. Dare entered the top #5 in the official UK Rock charts, number #6 in the U.S Amazon Classic Rock Charts and number #1 in Japan Rock Imports.Road To Eden is destined to be another modern DARE classic.
Produced and written by Darren Wharton at his studio in the majestic mountains of North Wales, the new album has a harder rock edge than previous albums, whilst still retaining the atmospheric sound, and anthem like melodies that has become the bands trademark. Road To Eden features ten brand new beautifully crafted songs that captures the very heart of DARE.
With a full headline UK tour set for the UK in 2022, plus dates in Spain, Scandinavia and Germany, it's going to be an exciting year, explains Darren. "We wanted to write an album that translated well to live performance and Road To Eden has some great anthems, energy and power. We can't wait to play these songs live"
With previous DARE albums now having well over 4 million streams on Spotify, it's clear that for the growing army of DARE fans, the wait is nearly over, as they get ready to join DARE on The Road To Eden.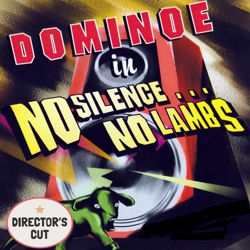 product: Dominoe - No Silence, No Lambs (Director's Cut)
release date: 21.01.2022
label: Comand Records
PR territory: world-wide
PR contact: Diese E-Mail-Adresse ist vor Spambots geschützt! Zur Anzeige muss JavaScript eingeschaltet sein!
It all started when Dominoe caught the attention of a lot of new listeners all over the world after the release of the digital single "Coming Home" in 2021, featuring Jimi Jamison, who sadly had passed away far too soon.
The band then received a lot of e-mails with questions about what else they have released before. This was the moment where Dominoe began to think about ideas and go through their CD's and to have a listen. Some of their material even doesn't exist yet in the digital world - until now. One of these albums is "No Silence... No Lambs" from 2002.
Robert Papst (guitars, production) noticed that some things, like the sound, were completely out of time. Some of it sounded too fast, some of it much too slow and some of it was only suitable for replacement.
So, Robert searched through the old hard drives and found the originals. With the experience of the release "The Lost Radioshow", he started to change tempo, exchange guitars, keyboards and drums, rearrange backing vocals and to mix the whole thing with a bigger punch.
Some of the tracks that came out were real gems. The fantastic lead vocals of Heidi Anzinger on "Keep My Secret" somehow got lost in the original recording. Now, this song has been turned in to a duet with singer Jörg Sieber.
After the first two finalized tracks, the group tested the songs on fans and on people who didn't know the band at all. Robert and Jörg were amazed. The feedback was nothing but incredible. For many listeners this was a new experience since they didn't know or even recognize these songs before.
With the help of some friends, 10 titles have now been completely reworked in the end! Of course, the whole thing has also been a travel back in time for the two musicians…
Meanwhile it's 2022... While Dominoe are producing some new songs, they also are currently reworking the album "The Story Is Far From Told" and wrapping it into a more contemporary sound. Together with "No Silence... No Lambs - Director's Cut", "The Story Is Far From Told" will also be released on a CD somewhat later this year…at Dominoe's 35th anniversary…time flies!
Musicians on "No Silence, No Lambs (Director's Cut):
Jörg Sieber: Lead & Backing Vocals
Robert Papst: Guitar, Backing Vocals, Keyboards, Bass
Christian Birawsky: Drums, Backing Vocals
Henner Malecha: Bass
Matt Beck: Lapsteel
Heidi Anzinger: Lead & Backing Vocals
Jane Bogaert, Janina Dietz, Gracia Satler, Timo Kresslein: Backing Vocals
Track listing "No Silence, No Lambs (Director's Cut)": 01 No More Money / 02 Loocie / 03 All Our Senses / 04 On The Safe Side / 05 No Way Out /06 Don't Cry For Love / 07 Keep My Secret / 08 Let It Rain / 09 Dark Dogs / 10 Turn Off These Sad Songs / 11 No Silence…No Lambs