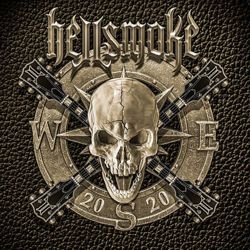 product: Hellsmoke - 2020
label: Pride & Joy Music
release date: 16.10.2020
PR territory: world
PR contact: Diese E-Mail-Adresse ist vor Spambots geschützt! Zur Anzeige muss JavaScript eingeschaltet sein!
HELLSMOKE releases its debut album, "2020", with the Rev-counter well in to the red!
Hellsmoke's gasoline infused Hardrock/ Metal combination was born when guitar player Christofer Dahlman (ex Alyson Avenue, Bai Bang) and songwriter Torbjörn Månsson got together with their long-time friend and drummer Roger Landin (ex Cloudscape). This explosive mix started to iron out what HELLSMOKE should be all about. Heavy guitars, pounding drums and rough, but refined, melodies form the backbone of the music.
The group tested the waters live by doing a few gigs, the most mentionable as support for Pretty Maids in Denmark.
When it was time to record the album Rimbert Vahlström (ex Syron Vanes), joined the crew as the group's new singer and with his unmistakable voice that was perfect for the band - he took the songs to the next level! Anders Hahne was used as a co-producer on the album.
The band's latest additions, Jörgen Löfberg on bass (Darkane) and Michael Åkesson (Alicate) on guitars, provide that extra edge that separates HELLSMOKE from other bands!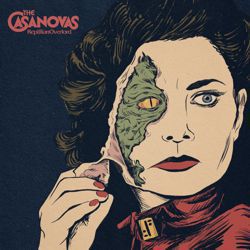 product: The Casanovas - Reptilian Overload
release date: 18.09.2020
label: Bad Reputation
PR territory: GAS only
PR contact: Diese E-Mail-Adresse ist vor Spambots geschützt! Zur Anzeige muss JavaScript eingeschaltet sein!
Last year, with a set of great new material, the re-tooled Casanovas hit the studio with iconic Oz rock producer Mark Opitz (AC/DC, The Angels, Cold Chisel, The Divinyls) to record their fifth album. The Casanovas provided the first taste from the upcoming album late last year when they released their first new music in over four years with popular single 'Hollywood Riot'.
'Reptilian Overlord' revels in everything that fans have come to know and love about The Casanovas, and it shows the impact of Opitz, who was involved in many of the band's favourite albums like Powerage and Face To Face. As Casanovas bassist Damo Campbell says, "Mark is the master at miking for great guitar tones. He definitely brought some of those techniques into our sessions… It was also pretty inspiring to be in the studio hearing some of Mark's stories of some of the great rock bands he has worked with over his career."
Swagger is something that these guys have in spades. Although they got caught up in the early 21st-century rock mania, The Casanovas always had deeper roots and a natural ease. Hailing from the Live Rock'n'Roll Capital of the Universe – Melbourne – The Casanovas were a merging of two great local traditions –punk rock'n'roll and Oz Rock – and they had a twinkle in their eye and brought a youthful freshness to both when they appeared at the start of the century.
"It's like they've captured all my favourite rock acts – Cheap Trick, Stones, Kiss, ZZ Top & AC/DC, and crammed them all into their own jar of Vegemite. . James "The Hound Dog" Young, owner of the iconic Cherry Bar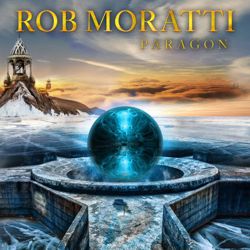 product: Rob Moratti - Paragon
release date: 30.10.2020
label: AOR Heaven
PR territory: Europe
PR contact: Diese E-Mail-Adresse ist vor Spambots geschützt! Zur Anzeige muss JavaScript eingeschaltet sein!
Rob Moratti is a solo artist, the voice of Final Frontier and has been fronting Saga.
The Canadian is a genuine and true original. With an astonishing range, he has carved such an unique style blending the finest elements of melodic and progressive rock.
He started his career professionally in the early 90's as lead vocalist and songwriter of the band Moratti; entering the new millennium with Final Frontier. They immediately were well-received making an impact on the airwaves of Japan and Europe. Rob's future went forward with Final Frontier, soaring out four incredible melodic pieces.
Over the years, in spite of all the changes in the music scene, Rob's perseverance and passion stood strong. His fate is so undeniable, it captured the attention of multi-platinum selling and legendary progressive rock band Saga. In 2008, the official announcement was made that Rob Moratti would become the new voice of Saga and at the age of 42, Rob's destiny would evolve.
Today in 2020, Rob is about to deliver another impeccable solo record titled "Paragon" which is now his second release with AOR Heaven. When it comes to songs, melodies, harmonies and range - as many know - Rob Moratti is in a league of his own.
The songs on "Paragon" are astonishing as ever and filled with his trademark harmonies and memorable choruses that will capture the listener and engrave your soul. He was working alongside some the best songwriters and performers in the genre such as Ulrick Lönnqvist, Pete Alpenborg, Felix Borg, Ken Sandin and Torben Enevoldsen on lead, rhythm guitars and keyboards, Stu Reid on drums and Tony Franklin on the monster bass. Joining him now in 2020, special guests on lead guitars are Joel Hoekstra and Ian Crichton.
Rob has also worked with many power house musicians that have been part of his solo career like Joel Hoekstra (g, Whitesnake / TSO / Night Ranger / Cher), Reb Beach (g, Whitesnake / Winger / Dokken), Tony Franklin (b, Blue Murder / The Firm), Brian Doerner (d, Saga) and Ian Crichton (g, Saga).
"Paragon" was produced by Rob Moratti, mixed by Moratti and Torben Enevoldsen and mastered by Moratti, too.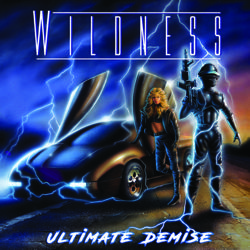 product: Wildness - Ultimate Demise
release date: 30.10.2020
label: AOR Heaven
PR territory: world
PR contact: Diese E-Mail-Adresse ist vor Spambots geschützt! Zur Anzeige muss JavaScript eingeschaltet sein!
Wildness was originally intended to be a studio project by drummer and songwriter Erik Modin, but together with guitarists Adam Holmström and Pontus Sköld, and singer Gabriel Lindmark, the project developed into a real band in 2014. The first year, Wildness performed live with various session musicians playing bass before bass player Marcus Sjösund joined in 2016 and the Wildness lineup was complete.
The Swedish band started rehearsing and performing live diligently, and in September 2015 and January 2016 the digital and self-produced singles "Collide" and "Turning The Pages" were released. After the second single, the band got in contact with record company AOR Heaven and was offered a record deal by CEO Georg Siegl.
The band recorded their debut album in 2016 and 2017 with the help of mastermind and producer Erik Wigelius, who handled the production, mixing and mastering of the album. The eponymous debut album was released on November 24th, 2017 and immediately became a great international success among fans of melodic hard rock.
In 2018, the band performed at numerous festivals internationally and shared stages with well-known acts such as Dokken, H.E.A.T, Dee Snider, Crashdïet, Dragonforce, Arch Enemy, Warrant, Vixen and others and also had the honor to open for Pretty Maids, among others.
In 2019 the band joined forces with Scream & Shout Music Agency for management and booking, and began working on the sequel to their acclaimed debut album. However, the process came to a halt when singer Gabriel Lindmark left Wildness in the autumn of 2019 due to musical disagreements.
After continuing to work on the second album during the rest of 2019, Wildness was finally able to announce Erik Forsberg (ex-Blazon Stone) as their new frontman in the spring of 2020.
The second album, produced entirely by drummer Erik Modin, is named "Ultimate Demise" and is thanks to strong song material, Erik Forsberg's powerful vocals and Erik Wigelius' magnificent mix and master an album to be reckoned within the melodic hard rock universe in 2020!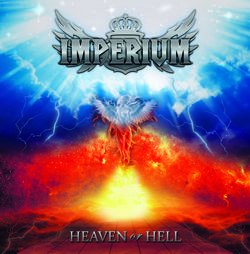 product: Imperium - Heaven Or Hell
release date: 30.10.2020
label: AOR Heaven
promo territory: Europe
PR contact: Diese E-Mail-Adresse ist vor Spambots geschützt! Zur Anzeige muss JavaScript eingeschaltet sein!
Imperium is the solo project of Finnish drummer Mika Brushane.
Mika has been playing drums and percussion in various bands since 1981 and doing it in all genres from jazz to metal. Furthermore, he has composed songs for different genres and this legacy can be heard in the IMPERIUM songs right away. The music is Melodic Rock / AOR and it has a big dose of 80's feel and sounds in it.
The project started in 2012 when Mika composed a new song for the new STRIKE album "We're Back" and realized that there were more songs in him that needed to be released. 2016 the debut album "Dreamhunter" was released by AOR Heaven and the follow-up "Beyond The Stars" came out in 2018.
In this project Mika writes all the songs and lyrics, and plays all the drums, bass, keyboards and sings backing vocals, too.
All the lead vocals are sung and guitars are played by various extremely talented musicians from the rock/metal scene all over the world which this time include Robban Ernlund (Treat), Markku Kuikka (Agonizer, Kenziner, The Ragged Saints), Stefano Lionetti (Lionville), Mikey K Nilsson (Sapphire Eyes), Erkka Korhonen (Dark Sarah, Urban Tale)and Robbie LaBlanc (Blanc Faces)
Also the album's post-production is made by top pros. The album is mixed by Erkka Korhonen (Dark Sarah, Urban Tale, Northern Kings, Ari Koivunen, Raskasta Joulua) and mastered by the legendary Mika Jussila (Nightwish, Children of bodom, Stratovarius, HIM etc.). The album was produced and mostly recorded during 2019-2020 by Mika himself at his Groovehouse Studio in Vantaa, Finland.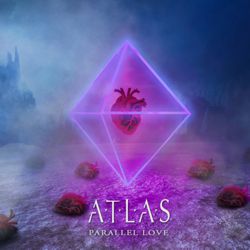 product: Atlas - Parallel Love
release date: 25.09.2020
label: AOR Heaven
PR territory: world
PR contact: Diese E-Mail-Adresse ist vor Spambots geschützt! Zur Anzeige muss JavaScript eingeschaltet sein!
"Parallel Love" is the second album by British Melodic Rock band ATLAS. Writing sessions for "Parallel Love" started shortly after the band's 2019 tour with Midnite City and Age of Reflection, with the band spending much longer on the demo process than for their previous album, polishing their ideas through the autumn and winter of 2019. This resulted in 11 tracks that the band felt were more concise and stronger than previous efforts. The band chose to pursue a heavier edge for the album production, while staying true to their Melodic Rock and AOR roots. The album line-up consists of Craig Wells (Vocals), Howie Little (Guitar), James Thorley (Keyboards), Chris Redfearn (Bass) and Ryan Briggs (Drums). James Thorley took on the role of producer and recording engineer, with Christoffer Borg (Art Nation, Taste) once again taking over the role of mixing and mastering. The five-piece chose to work with AOR Heaven again for the world-wide release of "Parallel Love" due to the successful working relationship for their previous release "In Pursuit Of Memory".
"Parallel Love" explores complicated and difficult themes in relationships that aren't often touched on in traditional AOR, while still exploring the highs and lows of what love brings to life. "Human Touch" showcases the physical side of love with no strings attached, while "Here With You" is a declaration of love lyrically and musically with the band showcasing a string ensemble for the album's finale. These parallel themes are intended to tie the album together lyrically. "Weathered Heart" celebrates a new love after the turmoils of previous relationships, while "Falling Out Of Love" deals with pursuing love for the wrong reasons.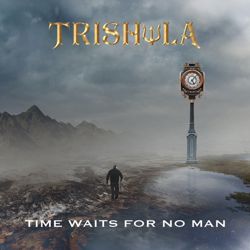 product: Trishula - Time Waits For No Man
release date: 25.09.2020
label: AOR Heaven
PR territory: world
PR contact: Europe
British melodic rock band TRISHULA is the brainchild of UK Guitarist Neil Fraser, accompanied by vocalist Jason Morgan. Prior to forming TRISHULA, Neil and Jason spent many years recording and performing with local bands, Jason performing in the South Wales area of the UK with his band ORANGEFALL and Neil similarly performing in the Midlands area of the UK with a variety of bands. Neil has played and/or recorded with bands/artists such as RAGE OF ANGELS, TEN, Tony Mills (SHY, TNT), Jason has recently recorded backing vocals for MAGNUM on their latest album 'The Serpent Rings'.
TRISHULA released their debut record 'Scared to Breathe' in March 2019 on the AOR Heaven record label. Neil was keen to write and record a follow up release as soon as possible, so started writing and recording the sophomore album 'Time Waits For No Man' not long after the release of 'Scared to Breathe'. The initial recordings of 'Time Waits For No Man' took place again at Neil's home studio (Farmyard Studios) and demo vocals were again recorded in various locations in Wales. Rick Benton (Magnum) is a long time friend of Neil and takes up keyboard duties on 'Time Waits For No Man' as he did on the debut album. Two new names join TRISHULA for the second album: Neil Ogden (Demon) on drums and Dan Clark (Rebecca Downes) on bass with additional backing vocals provided by Georgia Morgan.
Drums and final vocal recordings on 'Time Waits For No Man' took place in the Midlands (UK) at M2 Madhat Studios (Magnum). Mark Stuart handled the recording of drums with Neil Ogden and Sheena Sear took care of all vocal recordings. As per the debut album, production, mixing and mastering on 'Time Waits For No Man' was undertaken by Sheena Sear at M2 Madhat Studios.