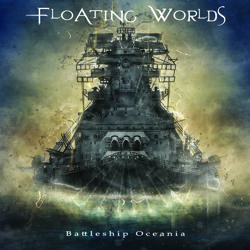 production: Floating Worlds - Battleship Oceania
release date: 17.05.2019
label: Pride & Joy Music
PR territory: world -UK,-JP
It all began around 1998, when two long time friends who used to spend their summer vacation together, Andreas V. – guitar and Vagelis Lekos – bass, decided to form a band, eventually named "Floating Worlds", after various changes.
After a lot of failed attempts to record their first songs, they succeeded in completing their first album, titled "Only A Dream, Can Kill A Dream…" in the autumn of 2007. Following the completion of the recordings, the obvious need to promote the new record through live performances, made the search for permanent band members imperative and finally the first gig of the "Only A Dream… Tour '10 – '12", took place on May 2010.
This tour came to an end after 17 gigs in July 2012 with a lot of lineup changes, of which the most important and crucial for the future of the band, was the taking over of the male vocals by Jon Soti, on November 2011.
The band entered the studio in December 2012, in order to record their second full length studio album, entitled "Below The Sea Of Light" which was released on October 1st 2013.
In February 2014, the premiere show of the "Sea Of Light Tour '14 – '15" took place in Athens, Greece. The milestone of this period definitely was the first European tour of FLOATING WORLDS in March 2015, simultaneously with the return of Sophia Assarioti on keyboards and female vocals and the taking over of the bass by Mike Papadopoulos.
In November 2015, the "Sea Of Light Tour '14 – '15" ended with four memorable shows in Serbia and immediately afterwards, the group entered a two year period of composing the songs of their third album entitled "Battleship Oceania", the recordings of which were completed in the end of 2017 with Nikitas Mandolas on drums.
"Battleship Oceania" is going to be the first concept album from FLOATING WORLDS, narrating the story of a legendary battleship and its crew. Through the unexpected revelations and events that take place as the story evolves, the listener takes a close look at the ugly face of war, the manipulations of vain people interested in power and money and the obscure role of global media but he also has the opportunity to witness the self-sacrifice for the greater good, the sincere repentance and the greatness of forgiveness.
In order to celebrate the completion of this long task, the band performed a small number of shows, for the first time in Russia, in March 2018. "Battleship Oceania" is set to be released on May 17th 2019.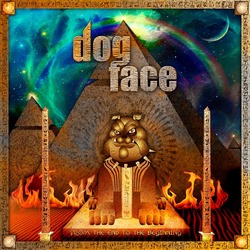 product: Dogface - From The End To The Beginning
release date: 17.05.2019
label: ScandiRock Records
territory: world
Around 1998 Martin Kronlund had a few song ideas with roots in the 70's and 80's Hard Rock genre. Thin Lizzy was the main influence for Martin, but also Deep Purple and Rainbow. He started to write songs with other friends in this blended genre and planted a seed for what became Dogface. Martin contacted Anders Skoog who was involved with earlier projects like Gypsy Rose. Anders recently bought a Hammond C3 organ, and this was the right sound for Dogface. Patrik Engelbrektsson and Stefan Egeman where invited to join the group on drums and bass. Recordings for the first album started in 1998. A few singers where involved but something was missing. Anders contacted Mats Levén who he had worked with him before in different projects. Mats came to the studio and recorded "You're taking me down" as the first song. It sounded amazing and Dogface were thrilled by his way of singing Hard Rock and his Glenn Hughes influences.
Thanks to Magnus Söderqvist, the Swedish group signed a deal with German record company MTM Music and released "Dogface Unleashed". This album was rated by several reviewers as the 'best Melodic Hard Rock release in Europe' in the year of 2000.
Later in the same year, the recordings for the second album "In Control" began. Kronlund had opened a new, huge studio and also invested in a classic SSL 4000E console. Mats Levén had also cut his hair, so this all marked a new, fresh beginning for the second Dogface album. After this release a long brake for the Dogface followed until they recorded "Back On The Streets" in 2013. Members were changed and Kronlund and Levén remained the only original members on this record.
"Dogface Releashed" was released in 2018 by Melodic Rock Records. This is a remastered and remixed version of the "Dogface Unleashed" record. The band then decided that this release is going to be the last Dogface album. They say: "We are very proud of what we have accomplished and want to thank our fans and believers for all the great years. The new release "From the end to the beginning" now is a compilation with material from the three albums with the songs that we feel represents the Dogface sound the best. We hope that you feel the same!".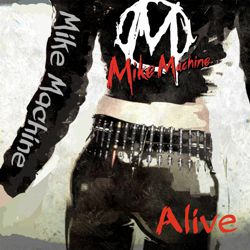 product: Mike Machine - Alive
release date: 26.04.2019
label: AOR Heaven
PR: world-wide
Contact: Diese E-Mail-Adresse ist vor Spambots geschützt! Zur Anzeige muss JavaScript eingeschaltet sein!
MIKE MACHINE was formed in November 2017 in Piteå, Sweden by front man and songwriter Michael Löfqvist (Cryonic) plus Crazze Crantz and Johnny O'dee from the new line-up of Cryonic. The band was previously known as the power metal band Cryonic who've released several albums through the years. MIKE MACHINE now is inspired by more 80s rock/glam styles in a modern way and boiled down the band to four members. The group had been working on a couple of new songs which were released as an EP in May 2017. The Swedes has made really good experiences with their live performance and love to kick ass and blow your brain out on stage. MIKE MACHINE also appears on a heavy metal sampler album released in Europe 2017 with the song called "No More".
The plan was to release a full album as soon as possible. Mike Machine produced the album "Alive" in Piteå North of Sweden in a village called Sikfors in 2018. The band recorded all songs, mixed and mastered "Alive" in the studio "ITG Studio" with Tommy Eliasson. Finally, they signed a record deal with AOR Heaven from Germany in November 2018.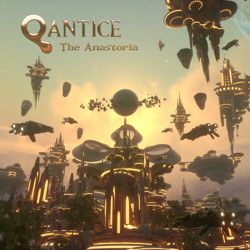 product: Qantice - The Anastoria
release date: 26.04.2019
label: Pride & Joy Music
PR: world-wide
contact: Diese E-Mail-Adresse ist vor Spambots geschützt! Zur Anzeige muss JavaScript eingeschaltet sein!
Qantice is more than your average virtuoso symphonic metal band. Its sci-fi saga encompasses both a story and the craziest sci fi/fantasy movie atmospheres. Enriched by a violinist and various traditional instruments, the sound of the French quintet is unique in this scene.
On their previous album "The Phantonauts", Qantice had gathered prestigious names like PelleK (3 million subscribers on YouTube) as lead vocalist, Zaher Zorgati (Myrath) or Yossi Sassi (ex-Orphaned Land). Then, in 2016, the band recruited Swedish singer David Akesson (Aldaria, Vivaldi Metal Project, Six Foot Six, ex Moonlight Agony) to share the stage with Luca Turilli's Rhapsody on their European tour, and then Myrath in Paris.
Thanks to a lineup strengthened by touring together, the band's chemistry is stronger than ever, making this third album their most epic and collaborative effort yet. With Kevin Codfert (Adagio, Myrath) on production and many surprises such as Italian opera tenor Riccardo Cecci from L T's Rhapsody, here's a new offering of pure epicness, served by the biggest orchestras and choirs ever deployed in a Qantice album.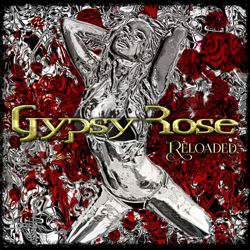 product: Gypsy Rose - Reloaded
release date: 26.04.2019
label: ScandiRock Records
PR: world-wide
Contact: Diese E-Mail-Adresse ist vor Spambots geschützt! Zur Anzeige muss JavaScript eingeschaltet sein!
The band GYPSY ROSE was founded back in 1981 in Sweden by Håkan Gustafsson and Martin Kronlund, but their self-titled debut album was just released in 2005 - almost 25 years later! Now life has not been all too kind for the band during the 80's. Labels that went belly-up after signing, warm attention from foreign producers (Taavi Mote - Geffen Records) that in the end was nothing more than a cold shower.
Finally GYPSY ROSE broke up in 1993, but thanks to Andrew McNeice at www.melodicrock.com the group got together again in 2004 and started the recordings in Martins Kronlund's studio.
Now, the album is re-released on CD and digital under the new name "Reloaded" with a new cover, re-mastered by Martin Kronlund and with the bonus track "Solitude" added.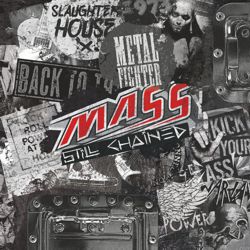 product: MASS - Still Chained
release date: 26.04.2019
label: Pride & Joy Music
PR: world-wide
Contact: Diese E-Mail-Adresse ist vor Spambots geschützt! Zur Anzeige muss JavaScript eingeschaltet sein!
Founded in 1973 with an international line-up (from Germany, Switzerland, USA), MASS in their prime time played about 180 gigs in clubs and at festivals every year all over Europe. They sold over 200.000 albums and received radio airplay all over the continent. The album "Slaughter House" (1979) hit the top 5 of the Greek album charts. A few years later, the readers of a famous German Hard Rock magazine voted MASS on # 4 of the best German Metal Bands after the Scorpions, Accept and Warlock. But fate doesn't care about glory or fame. Just like so many musicians at the time, they had to pay the price for an excessive Rock' n Roll lifestyle which resulted in the breakup of the band in 1987.
Many years had passed before Günther V. Radny (bass) started to think about a reformation of the group when Hard Rock Label SPV released 4 of 8 successful MASS albums on CD as part of their "Rare Classic Series". In 2016, the in Metal circles, highly respected Tom "Warrior" Fischer (Hellhammer, Celtic Frost, Tryptichon) quoted the 1980 released MASS LP "Angel Power" as one of the most important albums of the era in an article in a big German Heavy Metal magazine - the call for a comeback became louder and Radny knew that the time was right.
Because of health reasons, the original line-up wasn't able to perform. So Radny formed a new line-up in January 2017 with Matthias "Wauxl" Pfaller on vocals, Hannes Heid on guitar, Andy Gmeinwieser on drums and Clemens Matejka on organ. Completing the MASS sound with organ was a long desired wish from Radny. So he is not just starting a copy but creates a new chapter of the former most famous Metal Band from the South of Germany: MASS. 40 years after beginning one thing remains and so stays like from first day on the first rule and their highest maxime: "MASS only plays for the audience – 100% Hard Rock!"
The album "Still Chained" was produced by Robert Hoffmann & MASS at Single Coil Studios/ Regensburg and Slash Zero Records/ Abensberg between March and October 2018. The cover artwork was designed by Gisella Sapiña Febrero.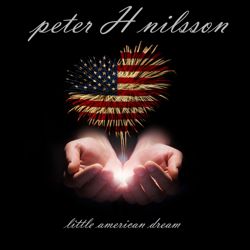 product: Peter H. Nilsson - Little American Dream
release date: 29.03.2019
label: AOR Heaven
PR: world-wide
contact: Diese E-Mail-Adresse ist vor Spambots geschützt! Zur Anzeige muss JavaScript eingeschaltet sein!
Swedish guitar player Peter H Nilsson has been in the musical business for many years in different bands in and extensive touring in his home country. In 2016 Nilsson started to work in his studio tracking new ideas for an album and in June 2017 all songs were done.

Nilsson was at the same time looking for a singer and found what he was looking for via the world's leading music production marketplace Soundbetter: Chris Biano from Nashville, Tennessee and started to discuss
the possibility to work together and finally, in July 2017 the first song was tracked.

At the end of 2017 the majority of all songs were ready but the guitar player felt that the tracks needed something extra. He then started to look for a drummer on Soundbetter and soon found session drummer Jason Meekins from Austin, Texas who was recruited for the album in January 2018. long-time friend and bass player Patrik Adiels from Gothenburg joined for the album in early 2018.

Thomas "Plec" Johansson started to mix the record, which is called "Little American Dream", in September 2018 at his Panic Room Studios in Skövde, Sweden where the record also was mastered.