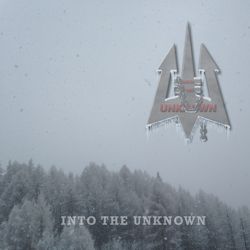 product: Into The Unknown - Into The Unknown
release date: January 28th, 2022
label: Vigilante
format: digital EP
PR territory: Europe
PR contact: Diese E-Mail-Adresse ist vor Spambots geschützt! Zur Anzeige muss JavaScript eingeschaltet sein!
Into the Unknown, the British symphonic rock band, released their last album in 2019, and then unfortunately singer Lucie Hölzlová left the band as she moved back home to her native Czech Republic. A period of auditions, pandemics and Brexit all conspired to delay the creativity of the band, and the planned 2020 release of their third full studio album was delayed!
They were working behind the scenes, recruiting new drummer Richard Novak and keyboard player Paul Knightley ready for proposed gig, and then 2020 happened ….
However, rehearsals have now been underway, the band have been in recording their parts for the new album, and they are ready to reveal their new singer …. Natalie Shedden.
Natalie is no stranger to the music business, her solo career having seen her grace the dance music charts, which may surprise people as to why she would be now fronting a heavy rock band!
"We didn't want a 'rock' singer, Lucie was more theatrical with her vocals and we had heard Natalie singing some Musical Theatre, especially her renditions of Les Misérables songs. Ryan and I had both worked with her a few years ago, before Into The Unknown formed and after a few auditions with some great singers, it was suggested that we approach Natalie, who immediately said yes!" said bass player Rupert
They recorded a few live acoustic tracks whilst in lockdown but for various reasons didn't release them. They've now added two of the tracks to the single as 'b sides'.
And so to the single - it's another Disney cover!
"Back when we did the covers mini album, "The Other Side of the Wall", we recorded a version of "I Wanna Be Like you" from the Jungle Book, so when we saw that Disney released Frozen 2 with the main song being called "Into The Unknown", we took that as a challenge! It also showcases Natalie's vocals and gave us the chance to have a bit of fun" says lead guitarist Ryan
Coupled with the new live acoustic versions of "Breaking My Heart" and "Don't Pay The Ferryman", the songs have been produced in 3D audio, which means that listening (especially with headphones) should give the listener the feeling of being more immersed in the music.
This single serves the purposes of introducing Natalie to the fans and media, whilst paving the way for the new album, which is nearly fully written and recorded, and due for a release in 2022. The twin guitars of Ryan Rivers and James Milner combine with the solid rhythm section of Richard and Rupert, the orchestration, Pauls melodic piano playing, and Natalie's searing vocals.
Into the Unknown, the EP is released digitally on January 28th, via The Orchard/Sony.
Track list: 1. Into The Unknown (3D Mix), 2. Breaking My Heart (live acoustic), 3. Don't Pay The Ferryman (live acoustic)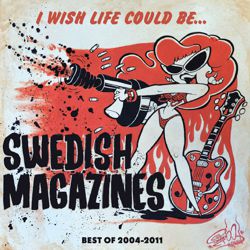 product: Swedish Magazines - I Wish Life Could Be...
release date: 17.01.2022
label: Bad Reputation
PR territory: GAS
PR contact: Diese E-Mail-Adresse ist vor Spambots geschützt! Zur Anzeige muss JavaScript eingeschaltet sein!
"I wish life could be Swedish magazines" – Iggy Pop, "Five Foot One", 1979
Fronted by the irrepressible Van Walker, Swedish Magazines are a delightfully raucous Melbourne punk outfit. Originally hailing from Tasmania, Van and his brother Cal's band bridged the divide between the Cosmic Psychos, Powder Monkeys, and Amyl and the Sniffers and Civic.
If you're unfamiliar with their work, Bottles & Barstools is the perfect way to get acquainted and probably fall in love. Bottles & Barstools features the band's second line-up, with Johnny Gibson on drums and Lachlan Rimes on bass. The original Swedes line-up, which also features on the new collection, with Anton Ruddick (lead guitar) and Tim Durkin (drums), is now back together.
They're in the midst of recording a new album and are set to play live shows. They're in the process of recording new material for a new album, their first since 2010's Wino Havoc.
The band just released a best-of collection titled I Wish Life Could Be, it's also their first vinyl release. The CD will include a handful of tracks drawn from two live-in-the-studio sessions recorded in 2005 by Melbourne's PBS-FM. The tunes are very catchy, high-tempo and highly emotive blend of guitar riffs and Van's phenomenal vocals.It's reminiscent of the best of Buckcherry's work.
Fans of Rancid and the Dropkick Murphys will love "She's Evil", "Girl From The Tote" "You Never Wanted It" or "Think Tanks A Million". These are great songs with great melodies and wry, literate lyrics – plenty for fans of Van's solo work to love too.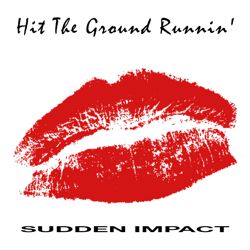 product: Hit The Ground Runnin' - Sudden Impact
release date: 14.01.2022
label: AOR Heaven
PR territory: world
PR contact: Diese E-Mail-Adresse ist vor Spambots geschützt! Zur Anzeige muss JavaScript eingeschaltet sein!
While Philadelphia based Hit The Ground Runnin' may not have had the same kind of international recognition their better known local compatriots Cinderella, Britny Fox, Tangier and Heaven's Edge acquired back in the day, they can surely feel a sense of pride in the fact that the album they released back in 1989 ('Sudden Impact') became one of the most sought after hard rock records. Collectors of the genre have, especially over the last twenty five years, fought and outbid each other on eBay for the privilege of owning a copy.
First formed as the curiously named Free Delivery in early 1985, the initial line-up consisted of vocalist Blair Rumsey, bassist Paul Piccari, guitarist Alan Augunas, drummer Bert Marks and the keyboard playing pairing of Steve Cocchi and Rob Knauss (aka Rob Kay).However, Marks was quickly replaced by Jimmy Katone (formerly a member of fellow local bands Sanctuary and Escape) and Cocchi would also depart the band within a year.
The band found themselves opening up for a number of other groups on the local scene as things progressed, including Britny Fox on many an appearance at the legendary Galaxy Club in Somerdale, New Jersey and also The Who's John Entwistle and Blue Oyster Cult at the even more legendary Stone Pony venue in Asbury Park. The quintet would also go on to later perform (as Hit The Ground Runnin') at the 1989 Monterey Pop Festival with Jeff Healey, Billy Preston and War.
So having built up a reputation locally under the Free Delivery handle the band renamed into Hit The Ground Runnin' in 1986 when Hilary Schacter at Powerhouse Studios at Nise Productions suggested this name. The association with Nise eventually led to the newly named Hit The Ground Runnin' gaining a deal with the recently established Autograph Records imprint; a boutique label linked to BMG
'Sudden Impact' was originally available on LP, CD and cassette. Although examples of the CD version have sold for the most money in collector circles, it's actually the cassette version that is the rarest of the three formats. At the time of writing a CD is listed for sale on a popular internet site for music purchases for the princely sum of just over $3000.
The second album, originally slated for release in 1991, got shelved and released in 2000 by the band's own label Smash Records. A third, entitled "HGR", followed as a self-release in 2007.
AOR Heaven now will re-release the sought after "Sudden Impact" album on January 14th, 2022 as strictly ltd., re-mastered double CD including 2 bonus tracks on the original disc and additional 8 bonus tracks on disc 2 which will be available via AOR Heaven mailorder exclusively.
product: Autumn's Child - Zenith
release date: 18.01.2022
label: Pride & Joy Music
PR territory: world (excluding Asia)
PR contact: Diese E-Mail-Adresse ist vor Spambots geschützt! Zur Anzeige muss JavaScript eingeschaltet sein!
Mikael Erlandsson needs no further introduction when it comes to melodic rock.
He has released six successful solo albums and a lot of titles with groups like Phenomena, Salute among others. Between 2006-2018 Erlandsson fronted the Swedish super group Secret Service which he toured with live all over the world.
Together with the fantastic guitar player Andy Malecek from the successful German hard rock band Fair Warning he founded the band LAST AUTUMNS DREAM in 2003 which also featured Ian Haugland, Mic Michaeli and John Leven of Europe fame at the time. The self-titled debut album was produced by Claes Andreasson and became a great success.
Last Autumn's Dream went on releasing another 14 albums with different line ups including great musicians like Jamie Borger (Treat) and Marcel Jacob (Talisman). They toured Japan, England and Germany but decided to take a break in 2018.
Shortly after, Erlandsson founded the group AUTUMN'S CHILD. Their self-titled debut album was released in January 2019 through AOR Heaven feat. Jona Tee on keyboards (H.E.A.T), Robban Bäck, former drummer of Eclipse and currently in the line-up with Swedish rock band Mustasch, Claes Andreasson of Swedish Westcoast/AOR band Heartbreak Radio who also produced the first Autumns Child album together with Mikael Erlandsson. Guitars come courtesy of Pontus Åkesson (Moon Safari). In 2020, the group released the sophomore album "Angel's Gate".
January 2022 sees Autumn's Child returning with album 3, "Zenith", this time via Pride & Joy Music, which once again features Michael Erlandsson on vocals, keyboards & guitars, Pontus Åkesson on lead guitar, Robban Bäck on drums, Claes Andreasson on piano and Magnus Rosen on bass. Guests include Jona T. (Heat) with a keyboard solo on "Emergency", Sayit Dölen on rhythm guitar on "High On Love", Martin Olsson on bass on "Angel Of Danger", "Evangeline", "Love Is A Fighter" & "Nightingale", Anna-Mia Bonde on background vocals on "Emergency", Rasmus Ehrnborn (Soilwork, Night Flight Orchestra ) on guest guitar on the track " Don't Wanna " and Roberth Nygren on acoustic guitar on "Heaven Can Wait".
"Zenith" was produced by Erlandsson & Claes Andreasson, mixed and mastered by Mikael Andersson at Soundport Studios, Sweden; drums recorded by Mikael Andersson at Soundport Studios.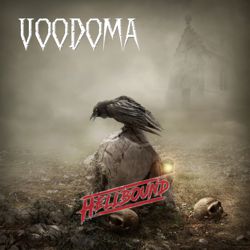 product: Voodoma - Hellbound
release date: 18.01.2022
label: Pride & Joy Music
PR territory: world
PR contact: Diese E-Mail-Adresse ist vor Spambots geschützt! Zur Anzeige muss JavaScript eingeschaltet sein!
VOODOMA are a Dark Rock band with Gothic and Metal influences from Düsseldorf, Germany. "Hellbound" is their second release on Pride & Joy Music after "Gotland" which saw the light of day in 2017.
After numerous album releases and festival appearances incl. "Wacken Open Air", "Ragnaröck Festival" and "Castle Rock", a new chapter now opens for the band: catchy melodies meet with tons of hooks, eclectic arrangements and a dark but still rocking atmosphere.
The group's sound still can be described as melodic, catchy Dark Rock which offers a wide range of elements and songs which will appeal to Gothic and Metal fans alike.
Recorded at Doomsday Club Studio in Düsseldorf between January 2019 and September 2021, "Hellbound" was produced & mixed by Mikk Hollenberg. The mastering was handled by Chris Beyerlein at Stem Masters in Nürnberg, Germany. Artwork designed by Martina Peschel.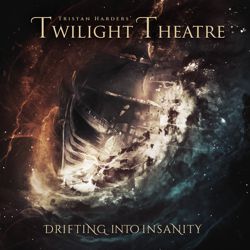 product: Tristan Harders' Twilight Theatre - Drifting Into Insanity
release date: 14.01.2022
label: Pride & Joy Music
PR territory: world
PR contact: Diese E-Mail-Adresse ist vor Spambots geschützt! Zur Anzeige muss JavaScript eingeschaltet sein!
Tristan Harders' Twilight Theatre is the solo project by German Power Metal Band Terra Atlantica's vocalist and guitarist Tristan Harders.
The intention behind this project is to fill the void and lack of live concerts which was created by the global pandemic in 2020 and 2021. Tristan used the obtained free time to finally record a couple of songs that were gathered over the last decade but never put to an appropriate use.
Musically the project is very close to Terra Atlantica's style of early 2000's melodic power metal with lots of catchy choruses and choirs but less dramatic and lyrically more personal in a direct sense.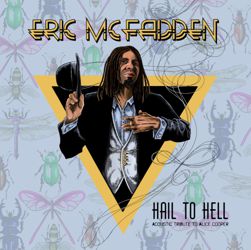 product: Eric McFadden - Hail To Hell (Acoustic Tribute To Alice Cooper)
release date: 06.12.2021
label: Bad Reputation
PR territoy: Germany, Austria, Switzerland only
PR contact: Diese E-Mail-Adresse ist vor Spambots geschützt! Zur Anzeige muss JavaScript eingeschaltet sein!
Tracklist: 1.Welcome To My Nightmare 2.Is It My Body 3 Last Man On Earth 4. Laughing At Me 5.Crazy Little Child 6.Millie and Billie 7. Man With The Golden Gun 8. Billion Dollar Babies 9. I'm the Coolest 10. Former Lee Warmer 11. It's Me 12. Blue Turk 12. 13.Desperado 14. Ballad of Dwight Fry
Alice Cooper has been deemed "The Godfather of Shock Rock". He is notorious for his theatrics and compelling, and often shocking, stage antics. It seems that these things may have, to a fair degree, overshadowed his prowess as a songwriter. Many have simply dismissed Alice Cooper as a shock rocker more along the lines of KISS than Dylan or Bowie. To me, he is more akin to the latter two. Cooper's songwriting brilliance wasn't lost on Bob Dylan either, who regarded him as an overlooked and under-appreciated songwriter. Or John Lennon who said his favorite song was Cooper's "Elected". Or Frank Zappa, who signed Alice Cooper to his label.
As a kid with a love for rock n roll and horror movies, Alice Cooper and KISS both captivated me, but it was the music of Cooper that stood the test of time as I grew older. I'm still taken by the way he mixed rock n roll with vaudeville and various other genres, his elaborate arrangements, and unique production. I love the way he infused both humor and humanity into his dark subject matter. And then there's the musicianship. Alice Cooper's music proved something to grow more into rather than to grow out of.
It was a real pleasure revisiting this music and reinterpreting it. To break it down and present it in a more stripped down and intimate way. I hope that fans of Alice Cooper appreciate my take on his timeless music, and that those not as familiar enjoy making the discovery. No matter how it's dressed up, great songwriting always transcends genre.
Eric McFadden
Another Tribute will you think? Does Eric McFadden have any more ideas to record a new album of the Eric McFadden Trio, a 2 BIG Mc's studio album or a solo album? It would be too quick to judge this genius.
This tribute album is the culmination of the common passion of a producer and an artist for Alice Cooper. The title of this work is a nod to Welcome to My Nightmare. Through 14 tracks, Eric McFadden and his penchant for the imaginary (Lewis Caroll, Dr Seuss..) joins the demons of Vincent Furnier.
Most of Alice Cooper's career is traced here. From Easy Action to Welcome to My Nightmare 2 through Dada, Eric McFadden's devil mieschieves marry those of the Shock-Rock's Master.
This unique, unclassifiable and brilliant guitarist-vocalist that is Eric McFadden proves once again his qualities to adopt and appropriate the works of great composers.
We find as guest-star on the title "Millie and Billie", Kate Vargas for a magical duo and on percussion Wally Ingram