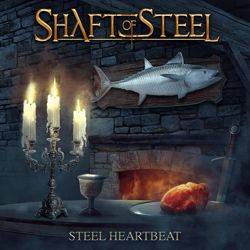 product: Shaft Of Steel - Steel Heartbeat
release date: February 28th, 2020
label: AOR Heaven
territory: world
PR: Diese E-Mail-Adresse ist vor Spambots geschützt! Zur Anzeige muss JavaScript eingeschaltet sein!
SHAFT OF STEEL are a melodic hard rock band based in London, UK and centered around the songwriting partnership of Alex Markham (guitar) and Robert Fenning (vocals). The group's line-up is completed by Adam Carruthers (guitar), Dominic Swords (bass), Chris Smurthwaite (keyboards) and Michael Levy (drums).
Formed in 2004 at Hull University, SHAFT OF STEEL began life as a power metal band influenced by acts such as Iron Maiden, Dream Theater and Blind Guardian. Guitarist Alex Markham and vocalist Robert Fenning soon discovered that they had a shared love of 80s rock and pop music, in particular Peter Gabriel, Phil Collins and Journey, and quickly sought to combine these sounds with their metal influences. After three years as a popular and much-loved local act on the Scarborough music scene, the band went their separate ways after graduating.
In 2011, after establishing themselves in other careers, the band felt it was finally right to regroup and record an EP. Bassist Andy Cooper and drummer Garth Vickers from the earlier incarnation of SHAFT OF STEEL re-joined, along with Markham's school friends, guitarist Adam Carruthers and keyboard player Chris Smurthwaite.
During their hiatus, the members of SHAFT OF STEEL learned of the thriving AOR scene in mainland Europe and were determined to introduce more melodic influences into their music upon reforming. The band's self-titled debut EP was released independently in 2014 and picked up plaudits in the music press all around the globe, appearing in Classic Rock AOR, Powerplay and Fireworks magazines and a host of online publications.
SHAFT OF STEEL subsequently made their first live appearance with their new line-up, supporting UK melodic rock heavyweights VEGA at The Garage in London in 2014. Since then, they've appeared at the prestigious HRH AOR Festival in North Wales and The Underworld, Camden, where they delivered a storming hour-long set, filled with new material.
Bassist Andy Cooper and drummer Garth Vickers departed the line-up in 2017 and were replaced respectively by Dominic Swords and Michael Levy, both of whom had already played in earlier incarnations of the band. A full-length album remained an ongoing project in the years following the EP release and it was finally completed in late 2019.
SHAFT OF STEEL have signed to AOR Heaven for the release of the new album, entitled 'Steel Heartbeat'. They have made major stylistic leaps on this record, taking influence from a range of melodic hard rock and AOR acts, including Work of Art, FM, Harem Scarem, Strangeways and Shy, while being careful not to abandon their metal roots.
'Steel Heartbeat' features backing vocals on all tracks from respected American producer and musician Dennis Ward. Famous for being the bass player in legendary German hard rockers Pink Cream 69 (and, more recently, the vocalist for Firewind main man Gus G's solo material), Ward appeared on the band's debut EP and has also mastered the record. The album was produced and mixed by guitarist Alex Markham, who took up the same roles on the debut EP.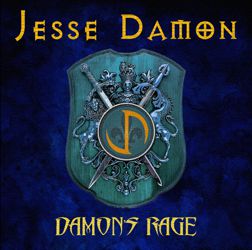 product: Jesse Damon - Damon's Rage
release date: February 28th, 2020
label: AOR Heaven
territory: world
PR: Diese E-Mail-Adresse ist vor Spambots geschützt! Zur Anzeige muss JavaScript eingeschaltet sein!
The musical pathway of Jesse Damon's life has been inspired by some of the biggest artists in rock music. Jesse's story starts back in the glory days of the eighties as the lead singer and guitarist for the band Silent Rage that rose to fame in 1989 when signed by Gene Simmons to Simmons/RCA Records for their second release entitled "Don't Touch Me There" which brought critical acclaim and rave reviews. It was deemed # 1 album on the European Charts. "Rebel With A Cause" was the single featured on MTV and the video placed into heavy rotation on MTV's Head Bangers Ball. The strength of the album and video led to the band opening for Black Sabbath on their North American tour. During this time in Jesse's career he formed a friendship with Gene Simmons of Kiss, co-writing songs together and eventually co-writing the song "Thou Shalt Not" from the Kiss album "Revenge" for which Jesse was presented a gold album award.
In 2002, he went on to record another co-written song with Simmons entitled "Everybody Needs Somebody" from his own debut album "The Hand That Rocks." Jesse launched into a solo career and has recorded six of his own releases. The first five solo albums are a mix of well crafted melodic rock songs and intense ballads.
Now he has returned with a mighty album proving once again that he's still a rebel with a cause!
Jesse Damon's new album "Damon's Rage" delivers a killer dose of powerful songs, rock 'n' roll anthems and unforgettable choruses! He's known for his distinct vocals, songwriting and his rocking guitar style by blending melodic rock with metal to create his own sound, but his songwriting is his main maestro that is prevalent throughout his performances on this new album. Acclaimed AOR artist Paul Sabu is at the helm once again producing this album and also co-writing two songs with Jesse titled "Love Gone Wild" and "Wildest Dreams."
This time around all tracks were recorded by Jesse Damon and Paul Sabu and everything was on they're shoulders. From the beginning of recording this album Jesse felt he had a collection of great songs and they both decided to conquer this task and tackle it on their own.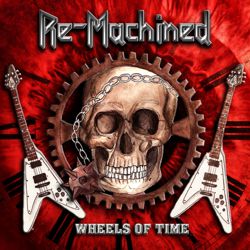 product: Re-Machined - Wheels Of Time
release date: 21.02.2020
label: Pride & Joy Music
PR territory: world
contact: Diese E-Mail-Adresse ist vor Spambots geschützt! Zur Anzeige muss JavaScript eingeschaltet sein!
With their eponymous demo, Mainz band RE-MACHINED already raised the dust in the German underground in 2018. Their classic heavy rock with delicate guitar solos and catchy melodies seemed to strike a chord with fans. Numerous positive reviews in printed and online magazines quickly lead to gig requests and resulted in support shows for Manilla Road, Gun Barrel, Bonfire and Trance. Their debut album "Wheels Of Time" takes up the golden thread of the demo, but considerably expands the self-set goals of the band cosmos. To be sure, there are still no ballads, no cover songs and obviously no keyboards; nevertheless, the album brims with variety. At the rock end of the hit spectrum, there are songs like "Brother Sun, Sister Moon" or "In My Life" that still breathe the spirit of the late 70s and that inevitably call to mind bands like Thin Lizzy or Demon. On the other side of the spectrum, there are fast, catchy metal songs like "Fear", "Prisoner" or "Go To Hell" that still smell of the NWOBHM. Iron Maiden or Saxon leave their marks in these numbers without making them simple or even shameless copies of the originals. Plus, we mustn't forget one band: Memories of the Solingen steel works Accept have always been the basis for a lot of Re-Machined songs and can be found here for example in the wrecking balls "Re-Machined" and "Change Your Mind".
Renowned producer Markus Teske, who already enhanced silver discs by SAGA, U.D.O. or The New Roses, was entrusted with mixing "Wheels Of Time".
With "Wheels Of Time", RE-MACHINED presents an impressive debut album with grade A heavy rock that skillfully manages the balancing act between the tried and trusted and the new and delivers timeless numbers with catchy choruses and delicate guitar solos en masse. It's re-machined and not just vintage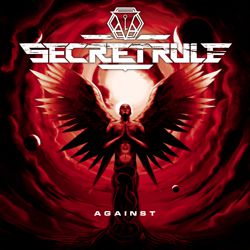 product: Secret Rule - Against
release date: 21.02.2020
label: Pride & Joy Music
PR territory: world
Contact: Diese E-Mail-Adresse ist vor Spambots geschützt! Zur Anzeige muss JavaScript eingeschaltet sein!
SECRET RULE was formed at the beginning of 2014 with the intention to create a special sound with powerful rhythms and catchy melodies. During these six years, the group conquered its space in the metal scene.
The band is fronted by the powerful and crystal clear vocals of Angela Di Vincenzo, masterminded by lead guitarist Andy Menario, with accurate bass playing of Michele Raspanti and the powerful drumming of Alex Beccati. Secret Rule on stage is a bomb of energy, a mix of heavy guitar riffs, with electronic elements and incredible keyboard lines.
The band released four albums: "Transposed Emotions" (2015), "Machination" (2016), "The key to the world" (2017) and "The 7 Endless" (2019), and built a solid fan base supported by their live activity and featured special guests like Aylin (Sirenia), Stefan Helleblad (Within Temptation), Henrik Klingenberg (Sonata Arctica), Timo Somers (Delain), Sander Zoer (Delain, Leah), Henning Basse (Mayan, Firewind).
SECRET RULE played a lot of shows all over Europe, including headlining European tours, sharing the stage with great bands such as Delain, Beyond the Black, Xandria, Serenity, Kobra & the Lotus, Blaze Bayley, Visions of Atlantis and Cellar Darling and performing festivals including the Barcia Metal Fest, the Wings of BEA, the Metal Fest Event - Femme, the 9° Camorock, Festo Die Hydria.
"Against" now is their fifth studio album which will be released on February 21st, 2020 on Pride & Joy Music. In April 2020, the Italian Heavy Metal band will support Brazilian Melodic Death Metal SEMBLANT on their European tour.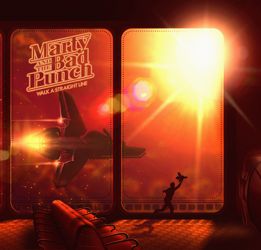 product: Marty & The Bad Punch
release date: 21.02.2020
label: Enghardt Media/ Edel
PR territory: Europe
PR contact: Diese E-Mail-Adresse ist vor Spambots geschützt! Zur Anzeige muss JavaScript eingeschaltet sein!
Marty Punch returns after his successful debut album "Moon Over Baskerville", which was awarded with four awards at the German Rock & Pop Awards in 2015. The brilliant follow-up double album is called "Marty And The Bad Punch – Walk A Straight Line" (EnghardtMedia) and will be released on February 21st, 2020. Also featured on the new release is frontman & singer David Cagle (JK Northrup/ David Cagle "That's Gonna Leave A Mark", MelodicRock Records).
"Walk A Straight Line" is a time travel through the most beautiful time of Melodic & AOR Rock – the 80's. In addition to beautiful ballads you can also find incredible AOR Rock songs and country anthems!
The album includes the 3 singles "Zakopane" (#1 Hit in Poland!) with Tommy Denander on lead guitar, the melodic rock anthem "Universe" with Frank Pané (Bonfire) on guitar and "My Demons" with Bruce Kulick (ex-Kiss / Grand Funk Railroad) on lead guitar (to be released Dec 13, 2019 as single).
Many international stars such as David Cagle, Sarah Straub, Robert Karasek, Martin Motnik, Carsten Enghardt, JK Northrup, Tommy Denander, Frank Panè and Bruce Kulick can be heard on "Walk A Straight Line". The recording and mix was handled by Carsten Enghardt, and the final touches were given to the album by mastering engineer Dennis Ward.
Right now, Marty is working with Tommy Denander on a re-recording of the track "Better Be Strong" from his first album – with Robert Tepper, David Cagle, Steph Honde and Mick White as singers amongst others. This recording will be released for charity in the near future.
Line-up: Marty Punch (Guitars), David Cagle (Vocals), Carsten Enghardt (Drums), Martin Motnik (Bass), Robert Karasek (Keyboards)
Guests: Sarah Straub (vocal duet on "Feels Like Heaven"); Tommy Denander (lead guitar & solo on "Zakopane"), JK Northrup (guitar solo on "Southbound Train", Voice over on "The Story Of The Making…), Frank Pané (guitar solo "Universe"), Bruce Kulick (lead guitar & solo "My Demons"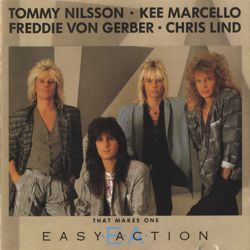 product: Easy Action - That Makes One
release date: 31.01.2020
label: AOR Heaven
territory: world
PR: Diese E-Mail-Adresse ist vor Spambots geschützt! Zur Anzeige muss JavaScript eingeschaltet sein!
Rarely has there been such a drastic change of musical style than that made by the Swedish hard rock band Easy Action when it came to the recording of their second album 'That Makes One' in 1985. While the band's debut LP (1983) was an ahead of its time glam classic, Easy Action had morphed into a slickly melodic AOR group on the follow up record.
Kee Marcello, who later on joined Europe, was approached by Peo Thyrén (b) from the pop punk band Noice which were considerably successful at the time to sing but eventually ended up as their producer. Not willing to live the destructive lifestyle of the band, Kee and Peo founded their own band: Easy Action. The name refers to Marc Bolan who is considered the biggest rock star by Marcello. The band recorded a mini-album and got themselves a multi-million dollar deal with Sire Records. "I went from practically being homeless to being a young, stupid guy with loads of money", Marcello recalls. Joining Peo and Kee in this early version of Easy Action were Zinny J. Zan (v), Fredrik Von Gerber (d, ex Noice) and Danny Wilde (g).
The band sounded like a blueprint for Mötley Crüe, Poison and the like and consequently wanted to go in a different direction with the follow-up. Several line-up changes came, most notably Peo eventually making way for Björn 'Nalle' Påhlsson and Tommy Nilsson being recruited to fill the vacant lead singer role after Zinny left. The journey together ended when Marcello was offered to join Europe - an offer to good to turn down.
Upon release in 1986 'That Makes One' certainly gained its many admirers, but any success was short-lived due to Kee taking up that aforementioned offer from Europe to replace John Norum in November the same year to go on to record the 'Out Of This World' and 'Prisoners In Paradise' albums with the group. When that version of Europe went their separate ways, Marcello began a solo career in 1993 that continues to this day, alongside a lot of production for other artists.
The "glam rock variant" of Easy Action reunited. Kee and Zinny J. Zan having recruited a first class team of players that included Simon Roxx (g), Micael Grimm (b) and 'Grizzly' Höglund (d) and played Sweden Rock in 2006. But the passing of Grimm in 2011 who was the driving force at the time ended the band activities, although some songs were written.
Yet in 2019 the "melodic rock version" of the band got back together! Kee and Tommy, alongside Chris Lind (g), Björn 'Nalle' Påhlsson, Björn 'Grizzly' Höglund and the band's long-time live keyboard player Jörgen Ingeström reformed again earlier this year when Kee received another offer to play Sweden Rock. The band recorded a live DVD and presented themselves in excellent shape, for instance using no backing tapes and stuff.
This re-release is remastered by Chris Lyne and limited to 1000 copies. As a bonus there are rare b-sides "Eye For An Eye" from the "In The Middle Of Nowhere" single and "There Is A River" from the "Talk Of The Town" single.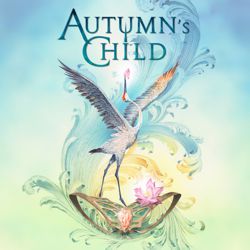 product: Autumn's Child - s/t
release date: 31.01.2020
label: AOR Heaven
territory: Europe
PR: Diese E-Mail-Adresse ist vor Spambots geschützt! Zur Anzeige muss JavaScript eingeschaltet sein!
Mikael Erlandsson from Gothenburg is one of the best singers/songwriters in Sweden today. Between 2006-2018 he was the frontman in the Swedish super group Secret Service on live tours all over the world.
He has recorded five successful solo albums and together with the fantastic guitar player Andy Malecek from the successful German hard rock band Fair Warning he thought of putting a band together. Ian Haugland (d), Mic Michaeli (keys) and John Leven (b) of Europe-fame were asked if they were interested to join - which they did, and the band LAST AUTUMN'S DREAM was born in 2003. The self-titled debut album was produced by Claes Andreasson and was a great success.
Then the band went on releasing another 14 albums with different line-ups with great musicians like Jamie Borger (d, Treat), Marcel Jacob (b, Talisman) and they all had an impact of the band's development.
They toured Japan, England and Germany but decided to take a break in 2018. Then Mikael formed this new group: AUTUMN´S CHILD.
The line-up apart from Mikael Erlandsson: Jona Tee on Keyboard from Swedish melodic sensation H.E.A.T., Robban Bäck, former drummer of Eclipse and currently with Swedish rock band Mustasch, Claes Andreasson from Swedish Westcoast/AOR band Heartbreak Radio. He also produced the first LAD album and "Winter in Paradise" and "Saturn Skyline" for LAD as well and finally on guitar: the amazing Pontus Åkesson from the prog rock band Moon Safari.
The album is like a walk through rock history with influences from such different bands like Queen, The Cars, Gary Moore, Journey and of course, LAD.
"Autumn's Child" is produced by Claes Andreasson and Mikael Erlandsson
Mixed and mastered by Mikael Andersson at Soundport Studio.