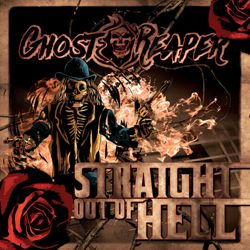 product: Ghostreaper - Straight Out Of Hell
release date: 06.12.2019
label: Pride & Joy Music
territory: world
PR contact: Diese E-Mail-Adresse ist vor Spambots geschützt! Zur Anzeige muss JavaScript eingeschaltet sein!
Debut album of metal project GHOSTREAPER featuring ten international vocalists, male and female, in an epic Wild West setting.
There's everything from hard rock to modern metal up to classic power metal. "Straight Out Of Hell" combines different genres forming a complete and powerful picture. The album is full of melodic hooklines and riffs, telling the story of a band of outlaws at the time of the Wild West. Great songwriting meets powerful and energetic voices. Written and produced by Mikk Hollenberg, guitarist of dark metal band VOODOMA.
Singers in alphabetical order:
Deibys Artigas (Venezuela) - Leadvocals "Sons of the Gun", "Red Moon Rising"
Sandra Bullet (Portugal) - Leadvocals "Black Widow", "Snakes & Slaves"
Eric Castiglia (Italy) - Leadvocals "High Noon", "Sons of the Gun", "Farewell"
Onur Kaplan (Turkey) - Leadvocals " Desperados"
Danny Kross (Algeria) - Leadvocals "Snakes & Slaves"
Diane Lee (Switzerland) - Leadvocals "Darkness of Sin", "House of Hell"
Laut Lindmae (Estonia) - Leadvocals "House of Hell", "Snakes & Slaves"
Jordy Noran (USA) - Leadvocals "High Noon"
Michael Thionville (Germany) - Leadvocals "Darkness of Sin"
Evgen Zoidze (Ukraine) - Leadvocals "Straight out of Hell", "Snakes & Slaves"
Musicians:
Mikk Hollenberg - Guitars, Bass, Keys
Wolle Haitz - Drums, Percussions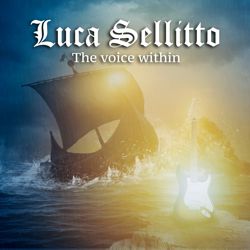 product: Luca Sellitto - The Voice Within
release date: 06.12.2019
label: Pride & Joy Music
territory: world
PR contact: Diese E-Mail-Adresse ist vor Spambots geschützt! Zur Anzeige muss JavaScript eingeschaltet sein!
Luca Sellitto is an Italian guitarist and songwriter, mostly known in the European melodic metal scene for being the founder and leader of the power/progressive metal band STAMINA, officially active since 2007.
With STAMINA, Luca has released four full-length studio albums up until now, plus a live album (CD+DVD), recorded in Poland. He has also played numerous gigs in Europe with the band, including countries such as Italy, Spain, Holland, Belgium, Austria, Germany and Poland.
"The Voice Within" is a neoclassical power metal album, composed and produced by Luca Sellitto, therefore his first solo album.
With this record, Sellitto's intention is both to pay his personal tribute and bring new life to this old subgenre of heavy metal, for the joy of all fans of YNGWIE MALMSTEENS'S RISING FORCE, early STRATOVARIUS, ROYAL HUNT, VINNIE MOORE, TONY MACALPINE, early SYMPHONY X etc.
For this purpose, the guitarist decided to join forces with some of his favourite singers and musicians, who are among the best performers in the neoclassical/power metal realm. Most of them have actually taken part to some important albums for the history of this style.
All tracks were mixed & mastered by Fabio Calluori and Luca Sellitto at "Sonic Temple Studio", Santa Tecla (SA), Italy.
Line-up:
Patrick Johansson: Drums (ex Yngwie Malmsteen; Impellitteri; V.Moore)
Svante Henryson: Bass and Cello (ex Yngwie Malmsteen; Joey Tempest)
Göran Edman: Vocals on track 2 (ex Yngwie Malmsteen; John Norum)
Henrik Brockmann: Vocals on track 4 (ex Royal Hunt; Evil Masquerade)
Rob Lundgren: Vocals on tracks 1,5 and 7 (The Mentalist)
Luca Sellitto: Guitars and Keyboards (Stamina)
product: Carl Dixon - Unbroken
release date: 15.11.2019
label: AOR Heaven
territory: world
contact: Diese E-Mail-Adresse ist vor Spambots geschützt! Zur Anzeige muss JavaScript eingeschaltet sein!
Dixon's solo debut 'One' (1993), appears to have been a pretty obvious move for a man of his standing (at least from the European perspective). Carl, born in Sault Ste Marie, Ontario had come to prominence in the early 80s as one of the frontmen for the critically acclaimed Canadian hard rock band Coney Hatch.
However, having released three albums between 1982 and 1985, Dixon had become pretty disillusioned with his career at that point; tired of the many frustrations that being on a major label (who don't appear to care) brings on a touring band trying to get noticed. Ironically, as has been shown time and again, North American bands often appear to be curiously shielded from any success they may be achieving abroad. In Coney Hatch's case there was another market out there bursting to embrace them in Europe, if only they'd known about it.
After focussing on songwriting for other artists for a while, eventually switching focus from North America, where Grunge was on the brink, to Europe, especially Germany, where Coney Hatch made a much bigger impact, Carl wouldn't fully learn about it only until Coney Hatch' performance at the 2014 edition of Firefest, England.
'One' features fifteen songs, one of them ('One Good Reason') a co-write with Brett Walker, another one ('Taste Of Love') Aerosmith meets Def Leppard flavored.
Dixon's first wife Stella ended up adding backing vocals alongside e.g. Mark Santer (Santers) or Mike Shotton (Von Groove). It took a month of recording in four different studios especially focussing on how the guitars sound. The Canadian still is very proud of it and about the fact that people still remember the album.
After being with The Guess Who and April Wine for a while and a horrible car crash in Australia in 2008, he's back with Coney Hatch leading to the 2013 record 'Four' and has released a couple of solo records since. Additionally, he's having a brand new solo effort by the name of 'Unbroken' coming out soon on with he collaborated with Frontline's Robby Böbel.
After the re-issue of the classic album "One" in October 2019, November sees the release of the first collaboration between Carl and Robert Boebel, a long-time stalwart on the German music scene with bands like Frontline and Phantom V, among many. The result is the new release, Carl Dixon UNBROKEN, a powerfully sung and performed album that reaches the heights of AOR Melodic Rock. Memorable hooks, strong melodies, great guitar playing and production, and drumming performed by Mark Santer (Santers) and newcomer Dylan Gowan (Vesperia, Cardinal Street).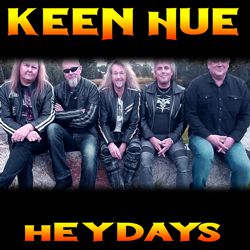 product: Keen Hue - Heydays
release date: 29.11.2019
label: AOR Heaven
territory: world
contact: Diese E-Mail-Adresse ist vor Spambots geschützt! Zur Anzeige muss JavaScript eingeschaltet sein!
On a summer´s day 1978, bass player Lars-Åke loaded his amp and speaker onto his bicycle trailer, heading for the first meeting and rehearsal with guitarist Åke and drummer Anders.
This was the start of KEEN HUE. At that time the band was exclusively playing covers from bands such as HURRIGANES and RAMONES. Three years later, the second guitarist Stefan and new drummer Peter joined the band. At this point they started to write their own music, influenced by acts like JUDAS PRIEST and BLACK SABBATH. As they were living in the same little village, the band was rehearsing almost everyday in the basement of Stefan's parents´ house. When his mother started popping pills and his father's hair turned white, they changed location. Next stop, Peter's parents' house.
Still rehearsing and gigging local venues, in the autumn of 1982, KEEN HUE also recorded and released their first 2-track single ("Spread Your Wings Of Fire/One Of Two"). The boys paid for it themselves and 500 copies were made. Another three years later, 1985, English record label Ebony Records signed the band for an LP. After the release of that album ("Ogre King"), the band had a good response from all over Europe and several countries around the world. Shortly thereafter, the band recruited bass player Kent so that Lars-Åke could focus on his vocals. The following years they did some touring in Sweden and in 1989 the singer Lars-Åke left KEEN HUE. After finding another frontman the band kept on writing songs and then released a CD in 1993 ("Juicy Fruit Lucy"). In the years to come, members changed but Stefan and Kent were still in the band, playing a lot, now under the name KEEN HUE-UNDER COVER.
Fast forward to 2018: Stefan came up with the idea to make new recordings of the old KEEN HUE-songs and contacted Lars-Åke, Åke, Kent and Peter. Everyone was onboard immediately recording the old songs with an updated sound. So here you are, 10 fresh songs written between 1981-1989. The HEYDAYS!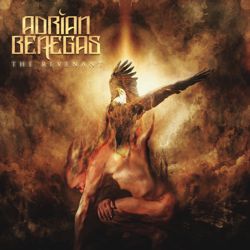 product: Adrian Benegas - The Revenant
release date: 15.11.2019
label: Pride & Joy Music
territory: world-JP
contact: Diese E-Mail-Adresse ist vor Spambots geschützt! Zur Anzeige muss JavaScript eingeschaltet sein!
Adrian Benegas, composer, keyboardist and entrepreneur, was born in March 1, 1989 in Asuncion, Paraguay. Mostly known for being the founder of the international metal project TRAGUL. He started his career into music when he created his first metal project called Pergana back in 2008 which released two EP's. In 2015, he founded Abracadabra, a symphonic metal project featuring Emilie Ragni (Luca Turilli) on vocals. Abracadabra released two EPs, "Forbidden Magic" (2015) and "Samhain Night" (2016).
A year after, Adrian founded Tragul and stepped into the professional scene hiring some great artists to collaborate with him such as Alex Holzwarth, Oliver Holzwarth (Blind Guardian), Steve Conley, Zuberoa Aznarez and Sander Zoer. Tragul is musically an innovative band, exploring new non-traditional worlds when it comes to getting their music heard. Tragul's releases come in a unique "song-by-song" format and even with its brief musical path, the band is recognized for its potential. Since June 2017, the band has released 8 singles, widely acclaimed by critics.
In 2019 and parallel to Tragul, Adrian started the production of his most ambitious project: a debut album, writing all the lyrics, concept and all music by himself.
The album also includes the participation of Ralf Scheepers (Primal Fear), Herbie Langhans Avantasia, Henning Basse (Firewind), Zuberoa Aznarez (Diabulus in Musica, Tragul) together with a base line up from Paraguay that includes Sebastian Ramirez (d) and Diego Bogarín (g, Tragul).
One very important feature of the Paraguayan's debut album is that it's a conceptual one with a profound meaning, about the tale of an unredeemed soul's journey from the depths of its own hell to the edge of inner paradise, seeking self-realization. You can say this album gives an insight into the human journey itself, the ups and downs, finally finding the light at the end of the tunnel.
"The Revenant" was produced by Adrian Benegas, and mixed and mastered by Jacob Hansen, except for track 1, "Servants Of The Death" which was mixed by Alberto Bravin and mastered by Maor Appelbaum. Artwork by Carlos Fides @ Artside Studio.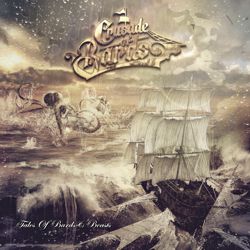 product: Crusade Of Bards - Tales Of Bards & Beasts
release date: 15.11.2019
label: Pride & Joy Music
territory: world
contact: Diese E-Mail-Adresse ist vor Spambots geschützt! Zur Anzeige muss JavaScript eingeschaltet sein!
Crusade Of Bards is the newest evolution of symphonic metal, smoothly blending the most bombastic orchestrations with traditional instruments and heavy riffs. Their debut album "Tales of Bards & Beasts" will lead the listeners on a musical journey through space and time from Ancient Greece to the shores of Sweden, uncovering the darkest myths of the deepest abyss while enjoying a good story around a campfire.
Paolo Andreotti (keyboards and backing vocals) states: "We are extremely happy to begin our journey by the hand of Pride & Joy Music. From the very beginning their team were very kind and open to work with us in this important step of our careers as we approach the release of our debut album "Tales of Bards & Beasts". So to all the fans of melodic and symphonic metal out there, I can only say: Come join the crew of your dreams to fight the beasts and sing with the bards!!"
Mixed and mastered by Dani G (Rage, Lingua Mortis Orchestra, Firewind, Last Days of Eden) at Estudios Dynamita in Asturies, Spain, "Tales of Bards & Beasts" will show the different facets of the band delicately melted to a complex yet melodic result: from the powerhouse orchestrations and symphonic grandeur ("Of Bards & Beasts") to the speed and magnificence of catchy melodies ("The Golden Vessel"), from the flamboyant extravaganza of traditional instruments and dark passages ("Chapter Twelve") to the heart-breaking duet of a struggling ballad ("Ulysses'Cry"), from an old inn shanty ("Pirates of the Night") to a raging battle song ("Gunpowder").
On top of all this, "Tales of Bards & Beasts" is completed with outstanding collaborations such as Henning Basse (Firewind, MaYan) on the track "An Ocean Between Us - Part II - Ulysses' Cry" or Lady Ani (Last Days Of Eden) on "The Golden Vessel".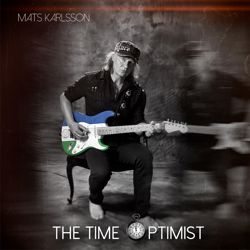 product: Mats Karlsson - The Time Optimist
release date: 06.12.2019
label: MK Music/ Sound Pollution
promo territory: Europe
contact: Diese E-Mail-Adresse ist vor Spambots geschützt! Zur Anzeige muss JavaScript eingeschaltet sein!
Mats Karlsson, guitarist and songwriter with classic Swedish hard rock act 220 Volt is releasing his first ever solo album titled "The Time Optimist" on December 6th 2019. Mats, a native Swede grew up in Östersund in northern Sweden but has resided in Stockholm since the mid 80's.
The new record is a collection of songs that are a bit more laid back than the 220 Volt stuff, and move freely between rock, hard rock, singer/songwriter style and some AOR-touches here and there.
Mats asked his brother Ulf to play all keyboards, and gathered some great musician friends to help out incl. drummer Björn "Grizzly" Höglund (Easy Action, The Summit, Hoven Droven), drummer Peter Hermansson (220 Volt, Talisman, John Norum), Bass-ace Nalle Påhlsson (Therion, Treat, Easy Action), and also some well-known musicians in Sweden as drummer Mike Ajax, bassist Lars Ericsson (The Summit), the first 220 Volt singer Christer "Frille" Åsell and also vocalist Jenny Fall.
"The Time Optimist" consists of 11 tracks in different styles, nine tracks penned by Mats, one by Mats co-written with Björn Höglund, and the album also has a cover of the track "Real Gone" by Sheryl Crow/John Shanks. There are two duets where Mats shares the lead vocals with singer Jenny Fall, and one with "Frille" Åsell.
The term "time optimist" is a Swedish expression referring to a person who is always positive that he/she will achieve a certain amount of work in specified time and often failing.
This self-produced release will come out on CD, vinyl and on digital platforms on December 6th 2019.
"Megalo Seitani" will be available as a lyric video & single on October 4th. A second track will also be released ahead of the album.