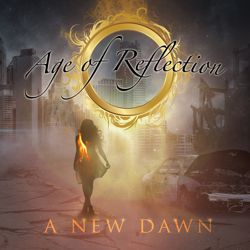 product: Age Of Reflection - A New Dawn
release date: 27.09.2019
label: AOR Heaven
territory: world
contact: Diese E-Mail-Adresse ist vor Spambots geschützt! Zur Anzeige muss JavaScript eingeschaltet sein!
In early 2013 Carl Berglund and his old bandmate Jan Skärming decided to fulfil their musical dream, writing songs reduced to its very core by 80's rock giants. These were songs with emotional harmonies from pure British AOR, with the power of American hard rock, sprinkled with hooks from the new era of Swedish melodic rock. Joining them in the songwriting came Lars Nygren in spring 2014 (vocals), a friend of Carls since high school. When equipped with a ton of hard hitting melodic rock songs written, the missing pieces of the puzzle joined forces. They turned out to be Jonas Nordquist (lead guitar), drummer Michael Sjöö (replaced by Peppe Vikman in August 2018) and Jens Rüttgeroth on keyboards (member since October 2017). In May 2016 they picked four songs and put them onto Spotify, iTunes, and a few other places with amazing reviews and response. In August 2016, the band signed a deal with AOR Heaven for a February 2017 release, and also later with Rubicon Music Japan. "In The Heat Of The Night" was recorded at Studio Thinner, the band's own studio in Vasteras, Sweden, in the spring of 2016. It was produced by AGE OF REFLECTION but the mixing and mastering was done by Erik Mårtensson (Eclipse, W.E.T. a.o).
After the summer 2018, AoR started writing new music for their next album. AGE OF REFLECTIONS tried one of the new songs live at Rockingham festival, and the response was great! They went back into the studio and have now finished all the recordings. Again Erik Mårtensson has been doing the final magic on the album. "A New Dawn" will be released on September 27th, 2019 on AOR Heaven.
In November, AoR is going on a headlining tour in England supported by both A'priori and Atlas UK. After that there is H.E.A.T Festival in Germany. One of highlights in 2020, so far, is the HRH AOR festival in Wales in March.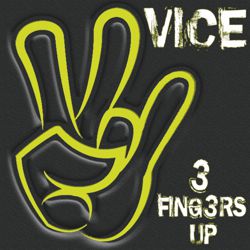 product: Vice - 3 Fingers Up
release date: 13.09.2019
label: Lictoc Music/ Pride & Joy Music
territory: world
contact: Diese E-Mail-Adresse ist vor Spambots geschützt! Zur Anzeige muss JavaScript eingeschaltet sein!
The Bavarian Party Metal Band VICE has released it's first album "MADE FOR PLEASURE" through the major label BMG Ariola (today Sony Music) in 1989. Countless media appearances and stories as well as extensive touring helped to break the band all over Europe. As a direct result "Made For Pleasure" and the follow-up "Second Excess" sold more than 100.000 copies.
27 years later VICE returned with a new album and a new line-up. "Veni Vidi Vice" – released in November 2017 - marked the first chapter of the new band era.
In 2019 the "VICE-Autumn-Party-Tour", side-by-side with bands like AXXIS and HARDLINE, will be backed up by the new album "3 Fingers Up" which contains 9 brand new highly energetic songs, a storming cover version of the JOAN JETT/DESMOND CHILD classic-track "I Hate Myself For Loving You" as well as a new version of the band classic "Made 4 Pleasure". "3 Fingers Up" was produced by Chris Limburg and mastered by Andy Knote (Toyco Studios).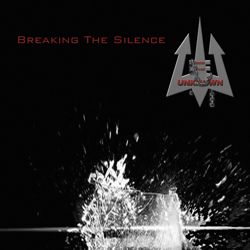 product: Into The Unkown - Breaking The Silence
release date: 06.09.2019
label: Vigilante Records
PR in Europe: Diese E-Mail-Adresse ist vor Spambots geschützt! Zur Anzeige muss JavaScript eingeschaltet sein!
Into The Unknown released their first album, "Out of the Shadows" in 2017, and followed it up with a digital only mini album of covers, entitled "The Other Side of the Wall", but with only three members vocalist Lucie Hölzlová, Guitarist Ryan Atkins and bassist/producer Rupert Withers, they were limited when it came to showcasing the music live. A few acoustic sets were performed (the first in front of a crowd of 2000 in an open air venue), however the band really wanted to perform the songs as they intended them, full on and fired up! Fast forward to June 2019, and they are pleased to announce new blood in the band, namely James Milner on rhythm guitar, and Mike Ballard on drums. This new line up was revealed with the release of their version of the Gary Moore/Phil Lynott classic song, "Out In The Fields". Thus plans are now afoot to tour in the not too distant future.
The new album, "Breaking the Silence" is an evolution from their previous album, written by Lucie, Ryan and Rupert, it moves further into the symphonic rock arena that was hinted at in "Out of The Shadows". Once more they decided to try and create a diverse collection of songs, with what they are proud to admit many critics have stated is their distinctive sound. From the heavy rocking "Pandora's Box" that opens the album, through the celtic influenced "Heroes and Victims" to the piano ballad "You Can't Have Love Without The Pain" the album is an hours worth of music, written from the heart. Known for their cover recordings, the band don't disappoint with their rocked up version of Howard Jones' 80s pop hit "What Is Love?". Lucie's vocals pour feeling into the performance, and Ryan's guitar work compliments them with heartfelt solos. Songs such as "Broken", "I've Had Enough" and "Back In Time" highlight emotional turmoil, whilst "Are You Ready?" and "Live Your Life" are out and out rock songs, destined to be live favourites.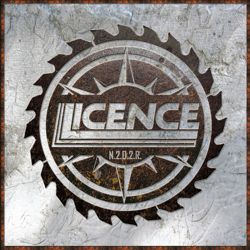 product: Licence - N.2.O.T.R.
release date: 02.08.2019
label: Metalapolis
territory: world
contact: Diese E-Mail-Adresse ist vor Spambots geschützt! Zur Anzeige muss JavaScript eingeschaltet sein!
Founded back in 2014, the band from Ludwigsburg/Germany, with the very charismatic female singer Jacky Coke already releases their second album, "N2O2R"! Recorded in their own STEAMROCK STUDIO the record again was mixed and mastered by non-other than Achim Köhler (PRIMAL FEAR, SINNER, BRAINSTORM). The album is like a fist in your face with its powerful and clear production!
"Never Too Old To Rock", the title in its spoken form, shows that you are never too old to realize your dream, because in this band father (Steam Licence, guitar) and daughter (Jacky Coke, vocals) are rockin' together. Together with bassist Pappe and drummer Sammy they celebrate their love for the golden age of Heavy Rock, the eighties. For this they recorded their own version of the Eddie Schwartz' tune "Hit Me With Your Best Shot", which is known from the 80's Rock vixen Pat Benatar. The song fits perfect to Jacky's voice!
The single and video song "Hot4Ever" is a great hymn with a very serious background. It is dedicated to a friend of the band, who is very sick. This song is the band's tribute to him, since he is not only a friend, but he also booked some of the first shows for them. You can hear Richie Diver from their label mates MAVERICK here on guest vocals. Also a video clip will be "Rise Up", a song the band already has featured in their live set for a long time. This song marks all the attitudes from LICENCE. It is heavy, melodic and in your face with a voice, which is powerful and rough!
LICENCE are bringing back the sound of the 80' in a new way without sounding old! Heavy, melodic and always keeping you on the edge of your seat. Once you hear the songs, they will remain stuck in your head! You can't buy the license to rock, you need to own it! LICENCE DOES!!!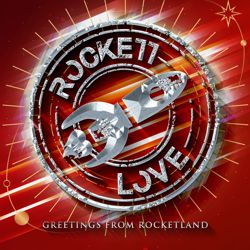 product: Rockett Love - Greetings From Rocketland
release date: 30.08.2019
label: AOR Heaven
territory: world
contact: Diese E-Mail-Adresse ist vor Spambots geschützt! Zur Anzeige muss JavaScript eingeschaltet sein!
A year of writing and recording went by and in 2017 ROCKETT LOVE finally released the full-length debut "Grab the Rocket" on AOR Heaven.
In the following time, they set up their own studio and named it Meganoise, and the recordings began in early 2018. The duo needed to cut down the material from twenty something to 11 songs. When the recordings were finished, the Swedes sent the material to Erik Mårtensson (ECLIPSE, WET) to mix it.
ROCKETT LOVE now returns with "Greetings from Rocketland" on August 30th, 2019. The band's second album contains 11 new tracks including the highlights "King for one day", "Back on my feet" and the power ballad "Take me home".
Stefan Westerlund comments: "This time the songs are for real, no compromises. Erik has done a fantastic job and we feel strongly about the album and what he did to the material. Now it's up to the listeners to take it to their hearts. "Greetings From Rocketland" is a classic record full of great and melodic rock songs."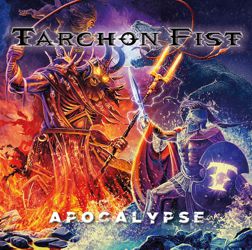 product: Tarchon Fist - Apocalypse
release date: 16.08.2019
label: Pride & Joy Music
territory: world
contact: Diese E-Mail-Adresse ist vor Spambots geschützt! Zur Anzeige muss JavaScript eingeschaltet sein!
Tarchon Fist was created at the end of March 2005, after the split of the band Rain, the memorable Italian metal group, whose mastermind was Luciano "Lvcio" Tattini (g). This event coincided with the coming of Marco "Wallace" Pazzini (b, Basic Dreams). The name TARCHON FIST was the "logical evolution" of the "Rain" band. Tarchon being an ancient Etrurian king, hero and then also a god. The god of storm. Whereas "fist" underlines the band's power and impact on stage. By the end of 2005, a video clip was produced. Thanks to this video, the band put out two albums on an Italian label, their self-titled debut in 2008 and "Fighters" in 2009. Line-Up changes and many shows followed. October 2013 "Heavy Metal Black Force" came out.
Remembering the first decade, the band released "Celebration 2005-2015" in December 2015 with a new song called "Celebration" and a best of. In July 2017 the EP "Proud to be Dinosaurs" came out.
Since 2010 the band's line-up has been solid except for new drummer Giacomo "Jack" Lauretani (2016). So from 2010 until today, the band toured all over Europe. In August 2018, after 13 years of activity with albums, EPs, video clips and tours, the band performed a show at the mighty Wacken Open Air! On their previous albums e.g.Tom Naumann (g, Primal Fear) or Robb Weir (g, Tygers Of Pan Tang) guested.
"Apocalypse", the concept album, their first ever, is scheduled for August 16, 2019, via the German label "Pride & Joy Music" and showcases artwork by Stan W. Decker (Megadeth, Avantasia a.o.).
The tale has nothing to do with the Apocalypse of St. John the Apostle. It combines motives from literature, history, mythology and many pre-Christian cultures. It is a story that is based on the dualism of human beings: Nobody is born bad. Nobody good. Personal choices lead us towards the former or the latter. And although there cannot be one without the other, it still seems that evil takes root more easily in our soul. It is always evil that "makes the first move".
Tarchon, deified king and hero of popular Etrurian culture (from which the band began its journey almost 15 years ago) will appear in the guise of the "Lord of Light" and the forces of good. In the course of this long war, he is be accompanied by creatures that actually existed but are considered extinct today.
Darkness, on the other hand, is represented by Manth, the demonic divinity of the Felsinean cult guarding the underworld. He can make use of any kind of fantasy creature associated with evil which are found in the most disparate cultures in the history of mankind.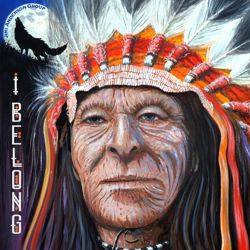 product: Jimi Anderson Group - I Belong
release date: 30.08.2019
label: AOR Heaven
PR: world
contact: Diese E-Mail-Adresse ist vor Spambots geschützt! Zur Anzeige muss JavaScript eingeschaltet sein!
Born In Rigside, Lanarkshire, Scotland, Anderson's first Rock band was in 1978, singing mainly Rush & Deep Purple songs, and so his passion for 'Classic Rock' had begun. The next few years brought many hours of practise and to Paul Rodgers, David Coverdale & Ronnie James Dio for inspiration. He began writing songs and formed the Rock band 'Sahara' whilst spending any spare time attending a gazzillion gigs at the Legendary 'Glasgow Apollo' till it closed in 1985.
Various incarnations of the band ensued including a name change to "The Hardline" until they were picked-up by 'Wet Wet Wet's manager Elliott Davis and offered a management contract on the strength of a demo tape.
Showcasing his phenomenal voice, 5 years of recording demo's, touring, notable sell out gigs at Glasgow's King Tut's, London's 'Borderline Club' and a support to Wet Wet Wet in front of 30,000 people at Glasgow Green followed.
The singer continued writing, performing and recording, appearing on Michael Barrymore's National Television shows ' My Kind of People' & 'Barrymore' in 1997/98 and went on to sing at concerts & festivals in Cyprus, Romania, Turkey and Holland.
Living now in York, Anderson has continued writing and moved on to spend four years as lead vocalist with tribute band 'A Foreigners Journey' and toured extensively in the UK and Rhodes. Meeting new friends along the way, and his voice just got better and better so a decision was made to leave "A Foreigners Journey" and the next adventure started. His latest side project is a tribute to great American Melodic Rock with some great musicians and friends called "Legends of AOR". Their debut gig was in Spain in front of a crowd of Rhodes Rockers. The festival has now moved to Cyprus where 'Legends of AOR' have performed for the last 3 years
In 2015 Jimi finally realized his dream and released an album of original songs recorded at FML studios in Motherwell, Scotland with Producer/Engineer/Musicians Sandy Jones and Greame Duffin, and over the last 4 years has taken his music on the road up & down the UK. So the Jimi Anderson Group was born. The album titled 'Longtime Comin' was released in 2017.
On August 30th, 2019 the follow-up release "I Belong" will hit the shelves – the first record on AOR Heaven. Like it's predecessor 'I Belong' was recorded at FML with Sandy Jones at the helm. Jimi, Sandy & Greame performed most of the music. This time however ace guitarist 'David Cuthbert' features on quite a few of the tracks including 'Wonderful Tokyo Nights', 'Fearless Warrior' & 'I'm A Believer' to name a few, including the beautiful ballad title track, 'I Belong'.