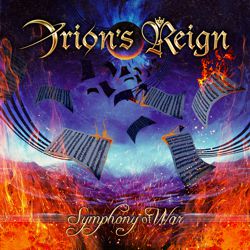 product: Orion's Reign - Symphony Of War (EP)
release date: 27.09.2019
label: Pride & Joy Music
format: digital 7 track EP
"Symphony of War" is the new release by Orion's Reign. On this new work, the band, having already released the full length symphonic epic album "Scores of War", emphasizes on the symphonic elements of its music and offers symphonic versions of songs from its latest album. Tim Ripper Owens and Mark Boals are guest vocalists. In addition, a folk version of song "Nostos" and a symphonic metal cover of "Elan" (Nightwish) are included.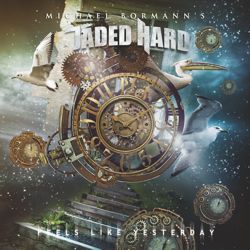 product: Michael Bormann's Jaded Hard - Feels Like Yesterday
release date: 25.10.2019
label: RMB Records
promo territory: Germany, Austria & Switzerland only!
contact: Diese E-Mail-Adresse ist vor Spambots geschützt! Zur Anzeige muss JavaScript eingeschaltet sein!
Die Zeit vergeht wie im Fluge. Fast drei Dekaden zogen seit der Gründung von JADED HEART ins Land. Die Wege trennten sich 2004 nach vierzehn turbulenten Jahren.
Den Bitten nachkommend, ziehen MICHAEL BORMANN´S JADED HARD seit Anfang 2017 mit einem Best of von 1990 – 2004 erfolgreich durch die Lande. Never say never!
Aufgrund der phänomenalen Resonanz entschied sich Michael, einen Schritt weiter zu gehen und schrieb ca. zwei Dutzend neue Songs für 'MBJH'. Zwölf davon landen nun auf dem neuen Silberling FEELS LIKE YESTERDAY. Typischer AOR / MELODIC ROCK wechselt sich mit akustischen Songs, kraftvollen Uptempo Nummern und wunderschönen Balladen ab, die Stimmung von Melancholie bis hin zu überschäumender Lebensfreude auslösen.
FEELS LIKE YESTERDAY ist eine Fortführung des Stils der Alben bis 2004. Produziert wurde wieder in den RMB STUDIOS, Duisburg.
Das Werk erscheint am 25.10.2019 auf RMB Records. Zeitgleich startet eine Tour durch einige europäische Länder.
Line up: Michael Bormann – Leadvox & Git; Chris 'Hexe' Ivo – Keyboards & Vox; Michael 'Maikel' Müller – Drums; Christoph 'Baumi' Baumeister – Bass & Vox; Thommy Dahlem – Git & Vox
Tracklist: 1. Feel Like I'm Living, 2. It Feels Like Yesterday, 3. Won't Surrender, 4. Bring Me Higher Love, 5. We'd Still Make It, 6. Mr. Mysterious, 7. Good Times, 8. Just One More Step Away, 9. Don't You Ever Leave, 10. I'm A Son Of A Gun, 11. Shout It All Out, 12. Everybody Is A Rockstar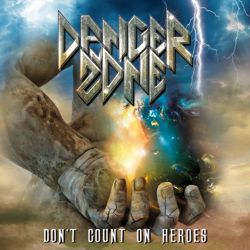 product: Danger Zone - Don't Count On Heroes
release date: 18.10.2019
label: Pride & Joy Music
territory: world
contact: Diese E-Mail-Adresse ist vor Spambots geschützt! Zur Anzeige muss JavaScript eingeschaltet sein!
When Roberto Priori (g) started the Italian band DANGER ZONE in the early 80s a long hard road lay ahead of them. After various demos and line-up changes, they released the LP "Victim Of Time" (1984). But it wasn't until 1987 when they gained bigger attention in Italy from audiences and media alike, followed by live performances with e.g. Saxon and on some hard rock festivals. The aim was to break the US market and resulted in at least a successful gig at the legendary Whiskey A Go Go in Los Angeles in the summer of '88. In 1989 "Line Of Fire" was recorded in Venice/Italy under the wings Stephan Galfas (e.g. Meat Loaf, Savatage and Stryper) and produced by Jody Gray and Mark Cobrin (Loudness/EZO). Later that year, fate saw the members moving to L.A. for half a year and playing shows. Unfortunately, the finished album got shelved, but as the years went by, "Line Of Fire" reached an underground cult status with both press and fans.
Finally in 2011, "Line Of Fire" saw the light of day, carefully remastered by Roberto Priori. The band already got back together in 2010 working on new material and playing live. Before original DANGER ZONE band members Roberto Priori (g), Paolo Palmieri (d) and Giacomo Gigantelli (v) entered the studio, they added Roberto Galli (b) to their line-up.
First sessions took place in Roberto's PriStudio in Bologna, followed by a trip of singer Giacomo Gigantelli to New York, where he met Jody Gray, one of the key members of the production team of the "Line Of Fire" album more than 20 years ago, resulting in creative work. "Undying" (2012), being full of catchy melodies and powerful guitar riffs firmly build on DANGER ZONE's musical roots of the 80s while adding a slightly modern edge.
With new bass player Matteo Minghetti, the band started to write for the new album featuring Pier Mazzini (Perfect View) and Whitesnake's Michele Luppi on keyboards. "Closer To Heaven" (2016) has been released by Pride & Joy Music on April 2016 and has been unanimously acclaimed as their best album so far and one of the best AOR/hard rock albums of 2016.
The band, now being joined by Danio Faggiolino (g), kept playing live while working on new songs. Keyboards brought new possibilities, adding a new and more "cinematic" dimension. In 2018, recordings of the new album, again produced by Priori and Gray, started.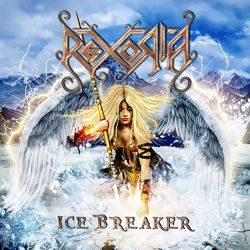 product: REXORIA - Ice Breaker
release date: 18.10.2019
label: Pride & Joy Music
territory: world
contact: Diese E-Mail-Adresse ist vor Spambots geschützt! Zur Anzeige muss JavaScript eingeschaltet sein!
The Swedish melodic heavy metal band REXORIA is now back with their second album 'Ice Breaker' which delivers a lot of power, speed and metal feeling!
Band members are Jonas Gustavsson (b/g), Cristofer Svensson (g), Martin Gustavsson (d) and the charismatic singer Frida Ohlin. Together they create a sound with various folk and power influences which will bring you right into the dark forests and up on high mountains!
'Ice Breaker' has been mixed and mastered in the famous studio Studio Fredman in Gothenburg by Fredrik Nordström.
Joining the band as a guest singer on their Swedish song "Vår Verklighet" is Niklas Isfeldt (Dream Evil). Jobert Mello created the artwork (Sabaton, Primal Fear).
The four-piece has been touring and sharing the stage with bands like Battle Beast, Bloodbound, Thobbe Englund (ex Sabaton) and Dynazty. So if that's the type of music you like, you should make sure you check out REXORIA and their new album 'Ice Breaker'!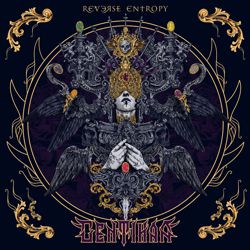 product: Gentihaa - Reverse Entropy
release date: 23.09.2019
label: Symmetric Records
territory: world
contact: Diese E-Mail-Adresse ist vor Spambots geschützt! Zur Anzeige muss JavaScript eingeschaltet sein!
The band GENTIHAA from Athens, Greece, formerly known as "Enochian" and then reformed to "Collision Zero" is the brainchild of guitarist/composer George "Valgran" Giannopoulos who started working with producer Bob Katsionis back in 2009 to record two EP's and made some note-worthy live shows before they went on a long hiatus.
In 2017, Valgran reformed the band with the addition of talented singer Andre Boutos (Sonata Antarctica/Project Theory) who gave a more melodic and diverse aspect to his evil riffs, as well as drummer Merenhor (Diablery), bassist Beheaal (Memorain) and lead guitarist Ros Dracul.
The complete line-up entered Sound Symmetry Studio for once more to record their debut album "Reverse Entropy".
Produced by Bob Katsionis at Sound symmetry Studio and mixed/mastered by Fotis Benardo at Devasoundz Studio "Reverse Entropy" blurs the lines between extreme and melodic metal, balancing their dark, razor-edge riffing and brutal vocals with symphonic orchestral arrangements, complex instrumental sections and atmospheric parts, giving a final result very difficult to be filed under any traditional genre of Heavy Metal music.
Lyrically, André, is dealing with a story found in a well-hidden corner of the Web, dealing with 8 pills that give different "super powers" to 8 random individuals,leading them to the distant future just to find out that the Earth is destroyed, and then all of them trying to reverse the entropy with the help of the Master (Alpha) through the guidance of The One (Singularity).
Track listing:1. Serum, 2. Empathy, 3. Vision, 4. Metamorphosis, 5. Alpha, 6. Beyond, 7. Command*, 8. Mastery, 9. Singularity*
*Guest singer on "Command" and "Singularity" is Tom Englund, the voice of Swedish dark metal masters, Evergrey.
Keyboards are performed/arranged by Bob Katsionis.
The artwork is hand crafted by master designer Vaggelis Petikas/Revolver Design (Grand Magus, Nightrage, SixForNine, Nightstalker etc)
"Reverse Entropy" will be available only through the band's Bandcamp page in both digital and CD format on September 23rd before it hits the official web stores and streaming services.
The album release will be followed by the band's debut shows supporting Dimmu Borgir on:
24/9 Athens (Piraeus Academy)
25/9 Thessaloniki (Fix Club)"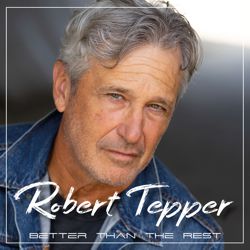 product: Robert Tepper - Better Than The Rest
release date: 27.09.2019
label: AOR Heaven
territory: world
contact: Diese E-Mail-Adresse ist vor Spambots geschützt! Zur Anzeige muss JavaScript eingeschaltet sein!
Robert Tepper, hailing from Bayonne, New Jersey, came up in the late 60's playing in garage bands down on the Jersey shore. It wasn't until a bit later that Tepper started to get recognition as a song writer with his first top 40 hit recorded by Paul Anka, This Is Love. The song went on to earn an ASCAP award for its popularity that year and broke the top 40.
After moving to New York City, he teamed up with fellow singer Benny Mardones to help with his hit album Never Run, Never Hide. On that record was the iconic song Into The Night. In 2010 Usher released his own version of the song with a new dynamic arrangement.
It was in 1985 when Robert landed his first record deal with Scotti Brothers Records - a subsidiary of CBS. In the studio Tepper was very fortunate to have hired the expertise of grammy awarded producer Joe Chiccarelli who is known for his work with U2, Beck, Elton John and many more.
In 1985 Tepper moved to Los Angeles. It was about this time that actor and director Sylvester Stallone was taken by the song Tepper had written called No Easy Way Out. Prominently featured in the film franchise Rocky the song climbed the charts into the American top 40. Stallone, now a Tepper fan, used his song Angel of the City in his classic movie Cobra giving Tepper the title of the soundtrack kid. Also, Pat Benatar's recording of La Bel Age off of Seven The Hard Way was another Tepper Marshall composition.
In 1996 the album No Rest For The Wounded Heart was released by MTM Music
exclusively for Europe. More recently he released an album that was categorized as an acoustic record with an electric tinge in the early 2000's called New Life Story.
After a long lay off of live performances it was soon after the release of New Life
Story that Tepper started doing shows in Europe. It was there that he met guitarist extraordinaire Pablo Padilla. Padilla, who is one of the premier guitarists in Spain, was soon to continue his musical journey in Los Angeles. Here he became Tepper's music supervisor for all of his shows.
The new Robert Tepper album Better Than The Rest is a true collaboration between Tepper and Padilla. The writing and recording and mixing of this record took approximately a year. Tepper's music has appeared in such hit films and TV shows such as South Park, Breaking Bad, Cobra, Rocky 4, and Get Hard.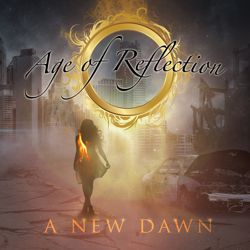 product: Age Of Reflection - A New Dawn
release date: 27.09.2019
label: AOR Heaven
territory: world
contact: Diese E-Mail-Adresse ist vor Spambots geschützt! Zur Anzeige muss JavaScript eingeschaltet sein!
In early 2013 Carl Berglund and his old bandmate Jan Skärming decided to fulfil their musical dream, writing songs reduced to its very core by 80's rock giants. These were songs with emotional harmonies from pure British AOR, with the power of American hard rock, sprinkled with hooks from the new era of Swedish melodic rock. Joining them in the songwriting came Lars Nygren in spring 2014 (vocals), a friend of Carls since high school. When equipped with a ton of hard hitting melodic rock songs written, the missing pieces of the puzzle joined forces. They turned out to be Jonas Nordquist (lead guitar), drummer Michael Sjöö (replaced by Peppe Vikman in August 2018) and Jens Rüttgeroth on keyboards (member since October 2017). In May 2016 they picked four songs and put them onto Spotify, iTunes, and a few other places with amazing reviews and response. In August 2016, the band signed a deal with AOR Heaven for a February 2017 release, and also later with Rubicon Music Japan. "In The Heat Of The Night" was recorded at Studio Thinner, the band's own studio in Vasteras, Sweden, in the spring of 2016. It was produced by AGE OF REFLECTION but the mixing and mastering was done by Erik Mårtensson (Eclipse, W.E.T. a.o).
After the summer 2018, AoR started writing new music for their next album. AGE OF REFLECTIONS tried one of the new songs live at Rockingham festival, and the response was great! They went back into the studio and have now finished all the recordings. Again Erik Mårtensson has been doing the final magic on the album. "A New Dawn" will be released on September 27th, 2019 on AOR Heaven.
In November, AoR is going on a headlining tour in England supported by both A'priori and Atlas UK. After that there is H.E.A.T Festival in Germany. One of highlights in 2020, so far, is the HRH AOR festival in Wales in March.