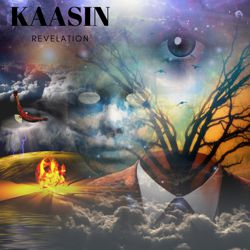 product: Kaasin - Revelation (digital single)
release date: 04.12.2020
label: Stream Peak Music
PR territory: Europe
PR contact: Diese E-Mail-Adresse ist vor Spambots geschützt! Zur Anzeige muss JavaScript eingeschaltet sein!
Brand new song and the second single from hardrock band KAASIN.
KAASIN was founded by guitarist, JO HENNING KAASIN, collaborator with JOE LYNN TURNER (Deep Purple/Rainbow), GLENN HUGHES (Deep Purple/Black Sabbath), DOOGIE WHITE (Rainbow/Michael Schenker), BERNIE MARSDEN (Whitesnake), founding member, guitarist and songwriter with COME TASTE THE BAND.
After 23 years and great success with the album «REIGNITION», feat. JOE LYNN TURNER & DOOGIE WHITE, COME TASTE THE BAND was put on ice in January 2020. Guitarist and main songwriter, JO HENNING KAASIN, then went on to form his own band, simply called KAASIN. He recruited his cousin, STAALE KAASIN from SPIDER and 2020VISION, to handle bass. The band also features the norwegian singer, JAN THORE GREFSTAD, known for his incredible vocal duties with SAINT DEAMON, HIGHLAND GLORY and TNT.
KAASIN also includes additional musicans, BENJAMIN DEHLI on hammond organ/analog synth and CHRIS BRUSH on drums.
KAASIN released their debut single «RUNAWAY TRAIN» on Streampeak Music on Friday AUGUST 14th - 2020. It has been a great success, streaming in thousands upon thousand on Spotify, Youtube, iTunes, and other download/streaming services. «RUNAWAY TRAIN» also went Top 10 on rock radio stations in France, UK, Sweden and Norway.
THE FOLLOW UP IS READY!
«REVELATION» is written by Jo Henning Kaasin, Jan Thore Grefstad and Staale Kaasin. It will be released on Streampeak Music - Friday DECEMBER 4th - 2020
Recorded and engineered in JUKE JOINT STUDIO, Notodden - Norway.
Produced by Halvor Halvorsen & KAASIN
Mixed and mastered by Leif Johansen (Phenomena, 21 Guns, A-ha)
The single will be accompanied by a official music video.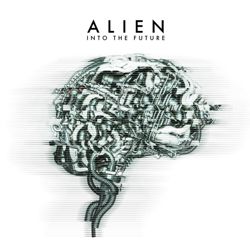 product: Alien - Into The Future
release date: 27.11.2020
label: AOR Heaven
PR territory: Europe
PR contact: Diese E-Mail-Adresse ist vor Spambots geschützt! Zur Anzeige muss JavaScript eingeschaltet sein!
1986-1989 - In late 1986 ALIEN recorded two songs, "Headstrong" and "I'll Survive" at Studio Bohus. Virgin Scandinavia signed the band and released those two singles. In the meantime, while touring Scandinavia, they wrote their debut album "Alien". Virgin believed in ALIEN to appeal to audiences in further territories, and hence rewrote their contract into a worldwide deal!
In late 1987, at ABBA's Polar Studio, the Swedes cut three songs with producer Mark Dearnley (AC/DC, Def Leppard). One being "Only One Woman" went on to top the charts and achieved platinum status. The B-side, "Somewhere Out There", also got to #1 in the charts, for instrumentals!
After that, the group relocated to the renowned Sound City Studios in Los Angeles, with producer Chris Minto (Pat Benatar, Rick Springfield, Kiss), to record the record. Two songs were featured in the 1988 remake of the 50's Sci-Fi movie "The Blob"; "Feel My Love", plus "Brave New Love" in the end credits. Back from the US, with "Only One Woman" sky-rocketing the charts, ALIEN brought the album on tour, beating box office records, being all over Swedish media.
While in London doing promo, the group shot cover photos with Simon Fowler, and signed with Steve Barnett / Hard to Handle Management (Gary Moore, AC/DC). For the international launch, Virgin America made a new album cover and some remixes by Duane Baron and John Purdell. Songs were cut out to include the first single with new singer Pete Sandberg, "The Air That I Breathe"/"Now Love". Pete replaced Jim Jidhed in the fall of 1988, making his first appearance performing live on Swedish national TV. New promo and cover photos were shot in LA as well as the video for "Tears Don't Put Out The Fire". Director Dough Freel was chosen mainly for his work on the Def Leppard "Hysteria" album videos. Promotion, TV and a full summer of touring followed in 1989, bringing ALIEN's biggest production to date on the road. "Tears Don't Put Out The Fire" was chosen as the international single release. A couple more songs written during pre-production for the album were later published on the 1997 "Best & Rare" 2-CD collection.
1990-2005 - Tony Borg (g) and Pete recorded and released "Shiftin' Gear" in 1990, ending the Virgin era. In 1992 Tony formed a Stockholm based ALIEN and made two albums at Eagle Records.
2005 - Tony and Jim got in touch and recorded "Dark Eyes" for Frontiers Rec.
2010 - The original line-up eventually reunited, a handful of festivals were chosen, e.g. Sweden Rock (Cruise + Festival), Getaway Rock, Firefest. A new single, "Ready To Fly" (Manora Rec), was cut to promote the reunion. It went down great with the crowd and especially the response at the first Firefest performance (2011) made the band really consider making a new record.
2013 - The No Remorse/EMI re-issue CD (ltd 1000 copies) of "Alien" (s/t Scandinavian) reached No.1 on the import album chart in Japan and sold out. EMI Music Sweden released the back catalogue, re-mastered for digital download with some unreleased demos as bonus. The "Alien - 25th Anniversary" 2-CD deluxe edition highlighted the celebration of ALIEN's debut album, selling out as well. "Shiftin' Gear +4" CD (AOR Heaven) with bonus tracks shed some light on the fact that the original line-up wrote and pre-produced a sophomore album, before disbanding in late 1989.
Recordings of the "Eternity" album started Aug 1st at Bohus Sound and continued throughout 2013, taking a break only to perform at the Firefest 10th Anniversary show. ALIEN decided to add a song, "I'm a Fighter", written back in the 80's by their L.A. co-writers Pam Barlow and Janet Morrison Minto, as an homage to their co-work on the debut. The regained contact with Pam and Janet led to them writing lyrics for this record as well.
2020 - On November 27th, 2020 Alien will release the album "Into the Future". This record is taking the band from being merely an AOR band to more of a hard rock band with a heavier sound and more guitars. Creating "Into The Future" was really a journey back to the days of being free in a musical way to experiment with arrangement, sounds, melodies and just having a blast while doing it. Once again to the band's delight, Janet Morrison Minto has been a part of the lyrics writing and as always with great commitment. ALIEN is now Jim Jidhed, Tony Borg and Toby Tarrach (d). The album was recorded in various studios in Sweden incl. JM Studios in Gothenburg, Borg Music & Recording Studio in Stockholm, Music Family studio in Särö and Hope Studio in Gothenburg. Mix and mastering was handled by Erik Mårtensson (ECLIPSE) at Blowout Production in Sollerön.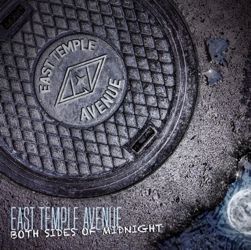 product: East Temple Avenue - Both Sides Of Midnight
release date: 27.11.2020
label: AOR Heaven
territory: world
PR contact: Diese E-Mail-Adresse ist vor Spambots geschützt! Zur Anzeige muss JavaScript eingeschaltet sein!
In 2017, guitarist/songwriter/producer Darren Phillips hosted a melodic rock radio show in his native homeland of Australia. Throughout the lifetime of the show, Darren conversed with many artists from across the melodic rock world and inevitably the conversation turned to songwriting and collaboration. These conversations spawned Volume One of The Darren Phillips Project and an ongoing friendship/collaboration between all involved.
In 2018 Phillips approached to bass player Dennis Butabi Borg (Cruzh), lead guitarist Philip Lindstrand (Find Me, Arkado) and drummer Herman Furin (Work of Art) with the idea of doing an entire album together and actually forming a studio band. Phillips' longtime friend and producing partner Dan Skeed (Urban Stone), would also come along for the ride, which left the essential position of lead vocals to be filled.
For Phillips, having previously worked with Robbie LaBlanc (Find Me, Blanc Faces) on two other occasions, the American was the first and only choice. Fortunately, LaBlanc agreed and the ETA line-up was complete.
Working in their respective studios, in Australia, Sweden and the USA, the band started the songwriting and recording process, which would then make its way to Phillips' and Skeed's Sydney-based studios Skeed Music, for mixing and mastering.
The first single 'When I'm With You' was released in May 2019 to much critical acclaim, and its follow-up 'Don't Make Believe', made several 'Songs of the Year' lists when it was released in October 2019 and attracted the attention of well-respected German label AOR Heaven, with whom the band signed a publishing deal with in April 2020.
The band having never been in the same room together, of course, have the ultimate goal to meet, perform and record together. East Temple Avenue have spent 2020 hard at work completing the ten tracks that appear on their debut album, 'Both Sides of Midnight' which will be released on November 27th, 2020.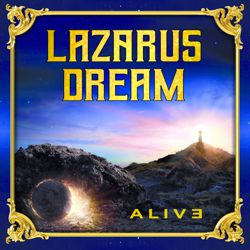 product: Lazarus Dream - Alive
release date: 13.11.2020
label: Pride & Joy Music
PR territory: world
PR contact: Diese E-Mail-Adresse ist vor Spambots geschützt! Zur Anzeige muss JavaScript eingeschaltet sein!
With an artistry and groove that is never less than inspiring and absorbing, new German Hard Rock project LAZARUS DREAM featuring multi-instrumentalist Markus Pfeffer and powerhouse vocalist Carsten Lizard Schulz gives a pleasure as immense and deep as the sounds and abilities which pour from their album "Alive".
Carsten Lizard-Schulz delivers a powerful, emotion filled performance and makes this an album full of incredibly poignant vocals listeners worldwide are used to get delivered from him and appreciate on critically appraised albums by EVIDENCE ONE, DOMAIN, DEAD END HEROES and MIDNITE CLUB, to name only a few.
Markus Pfeffer used to be a member of internationally praised German AOR-band SCARLETT in the early nineties and delivers riffing and fret board acrobatics you rarely get to hear him play on albums by his main band WINTERLAND, which used to top the German Amazon Download charts in late 2010. On the LAZARUS DREAM album, he not only plays guitar, but also bass and keys.
The powerhouse drumming by guest Markus Kullmann (SINNER, VOODOO CIRCLE, Glenn Hughes) not only completes the hearing pleasure but also adds an incredible groove which lifts the songs to a new level. More musical guests featured are percussionist Thomas Rieder, flute player Sabrina Roth and Thomas Nitschke on Hammond and synths.
The album was mastered by Markus Teske at Bazement Studios (VANDEN PLAS, SAGA, MOB RULES,…)
Highlights on "Alive" range from undoubtedly immensely catchy chorusses and stunningly melodic twin guitar solos in songs like "Wings Of An Eagle" and "Hotel Overload" to progressive arrangements in extra-long tracks like "Dawn Of Time" and "Fleshburn", which also surprises the listener with an Arabian flute intro (and guaranteed goose bumps, by the way). Groovy guitar riffing gets combined with massive vocal arrangements and reflective lyrics especially in songs like "The Healing Echoes", "House Of Cards", "Desert Mind" and "Can't Take My Soul Away".
All in all, LAZARUS DREAM brings a fresh, vivid and eager breath to melodic hard rock and classic progressive metal without the need for indulgence and spurious tricks and charms… Pfeffer and Schulz build a strong songwriting duo and thus the foundation for the album and deliver inspired, melodic hard rock bliss which should appeal to fans of bands such as QUEENSRYCHE and DOKKEN.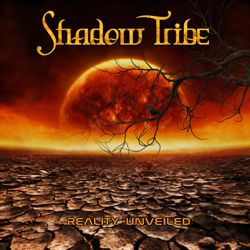 product: Shadow Tribe - Reality Unveiled
release date: 13.11.2020
label: Pride & Joy Music
territory: world
PR contact: Diese E-Mail-Adresse ist vor Spambots geschützt! Zur Anzeige muss JavaScript eingeschaltet sein!
ALTARIA/STARGAZERY bass player Marko Pukkila has joined forces with ex-CELESTY/SPIRITUS MORTIS/MASQUERAGE frontman Kimmo Perämäki in a new band called SHADOW TRIBE. The group, whose lineup is rounded out by Simo Pirttimaa on guitars and Petri Heinonen (King Satan) on drums, has signed a worldwide record deal with Pride & Joy Music who will release the group's debut album "Reality Unveiled" on November 13th, 2020.
SHADOW TRIBE is a melodic metal group from Finland. The band is driven forward and managed by Altaria/ Stargazery bass player Marko Pukkila, who is well known within the industry. He has been around the European rock scene for over two decades and played on almost 40 different releases incl. work with musicians like Vinny Appice, Kee Marcello, AJ Pero, Frankie Banali, Rowan Robertson, Ryan Roxie just to name a few.
Pukkila comments: "After a few years of studio absence, we are finally here with our debut album entitled 'Reality Unveiled'. Feels great to announce the deal with Pride & Joy Music! The music is melodic, but also in-your-face and kick-ass rock. Cool riffs, good melodies and tasteful arrangements. I'm very happy with how the album came out. It's a great collection of hard-hitting-yet-melodic commercial rock tracks, which I hope you all enjoy."
"Reality Unveiled" was produced by SHADOW TRIBE between 2018 and 2020; and mixed and mastered by singer Kimmo Perämäki who also mixed and mastered the latest Stargazery album and created the SHADOW TRIBE artwork.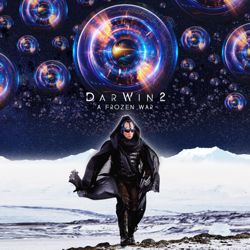 product: DarWin - DarWin 2: A Frozen War
release date: 06.11.2020
label: Origin Of Species LLC
PR territory: Germany, Austria, Switzerland only
PR contact: Diese E-Mail-Adresse ist vor Spambots geschützt! Zur Anzeige muss JavaScript eingeschaltet sein!
Als Nachfolger des Erstwerks "Origin Of Species" aus dem Frühjahr 2019 veröffentlichen DarWin ihre neue Single, "Nightmare Of My Dreams", am 14. August 2020.
Dies siebenminütige, epische Stück baut auf den Themen auf, die DarWin auf "Origin Of Species" abhandelte.
Nochmals hat DarWin ein beeindruckendes Line-Up zusammengestellt. "DarWin II: A Frozen War" setzt die enge Zusammenarbeit mit Simon Phillips (Schlagzeug, Toto/The Who/Jeff Beck) und Matt Bissonette (Elton John, David Lee Roth, Ringo Starr) fort. Mit im Boot sind ebenso die Powerhouse-Musiker Billy Sheehan (Bass, Mr Big/ Steve Vai/Winery Dogs), Guthrie Govan (Gitarre, Aristocrats/Asia/Hans Zimmer/Steven Wilson), Greg Howe (Gitarre, Michael Jackson/Justin Timberlake), Derek Sherinian (Keyboards, Dream Theater/Alice Cooper/Black Country Communion) u.v.m.
"Darwin 2: A Frozen War" wurde von DarWin und Simon Phillips produziert und hauptsächlich in Island und den USA eingespielt.
DarWin kommentiert: "Wir begannen schon mit der Arbeit an DarWin 2: A Frozen War, während wir noch an Origin of Species arbeiteten. Das neue Album ist dadurch irgendwie auch das finale Kapitel von OoS. Das Titelstück "A Frozen War" repräsentiert den finalen Kampf um die Zukunft der Erde. Es ist etwas härter als das erste Album und zeigt uns von unserer besten Seite."
"Wir verlagerten die Live-Aufnahmen nach Island. Billy Sheehan übernahm den Bass im Studio, da Matt häufig mit Elton John auf Tour unterwegs war. Guthrie Govan, Greg Howe und Derek Sherinian haben einige aufregende Killer Leads beigesteuert."
DarWins von Kritikern hochgelobtes Debüt "Origin Of Species" war der Start einer der epischen Saga über die Herausforderungen an die Menschheit in der Zukunft. Es schildert die Rolle eines sich verändernden Planeten und das Potenzial als auch die Einschränkungen neuer Technologien als Hilfsmittel um die größten Herausforderungen der Menschheit zu meistern. Ein komplexes Projekt, das bedeutungslose Kurzlebigkeit zeitgenössischer Kunst scheut. Eine Story, die Aufmerksamkeit und Vorstellungskraft verlangt. Mit dramatischer, teils ausschweifender Musik samt Hard Rock-lastigem, virtuosen Shredding neben großen, orchestrierten Kompositionen, wahren Harmonien und betörenden Chorussen. Ein Projekt, das in der aktuellen, verrückten Zeit umso mehr relevant erscheint.
"Nightmare Of My Dreams", die zweite Single, erscheint am 14.08.2020. Das narrative Video dazu entstand wiederum unter der Regie von Nigel Dick ((Guns N Roses/Band Aid/Def Leppard/Britney Spears).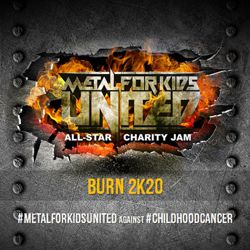 product: Metal For Kids United! - Burn 2K20
release date: 05.10.2020
label: Cultural Assocoiation For Metal Kids United!
PR territory: Europe (without Italy)
PR contact: Diese E-Mail-Adresse ist vor Spambots geschützt! Zur Anzeige muss JavaScript eingeschaltet sein!
METAL FOR KIDS UNITED! All-Star Charity Jam performs DEEP PURPLE's BURN and goes global!
Monday 5 October 2020, METAL FOR KIDS UNITED! All-Star Charity Jam will celebrate its 5th Anniversary with the worldwide release of an all-star video jam tribute to the fathers of Heavy Metal. The final result is an extended version of Deep Purple's classic Burn featuring 25 metal artists from around the world.
Check out the video here: https://youtu.be/lIfWn1C4jbw
Italian benefit format Metal For Kids United! will support once again Peter Pan Association, a voluntary association helping children with cancer and their families since 1994 through free hospitality in Rome during care treatments at Child Jesus Hospital.
"Due to sudden spread of the Coronavirus pandemic, we were forced to cancel the 2020 edition of the annual benefit show booked in Rome for April. During the spring lockdown period we have asked old and new friends of Metal For Kids United to jam together from their own place to celebrate our V Anniversary and keep the promise made to the association" says Fabrizio Troiano, president of the Cultural Association "Metal For Kids United" and organizer of the event.
The line-up of 25 performers includes thrash metal legends such as bassist David Ellefson (Megadeth, Ellefson, Metal Allegiance), guitarist Scott Ian (Anthrax, SOD), along with classic-power metal artists from around the world like German screamer Ralf Scheepers (Primal Fear, ex Gamma Ray), Bay Area singer Brian O'Connor (ex Vicious Rumors), Brazilian guitarist/singer Rafael Bittencourt (Angra), Japanese guitar virtuoso Syu (Galneryus), drummer Thomen Stauch (ex Blind Guardian, Mentalist) and guitarist Jens Ludwig (Edguy) from Germany as well as Italian keyboards player Mistheria (Vivaldi Metal Project, Bruce Dickinson).
But the list includes also other well-known and internationally established Italian Heavy Metal/Rock musicians from bands like Doro, Extrema, Vision Divine, Labyrinth to name a few, reunited with the aim of raising awareness of children cancer and raising funds for voluntary associations which are striving to carry out their daily mission in such hard times.
By releasing the all-star video, the Cultural Association "Metal For Kids United" will make an initial donation of EUR 2.000 (approx. USD 2,300) in favor of Peter Pan Association to kick off and boost the fund raising campaign available on GoFundMe platform: gofundme.com/metal-for-kids-united-against-kids-cancer.
Rock and Metal lovers will have the chance to enjoy this Deep Purple's classic in a new and contemporary rendition for free and will be invited to support the initiative with donations for the cause or by purchasing the merchandise.
Over EUR 12,000 have been donated to non-profit organizations working in Italy to help children in the 4 past editions.
Fabrizio Troiano further says: "We are very proud of the achievements over the years and we hope, despite the impossibility of making a physical event as in our tradition, we can once again share fun together, raise funds for the kids in need and give the chance to the people from all over the world to experience the Metal For Kids United! spirit of solidarity. Don't forget to play it loud, make metal horns, headbang and share the video!"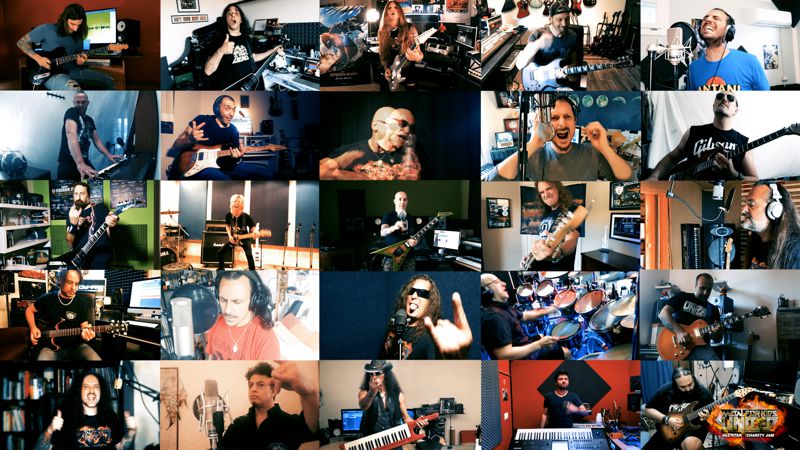 BURN extended version | LINE-UP
VOCALS
Brian O'Connor | ex Vicious Rumors, Deadlands, Consfearacy
Roberto Tiranti | Labyrinth, Wonderworld, Ken Hensley Live Fire
Rafael Bittencourt | Angra
Ralf Scheepers | Primal Fear, ex Gamma Ray
Morby | Domine
Tiziano Spigno | Extrema, Kings Of Broadway
Fabio Dessi | Arthemis, Hollow Haze
Gianluca Mastrangelo | De La Muerte
GUITARS
Scott Ian | Anthrax, SOD
Luigi Schiavone | ex Enrico Ruggeri band, solo artist
Rafael Bittencourt | Angra
Syu | Galneryus
Jens Ludwig | Edguy
Tommy Massara | Extrema
Andy Martongelli | Ellefson, Altitudes & Attitude, Arthemis
Luca Princiotta | DORO
Olaf Thorsen | Labyrinth, Vision Divine
Aldo Lonobile | Secret Sphere, Arkon Angel, Kings Of Broadway
Luca Venturelli | Trick Or Treat
Leonardo Porcheddu | Vivaldi Metal Project
Fabrizio "Faber Troy" Troiano | Timestorm
BASS
David Ellefson | Megadeth, Ellefson, Altitudes & Attitude, Metal Allegiance
KEYBOARDS
Alessio Lucatti | Vision Divine, Deathless Legacy
Mistheria | Vivaldi Metal Project, Bruce Dickinson, Rob Rock
Paolo Campitelli | Kaledon, ex Timestorm, ScreaMachine
DRUMS
Thomas "Thomen" Stauch | ex Blind Guardian, Mentalist, Dawn Of Amber, ex Serious Black
"BURN extended version" – Production credits
Produced by: Fabrizio Troiano with the help of Simone Mauti and Luca Muzzioli for Fabertroy Entertainment / Associazione Culturale "Metal For Kids United"
Mixed by: Frank Altare @StudioCompresso, Rome, ITA - Studiocompresso.com
Mastered by: Riccardo Parenti @Elephant-Mastering Studio, Rome, ITA - elephant-mastering.com
Video editor and motion graphic by: Marco Faiazza - Diese E-Mail-Adresse ist vor Spambots geschützt! Zur Anzeige muss JavaScript eingeschaltet sein!
ABOUT "METAL FOR KIDS. UNITED! ALL-STAR CHARITY JAM"
Metal For Kids. United! All-Star Charity Jam is a musical format created in 2016 by Fabrizio Troiano with the aim of supporting and helping children in any state of need, through solidarity initiatives in which artists of the national and international Heavy Metal scene are called to arms.
Initially conceived as a production of charity events according to the format of the All-Star Jam Session, Metal For Kids. United! Has later developed as a real "independent" brand that carries out the commitment towards needy children also through various activities of awareness raising, communication and promotion, always using Heavy Metal as a healthy bearer of positive messages and solidarity.
Many famous artists have participated in Metal For Kids United! through the years such as: Russell Allen (Symphony X, Trans-Siberian Orchestra), Mark Boals (ex Malmsteen, ex Royal Hunt), Edu Falaschi (ex Angra, Almah), Fabio Lione (Angra, Turilli Lione Rhapsody, ex Vision Divine), Kobi Farhi (Orphaned Land), Roy Z (Bruce Dickinson, Halford), Gus G. (ex Ozzy Osbourne, Firewind), Roland Grapow (ex Helloween, Masterplan), John Macaluso (ex Malmsteen, ex Ark), Alessandro Conti (Trick Or Treat, Turilli's Rhapsody, Twilight Force), Andrea Cantarelli (Labyrinth, A Perfect Day), Titta Tani (ex DGM, ex Goblin), Terence Holler (Eldritch), as well as over 100 musicians from the local and international metal scene.
ABOUT "ASSOCIAZIONE PETER PAN"
"The Great House of Peter Pan" is a free hospitality center that provides children with cancer, under treatment at the Child Jesus pediatric hospital, with 32 housing units with facilities, as well as large common areas that encourage socialization among families. About 200 volunteers ensure that the structures operate 24 hours a day, 365 days a year. The most important project for the Association is to continue to support the maintaining costs of the Houses.
To know more: https://www.peterpanonlus.it
ABOUT "GOFUNDME" CAMPAIGN
Next to the Metal For Kids United! All-Star Charity Jam, a digital benefit campaign through the global GoFundMe platform has been set up to collect additional donations. This is another way to give the community of music lovers and philanthropists an opportunity to be an active part in this great solidarity event, especially those who cannot attend the show.
The campaign aims to reach EUR 15,000 within June 2021.
Donations can be done at gofundme.com/metal-for-kids-united-against-kids-cancer.