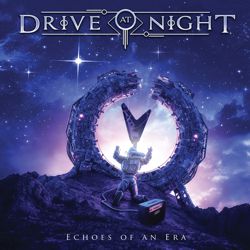 product: Drive At Night - Echoes Of An Era
release date: 17.06.2022
label: Pride & Joy Music
PR territory: world
PR contact: Diese E-Mail-Adresse ist vor Spambots geschützt! Zur Anzeige muss JavaScript eingeschaltet sein!
Drive at Night was formed 2021 by the two long-time friends and band mates Joachim Nordlund and Johan Lindstedt from Astral Doors and SunStrike.
As they both love the melodic rock from the 80's, it was not hard to choose which direction to take with their music.
During 2021, 12 songs were written and recorded in Joachim's studio in Borlänge, Sweden, and produced by Drive At Night. The cover artwork was designed by Blekkmark Design.
Drive At Night follow the tradition of the great Scandinavian Melodic Rock bands and offer lots of great melodies, huge keyboard sounds and sing-a-long choruses.
The debut album "Echoes Of An Era" will be released on June 16th on CD & digital and as LP later during this year.
The songs "The 80's Calling", "Youth Of Today" and "Weekend Fun" will be released as singles in advance.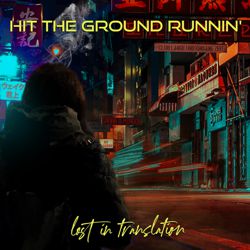 product: Hit The Ground Runnin' - Lost In Translation
release date: 18.06.2022
label: Pride & Joy Music
territory: world
PR contact: Diese E-Mail-Adresse ist vor Spambots geschützt! Zur Anzeige muss JavaScript eingeschaltet sein!
Hit The Ground Runnin' is an AOR/Rock group founded in 1985 in Delaware County Pennsylvania. Originally under the name Free Delivery; the original classic lineup consisted of Paul Piccari (Bass), Blair Rumsey (Vocals), Alan Augunas (Guitar) , Jimmy Katone (Drums) and Rob Knauss (Kay) (Keyboards). In 1986 the band was signed to a production deal with Power Up records / Nice Productions and from 1986-1991 appeared over 15 times on the acclaimed TV show "Dance Party USA". This band had more appearances on this show more than any other group including the likes of Madonna, Duran Duran, Bon Jovi, Will Smith, Nine Inch Nails, 2Pac and New Kids on The Block. In 1989 the band was invited as the only Eastern American group at the 2nd Monterey Music Pop Festival with Jeff Healey, Billy Preston and War. The band in 1990 also did a national radio and promotional tour of Canada, playing select dates in Ontario and Quebec. The band also wrote two songs for TV and film including the track "Back Again" for Rocky V in 1990 and "Surrounded By Fire" for Backdraft in 1990 that unfortunately were not selected in the final production. This band has played alongside with Blue Oyster Cult, Tangier, Britny Fox, Cinderella, Blue Murder, Aldo Nova, Gorky Park, John Entwistle and Donny Osmond.
With a catalogue spanning over 3 decades with 3 celebrated albums; Sudden Impact (1989), Control Yourself (2001), HGR (2007), the bands newest and fourth release entitled "Lost In Translation" written over a span of almost 30 years; a majority of these are songs were originally written and recorded in demo format for an original Free Delivery Release that never happened. As the band was rebranded into "Hit The Ground Runnin'" these songs were essentially "Lost in translation" as the band was working on their 1989 album Sudden Impact. They manifest a wide variety of eclectic sounds and stylings within the Hard Rock, AOR and Pop-Rock genre and represent a unique time in the bands early history as they were emerging within the Philadelphia rock scene back in the mid 1980's. With Drum tracks recorded in Michigan, Keyboard tracks recorded in New Jersey and Maryland, and Vocals, Guitar, and Bass in Paul's studio in Pennsylvania, This album embodies the past and present of Hit The Ground Runnin' from a wide variety of locations.
The bands first single released on November 26 2021 entitled "Simply Because" has been a huge momentous success for the band with over 140,000 views on YouTube in the first 3 months of release.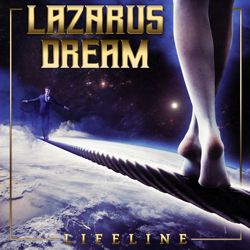 product: Lazarus Dream - Lifeline
release date: 18.06.2022
label: Pride & Joy Music
PR territory: world
PR contact: Diese E-Mail-Adresse ist vor Spambots geschützt! Zur Anzeige muss JavaScript eingeschaltet sein!
LAZARUS DREAM, the German Melodic Hard Rock duo consisting of singer Carsten "Lizard" Schulz (Domain, Evidence One, Devoid) and guitarist Markus Pfeffer (Barnabas Sky, Winterland) returns with the sophomore release "Lifeline". Just like its predecessor, this release is a feast for any fan of the genre and of groovy riffs, bombastic choirs and catchy melodies!
The release opens with the six minute long epic "Dead End Symphony" which features none other than Derek Sherinian (Dream Theater, Black Country Communion, Sons Of Apollo, Billy Idol) on hammond, Moog & synths. Throughout the album, the influences from groups such as Dokken, Winger, Tyketto, Queensryche become obvious. In addition to this, LAZARUS DREAM also stands for pounding bass lines and modern synths. Carsten Schulz contributes to the sound with his unique, distinctive voice and bombastic choir arrangements.
The other guest musicians on the album are Markus Kullmann (Sinner, Glenn Hughes, Voodoo Circle) as well as the percussionists Andy Lübbert and Thomas Rieder. Jorris Guilbaud (Devoid/ Heart Line, keys) is heard on synths on the track "Overdose Of Paradise". Keyboard player Thomas Nitschke appears on the songs "Freedoom" and "Your Voice Inside My Head".
The CD version of "Lifeline" includes the track "Surrounded By Strangers" and a cover of the 80's classic tune "I Engineer" (originally recorded by Animotion) as bonus material; the digital version includes the bonus track "Once Upon A Time".
Stan W. Decker (RAGE, BLUE ÖYSTER CULT, MASTERPLAN) contributed the artwork for "Lifeline" and Rolf Munkes (CREMATORY, Empire Studios) took care of the mastering.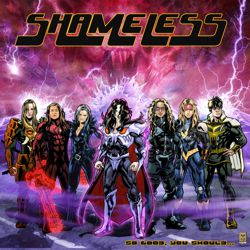 product: Shameless - So Good, You Should...
release date: 20.05.2022
label: Pride & Joy Music
PR territory: world
PR contact: Diese E-Mail-Adresse ist vor Spambots geschützt! Zur Anzeige muss JavaScript eingeschaltet sein!
Shameless is a Hard Rock Glam band formed in the Spring of 1989 by bassist Alexx "Skunk" Michael in Munich, Germany. After a breakup, Michael decided to reform Shameless in 1998 with his friend and guitar player BC. Alexx enlisted help from drummer Eric Singer (KISS, Alice Cooper, Black Sabbath), who's introduction to Steve "Sex" Summers (Pretty Boy Floyd) and Stevie Rachelle (Tuff) started a long lasting musical relationship. Since then, the international outfit has released 7 full-length albums and went on numerous tours.
For "So Good, You Should…", Michael again teamed up with guitarist partner BC, Charlotte Tybalt, Dennis Post, Stevie Rachelle (Tuff), Frankie Muriel and Tod T Burr to release their first ever covers album which also includes 2 brand-new tracks. Due to the pandemic making in-person studio recording impossible, Shameless recorded the recorded the record at 12 different locations all over the world including Munich, Los Angeles, Las Vegas, St. Louis, Copenhagen and Auckland, New Zealand.
The band already released the single "Live Your Dream" with Charlotte last year in conjunction with Michael's book "Looking Inside: The Stainless Sensation", a 500 page deluxe bound definitive history of John DeLorean, the DMC 12 and the DeLorean Motor Company.
Charlotte sings 5 of the new tracks plus adding backing vocals on almost all the other tracks. Like on all Shameless releases, Tuff singer Stevie Rachelle, sang on a couple of the songs. Kiss legend Bruce Kulick is featured on a total of 4 songs including their version of the unreleased Gene Simmons song "Love is blind" and the cover of "East Bound And Down" where the band was joined by Jaret Reddick of Bowling For Soup on vocals. Tracii Guns appears as well on the new release.
Three more singles and videos will be released in advance to the album "So Good, You Should" – starting on February 4th with the track "Shout It Out" on February 4th, 2022! "So Good, You Should" will be available as CD, LP and digital!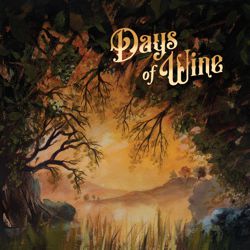 Product: Days Of Wine - s/t
release date: 20.05.2022
label: Pride & Joy Music
PR territory: world
PR contact: Diese E-Mail-Adresse ist vor Spambots geschützt! Zur Anzeige muss JavaScript eingeschaltet sein!
The brand new band DAYS OF WINE consists of close friends from the Oslo/Norway music scene. After years of playing in their respective bands, it was time to join forces to make a high class album.
During Spring 2021, ten songs were recorded for the self-titled debut at Stable Studios, Oslo. The songs are based on the lyrics of Leif Johansen but musically grounded in the Classic Rock genre.
Leading the charge is the melodic and "raspy" Voice of singer Leif Digernes. To emphasize the 60's and 70's influences, all backing tracks were recorded "live" in the studio. With such astute and accomplished musicians, it couldn't have been done in any other way.
Some friends also came by and contributed to some of the songs, i.e. brothers Gregg Bissonette (drums, David Lee Roth, Ringo Starr, Joe Satriani, Toto, Santana, Ozzy Osbourne etc.) and Matt Bissonette, (bass, David Lee Roth, Ringo Starr, Joe Satriani, Elton John, Steve Perry, Don Henley, Brian Wilson) on "Angles In Disguise", Jon Pettersen (Ammunition) played the acoustic intro to "Healerman", Markus Klyve (Tekro's Kingdom) the solo on "Never Stop Believing", Lars Andrè Kvistum (Conception) keyboards on "Spread Your Wings"
And Ronni Le Tekro (TNT/Tekro's Kingdom) add. guitars on "Paint The Sky"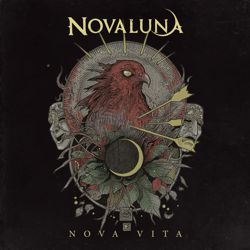 product: Nova Luna - Nova Vita
release date: 20.05.2022
label: Pride & Joy Music
PR territory: world
PR contact: Diese E-Mail-Adresse ist vor Spambots geschützt! Zur Anzeige muss JavaScript eingeschaltet sein!
NOVA LUNA is an Italian band initially formed in 2019 by singer Mattia Martin, major writer and composer of the songs on the album entitled "Nova Vita". Subsequently Alessandro Piputto on drums and Davide Martina on guitars were added, which mainly contributed to finish the work. During the next two years the final changes were made, and then recorded, mixed and mastered in studio by Michele Guaitoli (Temperance, Vision Of Atlantis). During the recordings and final changes of the works, Nicola Lardo mainly participated on bass and Valerio Simonini on keyboards. The group is inspired by Prog Metal, Pop Metal and with some hints of eighties Hard Rock and Japanese Pop.
The album features various guests including Marco Minnemann (The Artistocrats), Reb Beach (Whitesnake), Michele Luppi (Whitesnake) and Mistheria (Vivaldi Metal Project).
The songs on the "Nova Vita" album are a collection of stories that tell feelings and poetry, each song represents a narrated emotion, including depression, anger and love, then leaving space for technique and musical composition. It is inspired by prog metal music, including for example Symphony X and Dream Theater, passing through more pop and modern music, finally taking a cue from hard rock. In addition to these, Japanese culture and music also took part in certain songs, inspiring them through some of the greatest anime and videogame series.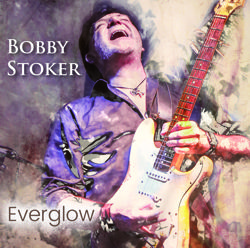 product: Bobby Stoker - Everglow
release date: 20.05.2022
label: Vivid Music Productions
format: CD
PR territory:world-wide
PR contact: Diese E-Mail-Adresse ist vor Spambots geschützt! Zur Anzeige muss JavaScript eingeschaltet sein!
Bobby Stoker (in German: Bobby Stöcker) took his first piano lessons at the age of 5. Born in Frankfurt am Main-Germany, he spent his entire childhood living abroad with his family. Having lived in Tunisia, South Korea and Egypt, he returned to Germany in 1981 at the age of 12.
He knew from incredibly early on that music was his life. At the age of 14 he devoted himself to the guitar, founded his first band and at the age of 16 began writing his own songs . After graduating from school, the artist took the plunge and has been in the music business ever since.
Since then, Stoker has been on stage with many greats such as Bobby Kimball (singer of TOTO), has organized and played at large events with his bands: he has played around 100 performances every year since the early 1990s.
In 1995 - 1996 Bobby took part in the musical "Tommy" by "The Who" in Offenbach-Germany and then went on and founded his own recording studio in Frankfurt am Main. There he made a name for himself as a guitarist in the studio scene, recording commercials, songs, and commissioned productions. Through the various producers and artists he worked for there, he also met the exceptional singer Melanie Thornton and in 1999 wrote songs for her debut solo album "Ready To Fly", which was released in 2001 and achieved gold status for 150,000 sales in 2002 and reached number 3 in the German album charts.
In 2002, he then founded the production company "Vivid Music Productions" (V.M.P) expanding his business beyond music production and song writing to include event planning. To this day, "Vivid Music Productions" has established itself as an artist pool with a broad community roster of musicians & event networks and organizes around 100 -120 events every year.
Since 2018, Bobby has been a member of Go Music, the touring band of ex Klaus Lage bassist Martin Engelien, and plays alongside other exceptional musicians such as Pitti Hecht (percussion - Scorpions), Cherry Gehring (keyboarder - Pur), Benne Neuner (drums - Glasperlenspiel) and Dirk Brand (drums – Axxis).
At the end of 2020, unable to do live shows during the Corona pandemic, Bobby founded his own label and started work on his solo album "Everglow", on which he took on the part of the lead vocals for the first time. After just over a year, together with the lyricist Nicole Göbel, 12 powerful rock songs were created, incorporating a heady mix of blues and soul. As a studio musician, he is accompanied by well-known and established names such as Willy Wagner (Fish/Marillion, Bobby Kimball,
Tony Carey/Rainbow) on bass and singers such as Oliver Hartmann and Ina Morgan from Avantasia on backing vocals. The album was mixed & mastered, in early 2022 by Tommy Newton (producer of Helloween "Keeper Of The Seven Keys Part 1&2", U.F.O, Ark, VoodooCult, Guano Apes and Molly Hatchett) The album "Everglow" will be released on May 20th 2022, via V.M.P. in collaboration with Pride & Joy Music.