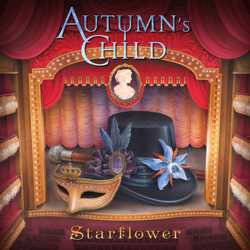 product: Autumn's Child - Starflower
label: Pride & Joy Music
release date: 20.01.2022
territory: world excl. Asia
PR contact: Diese E-Mail-Adresse ist vor Spambots geschützt! Zur Anzeige muss JavaScript eingeschaltet sein!
Mikael Erlandsson needs no further introduction when it comes to melodic rock.
He has released six successful solo albums and a lot of titles with groups like Phenomena, Salute among others. Between 2006-2018 Erlandsson fronted the Swedish super group Secret Service which he toured with live all over the world.
Together with the fantastic guitar player Andy Malecek from the successful German hard rock band Fair Warning he founded the band LAST AUTUMNS DREAM in 2003 which also featured Ian Haugland, Mic Michaeli and John Leven of Europe fame at the time.
Last Autumn's Dream went on releasing another 14 albums with different line ups including great musicians like Jamie Borger (Treat) and Marcel Jacob (Talisman). They toured Japan, England and Germany but decided to take a break in 2018.
Shortly after, Erlandsson founded the group AUTUMN'S CHILD who have released three extremely successful albums so far ("Autumn's Child" – 2019, "Angel's Gate" – 2020, "Zenith" – 2022).
January 2023 sees Autumn's Child returning with their fourth album "Starflower", their second release via Pride & Joy Music. The group still features Michael Erlandsson on vocals, keyboards & guitars, Pontus Åkesson on lead guitar, Robban Bäck on drums, Claes Andreasson on piano and Magnus Rosen on bass.
"Starflower" was produced by Mikael Erlandsson & Claes Andreasson, mixed and mastered by Mikael Andersson at Soundport Studios, Sweden; drums recorded by Mikael Andersson at Soundport Studios.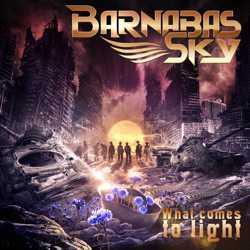 product: Barnabas Sky - What Comes To Light
label: Pride & Joy Music
release date: 20.10.2023
PR territory: world
PR contact: Diese E-Mail-Adresse ist vor Spambots geschützt! Zur Anzeige muss JavaScript eingeschaltet sein!
The melodic hard rock all-star project BARNABAS SKY, led by German guitarist and songwriter Markus Pfeffer (LAZARUS DREAM/WINTERLAND), launches its sophomore album "What Comes To Light"!
Stylistically, the project of the multi-instrumentalist from Kaiserslautern combines groovy guitar riffs, catchy choruses, distinctive voices of several singers with international reputation, spherical synth sounds and filigree solos to a timeless rock melange way beyond short-lived trends.
Once again on board are TYKETTO's Danny Vaughn as well as SILENT RAGE's Jesse Damon, whereby the former impresses with energetic vocals on the title track and the latter is supported with choirs by AOR legend PAUL SABU on the elegiac earworm "Grant Me A Wish From Heaven". For the first time, Doogie White (RAINBOW, ALCATRAZZ, RISING FORCE etc.) is on board for the classic rock steam hammer "Circus Of Delight" as well as Dan Reed (DAN REED NETWORK) with the synth-hooked "Take A Ride".
Also featured are Roy Cathey (COLD SWEAT, THE FIFTH), Dirk Kennedy (HITTMAN), Carsten "Lizard" Schulz (DOMAIN, EVIDENCE ONE), Lee Small (SWEET, LIONHEART, PHENOMENA) and metal legend Alan Tecchio (WATCHTOWER). In addition to these already established singers, the exceptional vocal talent Deibys Artigas Venegas (PREINCARNATION) from Venezuela, who is just 30 years old, is on board as an insider tip.
The impressive cover design was done by Stan W. Decker (POWERWOLF, MEGADETH etc.) and the mastering by Rolf Munkes at Empire Studios (MICHAEL SCHENKER, MAD MAX, VOODOO CIRCLE etc.).
Line-up:
Guitars, Bass, Keyboards, Guitarsynth: Markus Pfeffer
Vocals: Danny Vaughn, Dan Reed, Doogie White, Jesse Damon, Roy Cathey, Dirk Kennedy, Lee Small, Carsten Lizard Schulz, Alan Tecchio, Deibys Artigas Venegas
Drums, Percussions: Thomas Rieder
Backing Vocals: Paul Sabu, Stephan Hugo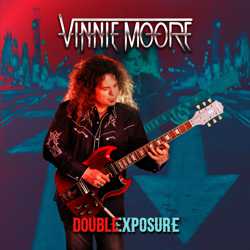 product: Vinnie Moore - Double Exposure
release date: 25.11.2022
label: Mind's Eye Music
PR territory: Europe
PR contact: Diese E-Mail-Adresse ist vor Spambots geschützt! Zur Anzeige muss JavaScript eingeschaltet sein!
The follow up to Vinnie's 2019 "SOUL SHIFTER" will be released on November 25th on his Mind's Eye Music label. Vinnie is joined by singers Ed Terry (Rage And Beyond, American Mafia), Keith Slack (MSG, Mother Road), Mike DiMeo (Riot) and Brian Stephenson (Old James) on this half vocal half instrumental album. This is his first solo release that features vocals. Band members include Richie Monica (Billy Cox, Papa Chubby, Tantric) on drums, Michael Bean and Pete Griffin (Steve Vai, Dweezil Zappa) on Bass, John Cassidy on Keyboards, and John Pessoni on Drums.
Vinnie has released ten solo albums and six albums and a LIVE DVD with rock icons UFO, and is considered to be one of the originators of shred guitar. He's made many guest appearances with others and played and wrote the soundtrack for a classic PEPSI TV commercial. He's recorded and toured with ALICE COOPER and was opening act for RUSH with his solo band on the ROLL THE BONES tour. Vinnie has toured all around the world with UFO and solo, and has two best selling guitar instructional videos. He has been an inspiration for fans and guitarists worldwide.
"This project started during the period when we were all grounded from touring. I had some song ideas and originally thought I'd do an instrumental EP with 5 or 6 songs. Before recording, I always do listening sessions with my demos to get production ideas. While playing "One Day", I started hearing vocals in my head and naturally started singing along and it hit me that this would make a good vocal song. As I listened through the rest of the tunes, one by one I realized that they all could be vocal songs. It was a light bulb moment where I realized, 'hey dummy, here's the vocal thing you've been wanting to do'. So the idea to take a group of songs and create dual versions of each was born.
To set this all in motion, the next step was lining up singers. I knew right away that I wanted to collaborate with a few different vocalists I have known or worked with over the years. Keith Slack and Mike DiMeo quickly came to mind. I have known Keith for more than 20 years and we have always talked about working together. Mike has toured with me in the past as vocalist and keyboardist, so he was an obvious choice. Brian Stephenson opened for me on a tour in 2016 with his band Old James, I liked his voice and lyrics and knew he would be a good guy to collaborate with. Ed Terry and I were on a track together a couple years back. I really dug his voice and ideas and knew I wanted to work with him.
The only good thing about the world being shut down for months is that it gave me the time I needed to put this thing all together. It was a big undertaking. In between recording guitars, I would shift gears and go into phases where I sang and sketched out lyrics. It took some thought to decide which singer I wanted to be on which song. After that, I sent out the recordings with and without vocals and told everyone to be creative whether that meant totally following their own inspiration or using any of my ideas. In the end both things happened."
Vinnie recently completed a European solo tour in May and a festival run with UFO during the summer.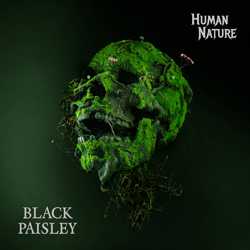 product: Black Paisley - Human Nature
release date: 25.11.2022
label: Black Paisley AB/ Sound Pollution
PR Territory: Europe (excl. UK)
PR contact: Diese E-Mail-Adresse ist vor Spambots geschützt! Zur Anzeige muss JavaScript eingeschaltet sein!
Black Paisley hailing from Stockholm – Sweden is one of the upcomers in the NWOCR (New Wave of Classic Rock) bringing on the heritage from classic acts like Whitesnake, Scorpions and Thunder combined with modern production and praised new songwriting.

Human Nature is the 4th album by Black Paisley, and part of the album is a once-in-a-lifetime co-op with some of Classic Rock's best in class on production, mixing and mastering.
With the aim to re-invent the magic from our idols and the albums/songs that inspired our youth - the band managed to sign and meet up with icon Mike Fraser at Armoury Studios in Vancouver (mixing - 5 AC/DC albums, The Cult, Aerosmith, Metallica) and Ryan Smith at Sterling Sound in Nashville handled the mastering (AC/DC, Adele, Ozzy & Greta Van Fleet), to help them out with Set Me On Fire and Human Nature.
This was of course a great experience for the band, but also a humbling realization of already having a great team in place back in Stockholm.
The band name BLACK PAISLEY comes from Bon Jovi's Ritchie Sambora's classic Fender signature guitar from 1996. With the name you get an embedded connection to the Melodic Rock with catchy melodies which is the best way to describe Black Paisley's music.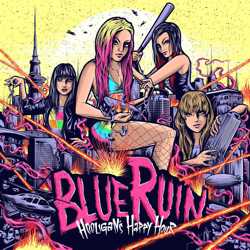 product: Blue Ruin - Hooligans Happy Hour
release date: 25.11.2022
label: Pride & Joy Music
PR territory: world
PR contact: Diese E-Mail-Adresse ist vor Spambots geschützt! Zur Anzeige muss JavaScript eingeschaltet sein!
Blue Ruin is Charlotte Tybalt, Anna Monteith, Elettra Pizzale and Louisa Maria. Inspired by all things creepy and fun, Blue Ruin brings a captivating and colorful sound, reminiscent of the punk rock and pop punk genre.
With fast paced riffs and mesmerising stage performances - Blue Ruin sets audiences on fire.
Initially founded out of New Zealand in 2015, Blue Ruin embodies the down to earth culture of New Zealand's people, exuding a sense of effortless, carefree fun.
Having completed several tours throughout New Zealand, Europe and the UK, Blue Ruin has their sights focused on further dominating the punk rock scene. With the release of their debut album, Hooligans Happy Hour, fans can expect songs reflective of Blue Ruin's playfully dark sound, with more face melting guitar solos, moody baselines, heart pumping drum beats and gritty vocals than ever before.
Having garnered much success over the years, with opening slots with icons such as Misfits, Cherie Currie and Steel Panther, Blue Ruin is set to continue to rise.
With a beautifully refined visual style, and a sound that reminds us there is beauty in darkness, Blue Ruin encourages us all to come on this journey of freedom, self expression and good old fashioned fun.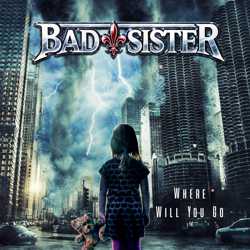 product: Bad Sister - Where Will You Go
release date: 25.11.2022
label: Pride & Joy Music
territory: world
PR contact: Diese E-Mail-Adresse ist vor Spambots geschützt! Zur Anzeige muss JavaScript eingeschaltet sein!
BAD SISTER was founded in 1980 in Hamburg. During the 80's and 90's the AOR and melodic hard rock band played countless shows - for example famous "Onkel Pö" in Hamburg. In 1989 BAD SISTER released their first CD "Heartbreaker" which was sold all around the world and is estimated among critics as an classic album of AOR. The first single released from this album was "Catriona". The band supported Deep Purple singer Ian Gillan and Detroit based rock shouter Mitch Ryder.
The second album "Out Of The Business" was released in 1991 in Europe, USA und Japan. Many shows and open air festivals followed incl. several performances at Wacken Open Air. In 2022 BAD SISTER releases "Where Will You Go" - 13 great AOR and melodic hard rock songs which were produced by Kai-Ove Kessler at Hammaburg Studios, Hamburg and mixed at Wellenschmiede, Hamburg by Timo Höcke. "It's our best album so far", says singer Andrea Löhndorf.
The first single & music video is called "Lose Or Win", a powerful eighties-style hard rock smash hit: pure and straight. "Feels Like Love", a classic AOR track, offers pure energy with driving guitar riffs and great choir singing whilst "Couldn't Do Right" pleases with its earthy guitars, melodic keyboards, harmonic voices and a chorus that stays on your mind. "Fair Enough" is another example for showing the passion of this band: rough guitars, powerful keyboards and a catchy hook. And "Moon Woman" is an emotional ballad with a melodic chorus and supported by a guitar solo that gets under your skin.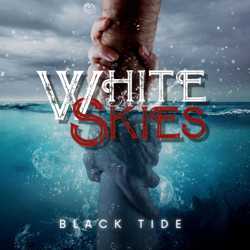 product: White Skies - Black Tide

release date: 04.11.2022
label: Pride & Joy Music
PR territory: world
PR contact: Diese E-Mail-Adresse ist vor Spambots geschützt! Zur Anzeige muss JavaScript eingeschaltet sein!
White Skies is a UK based AOR band formed by former Samson/First Strike vocalist Mick White, former Ya Ya guitarist Ray Callcut and former Double Cross/Dante Fox keyboard player Pete Lakin.
Just prior to the start of the pandemic in 2020 Mick and Ray (who were old friends from the eighties) had discussed the idea of writing a pure AOR album very much in the style of the giants of the genre Journey, Foreigner and Toto. As the world entered lockdown the writing process began and it was clear from the first couple of songs that they had a natural songwriting partnership. Ray suggested bringing in his longtime bandmate Pete as the songs were going to need a gifted keyboard player to really take them to the next level and the nucleus of the band was formed.
The writing continued over the course of the next year with the tracks being honed down to twelve songs that the three musicians were satisfied were the best of the best they had written and the recording process continued in their separate home studios while the pandemic continued to grip the world. Finally the mixes were undertaken by Pete to painstaking detail and the album 'Black Tide' was completed in the Spring of 2022.
The band were very quickly offered a deal by German rock label Pride & Joy Music and will be released on the 4th November 2022.
Prior to shooting the video for 'What Do You Know About Love?' White Skies added the talents of ex Blood Red Saints bass player Rob Naylor and ex Red White and Blues drummer Daz Lamberton. With the line up now complete White Skies plan to tour the album extensively throughout 2023.