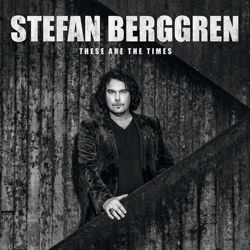 product: Stefan Berggren - These Are The Times
release date: 04.06.2021
label: Grandjam Production
PR territory: Europe
PR contact: Diese E-Mail-Adresse ist vor Spambots geschützt! Zur Anzeige muss JavaScript eingeschaltet sein!
STEFAN BERGGREN, one of Swedens finest Rock voices , will release his new solo album "These Are The Times" LP ,CD & digital, via his own label GRANDJAM PRODUCTION on June 4th, 2021!
Stefan Berggren has worked as a Singer/Frontman with well-known bands and artists such as Uriah Heep, Snakes in Paradise, M3 - Classic Whitesnake, The Company of Snakes, Along with the recently deceased Lee Kerslake (Uriah heep,Ozzy), he also had the Berggren Kerslake Band "The Sun Has Gone Hazy", as well as the Don Airey Band amongst others.Now he is ready to go out on the roads with his own, hand-picked band, hopefully starting in the Summer of 2021. "These Are The Times" is the sophomore solo release to "Strangers In A Strangeland" which came out in 2016.
Next to Berggren who handled vocals, guitars and keyboards, the band is completed with Tomas Pomma Thorberg (SNAKES IN PARADISE) on bass and Johannes Nordell(Flykten) on drums.The aforementioned Don Airey, the keyboard legend from Deep Purple, guest stars here on the song "Wild Flowers" provide Organ & Moog which has been released as a single and video a couple months of ago.
WATCH the video for "Wild Flowers" here: https://youtu.be/OsH0J-pAhJA
"The song is about feeling outside society," says Stefan. "You try to find your place in life. Right now, in Corona times, you go as a musician in the times of waiting for something to happen, whatever. Frustrating. You are not allowed to work. The only thing you can do is write new music. It will be doomsday rock with prophecy. It feels like the world is ruled by a select few and has planted this virus to access our freedom. Which is Rock "n" Roll. Maybe it's time to give up the dream or!?"
Further guests are Stephen Bentley-Klien (string arrangements) on the tracks "Lost At Sea" & "New York" and Joakim Svalberg (OPETH) on organ and piano on four songs (tracks 4-7). "These Are The Times" was recorded, mixed and produced at Grandjam Studio, Stockholm by Stefan Berggren. Pete Lyman (Infrasonic Sound Nashville, track 1), Ryan Smith (Sterling Sound Mastering, Nashville, tracks 2-6) and Claes Persson (CRP Mastering Stockholm, tracks 7-10) took care of the mastering.
Stefan adds: "There is always a sense of achievement when it's finished. I decided already in 2019 that I was going to work on new original material the whole year 2020. So, the pandemic has been good for that. But there's absolutely nothing to do - no gigs. I believe I had the last gig on earth. My band played the last gig November 23, 2020."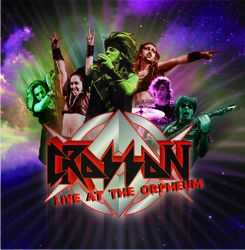 product: Crosson - Live At The Orpheum (Blu-ray/ CD)
release date: 25.06.2021
label: Galaxy Records
PR territory: Europe
PR contact: Diese E-Mail-Adresse ist vor Spambots geschützt! Zur Anzeige muss JavaScript eingeschaltet sein!
Since they exploded onto the melodic rock scene with their 2016 release 'Spreading The Rock 'N Roll Disease', followed by 2018's 'Invincible' and 2020's 'Rock N Roll Love Affair', Aussie theatrical glam rockers, CROSSON have established themselves as a force to be reckoned with delivering their hard driving, catchy, uplifting, stadium rock anthems.
CROSSON's engineering team of rock royalty consisting of Duane Baron (Motley Crue, Poison, Ozzy Osbourne) and Dave Donnelly (Aerosmith, Whitesnake, Cher) have not only given the band credibility but have added a unique sonic boom to their 80's influenced sound. However, it's been CROSSON's over-the-top, high energy, saucy, theatrical stage shows which has been winning the hearts of punters in the land Down Under.
"We constantly receive requests from fans in the USA, Europe, UK and Russia who have seen our videos and want us to come and play for them" says Jason Crosson (singer / writer / producer).
However, during these crazy times where international touring is not possible, following the motto "If the mountain won't come to Muhammad, then Muhammad must go to the mountain." the band will be releasing their first live album and concert video titled ' CROSSON - Live At The Orpheum'.
" The audience always goes nuts when the girls come out in their Japanese kimonos and skimpy army uniforms during 'I Wanna Be Japanese' and 'We All Need An Enemy'" says Crosson
Filmed in high definition with multi cameras in front of an excited home crowd at The Orpheum Theatre in Sydney Australia, the concert video shows CROSSON in their element; delivering their bombastic, cheeky, entertaining, choreographed, multimedia stage show. The concert video was edited and mixed by Australia's metal maestro Lord Tim (LORD).
The album and concert video will be available in digital formats as well a limited-edition Blu Ray / CD box set.
'CROSSON - Live At The Orpheum' will be released globally on 25 June 2021 through Galaxy Records.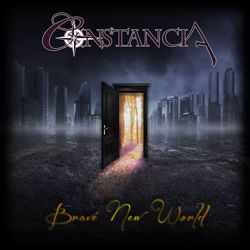 product: Constancia - Brave New World
release date: 18.06.2021
label: Pride & Joy Music
PR territory: world -JP
PR contact: Diese E-Mail-Adresse ist vor Spambots geschützt! Zur Anzeige muss JavaScript eingeschaltet sein!
The album title "Brave New World" is both meant to be seen as inspirational for 2021, and it is also a nod to the fact that the band has a new singer. The album was written and recorded with former singer David Fremberg in mind, but when he couldn't find the time for the band, UK singer Pete Godfrey (IN FAITH, BLOOD RED SAINTS) was drafted. Being an incredibly creative guy, he took on the songs with a new view, wrote new lyrics and came up with his own vocal arrangements, which lifted the album to a whole new level.
CONSTANCIA started in 2007, as the brainchild of former Scudiero/Token keyboard player Mikael Rosengren. He had written a bunch of songs that he wanted to record. He got in touch with guitarist Janne Stark (Overdrive, Grand Design, Locomotive Breath etc) and asked him to lay down some guitars. Janne contacted drummer Peter "TrumPeter" Svensson (ex-Mercy, Faith), with whom he had worked in Overheat, Locomotive Breath and Mountain of Power. Mikael drafted Jaded Heart bassist Michael Müller, and they tried out various vocalists before finding David Fremberg (Andromeda). CONSTANCIA's debut album "Lost And Gone" was released in 2009.
In 2013, bassist Linus Abrahamson (Andromeda) replaced Michael Müller on bass, "Final Curtain" saw the light of day in 2015.
In 2019 CONSTANCIA started working on new material. Since all the members were quite busy with other bands and projects, their writing process took its time, but in early 2020 the band had enough strong material to start recording. Unfortunately, original singer David Fremberg was too heavily involved in his new Reggae Kiss project, working in his studio and other projects, so he politely made his departure. Janne had been writing and working with British singer Pete Godfrey on other stuff and felt his voice would be perfect for the band. Pete tried out a few songs, where he also wrote new vocal melodies and lyrics, and it was just the perfect match. Even magical! When it finally came to mixing the album, Janne made some pre-production mixes which sounded fine, but to get the real icing on the cake they engaged Fredrik Folkare (Token, Eclipse), who also mixed the first album.
Musically the band is still creating the nice blend of melodies, progressive touches and aggressive guitars, now topped with the stellar vocal arrangements and voice of Pete Godfrey.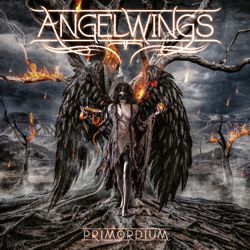 product: Angelwings - Primordium
release date: 18.06.2021
label: Pride & Joy Music
PR territory: world
PR contact: Diese E-Mail-Adresse ist vor Spambots geschützt! Zur Anzeige muss JavaScript eingeschaltet sein!
Angelwings were born in April 2013 out of a group of experienced musicians that had been in the local music scene for some time, and who had played in different bands a wide variety of musical genres.
Initially, to gel together as a band it was decided to perform a number of covers from Finnish symphonic metal sensation Nightwish. Soon it became clear to all that original music would have a very considerable element of orchestration. Thus, Angelwings became the first symphonic metal band from Gibraltar.
It is in October 2014 when the band starts to write their original material. On the 27th June 2015 Angelwings supported Heavy metal legends Saxon at the "Hard n Heavy" festival in Gibraltar. In September 2015 Angelwings performed at the Gibraltar Music Festival where Kings of Leon and Duran Duran were headliners. After numerous offers from record labels from around the world, Angelwings signed with Pride and Joy Music label (Germany). Angelwings released its debut LP "The Edge Of Innocence" in 23/6/2017.
Due to circumstances the band had a change in lineup. In October 2018 Angelwings welcomes Ismael (drums), Dani Duran (bass) and Carlos Álvarez-Nava (guitar) as part of the team and on April 2019 David Duran (Dani's brother) joins as our second guitarist. After a few gigs in Spain and Germany Angelwings continue their work on their next album, "Primordium".
The group decided for the album to be more focused on a heavier guitar sound but without losing its orchestral and synth sounds. It's a concept album, following their first album all the way back to the beginning, back to where it all began. This story tells us of a lost soul, one of divine blood who fights for freedom with the help of the Gods themselves. It features professional wind instrument musician Jeroen Goosens and Carlos Alvarez's vocals (guitarist at POWER THEORY and Shadowdance) on the opening track "Genesis". Although the covid pandemic caused some disruption to the band, they continued and focused their work on the album. In August 2020 they recorded guitars and vocals at Tower Studio with Brett Caldas Lima in France. The bass and keyboards were recorded at Angelwings Studio and drums by Léo Margarit from Pain of Salvation in his studio in Sweden. The amazing artwork was created by Thomas Ewerhard. Album set for release on June 18th, 2021 by Pride & Joy Music.
product: Season Of Dreams - Heroes
release date: 18.06.2021
label: Pride & Joy Music
PR territory: world
PR contact: Diese E-Mail-Adresse ist vor Spambots geschützt! Zur Anzeige muss JavaScript eingeschaltet sein!
After the release of the album 'My Shelter' in the year 2020, French/ Swedish Heavy Metal band SEASON OF DREAMS now returns with its sophomore album entitled 'Heroes'. The main part of the group still consists of Jean-Michael Volz on most instruments and singer/ keyboard player Johannes Nyberg. John Nyberg (guitars) decided to leave SEASONS OF DREAMS for personal reasons.
'Heroes' offers a strong collection of ten original songs - a perfect mix of Power Metal hymns and Heavy Metal riffs. The group's main inspirations and influences come from bands such as Helloween, Edguy, Accept, Stratovarius, Manowar, Heavenly, Dreamtale, Vhaldemar and many more.
Seven guests joined SEASON OF DREAMS to add their talent to this release. These guests are Jimmy Hedlund (Falconer), Nils Courbaron (Sirenia/T.A.N.K.), Olivier Lapauze (Heavenly), Mikael Dahl (Crystal Eyes), Emil Norberg (Persuader/Savage Circus), and Martin Floberg from Enbound on lead guitars and Kristoffer Göbel from Six Foot Six/Falconer on vocals!
Jean-Michel Volz comments: The song 'Heroes' is a tribute to the medical staff who amazingly helped the world in the war against the virus. The fantastic artwork from Stan W Decker shows a warrior doctor in a fantasy world who fights against a virus monster.' The mastering of the album was handled by HK at Vamacara studios in France.
product: Devils In Heaven - Rise
release date: 25.06.2021
label: AOR Heaven
PR territory: world
PR contact: Diese E-Mail-Adresse ist vor Spambots geschützt! Zur Anzeige muss JavaScript eingeschaltet sein!
Devils in Heaven started out as a school covers band in Launceston, Tasmania during the mid-1980's. After a couple of years of gigging around Tasmania, the boys left their comfy confines in March 1989 and joined the thriving Northern Queensland circuit of touring bands. It was a baptism by fire, but the boys learned to adapt to different type of audiences and built up their stamina and resilience through the constant playing.
It was on this circuit that they were discovered by a band manager, who introduced them to the flourishing Sydney music scene. Here in Sydney is where the industry heavyweights became aware of the band, who by now were playing their own original music for about half of their shows. The band began recording demo recordings, but their demos didn't seem to land on the right music executives' desks.
In 1991, the band accepted an offer to appear on the nationally televised talent show, Star Search. The band went on to appear a total of eight times, eventually winning the band section of the Grand Final. But the band didn't strike while the iron was hot. Instead, their debut single, Say a Prayer, was released six months later. By then, the hype surrounding their Star Search win had somewhat subsided. At this time in April 1992, the music landscape was starting to change with the likes of Nirvana and the grunge scene taking over the airwaves.
After the lack of support for their debut single, the Devils decided on having a last-ditch effort into cracking the big time by recording an E.P. entitled "Liberation" in Hollywood, Los Angeles during March of 1993. Unfortunately, Liberation didn't even make an indentation on the charts, and the boys decided to part ways in October 1993 as the musical landscape was changing in Australia and it was becoming increasingly difficult to make a living as a live/ touring band.
Now that almost thirty years have passed, their music helps keep the band living on.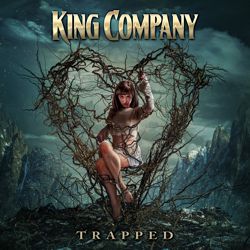 product: King Company - Trapped
release date: 25.05.2021
label: AOR Heaven
PR territory: world
PR contact: Diese E-Mail-Adresse ist vor Spambots geschützt! Zur Anzeige muss JavaScript eingeschaltet sein!
Finnish 'Hard Rock Supergroup' KING COMPANY releases 3rd album "Trapped" with a new singer.
King Company was formed in 2014 by drummer Mirka "Leka" Rantanenb (Raskasta joulua, Warmen, ex-Thunderstone, ex-Kotipelto, etc.) to fulfill his longtime dream of melodic hard rock/metal band with good friends and musicians. His former Thunderstone colleague Pasi Rantanen took the vocal duty, Antti Wirman (Warmen, Children Of Bodom) joined in for the guitars and after Jari Pailamo (Kiuas) with Time Schleifer (Enfarce) answered the calls for keyboards and bass, the band was ready to start working.
Soon King Company signed a record deal with Frontiers Records and released "One for the Road" 2016 and "Queen of Hearts" 2018 - the latter with Italian singer Leonard F. Guillan as Pasi Rantanen had to leave the band due temporarily losing his voice. The albums were supported by touring in Finland, Spain and Italy, and gave King Company a notice as 'Newcomer of the Year - Brightest Hope' in Japanese Burrn magazine and 7th position in Finnish album charts, respectively.
The misfortune with vocalists continued. Ilkka Keskitalo became the new singer in 2019, with whom King Company began to produce its third album. In 2020 the first demos sent to AOR Heaven resulted in signing a deal. The recordings took over one year in several sessions and it was mixed and mastered by Jesse Vainio (Sarah Brightman, Apocalyptica, Sunrise Avenue, Gregorian, etc.) The band describes the new production as well balanced and more rocking than the previous releases - A world class sound created by elite sound engineer Mr. Vainio makes it a pleasant, stunning and energetic trip to the world of hard rock. Plans for 3rd tour in Spain are already in place.
With the latest repertoire "Trapped" KING COMPANY proves to be one of the most spectacular and eminent acts of the scene since the legends Whitesnake and alike!