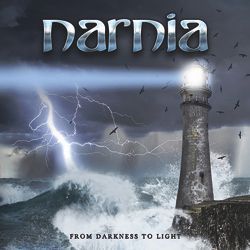 product: Narnia - From Darkness To Light
release date: 02.08.2019
label: Narnia Songs
PR: Europe
contact: Diese E-Mail-Adresse ist vor Spambots geschützt! Zur Anzeige muss JavaScript eingeschaltet sein!
Narnia's new album; From Darkness To Light is the band's eight studio album, and a natural sequel to the previous, self-titled album, from the band's return and 20th anniversary in 2016.
The spark that Narnia lit on last year's live album We Still Believe - Made in Brazil, has followed the band into the studio, where this energy has been channeled and structured into a long parade of nine songs.
With the musical roots remaining deep in melodic metal, the band has both stretched on to a modern sound where the guitars still dominate, but also allows analogue 70/80's analogue synthesizers to take place in the soundscape.
The lyrics are noticeably important to the band and in true Narnia spirit this heritage has been well managed and further refined.
Christian Liljegren sings with such passion that it is hard not to be touched by the vocals. This album is also produced by Narnia's guitar virtuoso CJ Grimmark, who also has written most of both lyrics and music. It is mixed by the band's sound engineer Viktor Stenquist, and mastered by Jens Bogren, Fascination Street Studios.
The band's first tour in South America in 2017, made noticeable marks and you can hear this new reignition has come to stay. It is clearly hearable in Andreas "Habo" Johansson's energetic drumming, which is performed with both power and precision.
With a keyboardist as Martin Härenstam, the Narnia has the caliber of another solo virtuoso in the band. The synthesizers are there all the time and commute between complementing the sound image and making exciting excursions, a bit like a perfectly balanced dance in harmony with the guitar. The band's latest addition, bassist Jonatan Samuelsson, has merged well into the band and has also contributed with background vocals, playing Taurus bass pedal, songwriting and graphic design of cover.
It is a united and wholehearted band that now is releasing a new studio album! From Darkness To Light will be released in connection with the coming tour in South America, together with Stryper and Tourniquet.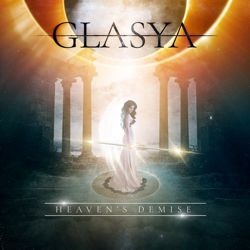 product: Glasya - Heaven's Demise
release date: 12.07.2019
label: Pride & Joy Music
format: CD
PR: world-wide
contact: Diese E-Mail-Adresse ist vor Spambots geschützt! Zur Anzeige muss JavaScript eingeschaltet sein!
Glasya was founded by Hugo Esteves in 2016 with one main purpose, to create a musical project that would combine full orchestral arrangements with metal. He was already familiar with symphonic metal, but he wanted to do it in a more dramatic and cinematographic way. So later that year, Hugo invited Bruno Ramos, former drummer of My Deception, and they started writing together.
They needed to integrate the symphonic elements, so Hugo contacted Davon Van Dave, a Dutch-Portuguese keyboard player, who had been member of two well-known Portuguese bands, Urban Tales and Shadowsphere, that toured with bands like To/Die/For, Beseech, Rotting Christ and, with their albums being at the top of the metal charts in Portugal, and was the ideal person to reach out for.
With Davon Van Dave on board, the next step was to find the right voice. They heard about a Portuguese Nightwish tribute band, Nightdream, and after listening to their singer's voice and seeing her performance they immediately invited her: Eduarda Soeiro, being a classical performer and trained singer, right away became the face and voice of Glasya.
The band line-up was finally complete when Bruno Prates (b) and Manuel Pinto (g), former members of Enchantya, both being talented musicians and experienced performers, came on board.
With all the members having different influences, from classic to progressive, they were creating a very stylish and distinctive sound which offers symphonic, ethnic, slow emotional songs and powerful metal riffs, of course.
In 2018 the band released the song "Heaven's Demise" to the world in advance and it made quite a buzz among the press, creating great expectations on their upcoming debut album.
Later that year, at The Pentagon Audio Manufacturers Studios, Glasya started to record the album with Fernando Matias, who is a member of Sinistro, and has worked with bands like Moonspell, Bizarra Locomotiva, Gwydion. The upcoming album "Heaven's Demise" features four guests, the voices of Paulo Gonçalves (Rasgo), Flávio Lino (Deadlyforce and "The Voice" Portugal show contestant), Nélson Raposo (a film and series voice-over professional), and the beautiful violin of Inna Calori.
This year, Glasya releases their debut album through Pride & Joy Music and are scheduling their tour to play the main metal festivals.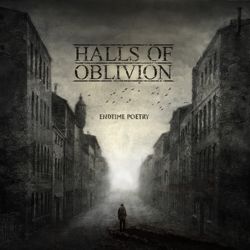 product: Halls Of Oblivion - Endtime Poetry
release date: 21.06.2019
label: Metalapolis
PR: world
contact: Diese E-Mail-Adresse ist vor Spambots geschützt! Zur Anzeige muss JavaScript eingeschaltet sein!
Not to be forgotten: Halls of Oblivion!
Unlike their name might suggest, HALLS OF OBLIVION will stick in one's memory. Deep in the gloomy "halls of oblivion", a tender melody and a whispered word suddenly become a roaring composition with brutal riffs and heavy words. Merciless and honest, the depths of the human soul are awaiting the listener within fictional walls. Internal unrest seeks its way through silence and oblivion in an aggressive and desperate way, thereby obtaining a hearing. Goose bumps guaranteed!
The creations of the four handsome men from Vaihingen/Enz represent a cruel, sorrowful ambiance. Halls of Oblivion unveil themes that are often kept secret but should not be forgotten. In doing so, they demonstrate their musical skills and sense of the subtleties of melodic death metal. Influences of black and doom metal complement the use of synthesizers, thus creating a unique atmosphere.
Since their foundation in 2007/2008, HALLS OF OBLIVION were able to refine their style through personal and common experiences. Since then, it has become more and more apparent what eventually took shape in 2014: A blend more peaceful than melodic death metal, more melodic than black metal, more harmonic than death metal - yet equally complex, graceful and merciless as our existence.
The music is mainly written by vocalist and rhythm guitarist Sebastian Ruf, who gives the songs a black metal vibe; as well as lead guitarist Marcel Welte, who skillfully brings it in accordance with melancholic melodies. Markus Kristen is responsible for the recordings and bass guitar, thereby anchoring the harmonic framework of the songs, while Markus Weber provides the final creative touches with his drumming. The longtime friends are an experienced team that is ready to become popular well above the ceiling of the halls.
The album was produced by Benjamin Hölle and Timo Fielker from the German Modern extreme Metal band MINDEAD. Timo also did some guest vocals on "Walking Dead" and "Last Glance Of The Sun". Step inside - the halls of oblivion!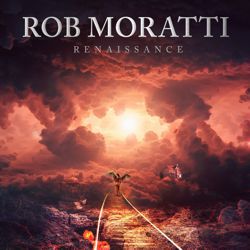 product: Rob Moratti - Renaissance
release date: 21.05.2019
label: AOR Heaven
PR (Europe): Diese E-Mail-Adresse ist vor Spambots geschützt! Zur Anzeige muss JavaScript eingeschaltet sein!
Rob Moratti is a genuine and true original. With an astonishing range, he's carved such a unique style blending the finest elements of melodic and progressive rock.
He started his career professionally in the early 90's as lead vocalist and songwriter of the band Moratti; entering the new millennium with Final Frontier. They immediately were well received making an impact on the airwaves of Japan and in Europe. Rob's future went forward with Final Frontier, soaring out four incredible melodic pieces.
Over the years in spite of all the changes in the music scene, Rob's perseverance and passion stood strong. His fate is so undeniable it captured the attention of multi-platinum selling and legendary progressive rock band SAGA. In 2008 the official announcement was made that Rob Moratti would become the new voice of Saga and at the age of 42 Rob's destiny would evolve.
Today his solo career has taken off quite well. Now in 2019, the singer is about to deliver his strongest solo record ever titled "Renaissance" which marks his first release with AOR Heaven. When it comes to songs, melodies, harmonies and range - as many know - Rob Moratti is in a league of his own.
The songs on "Renaissance" are astonishing as ever. Filled with his trademark harmonies and memorable chorus's that will capture the listener and engrave your soul. Working alongside with some the best songwriters and performers in the genre such as Torben Enevoldsen on guitars, Fredrik Bergh on keyboards, Stu Reid on drums and Tony Franklin on the Monster Bass.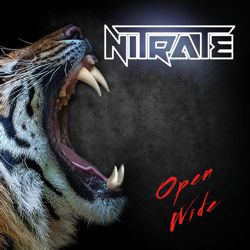 product: Nitrate - Wide Open
release date: 21.06.2019
label: AOR Heaven
PR (world-wide): Diese E-Mail-Adresse ist vor Spambots geschützt! Zur Anzeige muss JavaScript eingeschaltet sein!
Nitrate is back bigger & better with their second album'Open Wide' following on from their successful and highly rated debut 'Realworld' from 2018. Inspired by the late 80's rock scene with bands such as Def Leppard, Europe, Motley Crue, and Bon Jovi, Nitrate is the brainchild of song writer Nick Hogg (bass guitar/keyboards).

Once again, Rob Wylde (Midnite City/ Tigertailz/ Teenage Casket Company) co-wrote, produced the album and played rhythm guitar. Back on drums & mixing is Pete Newdeck (Midnite City, Eden's Curse, Blood Red Saints, Newman). New to Nitrate are Marcus Thurston (Vega) who took over lead guitar duties and on lead vocals and, all the way from Sweden, Philip Lindstrand (Find Me, East Temple Avenue, Strong). The mastering was once again handled by Harry Hess (Harem Scarem). Nitrate's follow up album packs more punch than the first, with a more edgier, in your face feel complete with 10 hard hitting Hair Metal/AOR/Melodic Rock tracks with all out hooks and big backing vocals.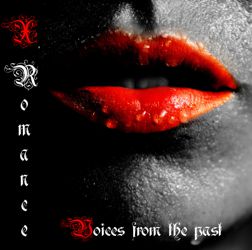 product: X-Romance - Voices From The Past
release date: 24.05.2019
label: AOR Heaven
PR (world-wide): Diese E-Mail-Adresse ist vor Spambots geschützt! Zur Anzeige muss JavaScript eingeschaltet sein!
X-ROMANCE was initially a project starting in 2015 as an offspring to the original band ROMANCE from 1988 founded by Anders "LA" Rönnblom & Thomas Widmark. In the fall of 2015, Anders was going through a box of old tapes and found the old ROMANCE recordings. He called up Thomas and because he thought that these tapes were too good to be put in a box and stored in a closet. In the following time, they went through all the tracks and re-recorded them. Widmark started to look for musicians in the Stockholm area. There were no problems to find guys who wanted be a part of this project; it was rather harder to find the right guys for the job.
X-ROMANCE consists of an experienced line-up with musicians with a lot of experience in the music industry who now have come together to deliver this fresh Melodic AOR masterpiece called "Voices From The Past".
The album was recorded and mixed at REFLECTION SOUNDS STUDIO, Stockholm and engineered and produced by Tomas Rosenberg & Thomas Widmark. Mastered by Tomas Rosenberg, REFLECTION SOUNDS STUDIO, Stockholm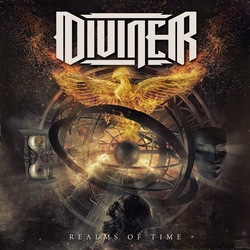 product: Diviner - Realms Of Time
release date: 07.06.2019
label: Ulterium Records
PR territory: Germany, Austria, Switzerland
DIVINER is a heavy/power metal band from Greece founded by long-time friends and music partners Yiannis Papanikolaou (vocals) and Thimios Krikos (guitar) in the summer of 2011. The two of them also formed the well known Greek heavy/power metallers InnerWish back in 1995 playing in their debut album "Waiting for the Dawn" (1998) but after this release they had a long break of different musical quests.
Their new vision was to proudly express themselves by creating and playing something powerful, intense, deep, heavy, dark, melodic and inspired that at the same time would sound up to date. All this without losing the elements that reflect the essence of pure and timeless magic of metal music.
They were joined in the band by George Maroulees (guitar), Herc Booze (bass) and Fragiskos Samoilis (drums) and a deal was inked with the Swedish label Ulterium Records.
The debut album "Fallen Empires" was released in November 2015 and received very good reviews and feedback from around the world. After the release of the album the band played many shows and big festivals in Greece and also in Germany, Netherlands and Switzerland, and became known for being a great and energetic live band gaining a strong following.
Thimios Krikos left the band in 2017 due to a heavy and conflicting schedule and was replaced by Kostas Fitos.
Diviner entered Devasoundz Studios in Athens with producer Fotis Benardo in summer 2018 to record their second album "Realms of Time". This time they decided to expand their music horizons, exploring more territories, adding new elements in terms of lyrics, melodies, riffs and atmosphere, making their songwriting more interesting and better. The band worked really hard on coming up with the best compositions, arrangements and production as possible for the ten songs they set out to record.
The final result show improvements on every level since the band's debut album and "Realms of Time" won't leave fans of heavy and power metal disappointed. The album is heavy, melodic and epic and it's full of energy, power and emotion. Follow Diviner into the Realms of Time!