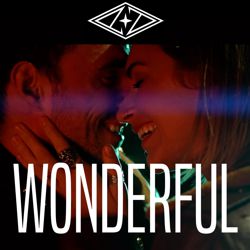 product: East Temple Avenue - Wonderful (digital single)
release date: 05.11.2021
label: self-released
PR territory: world
PR contact: Diese E-Mail-Adresse ist vor Spambots geschützt! Zur Anzeige muss JavaScript eingeschaltet sein!
One year on from the release of their debut album 'Both Sides of Midnight', East Temple Avenue are back with the stunning new single 'Wonderful'!
After receiving much acclaim from fans and critics alike, the pressure to follow up their success was not lost on the band, but the belief in their talents as song writers and musicians, ensured ETA continued on where they left off.
Formed in 2018, East Temple Avenue is the brainchild of Darren Phillips, who had worked previously with all involved on his Darren Phillips Project albums.
Robbie, Darren, Dan, Butabi, Phil and Herman continue to work hard at writing and producing high calibre tracks for East Temple Avenue, all whilst dedicating their time to their respective bands, work and family life and touring schedules.
Still having never met in person, ETA will once again continue to work on tracks, from each of their corners of the globe, which will eventually culminate into the release of their second album.
About EAST TEMPLE AVENUE:
In 2017, guitarist/songwriter/producer, Darren Phillips hosted a melodic rock radio show in his native homeland of Australia. Throughout the lifetime of the show, Darren conversed with many artists from across the melodic rock world and inevitably the conversation turned to songwriting and collaboration. These conversations spawned Volume One of The Darren Phillips Project and an ongoing friendship/collaboration between all involved.
In 2018 Darren approached bass player Dennis Butabi Borg (Cruzh), lead guitarist Philip Lindstrand (Find Me, Arkado) and drummer Herman Furin (Work of Art), with the idea of doing an entire album together and actually forming a studio band. Darren's longtime friend and producing partner Dan Skeed (Urban Stone), would also come along for the ride, which left the essential position of lead vocals to be filled.
For Darren, having previously worked with Robbie LaBlanc (Find Me, Blanc Faces), on two other occasions, he was the first and only choice. Fortunately Robbie agreed and the ETA line up was complete.
Line-up: Vocals: Robbie LaBlanc (Find Me, Blanc Faces); Rhythm Guitar: Darren Phillips & Dan Skeed; Lead Guitars: Philip Lindstrand (Find Me, Arkado); Bass: Dennis Butabi Borg (Cruzh); Drums: Herman Furin (Work Of Art)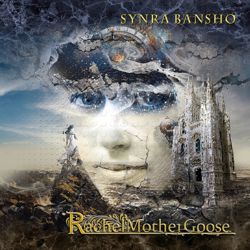 product: Rachel Mother Goose - Synra Bansho
release date: 03.12.2021
label: Pride & Joy Music
PR territory: world (-Asia)
PR contact: Diese E-Mail-Adresse ist vor Spambots geschützt! Zur Anzeige muss JavaScript eingeschaltet sein!
In 1999, led by Hideshi Ueki (G), RMG was formed with Die (Vo), Seigen (B), Rinnba (Key), Yasuhiro Iida (Dr) in Nagoya, Japan. They played neoclassical heavy metal, taking Hideshi's guitar-playing, heavily influenced by Yngwie Malmsteen and Rainbow RMG recorded and released first album, Magic Wand, independently in 2000, and signed with Japanese heavy metal label, Jackhammer Music.
Following the release of the 2nd album, Nadir (2002), the group changed all members but Hideshi Ueki, and performed at World Rock Fest in August, 2003, held by the Universiade in South Korea. Other bands who played there included BOWWOW, XYZ➔A, and Lolita No.18. The group performed in front of 6000 fans there. The 3rd album, Fortune Missionary (2004), and 4th record, Signs (2006) followed next.
In 2014, RMG changed into a solo project of Hideshi Ueki with first-rate support members: singer Sunghoon Kim from South Korea, bassist Kaz Nakamura of Kelly Simonz's Blind Faith, keyboardist Takumi Matsubara and a session drummer. After writing new songs for the new album, they got down to pre-production in early 2016. Seeking for vivid acoustic sounds, they started recordings at Tapestry Recording Studio with engineer Fuyuhiko Inui in July, where Japanese bands like Solitude, Outrage and United have recorded as well. While Shinya Tange produced the drum sounds, Yusuke Abe from OUTRAGE and Saeko Kitamae also guested in some songs. Last but not least, they got Alessandro Del Vecchio (Hardline) to mix and master their songs.
On January 25th, 2017, the RACHEL MOTHER GOOSE released their 5th album, TOKIWA NO SAI via Spiritual Beast (Universal Music). In March 2018, the session drummer left the band and was replaced by Hiroki Hori.

In January 2018, RMG participated in a band competition to get to Wacken Open air in Germany and made it into the finals.This was followed by a Japanese tour together with POWERIZED from The Netherlands. A concert with Circus Maximus from Norway followed in Nagoya Japan later that year. In the meantime, the group has developed from a "neo classical HM band" to a "progressive melodic HM' band.
In June 2020, the recordings of "Synra Bansho" started at Inui Joy sound 601 studio with engineer Fuyuhiko Inui. Alessandro Del Vecchio (Hardline) mixed and mastered it in September 2020. The Asian release date was Japan was set to Summer 2021, in September 2021 RACHEL MOTHER GOOSE went into the studio again to record the European bonus track "The Earth Bounder".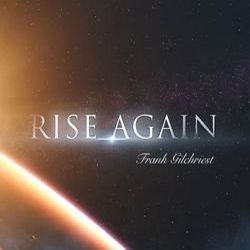 product: Frank Gilchriest - Rise Again (digital single)
release date: 29.10.2021
label: self-released
PR contact: Diese E-Mail-Adresse ist vor Spambots geschützt! Zur Anzeige muss JavaScript eingeschaltet sein!
RIOT V drummer Frank Gilchriest teamed up with some friends including current Riot V vocalist Todd Michael Hall and Symphony X bassist Mike LePond suppored by Nick Lee on guitars to record a very personal song entitled "Rise Again" which was written during the lockdown.
WATCH the lyric video for the track here: https://youtu.be/GsopD71m2uo
Frank Gilchriest says about "Rise Again": "I began writing Rise Again during the pandemic shutdown. I felt a strong desire to compose a song that would honor and pay tribute to the world's heroic battle against Covid 19. The process also helped me cope with the loss of my mother who passed away from the virus in late 2020. My hope is that this song will lift the spirits of anyone who hears it especially for those going through a difficult time."
+++
About the single:
Rise Again - Music and Lyrics composed by Frank Gilchriest
Line Up on this track:
Todd Michael Hall - Vocals
Nick Lee - Guitars
Mike LePond - Bass
Frank Gilchriest - Drums, Percussion, Piano
Recorded at Westfall Recording Studio in Famingdale, NY, USA
The song was engineered, mixed and mastered by Ray Marte.
About Frank Gilchriest
Frank Gilchriest is an American musician, educator, and business owner. Frank has recorded twenty CDs and has performed in concert halls, festivals and stadiums throughout the world.
In 2019 Japanese fans voted Frank the 17th Best Drummer in the world in Burrn Magazine's annual rankings. Currently Frank is a member of Nuclear Blast and Ward Records recording artist, Riot V. The band is scheduled to release a new record in 2022 and resume international touring. Frank is affectionately known by his fans as, the Kraken or, the Baron for his powerful performances. He lives in New Jersey, USA with his wife and three dogs.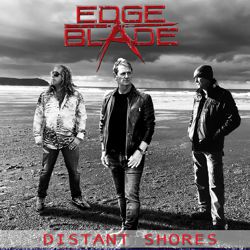 product: Edge Of The Blade - Distant Shores
release date: 26.11.2021
label: AOR Heaven
PR territory: world
PR contact: Diese E-Mail-Adresse ist vor Spambots geschützt! Zur Anzeige muss JavaScript eingeschaltet sein!
Featuring on lead vocals former UK AFTER HOURS vocalist John Francis along side Alan Kelly, former drummer of SHY and multi instrumentalist with 7HY.
Bringing on board lead guitarist Miguel Angel Lopez they have teamed up once again to bring you yet more exciting new material which will see roots based well and truly in AOR melodic rock.
They have released an album previously under the name of EDGE OF THE BLADE entitled 'The Ghosts Of Humans' on a British label in 2015 which was produced by Andrew Chick. This saw the band venture into heavier territory with influences from Avenged Sevenfold and Alter Bridge.
Although this album was well received with rock fans and critics worldwide the calling back to AOR was very strong.
Their second album 'Feels Like Home', got released in 2017 on a Danish label, and saw a welcome return to their roots and brought out the best in both John and Alan in a much more melodic genre that both have excelled in previously and saw them soar to new heights with influences from Journey and Foreigner that show their talents off to the fullest extent.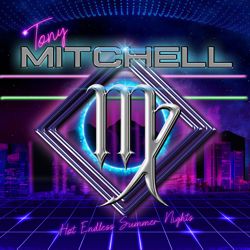 product: Tony Mitchell - Hot Endless Summer Nights
release date: 26.11.2021
label: AOR Heaven
PR territory: world
PR contact: Diese E-Mail-Adresse ist vor Spambots geschützt! Zur Anzeige muss JavaScript eingeschaltet sein!
TONY MITCHELL is best known as being the singer songwriter & fronting the 90s classic rock band "Kiss of the Gypsy" signed to Atlantic Records USA & Warner Chappell.
They toured the UK & states with their debut album & high energy live shows to great acclaim. Songs such as "Whatever it Takes", "Take This Old Heart". "From The Dirt" & "No Prize For the Loser" are still melodic rock classics to this day.
Mitchell has sang for "RICK WAKEMAN" on the album "Return to the centre of the earth" with "OZZY OSBOURNE", "TREVOR RABIN"etc. Sang & played guitar for "ALICE COOPER", "JON ANDERSON", "ALAN PARSONS PROJECT", "TONY HADLEY" & "IT BITES" on the British Rock Symphony South American tour 2000 & singer/guitarist for "STEALERS WHEEL". He has spent years writing & recording for various bands, artists, TV & media, also releasing albums with "KINGDOM OF DEADMEN" & early solo albums.
Mitchell was also the singer songwriter for Melodic Rock/AOR band "DIRTY WHITE BOYZ" with their 2016 album release, "Down & Dirty" including the singles "All in the Name of Rock n Roll", Hanging on a Heartache, "Ride With Angels" & "Dynamite".
In 2018, Mitchell released his solo album "Beggars Gold" to rave reviews with dynamic tracks such as "Playing With Fire", "What You Make It"(featuring Dante Fox's Sue Willetts), "Take a Look at me Now", "Never Say Die" & the poignant "Beggars Gold".
2020 saw Mitchell release his most successful album to date via AOR Heaven, "Church of a Restless Soul" that featured the duet with Danny Vaughn, "Mighty Fall", the uplifting "Living on the run, the heart wrenching "I Believe in Angels" & the ever catchy "Electric" to great acclaim.
Nearly two years on, Tony Mitchell releases his third & most ambitious album to date, "Hot Endless Summer Nights" which predominately has an 80's retrowave flavour. He draws on the experiences he had in the USA in the late 80's.
Mitchell spent several months travelling coast to coast taking in the sights, sounds & overall American culture & always said it was a massive influence on his songwriting.
Musicians on this album feature
MILES MEAKIN (MIDNITE CITY/LIFE OF A HERO) - LEAD GUITARS
NIGEL BAILEY (3 LIONS/DIRTY WHITE BOYZ) - BASS & BACKING VOCALS
EDDIE ANTONY (MITCHELL/KINGDOM OF DEADMEN) - DRUMS & PERCUSSION
DANIEL SINGS ( NO HARD FEELINGS/WHYTE LIES) - SAXOPHONE
THE ROGUES GALLERY ROCK CHOIR (MITCHELL) - BACKING VOCALS
TONY MITCHELL - VOCALS, GUITARS & KEYBOARDS.
From feel good "Hot Endless Summer Nights", the self biographical "Blame it on the Rock n Roll", ultra dynamic ballad "Strong Enough", the road anthem "Leave the World Behind" to the thought provoking climate change inspired track "Calling Mother Nature"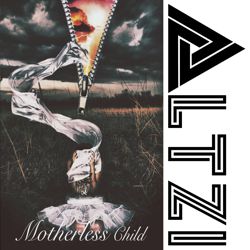 product: ALTZI - Motherless Child (digital single)
release date: 22.10.2021
label: RA Music
PR territory: world
PR contact: Diese E-Mail-Adresse ist vor Spambots geschützt! Zur Anzeige muss JavaScript eingeschaltet sein!
RICK ALTZI is an artist from Helsingborg, Sweden who started to play bass at the age of 14. He was a member in various tribute and original bands until 2004 and switched over to the microphone in 2005. His first album as vocalist saw the light of day in the year 2007 with the band AT VANCE. Since then, he has worked with a lot of outstanding musicians from bands such as Helloween, Accept, King Diamond, Pain Of Salvation, etc..
In 2020, Rick Altzi started to work on his first solo album under the moniker of ALTZI. Rick Altzi also is writing and recording with the bands Masterplan, Gathering Of Kings and Herman Frank.


"Motherless Child" is the fourth single from ALTZI's debut album "All Eyes On Me" (out: February 2022) which will be released via RA Music.

The line-up on the track "Motherless Child" is:
Rick Altzi - Lead & Backing Vocals
Peter Alpenborg - Rhythm Guitars & Keyboards
Nalle Påhlsson - Bass
Kevin Kott - Drums
Andy LaRocque - Lead Guitar
Ulrick Lönnqvist - Backing Vocals
Victor Ohlsson - Backing Vocals
Teresia Svensson - Backing Vocals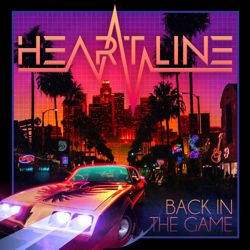 product: Heart Line - Back In The Game
release date: 19.11.2021
label: Pride & Joy Music
PR territory: world
PR contact: Diese E-Mail-Adresse ist vor Spambots geschützt! Zur Anzeige muss JavaScript eingeschaltet sein!
HEART LINE is the new AOR/Melodic Rock project by French guitarist and producer Yvan Guillevic (YGAS, PYG, United Guitars).
Surrounded by a fantastic team, the group consists of vocalist Emmanuel Creis (Shadyon, Equinox), keyboardist Jorris Guilbaud (Devoid, Shadyon), drummer Walter Français (Shadyon) and bassist Dominique Braud (YGAS, EBH).
Formed in 2020, HEART LINE has strongly been inspired by legendary 80's bands, from Whitesnake, to Foreigner, Journey, Winger, Bad English, Giant, and many more.
Powerful and melodic, the quintet takes us back to the beating heart of the 80's, with heroic guitar solos and soaring vocal lines, supported by a stunning rhythm section and virtuoso keyboard licks.
The brilliant artwork was designed by Stan W. Decker. HEART LINE are currently working on setting up a tour for 2022.