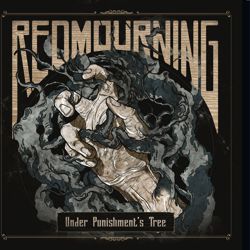 product: Red Mourning - Under Punishment's Tree
release date: 14.02.2018
label: Bad Reputation
PR in D & AT: Diese E-Mail-Adresse ist vor Spambots geschützt! Zur Anzeige muss JavaScript eingeschaltet sein!
RED MOURNING was born in 2008 to craft a unique kind of metal, full of blues feeling and hardcore grit. An honest and different groove, spiked with blues harp, slide-guitar and gospel harmonies.
Now the four-piece band is back with "Under Punishment's Tree", their
natural-sounding 4th album, produced by Francis Caste.
An inexorable sonic escape into sweaty madness and bright shining pain.
RED was the MOURNING color of the Delta slaves who brought the blues
into this world...100 years later, RED MOURNING plays a unique kind of METAL, full of SLIDE-GUITAR BLUES and NO-SHIT HARDCORE.
RED MOURNING has toured France (incl. HELLFEST) Belgium, Germany, Spain extensively, and is now back for more!
Red Mourning was born in Paris (France) in 2003, when pure luck brought four unlikely metalheads together. They quickly realized they saw music the same way. Whatever they played was going to be sincere, innovative, and most of all, a way to let the accumulated trauma of their lives explode on stage.
Together, they started roaming the Paris underground scene, with its share of fights, and even the occasional gunshot. The self-taught four-piece also hung out as much as possible at local sound-engineering schools, recording demo after demo. These experiments soon yielded a 3-track SP (2004), and a 6-track EP (2006), both today sold-out.
Gradually, the band developed a genuine personality. What was just four chunks of strong musical character was now turning into a well-honed war-machine. Each band-member brings his own personal influences to the mix: hardcore punk, Chicago blues, grunge, old- and new-school death metal… The result is a sound that is unique in today's metal scene. How many other bands out there combine blast-beats, Blues harp, sludge, and vocal harmonies (to name just the most obvious elements)?
Red Mourning keep pushing their own boundaries, and devote heart and soul to their music. So it was only a matter of time before this creative discipline gave birth to "Time To Go", the band's first LP. Its lyrics are introspective and dark, dealing with being unable to escape your past, death, or life's lack of meaning.
Red Mourning chose Francis Caste, France's N°1 metal-expert, to handle the record's production. They spent six long weeks locked up in his Paris studio to record Pregnant With Promises, the second album. The result sounds like it came straight out of a Delta swamp… After all, Red Mourning got their name from the slaves' mourning color. The sound itself is best described as "moist", and gives the tracks an oppressive and organic feel. The songs themselves combine groove with violence.The rhythmic foundation is technical without being pretentious. On top of that comes a big fat layer of aggressive and sometimes discordant riffing. Then, the distinctive vocals, with hardcore screams and vocal melodies often backed two, three, or even four times.
Naturally, the Red Mourning sound wouldn't be complete without a few sharp guitar solos, and some wailing Blues harp. While very unusual in a metal context, the harmonica seems like an obvious choice here.
product: Johan Kihlberg's Impera - Age Of Discovery
release date: 23.02.2018
label: AOR Heaven
PR: Diese E-Mail-Adresse ist vor Spambots geschützt! Zur Anzeige muss JavaScript eingeschaltet sein!
After three albums with his band IMPERA, founding drummer Johan Kihlberg decided it was time to spread his wings, and the Swede came up with the idea to record his first solo effort, Johan Kihlberg's Impera "Age Of Discovery". "I felt this would give me the opportunity to spread my wings a bit and work with some other people," Johan said and continued: "I grew up with bands like KISS, QUEEN, ABBA and THE BEATLES, who were not afraid to have a wide range of styles on their albums. I'm obviously a hard rock fan at heart, but I'm also influenced by bands like SIMPLE MINDS, KRAFWERK, MANFRED MANN'S EARTH BAND, HUMAN LEAGUE and many others. I'm also a huge fan of movies and movie soundtracks."
The first person Johan approached was LION'S SHARE guitarist Lars Chriss, who is also a renowned producer and mixer. "Johan and I got together and started writing songs," Chriss said. "He usually had an idea of the direction and we took it from there. We also had a couple of friends coming up with basic ideas for about half of the album. We had the luxury to cherry-pick the songs we thought would add to what we already had going. For lyrics and melody we worked closely with singer Mick Devine of the band SEVEN, whom I've done a couple albums with the last couple of years. My old friend and LION'S SHARE keyboardist Kay Backlund stepped up to the plate and worked with us on a couple of tracks as well."
Kihlberg and Chriss decided to work with several different singers on the project, while enlisting Kihlberg's longtime friend and IMPERA bandmate Mats Vassfjord to lay down the bass tracks. "As soon as we had the songs written, we started thinking about what voice and singer that would fit each individual track the best," Kihlberg said. "Fortunately, they all agreed and did an amazing job on the album. I even managed to get one of my all-time favorite singers, Michael Sadler from SAGA, to sing a song."
Johan Kihlberg's Impera "Age Of Discovery" features a wide range of musical influences while remaining a very strong, melodic and powerful album. It boasts great production work by Chriss and a stunning artwork by Carl-André Beckston.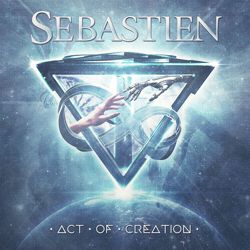 product: Sebastien - Act Of Creation
release date: 23.02.2018
label: Pride & Joy Music
PR: Diese E-Mail-Adresse ist vor Spambots geschützt! Zur Anzeige muss JavaScript eingeschaltet sein!
SEBASTIEN is one of the very few Czech bands which are also known abroad. Their debut album, "Tears Of White Roses" (2010), was released in Europe and Japan, the second CD, "Dark Chambers Of Déjà Vu" (2015) world-wide.
In 2012, SEBASTIEN went on tour in Europe together with CIRCLE II CIRCLE and one year later with MASTERPLAN. Additionally to this, the group opened for Rock icon ALICE COOPER in Brno (CZ) in 2013 and has played on Masters Of Rock (CZ) festival's main stage three times so far, at Metalfest (CZ), and Rock Tower Festival (PL) plus at the legendary Wacken Open Air (D) in 2016.
The first two albums were produced by German guitarist Roland Grapow (ex-HELLOWEEN, MASTERPLAN). On these records, SEBASTIEN also had guests from Black Sabbath, Rainbow, Rhapsody Of Fire, Avantasia, Firewind, Jorn, Cradle Of Filth, Sirenia, and Savatage.
The third release, "Act Of Creation", is now going to be unleashed worldwide via Pride & Joy Music on 23rd February 2018 and features Apollo Papathanasio (SPIRITUAL BEGGARS, ex-FIREWIND) as guest on vocals on the track "Die In Me", Mayo Petranin (SIGNUM REGIS) on vocals on "Winner", Kristýna Dostálová as singer on "No Destination" and "Promises" plus Vendula Skalová on backing vocals.
The songs were written and arranged by George Rain, Petri Kallio & Andy Mons, except "Hero" which was arranged by Rain, Mons, Kallio & Pavel Dvorak. "Act Of Creation" was produced by George Rain, Petri Kallio and Andy Mons, and recorded by Petri Kallio, mixed and mastered by Andy Mons at DARK CHAMBER SOUNDS studios from November 2016 to November 2017. The cover artwork was designed by Hans Trasid and Dis-Art Design.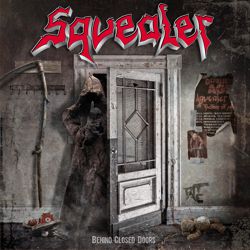 product: Squealer - Behind Closed Doors
release date: 23.02.2017
label: Pride & Joy Music
PR: Diese E-Mail-Adresse ist vor Spambots geschützt! Zur Anzeige muss JavaScript eingeschaltet sein!
Originally founded in the 1980's as classic Power Metal band, SQUEALER from the north of Hessia, Germany so far have had a busy band history. Today, the music by SQUEALER is a melting pot of several Metal elements which has enhanced through the years, i.e. an unique and diversified mix of Melodic Thrash Metal (which nowadays builds the foundation of each new SQUEALER song), groovy Rock stuff and, of course, the still obvious Heavy, Speed & Power Metal influences.
After the release of eight studio albums and lot of career highlights such as performances at the big Summer festivals, support shows with Motörhead, Rage, Blind Guardian and many more, five-figured albums sales for the album Under The Cross followed by a tour with their big heroes Judas Priest the group faced a lot of deep hits as well. One of the biggest defeats was the accidental death of singer and founding member Andreas "Henner" Allendörfer in the year of 2005. After the angry and very aggressive album Confrontation Street (2006) which featured Gus Chambers (Grip Inc.) on vocals, SQUEALER just found back to their common theme in the year to 2008 with the release of the CD The Circle Shuts. Numerous changes in the line-up made it almost impossible to continue to work in a professional manner. So, SQUEALER was put on hold for a while to take their time to search for a suitable line-up and only to continue occasionally with playing music in a smaller set-up.
Now, in late 2017, the band is back full force and with a powerful line-up which just was completed last year. SQUEALER now consist of Lars Döring (guitars), Michael Schiel (guitars), Sebastian Werner (vocals) and Manuel Roth (bass). The band has started to perform live again in 2016 and since then played several gigs and festivals (incl. 70000 Tons Of Metal) with the new and convincing band constitution. The live shows were directly followed by the recordings for the new album Behind Closed Doors. The new record impressively proves the strength of the new SQUEALER line-up. To complete the makeover, a new, highly professional team was added for the album production. Ito Grabosch took care of the recordings while Roland Grapow (Helloween/ Masterplan) handled the mixing and Mika Jussila (Nightwish, Lordi, Him, Children Of Bodom) the mastering. The artwork was designed by Thomas Ewerhard (Amon Amarth, Avantasia).
In late 2017, SQUEALER also has revealed the name of their new record label. Out of several offers, the band decided to go with Pride & Joy Music who will now release Behind Closed Doors on February 23rd, 2018. In advance, three singles will be published from late November. SQUEALER also has found a new partner to work with at the booking sector; Nauntown Music are currently working on more dates and festivals for 2018 & 2019.
product: Alcyona - Trailblazer
release date: 23.02.2017
label: Pride & Joy Music
PR: Diese E-Mail-Adresse ist vor Spambots geschützt! Zur Anzeige muss JavaScript eingeschaltet sein!
ALCYONA started in the year of 2012 and at the time consisted of only two musicians, Natalia Malei (keyboards) and Evgeniy Malei (guitars), from Minsk, Belarus. The group is the brainchild of Natalia Malei who also is the lyricist and main composer in this band. Malei first got in touch with Metal music while studying at a music school with the intention to write both lyrical songs with simple melodies and delightful arrangements for different instruments which is tailor made for Metal music. In November 2012, Evgeniy Malei, the second composer, guitarist and second vocalist, joined ALCYONA and brought the light, bright colors into the songs and the music became alive. Olga Terentyeva joined the duo in April 2016 as lead vocalist. The line-up finally was completed in August 2017 by drummer Anatoly Afanasenok and the Evgeniy 's close friend Nikolai Sidorevich on guitars.
Their first album release is now ready and called "Trailblazer". All songs were composed by Natalia Malei except for "The Kings of Show", "DreamRoad", "Моя Весна" which were written by Evgeniy Malei. Natalia wrote all lyrics together with Zhanna Chernetskaya. "Trailblazer" was produced by Evgeniy & Natalia Malei and recorded at ALCYONA Records, Minsk (Belarus) between April 2016 – February 2017, and mixed & mastered in Georgia by Max Forneus in May 2017. Artwork and layout were designed by Artem Artyakov & Anna Avaeva. The music video & single for the track "Еnchantment" which was directed by Vlad Skripchenko & Anton Baidyonok will be released in advance in December 1st, 2017.
The album "Trailblazer" will be released on Pride & Joy Music on February 23rd, 2018.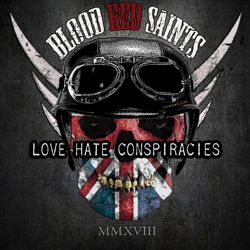 product: Blood Red Saints - Love Hate Conspiracies
release date: 26.01.2018
label: AOR Heaven
PR: Diese E-Mail-Adresse ist vor Spambots geschützt! Zur Anzeige muss JavaScript eingeschaltet sein!
Following on from their critically acclaimed 2015 independent debut album 'Speedway' Blood Red Saints make a welcome return with a brand new selection of top class hard rock. 'Love Hate Conspiracies' sees the band make a progression into a more focused direction. Pete Godfrey (vocals) tells us more. "The Speedway album was a great debut for us no doubt about that but this new album is a massive step forward. We've really found our own sound and identity with this material, it feels a lot more cohesive and is without doubt, heavier in style. This feels like a real band all pulling together"
The new album also sees two new Saints baptised to join original members Pete Godfrey, Rob Naylor (bass) and Lee Revill (guitars). Neil Hibbs (formerly of Arkhams Razor, Shy) joins to add a harder edge with crunching guitars for a tougher approach for both live and studio work. Andy Chemney (drums) was an obvious choice having worked with Rob in their previous band 'Angels Or Kings'. Rob takes up the story. "I've known Andy nearly all my life, he was the guy I wanted for our band and we are so pleased to have finally got our man"
So, what can we expect from 'Love Hate Conspiracies?' Lee Revill told us this "it's musically in a heavier direction than Speedway. We still wanted big melodic choruses but we wanted to toughen them up a bit too. We've got such a strong set of songs here and we are all excited to finally let people hear them, on the album and also live, these songs are gonna kick ass"
The album features a writing and vocal contribution from Paul Laine (The Defiants) on 'Is it over' and a track 'Turn on the Night', written by Steve Brown (Trixter, Def Leppard, Tokyo Motor Fist)
Mixing and production was handled by Simon Humphrey who has worked with some of the biggest acts in music over many years and his input was invaluable in producing this record. The release date was set to January 26th, 2018.
Catch BRS out and about throughout the year with HRH in North Wales in March and more shows to be announced soon. Check them out on Facebook too.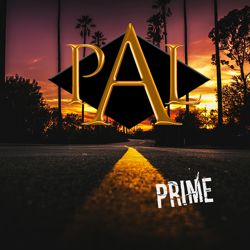 product: P.A.L. - Prime
release date: 26.01.2018
label: AOR Heaven
PR contact: Diese E-Mail-Adresse ist vor Spambots geschützt! Zur Anzeige muss JavaScript eingeschaltet sein!
PAL is a Swedish musical collaboration between guitarist Roger Ljunggren, Peter Andersson and Peo Pettersson.
Roger and Peter, longtime friends, started writing and play music together way back. They first got to know each other in the early eighties. Growing up in Skara, a small town in the south west of Sweden sharing a passion for music and especially for song-writing. They sweat out together in a small rehearsal studio together with some other local musicians.
The group started in 1987 when a demo was recorded in Peo's studio Vanäs for a band called Escape which at that moment was short of a singer and Peo helped out.
Now, thirty years later the three musicians are making music together again. The songs on the debut album "Prime" are a collaboration between the three - where Roger wrote the music and recorded the guitars and solos and Peter arranged, produced and played the bass. Peo then added the vocals. Mauritz Petersson was hired to do the drums.
You can surely hear vintage elements in their music, but this time with a more modern approach and passion for the music they all grew up with. The first label that was invited to listen to the material was AOR Heaven in Germany. A record deal was signed with them shortly after. The release of the debut album "Prime" is scheduled in Europe for January 26th, 2018.