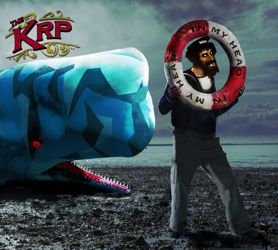 product: The KRP (Keith Reid Project) - In My Head
release date: 07.12.2018
label: Rockville Music
PR: Europe
Contact: Diese E-Mail-Adresse ist vor Spambots geschützt! Zur Anzeige muss JavaScript eingeschaltet sein!
Keith Reid & Gary Brooker founded Procol Harum in 1967. In the same year A Whiter Shade Of Pale became a world hit. While Gary was the rockstar, the voice & face of Procol Harum, Keith was the poet and artworker who preferred to hide in the dark. At most, he flitted over a videoclip for a few seconds. Soon he decided to stay off stage and wasn't seen there for some decades. Quite a unique phenomenon in the rock scene. Anyway the band's classics, their musical, lyrical and artistic entirety – such as Homburg, A Salty Dog or Grand Hotel - would be unthinkable without Keith Reid.
"In My Head" is released under the banner "The KRP" (Keith Reid Project). It is Keith's second solo album after "The Common Thread" (2009). The album contains a fine collection of soulful songs that Keith composed together with Anders Widmark, Rob Wassermann, Steve Booker, Anthony Krizan, Matt Noble, John Waite (famous for "Missing You") and Steve Booker (writer of Duffy's 2008 hit "Mercy"). Six singers are featured on the Album: John Waite, Steve Booker, Anthony Krizan, Jeff Young, Chris Merola & last but not least on four songs, the young and talented Maya Saxell.
For appetizer check out "Ten More Shows" or In "My Head".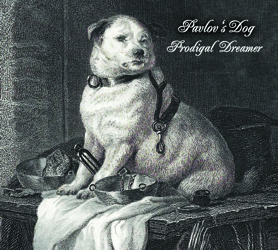 product: Pavlov's Dog - Prodigal Dreamer
release date: 07.12.2018
label: Rockville Music
format: CD digi & digital
PR: Europe
contact: Diese E-Mail-Adresse ist vor Spambots geschützt! Zur Anzeige muss JavaScript eingeschaltet sein!
8 years after the last Pavlov's Dog studio album the "prodigal dreamer" David Surkamp once again shares his poetic songs and musical tales with us.
For a band that releases about one album per decade a new album is truly an extraordinary event. "Prodigal Dreamer" for David makes a special dream come true. The album contains a collection of songs that came together over the years, each one specifically picked and relating to a personal story. New compositions of the past eight years combine with just lately accomplished pearls of the past decades to a harmonious whole. Finally, the artwork closes the circle to Pampered Menial, the album that started it some 40 years ago.
"Prodigal Dreamer" was recorded by method of room-miking. In this process the band performs together in one room, without clicktrack or similar appliances. The performance hereby is captured "for real". This recording method is an art for itself that today only few sound engineers are in control of. Paul Hennerich is an expert in this field, handling e.g. broadcasts and recordings of the St. Louis Symphony Orchestra or monitoring renowned jazz projects. This procedure mostly passes on any post-processings. In this way an unequalled authenticity, warmth, dynamic and "in real character" is achiefed, that interprete the sensitive songs on "Prodigal Dreamer" also soundwise in an appropriate way … and give the listener the feeling of being right in the middle.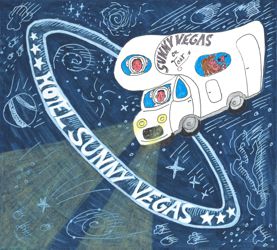 product: Sunny Vegas - Hotel Sunny Vegas
release date: 07.12.2018
label: Rockville Music
format: CD digi & digital
PR: Germany only: Diese E-Mail-Adresse ist vor Spambots geschützt! Zur Anzeige muss JavaScript eingeschaltet sein!
Sunny Vegas … that's a ride on the highway with a beer on your lap, with music for the essentials: Love, Life and Rock'n Roll.
Just rock, no masterplan, just fun, passion and a twinkle in your eye? Will that be it to generate something special? Or maybe even for that very reason? Sunny Vegas dare the experience on themselfes ...
On a chummy night in 2011 three friends (let's call them Sunny, Bunny and Munny) decided to form a band. The way shall be the goal, fun is the aim, and of course never take themselfes too serious. They called it "German Schweinerock" … however that translates? … well, anyway they didn't really know what it should sound like. The band was called after a personage that frontman Matthi Birkmeyer invented: "Sunny Vegas is an adorable but spaced out guy who since 30 years believes, that his big break is instant ahead. A rocker to the core, no matter where he is, he grabs his guitar and plays … even if nobody listens. Which most of the time is the fact." … Evil to the ones who think Sunny is Matthi's alter ego ...
The story goes on: Some years later the three realized that had actually written some cool tunes. So they grabed a box of beer and an 8-track and recorded their opus in the rehearsal room. The outcome sounded pretty well, so there was the album "Sweet Mobile Home Recordings" (2014), which was surprisingly well received … and as it's still reading so nice, we may exemplaric quote Breakout Magazine again: "Marriage, job problems or stress? We recommend Sunny Vegas! And if you feel good already, you'll even feel better. Listen & enjoy. 100% successful!"
Isn't that wonderful? Sunny rubbed his eyes in disbelief and rocked on until 2018 … well, and a few weeks ago he brushed the dust off the 8-track and here we go: Let there be "Hotel Sunny Vegas" … once again the big break is instantly ahead, isn't it?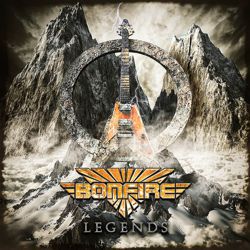 product: Bonfire - Legends

release date: 19.10.2018
label: AFM Records
PR: mainstream press, tour cities, locals and yellow press in Germany only
Im November 2018 bringt die Ingolstädter Rock-Legende Bonfire mit insgesamt 20 Konzerten in 20 Städten und neuartigem Konzept zum ersten Mal die Produktion "Bonfire – A Night With Rock Legends" auf die deutschen Bühnen!
Bonfire selbst spielen an diesen Abenden ihre größten Hits und fungieren zudem als Backing-Band für zahlreiche internationale Rocklegenden. Die Besetzungsliste für die Konzertreihe liest sich wie das "Who-Is-Who" der Rockgeschichte; so werden u.a. Bobby Kimball (ex-Toto), Joe Lynn Turner (ex Rainbow, ex-Deep Purple), Dave Bickler (ex-Survivor "Eye Of The Tiger") und Phil Mogg (UFO) u.v.m. ihre größten Hits darbieten.
Am 19.10.2018 erscheint bei AFM Records/ Soulfood nun die Doppel-CD zur Tour: Bonfire – "Legends" mit 35 Cover-Versionen der Lieder, die live dann von den legendären Sängern selbst gesungen werden!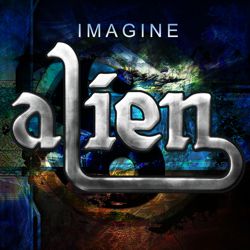 product: Alien - Imagine
release date: 26.10.2018
label: Pride & Joy Music
format: digital single
PR: Diese E-Mail-Adresse ist vor Spambots geschützt! Zur Anzeige muss JavaScript eingeschaltet sein!
Alien are acknowledging the 30 year anniversary of their 1988 s/t debut album by performing the album live, in its entirety, on a short Swedish tour in November.

Furthermore, to celebrate the anniversary of their (platinum selling) breakthrough hit single 'Only One Woman' (originally 'the Marbles', 1968), Alien recorded their take on another much loved pop classic: IMAGINE (John Lennon) which will be released as a single (stream, download & video) on October 26th, 2018 as a 'big thanks' to the long-time supporters.

The band says: "...and just like we did when covering 'Only One Woman' we've created our own version based on the Alien signature sound."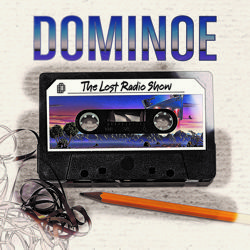 product: Dominoe - The Lost Radio Show
release date: 16.11.2018
label: Pride & Joy Music
PR: Diese E-Mail-Adresse ist vor Spambots geschützt! Zur Anzeige muss JavaScript eingeschaltet sein!
1988. The debut single from a previously unknown Hard Rock band dominates the singles charts for many weeks. The track is called "Here I Am" and well-known from a Renault-5 TV commercial. Many TV show performances and intense touring all over Europe followed for the band DOMINOE.

2018. DOMINOE now since 30 years have been producing new albums every now and then – whenever they had fun to enter the studio again. The forces behind are mastermind Robert Papst on guitars and singer Jörg Sieber. "The Lost Radio Show" now will be released in November and is the 6th album by this group. The content: the long lost studio live session recordings for a radio show from 2008.
Originally recorded for a British radio show in 2008, parts of these recordings got lost at the time because of a hard disk crash. The planned radio show never happened and the incomplete "tapes" ended up in the archives. By surprise, Robert Papst discovered these "tapes" again in the year 2018. Most of the tracks were used and only the really lost tracks now have been newly recorded. The result: The Lost Radio Show
Guitars. Keyboards. Bass. Drums. A lot of great voices. And the classic instruments of the Mainstream Rock genre. Former band members and longtime musical friends helped to complete the recordings. The new release covers the atmosphere from the original sessions and offers a state of the art production, too. The 15 tracks cover songs from all five Dominoe albums and will take you onto a journey back to the year 2008. Grammy winner Gavin Lurssen, L.A. handled the mastering.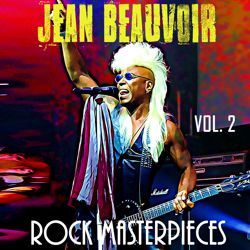 product: Jean Beauvoir - Rock Masterpieces Vol. 2
release date: 23.11.2018
label: AOR Heaven
PR: Diese E-Mail-Adresse ist vor Spambots geschützt! Zur Anzeige muss JavaScript eingeschaltet sein!
AOR HEAVEN is currently gearing up to release Vol 2. of 2 retrospective albums highlighting the music of Jean Beauvoir,November 2018. Jean Beauvoir: Rock Masterpieces Vol. 1 was released in July to rave reviews around the world and 10 out of 10 in UK's PowerPlay Magazine, named the "Soundtrack of the Summer" in Sweden Rock Magazine with 8 out of 10, Classic Rock UK and Germany plus many others scoring it at the same high level. Vol. 2 features more songs from his solo career including his International multi-platinum debut "Drums Along the Mohawk" album, from his band Crown Of Thorns, his band Voodoo X, which also made music and video history and other fan favorites. As with Vol 1. the songs will be remastered.
Beauvoir is also working with best-selling British author Simon Cox (Cracking The Da Vinci Code) on a new book which will capture his storied career in music and entertainment. The iconic Blonde Mohawk of Jean Beauvoir has been an ongoing major influence on US and International pop culture in music, sports, film and TV; including several cartoons; influences that are still being seen and heard today. As a member of the Plasmatics, the most outrageous, controversial, successful Punk band ever and a longtime songwriter and producer for the Ramones, hailed as the greatest Punk band in the world, Jean Beauvoir is forever linked to two of the most revolutionary bands of the twentieth century. He was a member of the Plasmatics during their most successful and revolutionary time in music and is the only member of the Plasmatics who went onto a successful solo, production and writing career with over 40-million records sold to date and featured on over 250 albums.
After being signed by Richard Branson (Virgin) and being given his own label, music from his solo debut album "Drums Along the Mohawk" was handpicked by Sylvester Stallone for the film Cobra which led to Beauvoir making a deal with Al Teller (President of Columbia Records). Through working closely with Branson, Stallone and Teller, Cobra received the highest advertising budget for a Hollywood film to date at the time featuring the single "Feel the Heat" as its title track.
Since Cobra, music by Jean Beauvoir has been featured in other well known, successful films throughout his career including Pet Sematary (Stephen King), School Of Rock, Christmas With The Kranks and many others. He wrote and/or produced hits with other artist's such as KISS, The Ramones, Lionel Ritchie, Desmond Child and others; more recently with Korean Superstar Jonghyun of the K-pop super group Shinee whose single "Crazy Guilty Pleasure" hit #1 on Billboard's World Album Charts (U.S.), #1 on iTunes (Worldwide) and topped the charts across Asia.
Today, the Plasmatics and the Ramones are hailed as two of the most revolutionary bands of the twentieth century. They are the original O.G. Punks and the Godfather's and Grand Dame (Wendy O. Williams) of Punk & Metal. Today, Jean Beauvoir is also recognized as "One of the Most Influential Black Rockers of All Time" by Guitar World Magazine and is one of the most successful bass guitarists in American music.
The Ramones were inducted into the Rock and Roll Hall of Fame (2002) and honored with a Grammy Lifetime Achievement Award (2011). The Plasmatics are featured in the Rock 'n Roll Hall of Fame (2017). Jean Beauvoir continues to write, record and produce solo projects as well as collaborate with other artist's in various genres, while staying active in film and television projects both as a lead actor and/or executive producer. He is currently working with American author Bill Doyle and world class illustrator Nicola Anderson on a children's book to be released soon. Jean Beauvoir has a lead role and is a producer of the ground breaking film "The Killer's Requiem" set for release in 2019 and is currently reviewing several scripts submitted for future film roles while finalizing other projects set for release in 2019/2020.
He will also be headlining Germany's prestigious "HEAT FESTIVAL" on December 1, 2018 in Ludwigsberg, Germany.