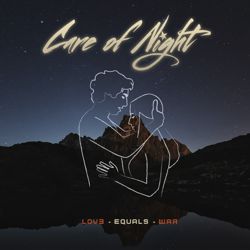 product: Care Of Night - Love Equals War
release date: 23.11.2018
label: AOR Heaven
PR: Diese E-Mail-Adresse ist vor Spambots geschützt! Zur Anzeige muss JavaScript eingeschaltet sein!
Formed in 2009, the band released an EP in 2013 consisting of four songs that made a great impact among AOR-fans all over the world. Shortly afterwards Care of Night signed a deal with AOR Heaven and released their debutalbum "Connected" in January 2015, receiving great accolades. A triumphant performance at Nottingham festival 2015 cemented the popularity. Then came silence, members departing and other aspects of life as we know it.
Some three years later, the band awoke from the hiatus. New guitarist Viktor Öström Berg joined the band in late 2015 and thereafter the band started to write new material and recordings started in the summer of 2018, with Erik Wigelius (Wigelius) returning as producer. The new album "Love equals War" offers a broad variety of music with the high-energy AOR numbers the band is known for mixed with songs containing a slightly progressive feel while never losing the melodic touch. "Love equals War" is a most anticipated comeback from one of the finest bands in the AOR-genre.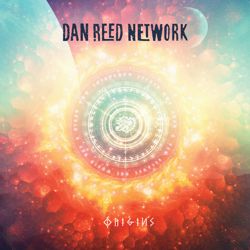 product: Dan Reed Network - Origins
release date: 23.11.2018
label: AOR Heaven
PR (Europe, without UK): Diese E-Mail-Adresse ist vor Spambots geschützt! Zur Anzeige muss JavaScript eingeschaltet sein!
The Dan Reed Network are ecstatic to follow up their UK November Tour announcement with details of their brand new studio album Origins on Friday November 23rd 2018 via AOR Heaven. Origins follows DRN's hugely successful comeback album Fight Another Day (2016).
To celebrate the announcement of their new album DRN are also extremely proud to share the first single Fade To Light with a music video they feel encapsulates the whole experience of recording Origins. Watch the music video for Fade To Light: https://youtu.be/XE_2VAj7Th8.
"The video for Fade To Light is taken from the inaugural live studio recording session at Blueprint Studios in Manchester and is the perfect microcosm for this entire process. What I think really translates throughout is how having an audience in the room fed the band with a unique energy that pushed us to expand our creative horizons. We're thrilled with the results," explains Dan Reed.
While recording the album DRN opened the studio doors to the public and invited them in to be a part of an exclusive series of recording sessions that spanned the globe with tracks that would eventually become Origins recorded at Blueprint Studio's in Manchester, The Power Station in NYC, Nia Studios in Portland Oregon and finally Studio 4 in Stockholm.
"We felt we were in the unique position to make this an immersive global event and break down the boundaries between those who love creating music and those love enjoying it. Each studio provided its own variety of motivation. Whether that be the knowledge of artists of who'd recorded there in the past, personal memories of the location we were in or the friendly faces watching on and inspiring us directly," says Dan Reed.
The concept allowed supporters of the band to intimately witness the whole process of recording a brand new song from scratch with the band individually tracking drums, bass, guitar, keyboards and vocals before inviting the audience to participate and provide backing vocals for the song as can be seen in the brand new video for Fade To Light.
The audience were also witness to a classic Dan Reed Network being re-imagined right before their eyes.
A major part of this idea was taking control of the creative process moving forward as well as reclaiming music we'd recorded in the past. We thought those in attendance would really appreciate us not only creating something new but reimagining one of their favourite songs. We've thoroughly enjoyed revisiting these songs and contemplating the artistic journey we went on at the time and what we now can bring to that now as more mature song writers and musicians," continues Dan Reed.
Dan Reed Network recently announced their upcoming Origins November 2018 Headline UK Tour that will see the band take in major cities across the UK in support of the new album. Special guests on the tour are Mason Hill and Hollowstar.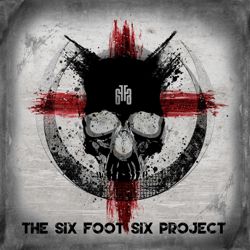 product: Six Foot Six - The Six Foot Six Project
release date: 16.11.2018
label: Pride & Joy Music
PR: Diese E-Mail-Adresse ist vor Spambots geschützt! Zur Anzeige muss JavaScript eingeschaltet sein!
Six Foot Six was formed by Kristoffer Göbel, associated with acts like Falconer, Destiny and Aldaria.
Inspired by his childhood music heroes and all the way to modern metal acts he decided to write the songs on the album "The Six Foot Six Project".
Dedicated to creating an exciting album Göbel invited guest musicians to add their touch. Some of these are guitarist and singer Niklas Stålvind (Wolf), singer Magnus Winterwild (Axenstar) and singer David Åkesson (Quantice). Christoffer Borg (Taste, Art Nation) co-mixed the album and has joined the band as permanent member.
The music video for the first single "Virus inside" was shot with and directed by Patric Ullaeus (i.a. Amaranthe, In Flames, Europe) at rEvolver Film Company.
product: Madison - Best in Show
release date: 16.11.2018
label: Pride & Joy Music
PR (Europe only): Diese E-Mail-Adresse ist vor Spambots geschützt! Zur Anzeige muss JavaScript eingeschaltet sein!
Based in Hudiksvall, Sweden, and active between 1983-1987, MADISON was one of the most prestigious Swedish Hard Rock/ Hair Metal groups of the mid 80's. The line-up of the band in 1986 consisted of the young Göran Edman (vocals, ex-Yngwie Malmsteen, John Norum etc.), Anders Kalson (guitar), Mikael Myllynen (guitar), Conny Sundqvist (bass) and Peter Fredrickson (drums). During the time of their existence, MADISON released two albums, i.e. "Diamond Mistress" (1984) and "Best In Show" (1986).
The group had major success in Japan where they also went on tour after the release of the "Best In Show" album. This record was mainly produced at Studio 39 in Copenhagen, Denmark by Jörgen Bo and contains the band's most successful track "Oh Rendez Vous". Sonet Records/Universal Music released this record in 1986 in Europe on vinyl only; in Japan it also got a CD release at the time.
Pride & Joy Music now, in co-operation with Universal Music Sweden, releases this record for the first time on CD in Europe. The music was taken from the original masters and remastered. The original artwork from the vinyl edition built the foundation for the newly created CD booklet. Some pictures from the archives and two bonus tracks ("The Look In Your Eyes" and "The Tale") were added.
"Best In Show" is now available as ltd. edition CD (1000 copies only) with two bonus tracks added and only while stock will last!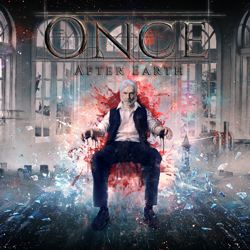 product: ONCE - After Earth
release date: 19.10.2018
label: Pride & Joy Music
PR: Diese E-Mail-Adresse ist vor Spambots geschützt! Zur Anzeige muss JavaScript eingeschaltet sein!
ONCE is a metal band from North Rhine Westphalia (Germany), whose style can be described as Symphonic Metal.
The music of ONCE is inspired by neo-romantic soundtrack music and includes typical elements of a classical Aristotelian drama, combined with heavy guitars and drums.
The band was formed in 2012, when keyboarder Frank Wypchol, lead singer Alina Lesnik, guitarist Marco Paulzen and drummer Alexander Hey decided to create a full orchestrated metal project.
In 2013 ONCE released acoustic versions of their songs My Fairytale and Distorted Smiles, which were recorded and filmed as university project at the ArtEZ Conservatorium in Enschede/NL. Afterwards ONCE worked on their demo EP, which was released 2015.
Their music-video of the single The Hour Of Eden's Fall gave a first impression of what is to come with their first full length studio album AFTER EARTH, which will now will be released on October 19th, 2018.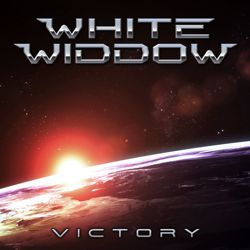 product: White Widdow - Victory
release date: 19.10.2018
label: AOR Heaven
PR: Diese E-Mail-Adresse ist vor Spambots geschützt! Zur Anzeige muss JavaScript eingeschaltet sein!
Formed in Melbourne, Australia in 2008 and centered around the Millis brothers Jules (Vocals - ex Tigertailz) & Xavier (Keyboards - 2 x Aria Nominee) and guitar virtuoso Enzo Almanzi. Raised on a healthy diet of 80's Arena Rock and influenced by artists such as Survivor, Foreigner, Journey, Night Ranger, Starship, Dokken and Australia's own Rick Springfield. In 2010 White Widdow signed with the AOR Heaven label and stormed onto the Melodic Rock scene across the globe with the release of their self-titled debut album throughout Europe. The release of the debut was met by the press with rave reviews making it into Classic Rock Magazine's top 10 AOR albums for 2010. White Widdow quickly returned with their follow up release "Serenade" in September 2011, showcasing a more crafted song style and structure.
In support of "Serenade", White Widdow hit the road playing festivals and headlining club shows throughout Europe which saw them tour through Switzerland, Germany, Sweden, Italy, Greece and England. Along the way performing at HEAT Festival (Germany) and Firefest (UK) and playing alongside artists including Jimi Jamison (Survivor), Steve Auguri (Journey), Unruly Child, Stage Dolls, Keel, Shakra, Strangeways, Silent Rage, Alien, Mitch Malloy, Coney Hatch, Jeff Paris, Kane Roberts and many more.
In 2014 White Widdow's third opus. "Crossfire" was released and was once again met with praise from both rock critics and melodic rock/ AOR fans, receiving positive reviews. In March 2015 White Widdow returned to tour Europe with shows in Spain and Greece before returning to the UK with shows across England and finishing the tour at Hard Rock Hell AOR Festival in Wales sharing the stage with AOR Legends Night Ranger & FM.
2016 saw White Widdow release their fourth album "Silhouette", a very slick AOR affair that was heaped with praise by the Melodic Rock Press and Media. White Widdow returned to tour Europe and once again performed at HEAT Festival in Germany alongside artists including Treat and Pink Cream 69.
2018 has seen White Widdow re-enter the studio for their fifth album "Victory", celebrating ten years since the band began and an album cover that throws back to the style of their debut. "Victory" incorporates a strong Pomp element in the songs along with White Widdow's traditional classic 80's AOR sound, the band allowing their influence of bands like Giuffria and White Sister to really come through. Featuring over the top pompus keyboards, stacked harmony vocals from the Millis brothers and Enzo Almanzi's tasty solos throughout. White Widdow are set to perform at Rockingham in the UK in support of the new album, followed by a tour through Spain, Greece and their native Australia.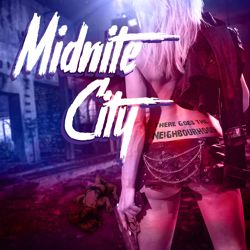 product: Midnite City - There Goes The Neighbourhood
release date: 19.10.2018
label: AOR Heaven
PR: Diese E-Mail-Adresse ist vor Spambots geschützt! Zur Anzeige muss JavaScript eingeschaltet sein!
Following on from their explosive self-titled debut album last year, MIDNITE CITY return all guns blazing on 26th of October 2018 with their sophomore release 'THERE GOES THE NEIGHBOURHHOOD' - eleven tracks of fist pumping, high energy, feel-good, hair metal of the highest order!
The lush melodies, huge choruses and gargantuan hooks found on their debut album are all here in abundance alongside some true modern day glam anthems, fun commercial party rock, moody mid-paced hard rockers and heart wrenching power ballads big enough to light up an entire arena.
As with the first album, the winning formula has remained - all songs have been written by Rob Wylde, whilst Pete Newdeck has once again taken control of production, engineering and mixing duties. With 'THERE GOES THE NEIGHBOURHOOD' the band has literally stepped everything up several notches to unbridled, head splitting proportions. The guitars are big, the drums are huge, there are walls and walls of harmonies and more synths than you'd find this side of a classic Bon Jovi album. In a nutshell, this album has everything but the kitchen sink!
With shows all over the UK and Europe in 2017/ 2018, MIDNITE CITY's sound is tighter than ever before.
So if you long for a band that still look, sound and perform like those long lost million selling forgotten bands of the late 80's/ early 90's, MIDNITE CITY and 'THERE GOES THE NEIGHBOURHOOD' is the album for you. Don't forget to catch MIDNITE CITY tearing it up live all over the UK, Europe and beyond in their own inimitable, arena rock style in 2018/ 2019…