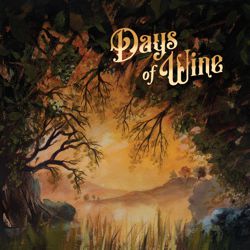 Product: Days Of Wine - s/t
release date: 20.05.2022
label: Pride & Joy Music
PR territory: world
PR contact: Diese E-Mail-Adresse ist vor Spambots geschützt! Zur Anzeige muss JavaScript eingeschaltet sein!
The brand new band DAYS OF WINE consists of close friends from the Oslo/Norway music scene. After years of playing in their respective bands, it was time to join forces to make a high class album.
During Spring 2021, ten songs were recorded for the self-titled debut at Stable Studios, Oslo. The songs are based on the lyrics of Leif Johansen but musically grounded in the Classic Rock genre.
Leading the charge is the melodic and "raspy" Voice of singer Leif Digernes. To emphasize the 60's and 70's influences, all backing tracks were recorded "live" in the studio. With such astute and accomplished musicians, it couldn't have been done in any other way.
Some friends also came by and contributed to some of the songs, i.e. brothers Gregg Bissonette (drums, David Lee Roth, Ringo Starr, Joe Satriani, Toto, Santana, Ozzy Osbourne etc.) and Matt Bissonette, (bass, David Lee Roth, Ringo Starr, Joe Satriani, Elton John, Steve Perry, Don Henley, Brian Wilson) on "Angles In Disguise", Jon Pettersen (Ammunition) played the acoustic intro to "Healerman", Markus Klyve (Tekro's Kingdom) the solo on "Never Stop Believing", Lars Andrè Kvistum (Conception) keyboards on "Spread Your Wings"
And Ronni Le Tekro (TNT/Tekro's Kingdom) add. guitars on "Paint The Sky"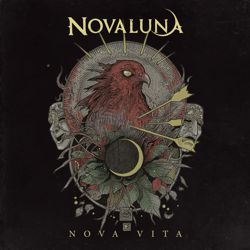 product: Nova Luna - Nova Vita
release date: 20.05.2022
label: Pride & Joy Music
PR territory: world
PR contact: Diese E-Mail-Adresse ist vor Spambots geschützt! Zur Anzeige muss JavaScript eingeschaltet sein!
NOVA LUNA is an Italian band initially formed in 2019 by singer Mattia Martin, major writer and composer of the songs on the album entitled "Nova Vita". Subsequently Alessandro Piputto on drums and Davide Martina on guitars were added, which mainly contributed to finish the work. During the next two years the final changes were made, and then recorded, mixed and mastered in studio by Michele Guaitoli (Temperance, Vision Of Atlantis). During the recordings and final changes of the works, Nicola Lardo mainly participated on bass and Valerio Simonini on keyboards. The group is inspired by Prog Metal, Pop Metal and with some hints of eighties Hard Rock and Japanese Pop.
The album features various guests including Marco Minnemann (The Artistocrats), Reb Beach (Whitesnake), Michele Luppi (Whitesnake) and Mistheria (Vivaldi Metal Project).
The songs on the "Nova Vita" album are a collection of stories that tell feelings and poetry, each song represents a narrated emotion, including depression, anger and love, then leaving space for technique and musical composition. It is inspired by prog metal music, including for example Symphony X and Dream Theater, passing through more pop and modern music, finally taking a cue from hard rock. In addition to these, Japanese culture and music also took part in certain songs, inspiring them through some of the greatest anime and videogame series.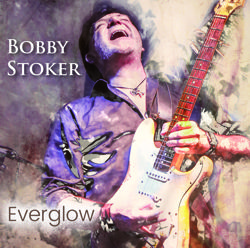 product: Bobby Stoker - Everglow
release date: 20.05.2022
label: Vivid Music Productions
format: CD
PR territory:world-wide
PR contact: Diese E-Mail-Adresse ist vor Spambots geschützt! Zur Anzeige muss JavaScript eingeschaltet sein!
Bobby Stoker (in German: Bobby Stöcker) took his first piano lessons at the age of 5. Born in Frankfurt am Main-Germany, he spent his entire childhood living abroad with his family. Having lived in Tunisia, South Korea and Egypt, he returned to Germany in 1981 at the age of 12.
He knew from incredibly early on that music was his life. At the age of 14 he devoted himself to the guitar, founded his first band and at the age of 16 began writing his own songs . After graduating from school, the artist took the plunge and has been in the music business ever since.
Since then, Stoker has been on stage with many greats such as Bobby Kimball (singer of TOTO), has organized and played at large events with his bands: he has played around 100 performances every year since the early 1990s.
In 1995 - 1996 Bobby took part in the musical "Tommy" by "The Who" in Offenbach-Germany and then went on and founded his own recording studio in Frankfurt am Main. There he made a name for himself as a guitarist in the studio scene, recording commercials, songs, and commissioned productions. Through the various producers and artists he worked for there, he also met the exceptional singer Melanie Thornton and in 1999 wrote songs for her debut solo album "Ready To Fly", which was released in 2001 and achieved gold status for 150,000 sales in 2002 and reached number 3 in the German album charts.
In 2002, he then founded the production company "Vivid Music Productions" (V.M.P) expanding his business beyond music production and song writing to include event planning. To this day, "Vivid Music Productions" has established itself as an artist pool with a broad community roster of musicians & event networks and organizes around 100 -120 events every year.
Since 2018, Bobby has been a member of Go Music, the touring band of ex Klaus Lage bassist Martin Engelien, and plays alongside other exceptional musicians such as Pitti Hecht (percussion - Scorpions), Cherry Gehring (keyboarder - Pur), Benne Neuner (drums - Glasperlenspiel) and Dirk Brand (drums – Axxis).
At the end of 2020, unable to do live shows during the Corona pandemic, Bobby founded his own label and started work on his solo album "Everglow", on which he took on the part of the lead vocals for the first time. After just over a year, together with the lyricist Nicole Göbel, 12 powerful rock songs were created, incorporating a heady mix of blues and soul. As a studio musician, he is accompanied by well-known and established names such as Willy Wagner (Fish/Marillion, Bobby Kimball,
Tony Carey/Rainbow) on bass and singers such as Oliver Hartmann and Ina Morgan from Avantasia on backing vocals. The album was mixed & mastered, in early 2022 by Tommy Newton (producer of Helloween "Keeper Of The Seven Keys Part 1&2", U.F.O, Ark, VoodooCult, Guano Apes and Molly Hatchett) The album "Everglow" will be released on May 20th 2022, via V.M.P. in collaboration with Pride & Joy Music.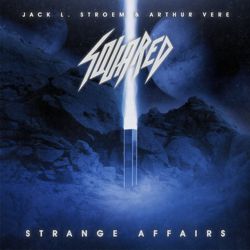 product: Squared - Strange Affairs
release date: 13.05.2022
label: self-released
PR territory: Europe
PR contact: Diese E-Mail-Adresse ist vor Spambots geschützt! Zur Anzeige muss JavaScript eingeschaltet sein!
Founded in 2019 by French guitarist Arthur Vere & Swedish singer Jack L. Stroem, SQUARED instantly became something very dear & special for the duo, taking inspiration from the late 80's AOR scene mixed with their own musical backgrounds.
After the first songwriting session for "Strange Affairs" the plan was made & everything was going as scheduled... Then 2020 came and we all know what happened. The plan was reworked, more songs were written and "Strange Affairs" was recorded remotely from Sweden & France respectively by Jack & Arthur sending files across the world wide web to each other.
It was also during this time that SQUARED decided to hire the renowned session musicians and longtime friends of Jack; Robin Risander on Drums & Kammo Olayvar on Bass
"Strange Affairs" has an authentic sound because it was recorded with vintage instruments together with live drums & completely without any autotune on the vocals. For 1989 this would be the way every album had to be recorded, but it is almost unheard of in today's music scene.
Without plans of stopping SQUARED intends to surf on the 80's nostalgia wave while writing music that could have been released back then.. But wasn't.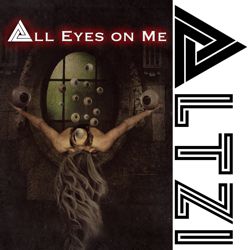 product: ALTZI - All Eyes On Me
release date: 25.03.2022
label: RA Music
PR Territory: world
PR contact: Diese E-Mail-Adresse ist vor Spambots geschützt! Zur Anzeige muss JavaScript eingeschaltet sein!
RICK ALTZI is an artist from Helsingborg, Sweden who started to play bass at the age of 14. He was a member in various tribute and original bands until 2004 and switched over to the microphone in 2005. His first album as vocalist saw the light of day in the year 2007 with the band AT VANCE. Since then, he has worked with a lot of outstanding musicians from bands such as Helloween, Accept, King Diamond, Pain Of Salvation, etc..In 2020, Rick Altzi started to work on his first solo album under the moniker of ALTZI. Rick Altzi also is writing and recording with the bands Masterplan, Gathering Of Kings and Herman Frank.
In 2021, ALTZI has released a couple of successful singles and videos from the bran new album "All Eyes On Me" in advance. The full album, which will be available on CD and digitally from March 25th, 2022, now contains 10 more new songs.
Rick Altzi recorded all vocals in Outhouse Studios on the west coast of Sweden, Drums were recorded at Parental Studios in Cologne. The album is mixed by Victor Ohlsson in his studio located in Gothenburg and produced by Rick Altzi and Ulrick Lönnqvist. Thomas "Plec" Johansson took care of the mastering at The Panic Room.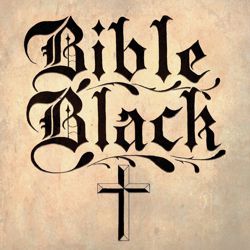 product: Bible Black - Bible Black
release date: 14.04.2022
label: Louder Than Loud
PR territory: Europe
PR contact: Diese E-Mail-Adresse ist vor Spambots geschützt! Zur Anzeige muss JavaScript eingeschaltet sein!
Bible Black was an East Coast American band formed by former Elf/Rainbow musicians Gary Driscoll and Craig Gruber, along with Andrew "Duck" McDonald.

The bands longest tenured singer was Jeff Fenholt, well known for his very brief stint with Tony Iommi/Black Sabbath and his work with the band Joshua.

The band also featured in its ranks 2 well known vocalists: Lou Marullo who later became known as the one and only Eric Adams...and Joey Belladonna who of course went on to join Anthrax.

All three vocalists recorded demos with Bible Black between the periods of 1981-1983. This cd for the first time compiles all recorded works of the band in one place.

Sadly Gary Driscoll, Craig Gruber and Jeff Fenholt have all since passed away, making this release a fitting epitaph to their time together as Bible Black.

Restored and remastered by Patrick Engel and licensed directly from the last surviving member Andrew "Duck" McDonald" we can now hear one of the great "lost bands" and a piece of Heavy Metal history.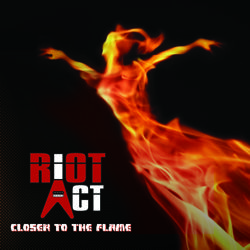 product: Riot Act - Closer To The Flame
release date: 01.04.2022
label: Global Rock Records
PR territory: Europe & parts of the UK
PR contact: Diese E-Mail-Adresse ist vor Spambots geschützt! Zur Anzeige muss JavaScript eingeschaltet sein!
The highly anticipated debut album from Riot Act, the band initially formed by former 'classic era' Riot members Rick Ventura and Lou Kouvaris is titled "Closer To The Flame" which is sure to please fans of the late 70s, early 80's era of Riot as well as fans of Montrose, Rival Sons, The Black Crowes, Tesla and fans of classic hard rock everywhere.

The album will also come with a 12 track bonus CD of classic 1979-1981 Riot tracks recut, these recordings feature the final ever recordings of Lou Kouvaris, who tragically passed away of Covid19 in early 2020.

Riot Act features former Riot guitarist Rick Ventura, Don Chaffin vocals, Paul Ranieri bass and Claudio Galinski drums, Rick Ventura was a member of the original Riot from 1979-1984
"Riot Act's new album is a culmination of emotions over the past two years. From the excitement of our early rehearsals, to the loss of our band mate, struggling through a pandemic and not knowing if we were going to continue, the four of us knew that the band had much to offer. The result of that renewed energy is "Closer To The Flame" and with joining forces with Global Rock Records we are ready for the world to hear this new music we have been working on for so long. Our very good friends and brothers in in Riot V of course continue their evolution of Riot onward, While as Riot Act we aim to recapture the early Riot sound of the 1977-1983 band and bringing that into a new era with our new music.

Further illustrating that "Riot members of all eras are family" Riot V guitarist Mike Flyntz is a special guest on the record, laying down a killer solo on the track "49er" a re-recording of the Riot - Narita era classic.

Riot Act will be touring the UK as support to Lillian Axe in the UK throughout August 2022

Riot Act performed at the Heavy Metal Hall Of Fame in 2020
Rick and Lou were inducted as Riot members in 2018

Full details of the debut album "Closer To The Flame" below:
1 Closer To The Flame
2 Wanted
3 Straight For Your Heart
4 Smoking Gun
5 Almost There
6 Stand Or Fall
7 Love Come Round
8 Angelina
9 Right Between The Eyes
10 Rock Love And Roll

BONUS CD:
1 Rock City
2 49er
3 Sword And Tequilla
4 Overdrive
5 No Lies
6 Tokyo Rose
7 Warrior
8 Don't Hold Back
9 White Rock
10 Outlaw
11 Road Racing
12 Altar Of The King