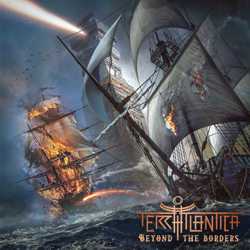 product: Terra Atlantica - Beyond The Borders
release date: 16.09.2022
label: Pride & Joy Music
PR territory:world
PR contact: Diese E-Mail-Adresse ist vor Spambots geschützt! Zur Anzeige muss JavaScript eingeschaltet sein!
"Beyond the Borders" is the next milestone in the history of Terra Atlantica, pushing the boundaries of the genre by adding stage musical elements and creating a new world full of magic and adventures.
Set in the year 1848, the story takes place two decades after the predecessor "Age of Steam"!

With the British Empire being defeated, the vacuum of power in Europe has led to the uprising of the Prussian dynasty, ruling over the continent with a fist of steel. A group of young people set out on a quest to fight against this oppression with the aid of a magical stone which supposedly will guide them the way to Atlantica. But they are being followed! A pursuit across land and sea begins…
Guest performances by Anders Sköld (Veonity), Alex Hunzinger (Ex-Aeternitas) and Joan Pabon (Tragedian). The album was mastered by Jacob Hansen (Volbeat, Pretty Maids etc.)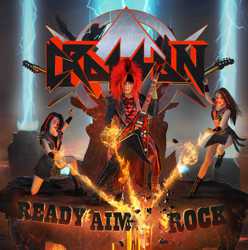 product: Crosson - Ready, Aim..Rock!!
release date: 09.09.2022
label: Galaxy Records
PR territory: Europe
PR contact: Diese E-Mail-Adresse ist vor Spambots geschützt! Zur Anzeige muss JavaScript eingeschaltet sein!
If it's fist- pumping, uplifting, catchy stadium rock anthems that you are looking for, then it's time to turn it up to eleven as Aussie Theatrical Glam Rockers CROSSON return all-guns blazing, with their sixth studio album Ready, Aim…. Rock !!
Once again mixed by legendary U.S engineer / producer Duane Baron (Ozzy Osbourne, Motley Crue, Alice Cooper, Poison) and mastered by U.S mastering giant Dave Donnelly (Aerosmith, KISS, Whitesnake), Ready, Aim…. Rock !! punches you in the face from the opening chords and erupts with ten infectiously catchy, highly addictive rock tunes.
Writer, vocalist and producer Jason Crosson stated: " 'Ready Aim .. Rock !!' is definitely the most sophisticated and mature CROSSON album to date. It still includes the catchy, stadium rock anthems that you'd expect, but being careful not to repeat ourselves and also grow musically, my admiration and respect for Jim Steinman ( writer for Meat Loaf / Bonnie Tyler) was channeled during the writing process which can be heard on songs like 'United', 'The Way It Is & 'Love Is Endless' .
The album was tracked in Sydney at 3By3 Studios and introduces guitar virtuoso Marko Rado, whose solos will definitely raise eyebrows. The band's long term live drummer Kyle Barr, provides an explosive backbeat, whilst the Queen-esq backing harmonies send chills down the listener's spine.
Directed and edited by Lord Tim (Lord), the first video from the album, 'United', shows CROSSON in all their glory unleashing their electrifying, energetic, choreographed stage moves while showing the band's history with archival footage. The second video 'Fallen From Grace' depicts a horror movie setting with the CROSSON dancers appearing as fallen angels and casting their demonic spell over the band that transforms them into rock 'n roll demons.
CROSSON will commence their Australian National tour in October with Sweden's Crashdiet and Australia's Sisters Doll.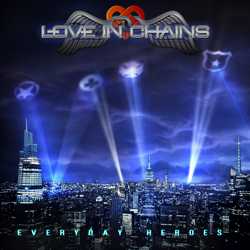 product: Love In Chains - Everyday Heroes
release date: 30.08.2022
label: Idora Entertainment
PR territory: Europe
PR contact: Diese E-Mail-Adresse ist vor Spambots geschützt! Zur Anzeige muss JavaScript eingeschaltet sein!
Power. Grace. Intensity. All of these words can easily describe the sound that is Love In Chains. Influenced by bands like KISS, Europe, Dokken, and Stryper, their music is an unapologetic throwback to a time when heavy guitar riffs, bombastic drums, soaring vocals, and heavenly harmonies dominated the airwaves. This IS the music of your youth, modernized!
Initially a project of guitarist Mike Floros (SteelCity) and vocalist Rob Kane (Apocalyptic Lovers), the two men quickly realized they were onto something very special. They enlisted the help of Mike's trusted production team of Ty Sims and Erik Johnson to help round out the sound that would become Love In Chains. Multi-instrumentalist and vocalist extraordinaire, Erik added visceral power on drums and absolute punch on bass. With Rob and Erik rounding out the vocals, the sound was not just complete but absolutely rock solid.
With the release of the album, the guys knew the opportunity for live play would come knocking, and as such, Mike and Rob started their search for the premiere players that would round out their lineup. They didn't have to look too far for their bassist. Jason Cornwell, Mike's right hand in SteelCity, was an easy choice to round out the bottom end. His live play is well known, as he's toured the world over in past stints with Eric Martin. On drums, the band enlisted the skills of one of melodic rock's emerging stars, Brian Karl. His work with bands like Station and West Bound has left profound, lasting impressions on all who've witnessed him live.
The band realizes that the number one way to engage with its fans is live performance. Looking to the immediate future, the band plans to play select shows to support its debut album, Everyday Heroes. One step at a time, one show at a time, they intend to win over those who've supported their "maiden voyage." How will they do it? With power, grace, and intensity.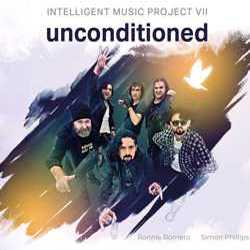 product: Intelligent Music Project - Unconditioned
release date: 27.07.2022
label: Intelligent Music Ltd.
PR territory: world (excl. North America)
PR contact: Diese E-Mail-Adresse ist vor Spambots geschützt! Zur Anzeige muss JavaScript eingeschaltet sein!
The Bulgarian rock band Intelligent Music Project will release its seventh studio album entitled "Unconditioned" in July – just two months after their biggest adventure, called Eurovision Song Contest.
The legendary Simon Phillips (TOTO, Protocol) returns as percussionist and musical co-producer of the new album, while the lead vocalist on this release will again be one of the most popular names in rock music today: Ronnie Romero (Rainbow, MSG). This will be Romero's third album with Intelligent Music Project, and for the first time the group has expanded its compositional approach: two of the songs are entirely the work of Ronnie, Biser Ivanov and Ivo Stefanov. For the first time on "Unconditioned," the band's lead singer shows off his skills as a lyricist, having penned the words to those two songs. All the other songs and lyrics are once again the creation of Intelligent Music Project's founder and producer, Dr. Milen Vrabevski.
In honor of the tenth anniversary of the band's first album, "The Power Of Mind," the seventh album follows its format and also begins and ends with instrumental tracks written by Dr. Milen Vrabevski in collaboration with Biser Ivanov and Ivo Stefanov.
"Unconditioned" is an album dedicated to unconditional love as a deciding factor in normalizing our modern life. This love has to be focused above all on our children, because they are the future, while we are the ones who need to show them the way and teach them to make bold decisions and to live for the people around them. Only with more such people will the world become a better place" – Dr. Vrabevski about the new album
One hit track from "Unconditioned" is "Intention" – the song the band played as Bulgaria's representative to Eurovision 2022 in Torino. Besides the Eurovision version, the album will also include the original, longer take, which sticks to Intelligent Music Project's signature melodic progressive style, as well as a karaoke version.
"Intention" was the first single from Intelligent Music Project's seventh album. At the moment, the song has more than one million views/listens on YouTube and Spotify. The song raises the question of every individual's personal, internal battle with outdated models of belief and behavior that hold them back. Starting from the title itself, the author underscores the simple fact that it is never too late to start down the right path – the path of your own personal growth, of dignified existence and of life with a mission. The song calls us to turn away from our ego, selfishness and a consumerist attitude on life and instead to live for the people around us.
"Finding the right path, however, often turns into a battle with one's self, so you need a serious intention to truly make a change!" Dr. Milen Vrabevski, the author of the music and lyrics of "Intention" notes.
The album's second single, "New Hero," came out in early May. The song was accompanied by a striking video that recreated a military atmosphere, where, in synch with the idea behind the album, the main characters were children. In the video's narrative, it is precisely the children who turn out to be the brave heroes who bring about change.
"Effective action in the present, despite difficulties, is the key to progress. It is crucial for us to know that pretty words get us nowhere. It is easy to stand silently and do what you're told. The harder but only effective thing is for a person to have their own opinion, their own method of resisting injustice, even if this means they often finds themselves alone and misunderstood," Dr. Vrabevski explains.
In addition to Simon Phillips and Ronnie Romero, the album also includes Carl Sentance (Nazareth), Slavin Slavchev, Lina Nicole, and Borislav Mudolov-Kosatkata on backing vocals; Dimitar Sirakov on bass; Samuel Eftimov on piano; Ivo Stefanov on keyboards; and Biser Ivanov on guitar.
The album will be released on July 27, the day of Ronnie Romero's wedding to Romanian model Corina Minda.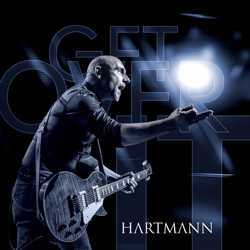 product: Hartmann - Get Over It
release date: 16.09.2022
label: Sonic11/ Pride & Joy Music
PR territory: world
PR contact: Diese E-Mail-Adresse ist vor Spambots geschützt! Zur Anzeige muss JavaScript eingeschaltet sein!
Oliver Hartmann is considered with his band HARTMANN since their debut 'Out in the cold' (2005) as one of the best modern German Rock-/Hardrock acts. Besides that he's well known as highly respected singer, guitarist and sideman of the metal megaseller Avantasia, projects as Rock Meets Classic, as ex-At Vance singer and as front man of the successful German Pink Floyd tribute Echoes, Since then the band has released 9 successful albums, has toured with well known acts as Toto, Uriah Heep, The Hooters, House of Lords and celebrated their 15th anniversary in spring 2020!
After the release of their anniversary album '15 Pearls & Gems' in April 2020 which again received great reviews world wide and followed by a special acoustic tour in summer / autumn 2021, now the band will release their new and tenth album 'Get over it' on Sept 16th! Again co-produced by Sascha Paeth (Avantasia, Beyond The Black, Kamelot) and with the guest musicians Jimmy Kresic on keys (Rock Meets Classic) and Ina Morgan on additional choirs (Avantasia) it can be called the most homogeneous album so far. It contains eleven new tracks in the bands' typical genre of modern AOR- and Melodic-Rock and is aimed at fans of Foreigner, Gary Moore, Thunder or even Bryan Adams.
Besides a few summer festivals the band will be on tour again this autumn with 12-15 shows in Germany and Switzerland and supplemented by 4-5 shows in Spain. All tour dates will be presented by Guitar-Magazin, Eclipsed, FGN-Guitars and ROCKANTENNE, Germany's No 1 Rock-Radio station!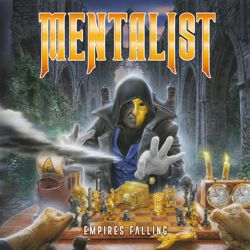 product: Mentalist - Empires Falling
release date: 16.09.2022
label: Pride & Joy Music
PR territory: world -Japan
PR contact: Diese E-Mail-Adresse ist vor Spambots geschützt! Zur Anzeige muss JavaScript eingeschaltet sein!
MENTALIST, the Saarbrücken Germany based Melodic Metal group, like maybe no other recently new band has managed to left big, positive marks in the Power Metal scene!
After the big success of the debut album "Freedom Of Speech" (2020), the German/ Swedish foursome consisting of Peter Moog (guitars), Thomen Stauch (dr., ex BLIND GUARDIAN), Kai Stringer (guitars) and Swedish exceptional singer Rob Lundgren just slighty scraped past of the German official media control album charts with their 2021 effort "A Journey Into The Unknown" (trend charts: #63)! On iTunes, MENTALIST reached an impressive #2 as highest position at the Metal charts, and the fans of the Facebook group "power Metal" with 110K followers voted "A Journey Into The Unknown" as best Power Metal release of the year 2021!
"Empires Falling", the third full length by the German/Swedish outfit, now continues where its predecessors have stopped! Oliver Palotai (keys, Kamelot) und Mike LePond (b., Symphony X) again joined MENTALIST as energetic guests on keyboards and bass. On this release, outstanding musicianship teams up with fabulous melodies and fine, subtle arrangements as parts of epic, stirring and enery-driven songs which reinforce the high quality of MENTALIST!
The front cover artwork again was designed by Andreas Marschall (u.a. Blind Guardian, Running Wild), the mix & the mastering once more was handled by Jacob Hansen (Volbeat, Amaranthe, Pretty Maids etc.).
"Empires Falling" will be released on September 16th, 2022 on CD, digital, as golden 2-LP and as limited edition box set which next to the CD will also include an exclusive plush toy of the Mentalist mascot and a limited t-shirt! A tour for autumn 2022 is currently in preparation.
product: Lugnet - Tales From The Great Beyond
release date: 26.08.2022
label: Pride & Joy Music
PR territory: world -Japan
PR contact: Diese E-Mail-Adresse ist vor Spambots geschützt! Zur Anzeige muss JavaScript eingeschaltet sein!
There's no escaping the motherlode - that eternal continuum of high drama and overheated ampstacks fit to raise the pulse and revivify the spirits. It's merely an unmistakable band chemistry that transforms base hard rock into gemstones, and this process is an increasingly rare phenomenon in the here and now. Luckily for Stockholm's alchemists LUGNET, they are one of the few.
Here in these steamrollering grooves and strident anthems is just the kind of swagger and bravado on which rock built its foundations in the '70s, yet without any of the cliches or the bloated self-importance. The roots of LUGNET may be visible to see, and the primal stomp of early Deep Purple, the apocalyptic sermonising of Black Sabbath and the cinematic majesty of Rainbow can easily be detected in the almighty sturm-und-drang. Yet this sound is delivered with charisma and maverick energy that effortlessly summons fresh vibrant life to a classic form.
The spark that lit LUGNET originates in 2009, when Fredrik Jansson-Punkka (also drummer of Angel Witch, and whose storied history includes stints in Witchcraft, Abramis Brama and Count Raven) met bassist Lennart 'Z' Zethzon at Sweden Rock Festival and the two first discussed getting together to jam. Three years later this finally came to fruition and guitarists Bonden Jansson and Mackan Holten joined the fray, alongside vocalist Roger Solander. An original plan to play '70s blues-rock with Swedish lyrics was ultimately warped and transformed into the monumental attack of 2016's self-titled debut proper on Pride & Joy Music.
The road to 'Nightwalker' saw changes afoot in the band, as Solander was replaced by the soulful pipes of Johan Fahlberg, who matches the swashbuckling charm of the Dio/Coverdale tradition with flourishes and personality all his own, whilst Bonden Jansson made way for wunderkind new guitarist Matti Norlin. This was a quantum leap on from the debut, replete with fiery interplay and incisive songwriting, from the slow Zeppelin-esque catharsis of 'Death Laughs At You' to the monstrous 'Stargazer'-esque grandeur of the mellotron-assisted finale 'Kill Us All'.
The aftermath saw Lugnet traverse from strength to strength, a notable highlight being packing out their tent at Sweden Rock Festival in 2018 even whilst a certain Birmingham-birthed Prince Of Darkness himself occupied the main stage across the field. Michael Linder (formerly of Troubled Horse) soon replaced Mackan Holten, and this line-up has subsequently amassed enough material for two albums, with all members throwing their hat into the ring songwriting-wise.
One of these 'Tales From The Great Beyond' has already been recorded at SolnaSound Recording with the dream-team of Simon Johansson (Wolf/ Soilwork) and Mike Wead (King Diamond/ Mercyful Fate) at the helm / mixed by Marcus Jidell (Avatarium/ Candlemass). Just like for the debut album, the front cover artwork was designed by Vance Kelly.
Whatever the future holds for Lugnet, only a fool would bet on the result not being a spectacular explosion of righteousness. This machine is firing on all cylinders, and rockers of all persuasions would be well advised to get on board or get out of the way.
"Tales From The Great Beyond" will be released on CD, LP and digitally on August 26th, 2022 via Pride & Joy Music.