product: Lugnet - Tales From The Great Beyond
release date: 26.08.2022
label: Pride & Joy Music
PR territory: world -Japan
PR contact: Diese E-Mail-Adresse ist vor Spambots geschützt! Zur Anzeige muss JavaScript eingeschaltet sein!
There's no escaping the motherlode - that eternal continuum of high drama and overheated ampstacks fit to raise the pulse and revivify the spirits. It's merely an unmistakable band chemistry that transforms base hard rock into gemstones, and this process is an increasingly rare phenomenon in the here and now. Luckily for Stockholm's alchemists LUGNET, they are one of the few.
Here in these steamrollering grooves and strident anthems is just the kind of swagger and bravado on which rock built its foundations in the '70s, yet without any of the cliches or the bloated self-importance. The roots of LUGNET may be visible to see, and the primal stomp of early Deep Purple, the apocalyptic sermonising of Black Sabbath and the cinematic majesty of Rainbow can easily be detected in the almighty sturm-und-drang. Yet this sound is delivered with charisma and maverick energy that effortlessly summons fresh vibrant life to a classic form.
The spark that lit LUGNET originates in 2009, when Fredrik Jansson-Punkka (also drummer of Angel Witch, and whose storied history includes stints in Witchcraft, Abramis Brama and Count Raven) met bassist Lennart 'Z' Zethzon at Sweden Rock Festival and the two first discussed getting together to jam. Three years later this finally came to fruition and guitarists Bonden Jansson and Mackan Holten joined the fray, alongside vocalist Roger Solander. An original plan to play '70s blues-rock with Swedish lyrics was ultimately warped and transformed into the monumental attack of 2016's self-titled debut proper on Pride & Joy Music.
The road to 'Nightwalker' saw changes afoot in the band, as Solander was replaced by the soulful pipes of Johan Fahlberg, who matches the swashbuckling charm of the Dio/Coverdale tradition with flourishes and personality all his own, whilst Bonden Jansson made way for wunderkind new guitarist Matti Norlin. This was a quantum leap on from the debut, replete with fiery interplay and incisive songwriting, from the slow Zeppelin-esque catharsis of 'Death Laughs At You' to the monstrous 'Stargazer'-esque grandeur of the mellotron-assisted finale 'Kill Us All'.
The aftermath saw Lugnet traverse from strength to strength, a notable highlight being packing out their tent at Sweden Rock Festival in 2018 even whilst a certain Birmingham-birthed Prince Of Darkness himself occupied the main stage across the field. Michael Linder (formerly of Troubled Horse) soon replaced Mackan Holten, and this line-up has subsequently amassed enough material for two albums, with all members throwing their hat into the ring songwriting-wise.
One of these 'Tales From The Great Beyond' has already been recorded at SolnaSound Recording with the dream-team of Simon Johansson (Wolf/ Soilwork) and Mike Wead (King Diamond/ Mercyful Fate) at the helm / mixed by Marcus Jidell (Avatarium/ Candlemass). Just like for the debut album, the front cover artwork was designed by Vance Kelly.
Whatever the future holds for Lugnet, only a fool would bet on the result not being a spectacular explosion of righteousness. This machine is firing on all cylinders, and rockers of all persuasions would be well advised to get on board or get out of the way.
"Tales From The Great Beyond" will be released on CD, LP and digitally on August 26th, 2022 via Pride & Joy Music.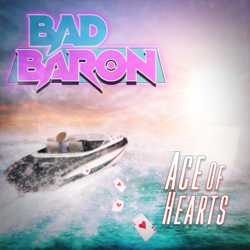 product: Bad Baron - Ace Of Hearts
release date: 26.08.2022
label: Pride & Joy Music
PR territory: world
PR contact: Diese E-Mail-Adresse ist vor Spambots geschützt! Zur Anzeige muss JavaScript eingeschaltet sein!
You might be tempted to assume that you've come across yet another Scandinavian sleaze rock band, following a path well-trodden over the past few years by bands like Crashdïet, Santa Cruz and Reckless Love. But you'd be wrong. Bad Baron, hailing from the metal mecca of Finland, do things a little differently.
From their breakout debut 'Sweet Talker,' that hit the airwaves of national station Radio Rock in February 2021, to their latest ballad 'Lost In The Night,' Bad Baron have proved again and again that they can take all the best parts from the golden age of rock music, wrap them up in an exhilarating hook filled package, and fearlessly cast it out into a world that never truly stopped loving yesteryear's rock titans.
Leading the band on vocals and bass is 2020 Voice of Finland contestant Lauri Huovinen, who cut his teeth playing in bands in the wintry northern city of Oulu. Guitarist Tommy Widdow and British keyboardist Alex Kron bring the pulsating riffs, vintage synths, and facemelting solos, while Sammy South keeps the beat with the (very) occasional drum solo. 'I'm a massive fan of the AOR and glam metal that came out of the 80s,' says Lauri 'Whitesnake, Journey, Mötley Crüe and so on, so it was amazing to find people who want to keep that flame burning in a time where rock musicians have to try harder than ever to cut through.'
With big looks, even bigger hooks, and more gratuitous key changes than you ever thought possible, Bad Baron set the bar just a little bit higher.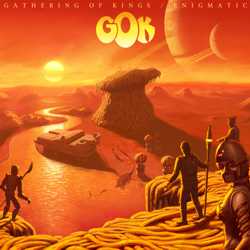 product: Gathering Of Kings - Enigmatic
release date: 29.07.2022
label: RN Records
PR territory: Europe
PR contact: Diese E-Mail-Adresse ist vor Spambots geschützt! Zur Anzeige muss JavaScript eingeschaltet sein!
Swedish melodic hard rockers Gathering Of Kings third studio album "Enigmatic" will be released on July 29th via RN Records.

The album was mixed and mastered by award-winning producer Thomas "Plec" Johansson in Skövde, Sweden with Ron Dahlgren, Nina Dahlgren and Victor Olsson as executive producers. The songs was written and produced by Victor Olsson. Drums were recorded at Nordic Sound Lab in Skara by Mikko Viitala and Victor Olsson. The cover artwork was created by Markus Vesper, who also handled the art on the previous two albums.
The album features a guest appearance from the Swedish pop group One More Time. Its members are the singers Nanne Grönvall, one of the most beloved and popular artists in Sweden, Maria Rådsten and Peter Grönvall, the son of ABBA's Benny Andersson, on keyboards.
Their first single Highland, 1992, hit the charts all around in Europe. In 1995 they composed a song for the Swedish Melodifestivalen, "Det Vackraste" that won a grammy for best song of the year, and in 1996 they won the Swedish Melodifestivalen and represented Sweden in the Eurovision Song Contest with their song "Den Vilda", which ended in 3rd place.

Gathering Of Kings are the successful project built by Ron & Nina Dahlgren, bringing together top musicians from the current hard rock scene in Sweden. The idea was to create an AOR/Melodic Hard Rock project/band like Tom Galley's Phenomena or even Tobias Sammet's Avantasia, with multiple vocalists and instrumentalists. Victor Olsson quickly became the main songwriter.
The superlatives have hailed over Gathering Of Kings, which takes you straight back to the golden age of 80's melodic hard rock and it is without a doubt one of the hottest acts in Sweden, now with two critically acclaimed records in the bag and the third album, "Enigmatic", will be released in July.

After the debut album "First Mission", Ron & Nina remodelled Gathering Of Kings from being a project to becoming a band with permanent members.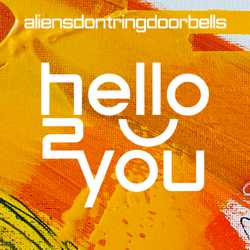 product: aliensdontringdoorbells - Hello 2 You (digital single)
release date: 29.07.2022
label: No Rules Music Group
PR territory: Europe, without UK; without radion in GAS
PR contact: Diese E-Mail-Adresse ist vor Spambots geschützt! Zur Anzeige muss JavaScript eingeschaltet sein!
When do you know that it's time to go full speed ahead?
When does it stop being something you do on a small scale and start playing for keeps? When do you know that it's good enough to let everyone else experience it too? after their critically acclaimed debut album ARRIVAL, they know that time is right now.
Aliens Don't Ring Doorbells, that name – because everyone asks – took root many years ago when singer-guitarist-saxophonist Dorian Foyil was on a New York City subway platform with his then-young son and an old man turned to the boy and said, "it's because aliens don't ring doorbells," a phrase that stuck with Foyil from that day forward. When it came to finding a name for the group he formed with fellow songwriters Adam King (lead and backing vocals) and Mark Boden (Keyboards & vocals), what was once just a memory of an old man chattering to himself – if indeed it was just that - just felt right as a band name. Filling out the rhythm section are band members are Kevin Dean on drums and Earl Forbes on bass.
Aliens Don't Ring Doorbells (ADRD) is an international pop rock band with Dorian hailing from the USA, Adam and Mark from the UK and Kevin and Earl from The Bahamas. The guys eventually connected via gigs played along the Costa Blanca of Spain, where a shared love for like-minded music turned out to be serendipity, and a band of brothers was born. In the Summer of 2019, the guys convened to the Bahamas where Dorian previously spent many years and began recording demos at Sanctuary Studios. The famed studio has an amazing live room, where the band put down the keys (used by none other than Alicia Keys in the previous session), drums, bass most vocals. In order to attract attention from bigger producers, the band wanted their demos to be as good as possible. That risky, but calculated decision worked. The first album 'Arrival' was recorded at The Keep Studio in Denver, Colorado. ADRD recorded 12 songs for the first album with producers such as Grammy winner Jeff Kanan (Madonna, Kelly Clarkson, No Doubt, Sting), Matthew Tryba (One Republic, Maroon 5, Taylor Swift) and Dan Konopka, an LA based producer who is also the drummer for the Grammy award winning band OKGO.
The Aliens band is releasing new singles in the summer of 2022 and a second iconic album is scheduled for release in March 2023. When it comes to songwriting, Dorian, Adam and Mark are emblematic of the saying "One for all, all for one." There are no set roles; at times, Mark will come up with the melody and Adam and Dorian will add the lyrics. At other times, Adam comes to the studio with a melody and lyrics already hummed or sung into his iPhone.
The band's first new single of 2022, "Hello 2 You" is an uplifting song that captures the 'joie de vivre' behind these Aliens and their accessible lyrics. Adam King's unbridled and earnest singing sets the tone for this song of renewal in believing what is possible. "I wrote the song for Aliens, it has an upbeat rhythm but the song is really about believing in yourself and taking positive steps no matter what age you are".
The wonderfully shot video, directed by Martin Bakker, was shot in the middle of one of Spain's largest orange groves and utilized panoramic views to bring impact to the song. "We spent two weeks in an eclectic recording studio located amazingly on the grounds of a massive orange grove; the views are forever" said Adam King.
The new single "Hello 2 You" is being met with much anticipation. "In the Spring of 2022 we toured Germany, Austria and Switzerland with the band Roachford and developed a solid fan base and we can't wait for this new single to hit" stated Boden.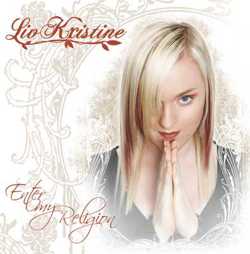 product: Liv Kristine - Enter My Religion
release date: 19.08.2022
label: Allegro Talent Media
PR territory: Europe
PR contact: Diese E-Mail-Adresse ist vor Spambots geschützt! Zur Anzeige muss JavaScript eingeschaltet sein!
ALLEGRO TALENT MEDIA/ PLASTIC HEAD/ ZYX MUSIC will release Liv Kristine's "Enter My Religion" first time as a vinyl with an extra single, cassette with two bonus tracks and as a double CD with unreleased tracks and demo recordings on August 19th, 2022!
Remastered by Andy Classen at Stage One Studio, this release will be available as Limited Double DigiPak (500 copies), Limited LP (300 copies, in two colours (gold & white) and Heavy Weight Vinyl 180g, Limited Tape 100 in Gold (100 copies).
In 2021 LIV KRISTINE's EP "Have Courage Dear Heart" was released and now we present the re-release "Enter My Religion" of the charismatic and nature-loving Norwegian. The album will be released for the first time as a vinyl with an extra single, as a cassette with two bonus tracks and as a double CD with unreleased tracks and demo recordings.
The album was remastered at ANDY CLASSEN's Stage One Studio. Not only the sound has been refined; also the cover and the photos, which were taken during a special photo session in the studio of KAI R JOACHIM from that time. The photo material shows a special depth and authenticity of the experienced artist, moreover, she hows herself in a very personal light - sometimes delicate and up close, or completely different - as a woman - absolutely self-confident in the whole large cosmos.
The songs were also adorned with universal influences. Sitar sounds introduce the title track, which comfortably gets under your skin with its insinuating melody arcs and LIV KRISTINE's delicate voice. The opener "Over the Moon" (PETER TÄGTGREN) hints at powerful metal, but then develops into a driving pop song. "Fake a Smile" is an airy ballad, with LIV KRISTINE's voice charmingly taking center stage and setting the tone for most of the songs on the album. The title track "Enter my Religion" is a mid-tempo anthem with a wise appeal to your inner self, your self-esteem, happiness and creativity. The pace continues with "All the Time in the World". Straighter and more guitar-driven is "My Revelation". Pleasing harmonies are in the foreground in the warm and soothing composition "Coming Home".
'Streets of Philadelphia' - BRUCE SPRINGSTEEN's theme song to the Oscar-winning movie was interpreted as a tribute. The arrangements being technically based on the original, LIV KRISTINE adds new and softer accents to the track. "You Take Me Higher" is extraordinarily different and more dance-oriented, with a subtle drum'n'bass overlay.
With "Trapped in Your Labyrinth" and "Fake a Smile" LIV KRISTINE spoils her listeners with profoundly sensual ballads and rock songs. The fairy-like singing, accentuated by piano sounds, envelops music lovers in a web of security, melancholy and longing.
"Enter My Religion" convinces as a spicy and varied album. The blond Norwegian succeeds in creating a fine album with romantic touches, which never slips into kitsch. Simply authentic, profoundly philosophical, surprising and absolutely LIV KRISTINE - luminous and enlightening.
Track list:
LP, Tape, CD:
1 Over the Moon, 2 Fake a Smile, 3 All the Time in the World, 4 My Revelation, 5 Coming Home, 6 Trapped in your Labyrinth, 7 Blue Emptiness, 8 You Are the Night, 9 Enter my Religion, 10 Streets of Philadelphia, 11 You Take Me Higher, 12 For a Moment
Demotracks CD: 1 Over the Moon, 2 Trapped in your Labyrinth, 3 You Are the Night, 4 Streets of Philadelphia, 5 You Take Me Higher, 6 Stjernenacht (unreleased), 7 Woman in Me, 8 One Thought Closer (unreleased)
Demotracks Tape: 1. Enter my Religion, 2. For a Moment
Bonus single Vinyl: 1. Trapped in your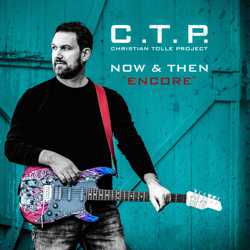 product: C.T.P. - Now & Then "Encores"
release date: 29.07.2022
label: ChrisTones Music
PR territory: Europe
PR contact: Diese E-Mail-Adresse ist vor Spambots geschützt! Zur Anzeige muss JavaScript eingeschaltet sein!
Born 1970 in Leverkusen, Germany, Christian Tolle was raised in a family where music had, and still has, its place. With a father who is an enthusiastic singer and a grandmother who played great piano, he discovered music quite early. At the age of 12, he got a guitar and took classical lessons. Soon after that, he got a Stratocaster copy and rocked the neighborhood with power chords and Heavy Rock. His first definitive statement was in 1987, when he released a song on a compilation of the German musician magazine "Musiker" at the age of 17. Many wonderful band efforts followed. He played with the Cologne-based bands Underdog and Black Rose. Also Christian started freelancing for WDR radio and the largest German musician magazine FACHBLATT. Inspired by Los Angeles big players, with whom he became acquainted during his time as a music-journalist, he decided to start his own project with the friends and musicians he had met and played with over the years.
In the years 2000 and 2005, the first two longplayers, Better Than Dreams and The Real Thing, were released and an illustrious crowd of international guests, such as Steve Lukather of Toto or Doug Aldrich make their appearance on the studio recordings. The Christian Tolle Project received excellent reactions from the audience and the press.
On the second release The Real Thing, the Dutch frontman and vocalist John "Jaycee" Cuijpers was significantly responsible for the lead vocals. As a result, Christian and John established a very creative chemistry. Christian and John merged their talents into the Dutch band of John Cuijpers, COOPER INC. Christian toured and played through Germany, the Netherlands and Belgium as well as COOPER INC. being the support act for the California super group TOTO for three years in a row on their German summer dates. COOPER INC. released their debut-longplayer Pulling The Trigger by COOPER INC. produced by Michael Voss in 2009.
2012 was the year of C.T.P. again: The third release The Higher They Climb got released on Fastball Music in March 2012. Christian and Michael Voss co-produced 12 tracks between summer and winter 2011. The result is nothing short of stunning meldodic rock. Performed with an incredible amount of energy the album contains a powerful mixture of hard hitting Heavy Rock tracks and catchy hooklines, great guitar work and some of the best voices in the genre: David Reece (Ex-Accept, Bangalore Choir), Leon Goewie (Vengeance), Paul Shortino (King Kobra, Ex-Quiet Riot, Rough Cutt) and Michael Voss (Michael Schenker, Casanova, Mad Max). Christian also invited a few of his friends to join as guests: L.A. guitar wizard Michael Landau, Ben Granfelt (BGB, Ex-Wishbone Ash), Andy Susemihl and Morris Adriaens perform a guitar solo on one track each and give the record a special flavour.
The fourth C.T.P. Release Now & Then from 2016 is a special one: Christian revisited some of his best tunes from the past and re-recorded them, added a bunch of great new tracks and wrapped everything in a very organic production. A wide variety of classic rock tunes, from hard pushing uptempo tracks to catchy AOR anthems. Christian is joined by John Parr, Philip Bardowell, Rick Riso, David Reece, Michael Voss, John Cuijpers, who deliver the vocal goods. Drummer Raymond Herveille sets the beat, Chuck Wright, Lauren Scheff and Christian himself rock on bass. Add Steve Lukather, Michael Landau, Tim Pierce and Doug Aldrich guesting as guitar players and the menu is set.
The 5th record came out in 2018. Over a period of 10 month 10 rockers had been recorded, reaching from the uplifting opener and title track Point Blank to the driving grooves on Too Late or the hook-ladden bangers Black Friday or Borderland as well as two covers: the legendary Since You've Been Gone and Classic Rock treasure Lonely Is The Night by Billy Squier. The production pounds with punch and transparency, so that Point Blank has become a real listening pleasure. The cast contains of David Reece (Ex Accept, Ex-Bonfire, Sainted Sinners, Bangalore Choir) and John Cuijpers (Cooper Inc., Praying Mantis, Ayreon) on vocals and Morris Adriaens on keyboards and backing vocals. Mathias Dieth (ex-UDO, Gravestone) and Doug Aldrich (Dio, ex-Whitesnake, The Dead Daisies) refine the album as guests with extraordinary lead guitars.
Fast forward to 2022: After the pandemic had slowed things down in an unfortunate matter for almost every artist, it is now time to release album number 6. Again, Christian decided to revisit some of the earlier tracks and combine a fresh and new sound with some brandew tunes for another very special release: Now & Then "Encore". Some of Christian's strongest tunes can be found here, such as the epic Ain't Gonna Let It slide, the cracker Fire Away or the great energetic power play in Never Had It So Good. The cast of musicians contains again the long year partners John Cuijpers (Cooper Inc., Praying Mantis, Ayreon), David Reece and for the first time David Frazee (Burning Water, Michael Landau Liquid Quartet) on vocals. Guitar wizard Mathias Dieth (ex-U.D.O., Gravestone) guests on two tracks, long time companion Morris Adriaens is on keyboards, Hammond organ and backings. Also Randy van der Elsen (Vandenberg) added backing vocals as well as Mendy Sneijers and Theo Talboom. Christian is responsible for guitars, bass, drums, production and mixing. It is fair to say that Now & Then "Encore" delivers a wide range of handmade Rock: pure variety, excellent songs and a modern, rich sound - Classic Rock with a modern edge.
Now & Then "Encore" will be released on the 29th of July on CTM ChrisTones Music on all relevant digital plattforms as well as a limited CD edition through selected shops and Christian's website.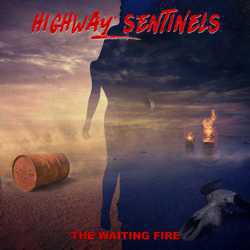 product: Highway Sentinels - The Waiting Fire
release date: 22.07.2022
label: Louder Than Loud
PR territory: world
PR: Diese E-Mail-Adresse ist vor Spambots geschützt! Zur Anzeige muss JavaScript eingeschaltet sein!
Highway Sentinels is a project created by Steven Rosen and Jimmy Waldo.
Steven, himself a legendary author, journalist and guitar enthusiast going back to the 1970s, be it traveling on a plane with Led Zeppelin or as a close friend of Eddie Van Halen, he has always been at the forefront of rock journalism and its surrounding culture.

Jimmy Waldo, founding member of Alcatrazz and New England, as well as having performed and recorded with the likes of Quiet Riot, Vinnie Vincent, Blackthorne, Pretty Maids, WASP, Skull, The Scream and many more, Jimmy has an astounding resume and a catalog of recorded music few can rival.

During the lockdowns of 2021 the two men set about recording a batch of songs that they had been working on for a number of years, some dating back even decades were brought into the mix.
The right vocalist had to be found as the guys wanted one consistent singer throughout to tie it all together, too many records these days are made up of singer 1 plus singer 2, 3, and 4…
And while there are a number of highly skilled guest guitarists on this record, the guys felt it important to also present this as a band-union so it not come across as yet another "chuck all these guys together and see what happens" type of project.
Each guest soloist was chosen for the song, rather than "name value" alone.

David Reece was this vocalist, his work with Accept, Bangalore Choir, Bonfire and as a solo artist speaks for itself… he was given complete freedom to write lyrics and vocal melodies.
A couple of songs come from the past, "Afterlife" and "We Won't Be Forgotten" come from Jimmy's past with Blackthorne, and "Victim Of The Night" a song David had recorded with Bangalore Choir which never found it's way onto the classic debut of that band.

Mark Zonder on drums brings an enormous pedigree to the record, known worldwide as the longtime drummer of Fates Warning and Warlord as well as the newly launched A-Z band with Fates Warning vocalist Ray Alder it all made sense to have Mark Zonder be the featured drummer on this record.

On bass we have Donnie Van Stavern, from the much loved metal legends Riot, Donnie's involvement means that no one has to worry about the bottom end falling out of a song, or having to have the guitarist re-cut the bass parts in a backroom somewhere… Donnie only plays one way… and that is go for the throat full on metal!

All together this is "Highway Sentinels" a record rooted very much in the traditions classic rock.The album is titled 'The Waiting Fire'….. but now you will wait no longer.

David Reece – Vocals; Steven Rosen – Guitars; Jimmy Waldo – Keys; Donnie Van Stavern – Bass; Mark Zonder – Drums