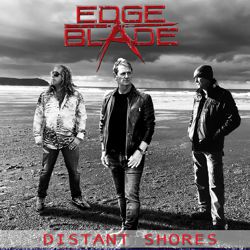 product: Edge Of The Blade - Distant Shores
release date: 26.11.2021
label: AOR Heaven
PR territory: world
PR contact: Diese E-Mail-Adresse ist vor Spambots geschützt! Zur Anzeige muss JavaScript eingeschaltet sein!
Featuring on lead vocals former UK AFTER HOURS vocalist John Francis along side Alan Kelly, former drummer of SHY and multi instrumentalist with 7HY.
Bringing on board lead guitarist Miguel Angel Lopez they have teamed up once again to bring you yet more exciting new material which will see roots based well and truly in AOR melodic rock.
They have released an album previously under the name of EDGE OF THE BLADE entitled 'The Ghosts Of Humans' on a British label in 2015 which was produced by Andrew Chick. This saw the band venture into heavier territory with influences from Avenged Sevenfold and Alter Bridge.
Although this album was well received with rock fans and critics worldwide the calling back to AOR was very strong.
Their second album 'Feels Like Home', got released in 2017 on a Danish label, and saw a welcome return to their roots and brought out the best in both John and Alan in a much more melodic genre that both have excelled in previously and saw them soar to new heights with influences from Journey and Foreigner that show their talents off to the fullest extent.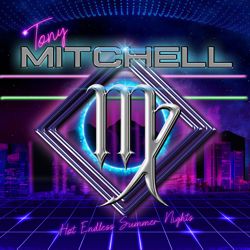 product: Tony Mitchell - Hot Endless Summer Nights
release date: 26.11.2021
label: AOR Heaven
PR territory: world
PR contact: Diese E-Mail-Adresse ist vor Spambots geschützt! Zur Anzeige muss JavaScript eingeschaltet sein!
TONY MITCHELL is best known as being the singer songwriter & fronting the 90s classic rock band "Kiss of the Gypsy" signed to Atlantic Records USA & Warner Chappell.
They toured the UK & states with their debut album & high energy live shows to great acclaim. Songs such as "Whatever it Takes", "Take This Old Heart". "From The Dirt" & "No Prize For the Loser" are still melodic rock classics to this day.
Mitchell has sang for "RICK WAKEMAN" on the album "Return to the centre of the earth" with "OZZY OSBOURNE", "TREVOR RABIN"etc. Sang & played guitar for "ALICE COOPER", "JON ANDERSON", "ALAN PARSONS PROJECT", "TONY HADLEY" & "IT BITES" on the British Rock Symphony South American tour 2000 & singer/guitarist for "STEALERS WHEEL". He has spent years writing & recording for various bands, artists, TV & media, also releasing albums with "KINGDOM OF DEADMEN" & early solo albums.
Mitchell was also the singer songwriter for Melodic Rock/AOR band "DIRTY WHITE BOYZ" with their 2016 album release, "Down & Dirty" including the singles "All in the Name of Rock n Roll", Hanging on a Heartache, "Ride With Angels" & "Dynamite".
In 2018, Mitchell released his solo album "Beggars Gold" to rave reviews with dynamic tracks such as "Playing With Fire", "What You Make It"(featuring Dante Fox's Sue Willetts), "Take a Look at me Now", "Never Say Die" & the poignant "Beggars Gold".
2020 saw Mitchell release his most successful album to date via AOR Heaven, "Church of a Restless Soul" that featured the duet with Danny Vaughn, "Mighty Fall", the uplifting "Living on the run, the heart wrenching "I Believe in Angels" & the ever catchy "Electric" to great acclaim.
Nearly two years on, Tony Mitchell releases his third & most ambitious album to date, "Hot Endless Summer Nights" which predominately has an 80's retrowave flavour. He draws on the experiences he had in the USA in the late 80's.
Mitchell spent several months travelling coast to coast taking in the sights, sounds & overall American culture & always said it was a massive influence on his songwriting.
Musicians on this album feature
MILES MEAKIN (MIDNITE CITY/LIFE OF A HERO) - LEAD GUITARS
NIGEL BAILEY (3 LIONS/DIRTY WHITE BOYZ) - BASS & BACKING VOCALS
EDDIE ANTONY (MITCHELL/KINGDOM OF DEADMEN) - DRUMS & PERCUSSION
DANIEL SINGS ( NO HARD FEELINGS/WHYTE LIES) - SAXOPHONE
THE ROGUES GALLERY ROCK CHOIR (MITCHELL) - BACKING VOCALS
TONY MITCHELL - VOCALS, GUITARS & KEYBOARDS.
From feel good "Hot Endless Summer Nights", the self biographical "Blame it on the Rock n Roll", ultra dynamic ballad "Strong Enough", the road anthem "Leave the World Behind" to the thought provoking climate change inspired track "Calling Mother Nature"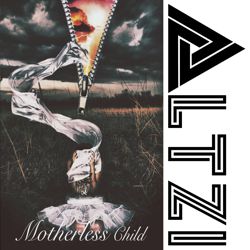 product: ALTZI - Motherless Child (digital single)
release date: 22.10.2021
label: RA Music
PR territory: world
PR contact: Diese E-Mail-Adresse ist vor Spambots geschützt! Zur Anzeige muss JavaScript eingeschaltet sein!
RICK ALTZI is an artist from Helsingborg, Sweden who started to play bass at the age of 14. He was a member in various tribute and original bands until 2004 and switched over to the microphone in 2005. His first album as vocalist saw the light of day in the year 2007 with the band AT VANCE. Since then, he has worked with a lot of outstanding musicians from bands such as Helloween, Accept, King Diamond, Pain Of Salvation, etc..
In 2020, Rick Altzi started to work on his first solo album under the moniker of ALTZI. Rick Altzi also is writing and recording with the bands Masterplan, Gathering Of Kings and Herman Frank.


"Motherless Child" is the fourth single from ALTZI's debut album "All Eyes On Me" (out: February 2022) which will be released via RA Music.

The line-up on the track "Motherless Child" is:
Rick Altzi - Lead & Backing Vocals
Peter Alpenborg - Rhythm Guitars & Keyboards
Nalle Påhlsson - Bass
Kevin Kott - Drums
Andy LaRocque - Lead Guitar
Ulrick Lönnqvist - Backing Vocals
Victor Ohlsson - Backing Vocals
Teresia Svensson - Backing Vocals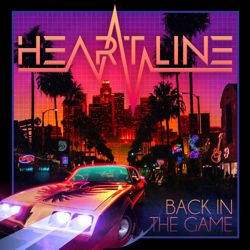 product: Heart Line - Back In The Game
release date: 19.11.2021
label: Pride & Joy Music
PR territory: world
PR contact: Diese E-Mail-Adresse ist vor Spambots geschützt! Zur Anzeige muss JavaScript eingeschaltet sein!
HEART LINE is the new AOR/Melodic Rock project by French guitarist and producer Yvan Guillevic (YGAS, PYG, United Guitars).
Surrounded by a fantastic team, the group consists of vocalist Emmanuel Creis (Shadyon, Equinox), keyboardist Jorris Guilbaud (Devoid, Shadyon), drummer Walter Français (Shadyon) and bassist Dominique Braud (YGAS, EBH).
Formed in 2020, HEART LINE has strongly been inspired by legendary 80's bands, from Whitesnake, to Foreigner, Journey, Winger, Bad English, Giant, and many more.
Powerful and melodic, the quintet takes us back to the beating heart of the 80's, with heroic guitar solos and soaring vocal lines, supported by a stunning rhythm section and virtuoso keyboard licks.
The brilliant artwork was designed by Stan W. Decker. HEART LINE are currently working on setting up a tour for 2022.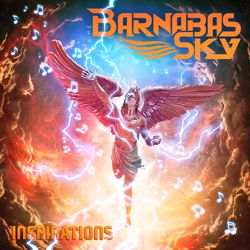 product: Barnabas Sky - Inspirations
release date: 19.11.2021
label: Pride & Joy Music
PR territory: world
PR contact: Diese E-Mail-Adresse ist vor Spambots geschützt! Zur Anzeige muss JavaScript eingeschaltet sein!
The new all-star hard & heavy project BARNABAS SKY comes from the mind of guitarist, composer and multi-instrumentalist Markus Pfeffer (Lazarus Dream, Winterland, ex-Scarlett) from Kaiserslautern/Germany.

The debut album full of catchy hooklines, edgy-groovy rocking guitar riffs and filigree guitar solos is titled "Inspirations" for a certain reason: Pfeffer was able to hire singers from internationally known bands for it, which had influenced him significantly during his musical beginnings: Jesse Damon (SILENT RAGE), Steve Grimmett (GRIM REAPER/LIONSHEART), Danny Martinez Jr. (GUILD OF AGES), Rob Rock (IMPELLITTERI/AXEL RUDI PELL), Zak Stevens (SAVATAGE) and Danny Vaughn (TYKETTO) do the lead vocals on the album.
TYKETTO's "Don't Come Easy" was one of the first CDs Markus Pfeffer listened to on an endless loop as a schoolboy in 1991. Three decades later, he composes two songs together with TYKETTO's golden throat Danny Vaughn, the appropriately titled epic opener "Legends Rise" and "Say Farewell To Darker Days" with elaborate vocal arrangements and poignant lyrics.
SAVATAGE singer Zak Stevens contributed lyrics about the psychological effects of the pandemic for the heavy stomping track "What Lies Beneath", which is underpinned with down-tuned guitar riffs and subtle orchestral arrangements, and he sings about a legendary figure of Russian folklore in the form of a bird with a woman's head on "The Alkonost".
GUILD OF AGES frontman Danny Martinez Jr. from Denver/Colorado dominates the melodic hard rock songs "Breathe Again" and "In My Mind" with his very own timbre and velvety voice. The latter is the album's first video track with a more than hooky guitar riff and lyrics about the increasingly important attention to mental health.
SILENT RAGE's smoky-throated frontman Jesse Damon carries the epic ballad "Till The End Of Time" and the rocker "Youngblood", with AOR legend PAUL SABU contributing backing vocals for both tracks. Nostalgia fact on the side: Interestingly, the Hollywood classic movie "The Thief of Bagdad" starring Sabus's father was Markus Pfeffer's favourite film during his childhood. Damon recorded his vocals in North Hollywood at the studio of Bill Metoyer (FATES WARNING, ARMORED SAINT etc.).
Melodic metal siren Rob Rock (AXEL RUDI PELL, IMPELLITTERI, M.A.R.S. etc.) takes over the mic on the riff monster "Yesterday's Gone" and GRIM REAPER's Steve Grimmett's unmistakable voice convinces on the straight rocker "Never Enough".
As a tribute, Pfeffer has adapted the title tune of the seventies TV series "Timm Thaler" in a "GARY MOORE way" and provided it with deliberate sonic and stylistic reminiscences of Moore's classic "The Loner".
Musical guests on the album are keyboardist Thomas Nitschke and pianist Michael Weickenmeyer, drummer/percussionist Thomas Rieder and bassist Bernd Schreiber. The album's artwork was designed by well-known French artist Stan W. Decker (RAGE, BLUE ÖYSTER CULT, MASTERPLAN) and mastering was done at Rolf Munkes' (CREMATORY) Empire studios in Bensheim, Hessia.
The names of the contributors speak for themselves - there can hardly be more arguments to lend BARNABAS SKY's debut album an attentive ear.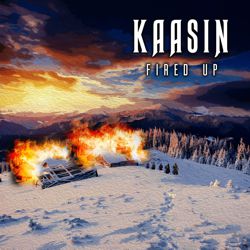 product: KAASIN - Fired Up
release date: 19.11.2021
label: Pride & Joy Music
PR territory: world
PR contact: Diese E-Mail-Adresse ist vor Spambots geschützt! Zur Anzeige muss JavaScript eingeschaltet sein!
Debut album from hardrock band KAASIN. KAASIN was founded by guitarist, JO HENNING KAASIN, collaborator with JOE LYNN TURNER (Deep Purple/Rainbow), GLENN HUGHES (Deep Purple/Black Sabbath), DOOGIE WHITE (Rainbow/Michael Schenker), BERNIE MARSDEN (Whitesnake), founding member, guitarist and songwriter with COME TASTE THE BAND.
After 23 years and great success with the album "REIGNITION", feat. JOE LYNN TURNER & DOOGIE WHITE, COME TASTE THE BAND was put on ice in January 2020. Guitarist and main songwriter, JO HENNING KAASIN, then went on to form his own band, simply called KAASIN. He recruited his cousin, STAALE KAASIN from SPIDER and 2020VISION, to handle bass.The band also features the Norwegian singer, JAN THORE GREFSTAD, known for his incredible vocal duties with SAINT DEAMON, HIGHLAND GLORY and TNT. KAASIN also includes BENJAMIN DEHLI on hammond organ/analog synth and CHRIS BRUSH on drums.
KAASIN released two singles "RUNAWAY TRAIN" and "REVELATION" on Streampeak Music in 2020. Both have been a great success, streaming in thousand upon thousand on Spotify, Youtube, iTunes, and other download/streaming services. "RUNAWAY TRAIN" also went Top 10 on rock radio stations in France, the UK, Sweden and Norway.
KAASIN released a third single, "HIDDEN" on Pride & Joy Music in July 2021, i.e.the first single from the upcoming album, "Fired Up". Recorded and engineered in JUKE JOINT STUDIO, Notodden – Norway and at DEHLI MUSIKK, Bø in Telemark. Produced by Benjamin Dehli, Halvor Halvorsen & KAASIN. The CD version of this release contains last year's two digital singles, "Runaway Train" and "Revelation" as bonus tracks.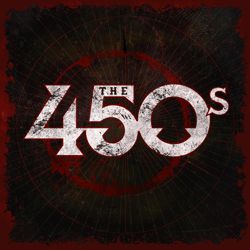 product: The 450s - The 450s
release date: 19.11.2021
label: Louder Than Loud
PR territory: world (excluding North America)
PR contact: Diese E-Mail-Adresse ist vor Spambots geschützt! Zur Anzeige muss JavaScript eingeschaltet sein!
Tales of decadence and despair are rendered with dark and edgy musicality in the provocatively titled songs "Flowers for Columbine" and "Lust and Denial." Cleary, The 450s aren't afraid to delve deep into the heart of darkness, either lyrically or in their modern take on soulful, raucous rock 'n' roll. Thankfully, some do get out alive, including frontman Rhett, who, like the other members of The 450s, is a musician with a storied history and prolific creativity.
But past critical raves and credits—and there are many among this foursome—don't necessarily translate into brutally honest, beautifully rendered rock songs, influenced by the ages, but sonically current. Musical chemistry is elusive, but this band of brothers—though only two, Robert and James Jacobs, are blood brothers—have been friends and sometime musical collaborators for decades despite living in Florida, Connecticut, Georgia and Pennsylvania. Each musician had their own project when they came together: Respected drummer and producer (Anthrax, Blue Cheer and more) Carl Canedy just released an album with his iconic band the Rods; the Jacobs' found strong success with a 2019 release from their acclaimed band St. James; while Rhett, a veteran of major labels, was thriving as a solo artist, earning critical praise for his "ugly-beautiful, gutter-to-penthouse vocals."
When the quartet got together in Miami, on a whim, the chemistry was effortless, the resultant songs so strong that they caught the ear of legendary producer Jack Douglas (Aerosmith, Cheap Trick, Patti Smith), who went the extra mile in mixing the album, highlighting The 450's inherent musical tension and dynamics. Chris Collier (Korn, Prong) also worked on the mixing/production, helping to hone the "modern" part of The 450's "modern vintage" vibe.
The result is songs with an immediacy and nakedness that's so intense it's almost scary. The bluesy flamenco spookiness of "One King" is hauntingly cinematic; while the addictive "Black Tar" mixes a raw power with a dramatic string section, courtesy of keyboard player Ryan Sambrook. The musical push-pull comes from their personalities, as they explain: "Carl is the foundation and Bobby is the bridge between Carl and the rest of the band." Jimmy, who cites "Jimmy Page's arrangements and production abilities and David Gilmour's precision," among his influences, "brings the whole thing together musically." And Rhett himself? He brings a reckless urgency vocally, observing, "This is the heaviest record I've ever done, yet it has subtleties, and I hope, at times, a pop sense. Lyrically, this album talks about the thin lines that differentiate where one ends up in life."
The 450s bring an old-school band ethic to bear: No resting on laurels, no copping styles from their forefathers; no pre-fab or pre-conceived anything. "We got together in a room and turned everything up real loud," they explain. "We jammed and recorded what came out. Ultimately, it's "about creating this group of songs out of nowhere for no reason other than it's what we all love to do."