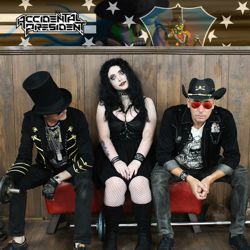 product: Accidental President - s/t
release date: 01.07.2020
label: Tunecore
promo contact (Europe): Diese E-Mail-Adresse ist vor Spambots geschützt! Zur Anzeige muss JavaScript eingeschaltet sein!
Accidental President are a female fronted Alt-Rock 3 piece playing their own brand of hard rock mixed heavily with goth and metal influences - with a theatrical flair. Influences vary - from Maria Brink to John Petrucci via Sisters of Mercy, Evanescence & Alter Bridge.
Hard work and passion are the backbones of a successful band and Accidental President fits the bill perfectly. Originally formed in 2015, the group has gone through a long, hard road of 'Spinal Tap-esqe' lineup changes and life events that caused a lot of pitfalls in their development. Their passion never slowed though and Accidental President used these challenges as motivation to build something spectacular that is now ready for the world to hear.
The Sydney, Australia based band has formed their own brand of hard rock mixed heavily with goth and metal influences. Adding to their intrigue and performance,
Accidental President throws in a theatrical flair to grab all of your senses. Currently composed of Bethany Neville on lead vocals, Dave Ben Lee on Guitars, and Leon Cadden on Drums, Accidental President is at their peak performance.
Each band member brings in their own prized talents. In fact, Dave earned a fellowship from London College of Music in Electric Guitar, Leon has been playing drums in successful bands for too many years to count, and Bethany brings in an unmatched vocal talent that has been praised by fans and critics alike.
If their musical talents don't immediately captivate you, their live performance will. Each live show is packed full of visual stimulation. A rapidly growing fanbase locks in to see the spectacle. From creative costumes to an in your face stage show, AP is not a band you want to miss live.
If not obvious by the name, Accidental President is a band that wants to share their ethos of social awareness. This is especially relevant in our current times of political upheaval and inequalities around the world. The band connects with their listeners on a level much greater than just the music.
Now Accidental President is ready to blast off to a broader audience. The lineup is solid, the music is strong, and the stage show is spectacular. Their official debut album is set for release on July 1st 2020. The future is looking up in their hands.
Come along for the election, and don't forget to vote for the Accidental President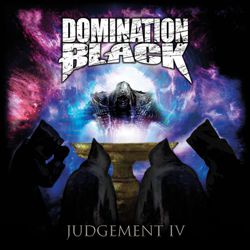 product: Domination Black - IV
release date: 17.07.2020
label: Pride & Joy Music
promo contact: Diese E-Mail-Adresse ist vor Spambots geschützt! Zur Anzeige muss JavaScript eingeschaltet sein!
DOMINATION BLACK have come a long way since their formation in 2003. After releasing their first two albums in 2005 and 2006 with their first line-up they already had started steering into a more melodic direction with their MCD "The Haunting" in 2008. In 2009, however, original vocalist Kari Killgast left the band. About half a year later, DOMINATION BLACK found a new frontman in person of Matias Palm (Merging Flare, Heavy Metal Perse) and started recording their 3rd album "Dimension: Death" which was then released in 2012. It truly was a step into a new melodic sound and received raving reviews all over the place. Supporting the album, the band toured in Finland, Sweden, Romania and Russia.
The year 2014 saw DOMINATION BLACK releasing their new single "Master Of Deception" and visiting Estonia for the first time. Since then, there was a break for a couple of years until the band finally started demoing songs for their next full-length album. But this also meant that some changes needed to be made. Along came new drummer Ville Nissinen (formerly of ID: Exorcist) and guitarist Juuso Laitinen (Deathproof). The recordings were finally started in summer 2018 with the new energy. The group also played some gigs to introduce their new line-up to the audience.
Now, DOMINATION BLACK are ready to release their new album "Judgement IV". The band has also shot a music video for the song "Center Of The Universe" which will be released soon.
The record was produced by DOMINATION BLACK and mainly recorded at Äänilaitos Studio, Kotka by J-P Pusa and Juuso Elminen. Vocals were recorded at Sonic Pump Studios in Helsinki by Eero Kaukomies, and bass tracks & acoustic guitars and some lead guitars were recorded by Matias Palm in Helsinki. The mixing and mastering was handled by Saku Moilanen.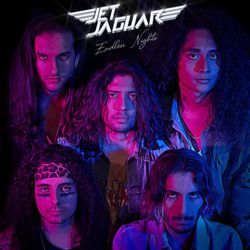 product: Jet Jaguar - Endless Nights
release date: 17.07.2020
label: Pride & Joy Music
promo contact: Diese E-Mail-Adresse ist vor Spambots geschützt! Zur Anzeige muss JavaScript eingeschaltet sein!
JET JAGUAR was formed in 2014 and hails from Cancun, a city located in the Mayan region of Mexico. The band's name was inspired by the Jaguar, a sacred animal for the Mayan civilization and for the areas inhabited by the Mayans.
In early 2016, their "Zero Hour" EP was released. The title track and their first Spanish song "Rompiendo el Acero" have become fan favorites.
2017 was a busy year for JET JAGUAR. This year saw them tour Mexico twice (for a total of 35 dates). The group also embarked on their first European tour across Germany, Belgium, The Netherlands, Poland, Hungary and Romania.
JET JAGUAR received worldwide recognition by being the first Hispanic-American band to ever win the Wacken Open Air Metal Battle in Germany in August 2017.
In 2018 JET JAGUAR performed in Mexico City at the biggest metal festival in Latin America, "Corona Hell and Heaven", alongside acts such as Ozzy Osbourne, Deep Purple, the Scorpions, Judas Priest and Megadeth. They also performed at "Tecate Mexico Metal Fest" and had their first gig at the Lunario del Auditorio Nacional (Mexico City). JET JAGUAR kicked off 2019 with performing at the biggest festival in Costa Rica "Grito Latino Fest".
Currently, JET JAGUAR is planning the release of their debut album "Endless Nights", which will see the light on July 17th, 2020 on German Heavy Metal label Pride & Joy Music.
Future plans include touring throughout Mexico, Europe and Latin America in support of the album.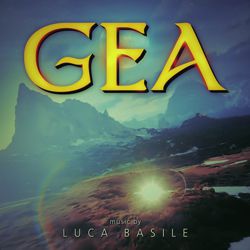 product: Luca Basile - GEA (digital single)
release date: 25.05.2020
label: self-released
PR contact: Diese E-Mail-Adresse ist vor Spambots geschützt! Zur Anzeige muss JavaScript eingeschaltet sein!
On May 25, 2020, the cellist and composer Luca Basile, during the "Quarantine period", released his first soloist composition: "GEA", like the primordial Godness, Crono's and Rea's mother from which the Olympus born. GEA is Mother Nature, which properly in this period of Covid 19, showed us her scream, her call to what is her own, through wealth and beauty that gives us as present.
She reminds us, that we are not her masters, but her GUESTS.
The sound awakens memories of epic lands, mystical adventures and emotional atmospheres like the best epic orchestrated soundtracks!
BIO
Luca Basile is an Italian cellist, arranger and composer who plays with the Symphonic Metal band Elegy of Madness. He specializes in classical music and in Metal/Rock music with a great passion for an epic, cinematic sound!
Basile toured all over the world both with Symphonic Orchestras and metal bands! He released four albums with his band and was involved in lots of collaborations with other projects both as cellist and arranger/composer of Metal, Epic/Classical music, Pop and Jazz music. He is also working as composer for films and video games and as cello and music theory teacher at music schools.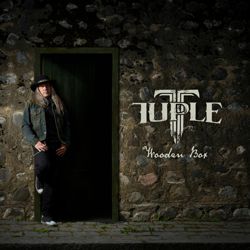 product: Tuple - Wooden Box
release date: 26.06.2020
label: AOR Heaven
PR contact: Diese E-Mail-Adresse ist vor Spambots geschützt! Zur Anzeige muss JavaScript eingeschaltet sein!
Tommi 'Tuple' Salmela, born June 3rd, 1969 in Kuopio, Finland, is a Heavy Metal singer and known from bands such as TAROT, LAZY BONEZ and RASKASTA JOULUA (Ragnarok Juletide). His debut solo album "Wooden Box", an AOR/Hard Rock concept album, telling stories of his life, will be released on June 26, 2020.
Tuple came into the limelight after joining Finnish pioneer metal band TAROT. In May 2006, the band reached the number one slot on the Finnish charts for the first time in the history of the band with the single 'You'. He also participated in the Finnish version of the "Clash of the Choirs" reality TV show in 2010 with Marco Hietala, the ringleader of TAROT and better known, nowadays, for being in NIGHTWISH. When they performed a version of the TAROT song "I Walk Forever", this made an huge positive impact on he group's career. TAROT toured in Europe, South America, USA and Japan. They also played big festivals like Prog Power (USA) and Bloodstock (UK).
Tuple's music career is a long one, including singing background vocals for many Finnish bands like Amorphis, Twilightning, Cardiant and so on. He's also one of the singers of Raskasta Joulua, which is a Finnish band recording and performing traditional Christmas carols and hits in a Heavy Metal style. These days, Tuple is also the lead singer of LAZY BONEZ. He performed a duet with Bernie Shaw (URIAH HEEP) on the song 'Devils Dice' from the album 'Alive'.
When Tuple turned 50, he came up with the idea to make a solo album, with his old friend and composer Riitis, about his life that has been sort of a roller-coaster ride. You could say that the 'Wooden Box' release is some kind of personal spiritual purification. Tuple's influences come from bands like Journey, Kansas, FM, Uriah Heep, Boston, Chicago, Strangeways, Black Sabbath, Dio and lots of other AOR bands - the list goes on and on. His motto is 'what doesn't kill you makes you stronger'.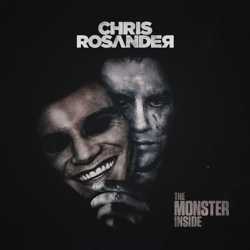 product: Chris Rosander - King Of Hearts
release date: 26.06.2020
label: AOR Heaven
PR contact: Diese E-Mail-Adresse ist vor Spambots geschützt! Zur Anzeige muss JavaScript eingeschaltet sein!
Christian Rosander is a 22-year-old musician and songwriter from Örnsköldsvik, Sweden. He studied music for about 11 years, three of them in high school and two years in college. Since he was 14 years old, he'd been writing songs in the AOR/Melodic and Westcoast genre.
His main influences include Toto, H.E.A.T, Queen, Chicago, Def Leppard among others and have been an important inspiration for his musical work. Rosander's musical work includes artists and bands such as Michael Ruff, Paulo Mendonca, Frank Ådahl and X-Romance.
On 26th June 2020, the guitar player will release his first solo album entitled "King Of Hearts". It was written and produced by Christian Rosander between Autumn 2017 and early 2020. Peo Hedin took care of the mixing at Orange Monkey Studio.
Christians says: "The recording of this album is a journey that began back in the autumn of 2017 when I was still studying at college. My roots emerge from the Classic Rock/ Hard Rock & Metal genres but when it came to writing my own songs, I've always been drawn to the Westcoast/AOR/Melodic Rock genre. During my time at school, all I did was practicing, especially Jazz standards. Somewhere along the way, I started to put more jazzier chords and harmonies into my songs, and that's how I discovered my sound. The first song I wrote for this album was "Can't Let Go," The rest of the tracks came as the time passed by."
product: Operus - Score Of Nightmares
release date: 19.06.2020
label: Pride & Joy Music
PR contact: Diese E-Mail-Adresse ist vor Spambots geschützt! Zur Anzeige muss JavaScript eingeschaltet sein!
OPERUS' world class performance style is a cross breed of a metal band with the dramatic performance of theatre that come together to produce a unique sound and thrilling live show.
Formed by six professional musicians, OPERUS' depth comes from the vast musical experience each member brings with them. From extensive studio time, to worldwide performances in metal bands, Symphonic/chamber orchestras and the stages of musical theatre. OPERUS has come for all metalheads and music lovers around the globe.
The combined musical knowledge in OPERUS comes from decades of intense dedication to music with University and Masters Degrees, Royal Conservatory of Music certifications and first-hand experience from performing live across North and South America, Europe, and Asia.
These experiences from the band members include well known ensembles such as Trans-Siberian Orchestra (Robin Howe), Annihilator (Oscar Rangel), Vital Remains (Dean Paul Arnold), Skull Fist (J.J. Tartaglia), Eclipse Eternal (Wojciech Sokolowski), and leading roles in professional theatrical productions such as Jukebox Hero and Beauty & the Beast (David Michael Moote).
OPERUS has brought their world class performance to such great stages as Wacken in Germany and Force Fest in Mexico in addition to opening for power metal heavy hitters Sonata Arctica and the Rhapsody Reunion Tour.
In 2015 OPERUS recorded and produced their debut EP, "Opus I", which was followed by their debut full length album "Cenotaph" recorded at Silverwings Studios, Montreal in early 2017. Cenotaph was released worldwide on October 13, 2017 through Dark Star Records in Association with MVD Entertainment and Sony Music.
In 2019 Operus returned to Silver Wings Studios to begin recording their second full length album, "Score of Nightmares", which is set to be released on June 19, 2020 through Pride & Joy Music.