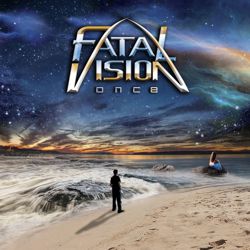 product: Fatal Vision - Once
release date: 22.07.2022
label: Pride & Joy Music
territory: world
PR contact: Diese E-Mail-Adresse ist vor Spambots geschützt! Zur Anzeige muss JavaScript eingeschaltet sein!
Fatal Vision may be a new name in the rock scene today, however the band was born back when hard rock ruled MTV and every arena from coast to coast. Hailing from Ottawa, Canada, Simon Marwood and fellow founding members Chris Hirsekorn and Howie Manderson combined their love for bands like Asia, Journey, Europe, Survivor and Van Halen to bring a refreshing sound to melodic rock. But life can bring unexpected changes, and Fatal Vision was put into park.
Fast forward to 2019, and Marwood received an unexpected birthday gift to record at a local studio. Instead of following the well-trodden path of recording a cover song, he dusted off his numerous notebooks of songs from decades past. With the blessing of the original members, these sessions saw the Fatal Vision machine roar suddenly back to life. With exceptional band members Andrew Burns (bass), a veteran who specializes in the sub-frequencies; Juan Miguel Gomez Montant (guitars), a producer, audio engineer and guitarist for numerous award-winning bands; Scottie Irving (keyboards) a composer of theatre, jazz, pop, and rock acts; and Alex Wickham (drums), a performer at numerous festivals with a lengthy list of A-list studio clients, Fatal Vision is a band with both the skills and the knowledge to realize a powerful musical vision.
The debut single, "Turn Around", has recently charted globally; #10 on the UK and New Zealand iTunes Rock Charts, #88 in New Zealand and #89 on the UK overall charts, #63 on the US iTunes Rock Chart, and #40 on the Spotify Local Pulse: Manchester chart. Turn Around has also surpassed 100,000 streams on Spotify. The hits keep coming with standout tracks like "Heartbreaker," "Open Your Eyes," "Against the Wall" and "Time Keeps Slipping Away," the influence of melodic rock royalty shining through with every hook and stadium-size chorus. The debut album features contributions from hard rock heavyweights including Lenny Castro (Toto), Alessandro Del Vecchio (Hardline, Sunstorm), Mark Holden (Boulevard), JK Northrup (King Kobra, XYZ), Marc Lafrance (Loverboy, Mötley Crüe), Paul Laine (Danger Danger, The Defiants) and Jeff Scott Soto (Journey, Talisman, Trans-Siberian Orchestra), with production assistance from Del Vecchio, Northrup and Ron Nevison (Bad English, Europe, Heart, KISS, Led Zeppelin, Survivor).
Over 30 years after its inception, the band brings back the epic style of music that has withstood every trend thrown in its path, while incorporating modern production techniques to provide a fresh sound. The band is ready to once again fire up its engines, giving audiences a taste of what was once standard: great songs, catchy choruses, virtuoso musicianship, a wall of backing vocals, captivating videos, and a live band that sets the tone for what has been missing in music for so long.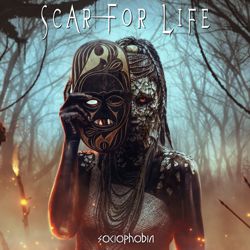 product: Scar For Life - Sociophobia
release date: 22.07.2022
label: Pride & Joy Music
territory: world
PR contact: Diese E-Mail-Adresse ist vor Spambots geschützt! Zur Anzeige muss JavaScript eingeschaltet sein!
SCAR FOR LIFE is back with their 5th album SOCIOPHOBIA, bearing 12 new tracks and some additions to Alex Santos' and Rob Mancini's past adventure, the 2014 album "World's Entwined".
Joining the line-up for the new album to reinforce SCAR FOR LIFE's ambitions are Marc Lynn (GOTTHARD) on bass, and guest musicians Tobbe Jonsson (THE LIGHTBRINGER OF SWEDEN) on drums and Darrel Treece-Birch (TEN) on keyboards.
After an almost six years break, the time was given to work on SOCIOPHOBIA reflecting the controversy of the actual world situation in their energy, songs and especially in their lyrics.

SO FAR:
Guitarist Alexandre Santos founded the Portuguese heavy rock band SCAR FOR LIFE in 2008. Creating songs from the most vitriolic, groovy assaults to soft acoustic pieces, and with a penchant for memorable hooks and vocal melodies, SCAR FOR LIFE embraced all the influences that make it emotional and powerful.
The debut album, "Scar For Life", was released in July 2008, recorded at Ultra SoundSystem studio facilities, with Daniel Cardoso (Anathema) as mixer and drummer. The reception for the debut album was very positive, called passionate and 'honest [with] a clear vision of their sound and identity' (Metal Invader) and filled with 'ace musicianship, and infectious energy' (Metal Imperium).
"It All Fades Away" recorded in May 2010 was the band's second release and the media reaction surpassed the first album. Considered Album of the Year by Brazilian Collector's Room webzine, one of the top ten Portuguese metal albums of the year by several webzines and 'deserving of any praise they get because their music speaks for itself' by My Global Mind.
The third "3 Minute Silence" was by far the most ambitious work to date. It was released in September 2012 and was exploring a heavier and more melodic side, the album features guests such as violinist Anne Vitorino d'Almeida, Finnish singer Kari Vahakuopus (Catamenia) and British keyboardist Ged Ryland.
2014 was one of some major changes in the line-up. Singer Rob Mancini (BONEYARD DOG) and Teen Asty (guitar, bass) joined the band to record the new album titled "Worlds Entwined". The epic work, mixed by Swedish producer Martin Kronlund, featured special guests such as Vinny Appice (Black Sabbath/Dio), Mikael Carlsson and Neil Fraser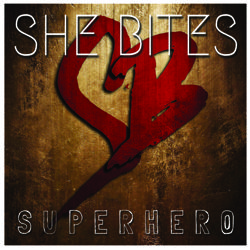 product: She Bites - Super Hero
release date: 22.07.2022
label: Pride & Joy Music
PR territory: world
PR contact: Diese E-Mail-Adresse ist vor Spambots geschützt! Zur Anzeige muss JavaScript eingeschaltet sein!
SHE BITES, the German Rock sensation, who released its debut "Joyride" in the year 2020, now returns with the sophomore melodious and rocking release "Super Hero"!
Lars König (g, LIONCAGE, ex SKYLINE) wrote 12 new songs and arranged them together with Carsten Kohl (dr. THREE WISHES). For "Super Hero", SHE BITES was joined by Hamburg based new singer Marion Welch who shines with her soulful but nevertheless rocky voice. Welch in the past has worked with rock heavy-weights such as Bobby Kimball (ex TOTO) and Bill Champlin (CHICAGO) amongst others and is the perfect fit for SHE BITES' sound of today!
The album "Super Hero" features Carsten Kohl on drums and Arvid Lucas (LIONCAGE) on bass guitar. The band filmed a video for the opening track "Eye Of The Storm" which impressively showcases the group's live presence. Dan Reed of DAN REED NETWORK supplied some stellar vocals for the duet on the ballad "True Love".
SHE BITES with "Super Hero" offers the right Summer soundtrack album for any fan of Journey, Survivor and FM – 12 songs with big choirs, lots of guitars and pounding drums!
To be released on Pride & Joy Music on July 22nd, 2022!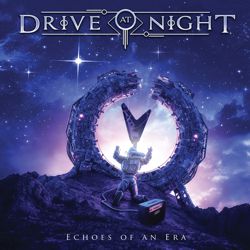 product: Drive At Night - Echoes Of An Era
release date: 17.06.2022
label: Pride & Joy Music
PR territory: world
PR contact: Diese E-Mail-Adresse ist vor Spambots geschützt! Zur Anzeige muss JavaScript eingeschaltet sein!
Drive at Night was formed 2021 by the two long-time friends and band mates Joachim Nordlund and Johan Lindstedt from Astral Doors and SunStrike.
As they both love the melodic rock from the 80's, it was not hard to choose which direction to take with their music.
During 2021, 12 songs were written and recorded in Joachim's studio in Borlänge, Sweden, and produced by Drive At Night. The cover artwork was designed by Blekkmark Design.
Drive At Night follow the tradition of the great Scandinavian Melodic Rock bands and offer lots of great melodies, huge keyboard sounds and sing-a-long choruses.
The debut album "Echoes Of An Era" will be released on June 16th on CD & digital and as LP later during this year.
The songs "The 80's Calling", "Youth Of Today" and "Weekend Fun" will be released as singles in advance.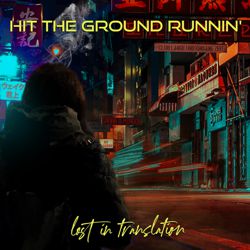 product: Hit The Ground Runnin' - Lost In Translation
release date: 18.06.2022
label: Pride & Joy Music
territory: world
PR contact: Diese E-Mail-Adresse ist vor Spambots geschützt! Zur Anzeige muss JavaScript eingeschaltet sein!
Hit The Ground Runnin' is an AOR/Rock group founded in 1985 in Delaware County Pennsylvania. Originally under the name Free Delivery; the original classic lineup consisted of Paul Piccari (Bass), Blair Rumsey (Vocals), Alan Augunas (Guitar) , Jimmy Katone (Drums) and Rob Knauss (Kay) (Keyboards). In 1986 the band was signed to a production deal with Power Up records / Nice Productions and from 1986-1991 appeared over 15 times on the acclaimed TV show "Dance Party USA". This band had more appearances on this show more than any other group including the likes of Madonna, Duran Duran, Bon Jovi, Will Smith, Nine Inch Nails, 2Pac and New Kids on The Block. In 1989 the band was invited as the only Eastern American group at the 2nd Monterey Music Pop Festival with Jeff Healey, Billy Preston and War. The band in 1990 also did a national radio and promotional tour of Canada, playing select dates in Ontario and Quebec. The band also wrote two songs for TV and film including the track "Back Again" for Rocky V in 1990 and "Surrounded By Fire" for Backdraft in 1990 that unfortunately were not selected in the final production. This band has played alongside with Blue Oyster Cult, Tangier, Britny Fox, Cinderella, Blue Murder, Aldo Nova, Gorky Park, John Entwistle and Donny Osmond.
With a catalogue spanning over 3 decades with 3 celebrated albums; Sudden Impact (1989), Control Yourself (2001), HGR (2007), the bands newest and fourth release entitled "Lost In Translation" written over a span of almost 30 years; a majority of these are songs were originally written and recorded in demo format for an original Free Delivery Release that never happened. As the band was rebranded into "Hit The Ground Runnin'" these songs were essentially "Lost in translation" as the band was working on their 1989 album Sudden Impact. They manifest a wide variety of eclectic sounds and stylings within the Hard Rock, AOR and Pop-Rock genre and represent a unique time in the bands early history as they were emerging within the Philadelphia rock scene back in the mid 1980's. With Drum tracks recorded in Michigan, Keyboard tracks recorded in New Jersey and Maryland, and Vocals, Guitar, and Bass in Paul's studio in Pennsylvania, This album embodies the past and present of Hit The Ground Runnin' from a wide variety of locations.
The bands first single released on November 26 2021 entitled "Simply Because" has been a huge momentous success for the band with over 140,000 views on YouTube in the first 3 months of release.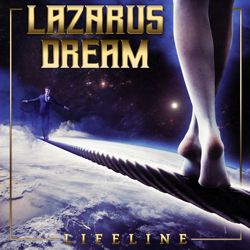 product: Lazarus Dream - Lifeline
release date: 18.06.2022
label: Pride & Joy Music
PR territory: world
PR contact: Diese E-Mail-Adresse ist vor Spambots geschützt! Zur Anzeige muss JavaScript eingeschaltet sein!
LAZARUS DREAM, the German Melodic Hard Rock duo consisting of singer Carsten "Lizard" Schulz (Domain, Evidence One, Devoid) and guitarist Markus Pfeffer (Barnabas Sky, Winterland) returns with the sophomore release "Lifeline". Just like its predecessor, this release is a feast for any fan of the genre and of groovy riffs, bombastic choirs and catchy melodies!
The release opens with the six minute long epic "Dead End Symphony" which features none other than Derek Sherinian (Dream Theater, Black Country Communion, Sons Of Apollo, Billy Idol) on hammond, Moog & synths. Throughout the album, the influences from groups such as Dokken, Winger, Tyketto, Queensryche become obvious. In addition to this, LAZARUS DREAM also stands for pounding bass lines and modern synths. Carsten Schulz contributes to the sound with his unique, distinctive voice and bombastic choir arrangements.
The other guest musicians on the album are Markus Kullmann (Sinner, Glenn Hughes, Voodoo Circle) as well as the percussionists Andy Lübbert and Thomas Rieder. Jorris Guilbaud (Devoid/ Heart Line, keys) is heard on synths on the track "Overdose Of Paradise". Keyboard player Thomas Nitschke appears on the songs "Freedoom" and "Your Voice Inside My Head".
The CD version of "Lifeline" includes the track "Surrounded By Strangers" and a cover of the 80's classic tune "I Engineer" (originally recorded by Animotion) as bonus material; the digital version includes the bonus track "Once Upon A Time".
Stan W. Decker (RAGE, BLUE ÖYSTER CULT, MASTERPLAN) contributed the artwork for "Lifeline" and Rolf Munkes (CREMATORY, Empire Studios) took care of the mastering.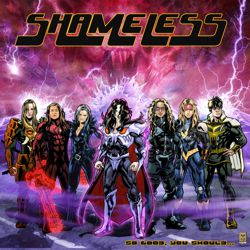 product: Shameless - So Good, You Should...
release date: 20.05.2022
label: Pride & Joy Music
PR territory: world
PR contact: Diese E-Mail-Adresse ist vor Spambots geschützt! Zur Anzeige muss JavaScript eingeschaltet sein!
Shameless is a Hard Rock Glam band formed in the Spring of 1989 by bassist Alexx "Skunk" Michael in Munich, Germany. After a breakup, Michael decided to reform Shameless in 1998 with his friend and guitar player BC. Alexx enlisted help from drummer Eric Singer (KISS, Alice Cooper, Black Sabbath), who's introduction to Steve "Sex" Summers (Pretty Boy Floyd) and Stevie Rachelle (Tuff) started a long lasting musical relationship. Since then, the international outfit has released 7 full-length albums and went on numerous tours.
For "So Good, You Should…", Michael again teamed up with guitarist partner BC, Charlotte Tybalt, Dennis Post, Stevie Rachelle (Tuff), Frankie Muriel and Tod T Burr to release their first ever covers album which also includes 2 brand-new tracks. Due to the pandemic making in-person studio recording impossible, Shameless recorded the recorded the record at 12 different locations all over the world including Munich, Los Angeles, Las Vegas, St. Louis, Copenhagen and Auckland, New Zealand.
The band already released the single "Live Your Dream" with Charlotte last year in conjunction with Michael's book "Looking Inside: The Stainless Sensation", a 500 page deluxe bound definitive history of John DeLorean, the DMC 12 and the DeLorean Motor Company.
Charlotte sings 5 of the new tracks plus adding backing vocals on almost all the other tracks. Like on all Shameless releases, Tuff singer Stevie Rachelle, sang on a couple of the songs. Kiss legend Bruce Kulick is featured on a total of 4 songs including their version of the unreleased Gene Simmons song "Love is blind" and the cover of "East Bound And Down" where the band was joined by Jaret Reddick of Bowling For Soup on vocals. Tracii Guns appears as well on the new release.
Three more singles and videos will be released in advance to the album "So Good, You Should" – starting on February 4th with the track "Shout It Out" on February 4th, 2022! "So Good, You Should" will be available as CD, LP and digital!