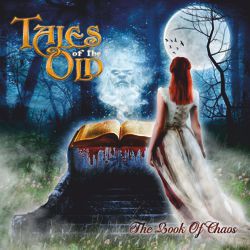 product: Tales Of The OId - The Book Of Chaos
release date: 15.07.2021
label: Pride & Joy Music
PR territory: world
PR contact: Diese E-Mail-Adresse ist vor Spambots geschützt! Zur Anzeige muss JavaScript eingeschaltet sein!
TALES OF THE OLD is a Symphonic Dark Ambient Power Metal band from Athens, Greece. The band was founded in 2010 by keyboard player Mike Tzanakis who is also the main composer and arranger of their music
His love for Symphonic Metal acts like Rhapsody, Nightwish, Therion, Haggard and such, led him to form a band and contribute to this genre with a more Dark version of his favorite music. The classical orchestrations are entwined with lyrics inspired by the Medieval Era, making the music of TALES OF THE OLD sound like a perfect soundtrack of the Dark Ages and the eternal battle of Good & Evil.

After releasing their first self-produced demo "Beware" in 2010, Tzanakis decided to make the next step and work with producer Bob Katsionis (ex - Firewind) who, in collaboration with Mike formed the sound of the band as it can be heard in their Ep '' The Passageway From Hell To Earth '' in 2012, their last act before even they start...
After eight hard struggling years, of unspeakable difficulties and obstacles (a period where actually TALES OF THE OLD did not exist), Tzanakis decided to reform the whole band and give birth to his dream. New members, new reality, a total new vision.
The band's first album "The Book Of Chaos" became reality during the past years! A project which would never take flesh and bones without the contribution and the hard work of the only possible co-producer for TALES OF THE OLD, the mastermind of Power Metal in Greece, Bob Katsionis!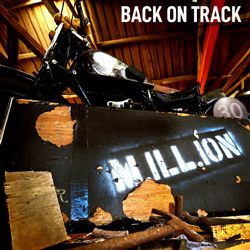 product: M.ILL.ION - Back On Track
release date: 10.09.2021
label: AOR Heaven
PR territory: Europe
PR contact: Diese E-Mail-Adresse ist vor Spambots geschützt! Zur Anzeige muss JavaScript eingeschaltet sein!
Now in 2021, it's time, not just to celebrate the 30:th anniversary of the first M.ILL.ION album, but also to get back to that pure feeling of joy of the early days! Take note, people: This is not a reunion of tired middle aged men for nostalgic reasons. This is for real and a serious attempt at creating great new rock music, to kick some classic ass on stage again and to have lots of fun doing it all!
Four original M.ILL.ION members reunited in the autumn of 2020: Hans Dalzon (Lead Vocals), CT Rohdell (Guitar) Marcus Berglund (Keyboards) and B.J Laneby (Bass Guitar). New, and very talented recruits Henrik Andersson (Lead Guitar) and Magnus Rohdell (Drums) complets this powerful six piece.
Founder & bassist B.J Laneby comments: "It's so much fun, creativity & energy again!
It's really like the title track says: " BACK ON TRACK – Time to make boys out of men!"
The band has spent the spring of 2021 working on the reunion album BACK ON TRACK. This 15 track production includes three brand new songs and two re-recordings/re-arrangements of tracks from the No.1 album. Adding to this: Rare recordings have been found, remixes have been done + remasterings of songs from the first three albums; "No.1", "We, Ourselves & Us" and "Electric" as well. All very highly praised albums, all getting updated sounds.
Indeed, quite a cool package of classic melodic hard rock!
The new recordings on the Back on Track album were mixed by the world famous British producer Simon Hanhart (David Bowie, Bryan Adams, Saxon, Marillion, Asia, Yngwie Malmsteen, Waysted. a.o). Mastering was handled by another world class guy: Tim Debney of Fluid Mastering, UK. (Deep, Purple, Rod Stewart, Judas Priest…
)
M.ILL.ION recently signed a deal with the well known German label AOR Heaven for the European release. The album will be out in Europe on September 10th, 2021 preceeded by the single & video of the title track "Back on Track" on July 23rd.
So, ladies & gentlemen, rockers & rollers: Get Ready! M.ILL.ION is BACK ON TRACK!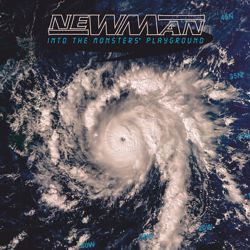 product: Newman - Into The Monsters' Playground
release date: 10.09.2021
label: AOR Heaven
PR territory: world
PR contact: Diese E-Mail-Adresse ist vor Spambots geschützt! Zur Anzeige muss JavaScript eingeschaltet sein!
In 1997 Singer, songwriter Steve Newman formed the band Newman and since
1998 have been producing consistently 13 high quality albums filled with hook laden songs and thought provoking lyrics.
After the release of the album "Ignition" in March 2020, the band also announced they would be playing the HEAT festival in Germany at the end of 2020, and also a view to playing shows in both the UK and Europe, it was to be a busy year. Unfortunately at that time, a little known virus from China had other ideas, and the rest, and indeed, up to the present, as they say, is now history. As things progressed during April and May it became clear (or rather not so clear) that with this constantly changing situation it was impossible to try and schedule any live shows. The decision was taken in July to start work on a new studio album.
Recording and mixing was completed in April of 2021 on the 13th Newman studio release. Entitled "Into The Monsters' Playground" the new album boasts a more "in your face" sound from the opener "Start This Fire" through the anthemic choruses of "Hurricane Sky" and "Icon". Slowing in pace for the heartfelt "Lightning Tree" subsequently exploding back into rock territory with "Give Me Tonight" and the title track "The Monsters' Playground". The unmistakable Newman sound is here in abundance, the fine balance between the hard hitting guitars and the lush keyboards backed by a powerful backbeat. As the cover art suggests there is definitely a storm coming.
Produced By Steve Newman; Recorded At Chrome Dome Studios, London, England between August 2020 and April 2021 All songs written and arranged by Steve Newman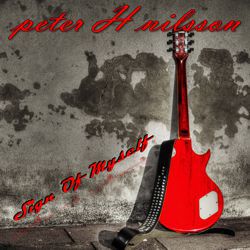 Product: Peter H. Nilsson - Sign Of Myself
Release date: 10.09.2021
label: AOR Heaven
PR territory: world
PR contact: Diese E-Mail-Adresse ist vor Spambots geschützt! Zur Anzeige muss JavaScript eingeschaltet sein!
After the successful debut "Little American Dream" in 2018-2019, Peter H. Nilsson once again teamed up with singer Chris Biano from Nashville, Tennessee and bass player Patrik Adiels from Gothenburg to record the new album "Sign of Myself" on which the 1980's once again meet with the 2020's. Even though Nilsson's main instrument is the guitar, the songs are more important than single and dominant instruments. Just like the previous album, "Sign Of Myself" is a collaboration with musicians from Europe and The United States, with Nilsson as the musical composer and leader.
The new drummer Darrell Nutt from Southwest Florida has been a session drummer, producer and mixing engineer for over 25 years and recorded or performed with members of Steely Dan, AC/DC, Goo Goo Dolls, YES, The Moody Blues, Bad Company, John Waite and Parliament Funkadelic. In the 1990s, Nutt has toured internationally with country music artists and appeared on National TV shows. Nilsson also got in touch with the horn session group Blåsemafian ( i.e. Mafia Horns) from Oslo, Norway. Blåsemafian was formed in 2016. Since then, the group has worked as support musicians in several TV productions, and they have collaborated with artists such as Marcus & Martinus, Madcon, Cezinando and Angelina Jordan. During the late 2010s, the trio began working to establish themselves as independent artists. And were one of the finalists in the 2021 Norwegian Eurovision Song Contest. Nilsson and Blåsemafian exchanged ideas and arrangements for the title song "Sign Of Myself". In early March 2021 the whole horn section was tracked in Oslo.
Nilsson also invited his long-time friend Antonio Morales to join him on keyboards on some of the songs. He was the keyboard player for the Spanish group Los Brisk in the 60s and 70s. Nilsson and Morales also wrote the instrumental Higher Ground together at Nilsson's studio.
All songs are written by Peter H Nilsson and Chris Biano except Higher Ground written by Peter H Nilsson and Antonio Morales.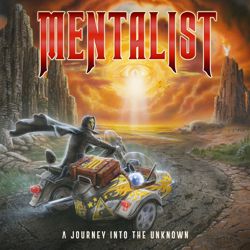 product: Mentalist - A Journey Into The Unknown
release date: 20.08.2021
label: Pride & Joy Music
PR territory: world
PR contact: Diese E-Mail-Adresse ist vor Spambots geschützt! Zur Anzeige muss JavaScript eingeschaltet sein!
MENTALIST is a Melodic Metal band from Saarbrücken, Germany that was founded in 2018. The group consists of Peter Moog (guitars), Thomen Stauch (drums, ex BLIND GUARDIAN), Kai Stringer (guitars, ex STARCHILD) and Swedish singer extraordinaire Rob Lundgren on vocals.
After the highly successful debut release "Freedom Of Speech" in 2020, the group now returns with its sophomore release "A Journey Into The Unknown". Just like the predecessor, this new opus puts a strong focus onto huge guitar melodies and vocals lines amongst others. MENTALIST's influences from the genre's greats such as Iron Maiden, Helloween and Blind Guardian still shine through – but they formed their own identity.
Oliver Palotai (Kamelot; keyboards on all tracks) and Mike LePond (Symphony X, bass on all tracks) together with singer Henning Basse (Metalium, Firewind; backing vocals on most tracks, plus a duet on "Live Forever") all appear as guests on this record.
"A Journey Into The Unknown" again also showcases an incredible artwork designed by Andreas Marschall (Blind Guardian, Running Wild) – starring the band's mascot, the Mentalist. The Mentalist continues his journey as recurring element in the group's artwork and during their live shows with visual effects.
Mix & mastering this time was handled by Jacob Hansen (Volbeat, Amaranthe, Pretty Maids etc.).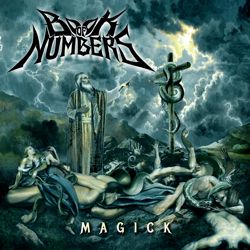 product: Book Of Numbers - Magick
release date: 20.08.2021
label: Pride & Joy Music
PR territory: world
PR contact: Diese E-Mail-Adresse ist vor Spambots geschützt! Zur Anzeige muss JavaScript eingeschaltet sein!
From the heat of the desert southwestern United States comes BOOK OF NUMBERS. The group is a Power Doom Metal band in the vein of Ozzy, Dio, Sabbath, and Rainbow based in Phoenix, Arizona U.S.A.
BOOK OF NUMBERS was founded in June of 2019 by Brent Barker (guitars) and Kevin Schuhmacher (vocals) while rehearsing material for a Black Sabbath tribute band. They decided to join forces to write material with classic doom metal riffs, soaring powerful vocals, and virtuoso guitar solos. They then recruited bassist Dennis Hayes (Iced Earth, Tim "Ripper" Owens). Originally, Dennis was recruited to join the U.S. based Ozzy Osbourne tribute band "I Don't Know" which Kevin has led for the past 13 years and also features Brent on guitar. However, greater things were meant to be as Kevin and Brent wrote an entire album of original material which became the basis for the band BOOK OF NUMBERS. Phoenix, AZ session drummer Gary Bruzzese recorded the drums but is not an official member of the band.
The vision of BOOK OF NUMBERS is to take the listener on a journey that has elements of classic heavy metal, opera, and movie soundtracks, all tied together with great songwriting and musical performances. Recording sessions for their debut album, "Magick", took place at several studios in their hometown of Phoenix, Arizona, U.S.A. Initial recording sessions were engineered by local legend and Grammy award winning Clarke Rigsby. Final mixing for the album was completed in Nashville, TN U.S.A by the legendary David Thoener (Rainbow, AC/DC, Aerosmith). Upon reviewing final mixes David commented: "The quality of this band reminds me very much of my work on the album Rainbow Rising" which of course featured the legendary Ritchie Blackmore and Ronnie James Dio. Mastering was completed by Marc Frigo in Nashville, TN U.S.A. "Magick" includes a cover of BLACK SABBATH's classic "Children Of The Sea".
product: Legions Of The Night - Sorrow Is The Cure
release date: 20.08.2021
label: Pride & Joy Music
PR territory: world
contact: Diese E-Mail-Adresse ist vor Spambots geschützt! Zur Anzeige muss JavaScript eingeschaltet sein!
LEGIONS OF THE NIGHT were founded by Jens Faber (Dawn of Destiny, MalefistuM, ExoS) in the year 2020 during the Covid19 pandemic. Soon, DOD drummer Philipp Bock and exceptional singer Henning Basse (Metalium, ex- Firewind, Mayan) completed the group.
The band's main influence comes from the early works of US Power Metal veterans SAVATAGE as well as from their early 2000's releases. As a natural result, the album "Sorrow Is The Cure" with the cover of the classic tune "Sirens" includes an homage to SAVATAGE.
Nevertheless LEGIONS OF THE NIGHT managed to create their own identity with massive grooves, lots of soul and remarkable melodies. LEGIONS OF THE NIGHTS convince with Jens Faber's song-writing and the incredible, versatile voice of Henning Basse.
"Sorrow Is The Cure" was mixed by Dennis Köhne (Orden Ogan, Sodom, Lacuna Coil) who enriched the music with an impressive sound production.