product: DeVicious - Black Earth
release date: 14.04.2022
label: Pride & Joy Music
territory: world
PR contact: Diese E-Mail-Adresse ist vor Spambots geschützt! Zur Anzeige muss JavaScript eingeschaltet sein!
After the surprising success of their previous long player "Phase Three" DeVicious is back with their highly anticipated 4th Studio album "Black Heart"!eartHeart Having previously produced three albums in only three years, the international outfit based in Germany decided to use the pandemic enforced break wisely to take their time for the song writing and production and eventually ended up 137 days producing their most melodic, heaviest, most angry yet freshest and most unique album to date.

Being in Lockdown for 1,5 years and being forced to see the events going down around the world had a big impact on the lyrics and the music. DeVicious went back to the studio with one cardinal rule: don't copy yourself and no stylistic influence is off the table as long as it is fun to play and the melody is big enough.

Band leader & producer Alex Frey wanted to create a different atmosphere as on the previous albums. DeVicious have always defined themselves through big arena type melodies, which often comes with limitations of style and a particular lack of freedom. Black Heart" contains influences from traditional Hard Rock, Metal, Melodic Metal, Progressive Rock and even EDM sounds found their way into the production.

DeVicious will also release their own comic book series "Dollhouse DV" in 2022. The main characters of the comics are the models on the covers for the "Black Heart" album and its singles. The comics and artwork were created in entirety by the band. Three of the 12 songs are part of the official Soundtrack for the comic books…
"Black Heart" was produced by Alex Frey at Tower 13 Studios, Karlsruhe, mixed by Patrick Damiani at Tidalwave Studios Karlsdorf and mastered by Robin Schmidt at 24-96 Mastering Karlsruhe. Additional backing vocals by Michael Bormann (Michael Bormann's Jaded Hard) and Baol Bardot Bulsara (TNT).
DeVicious will head on a double headliner tour with Night Laser in April 2022.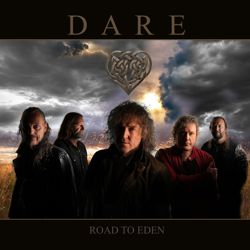 product: Dare - Road To Eden
release date: 01.04.2022
label: Legend Records
PR territory: Europe
PR contact: Diese E-Mail-Adresse ist vor Spambots geschützt! Zur Anzeige muss JavaScript eingeschaltet sein!
UK Rock band Dare are probably best known for their lead singer songwriter Darren Wharton, who first rose to fame in the early eighties playing keyboards with legendary Irish rock band Thin Lizzy. DARE are one of the most respected and innovative melodic rock bands working today, and have gained cult status among AOR fans throughout Europe, the UK and the world. The band's debut 1989 album 'Out Of The Silence' recorded at Joni Mitchell's Bel Air Studio Los Angeles, and produced by Nickelback producer Mike Shipley is still widely regarded today as one of the all time great AOR albums.
ROAD TO EDEN follows Dare's critically acclaimed albums SACRED GROUND released in 2016 and Out Of The Silence 2, 2018. Both albums reaching Number #1 in the Amazon Classic Rock Charts in four Countries, UK, Germany, Italy and Spain. Dare entered the top #5 in the official UK Rock charts, number #6 in the U.S Amazon Classic Rock Charts and number #1 in Japan Rock Imports.Road To Eden is destined to be another modern DARE classic.
Produced and written by Darren Wharton at his studio in the majestic mountains of North Wales, the new album has a harder rock edge than previous albums, whilst still retaining the atmospheric sound, and anthem like melodies that has become the bands trademark. Road To Eden features ten brand new beautifully crafted songs that captures the very heart of DARE.
With a full headline UK tour set for the UK in 2022, plus dates in Spain, Scandinavia and Germany, it's going to be an exciting year, explains Darren. "We wanted to write an album that translated well to live performance and Road To Eden has some great anthems, energy and power. We can't wait to play these songs live"
With previous DARE albums now having well over 4 million streams on Spotify, it's clear that for the growing army of DARE fans, the wait is nearly over, as they get ready to join DARE on The Road To Eden.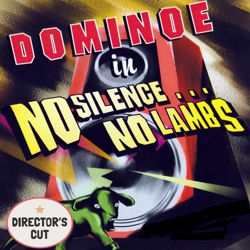 product: Dominoe - No Silence, No Lambs (Director's Cut)
release date: 21.01.2022
label: Comand Records
PR territory: world-wide
PR contact: Diese E-Mail-Adresse ist vor Spambots geschützt! Zur Anzeige muss JavaScript eingeschaltet sein!
It all started when Dominoe caught the attention of a lot of new listeners all over the world after the release of the digital single "Coming Home" in 2021, featuring Jimi Jamison, who sadly had passed away far too soon.
The band then received a lot of e-mails with questions about what else they have released before. This was the moment where Dominoe began to think about ideas and go through their CD's and to have a listen. Some of their material even doesn't exist yet in the digital world - until now. One of these albums is "No Silence... No Lambs" from 2002.
Robert Papst (guitars, production) noticed that some things, like the sound, were completely out of time. Some of it sounded too fast, some of it much too slow and some of it was only suitable for replacement.
So, Robert searched through the old hard drives and found the originals. With the experience of the release "The Lost Radioshow", he started to change tempo, exchange guitars, keyboards and drums, rearrange backing vocals and to mix the whole thing with a bigger punch.
Some of the tracks that came out were real gems. The fantastic lead vocals of Heidi Anzinger on "Keep My Secret" somehow got lost in the original recording. Now, this song has been turned in to a duet with singer Jörg Sieber.
After the first two finalized tracks, the group tested the songs on fans and on people who didn't know the band at all. Robert and Jörg were amazed. The feedback was nothing but incredible. For many listeners this was a new experience since they didn't know or even recognize these songs before.
With the help of some friends, 10 titles have now been completely reworked in the end! Of course, the whole thing has also been a travel back in time for the two musicians…
Meanwhile it's 2022... While Dominoe are producing some new songs, they also are currently reworking the album "The Story Is Far From Told" and wrapping it into a more contemporary sound. Together with "No Silence... No Lambs - Director's Cut", "The Story Is Far From Told" will also be released on a CD somewhat later this year…at Dominoe's 35th anniversary…time flies!
Musicians on "No Silence, No Lambs (Director's Cut):
Jörg Sieber: Lead & Backing Vocals
Robert Papst: Guitar, Backing Vocals, Keyboards, Bass
Christian Birawsky: Drums, Backing Vocals
Henner Malecha: Bass
Matt Beck: Lapsteel
Heidi Anzinger: Lead & Backing Vocals
Jane Bogaert, Janina Dietz, Gracia Satler, Timo Kresslein: Backing Vocals
Track listing "No Silence, No Lambs (Director's Cut)": 01 No More Money / 02 Loocie / 03 All Our Senses / 04 On The Safe Side / 05 No Way Out /06 Don't Cry For Love / 07 Keep My Secret / 08 Let It Rain / 09 Dark Dogs / 10 Turn Off These Sad Songs / 11 No Silence…No Lambs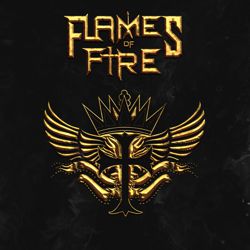 product: Flames Of Fire - Flames Of Fire
release date: 18.03.2022
label: Melodic Passion Records
PR territory: Europe & North America
PR contact: Diese E-Mail-Adresse ist vor Spambots geschützt! Zur Anzeige muss JavaScript eingeschaltet sein!
Flames Of Fire was formed in spring of 2021, but the story goes back to 1987.
In their hometown, Jönköping, Christian Liljegren and Mats-Åke Andersson met for the first time outside a burger chain called O'Briens. Christian was then 16 years old and fronted the band Venture and Mats-Åke was 21, guitarist and composer in legendary local group called Zaragon.
Zaragon was active between 1984-1988 style-wise strongly influenced by Rainbow, MSG, Iron Maiden early Europe. They were close to a record deal but bad decisions and a bad management made nothing happen. Zaragon did some fine recordings with Ragne & Styrbjörn Wahlqvist from Heavy Load.
That meeting in 1987 had a great impact on both. It was the passion, fire and energy for the music, that really connected these hard rock & heavy metal lovers. Both watched the concerts in 1986-1987 with Europe and Madison – two bands they both loved, as well as Yngwie Malmsteen's Rising Force, Michael Schenker, Ritchie Blackmore's Rainbow, Iron Maiden & Alcatrazz.
The meeting developed into a friendship that lasts until this day, even though the years went by and a lot happened along the way.Then 10 years later, in 1997, Mats-Åke composed an intro that Christian's new band Narnia used for their first tour, promoting their debut album Awakening. Narnia's guitarist CJ Grimmark also helped Mats-Åke with some demos.
Every time Christian & Mats-Åke met, it was all about the musical fire, the passion and also the will to bring something more than the music. Long phone calls ended with a desire to do something together. Both still loved hard rock and heavy metal, with soaring vocals and lots of twin guitars like Iron Maiden and Thin Lizzy. Mats-Åke had tons of ideas, as did Christian.
Amazed by the sound and production by Jani Stefanovic from Solution .45, The Waymaker, ex. Divinefire, they asked Jani if he was willing to produce and co-wrote songs together with them, as he is a very talented songwriter, guitarist and drummer and also gifted arranging keyboards and string arrangements. To really get the twin guitar sound, Christian suggested the guitarist Stephen Carlson, who worked close with Christian on his solo album Melodic Passion, as Stephen also is a good co-writer.
When searching for the right bass player, in the style Phil Lynnot and Steve Harris, Flames Of Fire recruited Per Schelander from House of Shakira, Astrakhan, ex. Royal Hunt, and Pain of Salvation, and the line-up was complete.
Per has worked with Christian on the Melodic Passion album as well, so now they had a killer team.
Christian then came up with the band name Flames of Fire showing the passion they have, as well as the spiritual dimension to it. Songs just came so naturally, and within 6-7 months they had material for several albums. Guitarist Stephen, who lives in Oppdal, Norway, recorded his parts in his studio, Per Schelander, who lives in Stockholm, tracked the bass parts there, and Christian recorded the vocals in Örebro, with Narnia's sound engineer, Viktor Stenqvist.
Mats-Åke was also involved and along with Christian, he worked out the arrangements. Then Jani put everything together in his studio in Lahtis, Finland, where he lives. So it is all about explosive Scandinavian heavy metal.
To finalize the album production, CJ Grimmark from Narnia, handled the mastering of the songs, Jonatan Samuelsson from JONOmedia and the bass player of Narnia helped Flames of Fire with website, web shop, etc., and Danymax Gatica from Chile created video teasers and promo videos for social media.
The distribution will be handled by Sound Pollution, a close partner to Melodic Passion Records, the record label behind Flames of Fire, and partners in Japan, North and South America.
All members in Flames Of Fire are very well experienced in touring around the world and have visited North and South America, India, Japan and of course Europe.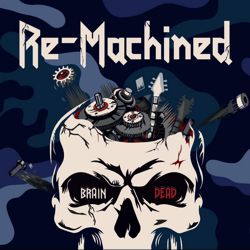 product: Re-Machined - Brain Dead
release date: 18.02.2022
label: Pride & Joy Music
PR territory: world
PR contact: Diese E-Mail-Adresse ist vor Spambots geschützt! Zur Anzeige muss JavaScript eingeschaltet sein!
After the big success of their debut album "Wheels Of Time", the German Heavy Metal machine RE-MACHINED returns on February 18th, 2022 with its sophomore release "Brain Dead" which will be released once again by German Heavy Metal label Pride & Joy Music!
Following the motto "never change a winning team", the band from Hessia stays true to oneself. The high class production by producer Markus Teske (The New Roses, U.D.O.) again is the icing on the cake. "Brain Dead" also combines elements from various classic Heavy Metal acts but nevertheless manages the transfer into the new century. RE-MACHINED's solid sound still is based on by the impressive twin guitars by Horst Pflaumer and Andreas Glanz, the pumping bass courtesy of Bruno Strasser, the shocking screams by singer Thomas Ritter and the classic metal beats by Volker Brecher.
In conclusion, RE-MACHINED once again offer first Class Heavy Rock which will please old and new Metal fans alike. The 11 songs powerfully breathe the spirit of classic 80's bands such as Sinner, Trance, (the German group) Bullet or Cacumen!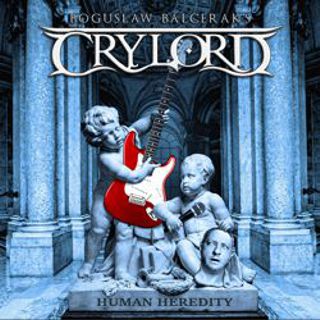 product: Boguslaw Balcerak's Crylord - Human Heredity
release date: 18.02.2022
label: Pride & Joy Music
PR territory: world (excluding Japan)
PR contact: Diese E-Mail-Adresse ist vor Spambots geschützt! Zur Anzeige muss JavaScript eingeschaltet sein!
Boguslaw Balcerak's Crylord is a Neoclassical Power Metal band based in Poland which was founded in 2009. The band centered around guitarist Balcerak so far has released two albums ("Blood Of The Prophets" (2011) and "Gates Of Valhalla" (2014).
The release of the band's 3rd full length-album "Human Heredity" is now more representing a kind of hard rock sound but nevertheless still also showcases the previous, unique neoclassical style. "Human Heredity" is scheduled for a release via Pride & Joy Music on February 18th 2022.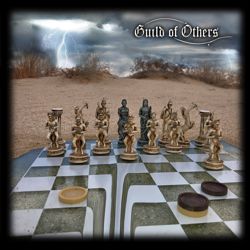 product: Guild Of Others - Guild Of Others
release date: 18.02.2022
label: Louder Than Loud Records
PR territory: world
PR contact: Diese E-Mail-Adresse ist vor Spambots geschützt! Zur Anzeige muss JavaScript eingeschaltet sein!
Guild of Others, begun by Tom Wallace (drums) and Steve Potts (guitar), is a collection of musicians from various bands and backgrounds making progressive metal music. As songs between the two began taking shape, questions of whom else to bring into the fold arose. Considering the style of music the two were creating, the keyboardist most desired was easy. Derek Sherinian (Sons of Apollo, Dream Theater, BCC, etc.) was top of the list. Upon hearing the demos, Derek's response was perfect. He described the music as, "Aggressive and adventurous. Without being too proggy." He liked it and would add his talents.
"Guild of Others accomplish the near impossible, and that's make progressive metal that is accessible," proclaims venerated rock author/critic Martin Popoff. High praise from someone steeped in musical knowledge and history. He continued, "This sounds like thinking man's stadium rock. In a plethora of old and new school styles, these hooky compositions keep the proceedings earthy and built for the stage." He went on to place Guild of Others' debut among some of the rock world's most legendary and successful acts. "It's songs very much like this that resulted in early notoriety for Rush and even Styx for that matter. There's no reason why Guild of Others can't serve large pockets of fans... who believe in those same ideals toward both heaviness and craftsmanship."
Among the material were two songs Steve and Tom both felt needed fretless bass. For that they reached out to well-known bassist, Tony Franklin (The Firm, Blue Murder, etc.). Steve and Tom were floored by Tony's playing. His style and tone offered everything needed to complete the bottom end. His counter melodies and bass fills were superb. The guys requested he record the six remaining songs and he obliged.
For vocals, local singer Mark Hammond was tapped for six of the songs. Michael Sadler (Saga) and Henrik Bath (Darkwater) lend their talents for the remaining two. The three vocalists offer three unique sounds and styles. All of which work perfectly for the material.
In addition to the musicians already mentioned, guitar shredder Craig Goldy (Dio, Resurrection Kings) offers a blistering solo on "Veil of Insanity". As an added treat, Rock and Roll Hall of Famer Michael Bruce (Alice Cooper) and wife Lynette contribute the doting parents voice-over for "Memento".
The "Others" part of Guild of Others suggests future recordings will always involve other musicians. Tom and Steve are the driving force behind Guild of Others. They will remain. While always appreciating those who have participated in this debut effort and welcoming their return, there is already material for a second album. with hopes of bringing in new names and making new friends.