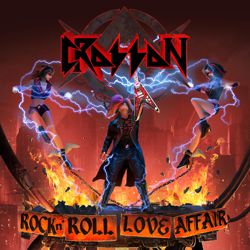 product: Crosson - Rock N' Roll Love Affair
label: Galaxy Records/ MelodicRock Records
release date: 27.03.2020
PR territory: Europe
PR contact: Diese E-Mail-Adresse ist vor Spambots geschützt! Zur Anzeige muss JavaScript eingeschaltet sein!
"Theatrical Glam Rockers entangled in a Rock 'N Roll Love Affair"
"There's a new rock n roll thunder coming from the land down under, and it goes by the name CROSSON " (Josh Smith - Hair Band Heaven )
Following the success of their acclaimed 2018 album 'Invincible', which spent an incredible ten consecutive weeks in the Top 30 Official German Rock and Metal Charts and was voted Sleaze's Nation's # 2 album of 2018, Australian based Theatrical Glam Rock Warriors, CROSSON, return in 2020 with their new album Rock 'N Roll Love Affair.
The album was once mixed by legendary U.S producer Duane Baron (Ozzy Osbourne, Motley Crue, Alice Cooper, Poison), mastered by U.S mastering legend Dave Donnelly (Aerosmith, KISS, Whitesnake) , and engineered by Aussie veteran Russell Pilling (The Vines, Hoodoo Gurus, Noiseworks).
Rock 'N Roll Love Affair punches you in the face from the opening chords and erupts with ten infectiously catchy, highly addictive rock tunes. The only cure to get these songs out of your head will need to be medically prescribed.
The album also includes electrifying performances by some of Australia's leading rock / metal musicians, including Stu Marshall (Death Dealer) and Dario Bortolin (Baby Animals).
****
"Rock 'N Roll Love Affair is a matter for the heart of any lover of rock 'n roll.….CROSSON have once again outdone themselves." Peter Grahn – Sleaze Nation
The first video from the album 'Everyone's A Star' depicts CROSSON doing what they do best…..unleashing their electrifying, energetic, choreographed and bombastic stage show whilst the second video 'Weak At The Knees (For A Brunette!!)' (a crowd favourite) shows the groups tongue-in-cheek side.
When asked about 'Weak At The Knees (For A Brunette!!) vocalist , writer and producer Jason Crosson commented "… Talk about art imitating life! I have two weaknesses, chocolate ice cream and brunettes… of which I have to refrain from both!!"
"Rock will never die whilst there are bands like Crosson" Adam Cox – Decibel Geek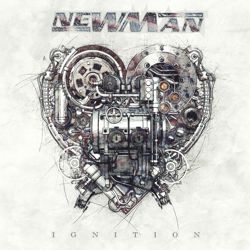 product: Newman - Ignition
release date: 27.03.2020
label: AOR Heaven
territory: world
PR contact: Diese E-Mail-Adresse ist vor Spambots geschützt! Zur Anzeige muss JavaScript eingeschaltet sein!
In 1997 singer, songwriter Steve Newman formed the band NEWMAN and since 1998 have been producing consistently high quality albums filled with hook laden songs and thought provoking lyrics.
Steve also continued to write material for other bands which surfaced on various artists releases, such as Cry Of Dawn (Goran Edman) and three songs from the Toby Hitchcock solo album "Reckoning".
In 2018 NEWMAN were invited back to play the HRH Festival in support of the 20th anniversary of their first album. The rest of 2018 and for the first part of 2019 Steve remained busy writing and recording for other artists in different genres, taking a break from focusing on Newman and moving into different areas both musically and lyrically.
Revitalized, and after a break of two years Steve turned his attention to the next NEWMAN album. Bringing in influences from some of the projects he'd worked on previously but also returning to the writing and sound that has become part of the Newman legacy.
So, the first NEWMAN album in 3 years "Ignition" is finally here, 12 songs in a natural continuation from 2017's "Aerial" release. The album was recorded at Chrome Dome Studios in London between May and October 2019 with all songs being written and arranged by Steve Newman.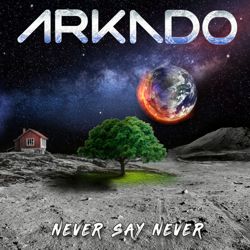 product: Arkado - Never Say Never
release date: 27.03.2020
label: AOR Heaven
PR territory: world
PR contact: Diese E-Mail-Adresse ist vor Spambots geschützt! Zur Anzeige muss JavaScript eingeschaltet sein!
ARKADO were founded in 1983 in Ödåkra (near Helsingborg), Sweden. Originally, the band was named to BB2 (Better Be Together). Way back then, BB2 recorded a vinyl single which became the hymn of the football club Ödåkra IF which still is played there today at every match.
In May 2018, BB2 executed a live concert in Helsingborg which was totally sold out. The "dream" of again being reckoned as a band, if so only locally, flamed up. In August 2018, the Swedish based group teamed up with some new additional members. The "new" band was named to ARKADO when reverting the name "Ödåkra" and now offers their first full-length AOR album which is entitled "Never Say Never".
"Never Say Never" was recorded & produced by Mikael Svensson and recorded at LdM Studios, Chasing Sparks studio, Lindstrand Music and Skafars studio; mixed by Mikael Svensson at LdM Studios and mastered at Panic Room.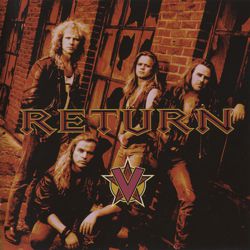 product: Return - V
release date: 27.03.2020
label: AOR Heaven
PR contact: Diese E-Mail-Adresse ist vor Spambots geschützt! Zur Anzeige muss JavaScript eingeschaltet sein!
Although never offered the same opportunities compatriots TNT and Stage Dolls enjoyed in venturing into the US and British markets, Norwegian melodic hard rock band Return nevertheless have carved their own place in the annals of rock history, with a quite illustrious career to boast of in their own right. The band's fifth album, 'V', reissued courtesy of AOR Heaven, perfectly captures what Return were all about.
Comprised of Knut Erik Østgård (v), Steinar Hagen (g), Tore Larsen (b) and Øyvind Håkonsen (d), Return were founded in the early 80s combining various influences from punk, ska, disco, pop and hard rock drawing major inspiration from British bands such as Thin Lizzy, Iron Maiden and The Police.
By the mid 80s there was certainly a very interesting music scene happening in Norway, too, with the likes of the aforementioned TNT, Stage Dolls and other emerging acts, including Da Vinci. Winning a band competition got them a deal with ARCO records, eventually resulting in the debut 'To The Top' (1987) arousing interest with majors like CBS who signed them for the next three records, 'Attitudes' (1988),'Straight Down The Line' (1989) and 'Fourplay' (1991) leading the band to basically constantly tour from 1987 to 1994 and develop musically and form some kind of Return brotherhood.
For 'V', the album at hand, with its slightly more international approach, the band followed their label managers to EMI Norway. Recordings took place during the summer of 1992 in Glen Studio in Stockholm and the mix in Studio Nova in Norway. Unfortunately, soon after grunge struck Norway, too, and after yet again some extensive touring, in 1994 Return decided to take a break which actually lead to a six year hiatus.
Return's, uh, return to action occurred in the year 2000 when a best of compilation sold a total of 120.000 copies! More compilations, e.g. a live output, followed over the years. Being the strongest effort so far, Return still play a considerable amount of the songs from 'V' in their sets of their occasional live appearances.
2020 is a year to celebrate. It is 40 years since four young guys met in a small rehearsal room and started to make great music together. This re-issue was re-mastered by Chris Lyne, offers an upgraded booklet with vintage picture material from the archives and comes as 1000 copies only ltd. edition and is being sold via mailorder only. Liner notes by Dave Reynolds.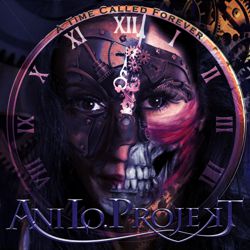 product: Ani Lo. Projekt - A Time Called Forever
release date: 20.03.2020
label: Pride & Joy Music
territory: world
PR contact: Diese E-Mail-Adresse ist vor Spambots geschützt! Zur Anzeige muss JavaScript eingeschaltet sein!
Ani Lo. Projekt came into being in 2010 when well-known Bulgarian singer Ani Lozanova and her long-term musical partner, drummer Konstantin Dinev (Kossy D.) started it. Their debut "Miracle" saw the light of day with a different line-up in March 2011 which was accompanied by a brilliant gig at Rock Theater in Sofia. Many shows followed, for instance at a biker event with Ian Parry guesting who also participated on "Miracle".
2012 a major line-up change took place when Ani Lo. moved to Germany and Kossy D. to the USA. The singer played some gigs with musicians based in Münster, Germany, for example opening the metal event "Das Schloss Rockt" in June 2017.
In 2018 work on the second album "A Time Called Forever" began with Kossy producing and recording drums in his studio in San Diego, USA. He came over to Germany to record vocals at Bazement Studios of Markus Teske in the summer. 12 songs composed by Jens Faber (Dawn Of Destiny) who also played guitar, bass and keyboards as well as some growls and clean vocals were recorded in his studio in Bochum, Germany. Teske took over the mastering, again at Bazement studios. The work was done on December 2019.
The new ALP album sees guest performances of vocalists Eric Dow (Hellsott, USA) on "My Misery" and "Don't Leave This World", Michael Thionville (Voodoma, Germany) on "Fly With Me" as well as Lachezar Stefanov, natural talent, husband of Ani and her biggest fan on "Bleed".
The artwork was created by Bulgarian artist Deliana Stoyanova. The band shot a video for the title track with Bremen-based Bulgarian Mitko Petrov to be released in February. Klub Trigon in Haltern am See, Germany served as location.
product: Beneath My Sins - I Decide
release date: 20.03.2020
label: Pride & Joy Music
territory: world
PR contact: Diese E-Mail-Adresse ist vor Spambots geschützt! Zur Anzeige muss JavaScript eingeschaltet sein!
Beneath My Sins is a French Symphonic Metal band founded in December 2015 by guitarist Clement Botz and singer Emma Elvaston. Both are former members of the band Evolvent.
In March 2017, Beneath My Sins released it's first album "Valkyries of Modern Times", promoted with shows in Belgium with the band Skeptical Minds and two European tours together with Russian Thrash metal band Pokerface. Quickly perceived as the emerging Symphonic Metal band of the French scene, Beneath My sins had the opportunity to tour with the famous Canadian band Kobra And The Lotus during their stay in France in June 2018 and with Imperial Age in 2019.
In September 2018, the band got in contact with Fabio D'Amore, bassist from Serenity. After a few meetings and discussions they all agreed that he would provide his services as a producer to the band. Thanks to this collaboration, the French group was able to record under professional conditions and to work with famous names of the music business. Many talented guests such as Matteo Sisti (Eluveitie), Melissa Bonny (Ad Infinitum), Michele Guaitoli (Temperance and Visions Of Atlantis) and Fabio Lethien Polo (Elvenking) also joined the ship for one or more songs.
In November 2019, Beneath My Sins signed a record deal with Pride & Joy Music for their new album « I Decide » which will be released on March 20th, 2020! In the process, the band also signed with the booking agency Alpha Omega management. The year 2020 will be a very promising year as the band has secured an UK tour in April - together with the mighty Serpentyne and Tezaura.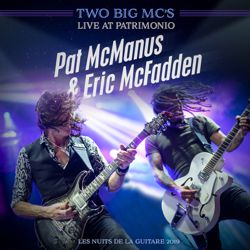 product: Two Big MC's - Live At Patrimonio
release date: 05.03.2020
label: Bad Reputation
PR territory: Germany, Austria, Switzerland
PR contact: Diese E-Mail-Adresse ist vor Spambots geschützt! Zur Anzeige muss JavaScript eingeschaltet sein!
PAT McMANUS and ERIC McFADDEN play live and jam.
Pat McManus and Eric McFadden both have a serious discography (more than fifty albums combined). While the former made his name with his band Mama's Boys, the latter made a name for himself by supporting George Clinton, Eric Burdon and Joe Strummer. Then the two thieves started a solo journey with the Pat Mcmanus Band and Eric McFadden (and Trio and other side-projects). Signed on the same French label Bad Reputation, the two teammates met once at the Café de la Danse in Paris in 2009 where Pat came jammer on a Jimi Hendrix track with Eric McFadden. When two extraterrestrials of the guitar, they are definitely not human, meet, that gives guaranteed thrills. And it is not at Patrimonio in 2019 that we will tell you the opposite , the two musicians jamming two nights in a row leaving a crowd in ecstasy before so much genius and sharing. The Irish Professor and the American Voodoo-Gypsy, getting along like two stooges, gave their approval to collaborate on the project 2 Big Mc's. 6 musicians on stage and covers of some great standards of rock and blues, This is the party you're invited to! Take their word for it, two Big Mcs on stage, it's fried!
No Overdubs !
On Tour May-June-July