product: Madison - Best in Show
release date: 16.11.2018
label: Pride & Joy Music
PR (Europe only): Diese E-Mail-Adresse ist vor Spambots geschützt! Zur Anzeige muss JavaScript eingeschaltet sein!
Based in Hudiksvall, Sweden, and active between 1983-1987, MADISON was one of the most prestigious Swedish Hard Rock/ Hair Metal groups of the mid 80's. The line-up of the band in 1986 consisted of the young Göran Edman (vocals, ex-Yngwie Malmsteen, John Norum etc.), Anders Kalson (guitar), Mikael Myllynen (guitar), Conny Sundqvist (bass) and Peter Fredrickson (drums). During the time of their existence, MADISON released two albums, i.e. "Diamond Mistress" (1984) and "Best In Show" (1986).
The group had major success in Japan where they also went on tour after the release of the "Best In Show" album. This record was mainly produced at Studio 39 in Copenhagen, Denmark by Jörgen Bo and contains the band's most successful track "Oh Rendez Vous". Sonet Records/Universal Music released this record in 1986 in Europe on vinyl only; in Japan it also got a CD release at the time.
Pride & Joy Music now, in co-operation with Universal Music Sweden, releases this record for the first time on CD in Europe. The music was taken from the original masters and remastered. The original artwork from the vinyl edition built the foundation for the newly created CD booklet. Some pictures from the archives and two bonus tracks ("The Look In Your Eyes" and "The Tale") were added.
"Best In Show" is now available as ltd. edition CD (1000 copies only) with two bonus tracks added and only while stock will last!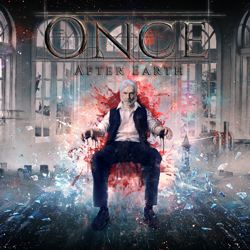 product: ONCE - After Earth
release date: 19.10.2018
label: Pride & Joy Music
PR: Diese E-Mail-Adresse ist vor Spambots geschützt! Zur Anzeige muss JavaScript eingeschaltet sein!
ONCE is a metal band from North Rhine Westphalia (Germany), whose style can be described as Symphonic Metal.
The music of ONCE is inspired by neo-romantic soundtrack music and includes typical elements of a classical Aristotelian drama, combined with heavy guitars and drums.
The band was formed in 2012, when keyboarder Frank Wypchol, lead singer Alina Lesnik, guitarist Marco Paulzen and drummer Alexander Hey decided to create a full orchestrated metal project.
In 2013 ONCE released acoustic versions of their songs My Fairytale and Distorted Smiles, which were recorded and filmed as university project at the ArtEZ Conservatorium in Enschede/NL. Afterwards ONCE worked on their demo EP, which was released 2015.
Their music-video of the single The Hour Of Eden's Fall gave a first impression of what is to come with their first full length studio album AFTER EARTH, which will now will be released on October 19th, 2018.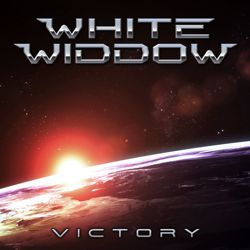 product: White Widdow - Victory
release date: 19.10.2018
label: AOR Heaven
PR: Diese E-Mail-Adresse ist vor Spambots geschützt! Zur Anzeige muss JavaScript eingeschaltet sein!
Formed in Melbourne, Australia in 2008 and centered around the Millis brothers Jules (Vocals - ex Tigertailz) & Xavier (Keyboards - 2 x Aria Nominee) and guitar virtuoso Enzo Almanzi. Raised on a healthy diet of 80's Arena Rock and influenced by artists such as Survivor, Foreigner, Journey, Night Ranger, Starship, Dokken and Australia's own Rick Springfield. In 2010 White Widdow signed with the AOR Heaven label and stormed onto the Melodic Rock scene across the globe with the release of their self-titled debut album throughout Europe. The release of the debut was met by the press with rave reviews making it into Classic Rock Magazine's top 10 AOR albums for 2010. White Widdow quickly returned with their follow up release "Serenade" in September 2011, showcasing a more crafted song style and structure.
In support of "Serenade", White Widdow hit the road playing festivals and headlining club shows throughout Europe which saw them tour through Switzerland, Germany, Sweden, Italy, Greece and England. Along the way performing at HEAT Festival (Germany) and Firefest (UK) and playing alongside artists including Jimi Jamison (Survivor), Steve Auguri (Journey), Unruly Child, Stage Dolls, Keel, Shakra, Strangeways, Silent Rage, Alien, Mitch Malloy, Coney Hatch, Jeff Paris, Kane Roberts and many more.
In 2014 White Widdow's third opus. "Crossfire" was released and was once again met with praise from both rock critics and melodic rock/ AOR fans, receiving positive reviews. In March 2015 White Widdow returned to tour Europe with shows in Spain and Greece before returning to the UK with shows across England and finishing the tour at Hard Rock Hell AOR Festival in Wales sharing the stage with AOR Legends Night Ranger & FM.
2016 saw White Widdow release their fourth album "Silhouette", a very slick AOR affair that was heaped with praise by the Melodic Rock Press and Media. White Widdow returned to tour Europe and once again performed at HEAT Festival in Germany alongside artists including Treat and Pink Cream 69.
2018 has seen White Widdow re-enter the studio for their fifth album "Victory", celebrating ten years since the band began and an album cover that throws back to the style of their debut. "Victory" incorporates a strong Pomp element in the songs along with White Widdow's traditional classic 80's AOR sound, the band allowing their influence of bands like Giuffria and White Sister to really come through. Featuring over the top pompus keyboards, stacked harmony vocals from the Millis brothers and Enzo Almanzi's tasty solos throughout. White Widdow are set to perform at Rockingham in the UK in support of the new album, followed by a tour through Spain, Greece and their native Australia.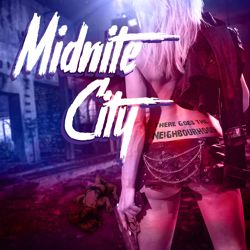 product: Midnite City - There Goes The Neighbourhood
release date: 19.10.2018
label: AOR Heaven
PR: Diese E-Mail-Adresse ist vor Spambots geschützt! Zur Anzeige muss JavaScript eingeschaltet sein!
Following on from their explosive self-titled debut album last year, MIDNITE CITY return all guns blazing on 26th of October 2018 with their sophomore release 'THERE GOES THE NEIGHBOURHHOOD' - eleven tracks of fist pumping, high energy, feel-good, hair metal of the highest order!
The lush melodies, huge choruses and gargantuan hooks found on their debut album are all here in abundance alongside some true modern day glam anthems, fun commercial party rock, moody mid-paced hard rockers and heart wrenching power ballads big enough to light up an entire arena.
As with the first album, the winning formula has remained - all songs have been written by Rob Wylde, whilst Pete Newdeck has once again taken control of production, engineering and mixing duties. With 'THERE GOES THE NEIGHBOURHOOD' the band has literally stepped everything up several notches to unbridled, head splitting proportions. The guitars are big, the drums are huge, there are walls and walls of harmonies and more synths than you'd find this side of a classic Bon Jovi album. In a nutshell, this album has everything but the kitchen sink!
With shows all over the UK and Europe in 2017/ 2018, MIDNITE CITY's sound is tighter than ever before.
So if you long for a band that still look, sound and perform like those long lost million selling forgotten bands of the late 80's/ early 90's, MIDNITE CITY and 'THERE GOES THE NEIGHBOURHOOD' is the album for you. Don't forget to catch MIDNITE CITY tearing it up live all over the UK, Europe and beyond in their own inimitable, arena rock style in 2018/ 2019…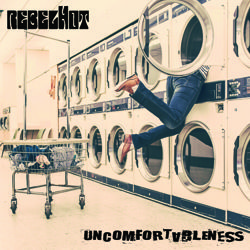 product: rebelHot - Uncomfortableness
release date: 12.10.2018
label: Metalapolis
PR: Diese E-Mail-Adresse ist vor Spambots geschützt! Zur Anzeige muss JavaScript eingeschaltet sein!
rebelHot is an Italian 4-piece band absolutely soaked in rootsy 70's Rock influences. A mix of rock, blues and funk you can't miss. Since releasing their debut album back in 2016, featuring Jason Patterson from "Cry Of Love" as special guest and mastered by Alessandro Del Vecchio, rebelHot have already toured and also played at festivals around Europe with artists like "Y&T", "The Darkness", "Joe Lynn Turner", "The Quireboys", "Autograph", "Skinny Molly" and many others.
Their long-awaited new album "Uncomfortableness" will be released world-wide on October 12th, 2018 via Metalapolis Records and feature 10 brand new songs plus an exclusive bonus track on the vinyl edition. "Uncomfortableness" has been produced by rebelHot, recorded, mixed and mastered at their own P-Rose Studio by guitarist Paul Mainetti. The band recorded the majority of the record live directly into the studio mixing console and they're very proud of this rough old-style result. No digital effects or overdubs were used, and it sounds live just like the 70s albums you're used to.
This new album has been enriched with some bluesy sounds like harmonica and female choirs in a few songs, while still maintaining that funky power and those southern sounds which are typical for the band.
"rebelHot is one of those bands that captures your attention from the first note, they are on the cutting edge of what Southern Rock is all about currently" - Luke Bradshaw (Skinny Molly)
"It's the best thing I've heard in a long time!" - Albin Linder (Jetbone)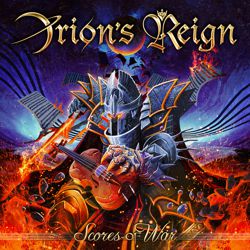 product: Orion's Reign - Scores Of War
release date: 19.10.2018
label: Pride & Joy Music
format: CD & digital
Orion's Reign are back with their second full-length studio album, "Scores of War", set for an October 19th release by Pride & Joy Music.
The album, engineered, mixed and mastered at Fascination Street Studios (Powerwolf, Arch Enemy, Dragonforce, Amorphis etc.), in Sweden by Jens Bergen, Linus Corneliusson and Orion's Reign, includes 11 tracks of epic/symphonic metal.
The band continues the music path it had already begun with the previous album "Nuclear Winter", offering this time a full symphonic experience profoundly influenced by epic movie scores, with a complete orchestra, bombastic rhythms, massive choirs and guest appearances such as Tim Ripper Owens (Judas Priest, Iced Earth), Bob Katsionis (Firewind), Mark Boals (Malmsteen) and others.
The record is extremely diversified and contains much to explore, from Symphonic Speed Metal to catchy (Hard) Rock sounds, as well as operatic refrains filigreeing rich emotionality. The single "The Undefeated Gaul" is the first appetizer of the album, with fast riffs, heavy rhythm section and furious guitar solos! Stay tuned for more single releases!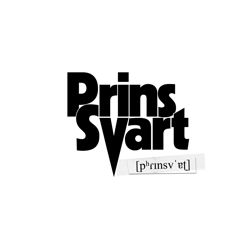 product: Prins Svart - s/t
release date: 05.10.2018
label: Musica Ex Machina
format: CD, vinyl & digital
"Prins Svart" is actually a reunion of four musicians whose roads crossed in Stockholm in the mid 90's. Then, they toured Sweden as a Led Zeppelin tribute and after recording a self-produced CD called "Four Sticks", life took them in different directions: Sebastian Sippola (drums) played with "Grand Magus" and "Plankton", Tomas Thorberg (bass) toured with "Michael Schenker" and "Tiamat", (and played with Sebastian in "Plankton"), Stefan Berggren (vocals) started singing in "Company of Snakes" with Bernie Marsden, Micky Moody, and Neil Murray (Whitesnake), and has been touring with "Don Airey Band" ("Rainbow", "Deep Purple") and "Uriah Heep", Henrik Bergqvist (guitar) played with "The Poodles" (since 2008).
Now the road has led them back to where they started and the result can be heard on the self-titled debut "Prins Svart". The music can be described as rock with roots in the 1970s, the decade when they were born, but with elements of the first half of the 1980s and bands like "Dio", "Whitesnake", "Rainbow" and "Ozzy Osbourne". The lyrics are in Swedish and describe "the human condition": longing, hope, love and sorrow.


The production of the debut, "Prins Svart", is signed Dino Medanhodzic ("Hardcore Superstar", "Kill the Kong", "The Poodles", "Smash Into Pieces"), promising a more modern sound than the influences suggest. Someone said that "Prins Svart" sounds like Swedish band "Kent" if they had listened to Led Zeppelin instead of Depeche Mode"!