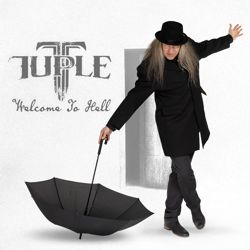 product: Tuple - Welcome To Hell
release date: 28.05.2021
label: AOR Heaven
PR territory: world
PR contact: Diese E-Mail-Adresse ist vor Spambots geschützt! Zur Anzeige muss JavaScript eingeschaltet sein!
"Welcome To Hell" is the follow-up to the highly-acclaimed "Wooden Box" album by TUPLE which was released in 2020 via AOR Heaven and resulted in a charty entry in the native country of this Finnish artist.
Finland is well-known for its Heavy Metal roots. Far and wide comes the list of Metal bands that are known all around the world. But there's also a strong Melodic Rock/AOR community. Bands that rely, not only on heavy riffing, but also strong melodies and larger-than-life keyboards. TUPLE is a good example of it. Catchy songs, great melodies, fine artistry.
The songs once again - like on the previous album - were written by Riitis, Tommi's good friend and trusted composer. But unlike the Wooden Box release, which was lyrically based on Tommi's life, this time the band takes a look at the dark corners in the corridors of power, struggles with the relationships, and takes the listener on a trip to the late 19th century Colorado, to Aspen – the playground of the rich and the powerful – which was once upon a time a savage place where miners, gunslingers, UTE Indians, card sharks and prostitutes were an unsettling mix of people during the Silver Rush. The album was produced by TripleVision (Tommi, Riitis, Janne).
Tommi "Tuple" Salmela, born June 3rd, 1969 in Kuopio, Finland, is a Finnish Heavy Metal singer. He sang in such bands as Tarot, Lazy Bonez and Raskasta Joulua (Ragnarok Juletide) and also performed on stage with many famous singers like Elize Ryd, Floor Jansen, Tommy Karevik, Bernie Shaw, Joe Lynn Turner and Dee Snider, to name a few.
Raskasta Joulua is a Finnish band recording and performing traditional Christmas carols and hits in the Heavy Metal style. Tommi is one of the founding members. Lazy Bonez was established in 2012 and they have released 3 albums. On their second album, Alive, Tommi sang a duet with Bernie Shaw of Uriah Heep on the tune 'Devils Dice'.
Tuple's personal influences include bands like Journey, Kansas, FM, Uriah Heep, Boston, Chicago, Strangeways, Black Sabbath, Dio and lots of other AOR bands - the list goes on and on. His motto is: What doesn't kill you, makes you stronger.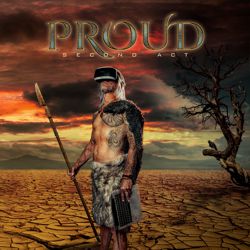 product: Proud - Second Act
release date: 28.05.2021
label: AOR Heaven
PR territory: world
PR contact: Diese E-Mail-Adresse ist vor Spambots geschützt! Zur Anzeige muss JavaScript eingeschaltet sein!
Finally, PROUD is back after 36 years, stronger than ever, with ten new powerful songs!
PROUD were founded in Landskrona, Sweden in 1982. They started as BURN and were one of many, countless Hard Rock bands that came in the mid-80s. The group changed their name over to PROUD and made an album for EMI which was produced by Caj Högberg ("Fire Breaks the Dawn"). This album is a rare and often elusive title making it an essential purchase when stumbling upon by fans of classic rock/metal of the 1980s. "Fire Breaks the Dawn" achieved success in Japan and parts of South America both.
In 2019, two of the original band members decided to make a new start! Songwriting and recording took place and soon a new record deal was signed with AOR Heaven.
"Second Act" was recorded and engineered by Richard Larsson at Handsome Hard Studio 1 and 2, produced by PROUD, mixed and mastered by Erik Mårtensson at Mass Destruction Production and additionally mixed by Thomas "Plec" Johansson at The Panic Room.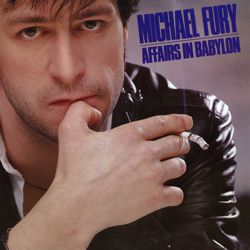 product: Michael Fury - Affairs In Babylon (CD re-issue)
release date: 28.05.2021
label: AOR Heaven
PR territory: world
contact: Diese E-Mail-Adresse ist vor Spambots geschützt! Zur Anzeige muss JavaScript eingeschaltet sein!
Myles Hunter, known from the band AVALON (Canada), bassist Martyn Jones and guitarist Rob Kennedy founded the group MICHAEL FURY in the year 1979 based on a character from James Joyce's short story "The Dead". They played a reasonable amount of gigs in their native country until they called it a day in 1983.
MICHAEL FURY returned one year later when Hunter met keyboard player Howard Helm (ex ZON). Former members Martyn Jones (bass) and Rob Kennedy (guitars) re-joined the group and drummer Dave Mihal was added to the line-up. The band signed to a small local label soon after, and the debut "Affairs In Babylon" finally came out in 1984.
The group toured Canada extensively but due to some identity confusion between the band name MICHAEL FURY and the name Myles Hunter the situation soon became difficult. First of all, the label tried to market the group as a solo act which did not work well for anyone involved. When MICHAEL FURY then received an offer from an US based major label, they decided to buy back the rights for their album, to re-mix and re-record most of the parts and also to add five new songs. Brian Doerner (Helix) joined the group on drums. "Affairs In Babylon" at the time was re-issued under the band name REFUGEE.
MICHAEL FURY's "Affairs In Babylon" is now, for the first time ever, available on CD as a limited mail order edition of 1000 copies incl. liner notes by Dave Reynolds. Carefully restored from vinyl and digitally remastered by Anthony Panacci.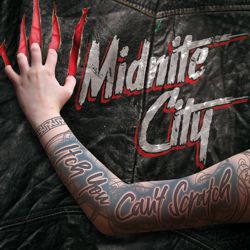 product: Midnite City - Itch You Can't Scratch

release date: 11.06.2021
label: Roulette Media
PR territory: world -UK
PR contact: Diese E-Mail-Adresse ist vor Spambots geschützt! Zur Anzeige muss JavaScript eingeschaltet sein!
Since bursting out onto the scene with a vengeance in 2017, MIDNITE CITY have taken on the world and hustled themselves to the top of the pile to be crowned the true kings of Hair Metal.
Following on from the release of their sophomore album 'There Goes The Neighbourhood' in late 2018 (which was voted 5th best Melodic Rock album of the year in Classic Rock magazine and also made the list of the best albums of the past 35 year history of Japan's Burrn! magazine) the band have gone from strength to strength and proven to be one hell of a force to be reckoned with in the live arena.
MIDNITE CITY have headlined two consecutive UK tours, played shows all over Europe, Australia and also played two sold out shows in Japan and continue to dazzle a legion of growing and devoted fans around the world with their high energy, feel good, party rock.
Hot on the heels of two highly acclaimed albums, MIDNITE CITY return in 2021 with their highly anticipated third album "Itch You Can't Scratch" on June 11th. With new label Roulette Media in tow, as well as new management and booking agent, the band are back looking and sounding better than ever with a new array of songs that will melt your face, so strap yourselves in for the ride of your life. It's all about the good times!
Produced, mixed & engineered by Pete Newdeck; mastered by Harry Hess. All songs written by Rob Wylde except 'Fire Inside' and 'Chance Of A Lifetime' written by Rob Wylde/ Pete Newdeck. Front cover design by Daz Mondo.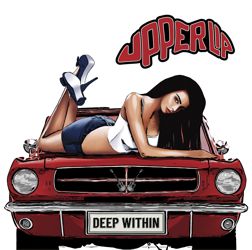 product: Upper Lip - Deep Within
release date: 21.05.2021
label: Pride & Joy Music
PR territory: world -USA
PR contact: Diese E-Mail-Adresse ist vor Spambots geschützt! Zur Anzeige muss JavaScript eingeschaltet sein!
Hailing from GOZO, the land of the Megalithic Temples in the heart of the Maltese archipelago islands, UPPER LIP spurs nostalgic, groovy Hard Rock music with a passion to its genre! Their main influences derive from the splendid nature surrounding the beautiful Island and Rock acts such as Rush, AC/DC, Rory Gallagher to The Smiths, Captain Beyond and even Waylon Jennings.
Since their inception in 2013, the band had played several gigs & festivals on the Islands to a very warm welcome form the Rock music fans which swiftly translate to more gig's invitations. Fast-forward to 2019, the band embarked on a massive project to work on their first studio album. The recordings took place at the 'Temple Studios' (Rammstein, Philip Boa, Mike Hedges, Siouxsie and the Banshees)
UPPER LIP recorded 11 original tracks which portray the groove and live energy that the band is so much noted for.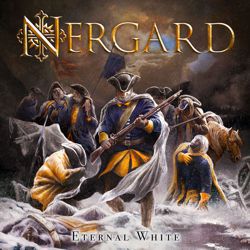 product: Nergard - Eternal White
release date: 21.05.2021
label: Pride & Joy Music
PR territory: world
PR contact: Diese E-Mail-Adresse ist vor Spambots geschützt! Zur Anzeige muss JavaScript eingeschaltet sein!
NERGARD was originally founded back in 2010 by Norwegian musician Andreas Nergård with the ambitious idea of being a studio project fronted by renowned guest artists from around the world. In the following years they released two albums featuring some of the industries most accomplished vocalists and musicians including Elize Ryd, Ralf Scheepers, Göran Edman, Mike Vescera, Michelle Luppi, Tony Mills, David Reece, Michael Eriksen, Nils K. Rue and many others.
NERGARD also had the privilege of performing at some prestigious shows, such as opening for the legendary Stratovarius on the main stage at the Trondheim Metal Fest in 2015 as well as performing their own sold out shows.
After a few quiet years, whilst busy with other projects, NERGARD resurfaced in the summer of 2020 releasing a tribute single to the late Tony Mills (SHY,TNT) which then inspired Andreas, to start working on new music.
Whilst building ideas for the new album, Andreas decided that he was ready for a new era of NERGARD. With a steady line-up of permanent singers, the group is now fronted by a multinational trio – Stefani Keogh (UK), Andi Kravljaca (Sweden) and Mathias Molund Indergård (Norway).
This new era takes the sound of NERGARD into dark symphonic realms similar to the styles of Nightwish, Kamelot and Avantasia. Entitled "Eternal White", this new album is a concept piece that's based on the tragic story of the Carolean Death March in 1719, when 3000 Swedish & Finnish soldiers froze to death during the retreat from the failed invasion of Norway. The story is told over 10 songs which showcase the new dynamic line-up whilst continuing to deliver the high calibre of music that we have come to expect from Andreas and with a nostalgic look to NERGARD's past, the album also features a guest performance by the formidable Tim "Ripper" Owens (Judas Priest/Iced Earth) on the track "Now Bareley Three".
The band is thrilled to team up with Pride & Joy Music for the release of the new album, "Eternal White"; kickstarting a new chapter in the NERGARD legacy.
This release will be available as CD and digital. The digital version will include 10 instrumental versions of all songs as bonus tracks.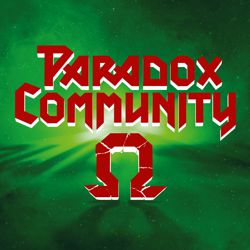 product: Paradox Community - Omega
release date: 21.05.2021
label: self-released
PR territory: Europe
PR contact: Diese E-Mail-Adresse ist vor Spambots geschützt! Zur Anzeige muss JavaScript eingeschaltet sein!
Just imagine you could combine the qualities of some great metal bands of the early 90's. The melody from Maiden, the groove from Pantera and riffs from Megadeth...and all that without any limits and genre rules!?
PARADOX COMMUNITY (PC) is a German metal band that combines a wide variety of styles from metal, progressive and rock. The trio does not create a constant boring mixture of all genres but tries to ensure a differentiated and exciting song experience by using different structures and styles for each song, i.e. from calm, melodic pieces to pumping metal grooves or a bit of thrash metal. Most of the vocals deserve this name and change from shouting to melodic styles or aggressive screaming and back. In terms of PARADOX COMMUNITY's genre can be described as a bit progressive, although the band's style does not sound like "student music". It's rather reminiscent to some straight old metal heads.
The band has been playing with the current line-up since March 2007 when Henk Humberg joined as bass player. Mirko and Tommy have been playing together for about 25 years in different groups. Due to the trio line-up, which is unusual for this style, PC clearly stands out from the crowd. The three-person line-up is particularly advantageous live, because instead of the typical metal muddy sound, the PC's have organized an ass-kicking tight live sound!
After so many years in making metal music, the PC's decided to release their first official album entitled "Omega" in 2021. Of course, they have played live gigs over the years and all band members have had several other projects and bands, but now it is time to present the Paradox Community metal to a bigger audience - maybe just to get a feedback from some real metal heads after all these years of making music.