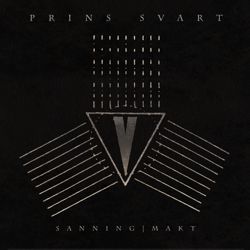 product: Prins Svart - Sanning/ Makt
release date: 23.04.2021
label: Musica Ex Machina
PR territoy: Germany, Austria, Switzerland & BeNeLux
PR contact: Diese E-Mail-Adresse ist vor Spambots geschützt! Zur Anzeige muss JavaScript eingeschaltet sein!
With new lead singer Mats Levén (ex-Candlemass, Yngwie Malmsteen, Skyblood) on board as lead vocalist, Swedish Rock/ Metal group PRINS SVART returns with its astonishing fourth album "Sanning/ Makt" (in English: "Truth/Power")!
Prins Svart combines the old with the new and have carved out a niche for themselves by combining Classic Rock sounds with Swedish lyrics. The band's unique profile has been shaped by musical experiences from playing with greats such as Michael Schenker, Yngwie Malmsteen, and Glenn Hughes, and touring and recording with the bands Grand Magus, Tiamat, Candlemass, Therion, and The Poodles.
The music is rooted in the 1970s and bands like Led Zeppelin, Deep Purple, and Black Sabbath, but with influences from the early 1980s and bands such as Dio, Whitesnake, Rainbow and Ozzy Osbourne. The lyrics deal with existential topics such as death, transformation, and love: we are all Prins Svart!
Mats Levén (ex-Candlemass, Yngwie Malmsteen, Skyblood) is the singer of the band since 2020 and the upcoming album, "Sanning/Makt" (Truth/Power), marks a new era in the band's history. The new album, which is released on April 23rd 2021, is a musical epic, spanning 77 minutes and is released as a double album on vinyl and CD. The music ranges from tango, blast beats, to bruising riffs.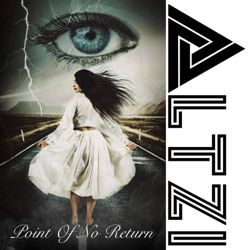 product: Altzi - Point Of No Return (digital single)

release date: 26.03.2021
label: RA Music
PR territory: world
PR contact: Diese E-Mail-Adresse ist vor Spambots geschützt! Zur Anzeige muss JavaScript eingeschaltet sein!
The first advance single out of four in total, "Point Of No Return", from Swedish Rock act ALTZI is out now on all digital platforms in English and in Spanish, and be followed by three more advance singles and one EP later in the year. The line-up on this track is compound by some of the finest contemporary Melodic Rock/ Hard Rock musicians and song-writers, i.e. Rick Altzi (lead & backing Vocals), Peter Alpenborg (rhythm guitars & keyboards), Nalle Påhlsson (bass), Kevin Kott (drums), Olaf Lenk (lead guitar), Ulrick Lönnqvist (backing vocals), Victor Ohlsson (backing vocals and Teresia Svensson (backing vocals).

ALTZI's debut album entitled "All Eyes On Me" is scheduled for a release in early 2022 via the artist's own label RA Music!

About the artist:
RICK ALTZI is an artist from Helsingborg, Sweden who started to play bass at the age of 14. He was a member in various tribute and original bands until 2004 and switched over to the microphone in 2005. His first album as vocalist saw the light of day in the year 2007 with the band AT VANCE. Since then, he has worked with a lot of outstanding musicians from bands such as Helloween, Accept, King Diamond, Pain Of Salvation, etc..

In 2020, Rick Altzi started to work on his first solo album under the moniker of ALTZI. Rick Altzi also is writing and recording with the bands Masterplan, Gathering Of Kings and Herman Frank.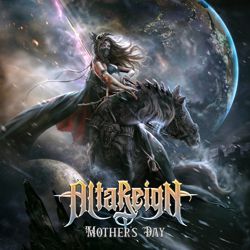 product: Alta Reign - Mother's Day
release date: out now (January 8th, 2021)
label: Rat Pak Records
PR territory: Europe
PR contact: Diese E-Mail-Adresse ist vor Spambots geschützt! Zur Anzeige muss JavaScript eingeschaltet sein!
Jeff Plate has joined forces with TSO keyboardist Jane Mangini and some amazing new talent to form his "years in the making" band Alta Reign. Plate and Mangini, along with Tommy Cook (guitars/lead vocals), Collin Holloway (guitars/lead vocals), Kevin McCarthy (bass, vocals) and Zach Hamilton (keyboards, guitars/vocals), released Alta Reign's debut album "Mother's Day" on January 8, 2021 via Rat Pak Records. The album is a reflection of dedication as the initial idea spawned 30 years ago and ended in 2020 with the album now being released in 2021.

States drummer Jeff Plate, "Beginning in a rehearsal room in Rockland, Ma. 30 years ago and ending in this insane year of 2020, "Mother's Day" is the end result of years of writing, listening, learning, planning and waiting for the right moment to put this all together. Everyone involved has been the perfect combination of effort and talent to complete the ideas and songs that have been kicking around in my head for years. I could not be prouder to share this album with the world. This is Alta Reign."
From the album's opening riffs of "Shine" to the majestic "Mother's Day", the reflective mood of "Always" and the mindful closer "Rise", Alta Reign has created something very different and original. Drawing from his history, his influences and his heroes, Plate has combined Melodic, Progressive, Hard Rock and straight up Metal to create a unique landscape for the listener. Other TSO brethren make an appearance on 'Mother's Day', as keyboardist Mee Eun Kim and guitarist Joel Hoekstra can be heard on the title track. Long time friend and bandmate, guitarist Chris Caffery adds a blistering solo to the song "Rise". Songs like "Thin Red Line", the frenetic instrumental "ESC (Escape)" and "Let's Go! (I'm In Charge Now)" present every indication that the talent of these musicians is limitless.
"I have known Jeff for 20 years through the Trans-Siberian Orchestra. I had the honor of playing with him on 'Beethoven's Last Night' Tour in 2010. The most fun I had on that tour was soundcheck, actually his soundcheck. He would play the coolest riffs and I probably annoyed him playing along, but I always thought how great it would be to put something together with him. Ten years later I got a call and I'm pretty sure I said yes before he even finished asking me. I'm so very happy that I fit in", explains keyboardist Jane Mangini.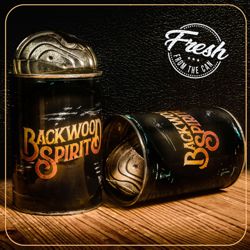 product: Backwood Spirit - Fresh From the Can
release date: 23.04.2021
label: Pride & Joy Music
PR territory: world
PR contact: Diese E-Mail-Adresse ist vor Spambots geschützt! Zur Anzeige muss JavaScript eingeschaltet sein!
Backwood Spirit were founded in Örebro, Sweden, back in 2014 by guitarist and songwriter Kent Engström. When songs were written and demo versions recorded, it was time to put a permanent band together to record an album. Engström at the time joined forces with drummer Joje Lindskoog (Crossroad Jam), and teamed up with Göran Edman (Yngwie Malmsteen, John Norum) as vocalist. Niclas Boson (bass) also came on board as well as Tobias Åslund (organ & keys) who later was replaced by Peter Emilson.
The group's self-titled album was released by Pride & Joy Music in April 2017 and received great feedback from both press and fans alike. Since then, new music has been written, and Backwood Spirit went back to the studio again several times between 2019 and early 2021 to record the following record which is titled "Fresh From The Can". This is the first release to feature new band member Mats Berglund on bass and again impressively shows Backwood Spirit's influences coming from the Classic Rock and Bluesy Hard Rock genres.
"Fresh From The Can" was record at Zone 17 and produced by Kent Engström, Joje Lindskoog and Kari Malm. Engineered and mixed by Kari Malm. Mastered at Nevo Mastering. All cover photos by Joje Lindskoog. Graphic design by Jerry Eriksson.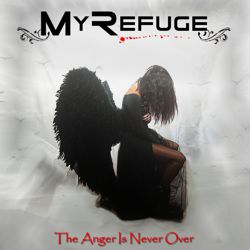 product: My Refuge - The Anger Is Never Over
release date: 23.04.2021
label: Pride & Joy Music
PR territory: world
PR contact: Diese E-Mail-Adresse ist vor Spambots geschützt! Zur Anzeige muss JavaScript eingeschaltet sein!
MY REFUGE is an Italian power heavy metal band formed in 2010 in Milan by guitarist Mauro Paietta. In October of the same year saw, the group released their first and self-produced EP "3407-Picture of an August Night". In 2012, with a deeply revamped line-up, MY REFUGE started to create new stuff and to record new material. A few months later, the band released their second self-produced EP, "Living in Anger".
In 2015, the Italian group signed a deal with Scarlet/Bakerteam Records for the release of the official full length debut album "A Matter of Supremacy" and then began with intense live activities, i.e. to perform at festivals and to share the stage with artists such as Freedom Call, Elvenking, Furor Gallico, Domine, Drakkar & Primal Fear.
After some line-up changes, MY REFUGE in 2020 decided to turn into a new dimension by becoming an international project, involving musicians from 14 countries and 4 continents.
With this new revolutionary line-up MY REFUGE recorded the material for the new album "The Anger Is Never Over" which was mixed by Christian Ice at Temple of The Noise Studio in Rome and mastered by Andrea De Bernardi at Eleven Mastering Studio in Milan (Italy).
My Refuge – complete Line Up
Mauro Paietta (Italy) - Guitars and Keyboards
Javier Perez (Spain) - Bass
Mark Vetter (Germany) - Drums
Simone Dettore (Italy) - Guitar on Winterland, What If Tomorrow Never Came, The River and The Rain
Salvatore Chimenti (Italy) - Bass on Mistress of the Dark, Winterland, What If Tomorrow Never Came
Gabriela Kaufmanova (Czech Rep.) - piano on What If Tomorrow Never Came
Katarina Gubanova (Ukraine) - Piano and Keyboards on Memories
Berzan Onen (Turkey)- Vocals on Immortal Fire
Iggy Rod (Argentina) - Vocals on War In Heaven
Ronny Castillo (Venezuela) - Vocals on The River and The Rain
Davide Vella (Italy) - Vocals on MIstress of The Dark
R.A. Voltaire (Canada) - Vocals on Winterland
Ilias Michailicos (Greece) - Vocals on What If Tomorrow Never Came
Andra Ariadna Chitu (Romania) - Vocals on Memories
Rafael Dinnamarque (Brazil) - Vocals on After Ten Years
Arthur Pessoa (Brazil) - Vocals on The Anger Is Never Over
Fernando Neri (Brazil) - Vocals on The Last To Die
Kike Valderrama (Colombia) - Vocals on Until The End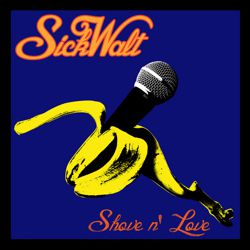 product: SickWalt - Shove N' Love
release date: out now (February 12th, 2021)
label: X-Ray Records/ Golden Robot
PR in Europe: Diese E-Mail-Adresse ist vor Spambots geschützt! Zur Anzeige muss JavaScript eingeschaltet sein!
In 2014, two New York City natives got together to capture the same explosive spirit of Rock 'n' Roll that can only be compared to the likes of the early works of the all-time greats like AC\DC, The Stooges, and MC5, to name a few. SICKWALT is an unapologetic, positive, high-energy, in your face, rock 'n' roll band from Astoria, Queens, NY.
With Walt 'Sick Walt' Novak as the mastermind frontman since day one, he has been backed by various NYC veteran musicians, such as legendary NYHC drummer Eric Arce (The Misfits, Murphy's Law, Skarhead, Maximum Penalty), Rob Buckley (Cro-Mags, Urban Sun, M-16) and his band co-founder,
Max Capshaw (Sick of it All, Murphy's Law, H2O.)
Walt Novak joined Max Capshaw for the first time on stage at the Bowery Ballroom in New York City. They performed four songs together that sent the crowd into a tailspin. It was decided that this project must continue, and right then, SICKWALT began.
SICKWALT returns in 2021 with their first full-length album SHOVE N' LOVE, releasing on Golden Robot Entertainment. This marks the band's most developed sound to date, with blazing crisp guitar riffs, thumping & pumping drums and a bottom end that lays the foundation for SICKWALT's unique vocal style.
Between landing in the mental ward, teaching inmates at the infamous Rikers Island prison for MC5 legend Wayne Kramer and his Jail Guitar Doors program, or partying til sunrise in the back alleys of NYC, SICKWALT wrote SHOVE N' LOVE through pure experienced passion.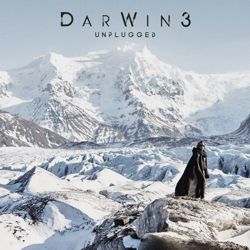 product: DarWin3 - Unplugged
release date: 12.04.2021
label: Origin Of Species LLC
PR in GAS: Diese E-Mail-Adresse ist vor Spambots geschützt! Zur Anzeige muss JavaScript eingeschaltet sein!
DarWin first grabbed attention with the epic 17 track double album "Origin of Species" in 2019. It won over fans and critics alike with its mix of virtuoso playing, heavy guitars, and symphonic rock, co-produced by Simon Phillips. The punchy follow up album "DarWin 2 : A Frozen War" took the concept a stage further, adding musicians Billy Sheehan, Guthrie Govan, Greg Howe and Derek Sherinian to the mix.

Now comes "DarWin 3 : Unplugged," a collection of orchestral and stripped back versions of tracks from the first two albums.

Highlights range from the sweeping instrumental takes of "Escape The Maze" and "The Last Chance" recorded at Abbey Road Studios, "Nightmare of My Dreams" recorded in Iceland, to a poignant acapella version of "Another Year."

The album, once again produced by Simon Phillips (Toto, The Who, Santana), features DarWin (guitars), Matt Bissonette (Elton John, Jeff Beck) on bass and vocals, The Chamber Orchestra of London, and The Reykjavik Quartet across its eight tracks. Phillips also adds his signature percussion and effects to the album.

The songs first appeared as a bonus addition to the limited edition "DarWin 2 : A Frozen War" double vinyl LP, and are now being given a stand-alone release in "DarWin 3" on April 16th 2021.

DarWin says, "Upon completing our first and second albums, we quickly realized that completely different interpretations of the songs were possible by isolating the strings or acoustic instruments as much as possible. Indeed, they sounded like completely different songs, although the fundamental concepts and spirit of the songs remained intact. Simon went to work on doing new mixes with the exact same instruments and tracks from the recordings in the earlier albums to create these 'unplugged' versions of the songs. Matt Bissonette also recorded two new solo versions of 'Slowly Melting' and 'One Horizon,' with just his voice and bass. Simple and pure. 'Slowly Melting' was recorded on a live take with the voice and bass parts simultaneously. Many of these songs were deeply emotional journeys, and that character tends to shine through in these unplugged versions."