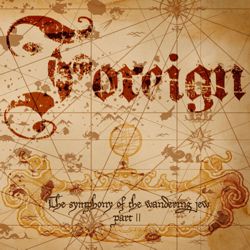 product: Foreign - The Symphony Of The Wandering Jew II
release date: 04.12.2020
label: Pride & Joy Music
territory: world
PR: Diese E-Mail-Adresse ist vor Spambots geschützt! Zur Anzeige muss JavaScript eingeschaltet sein!
Foreign is a metal/rock opera from another time, like a real journey inside time and space, more gazed on melodies which can provoke dreams on you, as if you were deep inside the millennial quest of Ahasverus, the poor Jewish man cursed by Jesus Christ, condemned to immortality to have refused him a glass of water, when he was climbing the mount for the crucifixion…
Still under control of author/composer/ singer/keyboardist Ivan Jacquin (Psychanoïa, Amonya, Magnesis...), the wandering jew is following his own quest, after the time when we left him at the end of the first album.
Now's the time of Holy Crusades back in Jerusalem and Ahasverus, alias Omar Kyan for a little while, he will meet terrible Salah ad-Dîn, for a strange and short alliance…
The story of this second album will bring us until the dawn of industrial revolution, passing by Vikings lands, Cristoforo Colombo and his historical mistake, Francois the 1st and his dream of alchemy, Nostradamus' prophecies, the Shakespeare enigma, Mozart and his genius art, and it will end with several revolutions, in 1789 in France and in the beginning of the 19th century for rising industry and mechanical inventions.
When seeing the success and interest about Part I in 2014, some guests, singers and musicians from the whole world and well-known in rock, progressive and metal universe have accepted to be part of the second record of this amazing trilogy. This includes the massive talents of Leo Margarit (Pain of Salvation, Epysode) on drums, Mike Lepond (Symphony X, Silent Assassins) on bass, the vocalists Zak Stevens (Circle II Circle, Savatage, TSO), Andy Kuntz (Vanden Plas) and Tom S. Englund (Evergrey), as well as Amanda Lehmann (Steve Hackett Band) on vocals and lead guitars.
Most of the musicians playing in part I will be back in this adventure and some characters will remain in their being to perpetuate the quest…
Foreign II welcomes lots of characters, female and male singers, the mixed choir named « The sirens of time » and about twenty metal and rock musicians and other instrumentalists more « exotic » and rare (hammered dulcimer, oboe, cello, duduk, harp, hurdy-gurdy...); forty artists in total.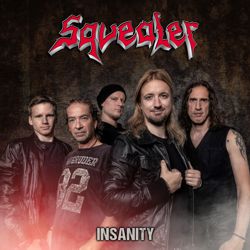 product: Squealer - Insanity
release date: 04.12.2020
label: Pride & Joy Music
territory: world
PR contact: Diese E-Mail-Adresse ist vor Spambots geschützt! Zur Anzeige muss JavaScript eingeschaltet sein!
SQUEALER, one of Germany's very own Power & Thrash Metal pioneers, are now back with a vengeance! "Insanity" is the name of their 10th studio release since their foundation in the 1980's – and the new opus impressively starts where the successful predecessor "Behind Closed Doors" has stopped!
As usual, the quintet shows its versatility and intricacy: "Insanity" once again delivers everything a Metal fan may be looking for. Power ballads like "Black Rain" go hand in hand with Thrash metal hymns such as the opener "Into Flames", "Hunter Of Myself" or "My Journey" and powerful Metal tracks like "Bad tasting Sin" or "Insanity". Through the years, SQUEALER undoubtfully have managed to follow their roots but nevertheless also to create their very own, up-to-date sound that also includes huge polyphonic choirs from time to time.
SQUEALER today consists of Lars Döring (guitars), Michael Schiel (guitars), Sebastian Werner (vocals), Manuel Roth (bass) and new member Peter Schäfer on drums. Ito Grabosch took once again are of the recordings while Roland Grapow (Helloween/ Masterplan) handled the mixing and the mastering. This time, some guests have joined the band from North Hessia in the studio; i.e. on the track "Black Rain" Bernhard Weiss (AXXIS) and Zak Stevens (CIRCLE II CIRCLE, SAVATAGE, TSO) guest on vocals and Roland Grapow (Masterplan, ex Helloween) on lead guitar with one solo whilst Ingmar Klippert can be heard on piano on the song "Low-flying Brains".
"Insanity" is the second release from SQUEALER on Germany based label Pride & Joy Music and will be unleashed on December 4th, 2020. The tracks "Black Rain" and "Bad Tasting Sin" will be released as singles and audio videos in advance.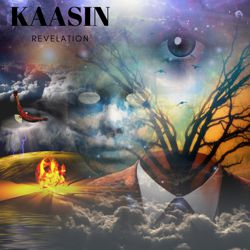 product: Kaasin - Revelation (digital single)
release date: 04.12.2020
label: Stream Peak Music
PR territory: Europe
PR contact: Diese E-Mail-Adresse ist vor Spambots geschützt! Zur Anzeige muss JavaScript eingeschaltet sein!
Brand new song and the second single from hardrock band KAASIN.
KAASIN was founded by guitarist, JO HENNING KAASIN, collaborator with JOE LYNN TURNER (Deep Purple/Rainbow), GLENN HUGHES (Deep Purple/Black Sabbath), DOOGIE WHITE (Rainbow/Michael Schenker), BERNIE MARSDEN (Whitesnake), founding member, guitarist and songwriter with COME TASTE THE BAND.
After 23 years and great success with the album «REIGNITION», feat. JOE LYNN TURNER & DOOGIE WHITE, COME TASTE THE BAND was put on ice in January 2020. Guitarist and main songwriter, JO HENNING KAASIN, then went on to form his own band, simply called KAASIN. He recruited his cousin, STAALE KAASIN from SPIDER and 2020VISION, to handle bass. The band also features the norwegian singer, JAN THORE GREFSTAD, known for his incredible vocal duties with SAINT DEAMON, HIGHLAND GLORY and TNT.
KAASIN also includes additional musicans, BENJAMIN DEHLI on hammond organ/analog synth and CHRIS BRUSH on drums.
KAASIN released their debut single «RUNAWAY TRAIN» on Streampeak Music on Friday AUGUST 14th - 2020. It has been a great success, streaming in thousands upon thousand on Spotify, Youtube, iTunes, and other download/streaming services. «RUNAWAY TRAIN» also went Top 10 on rock radio stations in France, UK, Sweden and Norway.
THE FOLLOW UP IS READY!
«REVELATION» is written by Jo Henning Kaasin, Jan Thore Grefstad and Staale Kaasin. It will be released on Streampeak Music - Friday DECEMBER 4th - 2020
Recorded and engineered in JUKE JOINT STUDIO, Notodden - Norway.
Produced by Halvor Halvorsen & KAASIN
Mixed and mastered by Leif Johansen (Phenomena, 21 Guns, A-ha)
The single will be accompanied by a official music video.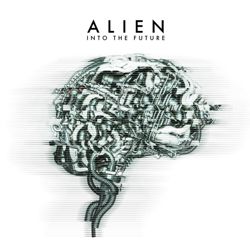 product: Alien - Into The Future
release date: 27.11.2020
label: AOR Heaven
PR territory: Europe
PR contact: Diese E-Mail-Adresse ist vor Spambots geschützt! Zur Anzeige muss JavaScript eingeschaltet sein!
1986-1989 - In late 1986 ALIEN recorded two songs, "Headstrong" and "I'll Survive" at Studio Bohus. Virgin Scandinavia signed the band and released those two singles. In the meantime, while touring Scandinavia, they wrote their debut album "Alien". Virgin believed in ALIEN to appeal to audiences in further territories, and hence rewrote their contract into a worldwide deal!
In late 1987, at ABBA's Polar Studio, the Swedes cut three songs with producer Mark Dearnley (AC/DC, Def Leppard). One being "Only One Woman" went on to top the charts and achieved platinum status. The B-side, "Somewhere Out There", also got to #1 in the charts, for instrumentals!
After that, the group relocated to the renowned Sound City Studios in Los Angeles, with producer Chris Minto (Pat Benatar, Rick Springfield, Kiss), to record the record. Two songs were featured in the 1988 remake of the 50's Sci-Fi movie "The Blob"; "Feel My Love", plus "Brave New Love" in the end credits. Back from the US, with "Only One Woman" sky-rocketing the charts, ALIEN brought the album on tour, beating box office records, being all over Swedish media.
While in London doing promo, the group shot cover photos with Simon Fowler, and signed with Steve Barnett / Hard to Handle Management (Gary Moore, AC/DC). For the international launch, Virgin America made a new album cover and some remixes by Duane Baron and John Purdell. Songs were cut out to include the first single with new singer Pete Sandberg, "The Air That I Breathe"/"Now Love". Pete replaced Jim Jidhed in the fall of 1988, making his first appearance performing live on Swedish national TV. New promo and cover photos were shot in LA as well as the video for "Tears Don't Put Out The Fire". Director Dough Freel was chosen mainly for his work on the Def Leppard "Hysteria" album videos. Promotion, TV and a full summer of touring followed in 1989, bringing ALIEN's biggest production to date on the road. "Tears Don't Put Out The Fire" was chosen as the international single release. A couple more songs written during pre-production for the album were later published on the 1997 "Best & Rare" 2-CD collection.
1990-2005 - Tony Borg (g) and Pete recorded and released "Shiftin' Gear" in 1990, ending the Virgin era. In 1992 Tony formed a Stockholm based ALIEN and made two albums at Eagle Records.
2005 - Tony and Jim got in touch and recorded "Dark Eyes" for Frontiers Rec.
2010 - The original line-up eventually reunited, a handful of festivals were chosen, e.g. Sweden Rock (Cruise + Festival), Getaway Rock, Firefest. A new single, "Ready To Fly" (Manora Rec), was cut to promote the reunion. It went down great with the crowd and especially the response at the first Firefest performance (2011) made the band really consider making a new record.
2013 - The No Remorse/EMI re-issue CD (ltd 1000 copies) of "Alien" (s/t Scandinavian) reached No.1 on the import album chart in Japan and sold out. EMI Music Sweden released the back catalogue, re-mastered for digital download with some unreleased demos as bonus. The "Alien - 25th Anniversary" 2-CD deluxe edition highlighted the celebration of ALIEN's debut album, selling out as well. "Shiftin' Gear +4" CD (AOR Heaven) with bonus tracks shed some light on the fact that the original line-up wrote and pre-produced a sophomore album, before disbanding in late 1989.
Recordings of the "Eternity" album started Aug 1st at Bohus Sound and continued throughout 2013, taking a break only to perform at the Firefest 10th Anniversary show. ALIEN decided to add a song, "I'm a Fighter", written back in the 80's by their L.A. co-writers Pam Barlow and Janet Morrison Minto, as an homage to their co-work on the debut. The regained contact with Pam and Janet led to them writing lyrics for this record as well.
2020 - On November 27th, 2020 Alien will release the album "Into the Future". This record is taking the band from being merely an AOR band to more of a hard rock band with a heavier sound and more guitars. Creating "Into The Future" was really a journey back to the days of being free in a musical way to experiment with arrangement, sounds, melodies and just having a blast while doing it. Once again to the band's delight, Janet Morrison Minto has been a part of the lyrics writing and as always with great commitment. ALIEN is now Jim Jidhed, Tony Borg and Toby Tarrach (d). The album was recorded in various studios in Sweden incl. JM Studios in Gothenburg, Borg Music & Recording Studio in Stockholm, Music Family studio in Särö and Hope Studio in Gothenburg. Mix and mastering was handled by Erik Mårtensson (ECLIPSE) at Blowout Production in Sollerön.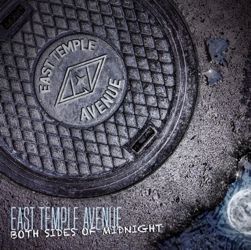 product: East Temple Avenue - Both Sides Of Midnight
release date: 27.11.2020
label: AOR Heaven
territory: world
PR contact: Diese E-Mail-Adresse ist vor Spambots geschützt! Zur Anzeige muss JavaScript eingeschaltet sein!
In 2017, guitarist/songwriter/producer Darren Phillips hosted a melodic rock radio show in his native homeland of Australia. Throughout the lifetime of the show, Darren conversed with many artists from across the melodic rock world and inevitably the conversation turned to songwriting and collaboration. These conversations spawned Volume One of The Darren Phillips Project and an ongoing friendship/collaboration between all involved.
In 2018 Phillips approached to bass player Dennis Butabi Borg (Cruzh), lead guitarist Philip Lindstrand (Find Me, Arkado) and drummer Herman Furin (Work of Art) with the idea of doing an entire album together and actually forming a studio band. Phillips' longtime friend and producing partner Dan Skeed (Urban Stone), would also come along for the ride, which left the essential position of lead vocals to be filled.
For Phillips, having previously worked with Robbie LaBlanc (Find Me, Blanc Faces) on two other occasions, the American was the first and only choice. Fortunately, LaBlanc agreed and the ETA line-up was complete.
Working in their respective studios, in Australia, Sweden and the USA, the band started the songwriting and recording process, which would then make its way to Phillips' and Skeed's Sydney-based studios Skeed Music, for mixing and mastering.
The first single 'When I'm With You' was released in May 2019 to much critical acclaim, and its follow-up 'Don't Make Believe', made several 'Songs of the Year' lists when it was released in October 2019 and attracted the attention of well-respected German label AOR Heaven, with whom the band signed a publishing deal with in April 2020.
The band having never been in the same room together, of course, have the ultimate goal to meet, perform and record together. East Temple Avenue have spent 2020 hard at work completing the ten tracks that appear on their debut album, 'Both Sides of Midnight' which will be released on November 27th, 2020.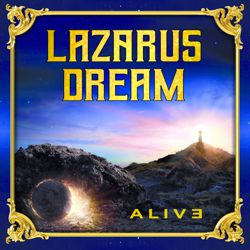 product: Lazarus Dream - Alive
release date: 13.11.2020
label: Pride & Joy Music
PR territory: world
PR contact: Diese E-Mail-Adresse ist vor Spambots geschützt! Zur Anzeige muss JavaScript eingeschaltet sein!
With an artistry and groove that is never less than inspiring and absorbing, new German Hard Rock project LAZARUS DREAM featuring multi-instrumentalist Markus Pfeffer and powerhouse vocalist Carsten Lizard Schulz gives a pleasure as immense and deep as the sounds and abilities which pour from their album "Alive".
Carsten Lizard-Schulz delivers a powerful, emotion filled performance and makes this an album full of incredibly poignant vocals listeners worldwide are used to get delivered from him and appreciate on critically appraised albums by EVIDENCE ONE, DOMAIN, DEAD END HEROES and MIDNITE CLUB, to name only a few.
Markus Pfeffer used to be a member of internationally praised German AOR-band SCARLETT in the early nineties and delivers riffing and fret board acrobatics you rarely get to hear him play on albums by his main band WINTERLAND, which used to top the German Amazon Download charts in late 2010. On the LAZARUS DREAM album, he not only plays guitar, but also bass and keys.
The powerhouse drumming by guest Markus Kullmann (SINNER, VOODOO CIRCLE, Glenn Hughes) not only completes the hearing pleasure but also adds an incredible groove which lifts the songs to a new level. More musical guests featured are percussionist Thomas Rieder, flute player Sabrina Roth and Thomas Nitschke on Hammond and synths.
The album was mastered by Markus Teske at Bazement Studios (VANDEN PLAS, SAGA, MOB RULES,…)
Highlights on "Alive" range from undoubtedly immensely catchy chorusses and stunningly melodic twin guitar solos in songs like "Wings Of An Eagle" and "Hotel Overload" to progressive arrangements in extra-long tracks like "Dawn Of Time" and "Fleshburn", which also surprises the listener with an Arabian flute intro (and guaranteed goose bumps, by the way). Groovy guitar riffing gets combined with massive vocal arrangements and reflective lyrics especially in songs like "The Healing Echoes", "House Of Cards", "Desert Mind" and "Can't Take My Soul Away".
All in all, LAZARUS DREAM brings a fresh, vivid and eager breath to melodic hard rock and classic progressive metal without the need for indulgence and spurious tricks and charms… Pfeffer and Schulz build a strong songwriting duo and thus the foundation for the album and deliver inspired, melodic hard rock bliss which should appeal to fans of bands such as QUEENSRYCHE and DOKKEN.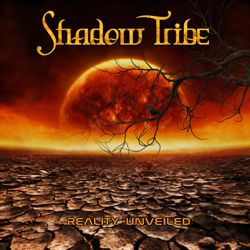 product: Shadow Tribe - Reality Unveiled
release date: 13.11.2020
label: Pride & Joy Music
territory: world
PR contact: Diese E-Mail-Adresse ist vor Spambots geschützt! Zur Anzeige muss JavaScript eingeschaltet sein!
ALTARIA/STARGAZERY bass player Marko Pukkila has joined forces with ex-CELESTY/SPIRITUS MORTIS/MASQUERAGE frontman Kimmo Perämäki in a new band called SHADOW TRIBE. The group, whose lineup is rounded out by Simo Pirttimaa on guitars and Petri Heinonen (King Satan) on drums, has signed a worldwide record deal with Pride & Joy Music who will release the group's debut album "Reality Unveiled" on November 13th, 2020.
SHADOW TRIBE is a melodic metal group from Finland. The band is driven forward and managed by Altaria/ Stargazery bass player Marko Pukkila, who is well known within the industry. He has been around the European rock scene for over two decades and played on almost 40 different releases incl. work with musicians like Vinny Appice, Kee Marcello, AJ Pero, Frankie Banali, Rowan Robertson, Ryan Roxie just to name a few.
Pukkila comments: "After a few years of studio absence, we are finally here with our debut album entitled 'Reality Unveiled'. Feels great to announce the deal with Pride & Joy Music! The music is melodic, but also in-your-face and kick-ass rock. Cool riffs, good melodies and tasteful arrangements. I'm very happy with how the album came out. It's a great collection of hard-hitting-yet-melodic commercial rock tracks, which I hope you all enjoy."
"Reality Unveiled" was produced by SHADOW TRIBE between 2018 and 2020; and mixed and mastered by singer Kimmo Perämäki who also mixed and mastered the latest Stargazery album and created the SHADOW TRIBE artwork.